Sajna Veh FF – "Epi – 55 " – "Twinkle looses her Memory "
SAJNA VEH
---
---
Episode 55
---
---
Episode 55
@1 week later
@Hiranandani Hospital
---
---
---
Arjun is shown walking outside the room.
Maya comes and holds his arm .
Maya – its okay . its not in your hand. You are a cardiac surgeon . you cant treat her brain .
Arjun nods.
---
Anika – today I feel like I should not have been a gyanecologist ! I badly feel so ! only if I was a neuro surgeon .
Shivaay – anika. Its okay . its gonna be alright . please dont cry .
anika- i wish i had gotten into the accident instead of Her
shivaay glared – anika .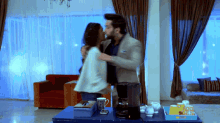 he hugged her tightly and imagined anika falling from a 10 floor building, a tingle of fear ran down his spine .
shivaaay – no . don..dont say that …please..please dont….dont say that ..
anika was taken aback with his action and realized she hurt her man .
anika sobbed – sorry …
shivaay looked on. anika cupped his face .
anika –  i am sorry. i didnt mean it .
shivaay nodded .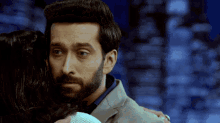 ---
Dadi is shown crying .
Dadi – why does this happen with my child only…my Kunj has lost his parents , his wife Twinkle and now, after Pooja and he got engaged . she fell from this 10 floor building !
Ishani – dadi please relax. Atleast pooja is alive. She is out of coma now. She is awake now.
Dadi wipes her tears.
Anahita – it's a simple answer maa ji . ur darling kunj is ominous . that's why he eats up his loved ones .
Dadi glares at her.
---
---
@inside Surgery room
---
---
---
Pooja is shown sitting up .
jeevika has a palm on her face .
Jeevika – are you sure you don't remember anything ? oh no.
Pooja nods .
Jeevika – doc ! does this mean…?
Doc – she had complete amnesia . Mrs.Vadhera . which means she doesn't remember anything from her past .
Jeevika – oh okay .
Jeevika in her mind – it means now she will think she is pooja . and I am the only person on earth who knows she is twinkle . doc even asked us not to give her any stress and doesn't even know if her memory will be back or not. I don't know what to do !
The family comes to know about pooja's state and decides to co operate .
---
---
@after a while
---
---
Pooja – so you are Swara. my cousin ?
Swara smiles – yes Pooja. And he is your sanskar jiju. I hope now you have memorized everyone's names and relations. Don't worry . you will get used to it.
Pooja – it feels so weird Swara. I feel like …I mean , not knowing the past is so weird. It feels blank. So much blank. I know I am getting married . I am betrothed . but here, I don't even know who is Kunj . how is Kunj . his likes and dislikes .
Swasan look on.
Pooja – okay maybe I know. But I forgot . this accident. How will I cope up . accha. So..am I having a love marriage or arranged ….??
Pooja bats her eyelids innocently.
Sanskar – arranged marriage .
Pooja – oh.
Swara – but you used to like him .
Pooja – is it ?
Swara – trust me pooja. Its not that hard at all . you know this happened to me 2 years ago. My brain had forgetten everything. Even my husband, the love of my life, sanskar . but my heart recognized him and I fell in love with him in a week, without knowing who I am or how he was.  The hearts knows honey . (she narrates her memory loss track. )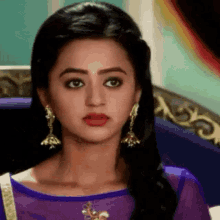 Pooja smiles . – thank you . if it's a true story then I am impressed . you have given me a huge motivation.
Swara  – yes sweetie. I know. But trust me. Its not that haard. Things will fall naturally.
Pooja holds her hand – thanks sis.
Sanskar – and saali saheba…I know. How hard its for kunj . I had a hard time making her reminisce our bond, memories.
swasan share an eyelock .
---
---
Flashback
---
---
Sanskar –umm..its okay ..you know?…Swara is dress me bohot pyaari lagti thi…waise hi, jaise tum lag rahi ho…
Anvi blushes…
Sanskar – uspe laal bohot jajta tha..waise hi..jaise tumpe jaj raha hai…
Anvi – aap bohot pyaar karte the na usse ???
Sanskar smiles and comes closer to her  – uhu…nope…karta hu..wo bhi …tum se…
Anvi  looks on ***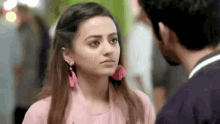 Sanskar – aur wo bhi mujhse bohot pyaar karti thi…
Sanskar walks and bangs his hand on the table by mistake and shouts . Anvi rushes to him and holds him…
Anvi – tum pagal ho kya ? are u hurt ? is it paining, stupid sanskar !
Sanskar smiles…
Sanskar – aur karti hai !!!
---
---
sanskar – But its okay. You can always make new ones. You both don't have much memories.
He looks hesitantly at swara .
Swara –umm..wo… because its an arranged marriage na . but you guys will know each other soon . you will love him and make him love you too
Sanskar – yes . exactly ! we are always there . dadi loves you too much. We all do.
Pooja – thanks Swara . thanks jiju. I will try my best. After all there is a saying na…love after marriage .
She chuckles . swasan sigh .
Swara – another thing Pooja. Umm..actually…Baby..you tell na .
Sanskar nods – you are going to be his second wife. I mean, his first wife was ..umm…a girl named Twinkle.
Pooja looks on.
Swara – but don't worry . its all in the past . you are upse..
Pooja – no no swara . I am not upset. I am fine. Past is past. And im gonna be his last . that's my promise.
Swasan smile .
---
---
@Outside
@after a while
---
---
Ragini laksh are shown glaring at Kanchi and Vatsal .
Swara –. About that day …you should be ashamed vatty
Vatsal rolls his eyes – di. You never made out with jiju before your wedding kya ?
Swara – you never told me you love kanchi .
Vatsal – ha toh.. I don…
Kanchi – sorry bhabhi. It had been a secret. I am really ashamed. But I love vatsal and I want to marry him. We have not crossed our limits na. please forgive us bhabhi and bhaiya .
Sanskar chuckles – areh baba its okay. Don't be so sorry . its okay . me and swara used to be more freak…
Swara  eyes him.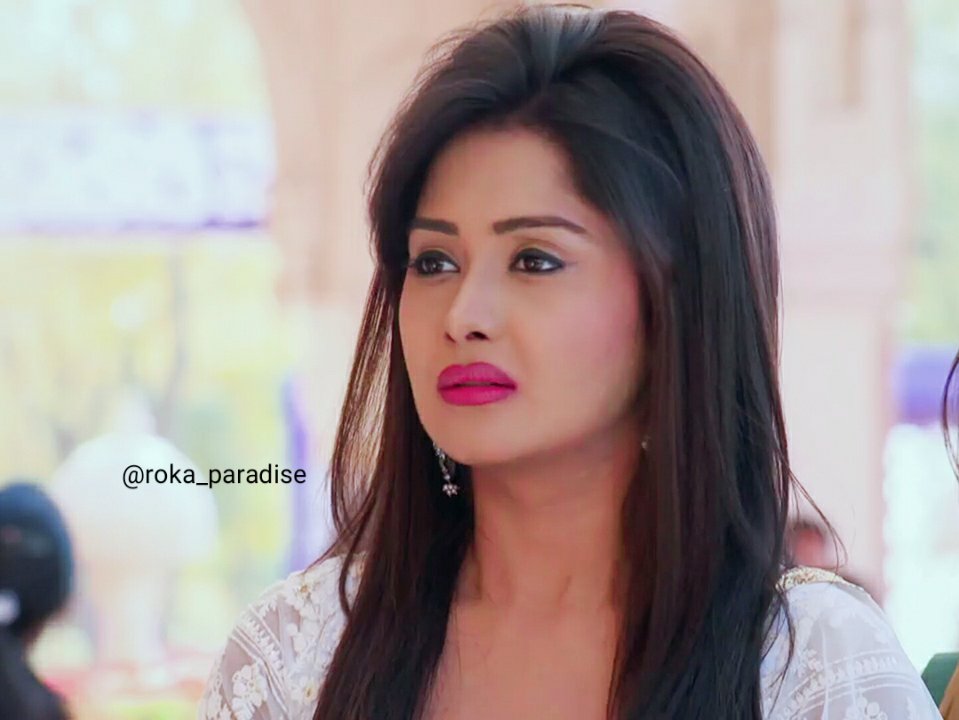 Laksh – its not about making out. I don't even think you guys are proper for each other. A down to earth , traditional , cool guy like vatsal, with my dreamy , proudy , spoiled sister . no yaar..taurus and leo. Like …!!
Swara – exactly.
Swara in her mind – and specially because Ro loves you kanchi .
Swara – vatsal ..you don't even love her ….
Kanchi – bhabhi..dont be so mean na …
Sanskar – swara …sweetheart , love comes gradually  too. Its not always love at first sight.
He winks . swara punches him.
Vatsal – point jiju.
Laksh – no but swara has a point. And on top of that. Kanchi is barely 21. She cant decide whom she finds best as a life partner…
Ragini – oho you both . laksh aur swara, pyaar ke dushman. Why are you 2 always against lovers…first ranveer ishani and now vatsal kanchi.
Kanchi – bhabhi you will support us na ?
Ragini – offcourse I will. After you finish your modeling course , I will see to it that you get married.
Sanskar – me too !
Swalak and ragsan look on.
---
---
@inside surgery room
---
---
Pooja is shown sitting in a confused manner . then suddenly , kunj entered, trying to force a smile . he entred, pooja smiled back at him. She signals him to come and sit next to her. Kunj nods. He sat beside her .
How are you feeling now ?
Im feeling a lot better . thanks.
*smiles *
Kunj ji…aur may I call you kunj ? should I call you "aap" aur "tum"
Umm…you can call me Kunj , and you can also call me tum .
Pooja nodded excitedly. Kunj was surprised at her behavior. She then composed herself.
I am sorry for whatever you went through Kunj. Due to me, this accident, this amnesia. I am so…
Its okay
He instinctively grabbed her hand , but let go when he realized. Pooja was slightly startled , it had sent electric shocks to her body .
I mean …its okay. I am glad that you are fine, and alive …
His words drift away. Pooja gets his indication. She grabs his hand and slightly squeezes it .
Its okay . I know . I also know about Twinkle ji . but you know, none cn avoid destiny. Its all about the planets . and its all about the stars . but I promise you, I wont leave you . there is no way I will. It's a promise .
Kunj didn't know how to respond. He didn't know if he wanted Pooja to be with him , all the while. But he was sure that he didn't want to loose anymore people. And specially, not Pooja . her face that was exactly as his Twinkle's was too precious for him to loose .
Thankyou .
Umm…how was my personality ? before the accident ? was I too quiet ? or arrogant ? or chirpy ? hai rabba how will I know !
Kunj god startled . twinkle's memories flashed to him .
---
Flashback
---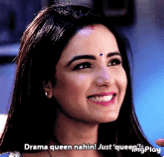 ---
---
Did you just say hai rabba ?
.did I ?
Yes you did. But you are tamil na ? so ?
Oh I barely remembered my name kunj. Maybe I just slipped.
maybe
Anyways . here is another promise to you. I don't know about that pooja , but this pooja will try her best to rise up to your expectations. But I think, we would need some time to meet and know each other..cz..i don't even know things about you anymore…uff…mai ki kitta !! (what do I do in Punjabi)
Twinkle !
Huh ? ji?
Uhm…sorry I mean Pooja..do you know punjabi?
.
.im sorry..you wont remember.its okay . don't stress.
He forced a smile again.
Pooja smiled and held his hand. She started describing how much it pained her head, her hand, her right leg and everything . she was whining like a baby . she was still hesitant, but was comfortable with his body language , not like the pooja she was before the accident, who used to be far far away from him . for a while, kunj felt as if it was twinkle . he was focused on her face an punjabi dialect. He got lost in her .
And then …na..Kunj I …
You are beautiful
Hm?
Pooja got a bit startled and shoved her hand away. But kunj didn't seem to notice.
She blushed. Her ears were now complete maroon, another trait of hers when she would be shy.
But I don't think so, here, wrapped in bandages .
But to me you are . beautiful. Gorgeous and stunning. You are ! inside and out .
Pooja smiled . but kunj came back to reality and let go off her hand . he was 2 minds about saying those lines to Pooja and not twinkle .
today, hearing her Punjabi dialect and words , and her touch, kunj felt ,more attached and attracted to pooja . he had started to look at her, which he never did after fake twinkle's death. Maybe because kunj's heart had recognized his love. But his mind was still unaware of it .
He pat her cheek , came out of the room and glanced at the wedding card with his and pooja's name, scheduled after 2 weeks , with 50 guests , in Santorini , Greece . he looked back and glanced at Pooja drinking juice . her face, her innocence, her comfort and her "hai rabba" somehow melted him and her name In the wedding card , beside his name, didn't bother him anymore. Kunj smiled .
---
---
Precap – A tour to Santorini