Sajna Veh FF – Epi 31 – "Pre Weddding Preps"
Epi – 31
---
---
@Swasan room
@Raichand Mansion
@night
---
---
Sanskar is shown lying on bed . swara is shown searching for something .
Swara ..hurry up naa. Give me the file yaar .
De rahi hu..ek minute baby …
Good
Swara hands him the file and smiles. She is about to sit when..
Swara are u nuts ??
Kyun ??
Pen chahiye nah ? give me a pen
.yes..ek minute.
Hmm
She gives him a pen .
Ur getting so careless swara ..whats ur problem. Where are my vitamins .
Oh im so sorry baby..just a minute..
And give me water .
.btw pass me the tv remote. And yes put the ac on 20 degrees and also turn off the..
.kya hai ? kab se dekh rahi hu ha ? ur ordering me
She crosses her arms and sits on bed pouting. Sanskar smiles and puts his arm around her shoulder and smirks.
Ur lucky. That u have a classy sasural. Thanks to me. otherwise u would be dancing somewhere in a cheap saree and goggles too.
Accha ji ???
Yes…*laughs *
Swara pushes him off and stands up.
But then, im the girl na..substititute me for ishani .imagine if u had a sasural genda phool like roody. Huh ! and imagine ki meri bhabhi tumhe kiss karne ke liye tadap rahi ho ..ish !
Sansakr pulls her back on his lap and smiles.
.swara..ur bhabis are my own sisters..
.umm..wo..ha…sorry..silly of me
*chuckles* waise bhi..i prefer ki..tum tadpo..to kiss me ..*winks*
Accha ??
Swara gets up and stands beside him.
But Mr.raichand…\
.mrs.Raichand…
Mujhe tumhe kiss karne ke liye tadapne ki zarurat nahi hai!
She quickly pecks him on his cheek…
Sanskar grins . swara giggles.
---
---
@Raglak room
---
---
Ragini is shown tossing and turning on bed. Laksh looks at her..
.what happened…cant sleep ? come here babe..come to me..
Uhhh
Ragini gets up and lits on bed. Laksh smiles.
Rags ..what happened ?
Don't ask. Im dying out of guilt. Kaliya might be whatevr. But he is my devrani's brother . and I slapped him. Ish..chi chi..how could I …
.waise yeh toh sahi kaha tumne.areh wo hamare samdhi hai ! imagine u had slapped rohan and how gopi aunty would have reacted.
Laksh plz na…already im dying of guilty and ur mocking me.
Laksh gets up.
Aww mera baccha..dont be so tensed. Im just kidding. Its okay ! do one thing, shadi me uski itni khaatir dari karna ki he forgets it..
Ragini bites her nails – yess lucky..ur so right ! I will make his favorite dishes and buy him an expensive gift..that should it..i will be free of my guilt !! yippiee !!!
Laksh pouts – haw ! kabhi mujhe bhi thappar mar diya karo..phir compensationsation me mujhe bhi gifts milenge !
Ragini slaps his shoulder – laksh !
Laksh mocks – laksh !!!
Ragini fluffs her mouth – Lakshyaaaa..!!!
Laksh – accha baby cool down…
He lies down – now come to me and sleep..come !
Ragini lies down and places her head on his chest and smiles. Laksh closes his eyes .
---
---
@morning
@Shivika's room
@Raichand mansion
---
---
Anika wakes up murmuring – baby…shivi..pls don't wake up ..let me sleep…
She caresses a face ..- mera shivuu..mera babyyy..shivi..why is ur face so rough…what is this pricking me…this is like beard ..what the !!!!!!!!!!!!!!!!!!
Shivaay screams – anika..what ..what happened !! what !!!
Anika – shivaay ..you !
Shivaay – yes me..pehli baar dekha hai kya ??
anika – no no ..sorry shivaay …I was just half asleep..wait a min !!!!!!!!!!!!!!!!!!!!!!
Shivaay – what happened now !!!!!!!!!!!!!!!!!!!!!!!!!
Anika – where is our baby !!
Shivaay gets shocked !
---
---
@kitchen
---
---
Kunj is shown shouting .
Kunj – areh uanty ji..what was the need….u don't need to do all this .
Rupvati is shown holdiing shivanya. – areh, malish is good for baby..
Kunj – areh they do her malish . plz give her to me..shivaay bhaiya will create a ruckus now…
Rupvati – but beta..full body oil massage is good…if u want ill do urs too….
Mona smirks – I don't mind giving u a full body oiled massage kunj ji…
Mona winks.
Kunj rolls his eyes – no thanks . plz give her to me..
Kunj takes shivanya.
Suddenly ,
Shivika arrives panting. Anika runs to kunj and takes the baby and kisses her continiously.
My darling ..meri jaan..meri pari..mera baccha..where were u ????
Shivaay – kunj ..what the !!!
Kunj – bhai woh..rupvati aunty was doing her malish..
Shivaay – oh..wait what !!! she sneaked into our bedroom!!
Kunj rolls his eyes – relax bhai..now plz don't shout…
Shivaay – what the f**k ..shivi..come to papa..
Shivaay holds the baby and frowns . – f**k !!!
Shivaay –anika..why is smelling like soyabean oil ????
Anika – what ???
Kunj sniffs her – what the ….
Nika – actually I have nose block…
Shivaay – did u ??
Rupvaati grins – yes..i did malish of her with this oil…
Shivaay screams – ughhh!!!!!!!!!!!!!!!!!!!
---
---
@Breakfast Table
---
---
Swara's saree  and look
Ragini's saree and look
Raichands are shown sitting with bajrangbalis.
Ragini and suhana put dishes.
Suhana – molaram bhai, rupvati vevaan, we have made all dishes to ur choice.
Anika smiles.
Shivaay frowns – anika..where is my omlette.and bread ? where is my english breakfast !!
Anika – umm wo..i thought aaj..
Molaram smiles – areh wah..ashish babu..
Ashish – ji ??
Molaram – aaj tak suna tha angrezi log hote hai..nashta bhi hota hai..naya suna hai..bhagwan ne sikhaya hai..dhanyawaad pahari wale baba bhagwan !!!
Kanchi – uncle ji..who Is that !!
Ranveer smiles – ur would be sasur !!!
Kanchi – roody !!!!!!!!
Ranveer laughs – sorry sorry !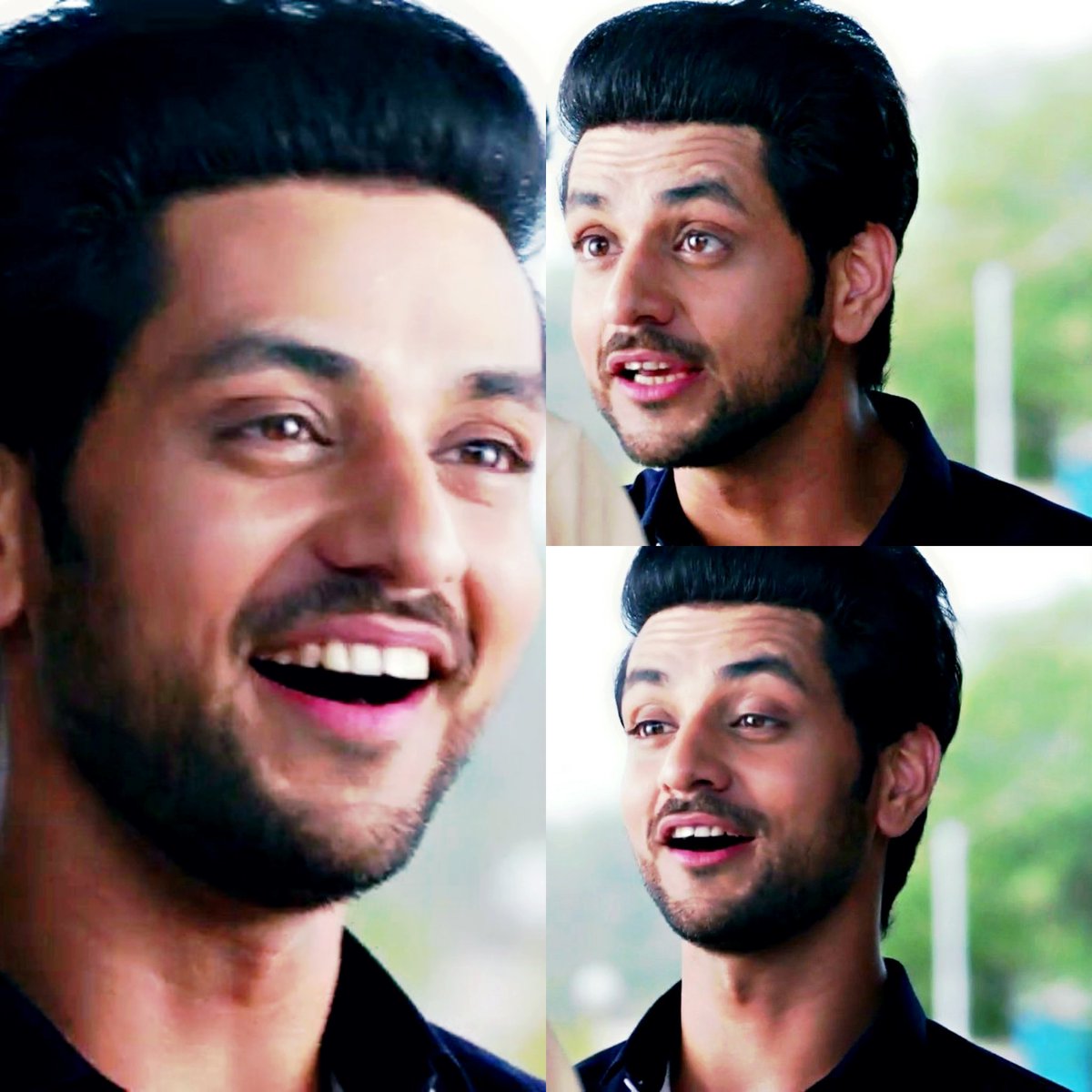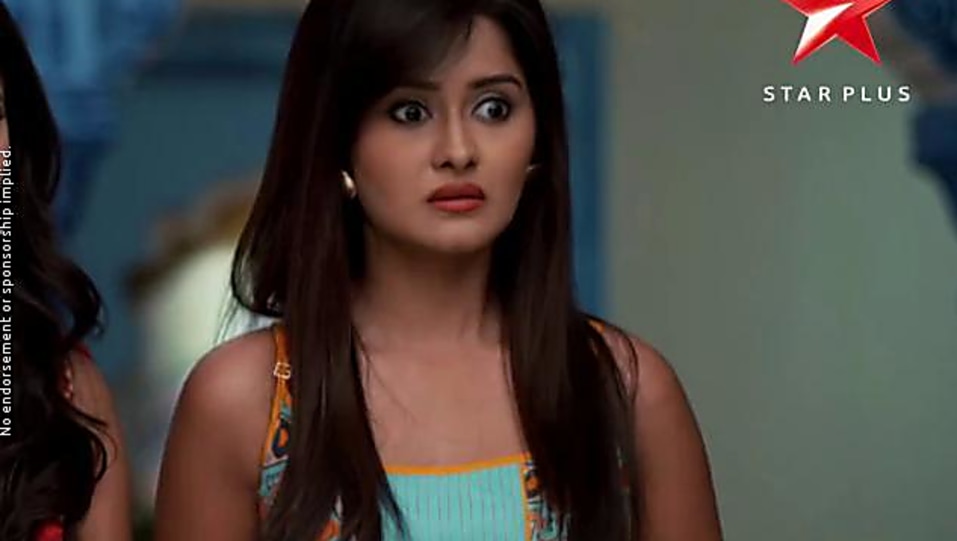 Swara comes and She pecks his cheek..sanskar kisses her back.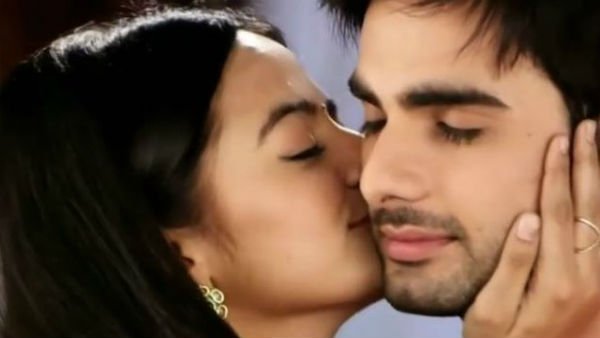 good morning baby ! mmmwah !!
good morning sweetheart ! mwah!

She gives coffee to sanskar .
Sanskar – thanks princess  !!
Suhana – isse toh swara ki extra cream wali special coffe ke binan ashta bhi nahi bhata !
Mona nods . she winks sanskar.
Sanskar coughs.
Swara enlarges her eyes. Raglak laugh.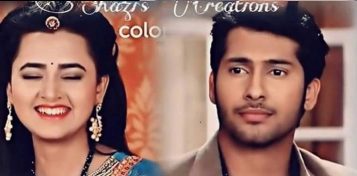 Swara – ek min sanskar.
She sips the coffee before he does and smiles hotly..
kehte hai..jhootha khane se pyaar barta hai..
sanskar blushes.
Rupvati instantly drinks Ranveer's tea.
Ranveer – mummy ji..what are u ???
Rupvati – areh thari bhabhi saa ne kaha na ! jhootha khane se pyaar barhe hai ! toh bas..ajse tu and mai bhi pyaar karenge !!
Kunj screams – what !!!!!!!!!!!!!!!!!
Ranveer – as a son !
RUPVATI – YES !
Kunj sighs.
Anahita – what a circus !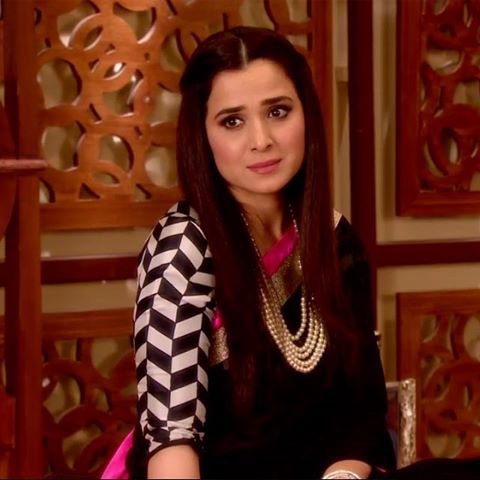 The bajrangbalis leabe for their rooms.
Ranveer- I hope u all are not disturbed by them..
Shivaay – oh yes..they are the most posh peple on earth .  I have some work. Bye !
All members leave. Ranveer smiles sheepishly.
---
---
@Raglak's room
---
Laksh is shown doing push ups . shirtless.
He continiously does it without break. Suddenly, rupvati enters and sees him. She hurriedly closes her eyes in shame and screams .
aye !!!!!!!!!!!!!!!!! raaam..raam…ram !!! yeh kya dekh liya maine ! raam raam raam !!
ragini and swara rush inside the room.
Ragini – aunty ji..kya huwa ???
Swara  – lucky..tum…thik ho na !
Laksh nods irritantly – areh aapko kya huwa…kya dekh liya aapne !
Rupvati closes her eyes – raam raam…aapne kuch pehna kyu nahi..haye mori nazar kharap ho gayi..paap char gayo mare ko !!! aye ram !!!
Swara – ohho..aunty its okay..its not a big deal.
Ragini laughs . she passes laksh a towel.
Laksh holds it and looks weirdly.
Laksh  rags stop it yaar..
Ragini holds her ear and chuckles  – sorry ….sorry
Suddenly , mona enters.
She gets shocked seeing laksh .
-aye haye …
Mona tocuhes his chiseled boy.
.kya dole shole hai aapke …asli hai..mai chuke dekhu !!
Swara starts laughing .
Ragini gets angyr and moves her away..
Ji nahi..jaiye aap…aur aunty ji ..aap bhi jaiye niche pandit ji is waiting for u !
Mona and rupvati leave making face .
---
---
@Evening
@Anmer Hall Banquet ltd
A huge banquet hall is shown. It is covered in pink roses and white carnations . the whole décor is in ivory, cream and shades of pink everywhere. A classsic huge buffet of delicacies are shown. Many men are shown in white clothing ,and women in pink dresses and pink sarees.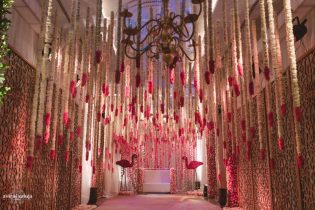 Ishani and Ranveer's photos are shown hanging in floral flames .
A huge stage is shown with a beautiful floral roof..on a high stage . it is shown revolving  in  circles.
Kunj is shown admiring it. – wow…peeps…what an engagement stage ! get ready for the biggest wedding of decades!!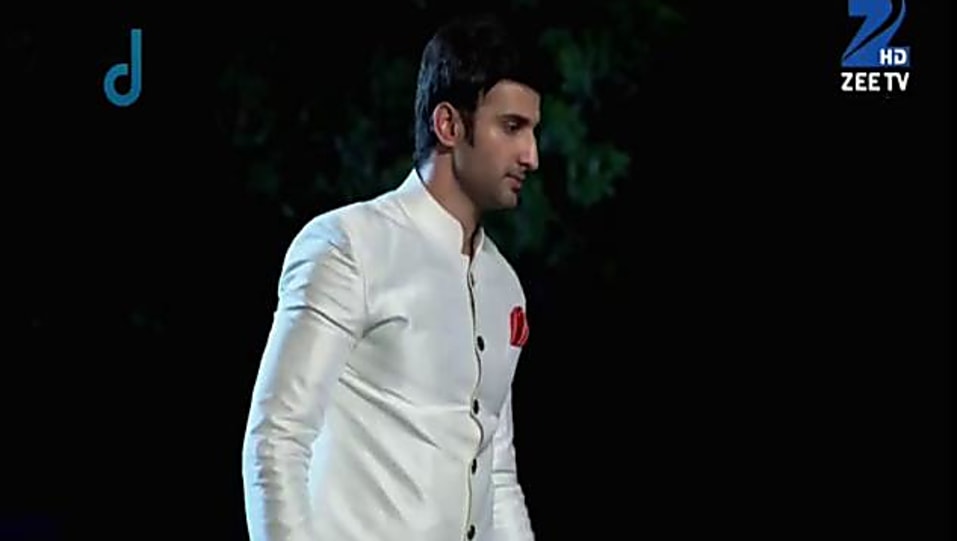 ---
---
@Outside the hall
---
---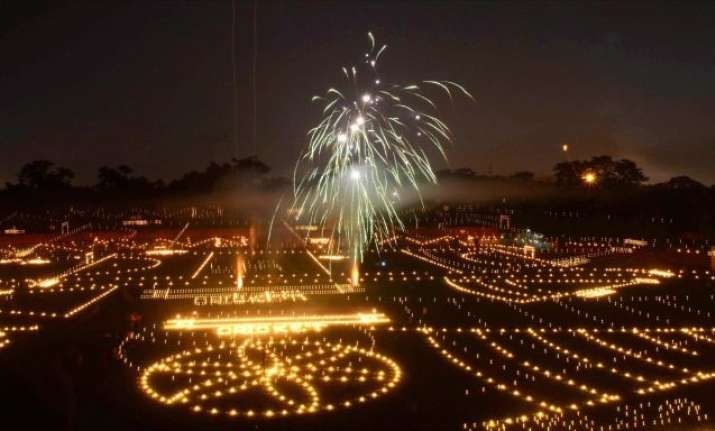 Over 3000 diyas are shown blowing around the whole hall. A pool is shown decorated with rose petals, beside the banquet hall.  The whle roads leading to the hall are shown ocvered in pink rose petals. Ivory lighting is shown done on the whole area.
Prince, kartik , and Durga are shown firing, crackers, patakhas, phooljharis..
Prince teases kartik – bro..where is your concentration !! missing ur patakha ha ??
Kartik nods striking his eye brow – umm..well..yes..kind of
Prince – accha ji ?? this is the prob with u committed freaks, u guys don't even enjoy without ur other half ..
Kartik – hehe..thats true …
Kartik in his mind **who the f**k says im committed**
Prince – oye..durga..wont u fire crackers ??
Durga – umm..no..i don't feel like..
Prince – ajeeb h tum..who doesn't like firing crackers .come !
Durga – who..i don't know how to …
Prince laughs like crazy – oh..f**k ..u don't know how to! Lol.andu call urself a rajput..areh we fire rifles and go hunting !
durga pouts – sp..now stop teasing me..bhai tell him !
Kartik laughs .
Prince wraps his arm around durga – accha ..cool..so u are a kaccha nimbu !!
Durga frowns – what kaccha nimbu !
Prince – in our village…
Durga smiles– hm….
Prince – pretty girls…
Durga blushes– hmm
Prince – who are losers..are called kaccha nimbus !!!
Durga beats him.
Prince keeps laughing .
---
Durga's look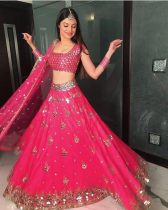 ---
---
@Upstairs
@anmer hall.
---
---
Swara is shown getting ready. She is shown wearing a beautiful lehenga.

---
---
Sanskar is shown spraying perfume on his bare chest. He wears an ivory prince suit. He sees swara struggling.
Sanskar – baby doll..whats wrong ?
Swara – my dupatta is very heavy sanskar ! I don't know how to keep it in place..
Sanskar – I don't mind..u may remove it …
Sanskar winks. Swara goes all red,
Swara – very funny !
Sanskar – accha baba..ill help u ..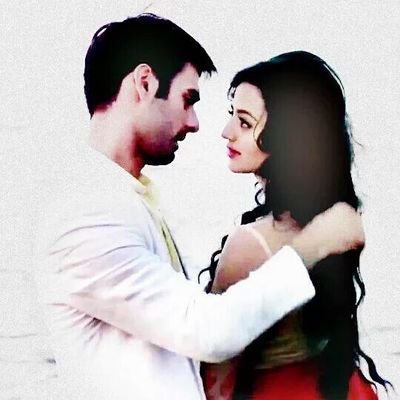 He takes out a waist chain from his pocket and bows down. Swara looks on in surprise .
He makes her wear it around her wiast over her dupatta . swara shivers around in his touch.
He admires her soft skin. Sanskar hovers his lips on her stomach . swara clenches her fist on her dupatta.
He kisses her narrowest point waist ..
Sanskar msiles – tareef kiye bina reh nahi paunga..u have a beautiful stomach and  a killer figure …
Swara smiles shyly. He gets up and holds her by her waist .
Waise Swara !
Hmm…
11 saal ho gaye ! aaj bhi first day ki tarah , ek chune pe laal pili nili ho jati ho tum…
.aisa nahi hai…
Accha ??
He rubs his head on her neck…
– hmm??
– Uh..accha..accha fine . ur right ! now leave me .
Swara pushes him and runs away. Sanskar chuckles .
---
---
@RagLak room
---
---
Ragini was dressing up .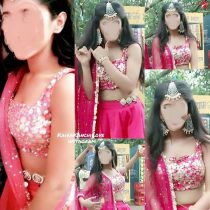 Lakshya sneaked up behind her and kissed her cheek.
She was startled at his act.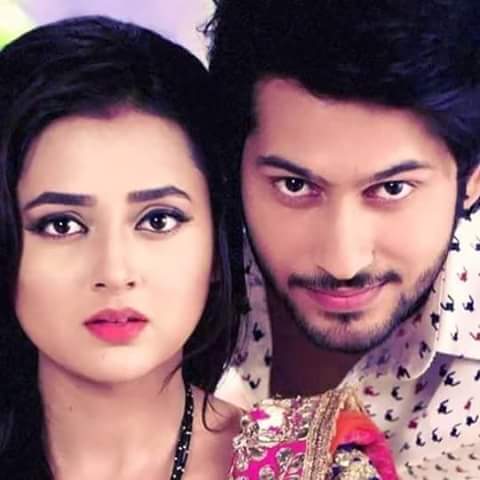 Laksh! What are you doing ? Please leave. Im getting ready and u will spoil my makeup
How rude! You're always ready to ask me to leave. And you didn't even ask me whether I wanted anything!
Ok…relax.. tell me, do you want something?
. I can't find that money bundle for shagun of the wedding . I searched the whole room for it ??
What ?? but….
The file was in the drawer of the side table. She quickly saw it and She gave it to him.
laksh touches his head –
Oops !! I didn't search there !!
Sometimes You look irresistibly cute!
Really? How cute??
he teased with a devilish glint in his eyes, cornering her to the wall.
He saw her blush at their closeness.
he pressed his lips to hers. She let out a harsh breath at his kiss. She tried to wriggle out of his hold.He captured her lips again and traced a pattern on her bare waist through her sari.
Lucky…what r you…!
Im romancing my wife..tumse matlab !
Ragini started laughing.
Someone called out for her ..
Ragini pushes Laksh and went off.
---
---
@Ishani's cabin
---
---
Naira , Maya and Twinkle are shown in the room with ishani.
Naira is shown fixing her dupatta .
---
ishani's dress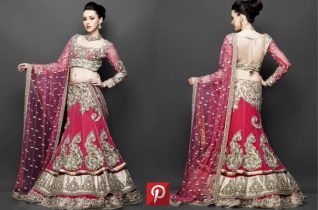 ---
Two assistants are shown ishani's hair. While, her makeup is done by Ragini.
Ragini – tada !! hows it !
Maya stuns – its fab rags !! no one can do makeup better than my bhaauu jai !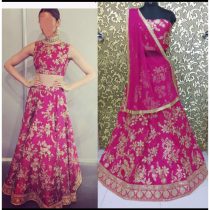 (Mya's look)
Ragini – im not like ur nikhatta bhai !
Maya – haww ! don't say so..my brothr is very talented
Ragini shows her tounge – yes yes !!
Naira – ishu di ! is it done now !
Ishani – I dn know..call swara di..all the stuff are designed by her na !she will know better .
Swara comes .
.Nayu…u have proved to be my sis ! the dress had been wore perfectly. Ishani ur just looking gorgeous.
Naira – hai na di ???
Swara – yes..thank god. Otherwise I htought today also she will look like bhootni.
Ishani – di..not today at least !!
Twinkle hands over a set of bangles to her .
.i heard they are planning of a destination wedding ??
Ishani gets jawdropped – what !!!
Maya – oh..whom u heard from ??? kunj ???
Twinkle blushes.
Swaragini look at each other
---
---
@Ranveer's cabin.
---
---
Laksh                          Shivaay                                 Sanskar                           Ranveer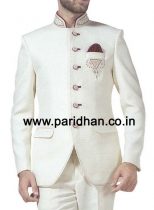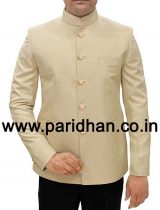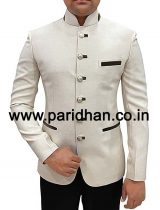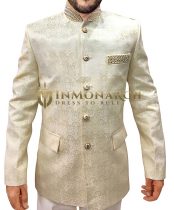 Ranveer is shown grandly dressed.
Laksh – areh sanky …yeh to shadi ke baad hume bhool jayega !
Shivaay – aur nahi toh kya.jaise ki tum dono mujhe bhool gaye !
Sanskar – areh yeh toh vidaa bhio nahi hoga..phir bhi..bas biwi ka hoke reh jayega..ja re ja..but we will miss you !
Ranveer gets emotional – bhai..aap log kya keh rahe ho ! mai kaise aap se dur ho sakta hu..i will always ur own little roody…
Shivaay hugs him emotionally – never realized when this little stinky diaper baby got so old. !!
Ranveer escapes a tear.
Laksh and sanskar smile and hold their shoulders.
Laksh wipes his tear – dekh..whenever u night a night out na..tell me …*winks*
Sanskar – and whenever u need tips on a night in..tell me *winks*
Shivaay – and when u need babies tell me !!!
Ranveer wipes his tears and hugs sanlak.
Shivaay joins their hug !
---
---
---
Precap –
---
ishveer exhanges ring in a revolving stage !!
firecrackers are blown !!
---
rohan – i think..i am in love with Kancci…
---
Kanchi – i have never blown crackers.
Vatsal – let me teach you..
Vatsal holds her by waist . kaanchi looks on.
---
Ranveer – i had to something special na ??
ishani looks on.
ranveer kisses Ishani
---
Sanlak  – start the Music !!