Sajna Veh FF – Epi 22 – "Laksh to Divorce Ragini ? "

Warning: A non-numeric value encountered in /home/ftpusers/tellyu/public_html/wp-content/themes/publisher/includes/func-review-rating.php on line 212

Warning: A non-numeric value encountered in /home/ftpusers/tellyu/public_html/wp-content/themes/publisher/includes/func-review-rating.php on line 213

Sajna Veh
---
---
Episode 22
---
---
@Next day
@Walia house
@Morning
Swara is shown in her bed in her room. Tears escape her eyes. Prince and rohan notice it and come towards her.
Prince – di ..we wiere thinking we will make sherwanis out of ur wedding saree.
Rohan – oh..why ? u can wear the lehenga itself. U know..like ranveer singh .
Prince – haha. Point. Di..kya kehte ho ?
Swara- ye tum dono nikhatto..jao yahan se. leave me alone !
Prince – lo bhai…bhalai ka toh zamana hi nahi raha !
Swara – tiger ?
Rohan – yeah bud..no one loves us here !
Swara – Ro !
She pulls both of their ears and keeps twisting them.
Prince – ouch di…
Swara – whats ur problem ha ?? why do u both keeps disturbing me ?
Rohan smiles and takes out a photo in his phone .
Swara smiles. Rohan – now that's more like our beautiful sister. They both pull her cheeks.
Swara – okay boys..now leave go and do ur work. Im fine and I need to make a phone call.
Prince – but u leave our ears na !
Swara realizes and leaves their ears, slaps their shoulders.
Swara – shararti !
She smiles…
They are about to get up  to leave. swara quickly hugs Rohan.
Swara – Ro..Tiger….
she then gets up and hugs Prince. !.
Prince smiles at Rohan.
---
---
@Lakshya's room
@Raichand Mansion
lakshya is shown bersecking the room.
Sanskar – lucky. What are u doing ? will u break ur wedding photo now !! kya kar raha hai ? pagal ho gaya hai tu ?
Laksh – ha sanskar pagal ho gaya hu. Aur agar tu mere jagay hota toh tu bhi pagal ho jata !
Sanskar – lucky pls. cool down yaar. What happened ?
Laksh – what happened ? u r asking me this ? kamal hai ! kamal karta hai tu bhi !
Sanskar – laksh plz. I can understand ur words. I know ur very tensed now. I know whats going on u right now !
Laksh – no u cannot understand. And u wont understand . kyunki wo teri nahi meri biwi hai jo dursi aadmi ke saath..chi..mujhe toh sochte huew bhi sharm aa rahi hai…
Sanskar – lucky.!
Laksh – sanky. Fine. Look at me..look at me. tell me..can u imagine swara with raghav ..at night..all intimate ?
Sanskar frowns  – Lucky !
Laksh – see..soch ke hi kaap utha hai tu..mujhpe toh guzar rahi hai ! im ashamed that Ragini is my wife.
Sanskar – I don't know how to tackle u right now bhai. I don't know how to ease ur pain. Ut we know er from ages. Shes nice. Shes good. U know shes not thast cheap. She cant do something so..
Laksh – u mean those papers are fake ? le maan liya. What about her confession ? she admitted it blo*dy damn it.
Lakshya kicks the table.
Sanskar – no laksh. Im not saying so., but maybe there may be somehting that we are not able to see right now.
Laksh – kya hai sanskar ? kuch nahi hai…sirf dhoka hai..dard hai.. maar dala hai aaj Ragini ne mujhe. Andar hi andar khatm kar diya hai mujhe…katm kar diya ..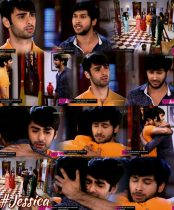 He breaks down. Sanskar hugs him.
---
---
@downstairs
Swara and Suhana are on a call.
Swara – aur bataiye mom..how is dadi ?
Suhana – yes beta . she is better now .
Swara – so.when is dadaji coming ?
Suhana – soon beta . next week. U tell me .how is Ragini ?
Swara – mom..woh..she is fine . taking rest. I don't know mom. Neither she is eating nor..she is talking. I don't know what to do. On what side. When I look at her, I feel anger and distrust. Again, she is my best friend and I know she cant stoop so low. Mom I cant even show sanskar my face. Kis mu se mai ghar aungi ?
Suhana – cool down beta . just remember one thing. Whatver happens. Make sure, u and sanskar remain together.
Swara nods.
Suhana's phone drops on the table. Sanskar comes running behind Laksh.
Sanskar – laksh..laksh stop.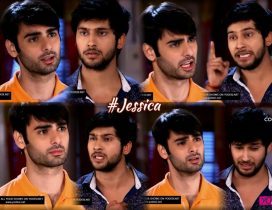 Laksh – leave me sanskar . no one can stop me . no one !
Sanskar – laksh kar kya raha hai tu !
Suhana – lucky…beta…beta what are u doing ? ragini's clothes and sarees..photos..what are u upto beta ?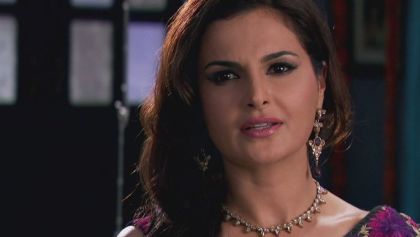 Sanskar – mom see na..he is burning her stuff
Laksh – no mumma..even u cant stop me today. Mom, dad, chote dad, dadi dada, bhai bhabi no one !
Anika comes from behind and takes up Ragini's stuff from the floor.
Laksh – aapko bura lag raha hai bhabi.? That I have thrown all ur bff's bekongings on the floor and burning them . ? then listen,. Then I will turn these into ashes , just the way ragini burnt my , my fmaily's reputtaion and my feelings .
Swara hears from phone call and gets shell shocked. Ragini overhears and runs to her room.
---
---
@ a few hours later
@Kunj's room.
Kunj and twinkle are on a call.
Twinkle- I don't know how can Ragu di do this. I mean, kunj..i mean how can anyone do this ? she loved lakshya jiju a lot . didn't she ?
Kunj – twinkle, ab yeh to mujhe khud nahi samajh araha. U know , Lucky bhai is very close to me. like a part of me. h is just like coconut. Hard from out side and soft from inside. He doesn't express his feelings like sanky bhai . but now is eyes are saying how much pain he is in. I cant see him like this twinkle.
Twinkle – twinkle don't worry. Everything will be fine. And always remember one thing. Be it anyone else or not. Ill always be with you . in every situation. And also that. I will never cheat u .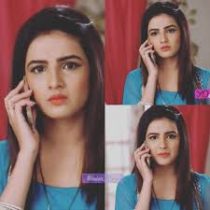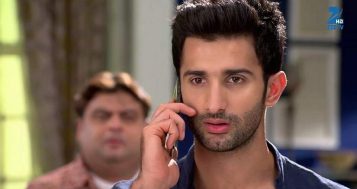 Kunj – I know. Accha then. We will talk later. Take care
Twinkle – bye
Kunj – I love u
Twinkle – mai bhi tumse bohot pyaar karti hu Kunj !
Kunj smiles and hangs up.
---
---
@Cafe 24
Ishani is shown waiting. Ranveer comes.
Ishani – roody . u have taken such a long time. Kabse wait kar rahi thi mai tum hara !
Ranveer – Ishu ghar ki halat sahi nahi hai. Aise me mai tumhare saath aya hu. Yehi bohot hai. Please abhi koi nakhre nahi karna
Ishani – accha ? toh ab ye sab meri gali hai ? I just want to spend some time with u Roody and ur shouting on me !
Ranveer – a…are meri maa.shant ho ja . I have come to meet u na ..lets order something now.
Ishani makes face .
Ranveer – areh baba..ab kya ?
Ishani – I just want ur time ..kon sa hira sona manga huwa hai maine..
Ishani pouts. Ranveer laughs.
Ranveer – areh nakhrewali . firstly, time is always more priceless than diamonds and golds. And 2ndly there are problems running na..u need to understand that too .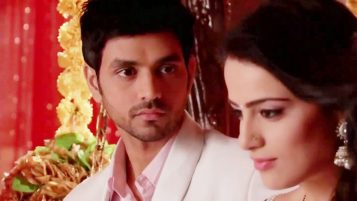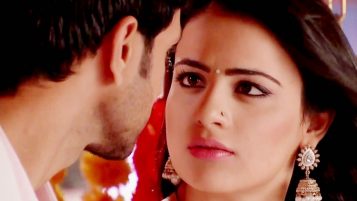 He grabs her hand and caresses her hand.
Ranveer – and soon ur going to be a part of my family after I tell them abou us. So . u need to care about them too babes.
Ishani pouts . – hmm
Ranveer – ab yeh golgappe ki tarah mu nahi fulaake baith jaya karo yaar..
Ishani gets annoyed – ha..ha..its my habit na..i do it happily. Making face like gol gappa.
Ranveer – haw..waise ha..yeh to hai.
Ishani – huh !!!! what do u mean ???
Ranveer – hehe..yehi kke..tumhari aadat hai..golgape jaishe cute shi mu banane ki..
He pulls her cheeks,
Ishani – ahh…
Ishveer laugh .
---
---
@after a while
@Walia house.
Doc – yes. She is fine now. Perfectly fine.
Swara – thank you so much doc. Thankyou. Prince , leave her till the door.
Prince – ji di. Come doc .
Maid comes – swara bibi. U have got a call.
Swara nods – im coming.
Swara leaves.
Durga snuggles up to Ragini.
Durga cries  – di..di tum pagal ho ? agar tumhe kuch ho jaata toh ? toh mera kya hota di..i lvoe u so much di.
Ragini – even I love u a lot baccha .
Durga – di tum aisa kyu kar rahi ho..kyun mere paapon ki saza tum le rahi ho !
Ragini  cups her face. – kyunki , bachpan mai maine tumse waada kiya tha ki mai tumhe tumhare har problem se bachaungi. Toh bass..leave it now. Isme sab ki bhalai hai.tumhari..mumma papa ki..
Durga – aur aapki ? jiju ki bhalai ? what about him ? di please.
Ragini – no durga. Now don't repeat it again.
Durga –a nd what about u did ? u tried to suicide ? did u think even once what would happen to me ? to mom dad / to kartik bhaiya? And laksh jiju ?
Ragini – what will happen to Laksh jiju ? maine toh waise bhi andar hi andar tumhare lakshya jiju ko maar dala hai . now only he is physically alive.
Durga – whatever . promise me u wont repeat such tactics. Or else ill die.
Ragini – no baby. I promise.
She hugs her .
---
---
@After a while
@Swara's roon.
Suhana, sanskar , ragini, prince ,swara durga are shown. Ragini is shown on bed.
Suhana – okay beta . if ur fine. Then we will leave. When I heard that u tried to kill urself. Ragini if u want to be quiet. Then ill not say naything. I don't know true and false, but ur silence isnt gonna help. Sanskar. Come lets leave.
Suhana leaves the room.
Swara – durga..get a bowl of soup for Rags.
Durga – ji di.
Swara – prince. Listen go and bring these mds.
Prince – okay di!
Sanskar – Ragzyy… Take care
Ragini – take care Sanky
Sanskar – come home tomorrow for the divorce proceedings.
Ragini gets tearry. She avoids his eyes. She nods.
---
---
@Outside the room
Prince – durga. Why do I think that ur hiding something ?
Durga – sp what are u saying ? what will I hide ?
Prince – ur lips are concealing something Durga. But ur lips are saying everything.
Durga – ky..kya matlab.. sp. Look. Ur just thinking. Rubbish. Why..why would I ..
Prince – I feel like u don't look at Ragu di with pity or love, instead, u look at her with guilt. Jaise ke..tum assami ho aur wo fariyadi.
Rohan calls prince.
Prince – coming bhai. We'll discuss this later !
Durga – hmm
Durga rolls her eyes.
---
---
@Door
Swara leaves sanskar till door. Sanskar looks at her. He is about to leave when she holds him…Swara holds her ears…
Swara – baby sorry!
She holds her ears.
Sanskar nods in negative.
Sa – areh..kya hogaya ?
He removes her hands from her ears and wipes her tears…
Sanskar –  jaan tum..
Swara sobs – im sorry Sanskar. Mai tumhe chodke aise..
Sanskar cups her face – areh nahi baba.is waqt Ragini ko tumhari zarurat hai princess…aur tum kyu ro rahi ho, tum toh meri strong princess ho na ?
Swara – accha ? aur tumhe nahi hai ?? Meri zaroorat ?
Sanskar – yes sweetheart…I need u ..alot..but my jaan, ur Ragini's strength now…
Swara  –and ur my strength!
Sanskar smiles.
Sanskar – I love u
Swara  – I love u too!!!
Swara hugs him…
Swara – I love u 2 3 4  infitinty…
Sanskar – and I love u more…
he kisses her forehead.
They smile. Sanskar leaves.
Swara – baby !
She stops him…he looks back…she runs and pecks him….
Swara – ab bye…
Sasnakr winks – bye !
He leaves.  Swara smiles !!!
---
---
@Anika's room
@Raichand Mansion
Anika gets shivaay's call…she gets tearry eyed..
Shivaay – Annikkaaa…I miss u…!!!
Anika starts sobbing….
Shivaay – Areh..tum….tum ro rahi ho ..my tigress ???
Anika – I miss u too Shivaay….
Shivaay – ..shhh..bass…chup..ekdum nahi rona..warna mai bhi rodunga..
Anika smiles…-  okay baba sorry..i wont cry
Shivaay – accha..listen..i have an idea.after I come back next week, we will have a movie, dinner, n all..only 3 of us . okay ???
Anika – 3 ?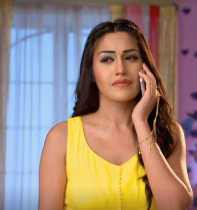 Shivaay – yes honey . apne pet ke andar ke waale o bhul gayi kya ?
Anika laughs – hmm..thnkyou billu ji..ur really my superman. I love u so much…
Shivaay – I know.. owkhayy??!
Anika – thankyou Shivaay !!
Shivaay – welcome Anikha..…accha ab so jao…hmm.? My baby needs some rest too.
Anika – goodnight Shivaay.
Shivaay – goonigh!
Anika – uh..shivay. don't forget to take ur vitamins .
Shivay nods n smiles.
Anika –byee !
Shivaay – Anika..
Anika – ji..shivaay ?
Shivaay – don't cut the call. Keep it on ur belly. I want listen to him breath while I sleep.
Anika smiles and obliges.
Precap –
Ragini is about to sign divorce papers.
---
Prince hugs durga and she cries badly.
---
Anika screams in pain  !
Shivaay – mom ..mom…what happened to her ?
Anahita- oh my god. its a premature baby !
---
Swara gets a call.
Swara – hello ?
Arjun cries – Swara….wo..Maya !
Swara gets shocked !
---
---
The End

Warning: A non-numeric value encountered in /home/ftpusers/tellyu/public_html/wp-content/themes/publisher/includes/func-review-rating.php on line 212

Warning: A non-numeric value encountered in /home/ftpusers/tellyu/public_html/wp-content/themes/publisher/includes/func-review-rating.php on line 213