Sajna Veh – FF – "Epi 20" "Ishani's secret"

Warning: A non-numeric value encountered in /home/ftpusers/tellyu/public_html/wp-content/themes/publisher/includes/func-review-rating.php on line 212

Warning: A non-numeric value encountered in /home/ftpusers/tellyu/public_html/wp-content/themes/publisher/includes/func-review-rating.php on line 213

Epi 20
---
---
@Few hours later…
Anvi is shown in an unconscious state. The raichands are shown standing around her. Sanskar is shown standing at a distance with tearry eyes . ragini and anika are shown sitted beside her . the police team are shown standing ins Swasan's room.
Inspector : mr. sanskar. Here are the reports of the sperm test .
Sanskar gets surprised and takes the reports.
Inspector : we are extremely sorry Mr.Sanskar. all of this confusion happened due to the creation of fake eports. Mrs. Suhasini and Mr.Vardhaan are wellknown con men. They have even before married girls using this tactic and inherited their property.
Sanskar sees the sperm test report of Anvi matching his.
Sanskar – this means…
Laksh smiles with tears in his eyes. – this means…
He hugs sanskar from a side.
Inspector – it means Ms. Anvi is none other than your wife, Swara Sanskar Raichand . congratulations. She is back to you now.
Sanskar looks in disbelief. Shivaay smiles.
Shivaay – see I told you…I told u those people were not right.
Ragini gets emotional and kisses swara's head.
Suhana wipes her tears – I always had this feeling that she was none other than my Swara my baccha…Roody beta, inform the walias about this knews. Tomorrow a grand party will happen in her honor. Right maa ji ?
Dadi knows – yes. After all the diamond of her family is back .
Anika smiles and kanchi side hugs her.
Ranveer – but..inspector. what about swara bhabi's tattoo ?
Inspector – after falling grom the cliff, she had undergone skin change in a few areas as surgery. That might have erased it.
Ranveer smiles widely.
Ragini – I knew it. Nothing could happen to shona..
Anahita smiles – kaanchi invite 300 people over for a lavish dinner a tomorrow night .
Kanchi nods happily.
Inspector – we shall take a leave now. She needs rest. U may leave her alone.
Ragini – I shall stay here.
Sanskar and others are about to go when Swara moves her fingers and stutters her eyes.
Swara mumbles – sanskar…
Sanskar looks back .
Swara opens her eyes widely and looks at all.
Sanskar – swara….
Swara screams – sanskar !
Swara gets off bed and runs emotionally to hug him. She throws her arms around his neck tightly. He hugs her tighter …
The family smiles. Ragini and anika are comforted by their partners.
Swara removes her head off his hsoulders…
Sanskar…sanskar…I am not devanshi sanskar..im swara ur swara..i remember sanskar..plz tum mera biswas karo…sanskar..baby..ami tumhari swara hu..trust me baby..i lvoe you ..i love you
Sanskar gets tearry eyed and the family realizes that she got back he memory. they all smile. And sanskar cups her face hard.
.
Sanskar I ..i love u sanskar…believe me..
Sanskar doesn't waste a moment and envelops her lips with his, shuting her up,. He sucks her lips for a little while, while all look on embarrassed and leave the room for then.
Sanskar breaks the kiss.
I know.. I know princess. I know..
He kisses her forhead, her cheeks, her nose, and chin. And hugs her tightly and caresses her back. Tears run down his cheeks. She weeps loudly… The next moment they locked their lips tight. The hands, with the instinct of a child, started exploring the other's body.. They felt like one God creating a new Universe. sanskar, breathing urgently, picked her up. Though his forearm ached a little but swara's seductive gape made him forget it soon. He placed her on the bed gently. He was quick to lift her  top. And she responded by lifting her hands. As the top came out, and was thrown aside, her hands were dutifully around his neck again. For half a second there was a break in their smooch only to restart again. She brought her hands in front and, one by one, unbuttoned his shirt. Her fingers, at first, played softly with his worked-out chest. He placed his hands behind her which helped him unhook her bra. His hands cupped her mounds . And the first squeeze extorted a vulgar moan from swara. They licked the other's face, nose, forehead, cheeks, lips, chin and every corner of the face on offer.. He was ferocious but not an animal. His warm tongue first touched her inner thighs and made a daring journey further. A long moan escaped her. She held his head and tightened her grasp.. And with each lick her sh moaned louder. This was the 30th time they made love, and yet it was so new. sanskar took a break for few seconds, doffed both his trouser and underwear together and joined swara again. he carefully parted her legs and gently entered his hardness into her softness "I love you." ---
---
@Next day .
Swasan's room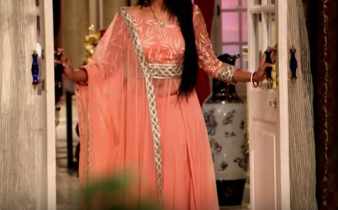 Swara is shown getting ready in her peach and silver kurta. Sanskar is shown sleeping. She slowly lies beside him and caresses his face. She then softly pecks his cheek. He flutters his eyes. Swara a smiles,
Swara  – pati devo bhava, now get up!
Sanskar makes face  – noooo
he quickly grips her waist and she gets on top of him.
Swara – ouch ..sanskar !
Sanskar  – u know, how much I missed it, ur ankelts sound, ur silky hair, ur luscious lips, ur cutesy expressions, and this fragrance….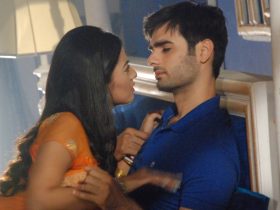 He nuzzeles his noce on her neck ..she blushes hard…and smiles…
Swara – mmh…sans…karhh…
Sanskar  – u look so pretty when u smile…
Swara  – smiles **blushes**
Sanskar  – and aur bhi pretty when u blush…hai meri tamatar…tumhari muskaan…
Swara – meri muskaan janab..hai bas tumhari daan …
Sanskar – aur meri jaan!
Swara  –  tumpe qurbaan !
Swara  smiles more ** swasan share a soft giggle.
Sanskar-  awh mera pyara baby…accha..tum …plz  promise me u would never leave me again jaan…I remain barely alive without u yaar..i love…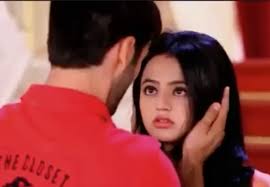 Swara – I promise…baby
Sanskar – warna mai mar jaunga…
Swara  smiles..and kisses his lips softly. Sanskar smiles at her.
---
---
@Night
@Raglak room
ragini is tying her dori.  Lakshya comes smiles and ties it. She smiles. He then softly grips her waist , and kisses her shoulder.
Lakshya  – babes…ur looking very beautiful . …
ragini – hmm…and ?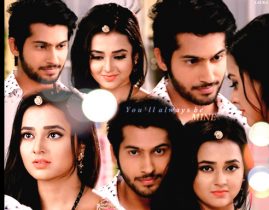 lakshya  –and what….just beautiful . nothing more. Tumne kya socha..hot..cute ?? nahi nahi .itni bhi sunder nahi ho tum…
ragini – haww..ur so rude na laksh !
ragini beats his shoulders…
laksh – ouch !
lakshya quickly hugs her….ragini smiles…
lakshya  – cholo isi baat pe, aaj mai tumhe sajaunga…
He makes her sit, and decks her up. She stands up…
He looks numb. She makes a chutki….
Laksh  – uhum….what ?? nothing !…
Ragini  – umm….thankyou for the silent complement….
Lakshya  – hmm,.welcome…and I love u too for the silent I love u …!!!
Ragini  laughs. lakshya holds her and tightly hugs her. ..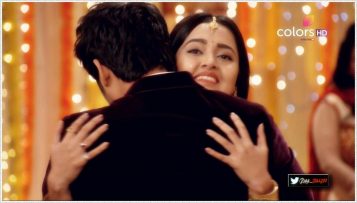 ---
---
@the party
Walias and the raichands are shown together at raichand house.
A lavish décor is shown . ishani is shown in a corner fiddling with some papers.
Meanwhile, twinkle is shown walking impatiently in a place. Suddenly, kunj comes and hugs her from behind. She lets out a sigh.
Twinkle – Kunj !
Kunj – awh ..hey sweets !
twinkle hugs kunj. he pecks her cheek.
Twinkle – u scared me. where were you ? I was waiting for u from such a long time. U didn't even pick up my calls.
Kunj – hmm..and I shall do it again.
Twinkle – acha ji ? and why ?
Kunj pulled her cheeks like a baby.
Kunj – warna…tumhara yeh dar..aur yeh rahat wali muskaan kaise dekhunga ?
Twinkle chuckles – ur too much.
Kunj is about to kiss her cheek when dadi comes.
Dadi – uhmm…uhm..
Kunj jumps off.
Kunj – dadi ji..
Dadi – what were u trying to do ???
Twinkle walks away in shame.
Kunj – nothing dadi…nothing.
Dadi – oh really..hum bhi kabhi tumhare umr ke the bacche…
Kunj looks on embarassaed.
---
---
@other side
Twinkle bumps into a table and notices ishani's bag there.
She opens it to take her charger and finds a paper. She opens it to get shell shocked !!
Twinkle remains shocked. Ishani comes from behind.
Ishani – twinkle..ehh….what r u doing with my bag ? chorni !
Twinkle – ishani….
Ishani remains irritated – ab kya hai ?
Twinkle – you're pregnant ?
Ishani shocks.
Episode ends on her shcoked face !

Warning: A non-numeric value encountered in /home/ftpusers/tellyu/public_html/wp-content/themes/publisher/includes/func-review-rating.php on line 212

Warning: A non-numeric value encountered in /home/ftpusers/tellyu/public_html/wp-content/themes/publisher/includes/func-review-rating.php on line 213