Sajna Veh FF – Epi – 19 -" Swara declared dead "

Warning: A non-numeric value encountered in /home/ftpusers/tellyu/public_html/wp-content/themes/publisher/includes/func-review-rating.php on line 212

Warning: A non-numeric value encountered in /home/ftpusers/tellyu/public_html/wp-content/themes/publisher/includes/func-review-rating.php on line 213

Episode – 19
---
---
@Next Day
@Raichand Mansion
---
Vardhan – u guys didn't find any tattoo on anvi's waist that belonged to swara . and still u claim how ridiculous !
Shivaay – oh hello..mr.businessman. be patient. The sperm test has been taken na…soon it will be proved if anvi is anvi, swara or devanshi .
Ragini enters with cups of coffee and distirbutes it to the family.
Anahita – anika beta.  I think u should visit ur maayka once. This mournful environment is not healthy for u .
Anika – nahi Ma. Im fine. How can I leave my family in such a crisis. Nothing will happen . u please relax.
Anahita – as u please beta. But trust me. I want u to visit there. Infact I will acompany you.
Dadi – from where did the sun rise today , suhana ?
Suhana – probably the north , Maa.
Ranveer and Ragini exchange a gentle giggle.
Sansakr is shown pacing the hall impatiently.
Vardhaan – come and enjoy ur coffee, sanskar. Pacing the hall wont make my devanshi ur swara !
Sansakr glares at him and is about to speak when laksh stops him.
Laksh – bhai..cool.
Suddenly, Kunj enters with reports in his hands.
Ranveer runs to him – kunj..reports.
Kunj – yea roody. Umm..everyone..swara bhabhi ..i mean anvi ji's sperm test reports are here.
Anvi comes by the stairs and grabs sanskar's shoulders . sanskar assures her with his eyes.
Kunj- sanskar bhai…
Sanskar takes the report and is about to read it. Swara's memories flash in front of his eyes.
---
---
Flashback
Sanskaar leads his lady love to the table. He removes the blindfold. Swara gets mesmerized…
Swara – baby…it's beyond magical..???
Sanskar – beautiful isn't it ??
Swara – yeah..very beautiful..??
Sanskar in a husky tone – not more than my princess ??
He grabs her waist and kisses her neck…she gets heated. .. …suddenly..swara turns around
Swara – but this all must be expensive na baby ?
Sanskaar – yeah..but don't talk like a typical wife now ??
Swara – areh let me.finish baby. ..u r spoilimg me..later u have to do it after marriage also..??
Sankaar – after maarriage…I'll do many things more..??
Swara – sanskaar ur so shameless ??
Sankaar – u didnt see my shamelessness yet princess…???
---
---
Flashback
He goes a bit away and takes a small diamond crown..comes to her and wores her….they look thorugh the window…
Fire works are shown flashing the senetence –
" I LOVE YOU MY PRINCESS "
SWARA STARTS CRYING TEARS OF JOY….SHE WIPES THEM…..
Sanskar smiles…All quiet…
Sawar shouts –  I LOVE U SANSKAAR !!!!!!!!!!!!!!!
WORDS ECHO IN THE HALL….Sanskaar smiles widely….
Sanskaar – sorry public but…
He smiles sheepishly….and hugs her tightly !!!!! Swara gets surprised and smiles ..hugs him back !!!!!
All clap loudly !!!!!!!!!!!!!!!!!!!!!!! swasan smiles and parts…
---
---
Flashback
Sanskaar : Swara walia …
Swara (smiling and correcting him) : Not anymore. It's Swara Sanskaar Raichand now.
Sanskaar's smile grew beautific. He put his arms around her.
Sanskaar : So it is. How did I become so lucky?
Swara turned and put her arms around him as well.
Swara : I love you, my prince.
Sanskaar (kissing her forehead) : I love you too, My Doll!
His lips traced the path to her ear lobes and he slowly nibbled on them and she shivered. Her whole body was tingling and she knew she was starting to get excited.
Sanskaar stopped at her shiver.
Sanskaar : Do you want me to stop, Swara? You seem like you're about to catch a cold.
Swara : Don't you dare stop, you horrible man. You know that was anticipation and not a shiver of illness.
She pulled him close and kissed him
---
---
Flashback
Sanskar then comes out of the wshroom , in a black robe and wet hair. He hugs her from behind and pouts as his chin brushes her shoulder.
Snskar – not fair baby . how can u leave me like this. Ill not let u go. Not matter what !
Swara smiles. Sheb reaks the hug.
Swara – wait..you..so its u. u hid my bag and stuff ??
Sanskar – hmm ..pouts **
Swara gigles – buddu ram…
She mock punches his shoulder .
Swara – who told u I will not be able to go if u hid my clothes. I have lcothes at maayka too..
Swara naugtinly shows her tounge.
He grips her tiny waist and hodls her close. Snaskar puts his haed on the crook of her neck and nuzzles her collar bone ..
sanskar– baeebyy…plz don't go na..how will I live 48 long hours without u !
---
---
flashback
Swara – sanskar save me..sanskar ..aaa!!
Sanskar – swara relax..give me ur hand..cmon swara..cmon…
Swara tries but in the process her hand slips off..
Swara – I love u Sanskar !
Sankar –swara !!!!!!!!!!!!!!!!
Swara falls down in deep water
---
---
Sanskar chokes his tears . he takes out the reports and reads it. Tears flood his eyes.
Sanskar screams – swara !!!!!!!!!!!!!!!!!!!!!!!!!!!!
He falls down on his knees and cries bitterly.
Laksh grips him – bhai..bhai what happened !
Sanskar keeps on crying continiously.
Anvi while shivering holds the report and reads it. She doesn't respond . ragini snatches it from her.
She reads it. Tears stream down ragini's face.
Kunj nods – yes. Anvi ji…is not swara bhabi. The sperm test proves that she was previosuly married to vardhaan ji .
Suhana – nahi bhagwan .
Anvi remains numb.
Sanskar cries on.
---
Paas aaye
Dooriyaan phir bhi kam naa hui
Ek adhuri
Si hamari kahani rahi
Aasmaan ko zameen
Ye zaroori nahi
Jaa mile, jaa mile
Ishq saccha wahi
Jisko milti nahi
Manzilein, manzilein
Rang thhe, noor tha
Jab kareeb tu tha
Ek jannat sa tha, yeh jahaan
Waqt ki ret pe
Kuch mere naam sa
Likh ke chhod gaya, tu kahaan
[Hamari adhuri kahani
Hamari adhuri kahani] (Repeat once)
---
Anvi touches sanskar. Sanskar gets up at once.
He holds her and jerks her.,
Meri jaan ki dushman. Jee kar ta hai tumhari jaan le hu. Ek hi pal me tumse itni nafrat aur mohabbat kaise hai mujhe. Nahi..tumse nahi..anvi sharma…sorry..devanshi..devanshi roy..i jst love ur face !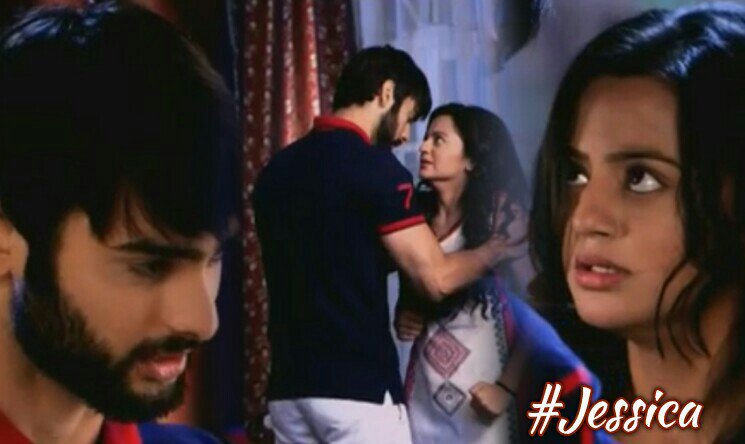 He pushes her off….
.how could I ..mistake anyone else to be my swara…how..how !!!!!
Suhana holds his face – calm down beta..u will get sick like this…
Sanskar – mom…swara hates me now ..right ? what will she think mom. How will she interprete my love mom..how ??
Suhana – sansksar beta…
Suhana hugged sanskar tightly as he broke down in her arms.
Anvi wept silently.
Ragini – anika..anika..our shona…
Anika holds ragini and cries bitterly…
Ragini – our bff left us anika ! she left us…
Ragini breaks down and laksh grabs her. She cries bitterly in his arms.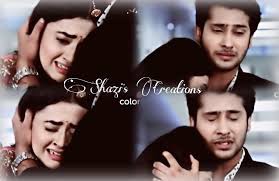 Shivaay grips anika and hugs her.
Shivaay – baas..Anika..please cool down. Its not good for ur baby …shh..
Laksh starts crying as well.
Anvi sobs softly. Suddenly, vardhaan grips her shoulder !
Vardhaan –  devu…
Anvi looks on …
Vardaan – mr.sanskar…as bcoz u caused trouble to us..i would like to know..if u would hold a wedding so that I could marry my devanshi again ! in ur house only..and that too tomorrow !
Laksh – ae..what nonsense !
Sanskar wipes his tears – yes I will..
Vardhaan smiles .
---
---
@night
@guest room
Anvi is shown lying on bed restlessly. She moves on both the sides restlessly.
Suddenly, she hears footsteps and pretends to sleep.
Suddnely, she fels a soft touch on her cheeks , her jawlines, her hand ,forehad and her lips. Anvi gets up. Sanskar jerks off.
Anvi – sanskar …
Sanskar – I am sorry ..
Sanskar is about to leave when she grabs his hand.
Sanskar – anvi…
Anvi – why are u doing this sanskar ? I know you love me, and I know I am swara…
Sanskar – yes..i love ur face. Not you anvi sharma !
Anvi – I am ur swara , sanskar..look at me…
She cups his face…
Anvi – look at me sanskar..im ur princess. Can u make it out ?
Sanskar – please anvi…
Anvi – I don't have my memory sanskar. But I have  a heart..and I can sense it. The closeness , the ownness that our room, this house, and u give me . how can u give me away to vardhaan sanskar. I love u and u love me..im yours..we got married 3 months ago right !
Sanskar –anvi enough. Already im very guilty of thinking of u as swara . and now don't push it further. U r devanshi roy.  And vardhaan deserves u just as I deserve my swara . u will get married to him. And…
anvi hugs him tightly …
Anvi – but sanskar I love you…i love u sanskar..i really love u
Sanskar gets lost in her eyes but snaps out – I know..i know..and for me, marry vardhaan , Anvi. I know u don't remember him. But he is your husband, if u loved him once , u will love him again. goodnight !
Anvi – fine sanskar. I will do as u say. But on one condition. I will wear swara's wedding lehenga !
Sanskar gets flAggerbasted !
---
---
@Next day
The whole house is shown getting decorated .
Anika is shown, sitting on the sofa. Kaanchi is feeding her fruits. Anahita brings a glass of milk .
Anahita – Anika..beta…drink this. And have this medicine.
Anika – medicine ? what medicine , ma ?
Anahita – just stress relievers beta.
Anika – oh..thnks ma.
Anahita smiles  and blesses her.
Suhana observes it from a distance !
Suhana  in her mind – why is bhabhi suddenly so caring twards Anika ?
Anahita in her mind – becoz I need to ensure she has a girl !!
Anahita smirks evilly !
Dadi, ranveer, raglak, shivaay and sanskar gather. Kunj, Ashish, and Avish come as well.
Sanskar hugs laksh.
Laksh – tu thik hai nah ?
Sanskar nods.
Anvi comes down in swara's wedding attire…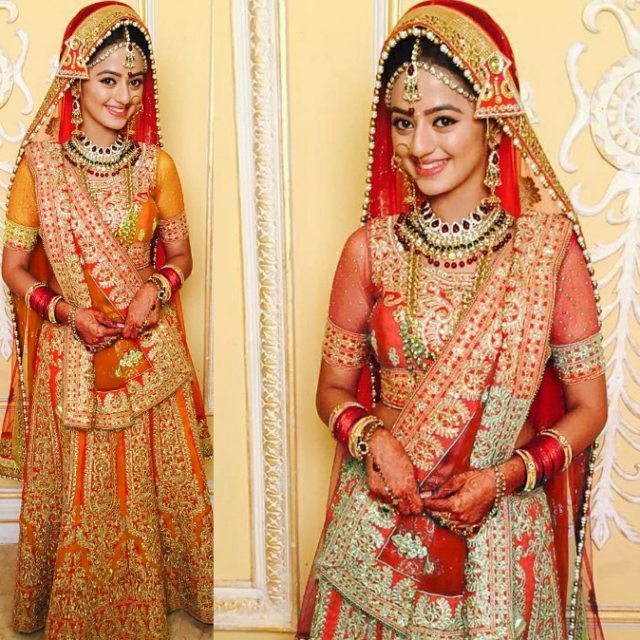 ---
---
Kaise bataayein, kaise jataayein
Subah tak tujhmein jeena chaahein
Bheege labon ki, geeli hansi ko
Peene ka mausam hai peena chaahein
Ek baat kahoon kya ijazat hai
Tere ishq ki mujhko aadat hai
Ek baat kahoon kya ijazat hai
Tere ishq ki mujhko.
Aadat hai
ooo.
Aadat hai, aadat hai ooo.
Aadat hai
Ehsaas tere aur mere toh
Ek dooje se jud rahe
Ek teri talab mujhe aisi lagi
Mere hosh bhi udne lage
Mujhe milta sukoon teri baahon mein
Jannat jaisi ek raahat hai
Ek baat kahoon kya ijazat hai
Tere ishq ki mujhko aadat hai
Ek baat kahoon kya ijazat hai
Tere ishq ki mujhko.
Aadat hai
ooo.
Sanskar chokes his tears. Whole family looks down. Anvi touches dadi's feet.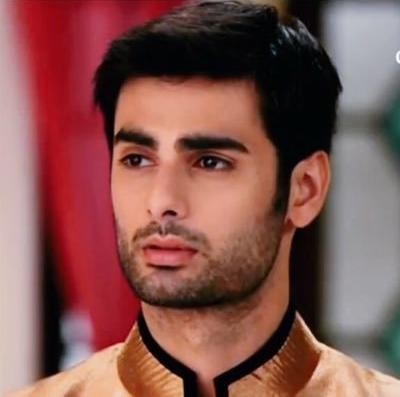 Dadi blesses her. Her eyes fill with tears as she hugs her and pecks her forehead.
You're looking beautiful my darling. Just like swara looked on her wedding.
Suhana wiped her tears . Anvi hugged Anika and Ragini two at once. They quickly broke the hug and looked away . Anvi smiled at laksh. He held her hand…
Tears streamed down his face .
Laksh  – always be happy..swa….Devanshi .
Anvi smiled fadely. Laksh wiped his tears. Anvi touched roody and kunj's faces slightly .
Anvi – always be this jolly…
Ranveer – never after you go…bha…
Ranveer looked away….kunj smiled faintly at her.
Anvi finally looked at snaksar who was lost.
Anvi – sanskar !
Sanskar at reflex grabbed her face
He then let her go…
He looked away….
Anvi smiled as a single tear left her eyes…suhana left for the kitchen.
Anvi followed her.
Anvi – mummy ji …
Suhana looked at her bitterly…
Anvi – mummy ji..please stop this wedding..
Tears streamed down anvi's cheeks.
Suhana – devanshi beta..look..
Anvi – im not devanshi, mummy ji…I am swara, ur swara..im saying na ..
Suhana – but beta..the reports…sorry..i cant help you…
Suhana looked away..
Anvi – mummy ji…I cant stay wihtout sanskar..i will die….i love him very much ..please do something….please..please MOM please ! mom..plz mom…
Suhana at reflex looked at her .
---
---
Flashback
Swara – its okay mom..i will make it. Sanskar loves my special coffee. With extra cream and extra sugar..
Suhana – mera baccha….!!
She hugs Anvi tightly !
Anvi hugs her back !
Suhana kisses her forehead.
---
---
Suhana – I will try beta.. I will do my best !
Suhana leaves.
Anvi smiles. She wipes her tears. Suddenly, she touches the electric wire and gets a shock.
Anvi – sanskar !!!!!!!!!!!!
Anvi goes unconscious.
---
---
Episode ends at the screen which goes black !

Warning: A non-numeric value encountered in /home/ftpusers/tellyu/public_html/wp-content/themes/publisher/includes/func-review-rating.php on line 212

Warning: A non-numeric value encountered in /home/ftpusers/tellyu/public_html/wp-content/themes/publisher/includes/func-review-rating.php on line 213