Sajna Veh FF – Epi 17 – "Ragini gets blackmailed "

Warning: A non-numeric value encountered in /home/ftpusers/tellyu/public_html/wp-content/themes/publisher/includes/func-review-rating.php on line 212

Warning: A non-numeric value encountered in /home/ftpusers/tellyu/public_html/wp-content/themes/publisher/includes/func-review-rating.php on line 213

---
---
@Swasan Room
@Raichand Mansion
@Morning
Anvi is shown tying the dori of her dress. She is shown in a pretty red dress, open hair. Decked up in the way swara used to deck up . suddenly, sanskar enters with a file without knocking . Anvi screams !
Anvi – sanskar !!
Sanskar gets boggled – what ? what happened ?
Anvi – oh…my god ?
Sanskar – huwa kya hai Swara ?
Anvi pouts – tum…aap knock karke bhi toh aa sakte the…
Sanskar – ha ??? what ??  oh..hmm…im so sorry …wo….
He nervously paces the room…
Sanskar –  im not habituated nah ?
Anvi  – sorry woh…
Sanskar –umm..its okay ..you know?…Swara is dress me bohot pyaari lagti thi…waise hi, jaise tum lag rahi ho…
Anvi blushes…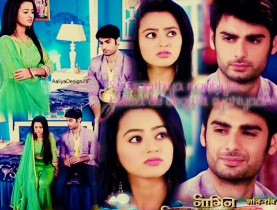 Sanskar – uspe laal bohot jajta tha..waise hi..jaise tumpe jaj raha hai…
Anvi – aap bohot pyaar karte the na usse ???
Sanskar smiles and comes closer to her  – uhu…nope…karta hu..wo bhi …tum se…
Anvi smiles and looks on ***
Sanskar – aur wo bhi mujhse bohot pyaar karti thi…
Sanskar walks and bangs his hand on the table by mistake and shouts . Anvi rushes to him and holds him…
Anvi – tum pagal ho kya ? are u hurt ? is it paining, stupid sanskar !
Sanskar smiles…
Sanskar – aur karti hai !!!
Anvi and Sanskar share an eyelock!!!
---
---
@Raglak room
Laksh was getting ready when he was not able to find his key he was searching his key and than he saw Ragini coming and sitting on couch. She was playing with his car keys/
laksh :  Rags where are my keys? Pls give it to me.
Ragini giggled and immediately hid the key..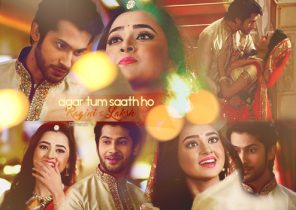 Laksh  : what is this yaar, u r sitting quietly here and their I m searching for my keys pls help me in finding them.
Ragini : that's not my problm ur key ur prblm find that by urself.
Lakshya : pls ragini I m getting late.
Ragini goes to laksh and puts her arms around his shoulders and looks at his eyes .
Ragini : ok I'll help u but what will I gonna get in return?
Lakshya  wraps his arms around her waist  : whatever u want?
Ragini : promise??
Lakshya sighs  : yeah baccha promise .now  stop being a kid.
Ragini smiled but mistakenly she dropped the key.
Lakshya  : so u hide the key ha ? ragini…
Laksh started tickling her and ragini ran away. Laksh Ran behind her and she hid in the washroom. Laksh nodded his head.
Laksh – my wife is just impossible. Bye !
Laksh laughed and walked away.
Ragini ggiled and came out of the wshroom . suddenly, she got a phone call.
Ragini looked pissed off.
Ragini – raghav..what is it ?
Raghav – 7 more days Ragini Laksh Raichand. 7 more days. Give me my 50 lakhs, or I disclose our little secret.
Ragini closes her eyes in disgust.
U are not doing anything like that .
Oh yes I am , laado…
Don't call me that Raghav…
Otherwise what u will do ??
Raghav !
Raguu….7 days..tiktok….
Raghav !
The call is cut !
---
---
@Walia Villa
@LIVING ROOM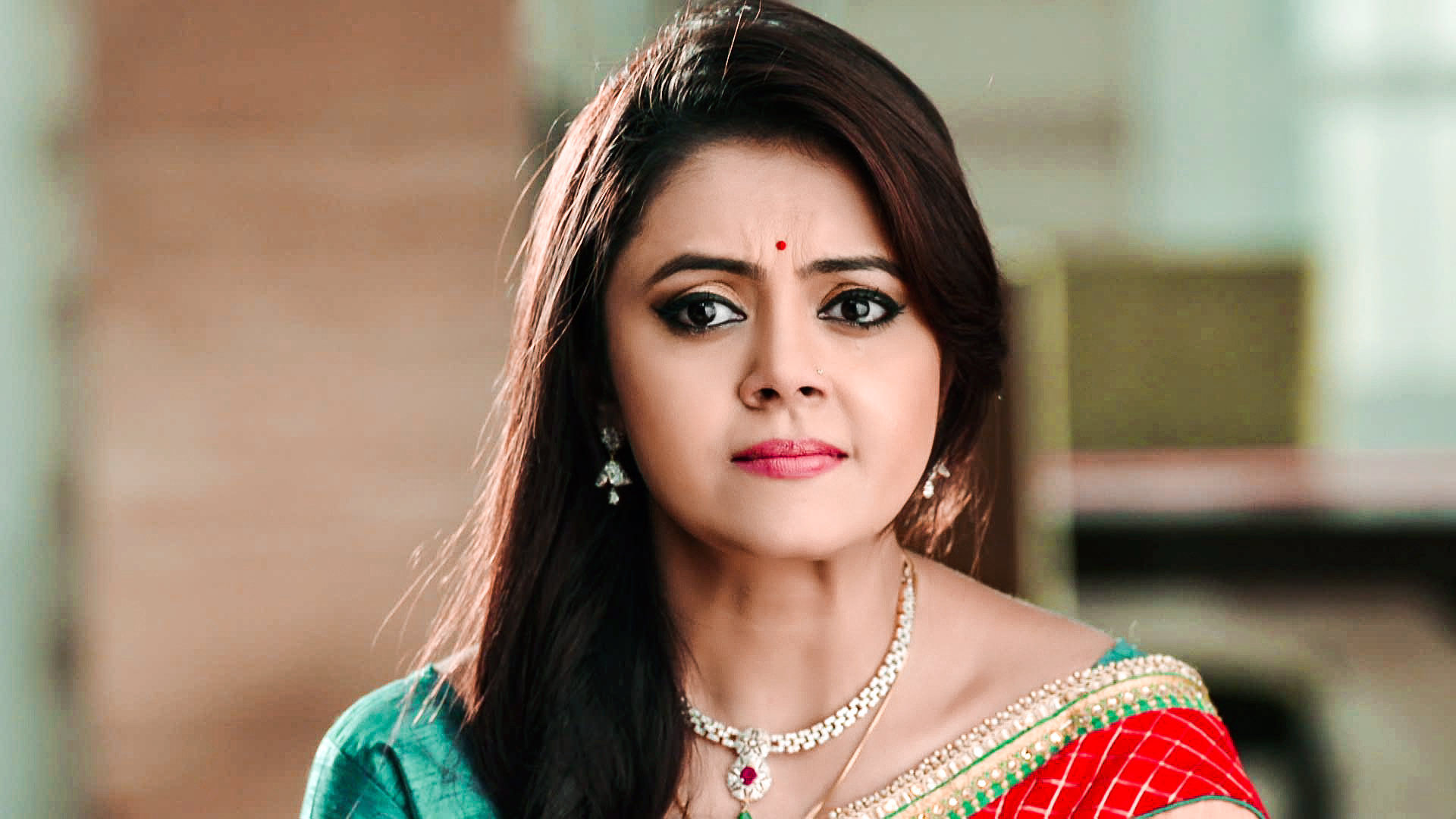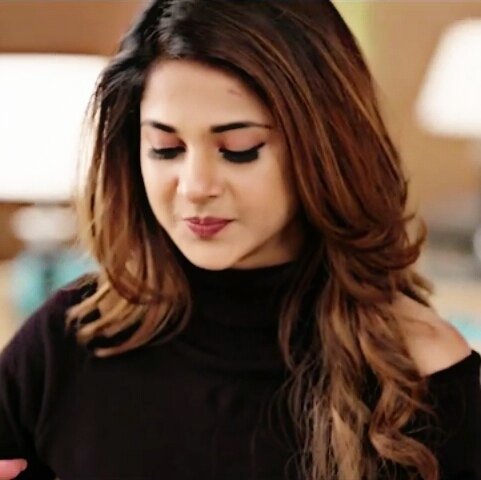 Gopi is shown drinking soup. Maya is shown feeding her. She is shown very heavily pregnant. Arjun is shown sitting beside gopi clasping her hand.
Arjun – Maasi mom . u have to get well soon and meet Swaru .
Gopi smiles.
Maya – what is this maasi mom. U r not even excited. You got ur daughter back !
Jevika enters side by side with Rohan .
Jeevika – exactly. This only happens in serials. Totally a miracle. Di, Arjun, I think we should go and meet Our bhau jai for sure !
Maya smiles – yes . we will meet her. Only after maasi mom is fine !
Rohan sits hugging gopi .
Rohan – mom. Arent you happy ? I am feeling like im back to life.
Gopi – how will I be happy if my daughter fails to recognise me ? I know her 9 months more than all of you. earlier it was painfulthat she was no more. Now it is painful that she will be here, and again she wont be, at the same time .
Others look on.
---
---
@Shivika room
Anika was reading a book. Shivaay brought grape juice for her .
Shivay – bavy..see I brought grape juice for u ..
Anika – ye baby kise keh rahe hai aap? Eww..chi..i hate grape juice..
Shivay – o hello..u are not so cute that I call you baby okay ? this is for my little baby …mwah !
He pulled the skin of her belly softly and winked.
Anika – Shivaay…u too…
Shivaay – chalo shabash my s*xy wife..drink it..
Anika made an o face..- first call me cute
Shivaay – but anika u r not cute !
Shivay justified.
Anika – shivaay ! fine. I will not drink it.
Shivaay – okay okay baba. Ur cute. My cute little fat ass baby…happy ?
Anika fumed.
Anika drank the juice at once.  Shivaay smiled.
Shivaay – so, what are u doing ?
Anika – searching the names for our baby. I was thinkig about Advika. Or Shivani, Ivaana. What about u ?
Shivaay – oho Anika, it will be a bboy, with blue eyes like me. Shivansh, or advay …yeah..
Anika – awwh..but darling, we will have a girl only !
Shivaay – but I want a boy !
Anika – ha..but we will have a girl…
Shivaay – boy
Anika – girl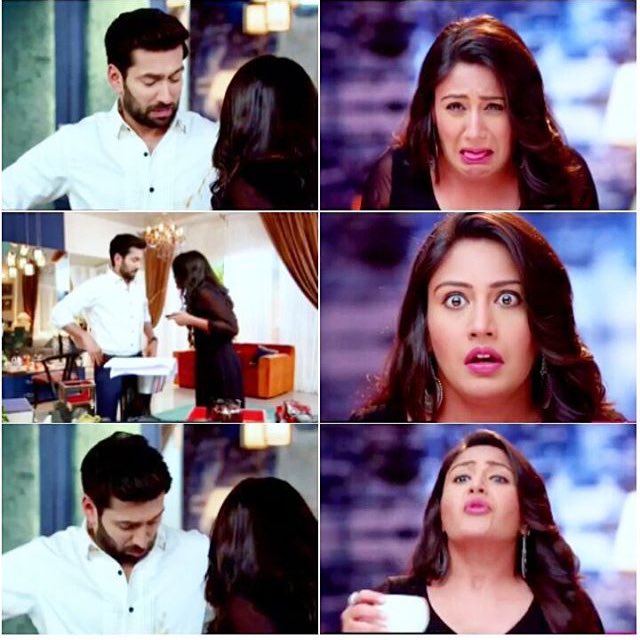 Shivaay – boy !
Anika – girl !
And they kept fighting till anika took her slipper and pushed him off the room and banged the door. Nxt 20 mins, shivaay stood there knocking the door.
Ashish and Avish were passing by and started laughing.
Ashish – shivaay beta..this is the 2nd month only and already this started ..torutre ..haha !
Shivaay – wait …this means ..even u guys !
Avish -0 yes beta ..even we faced this..bt at 5,6 months not at the 2nd month
Avish showed his tounge.
Shivay – chachu aap bhi !
They walked away laughing. Shivaay sighted.
---
---
@kitchen
Anvi ragini are shown cooking side by side.
Ragini – swara pass me the salt !
Anvi passed her.
Anvi – Ragini…
Ragini – hmm swara ?
Anvi – I don't think I am Swara .
Ragini – sanskar cant mistake swara . hek nows u too well. If he feels a connection. It means there is. God wants u two to be togther. And I want that too !
Anvi – Ragini. Even a feel somnething. Sanskar is too good, how can anyone not love him . in these 2 days even I have started developing a soft corner for him. ! but yes. What f im not swara. Cant he love me instead ?
Ragini looked sterned. – if you are not swara, then neither he can, nor he will. If ur not sawra , then , u cant be in life ..Anvi !
Ragini left the room with tearry eyes. Anvi looked on.

Warning: A non-numeric value encountered in /home/ftpusers/tellyu/public_html/wp-content/themes/publisher/includes/func-review-rating.php on line 212

Warning: A non-numeric value encountered in /home/ftpusers/tellyu/public_html/wp-content/themes/publisher/includes/func-review-rating.php on line 213