Sajna Veh – Epi 24 – " The Baby Exchange "
Sajna Veh
---
---
Episode – 24
---
---
@After 5 hours
Two baby crying sounds are heard. The both families rejoice and hug each other.
. Swara's saree .                                 .   Ragini's dress .
Laksh – sanky hum chacha ban gaye !!
Sanskar – aur mama bhi !
Sanlak hug each other.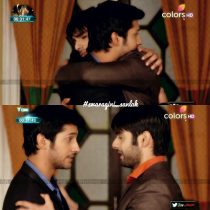 Swasan and Raglak hug each other .
Gopi – congrats samdhan ji !
Anahita smiles – congrats MA!
Dadi hugs Annie and Suhana.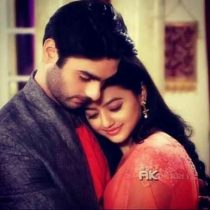 ---
---
@One side .
Anahita calls the doc on phone.
Hello !
Im Anahita Raichand spekaing doctor. How is Anika doing ?
She if fine with god's grace.
As I said, I wanted to know the baby' s gender in prior.
It's a baby girl !
Thank you so much doc…thankyou !
Anahita rejoices – now no one can stop Laksh from having a boy and becoming the chairman of our whole empire ! then he will no longer be a merchant prince . he will be the legal chairman ! and I can finally become the empress of Raichand Industries !
---
---
@Neo Natal Ward
Urmila enters the neonatal ward.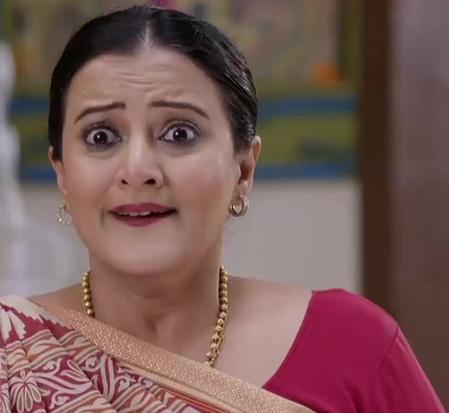 Bhagwan jaane yeh mere Anika ka baccha kidhar hai…Anika Raichand..anika Raichand..uh..huh ha !!!!
Urmila reaches shivika's baby cot. She sees the baby. Tears fill her eyes .
.ollelele ..mera chota sa naati..mera golu molu sa anmol ratan. Mere suraj ..mera chanda..u are so cute..so adorable..and u have those cats eyes just like your dad ..arent u adorable..rolly poly kuchi puchi baby golu molu !!!
Urmila adores the baby.
Nani abhi sab ko khush khabri deke ayi ha, meta beta !
She is about to leave when she notices the tag board. " 7. 1 pounds , Girl "
She gets shell shocked.
Haye ! mora khyatto shyaam ji !! ye toh chori hai !! this means Anika delivered a baby girl. Oh no . she is a doctor. And will not take another baby till 3 years atleast. By then Swara and Ragini and Ranveer's future wife will have a kid or two. What if they're boys ? if Anika is not the first one to give a male heir, Shivaay cant be the chairwoman. If she doesn't have a boy im sure her saas sasur will make her life hell.oh no ! what to do !!!
She covers her face with her palms..
-areh…that shivaay's cousin also delivered a baby ..let me see her too.  Whats her name..uh..uh…ha..Mayurika Arjun Walia "
She moves in to see a baby in another cot .
.even this baby is so cute ! whats the gender ?
Urmila gets flaggerbasted again !
A boy ?? haye mara khatto shyaam ji…aa to chora che !
She rolls her eyes.
But im sure, gopi ben doesn't care if her nephew has a boy or girl . but anika's sasural …ha…ha..ek kalakari magaj me ayi !
She hurriedy removes shivika's baby's tag bracelet and wears it to Arya's baby, and vice versa ! she then exchanges the baby's cots and the tag boards.
Now Anika has a baby boy, and let that Mayurika have a girl . no worries !

---

---
@After a while
The doc comes out of Maya 's ward.
congrats, its a baby girl.
Doc hands over the girl to Arjun. Arjun smiles.
Congrats doc. Arjun. U have a beautiful daughter. And she has such beautiful eyes !
Arjun holds the baby. O more Saiyaan plays in the background.
His eyes fill with tears .
.u are my baby ? hi , baby ! haha..my baby ! u know ? im ur papa…and ur my little angel . u are so cute….
He kisses all over the baby's face.
Swara – bhai..let me hold her once ! give her to me .
Arjun – Shona ..2 minute ki shaanti toh de de..
Swara- no bhai.i want to take my niece ..plz give her to me..aap bua ka haq maar rahe ho !
Arjun – accha baba le le..
Swara takes the baby in her arms –
.my little niece…ur so adorable..see ur hands..u have such little hands..a little pair of lips…such a cute little nose…awwh baby..my little baby angel ….
Sanskar adores the baby – awwh..she so sweet …see she looks like me. baby has gone after her mama..
Swara giggles – no..she looks like me. see her lips ..
Sanskar – whatever . give her to me now..
Sanskar – sanskar  u will make her fall.
Sanskar – im not a kid.come on give it to me..
Sanskar cradles the baby..
Suhana looks at them and prays they get a cute baby like this soon .
Suhana – now cmon ..give my grandduaghter to me..finally I have become a nani.. !!
Suhana and Gopi adore the baby. Anahita cradles her too.
Ragini takes the baby – awwh…how sweet ..shivaay jiju..her eyes are exactly like u !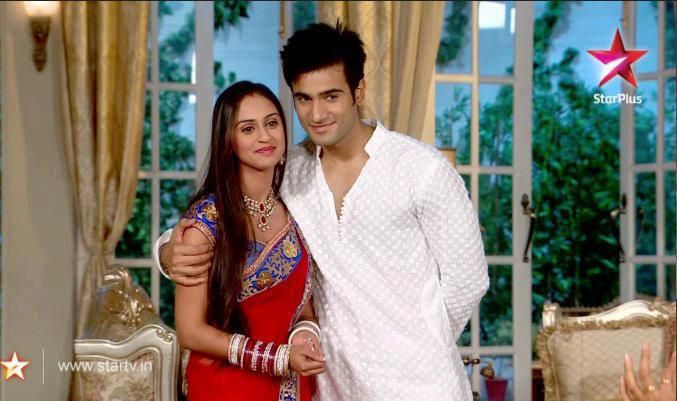 Jeevika – yeah bhai..come and see her …
Shivaay smiles – I will.let me just see my baby once. I cant be at peace na ..
Jeevika smiles and touches baby's cheeks – ho..baby..im ur maasi..and chachi also ! and this is ur chacha cum maasa ! Viren ji !
Viren smiles.
Jerry – wow…mumma..is this my sister ??
Laksh comes and pulls his cheeks – yes Jerry..this is ur sweet little sister…
Like I have my sweet little sister. Laksh pecks Kaanchi's cheeks.
Rohan and Prince , Naira cradle the baby one by one.
All get tears in their eyes and become super happy.
---
Shivaay is shown outside the Anika's labour room. . Doctor comes to him with the baby. All smile and be verjoyed.
Shivaay get tears and smiles widely –  can I take the baby once.??
Doctor –  yes, but baby is weak,  I think the mother faced trauma and too much distress during pregnancy. This is a very big baby for 7 months .but it has unusual heartbeat rate. So his survival rate is lower than normal. Don't wory  , he will be fine. We will just keep him in observation. Trust god. Btw it's a baby boy !
Shivaay smiles. All get relief. Anahita frowns.
What the f**k …it was a baby girl right ? then how it became a boy..
Shivaay  takes baby and thanks her.
how is Anika?
Anika is fine, we are shifting her soon.
can I talk to baby for two mins.?
fine, but we need to shift baby soon.
Shivaay cradles the baby…
hi beta…, I m your dad, you are very cute..but u don't look like me..maybeur after ur mum.. doctor said that you must stay here for a day here, so that you get strong, then we will take you home, I don't want to leave you, but I have to listen to doctor. dad won't let anything happen to you. hmm beta ? I love u beta !
he pecks the baby's forehead.
Urmila smiles widely – damad ji..now the while empire is urs. And my anikas.
She runs her palms andsmiles evilly.
Anahita in her mind – oh..so..did urmila do it all ? exchange of babies ??
Raglak and Swasan cuddle the baby. Dadi touches him and blesses him too.
What a cute baby he is ! I became per dadi and per nani today ! though im still young and fit..i don't mindbeing dadi and all ….
All laugh.
Nurse comes and takes the baby from him.
---
---
@after a while .
Nurse comes and handsover the baby girl to arjun.
Arjun. Here . take ur baby. Maya ji will be in her senses soon.
Thanks doctor. !
Suddenly nurse comes to shivaay.
raichand.
Yes . sister. Where is my son ?
Mmm…
What mm ?? where is my son ?
.actually..
Sister I know hes fine. Don't make me tensed…plz say clea..
He is no more !
Greyscale effects are shown. The whole family gets flaggerbasted !
Tears escape shivaay's eyes.
What ? no…don't lie to me …you lied to me, this isn't true, I saw my son and was talking to him, how can anything happen to him…
Doc told u the baby is weak, his survival chances were low, he has left
He cries. Nurse gives him the tag. He cries. He collides with a door and falls on his knees.
Urmila gets hysterical and
She cries and leaves from there.
Suhana hugs dadi and cries. Anahita gets confused and sad at the same time. She sees urmila and follows her.
Sanskar and laksh , ranveer go and grip shivaay. Shivaay cries miserbaly. Ragini hugs swara…
Ragini – swara..anika;s baby..what will she say ? what will we sy to her ?
Swara cries on.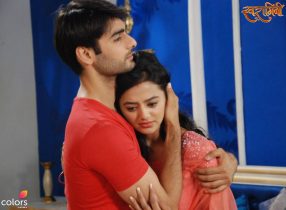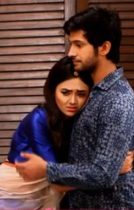 ---
---
Urmila goes to one side of the room collides with the stretcher.
All of this happened because of me. maya's baby didn't survive and now all think that anika's baby didn't survive. Oh no. Ii myself gave her thje weak baby. I gave her the still baby..for me ..such sorrow has befallen my daughter… what will I say if she asks something!!
Urmila cries on.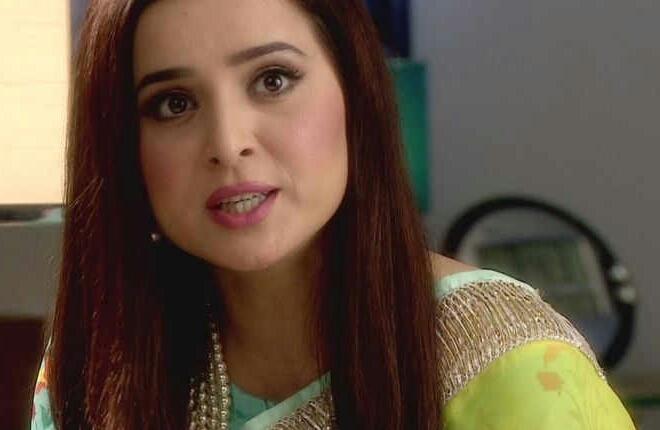 Anahita smirks. – wow..so my grand daughter is alive..okay urmila..greed leads to sin and sin leads to death.  Now u shall face ur own consequences. I will let maya raise the Raichand's eldest heiress. U have broken ur own fate . this is what happens …when u mess with anahita Raichand's plans.  U wanted to take my laksh's properties. Now u shall face. Karma is a b*t*h smadhan ji..karma has played well !
Dhin ta Dhin Ta da Dha ! plays …
---
---
Shivaay keeps crying ..
Oh god..why did you snatch our baby, what will I answer Anika, what shall I do, tell me, I can't give this bad news to Anika !!
---
---
@after a while ..
The nurse comes with birth certificate of Arjun's baby girl (shivika's baby) .
Would u fill this up after naamkarann or now u would tell the baby's name ?
No naamkarann party will occur here..wwe shall give the name to u now..Swara…name the baby. Tell her the name in her ears and then announce it.
All look on.
Swara tearfully takes the baby and whispers in her ears and kisses her.
All smile tearfully.
Shivaay is shown quietly sitting. Arjun goes to him.
.come..hold the baby..
No Arjun, im ..im fine…
Hold the baby shivaay..shes ur niece..shes like ur baby only…
I know arju..but leave it na..keep her to u..
Nahi shivaay u have to hold her..u have to.hold her shivaay !!!
Shivaay holds the baby girl.
Apne toh apne hote hai plays !
The baby looks at him with identical eyes like him.
Shivay hugs the baby and starts crying extremely loudly…urmila holds her chest and cries miserably.
Arjun wipes his tears .
Shivay keeps crying like a little baby. He keeps shouting and crying and kisses the baby.
He wipes his tears. He is about to give the baby to Arjun but she wont leave his hand. The baby holds his finger. Urmila cries more bitterly. Shivaay with difficulty, removes thje finger and  gives the baby to Arjun.
---
---
Anika wakes up – shivaay !
---
---
The whole family look at each other.
Door of the hospital shuts down.
Screen goes black.
---
---
---
Precap –
---
15 months later ….
---
Swara – fine..we wont come home today. U should understand the value of women !
Lakshya – fine , fine leave !
---
@After a while
Anika screams in pain.
Laksh irriates – now what happened to her ?
Sanskar – oh my god shes in labor !
---
@otherside.
Shivaay – inspector plz let me go. My wife is gonna have a baby !
Inspector – its riots running . u cant leave !
Shivaay looks on fearfully.
---
@Hospital
Receptionist – but all doctors are on strike today !
Laksh, Sanskar, Rohan, Prince, Ranveer , kunj and Kartik look on with their hands on their waists.
Anika screams  – no !!! this cant happen to me !!!!!!!!!!!!!!!!!
---
---
The End !