Saaya(Shadow) RoshAn Horror SS Part 13(Climax)
Saaya(Shadow) Part 13
Aman:Because of you both 3 innocents lost their lives.Poor parents lost their only daughter.Yu both do not deserve any mercy. I want you both to be punished for all the forbidden sins.
Veer-Maya got tensed.
Veer:Aman…please don't leave us to those ghosts.
Maya:Please Aman..save us.
Aman:No,you both have to be punished.
Maya:Please Aman.I beg of you.I did it because of my love for you.
Aman:Love?If you had loved me you would not have betrayed me.You just wanted me.That's it.I cannot forgive you both.
Veer:Ok.Then leave us to law.But don't leave us to those ghosts.
Aman:If I leave you to the law,it's sure that you both will escape or it will take ages for you both to get punished.I want both of you to get punished soon.Otherwise you two will will do more crimes.
Veer-Maya became upset.
Suddenly Maya's wedding attire which she was wearing turned into white.Maya-Veer were shocked and scared.
They held each others hands and tried to run out.
Suddenly there was storm and Maya got blown away in the storm.She was floating in the air and screaming.
Veer was scared and worried for Maya:Mayaaaaaaaaaaaaaaa
Roshni and Nirmala were laughing loudly.
Maya pleaded:Roshni..please put me down.Please don't kill me.
Roshni:I also requested you not to kill me.But did you listen to me?
Maya cried.
Roshni:But I will fulfill your wish.I will put you down.
Roshni stared at Maya.Her eye balls turned red and started shining.
Suddenly Maya fell down with a thud.
Maya screamed out of pain:Ahhhhhhhhhhhhhhhhhhhhhh
Roshni:See…like you requested me I put you down,but only for killing you..not to save you.
Maya could not bear the pain as her head was injured badly.Her injured head was bleeding severely.
Roshni:That day I suffered like you by bearing pain while burning in the fire.Now you also suffer and die.
Veer ran towards Maya crying:Maya…
Maya tried to get up moaning.


Slowly slowly Maya's vision became blurred and she closed her eyes forever.
Veer screamed:Mayaaaaaaaaaaaaaaaaaa
Veer stared at Roshni angrily:I will not spare you.


Roshni asked him in a sarcastic tone:Really?What can a normal human being like you can do?After all you are a pure evil.
Nirmala:The next is your turn.
Rocky ran towards him with his glittering green eyes scaring Veer.

Rocky bit Veer cruelly.
Veer moaned in pain:No..no….
Veer was bitten so cruelly by Rocky that he died.
Roshni and Nirmala sighed in relief.
Nirmala looked at Roshni emotionally:Roshni…it's time for us to leave.
Roshni wept:Maasi…
Nirmala:Our duty was to help you to take revenge which is completed successfully.Now we have to leave.
She hugged Roshni and cried.Roshni hugged Rocky and cried.
Aman could not control his tears.
Rocky wagged his tail at Aman.Nirmala waved her hand at Aman tearfully.
Aman:Nirmalaji….
Suddenly Nirmala and Rocky vanished.
Shivanya enters with Raghuveer and Sarla.Seeing the dead bodies of Maya and Veer ,Sarla and Raghuveer turned off their face with a disgusting feeling.Shivanya smirked.
Shivanya:They deserved it.


Roshni's eyes turned teary seeing Raghuveer and Sarla.
Sarla:Shivanya…you said that our Roshni is here.Where is she?
Raghuveer:We can't wait to see our Roshni.
Shivanya turned around and found Roshni standing there with wet eyes.
Shivanya:Roshni,please let yourself visible to your parents.They are dying to see you.
Aman:Yes Roshni.
Slowly Roshni became visible to Sarla and Raghuveer.
They could not believe their eyes.
Sarla-Raghuveer:Roshni!
Roshni hugged them all of a sudden.They all wept.
Sarla:We missed you every second Roshni.
Raghuveer:We died every moment without seeing you.
Sarla:We are so happy that you are back.
Roshni looked at them painfully:I knew that you both will have the hopes to live with me if you see me.That's why I did not come to you.
Roshni shed tears:I was not allowed to be back to earth only because I deserved justice.I got justice.Now I need to go back.
Sarla,Raghuveer,Shivanya and Aman were shocked.
Aman:What did you say Roshni?
Raghuveer:You are going back?
Roshni burst into tears:Yes.I have to go back.
All were crying.
Sarla:No..I won't allow you to go back.You will stay with us.
Raghuveer:We will get you married to Aman.Please don't go back.
Roshni:You all are forgetting that I am dead.I am just a soul.Whether to stay back or not is not in my hands.Only God can do that miracle.I have to go.
Sarla and Raghuveer held her hand:Noooooooooo
Roshni took her hand off them and walked.
Shivanya:Roshni…
Roshni:Shivanya..you are mature.You should understand my condition.
Shivanya wept silently.
Roshni walked forward.Aman held her hand.Roshni looked at him.
They shared an emotional eye lock.
O Allah Waariyan
O Main To Haariyan
O Tooti Yaariyan Mila De Oye..
O Allah Waariyan
O Main To Haariyan
O Tooti Yaariyan Mila De Oye..(Yaariyan)
Aman wept:I beg of you.Don't go Roshni.
Roshni's heart pricked.
Roshni:My time is over Aman.
Aman:Who said like that?Nothing like that.
Roshni was in tears:Accept the reality Aman.The biggest failure is death.No one can defeat death.


Aman could not bear anymore and embraced her.Both were in tears.But in each others arms they forgot their pain of separation for a moment.
Roshni broke the embrace.Aman held her hand again:Please Roshni…
Roshni took her hand off Aman painfully and flew towards the sky.Roshni turns into a star and sits on the sky.
Sarla,Raghuveer,Aman and Shivanya broke into tears.
Suddenly the star fell down on the ground with a thud.Hearing the sound everyone looked at that area with a shock.The star turned into Roshni.All were stunned.
They:Roshni!
Roshni got up from the ground and touched her body parts one by one…her hands..her face..he head..her hair…
She was surprised.
She looked at others emotionally with a smile:I…I…I have become a human being.
They were surprised:What?
Roshni:Yes.God has given me a life again.
They were so happy that they became emotional.Roshni hugged her parents and Shivanya.
Sarla:Thank God…
They all thanked God.
She looked at Aman.
Aman:God heard my prayer.Ever since I realized that you are the one I loved I prayed to God to turn you into a human being and wished for a miracle.
Roshni smiled tearfully.
Aman:I want to go to the temple with you to thank God.
Roshni:Yes,I also want that.
Aman-Roshni went to the temple and thanked God.
Aman:Thank you so much God for giving me my Roshni.Thanks a lot for this miracle.
Roshni:God..please bless us with a happy life with no dangers like we faced till now.
They did aarti together.
Aman-Roshni got married.


Shivanya introduced her fiance Karan to them:This is my life partner Karan.
Aman-Roshni shook hands with him:Hi.
Karan:Nice to meet you both.Shivanya always talks about you guys.You guys are a fairy tale couple.All the best.


Aman-Roshni smiled:Thank you.
Roshni:You both also make a lovely couple.Get married soon.
Karan-Shivanya blushed.
2 weeks later ….
Roshni wore a beautiful dress.Aman came.He was mesmerized by her beauty.He went closer and made her wear accessories.
Aman:Now you look more beautiful.
She blushed.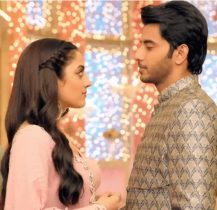 Roshni:Now let us leave for Shivanya's wedding.
Aman:Yes.
They went for Shivanya-Karan's wedding.
Karan-Shivanya also got married.

They all lived happily.
The End