Saath Nibhana Saathiya- Kasauti Mohabbhat Ki Season 2 Part 3

Warning: A non-numeric value encountered in /mnt/nfs/home/ftpusers/tellyu/public_html/wp-content/themes/publisher/includes/func-review-rating.php on line 212

Warning: A non-numeric value encountered in /mnt/nfs/home/ftpusers/tellyu/public_html/wp-content/themes/publisher/includes/func-review-rating.php on line 213

Aliya goes downstairs. The house is empty. She hears dancing and drums outside. " Great! I hate Holi. I have to leave this place before anyone spots me." Aliya says to herself. Suddenly, she goes outside and she is surrounded by the press.

" Hello, Mrs Aliya Rai Choudry, what do you think about Karan's new movie?" The reporter asks.
" I think it is brilliant and my brother in law worked very hard on it. Now if you excuse me, I will be going." Aliya says.
In Kokila's house, Rashi and Meera are watching TV. They see Aliya on TV.
" Isnt that Aliya aunty?" Meera says. Kokila comes and sees Aliya. Kokila gets emotional.
" Yes, it is my Aliya. My poor Aliya. You can see the sadness in her eyes. She lost her husband and that pain is still visible in her eyes." Kokila says.
" Ansh was a bad person though." Rashi says.
" Ansh was bad yes, but Aliya loved him and wanted to change him. She lost her love." Kokila says.
" Do you really think Gopi killed Ansh?" Rashi asks.
" No I don't. But I know who killed him." Kokila says angrily. At that moment, Dadi enters the mansion along with Komolika. Meera and Rashi go to greet them. Kokila doesn't move. Dadi and Komolika approach Kokila.
" Hello, my ex bahu." Dadi says. Kokila is angry with her.
" Why are you here?" Kokila asks.
" I wanted to talk to you and I wanted to celebrate Holi with you." Dadi says. Both Kokila and Dadi go to a quiet room.
" What do you want?" Kokila says.
" Revenge." Dadi says.
" You have already snatched everything from me. My Aliya, my Gopi, My Ahem, my husband and even my own mother. How could I forget that you were the one who killed my mother?" Kokila says. Dadi smirks.
Flashback
After Dadi killed her husband, Parag grew up. He was at college. Parag is shown (Cezanne Khan). He bumps into Kokila (Shweta Tiwari).
" Parag I have your book." Kokila says. Kokila gives him the book. Kokila's friend looks at them both and starts giggling. Kokila pinches her friend.
" Thanks. Nice weather we are having?" Parag says. Kokila nods.
" Ok I will be off then." Kokila says and she drags her friend. However, her laal dupatta gets stuck in Parag's thread. Kokila starts blushing. Parag releases the dupatta. Kokila runs in excitement. Parag starts smiling. Dadi is watching from her car and realises her son is falling in love with a middle class girl.
Dadi was determined to not let the two lovers unite. But she failed always. The day of Parag- Kokila's wedding, Dadi finds out a big secret. Kokila's mother was her childhood best friend. When Dadi was married off to an old man at a young age, her best friend did not help her. Her best friend got married to Dadi's lover. Out of jealousy, on the wedding day, Dadi kills Kokila's mother. On her bidaai, Kokila witnesses the death of her mother. Dadi vowed to make her childhood best friend's daughter's life miserable for good.

Present
" It was all your fault! You killed my mother because she married a man you loved and she didn't help you? Even after her death, you tortured me. You brought Gaura to become my sautan. You kicked me out. You brought Komolika. You killed Ansh and then you put the blame on my Gopi and Ahem?" Kokila shouts.
" Yes! I did all of that! But what will you do? Yes! I am Modi family's biggest enemy and I will remain the biggest enemy. I am not surprised that you figured out my truth. But how will you prove it?" Dadi laughs.
" I wont prove it but I know who will. It has been 16 years and your time will come." Kokila points her finger at Dadi. Kokila tune plays. Dadi leaves the room in disgust. Kokila gets a phone call.

" Hello?" Kokila says. Sarla appears on the phone with Kokila.
" I think it is time. I have looked after your Gopi for 16 years." Sarla says. Dramatic background music plays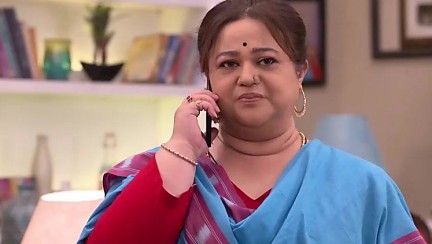 Flashback
Sarla finds Gopi and takes her hospital. Sarla sees Kokila and hugs her.
" Kokila behen?" Sarla cries.
" Sarla?" Kokila cries. Both sisters embrace each other.
" Where have you been all these years? I went Modi house once and they told me you don't live there anymore? Are you and Parag together?" Sarla says.
" No. But I have moved on from that. Why are you here in hospital?" Kokila asks.
" I brought this girl here. She fell off a cliff and bechari has suffered so many injuries." Sarla says. Kokila panics.
" Where is she?" Kokila asks. Sarla takes Kokila to Gopi's room. Doctor tells them that she has lost her memory. Kokila cries. After a moment, Kokila gets up. She puts Sarla's hand on her head.
" What are you doing Kokila behen?" Sarla says.
" Promise me that you will look after Gopi as your own daughter. I give you the responsibility to take care of my bachi." Kokila pleads.
" I promise you Kokila behen. I wont let anything happen to Gopi. I will raise her as my own daughter." Sarla says.
Present
" It is time to unite Gopi and Ahem." Kokila says.
" I sent Gopi, Pragya and Bulbul to the same restaurant that Ahem was at but something happened there. Ahem and Gopi didn't meet." Sarla says.
" It is Holi today and I am sure Gopi and Ahem will meet today." Kokila says.
Precap- Aliya arrives near Durga's house. Bhajan plays. Everyone is playing with colours and dancing. Karan arrives at the same place. Aliya sees Karan and starts panicking. Kokila prays that wherever they are, Gopi and Ahem are happy together.

Warning: A non-numeric value encountered in /mnt/nfs/home/ftpusers/tellyu/public_html/wp-content/themes/publisher/includes/func-review-rating.php on line 212

Warning: A non-numeric value encountered in /mnt/nfs/home/ftpusers/tellyu/public_html/wp-content/themes/publisher/includes/func-review-rating.php on line 213