Saath Nibhana Saathiya- Kasauti Mohabbhat Ki Season 1 Part 9
Gopi wakes up in the morning. She sees that Ahem had already woken up and dressed. She looks at the clock. It was 10am. Gopi panics as she was supposed to get up early as the new Modi bahu. She gets dressed and goes downstairs. Gaura sees her and laughs.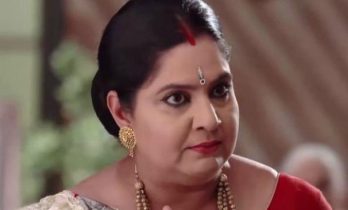 " What time is this?" Gaura asks. Gopi gets irritated.
" Sorry, I overslept." Gopi says.
" No worries Gopi bahu, it happens. When I got married, I was already used to living in this house as I was Kokila's Sautan." Gaura laughs. Gopi gets angry and goes into the kitchen. Gaura smirks evilly. Gaura tune plays.
Dadi enters the kitchen and sees Gopi using the stove. Gopi sees Dadi and touches her feet.
" Stay blessed Beta." Dadi smiles. " Today, I want you to fulfil your first family ritual. Every Modi bahu makes breakfast for the entire family on her first day. Here is a list. I expect it to be very good." Dadi says.
" Yes Dadi, don't worry." Gopi says. Dadi smiles again and leaves. Outside the kitchen, Gaura is standing there. Gaura quickly goes to Paro's room. She knocks on the door. Paro opens the door.
" What?" Paro asks. She was half-asleep.
" I need your help! Gopi is down there being the perfect bahu and you are here sleeping still." Gaura says.
" What shall I do then?" Paro says.
" Ill tell you what to do. Get changed first." Gaura says. Paro gets annoyed and closes the door. After a few minutes, she comes out wearing a modern dress.
" How do I look?" Paro asks.
" You are supposed to be dressed as the perfect bahu, not a supermodel. But it is ok." Gaura says. Both of them go near the kitchen. Gaura goes in first.
" Gopi, Dadi is calling you. I will look after your food." Gaura says. Gopi looks confused but leaves the kitchen. Gaura signals Paro to come to the kitchen. Gaura hands over mushrooms to Paro.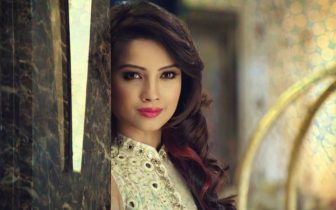 " Why mushrooms?" Paro asks.
" You stupid girl! My mother in law is allergic to mushrooms!" Gaura shouts.
" Oh." Paro laughs evilly. Paro adds mushrooms to the dish. Gopi enters the kitchen and Paro quickly stops. Gopi doesn't see.
" Gaura Maa, I didn't find Dadi. I don't know where she is." Gopi says rudely.
" Don't worry, its fine. Im sure it was nothing." Gaura says. Gaura and Paro leave. Gopi doesn't notice the mushrooms.
Everyone is sat around the table except Ahem, who was at the office. The only men were Parag and Jigar, along with Gaura, Dadi, Paro and Natasha. Gopi arrives with the breakfast and places it on the table. Dadi eats first. She starts choking and then she faints. Gaura pretends to be scared.
" Maaji!" Gaura screams loudly. Everyone rushes to Dadi to pick her up. Gaura goes to Gopi and slaps her.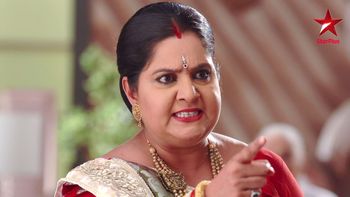 " What did you put in that dish? Maaji is allergic to only one thing and that is mushrooms!" Gaura shouts. Gopi sobs.
" I never put any mushrooms in there!" Gopi cries. Paro smirks evilly.
" How did they get in there, obviously it was your fault!" Gaura screams.
" Gaura stop. It was probably by mistake!" Parag says.
" This is women's business Parag. Stay out of it." Gaura snarls at him. Jigar calls the doctor. The doctor arrives and examines Dadi in her room. The doctor talks to the family.
" Yes it was an allergic reaction. There was mushroom. I have prescribed her some medicine. She should have that. Nothing to worry about. If she had more mushrooms, it would be really serious." The doctor says then leaves.
Everyone is sat around Dadi. Then a girl enters. Vamp tune plays.
" What is this?" The girl says. Everyone gets shocked seeing her.
" Aliya? You? You are back from Australia?" Gaura says. Aliya Modi's face is shown (Jennifer Winget).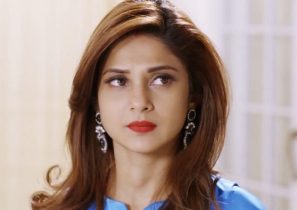 " Yes it is me." Aliya says. " I saw all over the news that bhai has married a middle class girl. And now I see Dadi ill in bed."
" I will explain to you Aliya. You need to rest." Gaura says.
" I want to know what happened to Dadi." Aliya demands.
" Gopi, your new bhabi, accidentally out mushrooms in our breakfast." Gaura bitterly says. Aliya gets furious.
" How dare she?" Aliya shouts. Vamp tune plays. Aliya looks at Gopi. " I assume this is the middle class bhabi of mine. Gopi right?" Gaura and Paro laugh. Aliya grabs Gopi by the hand out of the room. She takes her downstairs.
" Leave me alone!" Gopi shouts. Aliya is shocked by Gopi's courage.
" How dare you!" Aliya says.
" Nobody in this house has the right to touch me, not even you." Gopi warns Aliya.
" Do you even know who I am?" Aliya laughs.
" Yes, you are Ahem Ji's biological sister. You are Kokila Maa's daughter as well. Jigar and Natasha are Gaura's children and you and Ahem are Kokila's children." Gopi says. Aliya's eyes get teary remembering her mother.
" Next time don't do this." Aliya says with tears in her eyes and goes away. Gopi thinks that she will unite Ahem and Aliya with Kokila one day. She could see that her children still loved her.
At the end of the day, Ahem arrives. Ahem finds out that Dadi was ill. He asks Gaura. Gaura tells him everything. Ahem is confused and calls down Gopi. Everyone else arrives as well.
" Gopi, did you or did you not put mushrooms in the breakfast." Ahem asks.
" No Ahem, I didn't." Gopi confidently says.
" She is lying!" Gaura shouts.
" I believe Gopi." Ahem says. Gaura is shocked.
" But Ahem, the doctors said that she had an allergic reaction? Check the dish. It has mushrooms in it." Gaura says. They all go in the kitchen. Ahem checks. There are no mushrooms. Everyone is shocked. Gaura is confused and looks angrily at Paro.
" There are no mushrooms in there. So it wasn't Gopi's fault." Ahem says. " Say sorry to Gopi." Gaura approaches Gopi and pleads.
" I am sorry Gopi." Gaura says and she leaves the kitchen.
" Gopi, I apologise if my family has troubled you." Ahem says.
" It is fine. You don't have to apologise. Mistakes happen." Gopi says and she smiles. Gohem tune plays while they stare into each other eyes. The family leave the kitchen.
During the night, Gaura and Paro are seen sneaking into the kitchen. However, someone puts on the lights. It is Gopi. Both women get shocked.
" I caught you both red-handed." Gopi says.
" What do you mean?" Gaura asks.
" Do you think I would let you both win so easily on this first day of the Mahabharat? Sita wont let Raavan win so easily." Gopi says. Dramatic tune plays.
" So you knew everything?" Paro asks.
" Yes I knew everything." Gopi says.
Flashback
Gopi couldn't find Dadi. She suddenly comes near the kitchen and hears Gaura and Paro talking about their plan. After Paro added the mushrooms, Gopi enters the kitchen on purpose. After both of them leave, Gopi throws away the old dish and makes a new one.
Present
" But Maaji had an allergic reaction! Why did she do that?" Gaura says.
" I don't know. Why don't you ask her?" Gopi laughs. Gaura and Pari get angry.
" You are quite smart Gopi. I guess defeating an enemy like you will be very difficult." Gaura says.
" Youre right and if you try to ruin my married life again, I wont hesitate to become Maa Durga or Maa Kali to destroy you both." Gopi points at both of them and warns them. Gopi then leaves.
Gopi enters Dadi's room. Gopi wakes up Dadi.
" Gopi?" Dadi says.
" Thanks for helping me today." Gopi says.
" I will always help you. After you told me about Gaura and Paro's true colours, I had to support you in this fight." Dadi says.
" But how will we bring Kokila Maa back to this house?" Gopi says.
" We will, don't worry. Just focus on your duties as Modi bahu." Dadi says. Gopi nods and says goodnight. Dadi laughs evilly.
" Poor Modi family. Gaura sure needs a lesson. She has become very irritating indeed. I wont let Kokila or Gaura ever be in this house. I wont spare them." Dadi rings someone. A lady picks up.
" Hello? Mrs Modi?" The woman says.
" Mrs Modi? I am your soon to become mother in law. Call me saas." Dadi laughs.
" Saasumaa! I guess tomorrow is Gaura and Parag's wedding anniversary right? I will be arriving then." The woman says.
" I cant wait, Komolika bahu." Dadi says. Komolika's face is shown (Anita Hassanandi).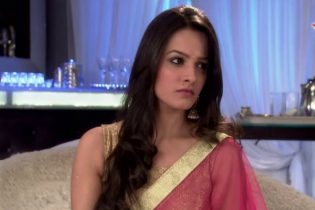 Precap- At Gaura and Parag's anniversary party, Parag arrives along with another woman. Parag announces that he is divorcing Gaura and marrying Komolika. Gaura is shocked.