RoshAn horror ff: Deewana Jinn (part 4)
They flipped and now Roshni's head rested on his chest. Aman's eyes changed, the white part of his eyes had disappeared and now his eyes were pitch black. " Teri aankhon ki namkeen mastiyan … teri hasi ki beparwah gustakhiyan … teri zulfon ki lehrati angdaiyan … nahi bhoolunga main … jab tak hai jaan, jab tak hai jaan," he said in his husky voice, she smiled looking at him, till then his eyes had turned back to normal. " Phool khilte hai, bahaaro ka samaa hota hai … aaise mausam mein hi toh pyar jawan hota hai … dil ki baaton ko hooton se nahi kehte … yeh fasaana toh nighahon se bayaan hota hai," Roshni too said in her seductive voice. He smiled and she too smiled.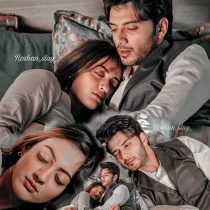 *************SPLIT************** 
Later at morning, Roshni was jogging with earphones plugged in her ears and Aman too came and jogged beside her. After getting tired, they settled themselves on the grass. Her hair blew in the air and he admired her.She too admired him.
Teri meri aisi jud gayi kahaani
Ke jud jaata jaise do nadiyon ka paani
Mujhe aage tere sath behna hai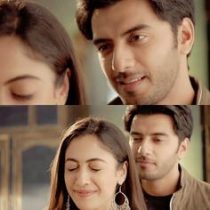 Jaana tumhein to hai teh bata jaani
Ke aye zindagi kaise banti suhaani
Mujhe har pal tere sath rehna hai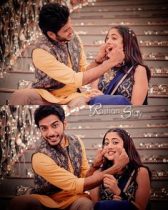 Tu kuchh adhoore se
Hum bhi kuchh aadhe
Aadha aadha hum jo dono mila dein
To ban jaayegi apni ik zindgaani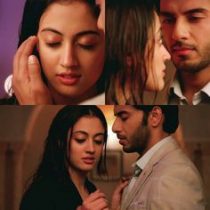 Yeh duniya mile na mile humko
Khushiyan bhaga dengi har gham ko
Tum sath ho phir kya baaki ho
Mere liye tum kaafi ho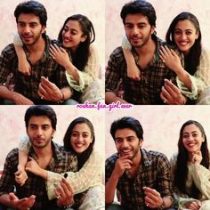 Mere liye tum kaafi ho
Mere liye tum kaafi ho
Ek aasmaan ke hain hum do sitare ke
Ke takraate hain toot'te hain bechare
Mujhe tumse par yeh kehna hai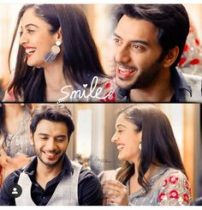 Chakke jo do sath chlte hain thode to
Ghisne ragadne mein chhilte hain thode
Par yoon hi to kat'te hain kachche kinaare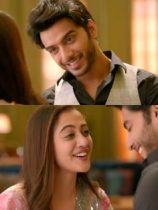 Yeh dil jo dhala teri aadt mein
Shaamil kiya hai ibaadat mein
Thodi khuda se bhi maafi ho
Mere liye tum kaafi ho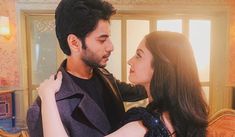 Mere liye tum kaafi ho
Mere liye tum kaafi ho
Mere liye tum kaafi ho
Mere Liye Tum Kaafi Ho
"I m very tired, I need to go take a bath, get some rest and have breakfast," she said and stood up adjusting her clothes and then looked at him who didn't stand up to go inside. "Aajao na tum bhi," she said forwarding her hand, he held her hand and pulled her in his lap. "Khan baba, someone might see us," she said. "No one is in the house, everyone are gone, your sister and brother in law have gone out to chill," he told her. She glanced at the house and then looked at him. 
"Toh matlab tum mujhe andar bhi nahi jaane do gay? Khan baba main thak chuki hoon, mujhe nahana hai, breakfast karna hai, chhoro mujhe, jaane do," she said trying to be free from his arms. "Okay on one condition, I will cook the breakfast today," he said, she nodded and he let her go, she went inside, he watched her going. 
***************************************SPLIT************************************ 
Later at night, when Roshni was sleeping, she felt heavy weight on her and had a vivid dream of someone getting intimate with her, she shook a lot as if somene is rubbing her against the bed, she woke up. 
She looked around the room but found no one. "Since two days I m having this weird dream, and then I wake up in the middle of the night and feel as if someone really was here who was being intimate with me while I wasn't in my senses," she said worriedly. There was a knock on her door which got her out of the thoughts. She stood up and unlocked the door, seeing Aman she hugged him instantly.He hugged her back. "What happen Roshni? Had a bad dream?" he asked. She broke the hug and they went inside. 
They sat inside switching on the light. "Khan baba, I m having this bad dream since two days, someone getting intimate with me and when I wake up, I feel it is all real," she said. "He took her hands between his hands. "Look Roshni, every dream feels as if real, but then you wake up and BOOM! Everything vanishes, stop getting worried and sleep," he said making her lay and putting a duvet on top of her. "But Khan baba, I m telling the truth," she said and he placed his palm on her forehead moving it down closing her eyes making her sleep and she slept immediately by his magic. 
He smirked and chuckled. He laughed evilly. "???? ?? ????? ?????? ???? ???? ???? ??????? ??? ???? ? ??? ?? ????? ???? ???????? ???? ???? ??????? ??? ???? ?? ???? ????? ???? ?????? ???? ???? ????? ?? ????? ????? ??? ???? ? ??????? ?? ?? ???? ???? ???? ????? ???? ????,  oops sorry, Jinn hoon main, vo bhi aisa waisa jinn nahi, vo Jinn hoon jo badlay ki aag mein kab se tarrap raha hai, sabbb marengay, " he said and laughed evilly. 
Someone appeared in front of him, just then Aman's body fell unconscious on the bed and the Jinn came out. "Aray meri Jinni, tum agayi," he said. "Haan, tumhari ye jinni Mohini yahan agayi tumhare pas, lekin… Ayaan, tum toh Aman k jism se sirf kuchh hi derr k liye niklay ho na? Tum wapis toh jao gay na? Tum jo kuchh kar rahay ho, us se humara badla toh poora hoga na?" she asked. "Hoga, zaroor hoga, bechari Roshni ye samajhti hai k Aman yahan khud apni marzi se aya hai, yahan toh vo meri marzi se aya hai, or Aman toh bekhabar hai, usne mujhe khud chunauti di or main aya, sab plan ke anusaar hi chal raha hai," he said and they laughed.