Rishten yeh banae hai pyaar ki rang mein- chapter-39

Warning: A non-numeric value encountered in /home/ftpusers/tellyu/public_html/wp-content/themes/publisher/includes/func-review-rating.php on line 212

Warning: A non-numeric value encountered in /home/ftpusers/tellyu/public_html/wp-content/themes/publisher/includes/func-review-rating.php on line 213

RATHORE MANSION is shown.. Its is arranged beautifully arranged…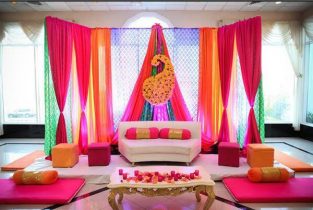 Abhimanyu is shown sitting in the middel wearing a Yellow translucant kurti with a white pant…
Payal and Falguni birngs the mehindi from the temple..
All guestes have arrived..
Guest(1) : We should start Abhi's haldi early..
Vikram : Ji.. we are starting…
All the family members except Maya is present there..
Lucky and yuvi are wearing a white and yellow combination kurti and White pant..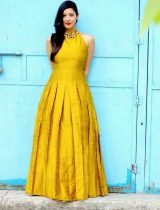 Naira's dress
One of the eldest women : Its first the turn of Groom's parents..
For Payal, Vikram & abhimany it was an akward situation.. as of those happened in the past..
Form Payal's face it was visible that she is not at all happy abhimanyu tried to smile at her.. but seeing payal's face he stopped. Vikram also applied the mehindi without showing any emotions and Abhi was a little sad about that..
Falguni noticed all of these…
Viraj applied mehindi to Abhimanyu & Also did Falguni . After applying haldi to Abhi .. She hugged him and wishpered in his ears: Everything will be okay..
Abhi smiled at Falguni..
Naira :(shouts) Now its our turn….
Yuvi goes to Abhi and takes a little amount of haldi in his hand.. Lucky was standing next to him
Lucky : Just this much .. oh hello its my sibling's haldi..
Lucky takes hand ful of haldi.. and spreads it all over his brother's face so foes yuvi does..
Now it was Naira's turn..
Abhi : Naira.. just apply a bit..
Naira : Whay will i get if i do as you say??
Abhi : Anything you asks
Naira : Sorry.. bhai this won't work to day..
She also applies him haldi
Other relatives also apply mehindi
CONVENTION CENTER..
The center is fully decorated for the haldi function.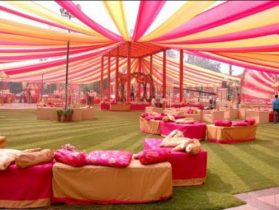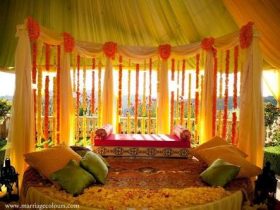 Arjun is shown sitting wearing a white kurta and pant.. Anshuman is standing next to him..
Anshuman gives some cotton to Arjun . Arjun looks at anshuman confused..
Anshuman : you will need this??
Arjun : But why..
Ashuman : Let the function start .. you will know it yourself
Ragini and Twinkle comes with haldi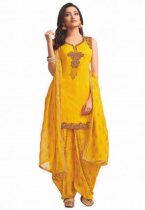 Twinkle's dress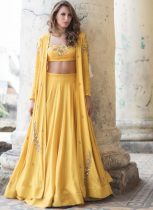 Ragini's dress
Jhanvi : Twinkle and Ragini i want both of you to take shagunki haldi to Maya's hoise after the function..
Ragini : Okay..
Jhanvi & Ashwin , Sakshi & Raj nath after that Anita appilies mehindi to Arjun..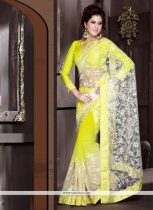 Pakhi's saree..
Pakhi , Anshuman and Ayaan applies mehindi to Arjun..
Ragini and twinkle after waiting eagerly for a long time also applies haldi..
Then some relatives also does so..
RATHORE MANSION..
Abhimanyu is send to take showers where his siblings also follows him..
Lucky goes to Maya's room and asks her to comeout..
Maya was shocked to see abhimanyu's state and she was laughing out loudly..
Abhi : I think you should stop laughing..
Naira forwards her hand towards maya.. maya looks confused..
Yuvi : We all have applied haldi to bahiyya now its your turn..
Maya smiles and she also applies mehindi ..
Naira : You are done na.. di.. now go into your room before Badimaa comes..
Maya goe to her room..
Falguni comes and asks Yuvi and lucky to take shagunki haldi to the Convention center so that they can start Gitus..
CONVENTION CENTER..
Arjun is shown in a room of the hotel..
He takes his phone amd textes Maya something…
Outside ..
Twinkle and Ragini leaves to Rathore mansion..
RATHORE MANSION..
Maya sees Arjun's message and smiles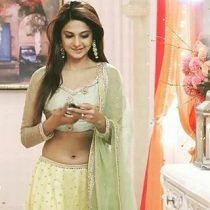 She was about to read the message.. Naira enters..
Naira :Di mom said to get ready fast..
Naira takes Maya's phone and keeos it aside..
CONVENTION CENTER..
(KABIRA song from YEH JAWANI HAI DEEWANI PLAYS)
Pakhi is shown getting gitu to the ceromony area..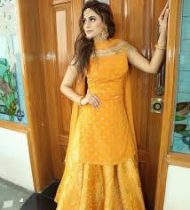 Gitu's dress
It was not easy for her to smile in front of everyone but she had to smile..
Yuvi and lucky comes and gives haldi to Jhanvi …
They starts the function..
Yuvi and lucky was looking here and there
Pakhi : Why are you boys looking here N there
Yuvi : Ragini and twinkle is nowhere to be seen
Pakhi : They are gone to yours
Lucky : What… babhi so sorry we have to go.
They rushes towards to their home…
Oyhers are shown appling haldi
RATHORE MANSION..(At the same time)
Ragini and Twinkle enters with Maya's mehindi..
Naira gets Maya to the stage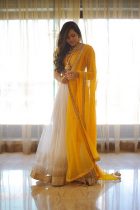 Maya's dress..
They all starts applying Maya mehindi..
Twinkle and Ragini goes to Naira
Twinkle : Where are your brothers..
Naira : They have gone to give haldi to Gitu di..
Ragini(impossibly) : Wow.. Oh no we have to go..
Falguni : Just apply mehindi to Maya and go…
Twikle and Ragini fastly applies mehindi …. Maya looks and them confusingly ..
They hug Maya..
Ragini : Sorry di.. but we are in a hurry..
others also apply haldi..
LUCKY AND YUVI REACHES RATHORE MANSION..
Payal : Why did you two took time.. come its just you two left..
They also applies Haldi to Maya..
And checks here and there for Ragini and twinkle..
Naira : What are you two looking for???
Yuvi : Where is twinkle and Ragini..
Naira : Actually they was here.. but wjen i said you two are at Gitu di's.. they suddenly remember some work and gone.
Yuvi & lucky : What!!!
CONVENTION CENTER..
Pakhi sees Ragini & twinkle getting down the car..Pakhi goes to them..
Pakhi : We're were you.. Lucky and Yuvi were asking for you two..
Ragini :Don't worry. We will meet them now
Pakhi : But they have gone..
Ragini and Twinkle looks at eachother..
Pakhi : Now don't look at eachother come and apply haldi to Gitu..
Pakhi grabs them …and takes them along with her..They also apply haldi..
The screen ends as its divided inti four Showing Arjun and Maya's happy face & Gitu and Abhi's not so happy face..

Warning: A non-numeric value encountered in /home/ftpusers/tellyu/public_html/wp-content/themes/publisher/includes/func-review-rating.php on line 212

Warning: A non-numeric value encountered in /home/ftpusers/tellyu/public_html/wp-content/themes/publisher/includes/func-review-rating.php on line 213