Rishten yeh banae hai pyaar ki rang mein (Chapter-36)

Warning: A non-numeric value encountered in /home/ftpusers/tellyu/public_html/wp-content/themes/publisher/includes/func-review-rating.php on line 212

Warning: A non-numeric value encountered in /home/ftpusers/tellyu/public_html/wp-content/themes/publisher/includes/func-review-rating.php on line 213

MORNING..
RATHORE MANSION..
Payal was trying to call someone..
Maya : What happened maa.. you look so tensed..
Payal : Did Abhimanyu told you something
Maya : No he fidn't infact i didn't see him since yesterday..
Falguni : No.. calls.. no messages where will he be..
Vikram : His wedding is going to happen and he is going here and there irresponsibily
Payal : I hope he is well.. whenever this wedding things happen he is lot in somewhere..
Vikram : Payal please don't bring this marriage thing into this
LUTHRA MANSION..
Sakshi and Jhanvi are in the hall.. Anita came there..
Sakshi : Today we have to a lot of work..
Jhanvi : Yes… and where is twinkle and Ragini..
Ragini : We are here..
Sakshi : Girls make sure you choose the most beautiful lehengha especially Ragini its for your babhi..
Twinkle : Don't worry mom.. we will choose the best..
Anita : What hapeened to your US admission
Sakshi : By god's greatness.. the admission day is one week after marriage..
Jhanvi : This happened good.. you can enjoy both the weddings..
Anita : Gitu , payal we are getting late..
Gitu and payal comes downstairs
Anita : Anshuman is not comming with you. right..
Payal : Mom.. he is busy in office work otherwise he would have come..
Twinkle : Ab.. make it fast ..
They all goes Payal to pick Aayan and others to wedding shopping..
MERRY LAND CAMP…
payal gets put of his car and Aayan comes running towards her. He hugs her. She kneels to him and touches his cheeks..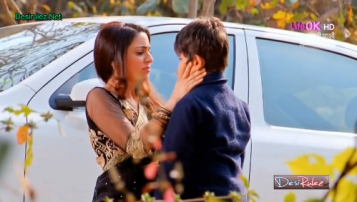 Aayan : Papa.. where is papa..
Pakhi : Aayan.. papa has some work in office so he can't come..
Aayan : No..mom he always does this.. he have never attended my school..
Pakhi : Its okay mere bachaa mom.. is here ..
She hugs him.. Aayan breaks the hug..
Aayan : You know.. those who runs this camp had decided to take a family photo of each kids and that's why they called you..
He points towards others..
Aayan : Eveyones mom,dad came ..papa doesn't love me at all..
Pakhi : Its nothing like that.. beta papa wanted to come but he couldn't..
Announcer in the camp took Mr.&Mrs. luthras name..
A COFFEE SHOP..
Arjun : Whay are you doing abhi.. you where invisble from yesterday..
Abhi : I don't know.. its all happened sudden..and all because of..
Arjun : Vansh.
Abhi gives him a look..
Abhi : You know..
Arjun : Of course … Maya told me…
Abhi : I am glad she did… And i hope you will take care of her.. she is so scared..
Arjun : Don't worry i will.. And even i have a request to you..
Abhi : I will take care of Gitu.. i promise..
MERRY LAND CAMP..
Pakhi and Aayan stands infront of camera ..
Pakhi holds on aayans sholder and the camera man was about to take picture..
A voice : Wait a minute..
All turns to see Anshuman
Aayan (excitedly)  : papa…
Anshuman comes to Aayan
Anshuman : Your mom told you that papa won't come right..
Ayaan : Yes papa..
Anshuman looks at pakhi and gives her a naughty smile..
Annoncer tells them to poss for the photo.. The trio posses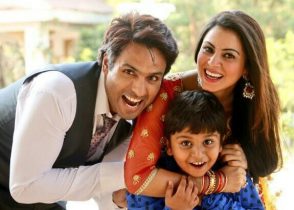 MALL..
Gitu was trying so many dress.. but she doesn't find anything cool..
Just them Abhimanyu with a friend comes there..
Gitu and Abhi sees eachother.. They avoids eye contacts and goes in different direction..

Warning: A non-numeric value encountered in /home/ftpusers/tellyu/public_html/wp-content/themes/publisher/includes/func-review-rating.php on line 212

Warning: A non-numeric value encountered in /home/ftpusers/tellyu/public_html/wp-content/themes/publisher/includes/func-review-rating.php on line 213