Rishten yeh banae hai pyaar ki rang mein (Chapter-35)

Warning: A non-numeric value encountered in /home/ftpusers/tellyu/public_html/wp-content/themes/publisher/includes/func-review-rating.php on line 212

Warning: A non-numeric value encountered in /home/ftpusers/tellyu/public_html/wp-content/themes/publisher/includes/func-review-rating.php on line 213

Maya releases her hug..
Maya : what are you doing here??
Arjun : You are my to be wife and i am not committing a crime by comming here like this
Maya : Arjun??
Arjun : Okay.. i am here because i wanted to see you in this jewellery..
Arjun takes the necklace and makes Maya wear it..
Arjun : You are looking beautiful..  just like how my mom..
Hearing this Jhanvi's words echos in Maya's ears…
Maya : Arjun can i ask you something..
Arjun : Yeah sure..
Maya : Today when your mom came and gave me this jewellery she said to me that its your mother's
Arjun : Yeah..
Maya : I mean she should have told me that its her but she specified its your..
Arjun : You are right .. She is my stepmom
Maya looks at arjun shockingly..
Maya : And Ragini..
Arjun pulls her to a wall.. his eye were red..He holds her sholders tightly
Arjun : Please.. Maya.. we have kept it as a screte to ragini. and any of us want ragini to know it.. i hope you understand..
Maya : Yeah.. Arjun i.. i understand and i pro..promise you that i am with you.. she wont ever get to know..
Maya hugs Arjun tightly..
---
MALL..
Twinkle , Yuvi and Lucky and Ragini are shown dancing.. Twinkle comes from the dance floor and orders a Orange juice..
Yuvi : Are you not enjoying the party..
Twinkle : Yeah.. i am really enjoying it..
Just then a few boys comes and sits next to Yuvi and twinkle.. and starts commenting on her. Yuvi hearing this fumes in anger.. He was about to get up and hit them.. but twinkle stoos him by holding his hand..
Twinkle : Yuvi.. i think we have to go .. its getting late..
Yuvi : Okay..
He signals lucky and Ragini who was dancing and The 4 leave.. yuvi's roofless jeep.
Ragini : Why are we leaving so early..
Twinkle : Some boys were commenting on .. so i thought of leaving early..
Lucky : Oh.. then its good that we are leaving early.. those type of boys can go any extent
Yuvi : Are you mad… today we will run from them . Then they will again stalk us.. we run.. its good that we fight back and finish it once an for all..
Ragini : Yeah. i agree with you yuvi..
---
LUTHRA MANSION..
Anita : Gitu get ready tomarrow as we have to shop for yiur wedding..
Gitu : Okay mom..
Anita tealises that pakhi who is sitting next to her is in an other world
Anita : Are you okay pakhi beta
Pakhi : Ji maa.. i am perfectly fine..
Saying this pakhi goes to her room.. And finds Anshuman checking some file..She goes to her wardrobe to take her nightdress..
Anshuman holds pakhi to her side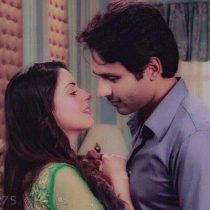 Anshuman : Are you angry with me that i am not comming with you to pick Aayan
Pakhi : No.. anshuman there is nothing like that.. i..
Anshuman : If you have told me earlier i could have done something
Pakhi : Seriously anshuman its okay..
ON OTHERSIDE.
yuvi and twinkle drops them to their respective house and they goes to there room.. And its shown that someone is watching them..

Warning: A non-numeric value encountered in /home/ftpusers/tellyu/public_html/wp-content/themes/publisher/includes/func-review-rating.php on line 212

Warning: A non-numeric value encountered in /home/ftpusers/tellyu/public_html/wp-content/themes/publisher/includes/func-review-rating.php on line 213