Riansh (the saga of truth unfolds) #episode 74
Hello peeepies aagyi me..
Seems like only i am velli because nobody is posting on TU except me..
Bhai meko sirf likhna ni hai pdhna bhi hai..post kro..na🙄
I am on cloud nine seeing your comments..mtlb 51 comments..wow yr🥰🥰maze agye
So i decided to end this ff in 100 episodes..so i will try to post ASAP..as you all know it was tanishka's wish….you guys keep commenting i will keep Posting..
Let's start
Scene 1
Ishani (gasped) – What..!!
Angre (stammering) – Wh..what..
Siya – Bhai what bhabhi is saying…
Vyom bow down his head in disappointment as he knows everything..
Ishani shakes vansh to asking him to say something but he was standing there numb seeing her sweetheart..
Flashback starts..
Riansh's room
Before their fake fight!!
Vansh – Sweetheart i got to know vikram is shifting aanu to dubai to sold her to arabs..
Riddhima (cry) -Noooo!!Nooo…vansh how can..he..
He can't snatch my daughter from me this..time..
Why he always attack on my motherhood ..
Vansh (confuse) -What!! Always..how..
Riddhima (trying to avert her gaze) – Nothing..it was just.. just sleep of tongue..
Vansh – No no!! Its not sleep of tongue..you are hiding something..say.. plz..
Something is bothering you na..
Say sweetheart say…i am with you in every situation..
Riddhima ( Breakdown in his arms) – Your sweetheart is useless vansh..i can't give you a child..
I can't be a mother..that vikram made me sterile vansh..
Remeber you were so excited for becoming a father..but i can't make you a father vansh..
That's why i was refusing to accept this marriage and that's why i wanted to leave you..
Vansh (hugging her) – Nothing is more imp to me than..you..
Our love is sufficient for us..
We don't need a third one to complete us..
We are complete in ourselves sweetheart
Flashback ends
Riddhiima (crying) – That's why i want you to leave him..
You lost your child only that day ishani but i lost my ability to become a mother..
I became sterile that night due to multiple stabbing in my stomach..
My uterus wall became so thin.. I can't conceive now..
Sometimes due to stress my uterus veins bursted resulting in bleeding as you all have seen on wedding day..
I had lost so much..now I don't have strength to loss anything..
She collapsed on the floor crying..
Vansh and ishani runs to hold her and angre left numb on his spot
Ishani (crying) – I am sorry riddhu i hurted you…
Vansh – Sweetheart..look at me..hold yourself it's not good for your health na..
Riddhima (hugging him) – I can't be a mother vansh..i am sorry…
Vansh (petting her back) – Shhh!! Don't cry..we have one daughter our aanu ..right!!
"And now she will also die" A voice came from behind..
Everyone turns and saw vikram is holding gun pointing towards anaisha..
Vikram (angry) – You snatched my child from me..now i will snatch yours..
And bhoooommmmm!!!! A gun shot is heard..
Riddhima closes her eyes hugging vansh…
Vyom (shouts) – Siyyyyyaaaaaaaa!!!
Siya collapsed in vyom's arms.. holding her stomach…
Vyom (crying) – Why did you do this..siya..
Siya (smiling) – how can i let aanu to die…i love her so much…
Vansh (shouting) – You bastards…how dare you to hurt my sister..
Vikram – It's just a trailer ..now i will kill your beloved sweetheart in front of your eyes..
He pressed the trigger in direction of riddhima..
Again!! bhooooooommmmmm!!
A gun shot is heard..
But this time vikram is lying in pool of his own blood lifelessly…
Everyone turns to see the owner of gun and left bewildered…
Vansh (shocked) – Youuu!!!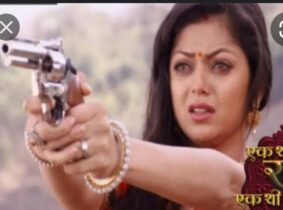 Shwetlana comes near vikram's body and sat beside him holding his collar..
Shwetlana (crying) – I had to go to jail for killing an innocent soul so..why not to do another crime..
You were monster.. vikram ji…
How can you destroy so many lives..
I was fool to believe you…
And i am happy that i am the reason of your death..
Being your murderer is much more better than being your wife…
She cries bitterly… shouting…
Police comes and takes vikram's body..
Tarini hand – cuffs shwetlana with pain in her eyes..
Riddhima comes to shwetlana and hugs her..
Riddhima (crying) – You were like my own sister bhabhi..
What you did really needs much courage..
I hope you will get out of jail soon..
Shwetlana (hugging her ) – I don't want to come out..
I want to repent for my sins..
Thnk you for showing this much love on me till now..
Anaisha comes running and hugs shwetlana
Anaisha – i will miss you aunty…i love you so much ..
Shwetlana (kissing her all over her face) – I will miss you too baby..i also love you alot..
Don't hate me plz..
Tarini takes her in police van with her..
Scene 2
In Dubai's hospital
Vansh is pacing in whole corridor in tension..
Angre is sitting numb not unable to cope up with 2 shocks back to back ..
Riddhima and ishani is crying holding each other..
Anaisha is resting in riddhima's lap
Anaisha – Mummaaa!! Siyu aunty will not die like my sejal mumma na..
Riddhima – No baby!! Your siyu aunty is so strong..she will be fine soon..
Riddhima notices vyom is missing..
She goes to search him..
He is sitting in a corner numb..
Riddhima (whispering) -Vyom!!
Vyom instantly hugs her and cry..
Vyom (cry) – I didn't able to protect siya…
I was so wrong…i doubted her that she won't be able to love aanu..
But look ..she took a bullet for her..
She gave her life..i am worst..i am worst..
How can i do this to her..i hurted her so much..
Riddhima (calming him) -Shhhh!!! Stop crying..
If you will Breakdown like this then who will handle aanu…
You are not at fault..its all destiny.. we are just mere puppets..
You can't control anything..
Vyom – What if something happens to siya..
I won't be able forgive myself ever..
Riddhima – our siya is so strong.. nothing will happen to her..
Riddhima takes him to others..
Riddhima ( to vansh) – Vanshhh!!!
Vansh (numb) – My siya..my baby..i couldn't be able to protect her .
Riddhima i am worst person in this world…
Everytime i get fail to protect my beloved ones..
Riddhima (hugging him) – nothing will happen to her..
She is your sister vansh..just like you..brave and strong..
If she can take bullet on herself then she will surely fight for herself..
—-
Ishani (shaking angre ) – Angre!!angre!! What happened..say something..why are you silent ..
He is not responding ..to anyone…
Ishani breakdowns seeing angre like this..
Riddhima (holding ishani) – Ishani!! Why you guys are loosing hope..
I can't handle everyone alone think about me also..
Here vansh is doing like this..there vyom is.. freaking me out and now bhai also..
How will i handle you all ..alone .
Ishani (weeping her tears) – You are right riddhu!! We can't fall weak..
Everytime bhai and angre protected us and  supported us..
Now it's our turn to support them..
I am with you riddhu..
We are strong…one for all .all for one..
Suddenly doctor comes from OT
Everyone rushes to him asking how is siya!!
Doctor – I am sorry but she*************
Done done dana done ✅
Precap : End of deal!!
Comments tapka dena pyare pyare..
Lob u all