Riansh (the saga of truth unfolds) #episode 73
Hello peeepies aagyi me phir se..
Why TU is so suna suna nowdays..post kro mere pyare mitro..
You commented well and demanded for another chappy so here i go.. ab ispe bhi comments barsa dena mst mst..
Shuru krte hai..
Scene 1
Shwetlana ( shocked) – youu!!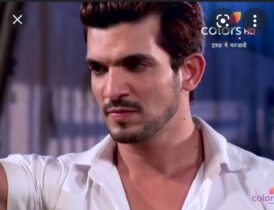 Vikram tries to snatch crying anaisha from her ..
Shwetlana (crying) – leave her plz..you devil..i hate you..leave her
Vikram – i don't give a damn to you..
Give this daughter of b*t*h to me you.. filthy woman..
You tried to back stab me..
Flashback start
After he talked to mishra at party..
His pov (inebriated)
Why he is asking me now..
And my phone was with me..how vansh brought this to me..
Something is fisshy..
And where is  this b*t*h wife of me gone..
She was mad in that child's love..
He rushes from their..
An Arabic girl is dancing around vansh and he got distracted.. even siyom didn't notice that vikram left..
Tarini was busy in dancing and she didn't notice when vikram left her..
Flashback ends
Vikram pushes shwetlana and she hitted her head with table
Blood started oozing from her head and anaisha started crying badly seeing her..
Vikram drags anaisha forcefully with him..
Anaisha (crying) – aunty!! What happened to you…plz don't die like my sejal mumma..
You are so nice..plz wake up..
Shwetlana was lying there in semi consious state..
She smiles seeing this baby's love for her…
Vikram reaches to gate holding anaisha in her arms but someone pushed him inside and hitted him on his head .
Vikram (shouting) – You!! Princess sakina!! You here..what the hell are you doing here .
Riddhima removes her mask and takes anaisha in her arms..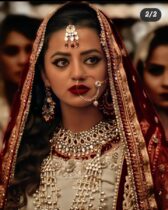 She recalls how she noticed vikram left..she tried to tell this to vansh but unable to and  left herself without informing anyone..
Anaisha (happy) – Mummmaaa!!
Riddhima kisses her on her face..
Riddhima (fierce) – You messed up with a mother this time..
I won't let you do anything this time to my child .
Vikram (shouting) – You b*t*h how dare you to deceive me..😡
I won't leave you this time..
He holds her leg and riddhima hits her sandle on his hand..
Riddhima (looking at shwetlana) – Bhabhi!! Let's go …he will harm you too..
Shwetlana (crying) – go riddhima… don't wait for me..
Jao yaha se . ( Go from here)
Riddhima (crying) – Bhabhi!! Plz get up.. I won't go without you..
Shwetlana (😭) – I don't deserve this love and respect riddhima..
Tum jao yaha se..plz jao..go….
She shouts on her to leave..
Riddhima again hit vikram with her leg and runs from there taking anaisha with her ..
Scene 2
Riddhima is running with anaisha and trying to contact vansh but unable to connect..
Suddenly she collided with someone and looks up to see the person and left bewildered..
Riddhima (shocked) – You!!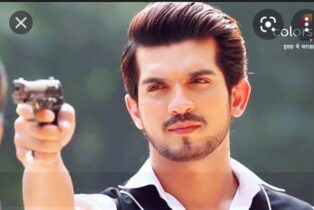 Vikram – yes!! Me ! What did you think you will escape from me easily..
You and your daughter has to die this time..
He points gun at them and riddhima takes backward steps in fear
Riddhima (pleading)- leave us..let me go plz.. vikram bhaiya plz let my daughter go..
What she did to you..
Vikram is about to pull the trigger suddenly bhooommm!!!
A gun shot is heard..
Riddhima hided anaisha in her arms tightly..but didn't feel any injury..
She opens her eyes and see someone shot at vikram's hand resulting the gun fell down from his hands
Vikram turns abruptly in anger to see the person and left flabbergasted..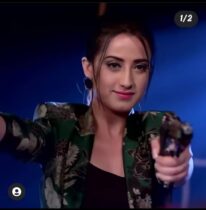 Tarini is standing holding a gun in his direction..
Suddenly vansh along with angre, rehan , vyom , siya, ishani comes there..
Vikram ( shocked) – you all!!you all were expected somehow but tarini you!!
How can you do this to me..you love me na tarini..
Tarini (angry) – Tarini nhi…Tara…
Vikram (shocked)- Ta…tara….no..no..how..ta..tara..
Tarini removes her mask from her face..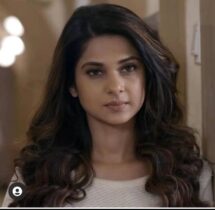 Everyone left bewildered except vansh..as she was his friend he knows about her..
Vikram (shocked) – Ta… tara…you..here..
Tarini (smirking) – what happened.. aren't you happy seeing your tara here…
Itni jldi bhul gye mujhe vicky..( you forget me this much early vicky)
Yahi nam tha na tumhara…aaj se 3 sal pehle..( this was your name na 3 years ago)
You made me fool by this name only..
Used me like your personal whore..in pretext of you will marry me soon..
I gave my everything to you and you used me as your s*x toy for whole 3 damn months..
And when you got bored from me..you flew away with your wife to london..
I was nothing..i was just a normal girl that time..who fell in your trap..
And see..i am standing in front of you as a CBI agent now..
You changed me vikram…you killed the emotions inside me..
Vikram (laughing) – tch tch!! Poor tara baby..
After being used up as my personal sl*t didn't you get satisfaction that you came again to me..
If you want i can still satisfy you.. afterall you were hot and s*xy that time too and now you became fire…
Rehan( shouting) – Youuu bastard!! I will rip u off if u utter a single word more..😡
Vikram ( chuckling) – See your effect tara baby..
This young man is shouting unnecessarily for you.. seems like he is your new aashiq…
Vansh ( shouting ) – if you want to die peacefully then shut up now..
Vikram ( angry) – you didn't do right by messing with me..
You snatched my brother from me just because of your b*t*h wife ..i lost my baby…
I snatched your love back then and now i will snatch this so called daughter of yours..
Vansh goes to him angrily and started beating him mercilessly.. followed by angre, vyom and rehan
Vansh (punching him on his face) – This is for hurting my wife's dignity and sister..😡
Angre(punching him on face) – this for killing my unborn child ..😡
Rehan(punching him)- This for hurting my Shivanya dii!!😡
Vyom( punching him) – this for abducting my daughter ..😡
Vikram collapsed on the floor but vansh didn't stop he beats him untill he fell unconscious..
Riddhima keeps anaisha down and goes to vansh..
Riddhima ( crying) – vansh leave..him plz..he will die..😭
Vansh (shouts)- That's what i want..
I won't leave this bastard this time..
Riddhima – vansh plz let law decide his punishment…
Leave him please..
Angre – Sona why are you hell bent on leaving him..
Ishani – Riddhu!! Let him die..he did so much with us..
He deserves this..
Riddhima (crying) – Why are you guys not understanding me..plz let police handle him..
Vansh (shouting) – Why are you.. adamant on leaving him ..ha .
Riddhima (shouting) – because i dont want anyone to get hurt now because of him..
First aryan rapped me and i tried to punish him..
He came back to hurt ishani as revenge.. and vansh you killed him .
Then his brother came to take revenge by hurting me and ishani..
Now u will kill him and somebody will come after few years to hurt us again..
I am fed up with this saga of revenge..
Let him rot in jail..
Ishani (shouting) – then what you want ha..we leave this bastard..
We lost so much because of this..man..
Riddhima (crying) – Even i lost my everything because of him..
Ishani (shouting) – Noo!! You got your everything back.. you got your bhai back..you got your love back..
But i lost my child.. I can't get him back even..
Riddhima (shouting) – You lost your child and i lost my ****************
Everyone left rooted at their spot shocked..
Done done dana done ✅ (another suspense)
Precap : Revelation ,Gun shot , End of deal..
Bs ese hi comments tapka te rho..roz 2 updates dungi🙈
Lob u all