hello everyone i m on cloud nine after reading your comments i almost got 45 comments which is highest  and yeah thnk u for 100+ comment i.e 135
@arushisoni and @1234 aayu you both were hilarious
And yeah i told you that you will get 5 crore i didn't say that i will give😝
Do comment as you are doing it is so overwhelming after so many days i was this much happy 😘😘
I got really motivated so thnq everyone who commented and i request you to shower your Love continuously
So episode starts here
Scene 1
Siya's room
Siya gets a call
Siya – Hello vyom ( or kon call krega bechari ko )
Vyom – How are you ( kal hi to mile tb ni dekha tha kya kesi h)
Siya – Vyom we met yesterday why are you asking like this ( haha smart girl😎)
Umm lemme guess.
Someone is missing me.. ( yahi kaam bch gya hai bs ab sb kaam dhndhe chhod ke tujhe miss kru)
Vyom – Obviously i am missing you
But..
Siya – What happened you seems tensed is everything ok
( as far as your vanshu bhai is after him like a shani bechara kese thik hoga😂)
(I really wanted to use that zero shunya circle but his character is not supposed to say that here)
Vyom – I need to tell you something. Urgently
Siya – Yes tell na.. i am listening
Suddenly vansh comes (khud ki gf ni mili to dusro ki gulu gulu rokne pohoch gye janab first ishangre now siyom 😂)
Vansh – Siya i need your help
Siya (to vyom) – I call you later..bbye
And she hang the call
Scene 2
After hanging the call
Vyom' POV
Damn!! I couldn't tell her.. i don't know how will she react..after knowing this
But wait why i am thinking about her..
My decision has nothing to do with her..
Why her opinion matters to me
Oh c'mon man she is my friend
Is it so or am i falling for her
No no !! I can't she is frnd only..
Pov ends
Riddhima comes
Riddhima -Are you ready
Vyom – Think once..shivanya..
Riddhima – My decision won't change.. jb un logo ne mere jite ji meri tasvir pr haar chadhane se pehle ek bar bhi ni socha toh ab me kyu sochu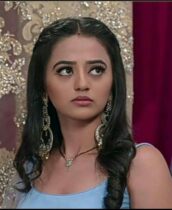 Lets go
Vyom – Fine..
Scene 3
VR mansion
Everyone is present in hall
Suddenly anaisha comes running from main door
And started clinging on vansh
Anaisha – Vansh uncle !! See i am here to meet you ( ye achanak itta pyr kb agya 😂😂 thnks to me )
Vansh takes her in his hands
Vansh (kissing her.)- How are you baby
Anaisha – Thnk you uncle for giving my mumma her memory back
Vansh ( perplexed) – Why baby.!!
Anaisha – because of you my mumma is going to be bride soon
Vansh (shocked)- whatt!! How
Riddhima along with vyom comes
Riddhima – I will tell you how!!
Baby you go to garden their are so many flowers there..go and play
She leaves
Vansh – What the hell is happening riddhima
Riddhima (smirk) – Correction Mr. Raisinghania its shivanya soon to be kapoor.. 😉
Angre – What is this riddhu
Riddhima – Oh c'mon mr. Angre..
Stop this drama your riddhu died 2 days ago although you did her funeral 5 years ago
Well i am here to give you all invitation
Vansh – Of what!!
Riddhima gives him a card
Vansh opens and left Bewildered
What the hell
Their is a card in which vyom weds shivanya is written
( You all were right riddhu propose shunya circle zero  pr me 5 crore kis kis ko dungi ab me to khud hi grib hu 😂😂)
Riddhima – what!! Pasand nhi aya..
Wait let me take blessings from dadi first
She goes to dadi and touches her feet
Riddhima – Give your blessings dadi for my happy married life
Me and vyom are going to be marry soon
Siya – What!!!
She looks at vyom with painful eyes
Vyom understand this and assure her with eyes that we will talk later ( or koi option h tere pss😂)
Riddhima – you all have to come.. to my wedding afterall someone should be present from bride's side na..
And vansh you have to sing channa mereya for me ha…i know you are good singer😅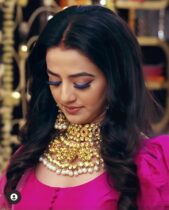 Vansh drags riddhima with him to the room
Scene 4
Vansh pins riddhima to the wall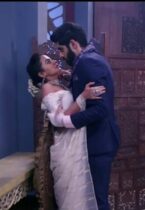 Vansh (fierce) – what the hell are you doing how can you marry him😬
Riddhima (looking into his eyes) – why can't i marry him..
Vansh – because you are mine damn it !!
Riddhima (laughing) – Come back from your lala land vansh
Tumhari riddhima ab parayi ho gyi hai.. #parayadhan😂
Be ready with channa mereya..😂
Vansh (Clenching his fist) – Just shut up you can't marry ok
Riddhima (fierce) – I will
You can't stop me
Vansh (angry) -Fine do whatever you want i will come to your marriage for sure
They headed to the hall
Riddhima – You all have to come ha..!! And specially you vansh !!
Bbye everyone
And she leaves smirking with vyom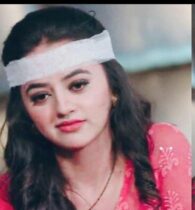 Vansh 's POv
She can't marry
Whatever the circumstances she is mine whether i hate her or love i have right on her only.. (ghnta ka right be ready with your channa mereya vanshu baby😂)
He says
Ese kese tum mujh se dur chli jaogi..
Ese kese tum kisi or ki ho jaogi..
Me bhi dekhunga kismat ka khel ab.
Kese tum mujhe chhod kr chli jaogi
#aishaD
But she was happy na..
Fine now i will show her..that i am happy without her.. ( bipolar vanshu aram se decide krle krna kya hai..😝)
POV ends
Angre's POv
My sona was calling me Mr. Angre..
I know i did wrong with her but she hurted me with her words.. ( aap to rehne hi dijiye pilij ab 😬)
But i too hurted her..
No no no!! Why are you getting weak angre
She doesn't deserve your love.. ( ha jese tumhe to best bro in the world ka award mil rkha h 😒)
Pov ends
Scene 5
Siya'room
Her pov
Vyom is getting marry with riddhu di..
How but why didn't he tell me.. and why i am getting affected this much am i falling for him no !!!
Suddenly her phone rings
Siya – why are you calling me now i got your marriage invitation.
Vyom – I called you siya to tell her this only..but
Siya (angry)- But what the fact is you are getting married damn it
Vyom – siya why are you over reacting
Siya – Wow !! Now i am over reacting
Fine do your marriage preparation well Mr. Kapoor
I will come to dance for sure.. bye !!
(Vanshu will sing and siya will dance
Who wants this scene i will give this only on your demand)
And she cuts the call
Meanwhile vyom's pOV
Why is she behaving like this does she love me..
Damn it !! I am gonna be crazy ..
POV ends
Riddhima's POV
I am done with proving myself
But now i won't
You all have seen my love now see my hate..
She says
Ab tk sirf meri mohhobatt dekhi thi ab meri nafrat dekhoge
Ab tk sirf meri khamoshi dekhi thi
Ab mera keher dekhoge
#aishaD
Pov ends
She gets a call
Riddhima – hello
Unknown person – Hello bhabhi ji!!!
Riddhima – who's these
Unknown person – oh c'mon bhabhi ji.. didn't you recognize me..
Riddhima – You!! Bastard how dare you to call me..😬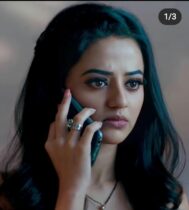 Unknown person – Suna hai ap shadi kar rhi hai.. hme nhi bulayengi..
Riddhima – Just shut up and dare you to call me again
And she cuts the call
She runs to vyom's room
Scene 5
Vyom's room
Riddhima enters panting heavily
Vyom – What happened shivanya !!
Riddhima – wo wo. He..he..is.. back
Vyom – Who is back shivanya what are you saying
Riddhima (crying) – He is back vyom he will kill me.
Vyom (hugging her ) – Shh!! Don't cry
I won't let anything happen to you don't cry..
Done for today
Most of the epi was covered with poV but guys trust me high voltage drama is on the way..
Do support me and i will give u bomb episodes
Luv uh all
Again 5 crore ka sawal apki Mobile screen pr
Who is that unknown person 😓