Riansh (the saga of truth unfolds) #episode 22
Hello everyone i love you guys
You all completed target successfully
I just wanna share one thing
I got a comment from @S  he/she told me that he/she is suffering from cancer and wants me to complete 100 episodes so that he/she can die but dear i am not gonna do this becoz you have to live for reading my ff and don't loose hope dear you will be fine soon and yes i was literally crying after reading your comment because i didn't know that my ff will effect someone Iike this and honestly speaking i am a fragile person i can't see someone's pain and i had feeled that pain because my grandmother was a cancer patient too  i wish you will get soon i love you dear take care.. and i request everyone to pray for my beloved reader
With regards
@aishaD08
So episode starts here
5 months later
So guys i am not dragging Ishangre's wedding as i have my own plans for later (storm you know 😉)
Scene 1
Ishangre's room
Ishani is doing some work and
Angre comes from behind and hug her
Ishani – So dear husband your romance session started
Angre – when my wife is so beautiful then how can i resist my self
Ishani hold Angre's hand
Ishani – Thankyou so much Angre for making my life so beautiful
And they both come close to kiss each other
Suddenly Vansh comes
Vansh (hurry) – Angre i have an important work with you
Ishani (pissed) – Bhai!! Why you always forget that your ex girlfriend Angre is married now (😂😂)
Vansh – I m sry princess i was in hurry
Angre – Bhai tell me what is work
Ishani (pouting) – C'mon bhai stop being jealous from us , now you and riddhu are going to marry in 3 days but still you are behind our romance😣 (not like the Ishani in the show😏😏)
Vansh – you two become so shameless after marriage
Ishani (giggles) – But bhai you became shameless even before your marriage
Vansh (glaring her) – Let me get married then i will see you..
Angre (pissed) -My ex girlfriend and my current wife please stop fighting
Suddenly riddhima comes
Riddhima – What the hell is happening here (my innocent riddhu😅)
Ishani – Bhai you take your ex girlfriend with you because i am taking your to be wife with me for shopping😉
Vansh (glaring her) – You are taking revenge on me Ishani😣
Ishani (dragging Riddhima with her) – yes bhai..
And they both leave
Scene 2
Ishani and riddhima comes home after shopping
Riddhima shouts everyone's name loudly
Dadi – What happened beta why are you shouting
Siya – Di you are screaming like there is some good news for us
Don't tell me that you are going to be a mother before wife😂
And Ishani started blushing
Dadi – If my intuition is not wrong then I can sense what is the good news
Vansh – Can anybody do the honour to tell us what is happening here ( why mens are so oblivious 😙)
Ishani – I am pregnent bhai
you are going to be Mamu
She said showing her report
Vansh – So finally the noises of your room gave the output 😂
You both just made me deaf uff !!!
Riddhima – Yes and i am going to be bua
Vansh (wink) – I will make you mommy soon😉
Dadi hug Ishani and bless her
They all started celebrating
Suddenly loud noise come
Thudddd!!!
They all turn backside and scream
Ishani – Angre
Riddhima – Bhai
Vansh – Angre
Angre is lying on floor unconscious
Scene 3
Everyone is in Angre's room
He gets conscious
Angre( keeping his hand on his head) – I am going to be a father😇
Ishani (pissed) – What the hell Angre
I am the one who is pregnant and you felt dizzy
Vansh – He must be tired after doing so much of hardwork for making you to be mommy ( i can imagine Vansh saying this in vihan mode😂)
Dadi (holding his ears) – I must say you are becoming more shameless day by day
Vansh – Then get me married soon and i will be a responsible father🙈 soon
You know guys i take milk every night just for practice but this f**king 5 months are not ending
Dadi (keeping her hands on her ears) – Bless my ears Vansh please
Have some shame , i am your Dadi
And everyone burst into laughter
Scene 4
Ishangre' s room
Angre lift Ishani in his arms and twirl her around
Angre – I am so happy jaan finally the most awaited moment is here
We are gonna be mumma papa soon
Ishani (hugging him) – I am so happy Angre
Angre (holding her hand ) – I will become best father in the world jaan
I will give all the happiness and love to my princess which i didn't get in my life
He has tears in his eyes
My princess will be in my team i will not let you spoil her
Ishani (having tears) – I am so happy Angre to see you like this..
I will become best mother in the world
And they hug each other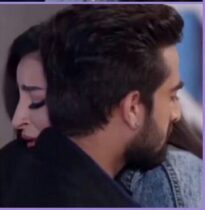 Scene 5
Vansh's Room
Vansh (with tears)- I am so happy sweetheart my little sister is going to be a mother
Riddhima (wiping his tears) – Angre bhai will be the best father in the world
Vansh (coming close to her) – No sweetheart , I have reserved that place for me
Riddhima (hitting him softly) – Shameless , let us get married first
Vansh – Just 3 days sweetheart then you will be mine then i will see how will you escape from me
Riddhima (crying)- We will also have a small family Vansh
I didn't get parent's love but we will give all the love to our child
Vansh (wiping her tears) – I will love my princess most
Riddhima (glare him) – What if we will get a prince
Vansh (chuckles) – Then i will make you pregnant again
Riddhima (hitting him ) – You are total shameless Vansh
Vansh (hugging her ) – Soon i will give you all the happiness you deserve sweetheart
And they hug each other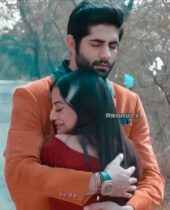 Scene 6
Vansh blindfolds Ishani and take her to the room
And unfolds her eyes
The room is decorated with toys and babies photo and there is a cradle too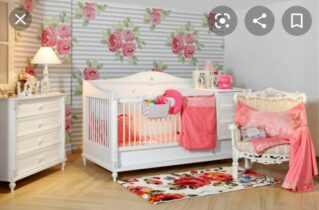 Ishani (with tears) – This is so amazing bhai i love it..
But bhai why you did this so early
Vansh (giggles) – Because i m gonna be busy after 3 days as i have to prepare to compete you guys
Ridhima ( glaring him) – Soon your murder's episode will come on crime petrol Vansh
Angre ( keeping his hand on riddhu's shoulder) – Stop teasing my sister Vansh bhai
Riddhima – Thankyou bhai
Angre – But i too want to become mama soon like you bhai😂
Vansh – And i want to become father like you😊
Angre – But you have to do so much hardwork for that😂
Vansh (blushing) – I am hardworking since childhood
Riddhima (angry) – I am gonna kill you today Vansh😣
Vansh – i have selected names of the baby too
If if he will be a boy then the name will be Aryaveer (do you like the names do tell me in comment)
And if she will be girl then the name will be Preetika
Ishani – wow bhai you choice is just awesome
Siya (laughing) – He or she will be ishani's nishani
Vansh (laughing) – And result of Angre's Hardwork😂😂 (This man has gone mad)
Riddhima – From now you won't do any work Ishani
Vansh (laughing) – Because your husband already did so much of hardwork
Riddhima ( glaring him) – Just shut up or else forget that you are gonna having a nuptial night for which you have been drinking milk since few days
Just take rest Ishani and dare you to disobey me
Ishani – Your wedding is in 3 days
So much work is pending who will do
Vansh – We will handle just take care of yourself
And they all share a group hug
Done for today guys
I am not dragging marrige unnecessarily because something more interesting is on the way
So the target is still 30 comments
Love you guys