Episode continues with eyes widened of vansh due to sudden shock
Vansh's pov…
Before Angre came to me, I became restless after realizing that she was in bridal attire when i met her nd thoughts of her marriage were killing me from inside. I don't why but I don't want her to be of someone else nd I myself searching for her info nd soon I found out by her bio data that she is yet singal nd got relieved nd again after listening her talks about marriage proposal again my heartbeat is becoming abnormal bcoz I don't want her to marry someone. Mere thought of losing her nd her marriage with someone else made me restless don't know why but I can't afford it so I decided to help her in making that man deny for proposal nd I was happy to at the same time with fear of losing her that she doesn't want to marry that guy nd that happiness of mine gave me that kind of feeling that I m becoming mad. Whatever it is don't care about it for now because now my all focus, concentration nd attention is only to help her in breaking that proposal
POV ends
(Yes 😅 again disappointment, that man is not vansh let me introduce the man name is Mr.Roy( not ridhu🤭) koi name hi yaad ni aa rha tha so yhi le liya😅)
Vansh called Angre nd told him to get all info of that man which help him in his plan nd Angre assured him that soon he passed info to him
---
Here ridhu Khanna nd her dadu waiting for Mr.Roy nd his mom soon they both came nd sit there properly.
…
Nd our ridhima is now in full irritate with an every single second nd started her plans which took from serials to make him deny😅😂
Author's pov..
Ridhu : (try hard to become the world's best besharm) sat with crossing her legs that gave them vibes that both duo became nervous nd his mom gulped seeing her like that
……
Ridhu : hey aunty what's ap nd have a sit, we paid the bill don't hesitate( in full tapori language)
With this line both anger is about to come out that she was trying her best to humiliate them but somehow managed it nd gave a fake smile
Dadu looked at her nd understand very well what she is going to upto nd handled situation by giving some warm nd gentle smile nd some lines feel them comfortable nd started chit chat with normal talks.
---
All this didn't hidden from our VR nd with her all antics nd her efforts for getting rid of it made him smile nd happy nd he is too impressed with her this kind of antics
---
After a while Ridhu called that waiter for serving nd give a sign to start their plan nd according to it first he spilled some juice to make Roy angry but he doesn't even react in front of dadu nd gives a death glare to that waiter which noticed by all except dadu bcoz he is too innocent.🤭
After a while again that same waiter came with food nd again spilled it on him nd
Ridhu: tch …tch..(pretend as if feel sorry for him) Kitne gande ho gye tum ab…?!
Nd with this Mr. Roy very well understand her all intentions after her tch.. tch… nd said no no it's all ok sab se galti hoti he don't worry I will manage myself u don't need to take worry for it with fake smile
Nd after his this fake politeness dadu became more flat on his choice for ridhu ( dadu aap hi kr lijie Roy se shadi apko hi pasand he flat hue ja rhe ho kab se ,humari ridhu ko koi interest ni he😅)
Dadu : (rolled eyes calm himself) don't worry let's go nd clean it out come my child
Nd they went
---
Ridhu excused herself nd went to corner with khanna
R : (clenched her fist) khanna do something na. That Roy is showing too much sugar in his attitude nd I just hate  that much kind of sugar nd sweetness. I can't marry him do something Khanna otherwise I won't spare u (giving a death glare)
K : but what can I do?! U have to think before giving promise to him. Nd let it be. Let's see what can I do for it ( with fear from both of side of dadu nd ridhu)
R : khanna(shouted with fool anger) . I m not telling u to try I m telling u to do nd get success in this or else ….( giving a last glare she went not before stamping her foot in anger)
Khanna: Now what will I do?! Oh lord plz help me or else she will eat me if this marriage will be fixed.
Nd then he moved from there for thinking nd later came to ridhu nd gave her idea
---
After sometime there is an announcement for couple dance nd to implement their plan Ridhu instited him for couple dance (dance will be with mask)
I again repeat all is noticed by VR nd seeing them that are going for couple dance he also goes with random girl
In dance Ridhima made much more efforts to make Roy angry by pinched him with force by deeping her nails on his neck by stamping her foot on him but all went in vain nd in all this efforts Roy's grip tightened on her wrist which make red mark on it
Nd VR gets more angry seeing his actions which led red mark on her wrist nd irritate seeing them that much close while dancing nd sign to manager for exchanging partners nd then riansh became partner
As ridhu went to him for dancing his one gentle touch make magic on her. Her restless nd anger has calm down in their dance. Both have an eye lock intense eye lock nd seeing in his deep eyes she lost in his eyes nd forget all about surrounding nd same happened with our VR too. She is very comfortable in his arms during dance on immj song dil ye tere bina manta hi nhi …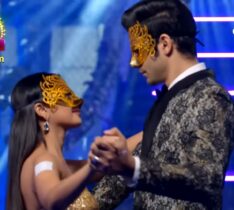 Nd getting a chance he asks her what happened nd unknowingly she replied (as she lost in his eyes u can better say in hypnotism by him) that she doesn't want to marry that Roy nd done all to make him disagree but he has not even affected only so then disagreement is so far away. Nd khanna also left me alone in all by saying that he knows me very well I will find out any way but I can't find anything now nd my mind also stopped thinking.
She is complaining him like a small kid whose parents are declining her demands nd wishes nd VR enjoying his little cute tiny creature's cute antics nd falling more for her by her every antics nd ways of behavior
Before she can asked him about why r u asking nd who are u after realizing that she told all to an unknown person to stranger, partners again changed nd VR disappeared from there in flick of time
Nd they come back to their position after couple dance but 💥💥💥💥
.
.
something is changed in Mr. Roy.
.
.
Episode ends here only
.
.
Comments down whether u liked it or not bcoz I m feeling that it sounds boring to u all😔 nd suggest me whether u all want their love before marriage or else love after marriage by Ridhu's side. So that I can adjust my ff with ur interest. Keep supporting me guys🤗. Nd thanks a lot who always showering their support through comments 😊
.
.
Precap : 
Again blunder in cruise party nd riansh's little bit cute arguements with laughing .
VR in Angry mode punished someone brutally punched someone that face nd body of that person is laid in blood in half conciousness
Ridhima's entry in VR mansion