Riansh ( A ghost story) # epi 6 #limited edition#by aishaD
Hello everyone giving only one update today
I wrote this epi in night at 12 to thoda upr niche ho jaye to  mind na kre or comments kre.
Epi starts here..
Scene 1
Kabir's room
He is lying on bed shivering.. Badly
His POV
Its been whole freaking day i m locked in my room
No no no i can't go out what if she will come there too
She will kill me and what if vansh would get to know abt my deeds
I am trapped from both the sides…
Pov ends
Suddenly there is a knock on the door
Kabir started shouting
Kabir(shouting) – No.. Don't kill me ragini go…
Plz don't come near me..
Suddenly the sound of knock started increasing
Kabir, (shivering) – Who's these
———-
It's me kabir ..
A male voice is heard
Kabir (sighs) – Vansh..
He opens the door immediately hugging vansh
Kabir (happy) – Bhai thnq u came
I am so scared
Ragini will kill me
He is shivering badly
Vansh makes him calm down
Vansh (keeping his hand on kabir's shoulder) – Relex kabir..
Calm down
She wont kill u
She was our frnd why will she kill us..
We didn do anything wrong with her right…
Kabir's face become pale..
Kabir (shivering) – She threatened me.
She will kill me…
Vansh Makes him calm down..
Suddenly the sound of anklet is heard
Chnn…chhhanana…chhhnnn.chhhananana..
Kabir (shouting) – Wo agyi… Ragini agyi..
Vansh wo maar degi mujhe..save me plz
Vansh – relex kabir..we will see lets go.
Kabir refused several times but vansh drag kabir with him..forcefully stating the fact that he is also scared…(ghnta 😂)
The sound of anklet is heard continuously…
Chhhnnn…chhhannana..chhnnn…
Kava is walking in corridor with baby steps
Kabir is shivering badly and drenched in sweat..while vansh is smirking seeing him like this..
The whole corridor is dark.. making the scenario more worse…
Kava reached the hall…
A female whisper is heard
K…..a……b…i…r….
K…..a…..b…..i….r….
Kabir shivers listening this
He clutches vansh's kurta like a baby
Kabir (shivering) – Aagyi..wo….ragini..agyi maar degi mujhe.. Bro save me..
Vansh assures him..
And then she comes
Descending from stairs like a queen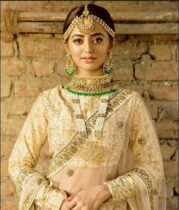 The same style as ragini..
The same way of walking …
Kava moves aside seeing her…
Riddhima comes in center And shakes his ankle little making sound of her ghunghroo
Chnnn chhannana..chnnn..chahanna…
Mere dholna…sun..
Mere pyar ki dhun…
Mere dholna…sun..
She started dancing gracefully the same way ragini used to do..
She comes near vansh and encircle her arms around him dancing
Saathi re Saathi re mar ke bhi tujhko…
chaahega dil…
Tujhe hi bechainiyo mein..
paayega dil...
She goes near kabir and touches him seductively
Tere dhadkanon ki sargoshi
Meri dhadkano mein bajti hai
Meri jaagti Nigaahon mein,
Khwaahish Teri hi sajti hai
Mere khayalon mein harpal,
Tere khayal shaamil hain
Lamhe judaiyon wale,
mushkil bade hi mushkil hain
O piya…………………
She started taking rounds in dancing
And fall down in center..
She lift her head slightly
Riddhima (smiling wickedly) – kabir…
Kabir (stammering) – Stay away from me..
Pss mt ana…
Vansh hides behind pillar..to enjoy thr drama…(bole to popcorn la du vanshu😂)
Suddenly all the lights of mansion started Turning off and on frequently
Kabir started running to the main door and bang it to open but in vain
He turns abruptly and gasps
Kabir (gasp) – Ri…rim.riddhima
She is standing very close to him with blood shot eyes..
I will write riddhima instead of ragini…
Riddhima  (shouts) – Ragini… Ragini hu me
Riddhima nhi
She holds kabir's neck
Riddhima (intimidating)- Kon hu me….
Kabir (shivering) – Ra….ra… Ragini…
She leaves him..
Riddhima (smirking) – Good boy kabir darling..
Kabir runs again but riddhima  push him.. Hard and He fell on the floor
She  keeps his one leg on his chest and bend on his level
Riddhima  (shouts) – U have to pay for ur deeds darling…
See u loved me so much na..
I came back for u..
Won't u give me pleasure now..😉
She again chokes his neck scaring the shit out of him
Kabir gets up..and runs few steps
Riddhima (shouts) – Kabirrr!!!😬
She moves her hand upward in air
And kabir started flying in air according to her hand's direction (remember the chip…)
Kabir(pleading)- why..why are u doing this plz leave me
Riddhima (angry) – U bastard…
U have this much audacity till now that u r asking me why i m doing this…
She moves him more in air..to scare him
Kabir (crying) – Dont kill me ragini plz i am sorry what i did with u..
Plz mujhe mt maaro jaane do..
Maaf krdo mujhe plz
She lowers her hand and let him fall on floor with thudd!!! Beneath the chandelier
Meanwhile vansh is watching the whole scenario and fuming in anger
Fb starts
After discussing the plan
Vansh(angry)- i want to kill that kabir..
Riddhima- We can't take law in our hands vansh..
Vansh(angry)- No riddhima he deserves this.
Riddhima- Fine i will ask the servant to cut the rope of chandelier
Rest will be his fate..
Vansh hugs riddhima
Fb ends
Kabir fall down with thudddd!!!
Riddhima (smiling)- u want me to leave u..
Fine i will let u go i won't kill u..
Kabir (happy) – thnq ragini…thnq so much…
Riddhima -Tch.tch..poor kabir..
Even oxygen is not free how can i let u go..
I have a contidion
Do as i say n i will let u go
Kabir (happy) -i will do what you say
Riddhima (angry)-Confess all ur crimes and ask for apology from me..
I will.let u go then
Kabir (shocked)- I …. Can't do this..
Mene kuch glt ni kia..
I didn't do any crime…
Riddhima(smiling)- I knew it u won't do so easily
It's ok i have special treatment for u..
She snaps her finger once and fire ignited around kabir in circle
Kabir gasp seeing this
Riddhima(smiling)- Now what u are going to do..
Wanna die or wanna confess
Kabir (pleading) – I wil…will confess
He joins his hand bowing down in front of ragini.. Crying
I am sorry ragini…
I was always jealous of vansh
He had name fame and everything what i wanted
Then i saw u..and i wanted u with me.
But u loved vansh…
So i molested u to make u mine and to make vansh suffer i killed u ruthlessly
And faked the phone call in front of u..that vansh ordered me to kill u..
He was not at fault i did everything..
Now plz let me go…i confessed everything
Riddhima(with tears)- Just for your desires u killed me ruthlessly.
U molested me..
People like u don't deserve to be alive…
She points a finger towards the chandelier
Riddhima (pointing finger upwards) – Look there kabir
Kabir (scared)- What is there.. kya hai waha
Riddhima (dangerously) – Tumhari maut…!!!😬
Kabir looks upward and shouts on top of his voice
Kabir (shouts) – Aaaaaaaaaaaashhhhhhhhhhhhh!!
The chandelier fall on him.. taking his soul with it..
Riddhima cries seeing this…
Vansh comes from behind the pillar with tears…
Riddhima (happy tears) – Ham jit gye vansh..hm jit gye…
Your ginni got justice…
She will be so happy na
Vansh is crying seeing kabir's body after all he was his frnd best frnd
Vansh (with tears)- Look kabir what ur deeds served u..
U are the reason of ur own doom
My ginni will be at peace now..
He hugs riddhima and they both cry!!
Vansh (breaking the hug)- U got tired sweetheart go and change.i will ask servants to remove this bastard's body from here
Go and freshn up..
Riddhima smiles and leaves
Scene 2
Vansh reaches to his room And open the door
He is going to switch on the light but a servant comes to him
Vansh – What happened
Servant – ****************
(Conversation muted)
He leaves
Vansh (gasped) – Whattttt!!!!!!!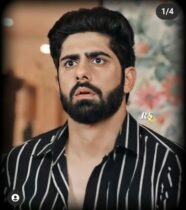 Done for today
Roz roz rehem ni krungi😂😂
Do comments n support
Lub uh all