Maanvi : Why you are not composing any music Rahul ?
Rahul : I have lost faith in everything , Manvi. I am not able to concentrate on anything. After my Mom's sudden demise I feel very much lonely .
Maanvi : Rahul, Don't think so. Your Mom always desired you to become a musician , A rockstar. It's in your blood, How can you deny it ?
Rahul : Mom was my inspiration for my music. Whenever she took guitar and played the rhythm I use to hear it for hours , right from childhood to till now this was a practice but last year I lost my rhythm . She left me, Maanvi.
Maanvi ; Please don't think so. Your Mom hasn't went anywhere , her presence is in your soul as your music. If you go away from your music then your Mom's soul will go away from your heart, Do you want that ?
Rahul ; No, Maanvi yaar try to understand. It's not so easy .
Maanvi : But it's not impossible also. Rahul please take the guitar, please
With trembling hands Rahul took the guitar. His fingers were shivering when he touched the strings of guitar.
Rahul : I can't do it, Maanvi
Maanvi : Rahul just shut your eyes and recall that moment when your Mom used to play guitar at stages and sings beautiful songs , those times when people waited so long for hearing your Mom Rishita's voice
Rahul shuts his eyes and recalls his Mom who was a rockstar during her young days , People used to stand hours for getting a ticket to hear her lovely voice.
Meanwhile Rahul's dad Riddhesh  entered there , he looked his and his wife's wall pic and recalled their moments of togetherness
Rahul opened his eyes and seeing his dad his eyes went teary
He rushed towards his dad and hugged him .
Rahul : Dad, Why Mom left us ?
Riddhesh : Ruplai hasn't went anywhere, Rahul. Through your music she can be alive always, beta it's high time you should get back to your passion. Otherwise we will lost her last symbol which is this guitar also.
Rahul ; Dad please
Riddhesh ; Look at Maanvi , we bought her alliance to you only because we felt she really suits you well. She was with our pain when we lost Rupali. She cared you very much and every day she keeps trying to get back you to the world of music. Don't ignore it any more beta.
Rahul ; Maanvi always stood as my support even if I behaved rude to her earlier. But dad whenever I tried to handle this guitar my hand gets trembled , I am unable to hold it anymore.
Maanvi : Rahul, if you won't use this guitar then sell it to some one .
Rahul ; Maanvi!! How can you say like these ? You know this is how much precious, my Mom's touch can be regained only through this guitar's strings.
Maanvi : Then why are you not gaining it Rahul ? She is holding your fingers every time when you starts playing this guitar. Rahul if you won't touch and play this, then the strings of these guitar will be lifeless , it's a big injustice to your Mom, Please don't do it, Rahul.
Riddhesh ; Maanvi is right , beta. Her soul will get a peace if you again palyed this guitar and also sing the melodious compositions
Rahul : If both of you wish this then I will try my level best.
Riddhesh : That's the spirit my son. Maanvi thank you beti for making him to realizing what he was missing.
Maanvi : Why are you thanking me Dad ? Whatever I did for Rahul is nothing just my
Rahul and Maanvi looked each other and turned their faces from each other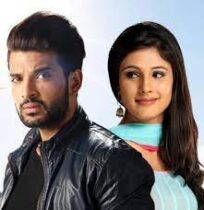 Though Maanvi made a smile, Rahul was unable to smile whole heartedly. He took his guitar and walked away
Riddhesh : Maanvi, when he will realize who are you in his life he will regret for ignoring you and will also shower immense love at you , It's my promise.
Maanvi smiles and recalls a flashback
Riddhesh : We have fixed your alliance with Maanvi
Rahul : Dad don't tell me this. How can you fix my wedding with her ?
Rupali : Beta she is working as a  primary school teacher , she had her own identity despite of being an orphan. And moreover she saved me by taking me to hospital once when I was fell unconscious at road .
Rahul : How can I be a husband of a primary school teacher ? Her job is nothing just to teach kids alphabets – A for Apple, B for Ball only. You people are saying this as a job ?
Riddhesh : Rahul don't forget that none of the person learns everything when he takes birth at this world. His parents, his teachers all play pivotal roles for moulding his personality. The heights which you have reached now has given you success ,but don't forget to look back also.
Rahul : Dad please stop these type of sentimental dialogues. I have an image and I wants to marry who is equal to my status , not an orphan. I don't understand as we are rich and dad is a business icon, mom is an established singer of films why you both choose an orphan girl for me ?  A primary school teacher whose monthly salary is my one day's expense only.
Maanvi : I  consider each and every penny of my salary as my hard work's result only, not as useless currencies to be expensed , Mr. Rahul . I agree I am an orphan and it's not me and the Aashram's Matron who bought your alliance to me, your parents only met my Matron and discussed this thing. Matron is like my mom who didn't give birth to any children of the Orphanage, but each of us in our Orphanage feels her as their own mother only. And if you are not interested you can reject me directly , you have no rights to degrade my profession, my identity and please don't use that word Orphan, because I am also a part of the society which human beings like you also live. And I am a social being, hope you understand it.
Rahul : Whatever it is , I just don't want to see your face.
After a month 
Rupali passed away due to blood cancer, Rahul felt like all of a sudden his whole world became dark. Many film directors approached but he was not able to do any sort of music composition. At the music studio, he use to look at his Mom's pic for hours and used to sob in tears only. One day Maanvi came there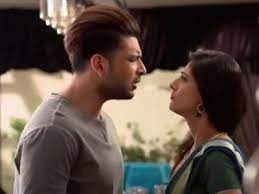 Rahul : Maanvi
Maanvi : Being a rockstar why you are sitting like an idol only ?
Rahul : Are you mocking me at my pain?
Maanvi : No Rahul, I am just guiding you to the path of light. This darkness is not your world, Rahul. Your mom will never be happy if you stop playing guitar and singing music.
Rahul : I have lost the passion towards music.
Maanvi : Don't get disappointed Rahul, I agree you have pain, shed tears as much as you want. I won't stop you. But you have to ask your inner soul about that keeping a distance from your passion is right or wrong ?
Rahul : But I don't want to ask anything,
Maanvi : No you must. It's your Mom whose talent is poured in you Rahul , she is in your heart, in your soul . You can't say No to her.
Rahul burst in tears , Maanvi touched his shoulder
Maanvi : Please keep trying Rahul. I miss that stubborn attitude of yours a lot.
Rahul ; I am sorry that time I was wrong , but now I realize life's turns are unpredictable. When we leaves this world we won't take any money or treasure with us. That's the bitter truth. I regret for being rude to you. I am sorry Maanvi and thanks for showing your concern towards me.
Maanvi : You don't need to say sorry, I can understand it. Rahul please don't get away from music.
As time passed Maanvi keep trying to cheer up Rahul , slowly they developed a friendship with each other. But still Rahul wasn't able to be back in his world of music.
PRESENT TIME 
Riddhesh and Maanvi arranges a musical concert of Rahul.
Rahul : Maanvi , I guess I won't be able to do it.
Maanvi : People are desparately waiting for to hear your music, Rahul. Their hopes are with you, don't break it. You can do it.
Rahul take blessings of his dad and looked his Mom's pic again.
Rahul :Mom, your son has decided to take your magical guitar once again. Please bless me Mom
He fold his hands before her pic and walked towards the stage.
Maanvi : All the best Rahul for your musical concert in a new way.
Rahul smiles and came infront  of the audience.
Rahul started playing guitar and started singing Dil dooba song.
The appreciation and response from the audience were massive, Maanvi who was watching Rahul from a corner dreamed herself hearing Rahul's song exclusively for herself only and romancing with him
https://www.youtube.com/watch?v=pHRCP_bWeag
When the song was finished all rushed towards Rahul . Riddhesh felt very much happier for his son's come back in music.
Maanvi : Dad, now I need to go back.
Riddesh : No beti , don't go
Maanvi : Dad, you got your son back. Now he is a rockstar and Rahul consider me as a friend , so I can't stay here so long.
Riddesh : Beti I can understand , you please wait some more time also. Rahul will understand your feelings. I am sure when he realize it he will give you the right space which you deserves. You gave me my son back and now you are leaving him.
Maanvi : Matron will be waiting for me, So I need to go. Please bless me Dad.
Riddesh : You called me Dad always and left this old dad alone , beti ? This is not fair.
Maanvi hugged him
Maanvi : I will miss you Dad, but I need to go back. I will visit here when I gets free time.
Maanvi walks away. As the hectic schedule was over Rahul rushed towards his dad.
Rahul : Dad can you believe this ? Even after a year public hasn't forgot me , they still feel me as their rockstar. I myself wonder why I realized it much late ?
Riddhesh : That's your problem, Rahul. You gets everything late, and this time you are very much late my son.
Rahul : What ? Dad what happened to you ? Maanvi come and see yaar, What dad is telling ?Maanvi, Maanvi
Riddhesh : She left us Rahul.
Rahul : Dad!!
Riddhesh : You didn't understand why she was with in your pain, why she was so adamant in bringing you back to music despite of bearing your biggest insult ? You were recognized by the public, but you forgot among those public Maanvi was also standing at a corner  .
Rahul : Where is she ?
Riddhesh ; She again went back to the orphanage , she stayed in our home as I insisted her to do so. Because I trusted her a lot and felt only she can bring my son  back and my trust became true , but I don't know that you considered her as just a casual friend only.
Rahul : Of course she was a friend to me but the way she said my mom is alive in my guitar I realized it in real sense today. While playing those strings I felt Mom was touching my fingers only dad. If she hadn't convinced me then I should have lose this precious moment from my life ,dad. Dad I will bring her back
Riddhesh : Beta, this time bring her with respect and love.
Rahul : Sure dad
Rahul rushed towards the Orphanage.
Matron : See Rahul, at per your dad's request I only send Maanvi there. If you again do any insult to her literally I will send you out.
Rahul : No mam, please trust me. Just once I need to meet her .
Matron : She is in her room, Room no. 219
Rahul : Thanks a lot Mam
Rahul knocked the door. Maanvi opened the door and gets surprised to see Rahul. She turned her face away from him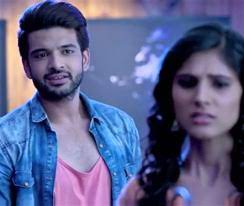 Rahul : Maanvi, you won't look me , Maanvi ? I have fullfilled yours and dad's wish . See all my appreciations really goes to you only. You really guided me to the way of light Maanvi.
Maanvi : Whatever it is , Rahul, I know I can never be the girl of your heart .
Rahul : Please don't think so Maanvi. Just look at me Maanvi.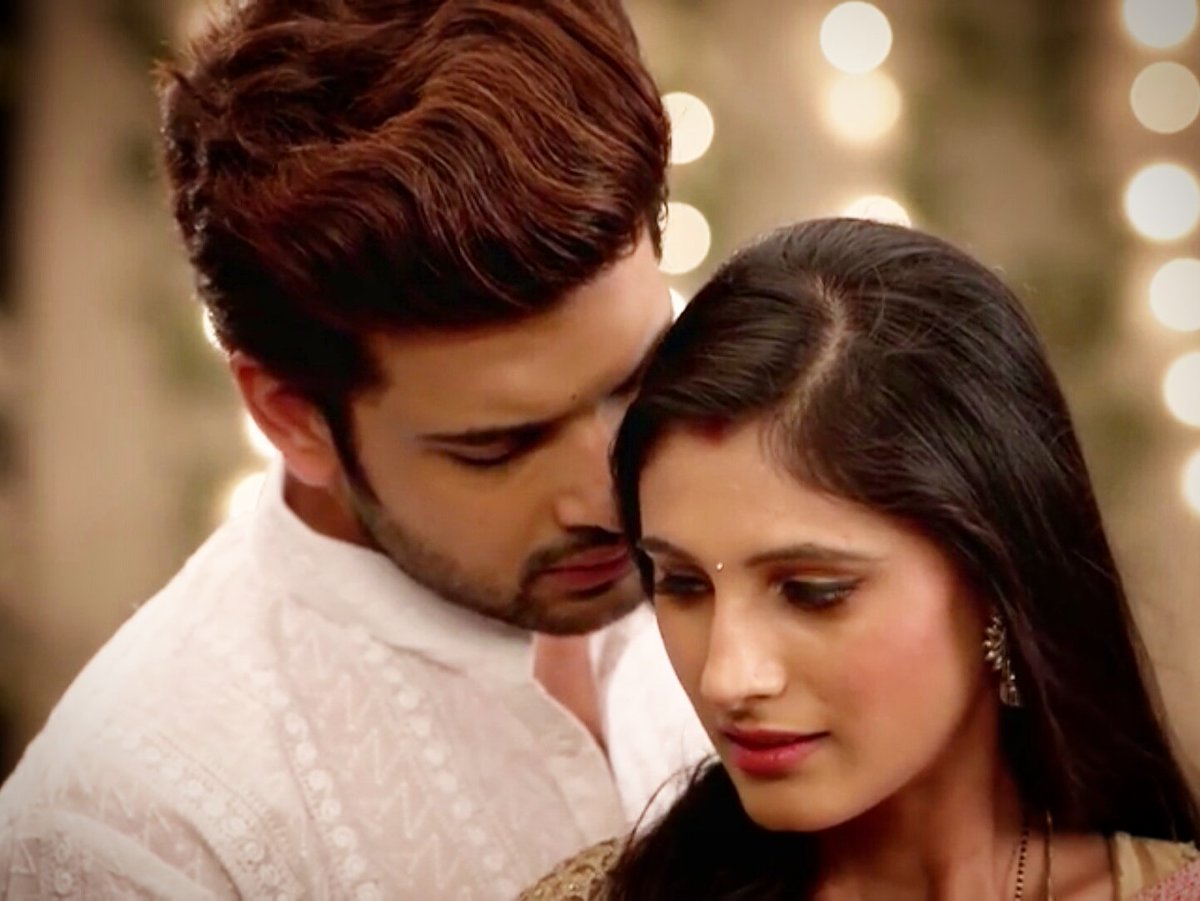 He walked very much close near her and kept his hands on her hands, then he gently shook his head with her head.
Rahul : Maanvi , I regret myself for degrading you that day. My ego was ruling me and I understood all things much late. You was the one who healed my pain when I lose my Mom, if you didn't cared me that time then I would have entirely became a shattered dark soul only. But you paved the rise of new beginning in me and my parents are not wrong by choosing you for me as they loves me a lot and they realize you can love me whole heartedly without any sort of conditions as your heart is pure. I will be a looser if I again lose you Maanvi. I don't want that, will you be with me always as my heart's light ? No other girl can love me better than you Maanvi and I wants you should love me always . I really love you Maanvi.
Maanvi : Rahul, I understood you changed a lot as those time your tears were pure and I don't want to remember that bitterness anymore. Trust me when I find you as a broken soul at the studio my heart was paining and I didn't thought much to console and convince you. Even if dad won't say also I will do it because I have been always a secret admirer of your music and your rhythm Rahul. I stand in a corner whenever you do the concerts and listen,I never had the courage to come forward to talk to you. But when your parents came with your alliance my silly heart desired a lot and I wasn't able to say No to them . That time you doesn't accepted me, but now as you have said tht better than me not any girl can love you , I really wants to make it true Rahul. I too love you a lot , Rahul.
Rahul : Maanvi please don't leave me , I really need you.
Maanvi : I am always in your heart as your heart beat , I will never leave you
They both hug each other passionately
AT RAHUL'S HOME
Riddhesh : You got me my beti back Rahul. I feel so happy for you.
Maanvi : Dad thank you for giving your son to me.
Riddhesh : Promise me beti now you don't go anywhere
Maanvi : I will always be with your son, Dad. How can I go from my dad and my ?
Maanvi blushed in smile
Riddhesh laughed
Riddhesh : Rahul, Get ready , because soon you have to be her husband .
Rahul : Dad
Riddhesh : Show your room to Maanvi, She needs to stay with you there naa .
Rahul : Yeah, come Maanvi.
Riddhesh looked at Ruplai's photo and smiled
Riddhesh : Our children are happy now Rupali. I wish you should also be here.
He kept a red rose near her pic
On the other hand Rahul was doing new rhythm in guitar, Maanvi was holding him and hearing his soulful music .Their rhythm of life,love and music was travelling together.