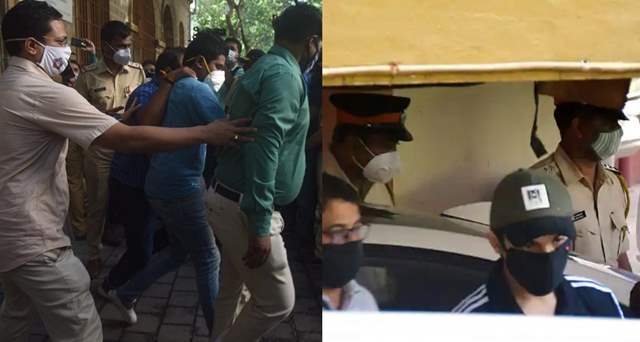 Rhea Chakraborty's brother Showik Chakraborty and Sushant Singh Rajput's house manager Samuel Miranda got arrested last night at around 9:30 pm. The case of Sushant Singh Rajput's death is taking many turns and this is one of the most major reveal done so far.
As reported earlier, the Enforcement Department (ED) had found out the explosive drug angle in SSR's case after cloning Rhea's mobile phone and had shared all the evidences with the CBI (Central Bureau of Investigation) team that is handling his case. Soon many involvements were revealed and now arrests are being made.
As per reports in TOI, both, Showik and Samuel will be produced before the court on Saturday, i.e September 5, 2020 and the duo has been booked under various sections of the NDPS (Narcotic Drugs and Psychotropic Substances) Act, 1985 that pertain to production, manufacture, possession, sale, purchase and transport of narcotic or psychotropic substance and abetment and conspiracy. The offence carries a maximum punishment of one year and a fine.
According to Zee News sources, Showik and Samuel in their confessions to the NCB revealed that they had procured Marijuana from Drug Peddlers for SSR but they confirmed that they did not use the said drug. Officials are also probing the role of Rhea based on the chats recovered from her mobile.
Showik has confessed to NCB that he used to buy drugs for Sushant Singh through Samuel Miranda on the orders of his sister Riya.
And on the other hand, Sushant's house manager Samuel Miranda, in his confession has also told NCB that he used to arrange for drugs, named Budd, at the behest of Showik for Sushant.
In another set of evidence, the NCB team has also found out digital records of as many as 12 financial transactions between Samuel Miranda and Showik and among these transactions, several were done using Rhea Chakraborty's credit card.
NCB officials said the drug, Bud, a curated form of marijuana is in high demand in Bollywood and is being sold for around Rs 5,000 per gram. They have also claimed that they want to uproot the drug cartel in Mumbai, especially from Bollywood.
Rhea Chakraborty in an interview had said Rajput used to smoke marijuana. "Sushant used to smoke marijuana and drink regularly."
Talking to DNA, Mumbai's eminent criminal lawyer Ujjawal Nikam said that there is a possibility that Rhea Chakraborty can be arrested. The drug angle in the Sushant Singh Rajput case is likely to provide the intention or motive behind providing drugs to the Bollywood star, who was found dead at his Bandra flat on June 14.