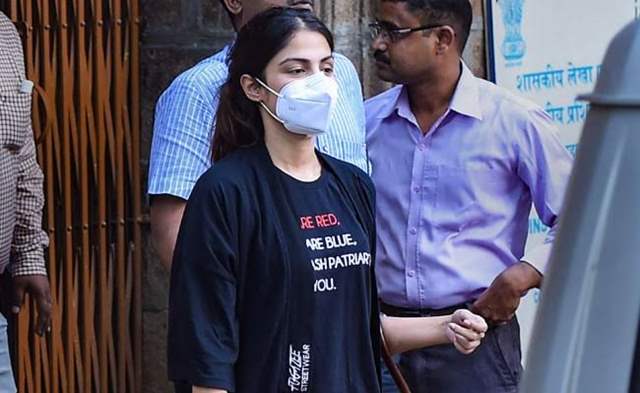 Rhea Chakraborty has finally been released by the court order as she was given bail two days ago by Bombay High COurt. She was arrested by the NCB under various sections of the NDPS (Narcotic Drugs and Psychotropic Substances) Act including possession, purchase and transporting, financing illicit traffic and more. After a month as she walked out, there were many questions running around in the minds of people as to if she is not the culprit in SSR death case, then she must have suffered a lot.
Rhea's mother Sandhya Chakraborty in a conversation with Times of India talked about the family's suffering and reacted,  "What she has gone through… how will she heal from this? But she is a fighter and she must be strong."
She also added that she will have to put Rhea on therapy to recover from the trauma and stated that while Rhea's bail has brought a sigh of relief, the family is worried about Showik, who is still behind bars. (ALSO READ: After AIIMS, CBI Says It Was Death BY Suicide For Sushant Singh Rajput)
Sandhya Chakraborty refuted the reports as baseless and told TOI:  "We know this neighbour. She was a huge fan of Sushant's who came over to our place to meet him once. Why she'd say something like this without proof is beyond me. One just has to look at Sushant or Rhea's cellular location to know this whole thing is just another lie."
Previously, Rhea's Primrose neighbour had informed Republic TV that an eyewitness, who does not want to reveal his/her identity had seen the couple together on the evening of June 13th when "Sushant dropped her (Rhea) off around 6-6:30 pm." and "Sushant was driving alone and there was no driver." The neighbour also mentions that this crucial information has been passed on to the CBI, who is currently probing Sushant Singh Rajput's death case.
Adding that Rhea will have to recover from slanders and the nightmares of being lynched by everyone, Sandhya said, 'I'll have to put her on therapy to help her get over this trauma and reclaim her life.' Talking about her son Showik Chakraborty, Sadhya said, 'My son is still behind bars and I'm paranoid about what tomorrow will bring.' When asked about how the family has been holding up all this while, Sadhya revealed that at one point she thought the only way to end it was by ending her life.'