Sushant Singh Rajput's death case has become a topsy turvy ride now. The revelations being made in this case are shocking and every day a new chapter opens up. Rhea has become the prime suspect in the case by far and she has started to clear her stance through sharing various proofs online. After sharing a gratitude note that Rajput had apparently written for her, the actor has now gone to share Whatsapp Chats with Rajput where he allegedly expressed his concern over his sister Priyanka going against Chakraborty. As per the chats Sushant was all praises for Rhea and her family.
In the chats shared by the lady with a leading news tabloid, the late actor allegedly said that he believed his sister was manipulating his friend and roommate Siddharth Pithani. Their conversation had begun with Rajput praising Chakraborty and her brother Showik. "Your family is very epic. Showik is compassionate and you too who are mine, you are a sufficient cause for the inevitable change and respite globally. behind these important changes. It will be a pleasure for me to be around you folks Cheers my friend for being a rockstar," he allegedly wrote. In his next message, he added, "You please smile, you look great like that. I would try to sleep now. I wish I had a dream like Jamila. Would it be amazing? Bye."
The late actor then allegedly shares his worry about his sister, and sends, "pure evil". As per the chats, Sushant felt that his sister is manipulating 'Sid bhai'. To his sister Priyanka, he wrote, "You do this, after the shameful act, making this a coverup to distract attention playing the victim card to the most non negotiable act of molestation under the influence of alcohol."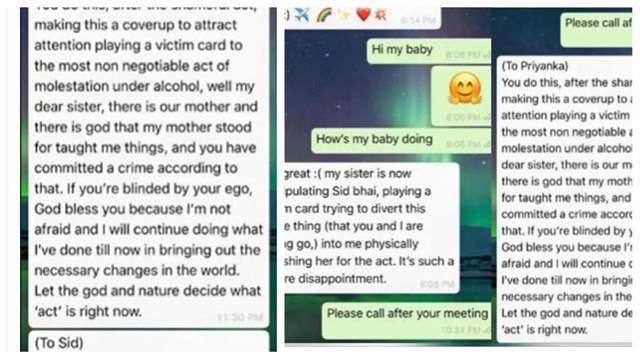 Further he apparently wrote, "If you're blinded by your ego, God bless you because I'm not afraid and I will continue doing what I've done till now in bringing out the necessary changes in the world. Let God and nature decide what 'act' is right now."
The next message by Rajput was addressed to 'Sid Bhai', assuming it's Sidharth Pithani, saying, "She has hit you in front of my eyes."
But if we match it with Rajput's lawyer's statements, after Rhea tried brainwashing him, he had spoken ill about his sister Priyanka. He mentioned that Sushant didn't even talk to Priyanka till December. When he realized what Rhea had done, he made amends with Priyanka and even apologized for his behavior.
In response to this, his sister Shweta shared a video where Sushant is talking very highly of his sister Priyanka.
What do you think? Who is lying?