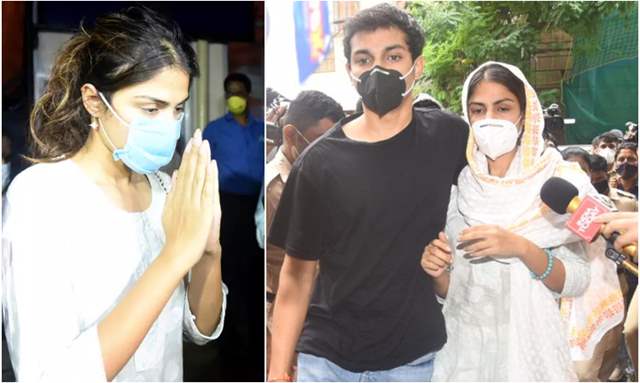 Rhea Chakraborty and her brother Showik Chakraborty were arrested by the Narcotics Control Bureau (NCB) a few days ago when their connections with various drug peddlers was exposed. The two have been in custody ever since. The NCB claimed that Rhea was involved in the financing and the activities related to the illicit trafficking of drugs. These claims were supported by the voluntary statements made by her and other accused, there were Whatsapp chats which revealed the same, call detail records, and information recovered from laptops and tablets too hinted in the same direction.
Now Rhea has applied for a bail in the sessions court but it seems that NCB is strongly opposing the bail plea. A Times of India report quoted the NCB reasoning why Rhea bail was opposed as the agency mentioned that the actress was a 'part of this offense by procuring drugs'.
"The applicant (Rhea) was having conscious knowledge about drug consumption by Sushant Singh Rajput and she made herself part of this offence by procuring drugs. She has used her credit card and payment getaways to facilitate the financial transactions related to dealing of illicit drug trafficking," said the NCB before a special NDPS court on Thursday.
Meanwhile, it is also being reported that the court is likely to pronounce its order on Friday. And as revealed now, their plea has been Rejected.  The rejection of bail implies that Rhea, Showik, Miranda, Dipesh, Zaid, and Basit will remain in jail.
The report also mentioned Special public prosecutor Atul Sarpande who has refuted Rhea Chakraborty's claims that she was coerced into making self-incriminating confessions, which she has now formally retracted. "The confession was taken legally and is admissible. Retraction is a routine process based on legal advice," the prosecution said.
The Times of India report also mentioned the statement from prosecution – in a voluntary statement, Rhea had confessed that she was staying with Rajput since April 2019 and was procuring drugs for him through Showik and his associates Basit Parihar, Kaizan Ebrahim and Zaid Vilatra.
The prosecution highlighted that "financing illicit traffic and harbouring offenders" was a non-bailable offence under Section 27A of the Narcotics Drugs and Psychotropic Substances Act.