Regretting my decision #riansh #ff (episode 2)
Hi guys. Hope u are fine. Guys thanku so so much for the support which I never imagined of thanku so much for ur constant support💕 So ya the episode start as:-
It was midnight both vansh and ridhima were crying at their respective place . They didn't ate anything and both the places were messed up . There eyes have become red due to crying. Here at Ridhima room a man came.
M- Riddhu pls eat something u r have not eaten a single piece from the morning nor drank a drop of water pls eat .
R- pls u go I don't want to eat pls (crying and pushed the many weakly and agin cried)
R- why it always happes with me (😭 amd then put her head on hi lap and he started stroking)
R- why tell why always the person close to my heart is snatched from me.
M- (silwnt crying) no ridhima see am here na
Ridhima hugged him from hus waist as still her head was in his lap.
After some time vansh and ridhima both selpt in their respective rooms and the man took ridhima and placed her on the bed properly and left from their not before pecking a kiss on her forehead.
In the morning at ridhima place
Ridhima woke up and found herself on bed the room was clean and was smelling so nice bcs of the flowers kept there . Ridhima found a note there and read it
Note:- So Ridhima get freshen up ur dress is on the couch and then come for breakfast then we will go outside and don't worry it will be safe no one will identify u so ya just get up now nothing is left to write except gm and u due to I have written so much or else I and write this long and that too for u not possible so get up huh😒.
Though Ridhima was not in a mood but a small smile crept on her face as she knew who would have kept that note she saw the dress and smiled and got up to get ready. Ridhima dress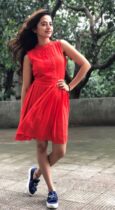 ( guys so from now u would see ridhima in such dresses and note abt stry this is her old style she wear skirts too so ya)
At vansh place vansh got up to forget all those things as now he will keep himself engaged in his work . He got ready and went down for breakfast at the dining table all greeted him with gm and a smile vansh didn't said anything and he was not in mood but still gave them a small smile all ate the breakfast and didn't spoke anything as they knew if something wrong they said they will not be left from the anger of vansh so ate quietly amd went to their respective works.
Here ridhima went downstairs it was a big hall even the house was also big as it was a mansion Malhotra mansion.
The man smiled seeing ridhima and she also smiled when she came downstairs thd man hugged him and pecked her forehead.
Question:- Whose that man guess whose he a young handsome hunk or a father figure so think😉.