Realize your Dreams through Love – Rikara OS
Characters: 
Kunal Jaisingh as Omkara
Shrenu Parikh as Gauri
Adaa Khan as Mauli
Other Characters:
Om's mother,  Mauli's Dad, Vivek (Om's friend and roommate) , Prateek  (Om's roommate, Gauri's colleague, Om's Frenemy)
The story starts with,
Scene 1 – Omkara's room
Omkara: Vivek, this is my script. Only these much I could think… What to do? Will I shoot it as a film?
Vivek: Ok, Relax… Let us think
Prateek: Oh, dude… Relax…. Just add some glamorous scenes in the film. If so, automatically you Short Film would hit.
Omkara: Oh really dude… What an awesome idea…. Your fiance is one of the beautiful girls of this college. So, will you make her  do glamorous scenes…
Prateek: I didn't mean like that, Om…
Omkara: Please… Don't trigger my anger, otherwise I would start scolding your parents also..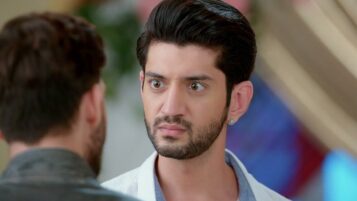 Vivek: Okay Om. Let it be.
Prateek leaves. Omkara and Prateek had a very spicy friendship. Both are jealous of each other for no reason, but would have a conversation and either one of them gets pissed off at the end.
Vivek:  Gauri has messaged you, Om. (gives his phone) (surprisingly) She herself messaged you for first.
Gauri has messaged Omkara about college cultural requirements..
The Scene freezes. Then, at college Culturals, Omkara and Gauri worked together. They developed a bond of friendship. Gauri is an enthusiastic, cute, bubbly, clever and a carefree girl who is mad at eating Cereloc, Biriyani and Bournvita Powder. Om gradually develops a feeling for Gauri. He decided to propose her
Scene 2 – College Cafeteria
Omkara: Dude (Vivek), I decided to propose Gauri.
Vivek: Are you sure? Is she a good girl? What if she deceive you?
Before Omkara speak, one random boy pats on Vivek and Omkara's shoulder and says: Good girls are like goddess. Some would say they existed and some say won't exist. But seems no one have seen her… (He leaves)
Omkara smiles: Typical soup boy theories… Who knows we couldn't recognize them as they are in normal form….
Vivek's phone beeps. He checks the message sent by Prateek and show it to Omkara. It was a screenshot of Gauri's whatsapp conversation with Prateek. In that message,
Gauri: What?

Prateek: Arrey Gauri…Couldn't you get me? I love you ❤❤❤

Gauri: Okay

Prateek: When will you confess?

Gauri: Soon, I need some time

Prateek: Okay, Good night.
Omkara was shocked.
Scene 3 – Next day, at Cafeteria.
Omkara shows the screenshot to Gauri: Are you loving Prateek?
Gauri takes her phone and show him the Whatsapp message. She scrolls the message up. And the conversation come as:
Prateek: Gauri, you are loving Om, right? Then confess to him.

Gauri: What (can I say to him) ?

Prateek: Arrey Gauri…Couldn't you get me? I love you ❤❤❤

Gauri: Okay

Prateek: When will you confess?

Gauri: Soon, I need some time

Prateek: Okay, Good night.
Omkara was relieved after seeing this. Om smiles.
Gauri: This is the conversation. But what did you do? You misunderstood and saying it to all?
Omkara: I didn't say anything to anyone. Ok? Leave it. Now I am saying it directly. I love you. I don't know when you realize my love for you. But when you realize, one boy has loved you unconditionally; you want me as your hubby; I would care you a lot, then you call me. I would come to you definitely even I was on my death bed.
Gauri smiles.  Omkara gives a bouquet to her. She has received that.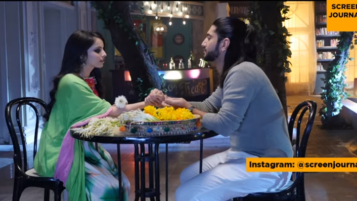 Gauri: I will confess soon. (smiles)
They drink a milkshake and the screen freezes
Scene 4 – Gauri's garden
Gauri was watering her plants and Omkara is looking at her watering…
Omkara: Gauri, Have I ever told you are looking beautiful?
Gauri: Mmm… Yeah, when I wore saree for Dance competition, you said that…
Omkara: Oh, sorry… I take back my words. You're not beautiful in that day.
Gauri stares at him.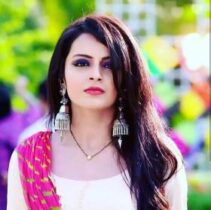 .
Omkara  laughs.
Omkara: Because, today you are looking so gorgeous today and day by day, your beauty increases….
Gauri looks at him suspiciously. Om makes his face innocent. Gauri smiles.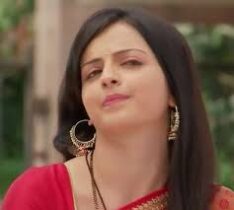 Scene 5 – Night,  Phone Conversation
Omkara was talking with Gauri. Suddenly his mom calls. He asks Gauri to wait and pick his mom's call. They had a normal conversation then,
Om's mom: Om, I got the Best Teachers' Award in our school.
Om: Congrats, ma. (enthusiastically)
Om's mom: Credits to your dad. He made me realize my interest in teaching and made my pursue this job and now I achieved such a milestone…
(after some minutes)
Om: Okay, Mom. I'll hang up.
Om thinks – "Sometimes we have to learn how to love tactics from our parents."
Om brushed away his thoughts and called Gauri… Gauri was gulping gulaab-jamoons and speaking to him. Om makes fun of her.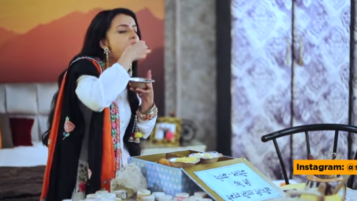 Om: Gauri, do you have any dreams?
Gauri: What dreams?
Om: I mean like interest in teaching, drawing or joining a specific course etc…
Gauri: I wished to join NIFT in Bangalore after completing 12th
Om: Why NIFT?
Gauri: I wished to start boutique. Only if we study there, we could learn many things.
Om: Boutique? (shockingly)
Gauri: Yeah, Om… Boutique… Why such shock?
Om: Nothing… Why didn't you join there?
Gauri: My father told if I go Bangalore, culture would change… So, he asked me to choose a college here.
Om: What about your mom?
Gauri: Dad always say for your good… Like that she said (laughs)…… Om, cut the call. I am eating gulab-jamoons secretly. If my mom see, she will kill me. Bye…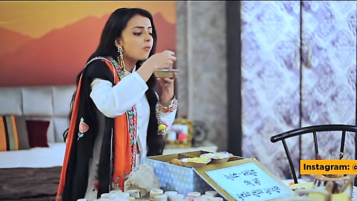 Gauri cuts the call.
Scene 6 – Next day at Food Stall
Omkara is waiting for Gauri. Gauri comes and sits. Both waves a smile.
Gauri: Om, there are so many good restaurants near our college. Why did you bring me here? Will the food taste good?
Omkara: Let it be… I actually called you for a help. For my script, I need some information about the waitress Mauli.
Gauri: What is so special about her?
Omkara: Just answer me. You are running a hotel. The foods are leftover excessively. What will you do?
Gauri: (without thinking) I'll put in the dustbin. What could I do?
Omkara: But, Mauli stores those leftover food and keep at Fridge which is placed outside the hotel with a bulletin. Anyone who passes the hotel can take and have it. So, in this area, food wastage is minimal. Most of the poor people don't starve.
Gauri is impressed with this method.
Gauri: Why can't you ask about this method directly to her? Why me?
Omkara: She would hesitate to speak with a boy. So only, I brought you. Let me go. You call her and talk like how you get these ideas etc…
Om leaves. Mauli was serving the food passes Gauri's table. Gauri stops her and Mauli looks at her surprised.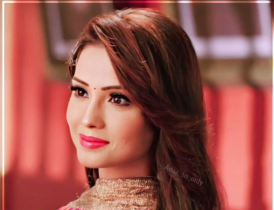 Gauri: Sorry for the interruption. I heard about your Fridge Method. How did you get these idea? Didn't your parents turn hostile as you are opening food stall though?
Mauli: My father was supportive and this idea is given by my mom.
Gauri: How?
Mauli: 'If anything is not used by me, better lend it to someone', from this only Fridge concept has started..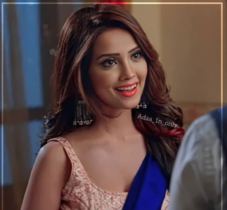 Gauri: Oh, Even I dreamt of starting a boutique… But my parents and my brother refused it. (murmurs bit loud)
Mauli: Leave your parents. What did your brother say?
Gauri: My brother said he would buy me an I-Phone if I choose Engineering. So, I accepted it.
Mauli: There is no mistake in your family's words. Because you're not telling what you want. You're just focussing on small term happiness not your dreams or long term happiness…
Gauri bows down. Mauli takes a Panda bear toy and shows it to her.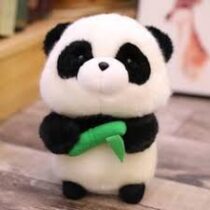 Mauli: What did you think about this toy?
Gauri: (after thinking a while) Nothing…
Mauli: Many people are so silent just like this toy… They didn't speak anything. So anyone feel she want Nothing. Please don't be like this toy. Speak to your parents about your wish with courage. All the best.
Mauli leaves and Gauri is thinking while Om comes.
Om: What happened Gauri?
Gauri: Nothing Om……(after few minutes) Om, do you know any Fashion Designers? I thought to start a boutique…
Om smiles as his wish come true.
(FB: Mauli is Omkara's friend. He asked Mauli to speak to Gauri that would instigate her to realize her dreams.)
Om thinks – "I don't know when Gauri would start a Boutique but she starts to work on it.. I must be grateful to Mauli."
After having food, they leaves. Om shares a Hi-fi with Mauli and thanks her symbolically so that Gauri didn't notice him.
After 3 weeks, 
Mauli's fridge concept is getting famous. Some media had taken her interviews. Four boys had tried to bully her but she resisted it fiercely, their ego was hurt. So, they kidnapped Mauli and  brutally raped her. They injured a leg and right hand with a iron rod so that she could never come out of her house to work. She is bedridden in her room
Her room is filled with 'Get Well Soon' Cards and many teddy bears. By seeing the teddy bears, she could feel her words coming echoing back to her. She is sitting numb.
Omkara was sitting near her and giving hopes to her but still she is silent. Om comes out of her room. Her father was sitting silently.
Om: Uncle, don't worry. Mauli would recover soon.
Mauli's dad: I know she will recover. But I fear she will go away from me after this incident. I know I'm middle class and I didn't use this as an excuse to abandon her dreams. I am determined to fulfill her dreams. But… (his eyes glitters)
Gauri enters the house. Mauli's looks at her as she is not known to him.
Gauri: I'm Gauri, Uncle. Mauli's friend. Shall I see her?
Mauli's dad: Yeah, she is in her room.
Gauri goes without minding Om. Om pretends not to notice her.
[ Om's voiceover in background with the flashes of some Rikara FB scenes is shown: We don't know when love arises or leaves, but misunderstandings and ego arise after the first stage of love.
Om was calling Gauri but she cut the call. Again he tries but it comes busy. He came to know she was working with Prateek as a project colleague which was not liked by him. After some time, she calls Om.
Om – "If someone calls, have the habit of attending it."
Gauri – "Oh what, you called me for no reason, right?"
Om – "I called you for a important reason" (bit rude)
He hear Prateek's voice from Gauri's side – "Gauri, come one. Its time.  Let us design the project."
Gauri to Prateek – "Ok, let me come." Gauri to Om – "Sorry, Om. I"l call you later." She hangs the call. ]
After ten days, Om and  Gauri had to meet in a coffee shop. Gauri is waiting for Om. Om comes after some time.
Gauri: Won't you come at time. Always late (casually)
Om: Ok, Sorry (with attitude)
Gauri gives him a box. Om opens it and find a black watch made him surprised.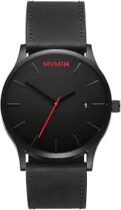 Om: Watch? Surprise. But you know already I'm not interested in watch.
Gauri: No issues. At least by using the watch, come on time hereafter.
Om: Let me see.
Gauri's phone beeps. Om takes it and see that Prateek was calling he. he give her phone to Gauri. Gauri – "Bye Om, Time for project now. I'll see you at night. We can go for dinner." Without waiting for his reply, she leaves. Om looks at her in disappointment.
That day night, after having dinner, Om drops Gauri at her hostel. Om is in his car and Gauri is about to get off. Prateek comes and keeps his hand on Car window and waves 'Hi' to Gauri and Om. Gauri smiles and Om smiles reluctantly. Prateek talk somethings to Gauri and they both leave to their respective rooms.
Om in his room and look at the watch given by Gauri
Vivek: What are you thinking Om? What happened? The watch is not working
Om- " Nothing, dude. I saw Prateek's wrist watch and it looks exactly same as mine.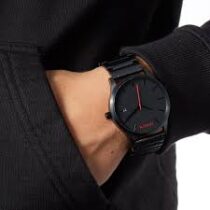 But his watch was working but mine was not working… She was not speaking to me well now-a-days but she is talking to Prateek so well."
Vivek: Om, don't think too much. Nothing like that you think. Everything go well. Also, she hasn't realized your love as well since she need time. You both were friends now..
Om: No, Vivek. She is trying to move with him…..Let me ask everything directly
Om leaves his room and go and meet Gauri and ask her about Prateek.
Gauri: Oh, Is this your problem? I know that. You know that he is meeting me often, he is talking to me often, I presented him a watch, I visisted him home etc…… Right? Why don't you know the reason behind it?
Om didn't speak.
Gauri: Say something, Om.
Om: Look Gauri, Here  No one is good. Those guys are saying that you are having affair with Prateek even loving me
Gauri: No one said like that. Prateek and I were project colleagues. I hope you know that. Many asked whether we are having affair, I make them understand after trying. Now, the same I am doing, you could not understand me…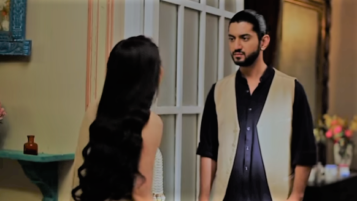 Om: Gauri…
Gauri: Don't speak anything, Om…
Gauri leaves eventhough Om try to pacify.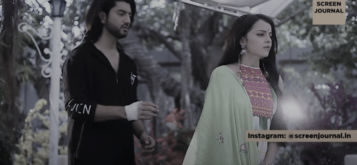 Om tried to ring her phone. Gauri cuts the call repeatedly.. He calls using others phone but after hearing Om's voice, Gauri cuts the call.
Vivek come there and says – "Don't worry. Pacify her tomorrow. Come and sleep."
Om remembers some of his phone conversations with Gauri where Gauri and Om were speaking over phone until 2 am. He asked Gauri to sleep as it was time but Gauri denies. She would not cut the call so easily and they would speak many hours then. He regrets of misunderstanding her. Omkara weeps for his deeds.
After ten days, at Mauli's house (In all these days, Om and Gauri visited Mauli individually at certain time intervals)
Om is watching TV wheras Gauri was sitting at Mauli's room. Mauli has started to speak normally but still her physical injuries were not cured.
Gauri – "When will you start hotel?" (starting hotel was Mauli's dream)
Mauli – "Why? I don't know. (looking at her fractured hands) For this situation itself, people are blaming my father. He too deserve that. If he didn't upbring me as a brave girl, I would have lead a peaceful life as a coward." (Her eyes glitters)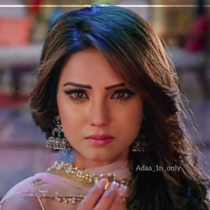 Gauri – "Nothing like that. Your father has bring you well. Those boys' parents should feel ashamed of their boys. Gladly, they were arrested and they could not get bail easily."
Mauli's father comes there and asks – "Will you eat Chicken Biriyani, dear?" He wears his shirt to buy Chicken.
Gauri – "No need, Uncle. I would leave soon. Don't strain yourself."
Mauli's dad – "No, no… Stay here and eat.." (caringly)
Gauri nods and Mauli's dad go to TV room where Om is watching TV.
Om – Uncle… May I ask you one thing if you don't take it wrong?"
Mauli's dad – "Yeah.."
Om – "Mauli is bedridden like this. Now, you are buying Non-veg……."
Mauli's dad – "Oh, Only by now, Mauli is becoming normal and happy when Gauri is with her. If Gauri leaves soon, Mauli will become gloomy. So, in order to stay her for sometime, I am buying Chicken. I want Mauli to feel normal not as a patient. My wish is to retain my old Mauli…..Ahn.. Will Gauri eats chicken."
Om smiles – "Of course, Uncle."
After few hours, Gauri, Mauli, Om and Mauli's dad have a lunch together.
Mauli: Gauri, can you sing a song?
Gauri: Really?….Shall I sing afterwards?
Mauli: No, please sing now. (smiles)
Gauri: Ok….
Gauri sings O Saathiya song. Om, from Tv room, hears her singing. Mauli listens to her closing her eyes. Om comes and look at her…. They got reminisced of their romantic moments.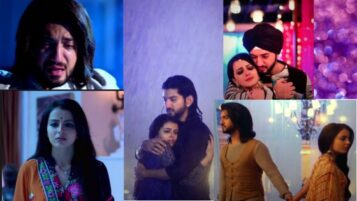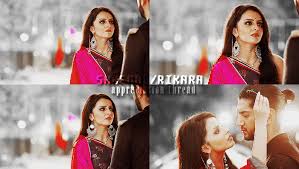 After some time,
Gauri: Bye, Mauli. I'm leaving. take care.
Mauli: Bye.. Please come often. (smiles)
Gauri: Of course yes. I'll come for your Biriyani…… Woh, I forgot one thing. I got a gift for you.
She takes the panda bear from her bag. It was the same bear given by her at food stall. She gives to her.
Mauli: Whta?Are you pointing my situation?
Gauri: No no…. Say one thing. What will others do after getting this toy?
Mauli: Ummm… Throw it away.
Gauri: What about you? You too do like the society..
Mauli: No, I like this doll very much. I learnt something from the doll. It gave me hope to struggle. Just because I am in such a situation, I won't throw it away.
Gauri: Same… Just because you are in such situation, you should not throw your dreams away. Why didn't you chase your dream ?
Mauli thinks…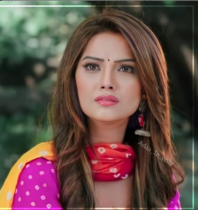 Gauri: Also, it is not such a big issue to throw it as your parents, friends and everyone are supportive in your way. Just because of some nonsense third class boys, you should change your first class dream. Sorry, if your hurt.
Gauri is about to leave. Mauli stops.
Mauli: Gauri, Soon I'll start hotel and you can visit there to eat the same biriyani. (smiles)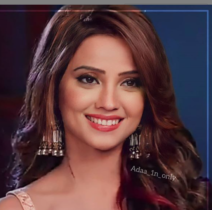 Gauri smiles and hugs Mauli.
Gauri leaves the house and Om is waiting in his car to convince her. Om is looking at his watch. To his surprise, it was running. His phone beeps. His friend Vivek messaged as: I have repaired the watch. We should not wait for some external force to solve the problem. We should take steps to solve our problems. All the best.
Om smiles. Gauri passes his car. Om saw and ask her to stop. Gauri stops and looks at him surprised.
Gauri: Arrey wah! I thought you would forget me after getting much scoldings from me.
Om: I didn't even throw your watch. (shows it to her) How could I think of forgetting. I realized my mistakes and you are my life and love. I won't change it.
Gauri smiles and shows her phone. ( a website)
Om: Wow! You got admission in NIFT. So, soon you'll start Boutique…Yippee…
Gauri: Hey! Stop… I got admission but you are happier than me.
Om: Your happiness are mine and your sadness are mine….. I love you to the moon and back. But the problem is, you didn't accepted my love?
Gauri: It doesn't seem like a problem…. (Gauri looks at sides and find no one around) She kisses his lips, back off and smiles at him naughtily)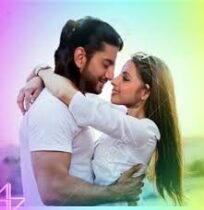 Om is happy and suprised.
Gauri: Ok, I love you, Om…. I always love you…
Om smiles. Om hugs her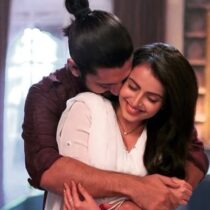 Gauri: Okok… What happened to your car?
Om: Breakdown (he lies to travel with Gauri in her bike)
Gauri: Ok, come on my scooty.
Gauri asks him to drive.
Om: No, you'll drive and I'll sit behind you. By the way, it is not a rule that boy should drive and girl should sit behind.
Gauri: Right… Many things will happen right if girls are front and boys are back…
Gauri starts the scooty. Om sits back. They drives and with their smiling faces the screen freezes.
Om's voice over with Shrenal's photo as Background:
There are so many people around us who didn't even realize their dreams and living so normally. Once if you make them realize their dreams and see them pursue it and achieve it, there comes a extraordinary happiness that could not be defined in words. I did the same for Gauri and Gauri did for Mauli.
The End.