RAB SE SONA ISHQ: TWINJ- EPISODE 25 SILVER JUBILEE ❤️❤️🌺🌸 SPECIAL
Episode:25
Before take the episode.. firstly I'm really Thanks and loved your love for my story really. Finally it's my second ff second sliver jubilee uff🙈🙈🙈❤️❤️❤️. Can't believe it without you all I can't thanks for showering love on me and my strong.. 
SLIVER JUBILEE ❤️🌸🌹🌹🌹🌺🌺🥀🥀this specially for raj😂🌺😛❤️❤️🌺..
Continue.::::
Twinkle was shocked she totally become numb don't know what to say.Others side in phone kunj was keep calling twinkle name but didn't get any reply back. In shocked tears come out from her eyes but she immediately wiped out. Chirag standing having bunch of flowers in his hands smiling like a idiot..
Chirag:twinkle baby see I'm here..
Twinkle turned Chirag look at and get confused to see her dress up style.just than there twinkle whole gang come there they see Chirag standing in front of twinkle just few step away..
Chirag didn't blink his eyes just scanning twinkle from head to toe and see  red sindoor fill on her hairline.than his eyes little come down on her neck
And see black beads Mangalasutra tie in her neck bridal red chuda on her both hands and than see her fully again she look like newly wedded girl.
Twinkle look at her gang while Yuvi gestured her to come with them..
Yuvi: Chal twinkle class hai.. he holds twinkle hand take her from there while Chinki see twinkle phone she take from down and they all went while Chirag still in deep shocked he don't know what to do and say.He closed his eyes and see twinkle new look closed his fist and went from there.
Chirag: twinkle baby what is this.I mean. Chirag you thinking wrong maybe she make her look like this laughing like mad. I'll talk to her once.
In class. Twinkle and her all gang sitting.
Chinki:twinkle your phone..
Twinkle:haa..
Naman:twinkle you don't think about that idiot chirag okay.
Twinkle:yeah why I'll. like this their another class started back to back class going on Chirag in deep shocked so he just in garden in anger.
In office..
Kunj get irritated with twinkle Childish behavior..
Rahul: what happened bro..?
Kunj: nothing bro see I was calling this siyappa queen but she didn't answer my calls. I hate when people didn't receive the call. What's the need of to take the phone..
Rahul: kunj she is In college maybe busy in classes didn't you forget your time  you always keep your phone off in classes.
Kunj: bas take her side..huhu.
Rahul: chal lets have coffee..
Kunj: no you know sir give us work so first finished this later rest..
Rahul: okay Bhai stop thinking about your wife😛😛.
Kunj: nothing like this Rahul it just that I'm confused she pick up my call but suddenly her voice didn't come hope she is fine.
Rahul: he went near kunj give him side hug.Arey mere twinkle ke pati Parmeshwar..your wife is fine you don't worry okay. Your cheenee level will be increased 😂😛😛😜. Kunj look at Rahul push him.
Kunj: saala 😜😜😜..
Rahul:Kunj Sarna aur bad word biwi ke baad gali bhi😂😂😛.. twinkle spoiling my good boy just in 3 days😂😂..
Kunj:acha Meri biwi mujhe spoil karegi..
Now let's go both went down and get busy in work..
Chirag sitting just than his one friend come to him..
Boy:hey chirag I know your condition will be this hehehe didn't you see your twinkle baby😂😂…
Chirag: why what happened??
Boy: don't tell me you don't know chirag haa. Your twinkle get married hehe you stand like fuss boy 😂😂..
Chirag: what nonsense you speaking haa shadi aur twinkle ki woh toh mujhe se hogi.
Boy: Bhai in your dreams only now. She get married 3 days ago didn't you saw her photos her wedding is in breaking news limelight me ti twinkle and her husband go and see her photos on every magazine and newspaper very lavish wedding I just heard you toh went for holiday here your twinkle baby get married.. 😂😛😛tutch..
Chirag: shadi never I'll not leave that man.
She is just mine how can she marry to someone else haa. Here I was planning about our honeymoon..
Boy: yeah here she spend night with her husband already 😂😛they must be planning about their honeymoon.Chirag grab his collar..
Chirag: just shut up not a single word about my twinkle..
After classes.They all come out of their classes. While Priyanka and rudra was waiting for twinkle she come they see her.
Rudra: bhabhi😛..
Twinkle: haa rudra how's your day..
Rudra:good..
Mahi: really di he just sleeping in whole class 😂😛.. Rudra look at mahi.
Rudra: everyone is backbiter only not my bhabhi.
Rishi:uff this rudra twinkle I'm mean he is more crazy than Kunj behind you.. he come hugged her from back..
Rudra: haa my bhabhi is the best na.. twinkle keep her hand on his cheek from front.
Twinkle:my dear devar ji now let's go home everyone must be waiting for us.
Priyanka:yeah Bhaiya.
Twinkle:okay guys bye see you all  tomorrow.
Chinki:yeah now guys let starts the exams preparations. While all boys started coughing like anything 😂😂😛.
Yuvi: kesh ki biwi hai yeh😂😛..raj raise his hands chinki give them death glares.
They all going out of the college Chirag see twinkle from far while she too slightly but ignore him…
Twinkle:bye mahi and take care of everyone.
Mahi: haa di And you please come soon.
Rudra: gaye woh din😂😛., now our right is more on her.Twinkle smiling to see rudra childishness..they all sit in their car and left.
Mahi reaches she went inside and just hugged Leela and Bebe.They both get surprised to see her this much happy.
Leela: Arey what happened mahi puttar.
Mahi: maa you know I meet with di in college.
Bebe: acha..
Leela: Twinkle come college..
Mahi: yeah maa di come..
Leela: really maa they are so nice peoples. You know I was just thinking did they let twinkle continue her studies after marriage.
Bebe: why Leela.
Leela: my one of friend daughter even she too get married in her last year they promise first after wedding didn't let her study that's why Bebe. But I'm so happy.
Whole Sarna family is sweeter than sugar maa. So humble and kind full they are.
Bebe: haa how's your di mahi.
Mahi: great maa and Bebe di looking so beautiful I'll show her photos she show them that they click today in collage.
Okay I'll go and get freshen up. She went in her room malika come there and sit beside her today she wanted to go her mother house so just take Leela permission.
Malika: maa can I go..
Leela: puttar go and come back home only when your mother get fine..
Malika: thanks maa your are the best she hugged him. But Kabir.
Leela: don't worry about him I'll see him.
At Sarna [email protected]
Rudra or Priyanka along with twinkle they reached Sarna Mansion come out of the car and they about to went inside see everyone sitting in garden near lake weather was so beautiful cold little bit.
Aayat come back from school just playing in mud.. while avantika and usha just see her what she doing it in mud. And otherside Omkara painting his sculpture.
They went towards them.
Twinkle: hi everyone.. they all see twinkle and rudra or Priyanka.
Lata:Arey you all come back how's your day.
Twinkle: great dadi.
Avantika: did you all have something or not.
Rudra: hmm little bit..
Usha: come sit with us..
Twinkle:yes I'll come choti MAA after get freshen up.
Usha: okay go and get freshen up..
They three of them went inside and goes in their rooms.Twinkle entered in her room find so nice and clean.
Twinkle: sadu didn't come back how he'll.
Chalo I'll get freshen up she went towards wardrobe open the wardrobe and see the condition of wardrobe and remember what kunj said her at morning..
Twinkle: I'll clean this mess soon nahi toh sadu will kill me..she take her clothes and went in washroom. She come back after get freshen went near dressing table look at herself.How dare that psychopath scanning me huhu.She get ready again beautifully. And went downstairs rudra and Priyanka already went in garden. She went in garden and take her sit beside Anjali they all looking at om.
Twinkle:Om your really an artist man..
Avantika: our om is best..they all sit chatting with each other having chips..
Just than there Rahul and Kunj come there after tired day. Anjali call Rahul.
Rahul: let's go.
Kunj: you go I'm going inside you all eat my head already headache..
Rahul: chal Teri biwi bi yeha hi hai.. he pulled kunj and take him too.
Prithviraj:today you both early.
Rahul:woh dadu our work done soon so
We come today home..
Lata: good. Kunj went and sit in side chair
He saw Rudra who chilling out buys in his phone wearing his vest tshirt and shorts..
Rahul: Arey om great ..
Om: look at him thanks😁.. aur how's your day.
Rahul: shit hell tired.. Kunj look at twinkle who busy with Anjali.
Avantika: Aayat bas now come look at yourself. Aayat look at her give teeth full smile..
Aayat: Dadu see my mud house…
Prithviraj: acha Aayat.
Avantika: now come to me all mud overall on you my baby..
Rahul:Arey mera rudra bodybuilder.
Kunj: kai ka bodybuilder rudra wear full clothes..
Om: if he wear how everyone see his body specially girls winked 😛😂..
Kunj: haa right look at him exposer Bhai our..
Rudra: whatever you all just jealous with my body..after I'm the best Rudra Tej Sarna 😎😎..Kunj give tapli on his head..
All laughing to see this..
Kunj: what you did in college I'm sure padi toh tu karta nahi hai..
Rudra: awesome Bhaiya..just than
Priyanka:Bhaiya you know rudra Bhaiya whole day went in sleep he just sleep in all classes.Rudra look at Priyanka whole she realised what she said.he giving her roar look while she look at down.
Kunj:oyye usko kya look deraha hai look at me twinkle pressing her laugh to see rudra face expression.
Rudra: wo…h Bhaiya she is bad sister you wait pinku.. I'll see you.
Kunj:acha show me too what you'll see haa rudra.Idiot you went college to sleep haa.He nodded his head in yes😂😛 each and everyone laughing.While Kunj just controlling his laugh at rudra antics.
Really Rudra don't have shame like a shameless boy you saying yes so proudly.
Aye what he did Priyanka in class tell me each and everything..
Rudra:offo Bhaiya you wanted to spy on me haa.
Kunj:samjle aesha hi kuch. Aur what about
Your exams..
Twinkle:after 1 week later hopefully.
Kunj:see this boy after 1 week he have exams here he was chilling out..
Rudra:you pinku ki bachi.. wait he pulled her hairs..
Priyanka:haaa mummyyyy..
Kunj:leave her hairs Rudra. He again pulled her hairs..
Avantika: rudra.
Rudra: no mummy I'm your elder brother na pinku still you doing back b*t*hing about me haa is it good.
Om: look at him kunj.. looks Who talking didn't forget rudra in childhood how you open our secret in front of elders.
Rudra: that was not me it's pinku.. ruk tu. He again pulled her hairs hardly.. she winched in pain just than there manohar and tej come.. tej look at Priyanka why she screams.Kunj gestured rudra he immediately leave Priyanka hairs and hide his face behind kunj back..
Tej:what happened pinku.
Avantika:good tej you come on correct time.. see your son pulling your daughter hairs.
Aayat: haa pa three times😛😂..
Tej look at rudra who hiding behind kunj back like bheegi billi😛😰
Rudra: nothing pa..
Tej:why you pulled her hairs haa.
Priyanka:no pa we both pulling each other hairs rudra Bhaiya not only..
Tej:acha they both sit.
Manohar:Bhai shab you know they all siblings save each other's..
Tej: and twinkle beta how's your day.
Twinkle: good Papa ji. 😍.
Tej: great beta. And you both how was the meeting with Kapoor's.
Kunj: wo..h good..
Rahul: yes sir..
Tej: what my Bacha doing.. Aayat show him her both hands which fully drenched in mud..
Aayat: pa see my mud house😛..
Tej: Arey waha my baby its so beautiful.
Aayat see your cheeks become red.
Avantika: I'm telling her let's go inside but your daughter is so persistent(zidhi).
Aayat come to tej..
Aayat: pa😛😛.. she joint her head with tej while he wiped her face..
Tej: mera baby. You'll get Ill here.
Aayat: should I 😛😛.. showing her hands.
Tej: okay.She rubbed her hands on tej face he happily let her do it.while rudra making faces..
Manohar: Aayat and bhai shab bhi na..
Tej: Arey why not Meri beti hai my doll.
She hugged tej..
Avantika: making her more naughty.
Tej: chalo chalo. Aayat let's go inside than we'll see your cartoons.
Aayat: haa lets go..twinkle smiling too see Tej and Aayat bond..
Lata: you all too come inside. They all elders get up went for inside. Rudra take deep breath and come and sit. Kunj pulled his tshirt and jerk him.. in funny manner.
Rudra: pa Bhaiya maar rahe hai..
Tej stop and turn or look at them..
Tej: acha let him na he is your Bhaiya I can't do anything in this matters.. they all went..
Kunj: see her today she save you..
Rudra: haa fasaya bhi toh Iss ne hi hai na..
Kunj: chal I'll call pa..
Rudra:Bhaiyaaaaa.. 😛😛.. okay okay thanks pinku.. he cuddles her tightly kissed on her cheeks she make puppy faces. Meri pyarri behana 😂😛.
Priyanka: bas bas Bhaiya.
Rahul: om leave do your work later. He leave and come and joint them.. Anjali please make coffee for me..
Anjali: okay baba who wanted coffee tell me now only..
Rudra: I don't wanted..
Anjali:okay she went inside.. Rudra see Aayat little funny mud house..
Rudra: see this pidhi mud house aai badi builder 😂. He went and broke her mud house.
Twinkle:so mean you are rudra..
Rudra:bhabhi you are in my side.
Twinkle:still…. Anjali come with coffee mugs. She give everyone expect rudra who deny..
Rudra: where is my mug of coffee..
Anjali: Arey you only said no.
Rudra: so what.. Rudra take kunj cup..
Om: Arey rudra.
Kunj:it's okay..
Rudra:haa Bhaiya only loves coffee made by itself.Kunj closed his eyes and resting his head on chair backboard.twinkle see him. They all enjoying coffee after sometime later.
Kunj:okay I'm going.
Rahul: where sit na..
Kunj: no you all continue just headache little bit so. He get up and went inside..
Kunj entered in his room directly lay down on the bed on his stomach his back facing to ceiling.Later they all come inside..
Twinkle went in kitchen and see avantika and usha giving instruction to chef.
Twinkle:mummy ji what happened.
Avantika: no beta just discussing about dinner meal.
Twinkle:acha.
Usha:Twinkle you tell and decide dinner.
Twinkle: me..
Usha:ha fast now..
Twinkle:okay.Twinkle tell to chef what
To make in dinner. I'll go and arrange my wardrobe again he'll fuming on me..
She went to her room.She entered in room and find kunj sleeping.Hoo he sleep great. She went towards wardrobe take out all clothes inside the wardrobe and keep in side just there Anjali Come and see twinkle she went towards him.
Anjali: what are you doing twinkle??
Twinkle: in low voice nothing di busy arranging wardrobe my all clothes still in bags so..
Anjali: okay I'll help you..
Twinkle:thanks.They both started arranging the wardrobe. This clothes are.
Anjali:see Arey it's omru and Rahul clothes give me I'll keep in their wardrobes okay.
Kunj clothes you keep in this section okay.
Twinkle:okay.. after one hour they finally arranged whole wardrobe.Than they both see the wardrobe perfect arrange..
Anjali:okay I'll go and see Rahul.
Twinkle: thanks di😍. She went from there.Twinkle went towards dressing table keep her things. Kunj wake up still having headache pressing his forehead with his fingers this twinkle can see it..
Kunj: still in same position harikaka giving him voice.. but he didn't come.Where he is man here my head paining like hell. Twinkle heard this. Kunj keep calling him.
Twinkle: what happened why you giving voice to harikaka. You wanted something.
Kunj: no in lazy voice just call him na please make coffee for me my head spinning twinkle.
Twinkle: acha I'll make nice tea for you. Your headache will gone in seconds.
Kunj:no I wanted coffee only I'll make Itself but today very tired.You don't worry. No one make my type of coffee Still harikaka is fine.
Twinkle: acha. Twinkle give smile and she went downstairs goes in kitchen. she started making coffee for kunj. She about to put sugar in coffee but stop in middle and realised it that kunj didn't take sugar.
She open the drawer and take out sugar free sugar. She putting coffee in milk. Sadu wanted what type of coffee dark or light he is so bitter dark is perfect for him
😛😜.Today I'll make my type of taste coffee for him. Twinkle make coffee for him and went out of the kitchen she about to go upstairs just than.
Lata: where are you going beta.?
Rahul: and what is this bhabhi ji. 😛see coffee mug..
Twinkle: woh DADI kunj ki coffee.
Lata: Acha ja she give smile.. Rahul like hmm while twinkle went upstairs goes in her room. She entered in room and see kunj still in same position he closing his eyes slightly. She went near him..
Twinkle: kunjjj.
Kunj:hmm bol…
Twinkle: your coffee espresso. Kunj open his one eyes and look at twinkle she standing in front of him and having coffee mug in her hands.. he open his eyes fully.
Aesha kya Ulloo ki tara dekh rahe ho😂..
Kunj get up and rubbed his eyes.
Kunj: what type of language you used twinkle haa??
Twinkle: stop this mr NRI.. take your coffee.
Kunj:coffee who made this.
Twinkle: in droll way hehe your neighbor made this because she get to know Mr Sarna having headache so she send it for you. Kunj laugh slightly.
Kunj: Acha see my neighbor is so good at least she think about me better than my wife😛😜😛😝.. twinkle look at him and giving reeky expression Kunj press his laugh between in his both lips.
Twinkle: acha ji now go to your caring neighbor huhu.. 😏😏👹…she turned and about to go..
Kunj:Arey Twinkle I'm just kidding first you starts now bura bhi lag gaya.really my head paining badly. Give me coffee please.Sorry see.Twinkle turned and give him coffee mug. She sits beside him looking here and there. Kunj look at coffee
Hoo twinkle espresso my favorite how you know.
Twinkle: it's suits on you bitter sadu😛😂.
Kunj:thanks for your compliment.Seems like great let's  taste it your coffee by the way I didn't like anyone  coffee apart from my hand coffee.Chalo pihi lete hai dard me sab chalta hai..
Twinkle: murmured thanks god his head paining nahi toh I'll strangle his neck. Kunj heard this raise his eye brows 🤨. He take the coffee one sip and shocked.
Kunj:in heart what a coffee I mean perfect taste everything more than my it's just awesome I never drink this type of coffee.again take sip
Not too much sweet all balance.He look at her slightly. She too look at him at the same time.
Twinkle: what happened not good. Kunj didn't said anything. Give me back I'll tell harikaka he'll make another coffee for you. She about to take coffee mug from kunj hands but he moved.
Kunj:Arey let me drink my coffee. Its awesome coffee.
Twinkle:don't make fun of me kunj.
Kunj:why I'll twinkle it's really good.Even its best coffee ever till now I have. I never thought you'll make world best coffee at least for me toh.This coffee complete my everyday.
Twinkle:Are you saying truth na.
Kunj: yeah.. really.. Kunj rest his head on headboard and enjoying coffee. Thanks Twinkle.
Twinkle: welcome.
Kunj: I don't know my neighbor make best coffee 😛😝. Twinkle throw cushion at him. Kunj catch it.
Twinkle:tum na ek number ke sadu ho..
Kunj: you leave this today I called you what happened you didn't reply me haa. Twinkle stop and think chirag..
Twinkle:w..o..h Kunj when you call me that time I was busy sorry.
Kunj:it's okay don't be sorry I thought something else..
Twinkle:hmm. Do you want something else now..
Kunj: na bas you give me everything my coffee..
Twinkle: okay she went towards wardrobe taking out his night clothes. See kunj now don't mess up the wardrobe..
Kunj: why I'll I never did it. This only my bothers and Rahul did..didn't you arrange the wardrobe twinkle..
Twinkle:I did mr husband ji already when you sleeping peacefully. And send their clothes too.
Kunj:good.. she take out his night clothes and keep it on table.
Twinkle: take your night dress is it okay na kunj. She show him.
Kunj: haa why you did I'll do it twinkle na.
Twinkle: woh Maa kehati hai wife ko apne pati kaam karna chahiye hai so..
Kunj: Leela didn't told you ki husband ka dimaag nahi khana chahiye 😋😛..
Twinkle: tum bhut bure ho Kunj. Huhu. Kitna hi kar lo tumhare liye koi fhatida nahi..😏😏..
Kunj:hehe.. she throw his night on him. And going down.Twinkle please now make coffee for me only you everyday if you are fine..twinkle didn't said anything. And leave from there while smiling…
Kunj ruffles his hairs having nice smile on his lips. Keep the mug in side and take his night dress went in washroom he get freshen up and went downstairs.
All kids along with tej and Manohar or dadi and dadi they were sitting in living area.While Avantika and Usha or twinkle see the dinner. They too come back and joint them.
Rahul: how's your headache bro.
Kunj:vanish while looking at twinkle.
Rahul:which coffee you drink😛😝..
Kunj:don't act smart with me..
Avantika: why you teasing him Rahul now what he did..
Rahul:nothing he is MAA it just I asking him. Matlab he didn't drink coffee made by anyone how today he did it.
Rudra: has true G Bhaiya just like his coffee.
Rahul: Twinkleee..
Twinkle: haa..
Rahul: ab biwi ne bani hai pini toh padegi hi na..😛😝helpless.
Kunj:why helpless coffee is great so I drink.
Om:ho ho. Dadi see your pota. First time he like someone coffee 😛😝otherwise toh not Kunj Sarna type😝😜.
Kunj:you all just finding the way to tease me that's it.
Rahul: Acha chalo we'll too try twinkle coffee dekhe toh shai what taste make kunj crazy 😛😝.. he went near kunj ears.
I know yeh coffee Ka jaadoo hai yeh phir tickles on his shoulder sensually without notice anyone specially elders😋😛😝.
Kishi aur na I mean hope you understand winked at twinkle 😛😝. Kunj mouth got open and he giggles.
Kunj: you are mad seriously. Rahul coming closer him while Kunj push him. DIIIi. Your husband become mad..
Anjali:why did he said anything.
Rahul: haa bolna 😂😂😛..
Kunj:impossible shameless man..
Tej: what's going no boys..
Kunj: nothing pa..
Next scene
Chirag went to his house in anger. His eyes become fully red he sit and see the news paper.. he started finding twinkle pictures he got and see twinkle photo. But kunj photo didn't clear because tea falls on his face.. he read the headlines..
chirag:twinkle baby how could you did this leave me and become someone wife how.
You reject me numbers of time how you marry with him.He crashed the newspaper in his fist..
Taneja Mansion everyone sitting for dinner.
Kabir: when will Malika come Maa.
Leela: in some days and you don't tease her to come home let her stay with her parents Kabir okay..
Kabir: okay Meri MAA. And you Mahi how's your studies going on..
Mahi: good Bhai my all portion is complete I'm full ready to give my exams..
Kabir: awesome baby one more year than like twinkle you too we'll throw you out of the house with band baja baraat 😛
Mahi: see Maa Bhai how mean he is..
Bebe: I just wanted even our Mahi too got sasural like our twinkle see her she is so happy.
Rt: yes didn't call us..
Hansh: I just thinking how she'll stay without ram there but hopefully she is.
Bebe:in starting day every girls did.
Now she get busy in her married life..
Second scene Sarna Mansion 🏠🏘
Avantika: twinkle beta go and call everyone for dinner okay.
Twinkle:okay mummy ji I'll. She went and everyone sitting together in Rudra room. Twinkle went in room.
Rudra:hy Bhabhi joint us G cracking jokes on you 😛😝..
Twinkle: great 👍 going on and by the way mummy ji calling you all for dinner so please come down. She said this and went from there.
Rahul:Kunj Teri biwi full on Tashan always.
Kunj: and Teri 😛😝..
Rahul: Meri toh pyaari shi hai cutie..
Kunj: even mine too😝😜😛..
Rudra / OM together: waha Bhai waha.,
Anjali: let's go now.They all went down. Twinkle arranging the table now everyone come and take their seats..
Rudra: what is in dinner?? Mumsy..
Usha: today is in dinner everything twinkle decided so.
Rudra:bhabhi choice is the best even in food too.Now bhabhi give me food rats running in my yummy.Aayat sitting on top of the table near tej..twinkle served everyone while serving Rahul twinkle smirked at Anjali. She gestured her go ahead. Twinkle putting food in his plate..
Rahul: Arey twinkle bas I'm not sumo 😛😝.
Twinkle: no still di saying you love Indian food so please have it. Filled his whole plate..take two bites from my side. Sarna brothers enjoying it. Twinkle come and sit beside Anjali.
Rudra:Bhabhi menu is the best.. dadi I was thinking something Bhaiya ki shadi hogi hai ab.
Lata: haa..
Rudra: we did all rituals why not this.
Prithviraj: which one..
Rudra: honeymoon Dadu after listen honeymoon name Kunj and twinkle both chocked so badly started coughing.
Rahul: kya hua guys.. araam se.. Anjali patting on twinkle back while Rahul too kunj 😂😛. Twinkle and Kunj look at each other face.
Lata:right Rudra they didn't went for honeymoon. So twinkle and Kunj where you both wanted to go for your honeymoon.
Kunj: me wo…hhh.
Rahul: don't be nervous bhai apni hi biwi ke saath ja Raha hai honeymoon pe😛😝.
Tej: you tell twinkle which place you like.
Twinkle: me papa ji.. don't know.
Rudra: dadi send Bhaiya and bhabhi for one month they enjoyed it.. its good na.
Lata: haa bol kunj..
Kunj:dadi woh I'm thinking right now it's not time to go for holiday.
Avantika:why everyone go after wedding only na..
Kunj: not like that mummy twinkle exams is near only one week left so. All think.
So we can go after exams if you all okay.
Tej:good Kunj first priority is study later these things.
Kunj:you Rudra wait don't smart with me.
I'll not go anywhere till when your exams not completed.even twinkle too.
They complete their dinner.after this kunj went in his room.Even twinkle too.
She entered in room and closed the door.
Kunj busy in his office work. She sit and watched shows on tv.
Twinkle:kunjjj.
Kunj: ha..
Twinkle: thanks you deny for honeymoon.
Kunj: look at her don't be thanks. We can't went at this time twinkle moreover just because Rudra.
Twinkle: why Rudra.
Kunj: he is not like normal boy. In exams one person have to sit on his head than he study otherwise just time passing and I can't leave him I know how is my brother.
Twinkle:hoo hoo. Just than they heard the knock on the door. Who is..??
Kunj: I'll see.. kunj went and open the door find Rahul and om or rudra and Anjali.
Anjali: hi guys what's going on.??
Kunj: nothing come they push Kunj and come inside. All Sit on bed.
Rahul: why you deny for honeymoon
Kunj: I didn't deny just postpone it.
Rudra: still Bhaiya..
Rahul: Arey Twinkle you tell him na. If you wanted for long time I'll give you nice honeymoon package 😛😂.
Anjali: 7 nights 6 days is enough or more.
Rahul:acha I'll give 10 night 9 days now bas 😛😜you both will get bored in one room 😂😛.Twinkt twinkle  look at otherside while Kunj take the pillow and started hitting Rahul.Arey twinkle kya hua more nights you wanted.
Twinkle:Anjali Di jiju bhi na😛😝.
Rahul:Leave me omkara.
Om:chalo after exams we send them for long time..
Twinkle:you knows this only.
Anjali:right twinkle just behind my bhabhi and bhai😂😂.. why you sitting there twinkle come here sit beside my brother.
Twinkle: I'm fine di..
Om: But we not na.They pulled twinkle make her sit beside kunj.Pushing twinkle in him. They all chitchatting with each other's and laughing so loudly.While twinkle know her hands resting on kunj shoulder she laughing at Rahul jokes.
She totally lost and laughing like manic rest her head on kunj shoulder. Kunj see her and lost in her laugh.
Twinkle:bas please jiju my tummy 😛it's paining now.. uff you are really comedy.
Rahul: hope your husband become Romdey 😂😛😝..
Twinkle:hehehe.. Kunj take yawn.
Kunj: now leave us please it's too late.
Rahul: wanted to send us out of the room I know why 😛😂😛..
Kunj: ho ho your cheap mind.. they all went from there.
Twinkle: uff babaji I laugh a lot of today.
Kunj: now sleep.
Twinkle: haa. They lay down and sleep..
Next day like a normally they all wake up and get ready and sit for breakfast have Their breakfast kunj and Rahul or tej and Manohar went for office and others  college  
At college they directly went to classes.
Today their exams time table will come.
Chirag who sitting and just looking at twinkle in very bad way while twinkle feel bad and ignored him Yuvi changed the sit and didn't let chirag eyes falls at her he closed his fist.. Chinki scribbling raj name on her note book. Twinkle see her give smile.
Twinkle: raj is behind you only baby.
Chinki: haa still you too try it's fun full 😂😛.
Twinkle: no you do it baby.
Chinki: I'll do it.. chinki scribbled Kunj name.
Twinkle: chiii see I'll do it nicely.
Twinkle write kunj name on her notebook.
Whole page she filled with kunj name professor giving lecture twinkle just busy to scribble Kunj name overall.tune playing in bg.. after class end twinkle going to washroom there chirag come and block twinkle way twinkle see him.
twinkle:what nonsense is this chirag haa.
Leave my way..
Chirag: Arey baby doll why I'll leave you tell me what is this Mangalasutra and sindoor why you dress up like a newlywed.
Twinkle: acha because I'm newlywed girl. Didn't you see my photos in papers. Poor now leave me..
Chirag: acha you are not interested In boy how now directly wedding only.
Twinkle: yes it's none of your business. I did because I wanted it. I'm not interested in you not In my husband okay.
Chirag: what husband a*sh*le..
Twinkle: you show him her index finger mind your language don't dare to use any bad word about my husband get it. Itself you are a*sh*le who just behind me. She went from there leave Chirag shocked.
Chirag: you show me finger just because of too days husband haa twinkle no I'll not leave you you are just mine..
Whole day twinkle just ignore Chirag they all having fun in college.Otherside kunj busy in work Kabir went to meet with his mother in law health isn't well so..
After college get end like usual they went back to homes. They all sitting in Sarna Mansion While twinkle is in her room resting.
Anjali: dadi this kunj flop the honeymoon idea we should do something for them you know our Kunj He isn't like those romantic husbands.
Lata: haa what we'll do..
Om: why not we send them for dinner out.
Rudra: great idea dadi..
Lata: hmm but dinner ambience must be romantic like your dadu did for me😛😝.
Rudra: don't worry Simran we'll walk on your raj footsteps 😛😛..they all decided for twinkle and Kunj dinner plan.Later twinkle come down.
Twinkle: kya hua you all busy in something?
Lata: na puttar.. Rudra call kunj and tell him to come home soon. Rudra call kunj he pick up his call. Lata take the phone.
Hello.
Kunj: haa dadi he standing near window.
Lata: if your work is complete than please today come home soon before 8.
Kunj: why dadi did we going out.
Lata: maybe now what i told you just come fast okay bye..
Kunj: bye I can't deny you..Anjali bring saree for twinkle. And put in her hands.
Twinkle: di yeh..
Lata: Twinkle beta go and get ready. And wear this saree..
Twinkle: why dadi.. we going somewhere.
Lata: haa so go and get ready beta we'll get late okay.
Twinkle: okay what about you all.
Anjali: we'll get ready you go fast.Twinkle get confused to see there expression but she went..
Twinkle: where they all going.chal twinkle get ready.. she take her saree and went in washroom till than Kunj come in hustle.
Kunj: ha dadi.
Lata: good you come now go and get ready.
Kunj: first tell me na where we are going.
Lata: it's not important you go na baba..
Anjali: ache se ready hona😛😛.. Kunj went in his room just twinkle come out of the washroom Kunj see her.
Twinkle: you come kunj where we going.
Kunj: I don't know Itself just dadi oder me I come now they didn't tell me.
Twinkle: same with me just put this saree in my hands only..
Kunj: leave you get ready you'll take hours and pa didn't like to wait for anyone..
Twinkle: first you go na sadu..
Kunj: ja hi raha hu Meri MAA twinkle please take out my clothes please I don't wanted to scold from pa..
Twinkle:okay. Kunj take the towel and went in washroom while they all family
Members giggling it's their plan..
Twinkle take out kunj clothes and place on bed she started getting ready.doing her make up. Just than kunj come out of the washroom in hustle. Twinkle going to take her thing just than Kunj looking other side they both bumped with each other's twinkle closed her eyes in fear but kunj hold her on time.Twinkle didn't feel anything she open her eyes and found herself in Arms yes kunj holding twinkle from her waist Kunj just in his towel. Looking extremely hot. Both look at each other while twinkle hands around his neck.
They both didn't blinked their eyes just lost in each other eyes. Kunj wet hairs water drop falls on twinkle lips.. sajna ve play.. in bg😍❤️❤️❤️❤️.. they both come to in sense and see their position.
Twinkle: woh kunjjj..
Kunj: haa they about to compose themselves but twinkle leg slip she falls down on kunj While kunj already wet he falls down on bed and twinkle top of him.
Twinkle: haa.. twinkle hair covered Kunj whole face.. her lips touching on Kunj cheek.
Kunj:Twinkle Kya Kar rahi hai get up from me you are so moti.And this hairs twinkle raise her face and look at Kunj.
Twinkle:sorry.Twinkle hands resting on kunj chest.Their face is very near.Kunj can smell twinkle. Her hairs again falling on kunj face twinkle try to tucked but still.
Kunj:hmm he tucked her hairs behind her ears.. gently. Now twinkle utegi yeh phir aeshe raha na hai..
Twinkle:haa.Twinkle get up and Kunj too it's awkward for twinkle and Kunj both looking here and there.
Kunj: clothes..
Twinkle: you take bed pe hai I'll get ready. She went back to dressing table wearing her earrings.. Kunj take clothes going to washroom to wear his clothes while going Twinkle look at Kunj through mirror his body wet uff fire.. she smile. Kunj wear his clothes and come in room. he see twinkle who still busy in herself he sit and waiting for her to closed his buttons.
Kunj: Twinkle how much time you'll take in your make up we are not going in party.
First come na closed my shirt buttons than continue paint to your face.Twinkle
See him she stop and come to him.
Twinkle:come.Kunj stand in front of her twinkle come near to kunj and closing his shirt buttons.Kunj see his wife looking extremely gorgeous in this beautiful western style.he look at her head to toe.
Bas now you can do whatever you wanted to do..
Kunj: okay thanks I'll take only 5 minuets he went to dressing table and finding his perfume see whole dressing table just filled with twinkle makeups and all's. See this girl only makeup and makeup. Twinkle where is my perfume..
Twinkle: Kunj dekho na waha hi hai..
Kunj:kaha hai only your lipstick I can see kunj see his perfume put on himself and make his hairstyle. Twinkle come to him.
Twinkle: your watch and wallet now don't irritate me.
Kunj: chal I'll irritate you.. he take his watch and wallet from twinkle hand about to go twinkle held his hand.
Twinkle: stop.
Kunj: Kya hai ab.. twinkle look at his cheek see her lipstick on his cheek.. she went closer to his face Kunj get surprised. She cupped his face with her one hand and wiped the lipstick.. Kya hai..
Twinkle:nothing just something on your cheek🙂..
Kunj wear his shoes twinkle see herself she looking boom😂😛..
Twinkle: lets go down they all waiting for us. Kunj wear his coat and they both went downstairs.
They come down find everyone sitting didn't get ready as well.
Kunj: you all sitting here didn't get ready too.
Rudra: why we..
Twinkle: we are going out na..
Lata: they all giggling not we are only you both husband and wife..
Kunj: mean ??
Lata: matlab yeh Kunj you and twinkle going out for dinner. It's small surprise from us.
Kunj: you people na.
Lata: see them looking so beautiful couple. Twinkle hmm😍😍..
Avantika: yeah twinkle really pretty in this saree twinkle wearing nice pastel color saree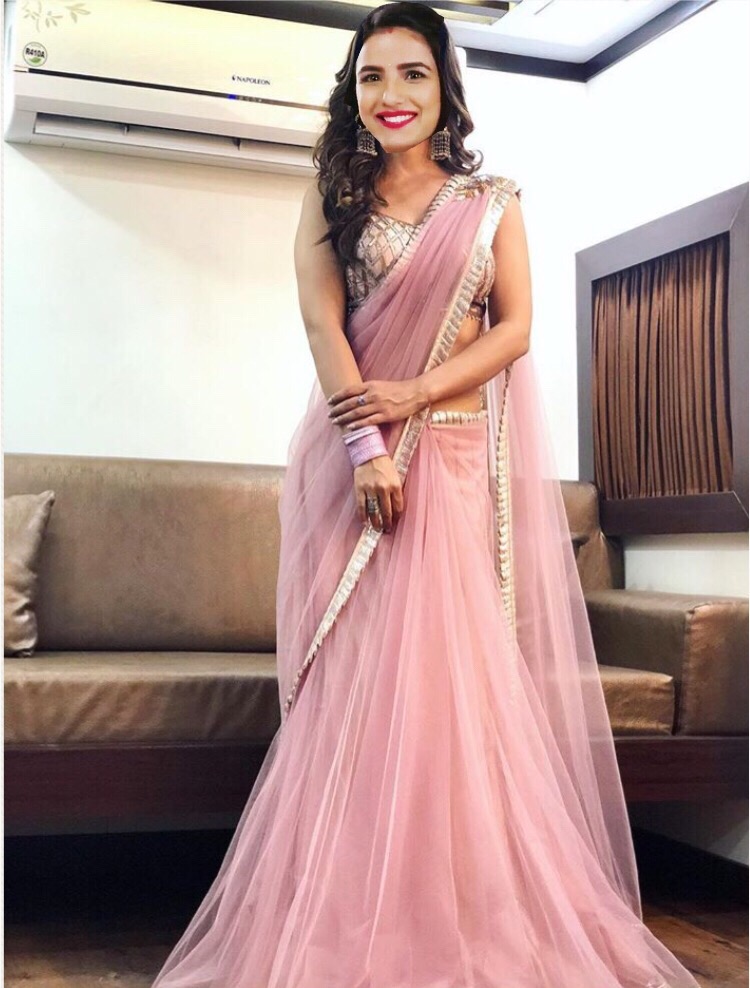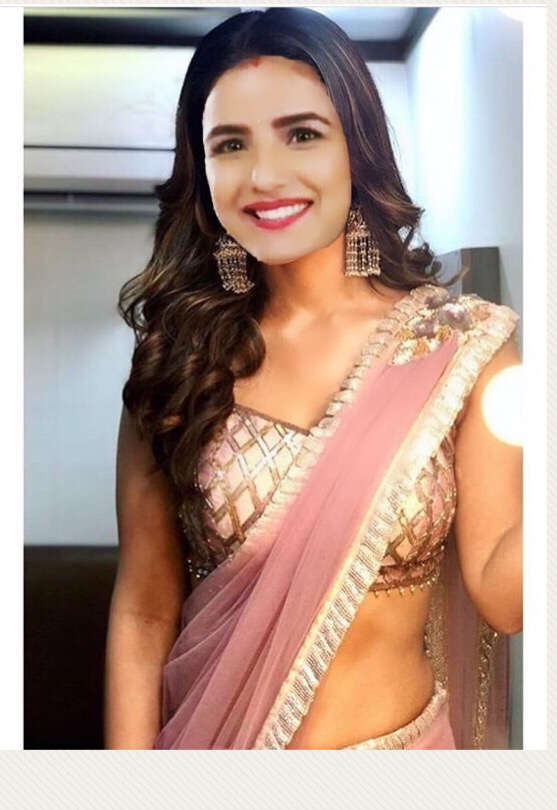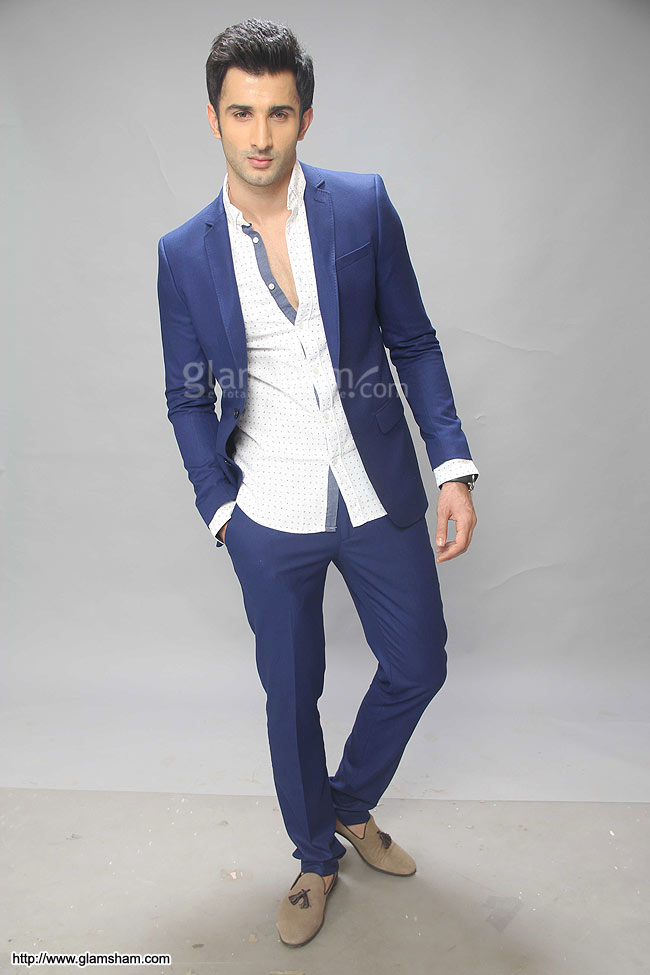 Lata: now you go and enjoy your dinner.
Kunj: dadi I cant without you all even you people too come with us.
Twinkle: right sab ke saath maza aata hai.. Lata cupped twinkle and Kunj face.
Lata: you are right twinkle but sometimes husband and wife too spend time together.Their love will increase they understand each other. We'll go together some other day promise today you both. Before your exam go and enjoy for us. She look at Kunj. Ab tu apni dadi ki baat bhi nahi manega kya…
Kunj:dadi aap bhi na.. I'll go but didn't leave you all afterwards..
Prithviraj: okay now go..
Rahul: enjoy guys have a great night. Kunj give him death glares. I mean dinner Bro.
Avantika: ab jao.. don't be hurry araam se aana.
Kunj: let's go..
he gestured twinkle they both went outside while whole family members giving smile..
Kunj bring car twinkle come and sit beside him.He starts the car.
Kunj:jana kaha hai.?? He take his phone and see om Kara Already send him the address.They are so smart.They left..
Twinkle:seriously I don't know  they were planning this.
Kunj:hmm same.. leave it now.
Twinkle:and see I get ready so much.Kunj look at twinkle face who busy playing with her chuda..soon they reached.. they come out of the car and went inside the hotel and manager was standing there.
Manager: Arey you mr Kunj Sarna..
Kunj: yes..
Manager: come sir your dadi booked table for you both.
Kunj:hmm they went with manager he show them their table. Twinkle and Kunj see the ambience it's so beautiful perfect candle night dinner they planned for them.
Manager: sir take the seats..
Kunj: yeah..
Kunj and twinkle sits on the chairs and both looking only there couples sitting.
Kunj:what is this man..
Twinkle:literary they planned this place. Here only couples come kunj.
Kunj:yeah I can see. I'll not leave them
Twinkle started seeing menu while Kunj sitting having sadu face.Twinkle see him.
Twinkle:Kunjjj no please don't make this sadu face ab we come here na leave it let's enjoy they planned so nicely for us at least for them you can enjoy.
Kunj:hmm tu enjoy kar na..
Twinkle:you are just sadu can't happen.
I'm giving my oder.. do you wanna have something for you or else you'll filled your tummy with your saduness..
Kunj:acha.. I'll oder.. soon waiter come and both giving their oder.
Kunj see in side one couple sitting and busy in romance even twinkle too see couples romancing.. it's become little bit awkward for them they both look at each other's face .
Twinkle: kyaaa…
Kunj: kyaaa you dirty head..
Twinkle:I'm dirty head😛😛..very lame.
They are sweet people not like you karela.
Kunj:hoo tu toh sweet hai na..
Twinkle:haa my poor luck 😏😏..just than there someone see kunj.
Man: hey kunj what a surprise man.. Kunj too him and get up..
Kunj: you here bro.. they both hug each other.. hi Karan..
Karan: hi how's you..
Kunj: I'm fine.. Karan look at twinkle.
Karan:hoo girlfriend hmm… Kunj see twinkle.
Kunj: she is not my girlfriend..
Karan: phir kesh ko leke aaye hai.. keshi ki biwi 😛😂. Kunj give punch on his chest..
Twinkle giggles..
Kunj: yeh kish aur ki biwi nahi hai she is my wife twinkle. Twinkle Kunj Sarna apni hi biwi ko leke aaye hu…
Karan:hoo such a pretty lady.Hi twinkle.
Twinkle:hi..
Karan: you are really gorgeous man😛. He about to hug twinkle Kunj stop him.
Kunj:bhai biwi Meri hai you here..
Karan:Arey I come here with my gf..
Kunj:where is your wife.
Karan:Arey she didn't come so.and you here ho romantic dinner.
Kunj:hmm..
Karan:okay you guys carry on. I'm going bye beautiful lady.. he went.. twinkle and Kunj sits..
Twinkle: Kunj he is married still gf..
Kunj:hmm..
Twinkle: what type of friend you have Chii.
Kunj: he isn't my he is rudra friend brother who come India. Just flirting.
Twinkle:hoo that's why you didn't let him hug me.
Kunj:yes I didn't like this type of man's. Twinkle clicking her photos.. Kunj see her see making pouty lips😂😛.. twinkle your day started with makeup and end on makeup.. why.
Twinkle:it's my wish I love to get ready. See I'm looking so beautiful even Karan too give me compliment😛😜.. Kunj see twinkle expressions.. he gritting his teeth.
Ho ho my jealous husband ji..
Kunj:me aur jealous never woh bhi Tere liye 😛😛😝..
Twinkle: acha than what happened that day on bio😜😜..
Kunj: haa it's not I'm jealous it just your followers thinking you are still single so they have chance I'm just clear their thoughts you are no more single going to become my wife officially locked with me😎.
Twinkle: hoo twinkle clicks Kunj photos.
Kunj: Twinkle stop…
Twinkle: why.. tell me how m I looking.
Kunj: pata nahi. Twinkle throwing flowers petals on him.. soon their food come..
Twinkle: let's have kunj.seems delicious 😋. Kunj served each other's they started the dinner both enjoying the food it's really yummy..
Kunj:great.
Twinkle:yeah.. happily they have their dinner. Just than twinkle see something on kunj lips. Kunj something on your lips..
Kunj: what.. he don't know where wiped other side..
Twinkle: here not kunj uff. Wait twinkle I'll do it. She went near him.. and clean kunj lips their face is so close kunj see twinkle. Done..
Kunj:thanks..
Man: let's dance.. all couples get ready for dance while Kunj and twinkle not.
Twinkle:Kunj dance.
Kunj: no please..
Man come to twinkle. May I have dance with you..
Twinkle: no..
Kunj: she is with me.. Kunj get up and forward his hand to twinkle she get surprised to see some seconds before he denying for dance now suddenly.Twinkle give her hand in kunj hand kunj take her.
Twinkle hands resting Kunj shoulder while his around her waist.nice romantic song playing.They both dancing on beats. Kunj hands on twinkle bare back giving her butterflies..after dance they again sits than twinkle oder dessert for them. Their dessert come..
Twinkle:Kunj dessert.
Kunj:no I can't you know have sugar in this.
Twinkle:hoo.Twinkle having her dessert she see kunj. And offer him one spoon. Kunj please for me one spoon..
Kunj: I'm fine twinkle.
Twinkle: I listen you but you never..
Kunj:okay. Meri MAA. Twinkle take spoon near his lips Kunj see her.
Twinkle: i have egotistic husband ji..
Kunj:tu na more egotistic. He open his mouth twinkle feed him dessert with her hands.they spend this small and small moments together. After have nice dinner kunj pay the bills and they went outside and see it's raining. Twinkle stop.. Kunj turned and see her.. what madam ji don't you wanna go back home..
Twinkle: Kunj it's raining I'll not.
Kunj: haa raining so what..
Twinkle: I'll not go.. in this rain Ill  drenched.. Kunj laugh out twinkle see this and make face on him. Now don't tell me your crack joke in your mind and laughing.
Kunj: haa If you come in rain you'll drenched in rain water and..
Twinkle: and what??
Kunj: and your makeup bhi dul jayega And your real face come out😂😂😂😂.. twinkle press her teeth's..
Twinkle:hmmm huhu babaji😏😏😏. Why you give me this type of husband. I'll not go you go my saree will spoil that I don't wanted dadi gives me.. Kunj stop and see her care for saree just because of dadi gives her. You go I'm not coming.
Kunj: Arey chal na.
Twinkle: you go she going back inside just than she shocked. Yes kunj lifts her in his arms in a bridal style.. twinkle shocked..
What is this leave me down..
Kunj: I'm solving your problem you can't go in this rain because your saree will spoil so I'm lifting you now you are okay..
Eat less you are so heavy😂😝😛. Twinkle hit on his chest..
Twinkle:so bad you are kunj..they went towards car till car kunj carrying twinkle in his arms. He open the car door and make her sit inside.
Kunj:happy.. it's not heavy rain just. Normal.Kunj come to his driving side he remove the coat twinkle take and he sits and starts the car..
Episode end here…
Precap: mission rudra ko exams padao and exams me pass karo😂😛😛..
_________________________________________
Hi how's you all.. 
how was the episode??
Hope you all enjoy this silver jubilee episode I try to give twinj nice and cute scene not romantic now I can't but on the way😂😛😛😝😝:.Nd I didn't give long updates sorry don't have to much time so in my little free time I can write this much.. 
Again thanks silver jubilee not to with you all..😛😝.. 
bye loves you all.