RAB SE SONA ISHQ:TWINJ: EPISODE 48

Warning: A non-numeric value encountered in /home/ftpusers/tellyu/public_html/wp-content/themes/publisher/includes/func-review-rating.php on line 212

Warning: A non-numeric value encountered in /home/ftpusers/tellyu/public_html/wp-content/themes/publisher/includes/func-review-rating.php on line 213

Episode

:48..

 
?????????????
❤️❤️❤️❤️❤️❤️❤️❤️❤️❤️❤️❤️
Started twinkle and Kunj looking at each other's don't know what now they will do twinkle just smiling like anything she get shy Kunj looking at her only he cupped her jawline.. 
Kunj:one more time please.she look at him.She lift her feet's slightly went near his ears. 
Twinkle:I LOVE YOU SADU SARNA?  ???? ????.. Kunj closed his eyes.. 
Kunj:hayee?.She turned about to go but Kunj held her hand and pulled her towards himself.Her back hugging him.. twinkle see tej coming from opposite side.
Twinkle:Kunj leave me na everyone waiting for us see papa ji coming. Before Kunj could say anything he too saw tej immediately leave twinkle while she get great chance to escape from here so she instantly run way from here. Tej come towards Kunj and see him alone at mandap side no one was here everyone another where greeting session going on at stage side.. 
Tej:Kunj you here haa alone??
Kunj:woh pa.. 
Tej:what woh pa.. go and enjoy the wedding. 
Kunj:yup.He run from there. 
Elders was busy with guest the wedding arrangement totally kept in royal style. 
While girls and boys busy in photo session at stage.. 
Malika:finally you both tie in one knot.. twinkle run to stage before she look back and didn't see Kunj went.. 
Twinkle: I'm still. 
Anjali: where were you after wedding rituals haa twinkle. Twinkle recalled and blushed. 
Twinkle:woh didi here only.They all stage in group and give pose for photos.Boys and girls having fun at stage. 
Purab:arey Kunj come na one photo please. 
Kunj:no you guys continue.Twinkle gestures him other's see this.They like ahem HO blushed twinkle. 
Kabir:see ankho se hi pati ko dara deti hai. 
??.
Twinkle:bhai.. he pulled her cheeks.Kunjy smiled slightly.He went to stage and pose for photos.They all click many photos.Rahul and Rohan pushing twinkle in Kunj they both giving teasing smile to twinkle include while Kunj smirks He Keep his hand on twinkle waist and winked at his buddies their mouth got open while see Kunj today.They give a flabbergasted look twinkle giggles to see them.They give many poses.After this girls still with Natasha wedding was in full swings aayat who didn't feel well she become all red climate didn't suits her very much.She went towards Avantika who sitting with everyone. 
Aayat:mamma..
Avantika: haa.. 
Aayat: chalo na.. she went and sit on her lap.. 
Avantika:what happened haa. Aayat sit here.She can't lift her because due to her heavy clothes.let me see Avantika see Kunj personal guard she call him and tell stay with Aayat he lift her.. while she started crying feeling pain in her tummy. 
Everyone come down and sit in side couch area.  
Aisha:Avantika you looking really beautiful Who can say that you are a mother in law.. 
Leela:haa giving tough competition to all girls ??..
Avantika:even you all not less.. 
Anita: haa see your sons and you?. 
Rudra:that's why I'm telling you don't get ready always we heard lot you look like our sister. 
Om:why you getting jealous ??.
Rahul: haa.. you both should be happy your mother is so hot??.. 
Rohan:tej uncle is here only.They all laugh out.Kunj went in side and see aayat who crying like anything he went towards her.
Kunj:what happened to her haa..
Siraj: sir she crying don't know.Kunj see her. Her face drenched in tears. She forwarding her hands to him Kunj take her.. 
Kunj:what happened my doll why you crying. 
Aayat: didn't feel good.. 
Kunj: why are you okay na.. he take her in side and make her sit on table Kunj wiped her tears. She still sobbing. Kunj take her towards everyone media was asking questions to Natasha and Purab.And clicking their photos. As soon as they see sarna family. Rushed towards Kunj and Rahul. 
Media: Kunj sir who avoiding them. Rahul please. 
Rahul:what.. 
Media:sir they ask nonsense question to them about someone who too famous name in business world, they clicking Aayat photos while Kunj hide her face. 
Kunj:don't click the picture.
Media: sir please answer of my questions.
Kunj:why not you ask them only.Excuse me.Still they clicking the photos of aayat. They didn't let anyone click aayat photos specially media ones because she is small and they have many business Rivals so they can used her for their benefits.I told you lastly not again.He went from there. 
#After sometime later everyone sit for food.Huge table set for family members. 
Kunj roaming here and there aayat feels better but not.He went toward everyone. 
Kunj:take her na.. 
Tej:what happened her. He see her condition. Kunj sit beside Omkara. He make her drink water.
Aayat: lets go.. from here.. 
Tej: haa we'll go don't cry.. 
Kunj:I told you mummy don't bring her but you didn't listen to me when you know she can't settle down.She started coughing. 
Top of this fancy clothes. 
Om:you give me her. 
Aayat:no.. she cuddles Kunj.. 
Kunj:aayat don't cry see everyone just looking at you only. She look at Kunj. 
Aayat: Huhu. She itching. Kunj see her body become reddish and rashes comes. He call his pa who bring medicine for her.
Avantika:give her this.I told her take but last night she didn't take now having pain in her tummy eating totally nonsense things. 
Aayat: bhaiya I'll not take its bitter.. 
Twinkle:aayat take you'll good.. 
Avantika: come to me I'll give she will do drama.
Kunj:no I'll give her. Kunj think. He make her sit on his lap. And give her his phone Divert her mind he gestured Omkara who give him medicine he melted in spoon. Aayat see this cartoon is good na.
Aayat: ha open her mouth.Kunj immediately put medicine in her mouth. She take than look at Kunj who looking here and there. 
Kunj: drink this shake nice. He make her drink she give smile while each and everyone was hell happy get surprised to see Kunj who nicely he handle aayat and give her medicine as well. 
Bebe:hayee Kunj puttar you are very smart and talented you know how to handle babies ?.. 
Rohan: no problem in future???. They all giggles while Kunj is in no mood. 
Kunj:I'll take her.. 
Usha: your good.
Kunj:I'm fine Maa. If she stay here in crowd cry more.. he get up and lift aayat went from there.Kunj went in room and changed aayat clothes Omkara joint him they apply ointment on her body fully..! She just in her spaghetti and lower.. she feels heat kunj on the ac.. now closed your eyes my doll. 
Om:yes. Aayat closed her eyes Kunj caressing her hairs while om patting on her back they both see aayat face she get relief so much that they can see on her face. They kissed on her forehead. 
Kunj: she is best thing happened in our life it's feel so good to see her like this..
Om:hell true Kunj.She is so small when he come in our hands. 
Kunj:totally opposite from us.. 
Om:she is combination of us fully. Aayat sleep they leave Kunj pa with her they went down. Everyone finished their dinner.
Tej: how she is now.. 
Kunj: sleep now.. 
Avantika: good. Kunj finding twinkle he went towards she standing alone went towards her from back side and pat on her shoulder she turned and see Kunj give smile twinkle having chicken stick. 
Twinkle: finally you come.. how she is.
Kunj: fine. You having alone.. haa.. she offer him he open his mouth and have from twinkle hand.. by the Mrs Sarna today looking totally awesome in this new styling attire.. 
Twinkle: thanks you know everyone give me compliments and they wanted girl like me.. many of think In single 
Kunj:acha tell me them you are just mine.. 
Twinkle:see yourself you looking so hot.. Kunj hold her hand. Kunj what are you doing haa see everyone is here. 
Kunj: I didn't do any crime just hold my love hand. She blushed on his statement. 
Kunj give her side hug. Twinkle see Natasha and see yourself she looking so happy and at your time you just carry cry face. She is so happy. 
Twinkle: haa but my condition and her condition is different na.
Kunj: how. 
Twinkle:I thought after wedding you'll go back again London and I'll went so far from my papa.That's why I was so sad. 
Kunj:kuch bhi bolo meri bride is the best no one can't stand beside her.When I see you in your wedding outfit I was wondering  the beautiful view I ever seen.acha sun.. 
Twinkle:hmm kya. 
Kunj: I love you pass blowing kiss. 
Twinkle: have some shame.
Kunj: that I lost after falls for you..?. They went towards everyone Rohan and Rudra teasing elders. 
Rudra; dadu today walk carefully. 
Prithviraj: why. 
Rudra: because dadu see dadi today she looking pretty and I know you get mesmerised to see her so can't see anything expect than her.all giggles. 
Lata:pagal.. 
Kunj:sharam kar.. girls teasing Natasha. Even boys to Purab. after this now it's time for wedding farewell. Natasha parents come and hugged their daughter and son in law..  they meet with each and everyone youngsters winked at them. Kunj come and sit beside twinkle. 
Kunj: twinkle you don't give her tips.
Twinkle: why. 
Kunj: because you are unExperience?. She look at him and give him annoying look. I'm thinking why not we too joint them what's say.. tonight we.. 
Twinkle: very big no. She give him Tashan and went from there.While bride and groom sit in their car and left for some another place where they all youngsters give them gift honeymoon suits for their wedding night. After everyone back to rooms.Twinkle and Kunj entered in room aayat was sleeping still.Twinkle went in Washroom while Kunj changed his clothes and get tej call. Kunj went in their room.
Kunj: yes pa..
Tej: in 1 hours we leaving for Amritsar.
Kunj: okay. He went in his room informed others too. Twinkle come back in room. 
Good you come packed our things we are leaving for home. 
Twinkle: now only Kunj.
Kunj: yes twinkle even I want to now get irritated here and see aayat isn't well once she get ill fully than it's take time to get well. 
Twinkle: hmm I'll packed. She packed all their things while other guest too left all set to go back Amritsar they check out. And sits in their cars and left for airport. Aayat was in Kunj arms she sleeping peacefully while twinkle was with her friends.They did all Security checking and sit in aircraft. Everyone was hell tired they sleep immediately Kunj sitting with his brothers.After sometime later they reached Amritsar they come out of the airport their cars waiting for them. Sarna and Luthra or taneja's bid bye to each other's they sit in their cars and left for their place.Sarna's reaches Sarna Mansion.Rudra and Priyanka fully drenched in sleep.Rahul and Omkara  hold Their hands they all went inside. 
It's:3clock. 
Avantika:now we should sleep. 
Usha: you all go and sleep see everything at morning.They went in their respective rooms.Kunj place aayat on bed and he lay down beside her while twinkle too.They didn't wasted time sleep. 
#At afternoon.They all spend their morning in sleep. Elders wake up and get freshen up went downstairs didn't wake up kids they drink tea.Twinkle wake up she get up sit there only.She give smile to see aayat and Kunj she sleeping on Kunj chest like kangaroo baby.. twinkle moved towards them she kissed on Kunj forehead.
Twinkle:finally we love each other's.our arrange marriage turned into love.. twinkle see the time and get surprises she run in Washroom she get freshen up and get ready went downstairs see elders. Sorry sorry. 
Usha: it's okay beta. Have you good sleep na. 
Twinkle: haa Maa.
Tej: twinkle beta get one tea for me made by you vanished my headache.
Twinkle:sure Papaji. She went in kitchen and make tea for everyone she make come to everyone. And served them tea. And joint them.
Avantika:let them sleep get so tired. 
Twinkle:haa Kunj and aayat toh sleeping. Anjali and Rahul wake up come down. One by one Omkara too wake up. Twinkle went in her room find her lovely husband still sleeping she sit beside him and combing his hairs with her fingers. Sadu now wake up its evening Kunj. 
Kunj: in sleep hmmm. He open his eyes and look at twinkle.
Twinkle:now wake up my husband ji. 
Kunj:hmm.. aayat wake up at the same time she look at Kunj. 
Aayat: Bhaiya. 
Kunj: haa meri Maa I'm here only not going anywhere.
Twinkle: she didn't leave you na.. 
Kunj:yup my little sister.. cuddles her she rest her head on Kunj chest. How's you. 
Aayat: good. When we'll go back home. 
Kunj:baby we come back our home last night only see. She open her eyes fully. 
Aayat: awesome you know Bhaiya I get bored in India. 
Twinkle: why.. 
Aayat:because there we have lots of fun Hain Bhaiya Kunj nodded in yes.  
Kunj: yup there life is awesome. 
Twinkle: acha what so special there. 
Kunj:when you go there stay with us than you'll know. 
Aayat: meri mamma.
Kunj: meri mamma he mimics. Aayat get up and run down. While twinkle about to go Kunj hold her hand and rolled down her take beneath him. She get shocked.kaha Mrs Sarna you roam lot now wedding is over now just you and me. 
Twinkle: Kunj what is this see door is opened anyone will see us. And I'm not going anywhere. 
Kunj:hmm still twinkle I feel so good. I really really love you lot since the day I saw you but didn't realised.she give smile keep her hand on his chest. 
Twinkle:even I too Kunj didn't get time when I falls for you.I love you too. 
Kunj: did you remember our first meeting both recalled and laugh out. 
Twinkle: and I call you bhai shab?. He pulled her nose. 
Kunj:pagal jhalli.How can I forget that time I get so angry on you but don't know
destiny Make you for me only. 
Twinkle: promise me you'll always with me don't leave me alone and go anywhere when you went last time London I suffered lot can't stay with you now. You are my lifeline Kunj. He smiled and kissed on her forehead.
Kunj:yes twinkle I'll never go always with you and promise you always support you no matter what situations will come
always trust you and never leave you hand till my last breath of my life.Joint Their foreheads. 
Twinkle:now Mr Sarna go and get freshen up I'll bring your coffee. 
Kunj:always bring work now think about us. 
Twinkle: later. Just than Rahul entered in room he stop as soon as he saw twinkle and Kunj and act like coughing they both see him twinkle push Kunj and get up she composed herself.
Rahul: guys at least lock the door Kunj ruffles his hairs he lay down while twinkle run downstairs Rahul Went towards kunj and sit beside Kunj. What's going on. 
Kunj:can't you see. Did I break your moment. 
Rahul: now tell me what's going on between you and her. 
Kunj: let me get freshen up than I'll tell you by Jijaji ?. 
Rahul: saala.He get up and went in
Washroom while twinkle make coffee for Kunj. She make and entered in room keep the tray aside and went towards wardrobe taking out Kunj clothes just than Kunj come out of the washroom he see twinkle went towards her give her backhugged she understand. 
Twinkle:what. 
Kunj: my clothes wifey.. 
Twinkle:haa I'll give you wait a second. She take out his clothes and closed the wardrobe.She give him his clothes now get ready.He take his clothes wear and lastly throw the wet towel on bed. Kunjj this isn't good you always did this sadu.. 
Kunj:whatever.. only on this my mummy always get angry on me?.
Twinkle: she didn't beat you na that's why. 
Kunj: acha pagal she beats us lot asks my dadi my pa always come to save us.  
Twinkle: haa but she is so sweet. 
Kunj:haa you don't know na about her. She didn't leave aayat as well something when her anger went far away from her level Maa and chote papa is best.?. Kunj sit twinkle give him his coffee he drink. Just than twinkle got Natasha call she receive and sit beside Kunj only. 
Twinkle: Natasha how's you. 
Natasha: I'm great. 
Twinkle:haa you.must be after all?. Kunj look at twinkle. Kunj pulled twinkle near himself she look at him.When you coming back.
Natasha:hmm tomorrow don't worry babes. 
Twinkle:haa reception still left.Kunj ticking on her neck. Kunjj.
Natasha: twinkle you see your husband now I can't tell him let you spend time with me till my wedding??. Kunj heard this and laugh out. They end the call twinkle look at Kunj in roar way. 
Kunj: why this look twinkle.
Twinkle:because you always did this didn't let me talk to anyone. Let your Time come.
Kunj:now you leave each and everyone think about me just.
Twinkle:whatever.Twinkle went downstairs 
While Kunj come downstairs she see Rudra and aayat watching cartoons he went and joint them see they didn't get freshen up till yet while Anjali and twinkle see lunch they didn't have anything. 
Kunj:see this two first go and wash your mouth.. 
Aayat:no Bhaiya let us see cartoons. 
Rudra:haa. Kunj see them he take the remote and switch off the tv aayat and Rudra get shocked they look at Kunj who smirked. He get up and went from there while they both Screaming. Mamma.. others come and set for to have food. 
Kunj sit beside Omkara. Rudra and aayat come towards them and aayat screaming loudly. 
Tej: what is this.. 
Aayat: pa see Bhaiya he didn't let us watch cartoons.
Rudra: haa off the tv and take remote too pa.Tej look at Kunj. 
Kunj:They both didn't get freshen up even didn't brushed their teeth's.Avantika look at them. 
Avantika: you both wait a second.They both hide behind tej. 
Aayat: pa food tej feed them. 
Avantika: you na didn't scold aayat. 
Tej: leave na Avantika she is small na. 
Avantika: acha ji tej you are very mean. 
Tej: how.. 
Avantika:did you remember at Kunj time how strict you are.Tej look at Kunj who blowing down his head. 
Twinkle: why mummy ji.. 
Lata: haa tej tell twinkle.You just used your all strictness with Kunj only didn't on this three.. 
Tej: haa Maa than you can see today where he is they are. 
Usha:he didn't teased this much like them?. They having their food. 
Rahul: chal Bata..
Kunj:here not if we talk na you know pa will come on us.They finished their food after they sit in Anjali room. Rahul and Kunj laying down while om Kara sitting seeing Mahi pictures in his phone secretly. 
Rahul: so.. 
Kunj: so nothing curious aadami. I told her that I love her.
Rahul: what. 
Kunj: yup.
Rahul:arey Om leave this na listen your shy king Bhaiya love story ?.He leave the phone and look at Kunj and Rahul. 
Om:what love..
Kunj:I confessed her that I love her.. bite his tongue. 
Om:really man?.
Kunj:don't be shocked.
Om/Rahul:what would be her answer.
Rahul:I'm sure she deny because you are old radio.??..Kunj hit on his tummy. Ouchh.. 
Kunj:over confidence is bad. Absolutely not she deny between she loves me Lott. 
Om:I'm really happy.By the way how this miracle happens.Till now toh love just exist in books. 
Kunj:haa he went towards window and stand.Yes om but don't know when I fall for her totally.She is perfect yaar means what type of life partner I want she is Exact of my partner.she understands me and my family lot didn't like those Typical  girls.Like our moms and fathers.Didn't think once. If I didn't see her na I totally breathless. Omkara and Rahul listen what Kunj saying.. and just smiling it's really unexpected from Kunj these words didn't made for Kunj whom they knows till now. 
To imagine my life without its jerked me lot.my life twinkle now.Dadi and dadu is the best.They made me realised my feeling for her. My arrange marriage turn into love?!Arranged marriages I think make a lot of sense because you're not under the pressure of being in love. It's an easy contract. You don't have to like each other and then whatever happens, happens.I can't explain chemistry.I really can't. I haven't got a clue what it's all about. It just happens. It's like falling in love. You can't explain why you fall in love or explain why it's this particular person.
I didn't like too much talking but love to listen her Blah blah.they both give Kunj side hug.
Om:superb bro. 
Rahul:really Kunj I'm really very happy for you great.This is different love after marriage totally amazing best more than before marriage being in love with tour partner.You are very much chupa rustam I mean didn't let us know and you both confessed to each other's. 
Om: exactly. 
Kunj:arey I'll tell you both. He giggles after Natasha and Purab marriage there only we told each other's.
Rahul:In their marriage vows fire you both starts your love story interesting.
Kunj:yup.Dadi told I have to tell her in words what I have in my heart for her. 
Om:means simran and raj knows great than toh your love story hit bro.. Rudra and aayat playing in garden Rudra doing cheating aayat pulling his hairs they seen this from window and laugh out.This tow Tom and Jerry never changed.best ever.
Kunj:indeed ?.My Two munchkins,. ?. 
They went out of the room.Twinkle was in kitchen she making milk shake for aayat just than Rahul Omkara entered in kitchen they see twinkle and both smirked icing on the cake Anjali too come. Rahul and Omkara stand twinkle either side of shoulders. She raise her face and look at them.
Twinkle:what due to their face expressions which they giving twinkle. 
Om:twinkle Bhabhi. Can you make coffee for us.
Rahul: yes usually you just make for your husband today for us too.
Anjali:haa Kunj toh just like her coffee Hamm
Twinkle: I'll make wait. 
Rahul: Anjali you know what. Twinkle you
Should give us treat now. She get confused.
Twinkle:treat for what jiju.
Om:yes treat is required twinkle after all.
She totally get confused didn't understand at all. 
Rahul: by the way twinkle you and Kunj missed one thing in Natasha and Purab wedding.
Twinkle:kaun si.. 
Om: you both escaped for their marriage rituals we were finding you both.Twinkle remember and slightly she blushed.They seen this and smirked at each other's.
Twinkle:woh woh.. aise hi. She make coffee for them. 
Rahul:when you giving us treat madam.
She give them coffee mug and went out of the kitchen. While Anjali.
Anjali: my dear husband ji and brother treat for what.. ?.They both told Anjali and Anjali get shocked but happy for them.
Next scene#. 
Rahul and Omkara along with Anjali they Trio get behind twinkle for treat she totally didn't understand. She went in her room take out their all things from backs and place everyone on bed and whatever is uncleaned she put in laundry basket. She murmured.
Twinkle:see this Kunj don't know where he is.Why this trio behind me for treat. Twinkle went towards window see Kunj was in garden he played with his siblings. 
She sit and folding the clothes Kunj come back after he went towards bed directly lay down and look at twinkle.
Kunj:uff twinkle it's so hot here.Maza aagya.. 
Twinkle:haa. Just than Anjali and Rahul or Omkara entered in room they went towards bed and sit Kunj get up and sit.. 
Rahul: arey Kunj even you are too here now you both give us treat na. 
Kunj:treat for what.. 
Om:see husband and wife same words what a connection. 
Anjali: this time I'll not leave you both. 
Kunj:kya Bol rahe ho.. 
Rahul: chal twinkle. 
Twinkle:what here is your Kunj take from him.Omkara pulled twinkle she sit beside Kunj. 
Rahul: now husband and wife don't cat smart ab confession hua Hai toh treat toh banti hai na.Twinkle look at them and get surprised how they come to know.She look at Kunj who looking other side. 
Anjali:by the way how this idiot confessed I mean in what style.Twinkle get shy. 
Twinkle:asked him only ?. 
Om:pyaar pe hoga yakeen ek din Kunj now time has come. 
Kunj:haa bas mera bhai..it's not first time 
Rahul: you both should thanks to us if we didn't get him ready for marriage how you 
Both get each other Kunj is ever ready to deny this alliance.. ??.
Anjali:now Kunj what you thinking. 
Kunj:I have work he about to get up Omkara and Rahul push him on bed. 
Rahul:you can't escape from us now. 
Kunj:acha ji.he take out his wallet pass them his card.Take this and do party leave us.. 
Anjali: haa now toh he wants privacy only we can understand she winked.. ?. 
Kunj: you too become like him dii Chii. 
Rahul: if anyone needs any help we are free to give you all advice??.Twinkle tell me afterward how he is.She turned red.Just than Usha entered in room they all see her immediately drop. 
Usha: what happened why so suddenly you people stop after see me. 
Kunj: nothing Maa he get up. And went towards her. Maa you know your daughter become so naughty talking nonsense with her brother. 
Anjali:hoo Maa he is so bad come here I'll not leave you. 
Usha:you behan and bhai do whatever I'm going twinkle puttar mummy ji has coming you.She said and went out of the room
While Anjali take the pillow and started beating Kunj he laughing. 
Rahul:saale kamine you doing publicity of my wife haa.. 
Kunj:you people teasing my wife as well. 
Om:bas Karo. Twinkle went down goes to Lata room.
Twinkle:yes dadi you calling me.
Lata:yes twinkle puttar take this dress.
Twinkle:why.. 
Lata: arey your dadu one of friend give him for you they didn't come in your weddings na that's why. 
Twinkle:hoo.. she take and went back. 
Other side Mahi was sitting alone and recalling this 7 days she spend with Omkara feels so good get to know about him more and more personally.Kabir and Malika ticking each other's.After everyone had their dinner went in their respective rooms. 
At twinj [email protected]
Kunj was busy in his work he checking his work while twinkle bedding.She sit on the bed and admiring Kunj who totally busy in his work he rubbing his nose get irritated with sudden cold. She get up and went towards wardrobe take out his nasal spray she went towards him. 
Twinkle:kunjj Leave this work do later.
Kunj:haa just two minute twinkle let me send this mail. 
Twinkle: okay fine now come. She went back to bed and lay down on sitting position resting her head on backboard. Closing her eyes while Kunj finished his work and see twinkle he get up lock the door and went towards her. He sit beside her and kissed on her cheek due to his touch her open her eyes and look at him finally you leave your work after 10min. 
Kunj: sorry. 
Twinkle:acha take this.. see your nose become so red.She give him his nasal spray. 
Kunj:hoo great I need this only you understand me without saying anything he take and used it. Feel better. Kunj see pillow boarder.Why this China boarder is. 
Twinkle: because you irritated my teddy she cuddle her teddy bear.
Kunj:haa bachu now boarder between us. 
He take out the pillows and this nonsense teddy someday I'll throw it and burn it. Cuddles me twinkle I'm here.. he take the teddy and pulled her closer to him.
Twinkle:this peoples is so naughty didn't leave single chance to teased us why you told haa. 
Kunj:arey so what they should know.You know I didn't hide anything from my bothers and Rahul shared each and everything with my dadu and dadi If they are not I'm still like shy Kunj.. ?. 
Twinkle:haa. Now I understand why you behaving so different didn't leave any chance to come closer to me. 
Kunj:yup my twinkle ji.. how I stay without you in London only I know before going I just think I should think about you. After staying there totally realised you are chorni ??. She hit on his chest. I love you ? bas. And you throwing tantrums so much. 
Twinkle:hoo still you do romance lot.Just than twinkle phone beep she take her phone and see Natasha send her their picture she check and see their photos in romancing way. Aww. Kunj turned his eyes.See Kunj she looking so beautiful her wedding glow. 
Kunj:I'm not interested to see someone wife but just want to see my wife glow. 
Twinkle:aisa bhi hai kya.
Kunj:ji haina aisa hi hai?. She leave her phone. 
Twinkle:lets sleep Baba. Kunj caressing her cheeks bones and looking at her only. She rolled her eyes mr Kunj Sarna don't dare to think.Let me sleep no time for your romance.She push him and lay down.
covered herself with blanket fully Kunj take out the blanket.Kunjj didnot you get sleep. 
Kunj:after being in love with you I become insomniac. ??.
Twinkle:shut up your sibling is enough for me to teased Kunj even you too.
Kunj: kya beauty queen what happened before toh they are your favourite you too there now they'll do this only.
Twinkle: my siblings didn't teased you.
Kunj: I didn't get mingle with them.
Twinkle: very bad last time too didn't talk when my Maternal family come. All complaining me that twinkle your husband didn't talk. 
Kunj:what to do you toh know na.I didn't talk like you all.Forget this.Where I'm name he look at her.Kunj nuzzling his face in her neck.kissing on her neck. 
Twinkle:kunjj let me sleep na Baba. 
Kunj:okay soja Kumbhakarna ki nani..he lay down closed his eyes twinkle see him. She raise her face and went near him. Kissed on his cheek.
Twinkle:goodnight sadu he smile.She turned and sleep while Kunj too. 
#Another day.. 
Twinkle and Kunj wake up at them time they look at each other's. She get up and went towards take out her clothes went in Washroom while Kunj take his clothes and went in another washroom.After sometime later they sit for breakfast.
Manohar:Kunj check their reception arrangement once.
Kunj:haa chote papa. 
Avantika:you both going office. 
Rahul:we have meeting in evening. 
Tej:leave continue tomorrow na.Kunj didn't said anything he get up went from there. What happened to him.
Avantika: what will happened to him Kunj. You thinking too much.
Lata: you ask him.
Tej:what I'll ask him he didn't said anything just officially conversation
between us.Don't know why he is like this. 
Twinkle:papaji he is old radio all laugh out. Kunj see this from side. 
Kunj:she knows everything I'm old radio wait baby what this old radio will do. 
After sometime later someone come with bag Priyanka see her get so happy. 
Priyanka:Maa she come. 
Usha:finally.A girl come she is fully gol and chubby hell cute.As soon as Rudra see her making faces.
Rudra:aagi food Hunter ?.Girl leave her bag twinkle get confused to see her. Usha went towards her.
Usha:how's your journey.
Girl:great bua…  just stuck in work. 
Usha: haa we went out of the town due to one wedding.My Soumiya.So guys girl is soumiya niece of Usha.She stay in Mumbai who completing her studies still. 
She and Rudra is big enemy because Rudra just teasing her due to her wait and she give him back in her way she is very smart. She used to visit London so all family members have a very good bonding with soumya more Rahul and Kunj because they used her for to make fun of Rudra. Avni and Anjali run towards her hug her tightly. 
Avni: you come I was just waiting for you only.
Anjali:same after come India didn't get time to meet with you. 
Soumya: same I too di. Rahul and Kunj looking at Rudra expression.They went towards her and give her side hug. 
Kunj:how's you sista?.. 
Soumya:BIG B fine.. everyone meet with her all get happy she is really jolly nature girl make everyone happy.So she is twinkle Bhabhi.. 
Avantika: how you got to know about her.
Soumya:I know bua because Kunj bhai tell me each and everything about her. hi. They both introduce their with each other's. 
Om: arey Rudra come meet with your fighting partner. 
Soumya: hi cry baby. 
Rudra: hey stop this you sumo?.
Kunj:now get ready Their this continues. 
Now she will stay here only she get admission in Amritsar that's why. Everyone sit while Kunj holds Twinkle's hand,pulls her and goes under staircase and hides, 
Twinkle:what is this.. 
Kunj:woh twinkle.
Twinkle:bil kul bhi sharam nahi hai na haa tumhe. If anyone will see us.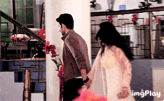 Kunj:in irritating tone. you are legally wedded wife of mine no one will put me in jail,twinkle acha sun na. He went closer to her. Ab bhut darsha liya tune mujhe., i was thinking that confession is done so. 
Twinkle: so what.. 
Kunj:so ab ek kiss toh banta hai. 
Twinkle: haww ?kiss..
Kunj: haa kiss.. she nodded her head in no. Kya nahi haa.!
Twinkle: I'm going. 
Kunj:kaha he pulled her back and hold her back. He comes closer to her.He closed his eyes learn for kiss while twinkle smirked but twinkle put laddo in his mouth.He open his eyes and look at her. She carrying smirked at her face.
Twinkle:you won't get kiss so easily my husband ji first win with me in something.than you'll get kiss still I'll think. Kunj looking at her. She pulled his cheeks Hamm and leave 
Kunj:this is challenge then i will win it and i will get kiss too.. be about to throw laddo but have it.Now wait and watch twinkle Kunj Sarna.Natasha and Purab come back Jodhpur.They went to their place and performed after marriage rituals happily. Day went passed so quickly in some hours soumaya and twinkle get mingled. 
At night. 
Twinkle getting ready In front of mirror. While Kunj come out of the washroom he wear his suits. He look at twinkle who looking spellbind.She wearing golden colour lehenga open her hairs. Kunj went towards dressing table she doing her makeup he take his perfume and spray on himself. He looking on his watch while twinkle understand she take  out his watch and give him he take both giving each other's Tashan.she get up and closed his coat buttons and caress his face.
Twinkle:day by day you becoming Hot. He makes faces. She lock her arms around his neck. How I'm looking it Kunj. 
She twirl and show him. He hold her hand.
Kunj:awesome.You are absolutely, astoundingly gorgeous and that's the least interesting thing about you.she
blushed.He kissed on her forehead both click their some personal their photos. 
Each and everyone get ready they looking truly awesome Kunj and twinkle went downstairs they coming down holding each other's hand everyone turned and look at they looking like they made in heaven.All give smile as soon as Kunj eyes went on his family he immediately leave her hand and went from another side of staircase they all giggles.They went towards all. Kunj know they all will not leave so he better went outside.They all process towards outside.Kunj waiting in his car for his bad luck tej and Manohar along with dadu and dadi sit with him Rahul and Omkara or Rudra hold twinkle hand show Kunj this take her with them in another 8 seater. Kunj makes Carry faces and left for venue. 
They kept reception in top Amritsar Hotel.Others all ready reached yuvi like a avara panchi he waiting for Avni while same condition with Mahi.Sarna's reached Kunj went for parking while rest of them went ahead they entered inside yuvi see Avni get light up like bulb. Omkara heart beating increased his eyes went on Mahi she already look at him only.They both share gaze and sweet tune play In bg.. ???.. 
Twinkle rushed toward stage Purab and Natasha looking Awesome.They went towards stage and sit with them. Kunj entered some business client caught him he get busy with them. While rest of girls and boys teasing newly wedded couples. 
Malika:see her face her glowing telling much. She blushed. 
Asha:by the way guys our twinkle too not looking less mean yesterday she get married ?.She hit on her shoulder. 
Chinki: looking gorgeous babes. 
Anjali: after choice toh mere bhai ki haina.
Kabir: arey you both is here where is my
jiJa.. 
Rahul: haa bichara Kunj he told what happened with him just now. 
Rohan: aww??.. where he is.. just than Rudra see Kunj. 
Rudra:yeh rahe bhaiya. 
Soumiya:cry baby where. 
Rudra: sumo… all giggles Kunj busy with client.
Kabir:yaar twinkle Tera pati duniya se nyara hai.Happy with himself.Rahul and Rohan went towards him and bring on stage. 
Rohan:your beautiful wife is here and you roaming here and there. 
Kunj:arey just talking with mr Singh. 
Kabir:for tonight leave your business aside. 
Yuvi:lets play a game.  
Soumiya:yes. 
Kabir:hey everyone lets play a game. 
The game is like shoot the balloons and who will be shoot the far balloons but only in one go  than get this tana tan.. the curtains pulled see all get happy more girls the chocolates.Lets starts the game all set. 
While Kunj smirked. Twinkle come towards her. 
Twinkle: lets win the game than I'll think. 
Kunj: acha if I win than. Wouldn't leave you at all. 
Twinkle:sure.But Kunj I itself win this chocolate prize.Bye.She waved him and went.While all sit Kunj who sitting in side.First Malika come she take the arrow and try to shoot the balloons but all aims went in vain.than Rahul and Rohan or Kabir Omkara Rudra yuvi Avni Soumya and Priyanka Mahi, Natasha and Purab all try but they didn't shoots all eventually. They didn't win. 
Rudra: now my Bhabhi go and win she look at Kunj show him Tashan and proudly went and take the arrow and bow.She shoots easy balloons but lastly most wanted she try but arrow falls down twinkle get shocked. Kunj controlling on his laugh. 
Kabir: poor baby you didn't get you chocky???. She look at Kunj who giggling. 
Twinkle:Hugh bhai give me this
chocolate you know na I love so much. 
Yuvi:no baby.Chalo on one win this.
Lata:but my Kunj is still left. 
Yuvi:haa arey you also try but didn't win 
It's very tough aim. 
Kunj:acha.he look at twinkle.
Twinkle: in teasing way.Leave yuvi this. He can't. ??. She gestured him do if you can. Make pouty lips and bow the kiss.While Kunj gestured wait and watch.He take step ahead.He take the bow and arrow in his hands.Twinkle murmured Kunj babu you are expert in business not in this. He heard and giggles slightly.He look at twinkle lastly. 
He see the balloon last balloon target. Kunj didn't wait much he hind bow and arrow.Release the arrow the balloon blast all get shocked.While twinkle mouth got open he turned and look twinkle he giving her smirked smiled.???. 
Yuvi:how this happened.Wow so winner is Kunj.Anyhow you get twinkle. Kunj went towards twinkle she is still in shocked.
Kunj: why you are shocked twinkle.
Twinkle: how this happened I mean. 
Kunj:I'm Kunj Sarna I can do anything don't doubt on me.Baby push her slightly.Kunj went in side.Yuvi give chocolate to Kunj. Arey what I'll do. 
Twinkle: I'm here she get from yuvi. 
Kabir:still Kunj You are awesome. How.
Rahul: from the start we know he'll win easily.
Mahi: means.
Rahul:arey he is aspiring shooters play for international level in shootings.All eyed pop out. 
Purab: hoo new talent ?. Kunj look at twinkle he bite his lip she look at him he winked at her. She blushed he passed from. 
Kunj:baby get ready I win thanks for this easiest Task ever ??. Bow the kiss and ruffles his hairs give her smirked look and went from there while twinkle just look at him. 
Twinkle: sadu think but still I'm happy?. She imagine and get blushed now she have to let him kiss herself. 
Episode end here only. 
Next: twinkle went Taneja Mansion ?? 
Leave Kunj frustration for kiss.
____________________________________________
Thanks for your comments.❤️
How was the episode hope you all like the episode ??. 105 likes ??❤️❤️?
Do share your views. Leave mistakes please. Just for saumitra.?. 
Lets see Kunj get his first kiss or not?? lastly he win..

Warning: A non-numeric value encountered in /home/ftpusers/tellyu/public_html/wp-content/themes/publisher/includes/func-review-rating.php on line 212

Warning: A non-numeric value encountered in /home/ftpusers/tellyu/public_html/wp-content/themes/publisher/includes/func-review-rating.php on line 213