RAB SE SONA ISHQ: TWINJ- EPISODE 44

Warning: A non-numeric value encountered in /home/ftpusers/tellyu/public_html/wp-content/themes/publisher/includes/func-review-rating.php on line 212

Warning: A non-numeric value encountered in /home/ftpusers/tellyu/public_html/wp-content/themes/publisher/includes/func-review-rating.php on line 213

Episode:44..!
??????????????l
?TA

®️

T

.

 

Pyaar ki ek shurwat♥️♥️♥️♥️♥️

Episode starts from continued part.

Twinkle coming down from staircase kunj eyes went on her he sees her and get shocked to see her.Kunj blinking his eyes.

Twinkle having beautiful smile on her face. She wears Long dress looking extremely beautiful. She come down looking down tucking her hairs behind her ears.
As soon as kunj see her his heart beats get so fast and numbers of violins playing inside his heart.! ♥️ ..
#Anjali eyes see twinkle she gestured to Rahul and omkara twinkle didn't went towards them she knows already they all will teased her so directly she went in kitchen. Twinkle entered in kitchen and see
Servants doing their worK.
Twinkle:I'll make breakfast okay. Chef give her smile.She ties her hairs slightly with a hair pin.
Outside Anjali and Rahul gesturing each other's.Kunj see their facial expression.
Anjali:badi MAA I'll see breakfast okay.
Avantika:haa where is twinkle.
Tej:yes now I want tea made by twinkle only it's become my habit. Manohar too agree with him.
Anjali:haa I'll see your bahu rani.she went in kitchen and see twinkle busy in cooking she went near her and stand beside twinkle.! Twinkle what you make.She
didn't look at her.
Twinkle:woh di breakfast.
Anjali:hoo.. hmm today are you going somewhere.
Twinkle:no..
Anjali:than Why this old twinkle ??, hoo I understand now.She looks at her slightly.She shakes her shoulder with her in teasing manner.Ab Kunj is back na woh separation wali twinkle ?? now no
More.Twinkle laugh slightly look down.M I right na twinkle.
Twinkle:Diii aap bhi na..
Anjali:but why this here we all always telling you.Stay bright in kunj Absence you are so dull.
Twinkle:Acha what about you.You know understand everything.
Anjali:this all makeover just for Kunj.. ?.
Twinkle:?yes. Any doubt sister-in-law ji.
What about you even you too get ready for your husband only.!
Anjali:haa is right na.
Twinkle: bas dii don't teased me.let me do my work.
Anjali:may I help you.Should I call kunj?.
Twinkle:no need of you and your brother too.!
Anjali went out of the kitchen while twinkle get busy in breakfast.After twinkle
prepared breakfast fully.She placed all breakfast in serving trolley.Twinkle take and went towards dinning table.While servant calls everyone for breakfast.
Servant:sir breakfast is ready come.all nodded their heads in yes and get up and went towards for dinning area.!
Twinkle placing everything on dinning table.Everyone come and take their seats Kunj looking at twinkle her face didn't seeing it due to her hairs..
Rudra:smells coming yummy..
Aayat:haa.
She and rudra playing with spoons.While twinkle serving everyone breakfast.She went near kunj serving him kunj look at her while serving him her hands touch with him.She done with serving.
Lata:you too sit.she sits beside kunj chair.
Everyone having their breakfast happily while kunj slightly look at twinkle rahul gesturing him for twinkle.
Rahul:??..while Kunj looking here and there he sees twinkle hand resting on her lap.Slightly he moved his hand toward her and held her hand she choked slightly and look at Kunj with surprising eyes.
Avantika: kya hua aaram se..
While Kunj didn't look at her.she tries to remove his hand from her. While Kunj held twinkle hand tightly very..
Twinkle:murmured Sadu.she leaves kunj and having her breakfast while Kunj caressing twinkle hand with his thumb slowly-slowly.Both look at each other's face kunj entangled their fingers.They all finished their breakfast twinkle about to
get up but stop kunj holding her hand.She gestured him to leave her hand.She pulled her hand and get up.She gives him look and went from there she gets busy in work.
Manohar and tej went office take Aayat with them they will drop her at school.
While others sitting in living area kunj eyes finding twinkle everywhere.
Rudra:where is bhabhi.
Avantika:you and Priyanka go and get ready for college.
Rudra:please leave us today.Avantika show them eyes and she and Usha get up and went from there.
Prithviraj:you all carry on let's go.
Kunj:where are you going Dadu and Dadi?
Lata:Arey guru ji calls us to ashram.
Rahul:Acha.Lata and Prithviraj get up and left for ashram.
Rudra:Arey I told bhabhi do my work shit where she is..
Priyanka: I'm going you come..
Rudra: wait.. Rudra went in kitchen hold twinkle hand and bring her out and taking her with himself.
Twinkle:Arey Rudra wait na..
Rudra:bhabhi first come with me..
Omkara:Rudra wait she'll falls down.
Anjali:haa now her husband is come back.
She winked at Rudra while Avni and
Omkara along with rahul laugh out.. ?.
Rudra:Haww bhabhi today you look killer I must say.Phale toh you look like shriveled berries.?..
Rahul:now wild berries ?.. Sajna hai mujhe sajna ke liye he humming the song line.
Rudra:now I got it ho ho bhabhi this all for bhaiya ?..
Omkara:what a great work you have done Rudra impressive.Rudra pulled twinkle cheeks.
Twinkle:aha haa.. Rudra you tell me your work I'm going I have work.
Avni:waise kunj bro how's twinkle looking it. First he didn't said anything.
Kunj: thik thaak.Twinkle look at him with furious eyes.
Twinkle:come she went upstairs.
Rahul:you are gone.:kunj smiling looking at her while going.Rudra went behind twinkle. She went inside the room and went toward wardrobe and finding his files at last twinkle found and handover in Rudra hands.
Twinkle:now happy.
Rudra:happy..
Rudra get ready for his college even Priyanka too they both get ready and went down.
Rudra:Bhaiya you aren't going office.
Kunj: nope.
Rahul:reham kar humpe specially Kunj pe.
Kunj:you leave about us you go college chal.
Rudra:bye.Rudra and Priyanka left for college.Omkara and rahul or Kunj went in garden they playing with ball there.Twinkle and Anjali busy in house chores.After sometimes later
At afternoon almost twinkle finished her all work.She went in her room wiping her hands.She went towards dressing table her hairs stuck in her mangalsutra.
Omkara:I'll go and bring Aayat back from school.
Rahul:acha I'll come with you.. let's come kunj what you'll do here get bored Kunj ruffles his nape hairs.
Kunj:nah you both go I'm okay.
Rahul:ho I understand ??Carry on. Kunj laugh slightly.
Kunj:kuch bhi haa.. have some shame my brother is here.
Rahul:so what. Omkara went to bring car.
By the way what's going on.Kuch hua?
Kunj:nothing kuch hone toh de phale.. Omkara bring car and press the horn Rahul give kunj kiss on his cheek and left while kunj making faces.Whom kiss I want she didn't ready man shit.. they both left.
While kunj went inside he didn't find anyone at living room.While Anjali coming done.
Kunj: di.. did you see twinkle?
Anjali:na I didn't she is in her room only.
Kunj:okay..Kunj went upstairs he humming twinkle name.he entered in room.Kunj looking other side in room he turned around and see twinkle doing something. Hoo don't find her anywhere she'll always stand in front of mirror only.He went near her and stand beside twinkle sit on dressing table slightly. Kya hua?? She looks at him her hands around her neck try to take out her hairs. While taking out her hairs paining.
Twinkle:ouchhh.. Kunj get up.
Kunj:what are you doing it twinkle what happened tell me.
Twinkle:yeh.. See twinkle told him.
Kunj:wait I'll do it. He went behind her side her hairs and see few hairs stuck in her mangalsutra. This all stuck in this lock.
Twinkle: haa carefully. Kunj try to take out. Kunj please don't let break my mangalsutra.
Kunj:bring new one.
Twinkle:pagal aise nahi hota hai.Kunj slowly take out her hairs inside the lock he tries to lock her mangalsutra tightly.but it was opening back.
Kunj:twinkle it will falls down.
Twinkle:you tied tightly na please.He bends slightly and used his teeth to tie the Lock of mangalsutra.his lips touch on her skin she closed her eyes as soon as she felt his lips on her.He locked tightly before he does
Anything futher twinkle turned toward him. Thanks.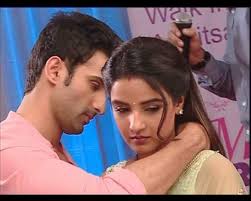 Kunj:your welcome.she about to go but kunj pulled her towards himself. Kaha.
You look beautiful today twinkle. She pushes him.
Twinkle: Acha m I looking idiot Kunj what did you said in front of others I'm looking thik thaak.now I don't want your compliments get it. Kunj giggles.
Kunj:Arey I was joking at that time toh.
You know them If I'll praise you they will started teasing me.
Twinkle:ahaaa I know in front of people your mouth doesn't open but you can hold my hand that time you get guts sadu.. now don't smile  Like a shameless.
Kunj:okay sorry for that. Seriously looking killer.
Twinkle:hogya bas.. Don't buttering.
Kunj:no baba no buttering. Did you think I'm this type of man haa.
Twinkle:I know what type of man you are. Kunj raised his eyebrows.his hands went around her waist and locked and pulled her towards him her hands resting on his chest.
Kunj:you know what type of man I m can you tell me please I don't know.In teasing tone.
Twinkle:I'll tell up don't act smart with me get it Sadu.
Kunj:kya sadu always pati hu Tera thoda pyaar se baath kar liya kar.by the way he looks at her head to toe she look extremely beautiful in this tomato red color floor length Anarkali Cherry on the cake her beautiful smile which coming from her heart.He tucked her hairs behind her ears.You are beautiful, you made me believe that this world is worth living in he said twinkle look at Kunj face.both look into each other eyes.Kunj cupped her face
Why you changed your mind haa.ho so this is all you did for me impressive you listen my words happy.Your Intense look you changed that's why everyone said this all things what have you done in my absence. HELLO HI BYE BYE…to your makeup ??for some days at least your face get happy.. giving me dua ?.
He pulled her cheeks slightly.. her hand resting on his shoulder
Twinkle:jada mat bolo and don't fly in sky,.Why I'll get ready for you haa now also I did for myself get bored na..
Kunj:haa he too nodded his head with her. ??. I know twinkle.
He caresses  her cheeks bones with full of care and love.twinkle your eyes shine like a million suns.You shine more brightly than anyone.he kissed on her both eyes she clutch hers shirt. (Life is a collection of moments so cherish your moments every bit of it..)Kunj kissed on her forehead gently she closed her eyes.He rest his forehead on her forehead their eyes playing games with each other's eyes. Twinkle playing with Kunj shirt buttons his shirting three buttons are open it.They didn't say anything just stay in that position just than Anjali entered in room
She see them and immediately stop and turned and started coughing.. due to her they both come in sense as soon as they see her both composed themselves.
Anjali:sorry sorry I didn't see anything.
Kunj:diii.. you. She turned.
Anjali: haa I come here to tell you.Twinkle Natasha calling me so please call her. Okay I'm going carry on sorry I disturb your romance.She went from there while laughing while twinkle and Kunj look at each other's slightly twinkle shy.she take her phone and went in balcony.
Kunj:uff why everyone wanna talk with my wife only.Let me talk to her please.
Omkara and rahul picked Aayat from school.
Rahul: aur baby doll what have you done in your school today.
Aayat:nothing very boring day.
Omkara: she and Rudra is same to same.
Rahul:hehe.They left for Sarna Mansion back.Soon they reached till Than Avni too come back from her clinic.Kunj was in his room watching football match.Twinkle come in room after talk with Natasha.Her eyes went on kunj packed luggage's in side.
Twinkle:kunjj.
Kunj:hmm busy in match..
Twinkle:what hmm see your luggage still packed can't you unpacked them.
Kunj:hmm tell mummy she'll do it.
Twinkle:acha can't you do this haa. Mummy you Itself calling rudra lazy look at yourself you are just energetic for your works.Now I have to do this uff still telling I'm not doing his anything.She bring all luggage's and try to place in bed anyhow she did and sit beside him and opened his bag own bag.See all clothes in very messy way. Ahah ??you always bring mess for me kunj.. what is this haa this is the way aise toh you giving me lectures.She taking out all clothes from the bag.. Kunj see her.
Kunj:why you making this faces.
Twinkle: you see this you just increased my work kunjj.
Kunj:I hardly give you trouble see other husband..
Twinkle: now you copying that peoples.
Kunj:Acha you Leave na my mummy I'll do it. She had experience of this all things.
Twinkle:haa but your work can do it.
Kunj:Arey this all done by my pa.
Twinkle: she doing your office work na.
Kunj:haa But she did my all work ? expect with my personal too.Samji twinkle Kunj Sarna.!
Twinkle:whatever.Kunj slightly moved near her rest his head on backboard slightly ticking on twinkle back.she get irritated with this but kunj enjoying It.kunjjj please don't irritate me.he rest his head on her shoulder.Kya hai.
Kunj:kuch nahiii.. in low voice..
Twinkle:acha.. are you tired??
Kunj:hmm feels like I should sleep for long hours.Get hell tired in this months doing work like crazy.
Twinkle:good You should sleep.I'll finished this and what inside in this all other bags please finished this mess.
Kunj:you do this I'll did this.Twinkle take all kunj clothes and went towards she place all his clothes in wardrobe perfectly while Kunj open other bags and take out all other things which he brought for his families and others.he place bags back to their place while finding things which he brought for them.Twinkle come back and see the things and get shocked.
Twinkle: Kunj this much.. you bring this garbage from there.. Kunj look at her with plain expression.
Kunj:madam this isn't kachra.First open than speak.This all I bring for everyone.
Twinkle:hoo good.Kunj called servant tell take all things down.they take all things.
Even twinkle and Kunj went down. Everyone was there.
Aayat:what is this all.in excitement.Tej and Manohar come and sits there only.
Rudra:Bhaiya bring gifts for us wow.
Aayat:first I'll take bhaiya.
Kunj:haa she and rudra started making noise and fighting.Everyone look at them closed their ears.You both just keep quiet.
Tej:haa he will gives you all. Firstly Kunj take two box. And went towards his dadi and dadu..
Kunj:this for my dadu and dadi.. ?
Prithviraj: see kunj bring gifts for us.
Lata: haa my one and only Kunj think about us others open their mouth in O way.
Kunj:see I love you both more than them.
He gives them.Than Kunj gives Manohar and Usha before than his own parents. They both get happy.Than he give to avantika.His siblings waiting eagerly. He give one by one to his siblings only rudra and Aayat left they both looking at Kunj like a small babies ??. Their face expressions changing with every passing seconds.
Aayat: pa where is my.
Rudra: haa my too.
Rahul: this time kunj didn't bring anything for you both hehe.
Kunj:Aayat you usually wants chocolates and toys which you have so much now what you'll do.And rudra you didn't wear your clothes mostly so I didn't anything for you too good na.already my luggage is above limits.They both looking at Kunj angrily.
Rudra:hehe I know bhaiya can forget anyone but me and her never.
Aayat: haa.We are your baby siblings na?.They both eating kunj ears.
Kunj:haa don't do drama I'll gives you. Kunj take from side and gives them.
Anjali:ho so bad kunj for them this much.
Kunj:di you know this both is very greedy and poor.
Rudra:True even we are smaller than you all na.Aayat and he hifi.they all opened their gifts and get happy to see..
Rahul:nice.they all sit and chit chatting with each other's.
They all having their dinner happily.tej look at Kunj and see his right arms his bandage slightly seeing outside.
Tej:kunjj.
Kunj:haa.
Tej:Papa And MAA you know one thing about kunj.Kunj accident keshe hu.as soon as everyone heard accident work they leave their food.And look at Tej.Kunj get shocked. Kunjj. Kunj immediately get up and stand there only and looking down he get tensed.
Avantika: what you talking Tej.
Tej:let me asked your son avantika. Keshe hua kunj???.
Kunj:wo…h….
Tej: woh.. kya you always stuck on woh..
Lata: you said clearly na..
Tej:first let him MAA.Kunjj I ask something twinkle see kunj..
Kunj:woh..pa..
Tej:I know about you. It will be not your mistake..
Kunj:it's not my mistake I was driving normally suddenly I try push the breaks than realized that car breaks was failed.
Everyone was hell shocked.
Manohar: break..
Kunj:haa I try to control on car but my car bumped with tree it just a small accident.
Tej:great kunj you aren't bothered to in formed us.. haa
Kunj:I thought you all take tension unwontedly
Tej:acha if anything happened to you than
After come you didn't tell us.today I get to know he'll never tell us..
Kunj:sorry for that..
Tej:sorry really.You know na your wounds takes times to healed due to your diabetes.How could you so careless for your own self. Kunj just listen Tej and blowing his head down while everyone agree with Tej.Kaha lagi tumhe.in low voice.
Kunj:bas yeha.I'm all okay..
Lata:thanks to god but Kunj don't do this. Now have your dinner.they all sit.
Omkara:went near kunj ears..kunjj this is wrong. ?
Kunj:bas kar don't put butter in fire.
Twinkle:in mind sadu ki toh awaaz hi nahi nikalti hai.papaji ke samne ?,,!After they finished their dinner. Avantika call kunj in her room. Kunj went in his parents room.
Kunj:yes you call me..
Avantika:haa.. come here.. she hold his hand and make him sit on bed.She cupped Kunj face. Are you okay na..
Kunj:hmm..
Avantika:kunjj your pa is right you are very careless towards yourself why.Tej was there only.Think about your parents. Already I didn't like when you went out. Now these things make me more worried. Slightly she see kunj wound. It's paining.
Kunj:nope::
Tej:if it is than Also he'll not tell you..
Avantika:koi na.. mera beta she hugged him kunj head resting on her chest.She kissed on his forehead.Tej come and sit beside kunj rest his hand on his head.!
While others youngsters sitting in poolside.Playing cards.
Avni:where is kunj bro..
Rudra:Mother and son session going on.. ?.
Kunj:goodnight mummy and pa.
Tej:goodnight.He went from there.He directly went in poolside and see them he went near them see one place is left beside twinkle Kunj quietly went and sit beside her..
Rahul:hoo come back what your Hitler father tell you.
Kunj:nothing and he isn't Hitler get it..
Anjali:haa right bade Papa is right he should tell us idiot.
Kunj:now no More Discussion. What you all playing.
Avni:cards..
Kunj:you toh don't know na..
Rudra:haa bhaiya But now she knows because Yuvi bro teach her..
Avni:kuch bhi bolta hai rudra.
Kunj:he knows everything about you all..
Om: he Itself having numbers of girlfriends he talk about others.
Rudra:Haww O I didn't Claimed on you for girlfriend.did you have any girl in your life:
Rahul:you never know rudra he is very chupa Rustam..
Kunj:hehe..
Rudra:bhabhi you find girl for O..
Om:I'm not interested in this all things.. happy in single..
Rudra:hoo really this dialogue was of bhaiya he too tell same things when anyone talk about his marriage now see him his Theory too changed it.now see him he always behind bhabhi??. Everyone burst out loudly while Kunj hit on Rudra head playfully. While twinkle giggles slightly.
Rahul:hell true Kunj…
Rudra:let's play..
Kunj:hmm.Rudra and Priyanka in Kunj team and they play together in one team.
Kunj playing well he win the game.you people can't win in this also..
Rahul:you know what twinkle we all thought they three of them different from each other's but you people know they four of them same to same.
Omkara: right.
Avni:I didn't get it.
Rudra:he talking about great tej Sarna kids.??..
Kunj:bas kar..
Anjali:by the way twinkle what kunj bring for you haa he didn't tell us about you..
Twinkle:what.. nothing.
Rahul:impossible.
Anjali:tell na kunj. Surprise??
Kunj:KYa di.. don't know.. I come na. ?
Anjali:wow that also right.They all chit chatting with each other's.
Rahul:okay goodnight.
Rudra:same they all get up and went in their respective rooms.while going kunj held twinkle hand she look at him.They went in their room.Closed the door..
Twinkle:today I'm tired.She went near dressing table taking out her earrings while kunj look at her from bed.she take her night dress and went in washroom Kunj take his and changed there only. After twinkle come back.Her eyes went on kunj he try to take out T-shirt due to his injured arms can't. She went near him. Kunj I'll do it.twinkle held him in taking off his tshirt.see kunj shirtless.You sit here I'll bring first aid box.She bring box and sit beside him and opened her bandage and see his wound still not yet healed.. she touch.
Kunj:ouch.
Twinkle:sorry.papa ji right.She applied ointment on his wound carefully and blowing air while applying Kunj admiring twinkle.She dressing his wound nicely. Now good.
Kunj:thanks..
Twinkle:don't wear this I'll bring something else. She went towards wardrobe and take out vest T-shirt for kunj she went to him and make him wear.Now sleep Kunj Sarna.
Kunj:haa.both lay down on bed.Twinkle cuddles her teddy bear Kunj making faces.Why you bring this boarder between us..
Twinkle:what you mean by this..
Kunj:shift here.
Twinkle:kyu..
Kunj:bola na.she shift toward him.Kunj take the teddy bear and keep it in side.
Now good.
Twinkle:kunjjj.. Acha kunj di is right you didn't bring anything for me..
Kunj:haa what you want tell me..
Twinkle:why I'll tell you should think.Kunj get up and off the lights and covered them with blanket.
Kunj:I thought you'll be more happy to see me Rather than any gifts.What else you want after me.She look at him.M I right.
You missing me so I come back for you.
Pura ka pura kunj aagya Tere liye..?. Really I'm more fluffy than your annoying teddy bear ?..
Twinkle: really ??. Don't be cheesy.
Kunj:I'm serious.Kunj slightly get up rest his head on his palm.And look at twinkle.
I have something for you but I'll not give you now..
Twinkle:why..
Kunj:let right moment come na
twinkle:than I don't want.let me sleep.
Kunj;let's do one thing you give me my kiss and I'll too your gift. Twinkle eyes popped out.
Twinkle: hatt.. she about to turned Kunj didn't let her.
Kunj:this isn't fair twinkle last night also you didn't give me..
Twinkle:Kunjj mujhe neendh aarahi hai..
He held her both hands.Their face is very near.Kunj caress her cheeks Kunj kissed on her finger tips twinkle shivered.Kunjj in moaning tone.chhodo Mujhe kunj..
Kunj:kyu chhodu.. ab nahi.he rest his forehead on her forehead.He ticking on her chin she giggle.He rest his head on her chest her hand around his arms and caressing his nape hairs with her fingers. Their feet's hitting with each other's. both are in each other's arms.Twinkle heart beats increasing due to kunj he is closer to her.Twinkle fingers did magic on kunj. They both sleep in that position only.
Scene turned in Omkara room he laying down and thinking about Mahi her face and smiling face beautiful eyes coming in front of his eyes..
~~~~~~~~~~~~~~~~~~~~~~~~~~~~
Main Tenu Samjhawan Ki
Na Tere Bina Lagda Jee
Tu Ki Jaane Pyaar Mera——BG)
Main Karoon Intezar Tera
Tu Dil Tui Yon Jaan Meri
~~~~~~~~~~~~~~~~~~~~~~~~~~~~~~
While Yuvi doing chatting with Avni she laughing at his nonsense jokes.Omkara turning sides while Rudra taking snore.
He laugh out and cuddles him and sleep.
Next day in [email protected]
Sunlight coming on kunj and twinkle face. Due to this their sleep get disturb.Alarm clock ringing continuously.Both making face they open their eyes.Twinkle off the alarm clock with her hand and Kunj and twinkle look at their position.
Kunj:good morning..
Twinkle:Kunj morning. She slightly moved and get up sit there only while Kunj get up and see the time he went in washroom get freshen wear his jogging clothes and come out. Where are you going at this time.
Kunj:for jogging. Better na you'll eat my head?.
Twinkle:very funny.She throw cushion at him.Kunj went downstairs he went outside.
While twinkle again lay down.Omkara and Kunj aur Rahul went for jogging together.
They doing jogging Kunj and Rahul sit other side.
Rahul:after days get your company.
Kunj:same..
Rahul:aur.. you looking different.
Kunj: means??
Rahul: itself you tell me something going on between you and twinkle.kunj laugh slightly.
Kunj:why you are so curious man. We are husband and wife.
Rahul:still I tell you na everything now it's your turn.
Kunj:nothing much I itself try.
Rahul:great did you get anything.
Kunj:nope she didn't ready before I say something she get shy..
Rahul:your shyness run way now come in her hehe.Don't give up.
Kunj:ha??.taking too much time.I know her bhav toh she will have.
Rahul:haa that every girls did..
After twinkle get up and she get freshen and get ready fully Kunj didn't come back.
She went downstairs get busy in work. They three of them come back Kunj went in his room he went in washroom and take bath.Twinkle see Rahul and she make coffee for kunj.And take and went in their room.Kunj come out of the washroom he wearing blue shirt buttons are opened. Twinkle turned and look at him she get shocked to see him lost in him.Kunj cut his hairs new hairstyle looking extremely hot.
Twinkle blinking her eyes to see him. Water beats slipping on his body.Kunj ruffles his wet hairs this new look suits on him.Kunj see twinkle and give smile. He throw wet towel on bed.. twinkle come in sense.
Twinkle: Kunjjj. Is this so bad na you always throw wet towel on bed why. Numbers of time I told you.
Kunj:hmm I'll listen you when you didn't listen to me..
Twinkle: Acha what didn't I listen to you. He come near her.
Kunj:I request you for one cheek kiss you still. Twinkle rolled her eyes kunj you still stuck there only.What happened wifey ji..
Twinkle:nothing are you going office today.
Kunj:hmm.I have to report everything na.
Twinkle:than get ready..
Kunj:without you I can't.She come near her and closing his shirt buttons.Kunj ticking on her neck.She closed his all buttons Kunj went near mirror and get ready while twinkle take out his watch and Wallet or his coat.Everywhere is your stuff uff.!
Twinkle: haa. She make him wear coat. Give his all things than Kunj drink his coffee.I'm going down you come..
Kunj:hmm.. she went down kunj arranged his all files in his office bag and went down.They all sit for breakfast have their breakfast.
Tej:you both come soon we are going.Tej and Manohar left.While Kunj finding twinkle.He went in kitchen see her back facing to him. He give her back hugged she understands before only.
Kunj:I'm going bye. She slightly turned.
Twinkle: bye.. he kissed on her temple. About to moved toward cheeks but Rahul come there.
Rahul:chale do your romance later. Bro?. Twinkle turned she become all red while kunj showing him eyes.
Kunj:bye.. he said and went from there.
Soon they reached office Kunj report everything about deal.Manohar and tej others get happy to see kunj work process.
While twinkle busy in work while working she missing Kunj like hell.She messaged Kunj.Kunj see her message but he didn't reply he was with tej.Twinkle seeing Kunj photos in her phone.
Twinkle:what happened this kunj after come back he changed so much I mean.
He never talk with me like this and coming closer to me.I just wish we stay like this no evil eyes went on us.she cuddles his photo frame and kissed on it and thinking about his cheek kiss demand she blushed he Exactly looking like small baby.She touched  her neck area where Kunj give her love bite that mark still there.Pagal she murmured.
Yeh lamha jo tehra hai
Mera hai yeh tera hai
Yeh lamha main jee loon zara

Tujhme khoya rahun main
Mujhme khoyi rahe tu
Khud ko dhoond lenge phir kabhi

BG…
After sometimes later twinkle sitting with her mother in laws and grand mother in law.Just than she got call from Leela
Twinkle:arey MAA Ka call. She take her call. Yes maa.
Leela:haa twinkle putter Keshi hai.
Twinkle: fine maa.
Leela: woh twinkle Natasha wedding date has fixed so your material family come at Amritsar so they didn't come in your wedding not see kunj we kept dinner today you and Kunj come at our place.
Twinkle:I don't have any problem Maa you first take permission for my Mother in laws I'll give her phone.. she give phone Avantika and gestured her to talk to her mother she take the phone.
Avantika:haa Leela ji.Leela talk to Avantika and tell her everything she smiled I don't have any problem with this I'll send my Daughter but first you tell your Damad ji?..
Leela:okay I'll talk to him.They end the call."
Anjali:it's good Natasha wedding has fixed.She'll do destination wedding..
Twinkle:haa even her Purab is too same.
Leela call Kunj he see her name and get confused he was with Rahul and Rohan.
Kunj: guys stop.
Rohan:Teri Biwi ka phone ha Kya fuss?.
Kunj:Biwi ka nahi but biwi ki maa ka.
Rohan:sasu maa?.. Rohan and Rahul laugh out. Kunj take the phone.
Kunj:hello Leela MAa..
Leela:hello Kunj puttar..
Kunj: how's you..
Leela:I'm fine what about you..
Kunj:I'm too.
Leela:Kunj I call you because of some work Bebe and papaji calling you and twinkle for dinner tonight.So you can meet with my family..Kunj rolled his eyes,
Kunj:hmm.okay but you tell mummy.
Leela:I already talk to them.
Kunj:than okay..end the calls.
Rohan:what happened.
Kunj:nothing she calls us for dinner.
Rahul:hoo.With twinkle.?
Kunj:obviously ? na tej was passing from there their eyes went on him they
immediately take files and get busy..
They come back from office Kunj went in his Mother room.
Kunj: mummy.she doing her work.He went inside and cuddles her from back. You talk with Leela Maa.
Avantika: haa. Did you get her call.
Kunj: yes.
Avantika: than go and get ready.kunj making puppy faces. What happened.
Kunj:mummy you know na I didn't get mingle with others why you get ready send twinkle na.You know there will be so happy girls they will eat my head..
Avantika:Kunj bas now you are someone family son in law you have to go.Now like a good boy go and get ready I'll not listen anything twinkle is there.
Kunj:Huhu.
Avantika:please.
Kunj:okay..kissed on her cheek she too. Meri Maa.Rudra and Priyanka come there
They too hugged Avantika.They mother and kids cherish their moments. Kunj and Rudra pulled Priyanka hairs slightly.
Priyanka:haa mamma..
Avantika: you both always behind my
Daughter.Daughter se yaad aaya Aayat Meri doll. She wants milk uff Priyanka and Rudra and make milk for her and give Aayat.
Rudra:why we she is pa daughter ?.
Kunj:go..
Avantika:even you too.They went from there kunj went upstairs.He goes in his room.He entered in room twinkle come out from balcony she was busy in phone with Natasha.
Kunj:she always busy with people.She sees kunj and gestured him go and get ready.
He went near her held her from her waist she looks at him and gesturing Kunj.He rubbing his nose on her collar bones.
Twinkle:haa Natasha I'll come.she push kunj and handover his clothes send him in washroom.This Kunj na.she end the call and went towards dressing table she get ready normally looking pretty.Kunj come out of the washroom he get ready too.He try to close his jacket zip which stuck. Uff Kunj you cant do anything she went near her.You calling me kid but see you are very big you don't know how to wear your clothes man.
Kunj:Acha tu pehna de. Don't fly too much.
Twinkle:what people think so beautiful wife and look at husband.
Kunj:Acha girls denying for Kunj Sarna thanks to god and you are lucky become my wife she raise her eyes.
Twinkle:if your praising self is end up let's go.
Kunj:wait.Kunj sit and wearing his shoes.
Twinkle look at herself in mirror applied lipstick and make pouty lips Kunj see and giggles.
Kunj:twinkle you are going your house they seen you already.
Twinkle:shut up.twinkle wear peach colour sleeveless up and down Anarkali. Now I'm looking perfect give herself flying kiss. Kunj went near her push her slightly.
Kunj:sometimes leave this innocent mirror twinkle it will break down pagali?.
Twinkle: sadu Sarna.
Kunj:come let's go.they both downstairs
Together everyone was in living room only. Kunj gestured her mother and dadi.Rahul winked at Kunj looking hot.Kunj looking hot in black.
Twinkle:mummy jii..
Avantika:haa you both go and araam se aana no hurry..
Kunj:bye.we'll come.they went outside kunj bring his car twinkle come and sit beside him Kunj starts the car and drove off.
Twinkle looking outside of window kunj busy in driving.His phone beeping due to messages twinkle see this.She take his phone try to opening it but it needs password.Kunj look at her.
Twinkle:Kunj open this.!
Kunj:why.
Twinkle:my wish..
Kunj:let me concentrate on driving. Do this later.
Twinkle:bolo I'll open it.She started forcing him.Kunj tell her password she open the phone how bad you are I messaged you and you didn't reply me back Mean people. She checking his phone.
Kunj:you checking my phone.
Twinkle:yes so what.
Kunj:do it you'll not get anything.
Twinkle see Lavanya numbers she look at him.And show him.
Twinkle:now you tell me.. why she calls you.!
Kunj: now everything finished she just call me due to work.
Twinkle:did I looked idiotic Kunj.What you have done with me did you remember should I throw you phone.She try to kunj held her hand and giggling.
Kunj:arey twinkle please don't na..
Twinkle:next time if I'll see it's your last day.He nodded his head. Soon they reached kunj parked the car they went inside together.
#@taneja mansion..
Leela brother and sister both comes along with their children's.twinkle and Kunj entered Kabir see them and went towards them.
Kabir:lo finally Taneja house son in Law back.They went ahead.Bebe open her arms for twinkle she hugged while kunj touch rt and hansh feet's and take their blessings.
Hansh:Kush Raho..
Bebe:kitna sona lag rahe hai mere Kunj and twinkle.
Kabir:bas Bebe your twinkle rani flying at 9cloud now she'll more Kunj Giggles while twinkle make faces at Kabir.
Rt:come kunj beta.they all men's sit kunj introduce Kunj with his brother in laws. Twinkle get busy with her cousins sisters.
Twinkle give all gifts which Kunj Brought for them. Mahi take and kept in room.
Natasha:twinkle looking pretty.What's the reason behind this.
Twinkle:you leave about me think About yourself.Kabir and purab joint girls.While Kunj get bored with elders he simply
sitting.
Malika:where is kunj.
Kabir:he was down.
Twinkle:bhai you leave him alone.
Natasha:see our twinkle get worried about her husband ji UFf.
Twinkle:why not you think about yourself.
Kunj listing Their talks and giving fake smile.
Kunj:that's why I didn't want to come this twinkle she went and leave me..
They all girls come down twinkle see kunj and laughing at his condition.she went towards them.
Rina: twinkle massi) arey twinkle your husband didn't speak anything.
Twinkle:na maasi he isn't talkative.
Leela:haa simple and innocent sa hai and world best my son in law. Twinkle raising her eyes.
Bebe:we'll go in garden their only all set up for dinner elders went.
Natasha:by the way twinkle you get bored with him.
Kunj:why.
Natasha:because our twinkle is talkative very much. ?.
Twinkle:true my husband is old radio ?kunj look at her giving furious look.
Kabir:kunj lets have dinner.Kunj went with twinkle.They all went in garden and sit for dinner purposely Natasha and others filled Kunj whole plate with food fully.
Kunj: please don't.
Natasha: arey kunj jiju it's mehman nawazi.?.Twinkle completely enjoying it.
Malika:to be honest next time kunj will not come here after today ??.My poor bestie.they have their dinner they have dessert Kunj too eat.They spend some times together all.
Natasha:today twinkle you stay here.
What's say kunj.
Kabir:Kunj will kill you Malika.
Kunj:let's go twinkle.
Twinkle:okay everyone. Kunj went
Natasha:please.
Twinkle:sorry this Sadu will not leave me. Later promise.While twinkle run behind kunj.I'm too coming he give her look they sit in car and left.twinkle looking him he become balloon see yourself in mirror Kunj.You looking so cute.She pulling his cheek.He get irritated with this.Acha sorry baba.: she rest her head on his shoulder linked her hand with his arms.Kunj smile he driving.He kissed on her head.Twinkle see ice cream vendor.Kunj ice cream please.He stop in one go.Let's have ice cream. In cute way.He nodded his eyes in eyed he give the horn ice cream vendor come and Kunj tell him to give ice cream. Twinkle tell her Flavour he give Strawberry
Kunj take ice cream give him money he give to twinkle.WhAt about you.
Kunj:I don't want in cold voice.He starts the car drove off.Twinkle having her ice cream like baby while Kunj looking at with corner of his eyes.She take ice cream near his lips.
Twinkle:please.Kunj have from same side from which twinkle have.She get happy.
Kunj:tu ghar chal me bata ta hu tujhe she closed her eyes ?.soon they reached Sarna Mansion they come out of the car and went inside.Kunj went upstairs while twinkle went in kitchen bring water for them.Kunj take off his clothes he feels sweaty he went in washroom to take a shower.Twinkle entered in room.She heard water shower voice understand.
Twinkle:I'll too get freshen up this Natasha she falls food on my dress.She take her night dress and went in side washroom she take shower hurry later she come back and drying her wet hairs just than Kunj come out of the washroom he was shirtless wearing his pj and towel around his neck.
He see twinkle her back was open it.Her hairs water falls on kunj he ruffles his hairs and look at her and smirked.Twinkle look at him and stop kunj leave the towel and went near her while twinkle going in backwards.
Kunj:why are you going.
Twinkle:you coming.
Kunj:this is.he look at her head to toe he winked at twinkle she get shy.He pulled her and keep his hands on her waist and make her hand rest on his waist both look at each other's.Kunj smells her wet hairs.
Kunj moved his hands on her waist in sensually way.Now I'll not leave you.She push him about run before kunj held her hand and lift her in his arms. He went towards bed twinkle looking at him.
Twinkle:leave me baba.he place her on bed and come top of her.
Kunj:what did you said I'm old radio. Ab Bol na.She nodding her head In no??..
Twinkle:kunjj leave me na..
Kunj:not today I'm Sadu.
Twinkle:I'm just joking.
Kunj:leave me alone next time I'll not go anywhere with you.You have time for each and everything always busy in phone with others.
Twinkle:hawww?. Me busy.
Kunj:today you are gone:. First do what I'll tell you.
Twinkle:I don't know.
Kunj:I'll make you remember na.he rubs his feet's on her feet's he linked their fingers tightly. I fulfilled your all demands can't you do my one:Kunj wet hairs drops falls on Twinkle lips.Twinkle try to ignore him. She looking here and there Kunj held her chin make her look at him. Kya hua didn't you like me..
Twinkle:mene aisa kab kaha.
Kunj:than do it. She look at him slightly shyness written on her eyes.She take deep breath and lock her hands around his neck.
Twinkle:tum maano ge Nahina.
Kunj:when you know na why you suffer me.
Twinkle:okay fine last.don't teased me. She push him slightly come half on him.
She kissed on his forehead Kunj smile. Twinkle caress Kunj face.Both looking at each other's with love eyes.His hands resting on her lower back.Twinkle kissed on his both cheeks slowly Kunj closed her eyes she print her lipstick mark on his cheeks.Her hands moving on his bare wet chest.She behind slightly and kissed on his chest and bite his nibbles she totally lost her sense.She come in sense get shy and shocked she doing it she about to get Kunj held her and rolled down and come top of her she become fully red can't look into his eyes.Hide her face with her both hands Palms.Kunj smile to see twinkle.He removed her hands and linked her fingers.
Kunj:in sensual voice twinkleee.don't be shy.She open her eyes and can't face him she hugged him tightly.She breathing heavily that Kunj can feel it. Her heart beat too increased fully.He hugged her back they break the hug.Kunj see twinkle wet hairs drop water beats sliding on her neck.He move his finger on her face.Kunj caress her hands he kissed on her forearm than he kissed on her jawline bite slightly.He cupped her face she look at him Kunj rubbed his thumb on her cheek bones she blushed and give shy smile. With another hand kunj dim the lights.He give wet kisses on her cheeks than he bite her chin she clutch bed sheet tightly moaning Kunj Name.
Twinkle:Kunjjjj.he moved toward her neck part kunj caress her collar bones and he hardly bite her collar bones she garb Kunj nape hairs and closing her eyes.Kunj sucking that area and soothing her pain. He moving his hands on her hairs fully. She turned her back facing to him. She breathing heavily. Kunj give her
backhugged he side her hairs moved his finger on her opened back she shivered due to her touch kunj can see his touch effects her lot. Kunj lose her back dori he leave hickey on her nape.and make her turned with jerk.Twinkle lips shivered because of kunj.He slide her sleeves from her shoulders give wet kissed on her shoulders twinkle caressing Kunj hairs rabidly she feeling pleasure.Side her hairs and kissing on her neck passionately.
Ehsaas tere aur mere toh
Ek dooje se jud rahe
Ek teri talab mujhe aisi lagi
Mere hosh bhi udne lage
Mujhe milta sukoon teri baahon mein Jannat jaisi ek raahat hai.BG Song
She moaning his names loudly.She warped her hands around on his back and moving it leaving nails marks on his back.She moving her face here and there.They forget everything just remember their moments which they making it.Kunj pulled blanket with his toe and covered them.
Kunj:you smell great twinkle.She smiled.
He raise his and face look at her. She slowly closed her eyes. I want kiss from you here but you ??.She didn't making eye contact.He held her Chin kiss near her lips area. About to moved towards her lips before him twinkle covered her mouth with her palms.
Twinkle: you got your kiss end now.
Kunj: removed her hand Acha ji smart with me ?. So should I do same with you too. He look down she understands what he mean it. Kunj give her flirting smile. She shocked and hitting on her chest.
Twinkle:hattt… chiii kunj laughing. He held her hands.
Kunj: ouch..
Twinkle:so shameless man.She take cushion and hit him.Both started laughing.
Twinkle push him.stay away from me get it. Don't know what happened to you totally behaving different. Soja o.she cuddles blanket and try to sleep while kunj smiling just than twinkle phone ring. Kunj look at her she see this why you looking at me like this.
Kunj:who calling you at this time.
Twinkle:how I know.You can see itself Kunj take her phone table and see it's Chinki miss calls.
Kunj:Chinki.They don't have other work than you haa.
Twinkle:very funny.she turned and closed her eyes while Kunj went near her slightly keep his hand on her tummy twinkle see this he give her back hugged and sleep too. Sleep took over them soon.
#Next another morning.
Everyone get up expect than Kunj and twinkle they sleeping till now.Usha Send servant to wake up maid went and knocking their door.Kunj and twinkle
sleeping in hugging position.Twinkle wake up with knocked.
Twinkle:Haaa.maid listen and went twinkle try to get up. But can't because of Kunj he holding her tightly she smile and moving. Due to this kunj wake up she turned towards him. Kunj leave me..
Kunj:hmmm.. where are you going.
Twinkle: it's morning we get late already leave me please what everyone think about me I'm bahu of this house you sleep but leave me go. He clutch her more.
Kunj:so what why they will think about us.
Twinkle:do this all later let me go she get up. Both get up and sit there and look room condition twinkle duppta on floor towel and cushions both remember last night inside their hearts blushed.Slightly gazing on each other's. twinkle get up take out all things and run in washroom. Kunj ruffles his hairs.
Kunj:one day she'll kill me with her blush. Uff what happening to me.He touch her cheeks and smile.Twinkle taking bath twinkle see kunj hickey which he gives her last night she blushed so hard.
#Later they get ready went down twinkle hide her love bites with her duppta.
Everyone was waiting for them only.They went and wish everyone good morning and joint them for breakfast.
Om:when you both come last night.
Kunj:12 clock.
Rahul: how's it..
Kunj:I'm not going now.tej and Avantika look at him.
Tej:Acha okay this you went with Aayat her school see.And you Rudra and Priyanka go college.Twinkle holding her duppta tightly.Elders finished their breakfast they get up and went. Anjali see twinkle her eyes went on love bites she smirked and giggles slightly.
Anjali:KYa hua twinkle.She get shocked and look at her give her fake smile.
Twinkle:nothing di..
Anjali:aaj kal toh machar hi bhut ho rahe hai???.She winked at her she
understand about what Machar she
talking.Covered her shoulder. Haina kunj.
Kunj: what..
Anjali:you should take care of twinkle.See mosquito bite on her chin.Kunj choked twinkle looking down playing with duppta.
All giggling Kunj look twinkle and see love bite given by him.He didn't say uff.
Rahul:chal kunj our two mosquitoes waiting for in office.twinkle get up and went in kitchen.
Kunj:aap bhi na becoming like your husband.
Anjali: tell me that mosquito name ??.. Kunj shyly smile.
Kunj:asked her only. Bye.he drag Rahul and went.
Episode freezes on twinkle and Kunj shyly faces..?
Next episode:
⬇️⬇️⬇️⬇️⬇️⬇️⬇️⬇️⬇️⬇️⬇️⬇️⬇️
Tej was standing in anger while Kunj and omkara beside rudra they looking at them in roar way.and siblings teasing twinkle and Kunj. 
*****************************************
Hi everyone I know I'm late what to do sorry hell firstly I'm extremely sorry I couldn't comment on anyone ff and read as well sorry I guys holding my ears sorry please I didn't get time I was busy in my personal issues thanks to god finally it's short out somehow.Now I get breath didn't have time to used phone how I write this I know finally get time today so I write quickly just for you all I know you all waiting for episodes:. I respect you all ♥️♥️♥️.Thanks for your comments. Loving twinj. Back to the episode 
How was the episode.??
Do share your views please hope you all like new romantic Kunj Sarna and shy twinkle Kunj Sarna ???..many more in tale. 
Leave mistakes no proof reading guys ?‍?
Bye love you all❤️❤️.Take care of yourself.Tell me what you wanted to see next and which ff as well.. 
Allahafiz.. 

Warning: A non-numeric value encountered in /home/ftpusers/tellyu/public_html/wp-content/themes/publisher/includes/func-review-rating.php on line 212

Warning: A non-numeric value encountered in /home/ftpusers/tellyu/public_html/wp-content/themes/publisher/includes/func-review-rating.php on line 213