RAB SE SONA ISHQ: TWINJ- EPISODE 33
Episode 33.
😍😍😍😍😍😍😍😍😍😍😍😍😍😍😍😍😍😍😍😍😍😍😍😘😘😘😘😘
After have great night out.They all left for their places. Kunj and others  reached the Sarna Mansion in whole ride rudra just talking about his car and he is so happy. Driver brings the car.. they come out of the car.. Rudra car parked in side.
Rudra:see my car..aww baby.
Rahul: bas it just a car.: 😛. Ladki and car aati  rahti hai..😛😜. Anjali look at rahul. Arey not about you.this kunj telling me that car or ladki change karte rahna chahiye..
Kunj:what.. nonsense totally.
Rudra:Bhaiya what about pa..
Kunj:this you should think before na. Now you don't worry I'll see him. Now let's go inside it's already too late.
Rahul:yes today we didn't went office too. Tomorrow hitler will take the penalty of this.
Twinkle: why only in one day..
Rahul:Twinkle ji you didn't know anything about your cotton candy father in law because he is extra sweet with you all expect with  me and Kunj sometime rudra or om too come when they did something otherwise toh 😛😛. One day work with him you'll never ever think to work with him.
Kunj:very nice Description about….
Rudra:before him. About our hitler father and your boss😛😂..
Kunj:don't fly he'll not take seconds to throw your car than don't come to me..
Anjali: chalo now. They all went inside.
Rudra: today maza aagya.O let's go and sleep today I'll not tease you.
Om:impossible and I'll not sing any Lori Vori for you get it..
Rudra: haa Okay aaj toh my car will come in my dreams. Rudra acts like he lost in his thoughts. All giggles to see him while kunj and om give him tapli he come out of his dream.
Kunj:sleep rudra.. they all went in their respective rooms.Twinkle and Kunj entered in room. Kunj see the bed condition twinkle all things scattered on bed.Twinkle closed the door. Twinkleeeee what is this.
Twinkle:what??
Kunj:this all mess you did always.
Twinkle:haa jaldi jaldi me.wait I'll clean.. she started pick up all things.Kunj too help her.. Kunj sit in side hell sleepy.
Kunj: Arey Twinkle please give my night.
Twinkle: wait na I'm too tired.
Kunj: in club toh you were very energetic now what happened lazy head..
Twinkle:haa whatever.. she takes Out their clothes and give to Kunj with jerk and went in washroom.
Kunj:babaji what a girl I mean she changed colors like Chameleon.. sometime good other time siyappa Queen. Kunj changed his night dress twinkle come out of the washroom and see kunj he about to wearing his tshirt.
Twinkle:hwwww. Kunj turned and see her face expression he wear his tshirt quickly.
Kunj:what..
Twinkle:can't you wait for me haa.
Kunj:why I'll. Stop behaving like 80's.do phool takraya and hogya sab kuch  😛😛. Behind the flowers.
Twinkle:acha very lame.They both lay down on the bed Their side of beds.Kunjj
Kunj:hmmm.He turned towards her. Both facing to each other's. What..
Twinkle: when you giving rudra car than why you make him cry lot..
Kunj:he is drama king like his bhabhi 😛. Twinkle hit on his shoulder.Do you know Bhai shab wasted 50k.That also we all leave it. If we did na pa will not leave us.
He has to know the value of everything. But he is so zidi.
Twinkle:cute hai😘😘.His car too like him.
Kunj:you toh sit na. Hardly Rudra iss car ko ache used karega in sometimes he'll impair this car too. Last time Rahul get bike for him what he did used sometime than give to his Friend..
Twinkle:nice na 😛😛.
Kunj:now let me sleep okay.Kunj covered him with blanket while twinkle pulling the blanket Kunj see her and he too pulled back.Both laugh out and sleep took over them.
Next morning like as usual everyone was wake up.
Rudra sleeping in room and seeing his car dreams he kissing his car in dream but as place of car he kiss om😛😛.. Kunj and Rahul come in room and see this and both laughing out like anything 😛😛..
Rahul: look at this kisser😛😛😂. Due to dream he'll do romance with omkara😛. Omkara partner will get used one😛😛😂.
Kunj:hehe and what nonsense is this you were sending me om and Mahi pictures.
Why??
Rahul: kunj I'm thinking that something??
Kunj:stop using your mind you mean hatt.. she is my sister in law..
Rahul:haa so what if she is your sister in law.. just than there twinkle come with kunj blazer and coffee.
Twinkle:kunjjj
Kunj:hmm kunj take his both things..
Rahul:hoo so caring wifey 😛😂.
Twinkle:Kyu don't you have.. what did you say last night car and girls come and go..
Rahul: yup this your lovey husband mantra..😛😛. Twinkle look at Kunj face who taking sip of his coffee.
Kunj:what..??
Twinkle: you tell me what.very great mantra. Before Kunj say anything twinkle left..
Kunj: Rahul you na.. he laughing loudly at Kunj.
Rahul: kunj look at your face I mean till now I think you just scared of Tej Sarna but wifey se bhi😛😛.
Kunj:very funny hashi nahi aai mujhe toh..
Now this siyappa queen throwing tantrums at me.. Rudra and om wake up look at this omkara he too become like him being in his company.. Kunj throw water at them they both wake up with jerk.
Rahul: how's your romance night 😂😛.
Om: you both na.
Rudra: Bhaiya ufff. Meri car.
Kunj:yes go and get freshen up pa see your car immediately Rudra run in washroom.Later they all sit for breakfast.
Lata: how's your night out..
Anjali:dadi awesome you should too try with dadu..
Rudra:hehe di please.. dadu will never go and now you both too not..
Tej:why you have very much problem. Whom day start in club and end in club.. other's giggles while Rudra looking here and there.
Avantika; Rudra you are free na drop Aayat at her school okay.
Rudra:no mummy I'll not.Everyone look at me like she is my daughter.And when I told him she is my sister they all giggles at me.
Bhaiya is perfect for this..
Avantika:they think you as her father look at yourself who look more small than her 😂😛..
Tej:we didn't care what people think about you what your mother told you just do it..
Rudra:hmm☹️☹️..
Tej: and you both reached on time before me get it if not than get ready to stand outside.Kunj and Rahul leave the breakfast.
Prithviraj: let them have their breakfast na. Manohar and tej get up and went outside. Kunj and Rahul drink the water in hustle both run outside.
Anjali: this two 😂😂.
Rudra: acha bachi..
Aayat: yes take my bag.
Rudra: what why I'll.
Aayat:yes you'll only na..Rudra get take her bag and they went outside while Anjali take others too. to show Rudra new car.
Rudra bring his car. Tej and Manohar see and get confused.
Tej:this new car??
Anjali:yes bade Papa it's rudra new car.
Avantika: nice..
Rudra: dadi see my new car.. Bhaiya and O get for me😘.
Lata: acha now my Rudra happy na.
Rudra:Hell dadi.. tej look at Kunj and Omkara.
Tej:good finally your both brothers fulfilled your this zidh too.
Om:not like that bade Papa..
Prithviraj:tej please.it's their concern..
Tej:so finally you both spend your all savings in this car for him na..how much?
Kunj:in low voice 3'millions..
Tej:great going well. Let's go Manohar.Tej and Manohar sit in the car both brothers left..
Lata: kunj you don't think about tej you know na he is anger just because of rudra.
Kunj:hmm I know okay bye. Even Rahul and Kunj too left..
Aayat:RU bro amazing car my friends will see and get surprised my brother have so s*xy car.
Rudra: haa Okay bye guys.
Om: slow okay rudra. No complains.
Rudra:yes. They drove off..
[email protected]@@
At Taneja [email protected] All ladies sitting getting bored.
Mahi: without twinkle di Incomplete.
Leela:True mahi puttar.even I too miss her after marriage she come one time.
Mahi: MAA lets call di here to stay with us.
Leela: so soon I mean she married let her spend time with her family.
Malika:offo maa twinkle ki shadi kal nahi hui hai.. so please.
Leela: haa. I'll try they send her or not. Bebe you talk to dadi ji..
Bebe: okay.. mahi dial Lata number and call her she pick up in two go..
Lata:hello.
Bebe:namaste ji..
Lata:Arey aap namaste ji.. haa everything is alright na.
Bebe: yes everything is alright I just call you to ask something.
Lata:yeah boliya..
Bebe: woh everyone missing twinkle so if you don't mind can you send twinkle.. Lata smile to listen this..
Lata:first toh don't be formal if she is our bahu now before this she is your daughter and why we'll Mind. I'll send twinkle okay.
Bebe:Arey waha.Thanks.
Lata:no need of this. I'll send twinkle in some hours okay.
Bebe:haa end the call.
Mahi:what dadi ji said Bebe.
Bebe:she give permission and sending twinkle too. They all get happy.
@At Sarna Mansion:twinkle bring all gifts which she and Kunj bring for them from manali. And give to avantika.
Avantika: what is this twinkle beta..
Twinkle: mummy woh me and Kunj bring this for everyone didn't get time to give.
Avantika: hoo. Why you give me. Give everyone Itself okay.
Twinkle: okay. She gives everyone those are not here keep it in their room.They all sit for lunch.
Lata:Twinkle Puttar I'm sending you somewhere they all leave the food and look at lata..
Anjali: where??
Lata:Arey calm down this expression should be kunj give and suits at him. Twinkle Bebe call me so they all missing her wanted twinkle come there so I'm sending twinkle.
Anjali: hoo🙁. Okay but come soon. Twinkle get happy that she going her home.
Lata:Twinkle driver will drop you at this time no men's at home so.
Twinkle:it's okay dadi thanks.. 😛😛.
Priyanka:bhabhi tomorrow please come back.
Lata:Arey let her go first abhi se hi..
Avantika:true she will come soon.
Usha: In teasing mood mummy ji you permit twinkle to go Taneja Mansion what about kunj.😛😛.
Lata:understand usha😛😝.. yeah true Usha I didn't think about this without husband permission I m sending Twinkle Puttar. What about kunj.
Twinkle:woh I don't know about him.Try to ignore.
Anjali: you Itself asked him okay😛. After lunch.
Avantika: you go and get ready if you wast your time here. And you know people calling you soon..
Twinkle:okay.She went upstairs goes in her room.Finally I'm going my home I'll stay with them uff babaji I'm so happy. Started dancing with pillow 😛.I'll get ready. She get ready quickly and take her some clothes.And think about kunj when her eyes went on his photo.What about this sadu.He is so sadu will not give me permission.Still I'll call him at least.Twinkle calling kunj but he didn't answer her calls because he was stuck in executive
meeting.Twinkle fed up this sadu never reply me.Don't know this sadu always busy.Never have time for me had fo everyone.!!leave him. She take her small bag and went downstairs everyone sitting in hall.They see twinkle coming down.
She went towards everyone a beautiful smile stick on her face she is really happy to going her house.
Lata:Arey waha kitni soni lag rahi hai.
Anjali:but if kunj is here to give her compliment than it would be great na.
Twinkle:murmured huhu sadu will give me if I waited for his compliments than toh OMG.. just than om come.
Usha:Arey waha om you come on good time. Om see twinkle having bag in her hand.
Om: where are you going twinkle??
Twinkle:woh ghar.. 😛.
Om:acha good.
Lata: om go and drop twinkle at Taneja Mansion acha se.
Om:okay my dadi. Twinkle take elders blessings.
Twinkle: bye everyone.
Anjali:I'll send Kunj tomorrow 😛.
Twinkle: okay ji.
Om: let's go. Twinkle and Omkara went outside and sit in car and left for Taneja Mansion. In the car. Why you going so suddenly.
Twinkle: woh dadi told me that Bebe calling me so I'm going.
Om: seemed you are really happy.
Twinkle:yes I'm so happy I'm going my home spend time with my family.
Om:right.They must be happy finally their daughter is coming.You know when we think about di and pinku.They will leave us.Become sad. Daughters Brightness of house really.
Twinkle: right. Where is rudra..
Om: even he too happy like you. Hoga kahi kishi kone me. Apni new car ke saath.
Twinkle:haa he is crazy. Papaji scold na you both.
Om: bade Papa he is like this but he love us more too.He is showing he is very Strick but from inside soft too.He don't have problems with car but we fulfilled Rudra all unnecessary demands. Now we are used too twinkle.
Twinkle:you were right maybe.I like one thing about you never speak one words in front of him.
Om:marna hai kya😛😝.You just see babe Papa wait your husband is not less than him 😛😝.
Twinkle:he is toh world best sadu.While
Talking they don't know when they reached Taneja Mansion.Car stop In front of Taneja Mansion.
Om:finally bhabhi ji your destination come.
They come out of the car. Okay twinkle bye I'm going.
Twinkle:Arey om come inside it's not good to go back from outside.
Om:But.She hold his hand and they went inside.Everyone sitting in hall only twinkle and om entered they all see them mahi rushed towards twinkle and hugged her tightly..
Mahi:di finally you come back.
Om:she just come for some hours winking at twinkle.
Twinkle:yes mahi happy face drop down. Now mahi lets us come inside. They went towards everyone om fold his hands and take Bebe and Leela blessing. They settled down Leela tell mahi Make tea for omkara she went in kitchen.
Malika:finally you come back nanadji..
Twinkle:yes I'm so happy.
Leela:really you come for some hours.
Twinkle:no MAA om just kidding.dadi Send me don't know for many days.
Bebe: she tell me 2 days so it's enough.
Mahi come with tea and snacks.
Om: Arey why you trouble.
Malika: our mahi making the best tea..
Om: acha one sister making world best coffee..
Malika:this kunj never said 😛😝.Om and twinkle look at each other's face.
Om:this only your kunj said.mahi give om tea and sit beside twinkle.Mahi and om share secrets glares.Okay I m going.
And bhabhi ji come soon 😛at Sarna Mansion some peoples will die 😛.
Malika: kunj yeha Rudra 😂😂.
Om:she knows..bye he left from there. Twinkle hugged her mother.
Leela:Meri bachi finally you come I'm so happy.
Twinkle:even I too miss you all and my room house. Just than Hansh come and find twinkle get surprised to see her.
Hansh:Arey Twinkle Puttar tum yeha??
Twinkle:yes dadu I'm Here.
Leela:Twinkle come to stay with us.
Hansh:hoo even I'm too thinking this to call her for some days.after sometimes later twinkle went in her room and feel so good.She get freshen up. Mahi and twinkle laying down on bed chit chatting with each other's.
Mahi:di didn't you get bored there?
Twinkle:nope mahi I didn't get bored there you know my time went so fast there. Now I'm getting bored here 😂😂.
Mahi:hwww di so mean..
Twinkle:not like that mahi. Why I'll get bored there you tell me I have so many people.Anjali Di,Priyanka,Aayat playing with her rudra toh you know na didn't leave me cracking jokes. Om is so sweet And Rahul jiju omg. Dadu and dadi too treating me like their own grand daughters. And my father in law and mother they are world best mahi I'm so lucky I had this time of family. They understand each and everything. Choti MAA or chote Papa bhi.
Mahi:very good di you tell about everyone what about my kunj jiju😛😛.. i mean he is not good😜.
Twinkle:woh toh sadu hai.He makes me bored always on silent mood.If he open his mouth just irritated me. See now I'm call him so many times but this man didn't reply me back work and work huhu sadu iss ki toh shadi office se hi karwani chahiye ti. Mahi laughing out like anything.
Mahi: really di jiju is so boring she started making fun of kunj twinkle Listen for sometimes.
Twinkle:bas bas mahi now stop he is my husband.
Mahi:hoo jealous..
Twinkle:nope he is whatever for me best for each and everyone.And for me too kunj is very good.After sometimes later Kabir and rt come back from office they heard laughing sound.Their eyes went on twinkle who sitting with mahi and Malika they get happy to see her went near them.
Rt:Arey Twinkle Puttar you.
Twinkle:yes Papa she hugged him I come now I'll stay with you.
Rt:waha I'm too missing you.
Kabir: so you come here back to eat our head finally kunj get tired of you so he sends his burden on us😂😂.
Twinkle:Bhai please why he'll send me haa.
Kabir: acha Meri MAA don't be angry good you come so let's plan something. Why not go out to have dinner.
Rt: idea was good.
Twinkle:my favourite restaurant..
Kabir: yes..
At Sarna Mansion rudra come back from outside he finding twinkle everywhere.
Rudra:where is bhabhi.
Aayat:even I too finding bhab.. Lata come
Lata:your bhabhi went her home.
Rudra:why she went dadi..
Avantika:rudra for some days she went it's okay she'll come back. Aayat and rudra get sad.Rudra And Aayat went towards Prithviraj who reading books both sit beside him on bed rest their heads on his both laps.he see this and give smile.
Prithviraj:what happened today.
Aayat:dadu bhab went..
Prithviraj:haa. Later they all sit for dinner. But kunj and Rahul didn't come back from office till now..
Lata: tej where is kunj and Rahul.
Tej: office me.
Usha: till now why..
Manohar:I give them work to complete their teams didn't do it so now they completed
Tej:Arey Twinkle didn't see  anywhere?
Avantika:your twinkle went her house.
Tej:okay so suddenly everything is fine na.
Avantika:yes.After marriage she didn't went to her house to stay with her family.
Tej:good you send her.
Whole Sarna family went for dinner out.
They reached hotel and take their seats twinkle oder food for everyone..
Hansh:after marriage also twinkle is same.
Twinkle:yes dadu your twinkle will never changed. Soon their food come and have happy enjoying their family time together.
At office kunj and Rahul working continuously so many coffee mugs are there. Both fully lost in their work.
Kunj: next time I'll not leave them.
Rahul:kunj this work will not complete so soon.
Kunj:if not than don't dare to think go home both will not allow us Rahul.
Rahul:thats also true let's complete this.
After dinner they back to home having ice cream twinkle call chinki or Asha at her place.At twinkle room they all girls sitting and chitchat.
Asha:stay for one month twinkle😛😛
Twinkle:haa very funny. Chinki and Asha get their husband calls they talk to them Twinkle get irritated with this finally they end the calls. You guys so much talk.
Chinki:Twinkle husbands are like this only they just wanted one chance to call wife's where is this and that.
Asha:yes don't happen to you.
Twinkle:nope this much call kunj never did me😛.Never trouble me for anything.
Chinki:what type of husband he is..
Twinkle:what you mean.
Asha:if husbands not call wifey they something fishy..
Twinkle:heheh I had one relief my husband the least interested in girls so no problem.If he didn't call me that doesn't mean
something is fishy.
Chinki:acha ji itna pyaar 😂😛😛.
Twinkle:yes 😝😜. Kuch bhi yaar.
After sometimes later half work done rahul and Kunj went to Sarna Mansion it's little late.They both sit on couch resting their head on couch. Anjali see them she went in kitchen heat the food for them and bring.
Anjali:what happened..
Rahul:nothing just tired..
Anjali:okay now let's have something.,
Rudra or Om Kara come there..
Kunj: I'll come get freshen up. He went in his room as soon as he entered in room find so peace. Today so peace now where is this siyappa queen went. He take his clothes went in washroom. Get freshen up went down back and joint them. Di I'm not hungry please.
Anjali: why..
Rudra:Bhaiya 😭😭. Bhabhi gayii.. Kunj look at him.
Kunj:where she went..
Anjali:Taneja Mansion.
Kunj:hoo.Kunj didn't give any reaction.
Rudra: Bhaiya hoo only.
Kunj:so what if she went rudra.Now don't eat my head. I'm already so tired. Chale I'm going to sleep.He went in their room. Priyanka already sleep on her bed. Kunj or rudra and Om Kara too lay down. Rudra cuddles kunj tightly..
Rudra:finally I'm sleeping with my Bhaiya 😍.
Kunj:same. Now sleep okay. Kunj so tired he quickly sleep. At night twinkle waiting for kunj call but he didn't call her.
Next day at morning.
Kunj was in his room getting ready.
Kunj:why I'm missing this siyappa queen if she is not here I'm toh happy always eating my head. Kunj don't think about her so much.Look at this girl didn't in formed me once that Kunj I'm going.where is my file.,he finding his files. Didn't get it.This twinkle na.. I'll call her asked. Kunj call twinkle.She was sitting with everyone at breakfast table her phone keep ringing
Twinkle see caller ID..
Twinkle:now he get time to call me. Twinkle get up.
Leela: what happened.
Twinkle: nothing woh phone.
Kabir: kunj ka ja ja😛😂. Twinkle went in side. She pick up the call.
Twinkle: hello.
Kunj: ha twinkle where you keep my files.
Twinkle:for this you call me haa.
Kunj:yes I didn't getting.
Twinkle: okay side table ke second drawer me hai. Kunj check and find his file finally.
Kunj: thanks.
Twinkle: you got time now to call me kunj.
Kunj: what about you I toh call you at least.
Twinkle: just for your work. I call you so many times but you didn't call me back.
Kunj: when you call me you toh went your home even not try to in formed me once.
Twinkle:haww babaji I call you so many times but you didn't pick up my call for this I only calling you kunj.
Kunj:okay fine.Now stay happily and let me too.
Twinkle: acha aesha hai na than toh I'll not come you stay in peace.
Kunj:whatever.
Twinkle:sadu😏😏😏 hate you..
Kunj:same too you. Both started fighting on phone.Than cut the call. She is not here still wanted to fight with me. He take his file and went downstairs without having anything he left for office.
Like this 5 days passed twinkle didn't come back till now kunj somewhere missing her. He was in his cabin.
Kunj:look this girl didn't come back.Never think about her husband.Kunj see Yuvi posted their photos in status they all chilling out.kunjj don't miss her.You have lot work. Kunj got somone call. Hi..
Caller:hi.
Kunj:when you coming back.
Caller:tomorrow at morning.
Kunj:nice.Message me your flight details.
Rudra call Leela.
Rudra: Leela aunty send my bhabhi please. Leela laughing.
Leela:haa you come to take your bhabhi.
Rudra:okay I'll come to take my bhabhi now only.
Leela:okay beta. Twinkle Puttar your lovey rudra coming to take you.
Twinkle: okay MAA.
Malika:Bhaiya se jada toh they were dying 😂😂😂..
Twinkle:don't talk about that sadu.I'll go and get ready twinkle went in her room and busy.
Rudra:dadi I'm going to take bhabhi.
Lata:Arey let her stay na.
Rudra:Leela aunty tell me to come so I'm going.
Aayat:ru bro can I come with you..
Rudra:haa you come with me..
Avantika:look two smallest people of our family Going to bring our bahu back😜.
Rudra:yes mummy your son will not go so I'm going let's go Aayat.They both left for tm.Soon they reached and went inside both run. They went in hall and giving voice to twinkle bhabhi bhabhi. Mahi and Malika come.
Malika:finally bhabhi ke devar come hoo today little nanadh too come..
Leela:good you come sit..
Rudra:where is bhabhi..
Malika:she getting ready for husband after 5 days later she'll meet with her husband ji 😛😂twinkle come down as soon as Aayat and rudra see her get hell happy that written on their faces.Aayat started clapping.
Aayat:Ru see bhabhi come..
Rudra:haa.She come to them.
Twinkle:finally you both come Arey Aayat come I'm so happy.
Hansh:now don't go before dinner.
Aayat:where is naksh??
Mahi:naksh went out of the town with his mamma and Papa. Rt and Kabir too come soon mahi and twinkle busy in dinner preparations. Aayat didn't leave rudra finger.
Mahi:MAA dinner is ready Aayat come to me.
Aayat: no he'll go leave me here.
Kabir:aeshe toh you both fighting like rat and cat.
Rudra:woh toh Humhara style logo hai😂.
They all sit for dinner.Rudra feeding Aayat food all look at this give smile..
Twinkle:whole day both fight. Behind their fight love is there too. They all having their dinner after dinner Twinkle meet with her family.
Rt:take care of yourself and your family too.
Twinkle:yup.I miss you all.,
Aayat:now let's go bhab..
Twinkle:haa Meri MAA.
Aayat: oops..
Rudra: what happened??
Aayat:sasu ☹️☹️😛😛..
Rudra: what.
Aayat: so fast I'll do it here.
Rudra:don't dare to do pidhi wait. Where is washroom.Kabir show him Rudra lift her and went in washroom.They come out of the washroom. Now happy na.
Aayat:haa.. Rudra life Aayat.
Twinkle:bye MAA and Papa.
Kabir: say my hi to my jija ji😂😂😛.
Twinkle:you Itself tell him..they went out side and sit in car drove off..in car.
Rudra:bhabhi you didn't miss us..
Twinkle:yes I miss you all.
Aayat:even I miss you.
Twinkle:aww so cute kissed on her cheeks.
Rudra:now we do fun. At road twinkle and Aayat see ice cream vendor both started jumping to have ice cream.
Twinkle: rudra ice cream..
Aayat: yes I'll have two.
Rudra:don't tell anyone okay they didn't allowed Aayat to have anything road side.
Aayat:haa top secret.Rudra come out of the car and went towards ice cream vendor bring ice creams for them.he give the ice cream sit in car.Both give smile to him.Rudra starts the car again.they both enjoying the ice cream and giving Rudra too bites.Aayat sleep in twinkle arms. They reached Sarna Mansion they come out of the car rudra take Aayat in his arms and they went inside. Everyone done with dinner here already.
Tej:this rudra didn't come back..
Rudra:I'm here.Everyone see them.they went towards everyone.
Lata:finally my bahu come back.How's you.
Twinkle:I'm fine dadi.they sit with everyone.
Avantika:she slept..
Twinkle:yes in car only she sleep..
Avantika:Priyanka take her in room and change her clothes too.
Priyanka:hmm.she take Aayat and went in room make her changed her clothes and lay down her.
Anjali:this two didn't come back till now.
Lata:nowadays don't know when they come and went.Didn't had time to have their meals as well..
Twinkle:so in my absence sadu didn't come at home why let's me find it out. Even naman told me he saw kunj in some hotel what going here let him come.?? And at Taneja Mansion too I'm missing him didn't happy very much why babaji. If sadu didn't around me I didn't feel good what happening this.Sadu didn't care about me why I'll do.. twinkle went in room. She went entered in room get happy to see her real room after so many days..
She went ahead and sit on bed.
Twinkle:so peace sadu must be happy fully.Sleeping on whole bed.Twinkle went towards wardrobe keep it her some things back to wardrobe and look at kunj shirt. She touch.It was same shirt which he wear at manali for party..
At office Kunj sitting in his cabin Rahul went towards him.
Rahul: now leave the work bro let's go.
Kunj:Arey let me finished this.
Rahul:what type of man you are you biwi went and you didn't miss her.Rahul look at Kunj.hmm I know you were missing her.
Kunj:why I'll miss her you tell me.
Rahul:why you not miss her.Usually people miss but I forget your are not normal person na great Kunj Sarna.Take my one advice give time to her like you give other things perfectly.
Kunj: why I'll give her time whatever time we are together she's tarted fighting me one silly things this and that.. ab she went I didn't tell her anything in return she blame me that I didn't call her. As if I'm free her.
Rahul:kunj very wife did this only not only your lovey twinkle.did you think your sister is less when I'm going out for business if I forgot to call her madam next for two days didn't talk to me😛😛.
Kunj:after that she didn't call me even I too.Don't know what she think of herself. Siyappa queen.
Rahul: hehe stop calling her siyappa queen call her with cute names baby sona😜😛😜😝.
Kunj:Bhai I'm fine you used this for my sister. She is already baby if I started her calling by baby she become more baby 😂😂.
Rahul: I'm not saying in that way bachii pyaar se baby.. look at yourself so messy.
Kunj: As if you look like Chris Evans.😂😛.
Rahul: woh tera favourite hai na so you should be like him captain America.. 😜.
Kunj:I'm best as Kunj Sarna.Now help me.
Both get busy in work checking presentations.While twinkle waiting for kunj till now he didn't come back.After sometimes later they both leave the work and left for Sarna Mansion.Directly went in their room kunj see his room lights on but twinkle was not in room she was with rudra and Priyanka other's.Kunj take his night and change it.He Went down he went in kitchen make noddles for himself. Rahul too come both sit together on dinning table both having noodles didn't disturb anyone Priyanka see kunj and Rahul she told Anjali.Twinkle went in kitchen for water.While coming out of the kitchen her eyes went on dinning table see kunj and Rahul sitting having something.
Rudra see twinkle.
Rahul: Arey kunjj Twinkle 😛. Due to this kunj choke so badly. Sorry pani. Twinkle rushed towards him. She fill the water in glass and pass to kunj he raise his face and look at twinkle who standing in front of him.Kunj take the glass and drink water.
Rudra and om come along with Anjali or Priyanka.
Rudra:when you both come ha.. what you having haa Rudra pulled kunj plate. Hmm
Noddles my favourite.Thanks for making.
Kunj still surprised to see twinkle.
Rahul: when you come back twinkle.
Rudra: some bourse before I bring my bhabhi if I wait for Bhaiya than toh she'll come next year. Kunj pass death glares too rudra.
Twinkle:absolutely right but I'm not waiting for anyone.I toh just for you. Saying while looking at kunj.
Anjali: why twinkle we will send kunj na 😛
Om:he too in teasing mood.How he'll go di
In this 5 days hardly we see kunj and Rahul at home.Last night toh they didn't come back home too.
Rahul:bacho first work with your two hitlers than you'll get to know. 😛.
Twinkle:than why don't you both settle down in office that would be more good and easy for you both.Others giggling slightly.
Rahul:na I'm free don't know about your pati dev. Kunj get call he get up and went from there.
Twinkle:saduuuu..
Anjali:what happened.😂😛he did something.
Twinkle:hmmm.
Rahul:don't leave him twinkle just behind him.Don't worry I'm with you.
Anjali:aww Rahul you are with kunj or twinkle.
Twinkle:yes you are only with your bestie.
Twinkle went in her room see kunj busy in phone still she take her clothes and went in washroom but before going give look to kunj.She come out of the washroom. About to go but kunj held her hand.She turned her face towards him and giving him furious look.Which make little Kunj laugh.What??
Kunj:nothing.
Twinkle:than leave my hand.Kunj pulled turned her towards him.
Kunj:what you were saying at down.
Twinkle:True did I take your name.
Kunj:did you think I'm idiot that I'll not understand your direct or Indirect taunts.
Twinkle: if you understand than good for you.
Kunj: how you come back.
Twinkle:Kyu did you have any problems yeah I forgot your peaceful days over na because I'm come back now.
Kunj:when did I said.
Twinkle:you did kunj I'm eating your head.
Kunj: I didn't send you.Itself you went to leave me.
Twinkle:what about you.You went everywhere to leave me haa didn't think about me once I toh went my mother
House.
Kunj:I don't have any problem with this you can go anywhere whoever you wanted.
Twinkle:I don't care Whether you have or not. But I had lot.
Kunj:awesome.You were chilling out there now act like this haa.
Twinkle:I'm chilling out what about you.
Kunj:wait I'll show you.Kunj show twinkle photos which he saved twinkle see the picture she chill  out with her gang. Twinkle look at Kunj face.now what happened toote ud gaye kya..
Twinkle:mere kyu toote ude ge.I did do any crime.She garb kunj collar. Even I have something first you tell me what you doing in hotel.
Kunj:hotel kya baak Rahi hai..
Twinkle: baak nahi Rahi hu I had proof. Too she too show kunj his picture that Naman.
What:so you started spying on me haa.
Twinkle:not actually spying.I toh chilling out with my friends what about you who is this girl with you.
Kunj:why I'll tell you haa. Kunj smirked she is my ex fiancé..😛😛.
Twinkle:what ex fiancé.Now I understand why you feel good I'm not here na because you get time to roam with your ex fiancé. Why you'll care about me. Because yeh toh humari tashan e shadi hai na nothing like shadi..
Kunj:same here even you too don't need to in formed me anything.Because humare beech toh husband and wife jesha kuch nahi hai na.Twinkle leave his collar with jerk.
Twinkle:now stay with your ex fiancé only. Tears formed in her eyes. Raho yeha akele yeha. Twinkle went from there while kunj sit.
Kunj:now see this girl.Didn't accept her mistakes only my. Kunj now what you have done you lied to her what's the need of this to tell her that she is my ex fiancé. Twinkle is only first and last now I'm gone.
Wait she'll come.Kunj arrange the bed and Make the pillow boarders.
Twinkle went in Priyanka room she sit beside her.
Priyanka: bhabhi you here.
Twinkle: haa can I sleep here.
Priyanka: haa but why..
Twinkle: aeshe hi.
Priyanka:okay.Priyanka and twinkle lay down while twinkle seeing kunj photo In her phone.
Twinkle:look at this girl she don't have shame on herself. Kunj check the time.
Kunj: where she went didn't come back let me see before siyappa queen did any siyappa. Kunj went to see her. He check everywhere she is not in rudra room. Rudra and om sleeping. She is not here. Kunj went from there he was passing from Priyanka room her room door was open kunj going but stop and reversed it. And see twinkle sleeping beside Priyanka.
Uff this girl na just wanted I'll scold by my father.Now look at her sleeping here.
Kunj went inside near twinkle see she sleeping. Little tears stuck on cover of her eyes. He sit on his knees Kunj you did bad in mazak she take it in serious way. Now my wifey lets go and sleep on your correct way.Kunj lift her carefully. He went from there while going upstairs Twinkle wake up and found herself in kunj Arms.
Twinkle: what is this. Leave me.
Kunj: you become Moti twinkle in this 5 days how much you eat there.
Twinkle: leave me kunj. She struggling to come down.
Kunj: I'll leave you let me go in room. They went in their room from back kunj closed the door. Now you can sleep here.
Twinkle:I don't know wanted to sleep here and with you. I'll disturb you na. Kunj put her down on bed.
Kunj:Twinkle I didn't mean it. Just kidding with you. Now chal give twinkle smile.
Twinkle: ahaha sarcastically.. kidding what about that Dayaan..
Kunj:what Dayaan. Kunj hold her. Twinkle push kunj.
Twinkle: chalak badtameez lomdi.,
Kunj: by the way what's a lomi?? Twinkle look at Kunj In wired way.(funny tune play in BG)…nahi pata mujhe.
Twinkle: lomdi Matlab fox..jo ki tum ho very cleaver what did you said dadi I didn't call you haa..
Kunj: it's true na.. oyee Hindi ki dictionary
Twinkle: you chalak bhediya I'll never forget.
Kunj: good don't forget na and by the way yeh bhediya kya hai..
Twinkle:tummmmm bhediya ho.. and your hind is so Tribble..
Kunj: my Hindi is best and perfect. I'm not like you 24 hours animal planet nahi laga ke deta hu..i am not interested in animals like you if I saw than you'll come in that.
Twinkle:you calling me animal haa.has that girl is animal who was with you. Your fiancé is lomdi😏😏.. Kunj laughing out.
Kunj:epic😝😝😝.My fiancé is lomdi.. than it's only you..
Twinkle: I'm not. Kunj pulled her toward him she landed on his chest,.
Kunj: it's only my wifey. I don't know you were interested in animals should I take you zoo you were Missing your partner's.
Twinkle: I'll not leave you sadu today. Twinkle started hitting him with his hands. Kunj held her both hands.
Kunj:stop these bangles huhu lagti hai innki.
Twinkle: I'll break you neck.
Kunj: what problem you have told me clearly.
Twinkle: what you were doing with this lomdi…
Kunj: Twinkle yaar she is not ex fiancé. She is just a business client mother of 3 kids what you were thinking haa. You are only the one not ex at all..
Twinkle: acha I'm looking idiot.
Kunj:swear of you.Twinkle look at him.
I'll not take your fake swear didn't you trust on me..
Twinkle:hmm. But still..
Kunj: okay I'll call her and you can ask her Itself your doubt will be clear. He about to call her twinkle snatch the phone.
Twinkle: I didn't mean like this I trust you more than myself. It's just you didn't care about me so I..
Kunj:spying at me really twinkle he went in balcony.
Twinkle:offo twinkle what is this you make him angry now.Now what I'll do. Idea she give smile went downstairs Make coffee for him.And come back with coffee went in balcony stand beside kunj.forward coffee mug to him kunj see and turned his gaze.
Twinkle:kunjjjj.: it's really wrong.I'm your wife I should know where is my husband going?? Kunj look at her with corner of his eyes:.
Kunj:if this is important even this all i too know where is my wife..I come to know when I come home..it's not your duty to in formed me I'm your husband.
Twinkle:kunjjj dadi told me to in formed you I try to call you so many time but you didn't receive my calls.Than I thought if you free you'll call me.Tears brimming from twinkle eyes..
Kunj:I'm not angry with you because of this.
Twinkle:okay I'm useless.She turned her face.Kunj look at her. He Went near her back seemed like as if he backhugging him.His hand went near twinkle face from back only.Wiped her tears twinkle jerk his hands kunj smile. Twinkle turned and look at Kunj with red eyes kunj going near her while twinkle taking step in backwards.
She stop due to wall now there is no way to go.Kunj pulled his one hand on wall.
Kunj:my lomdi didn't look good while crying this red nose and tomato cheeks Kunj twist her nose slightly and pulled her cheeks.
Twinkle: lomdi don't come closer to me kunj laughing.
Kunj:why my siyappa lomdi😛😛..
Twinkle:now I'll never ever talk to you.
Kunj:Acha. Why without reason we both fighting on silly reasons I'm so sorry from my side I reacted too much.
Twinkle: good.
Kunj: what good even you too apologize.
Twinkle:never ever. She about to go kunj with full force pulled her.Their face is very near kunj and twinkle nose touching each other nose.. (think) why this butterflies fly in my stomach. Both look at each other face lost in each other eyes. (Sajna na play in BG)❤️❤️❤️❤️❤️❤️❤️❤️❤️❤️..
Kunj: twinkle don't apply this much kajal when you cry this all smudge it and you look real ghost😂😂. Twinkle push him.
Twinkle:you are so bad.. she went inside while kunj went in room with his coffee kunj sit on his side of bed even twinkle too. Kunj see teddy bear..
Kunj: from where is big teddy bear come Aayat didn't have.
Twinkle: this is my cutie pie.. she cuddles the teddy bear.
Kunj: what twinkle Till now I'm thinking you are bachi but today it's proof. Teddy bear seriously.
Twinkle:whatever.. my baby he is better than you.My softy.Kunj smiling at her. Drink his coffee both lay down.Kunj pulled the teddy bear.kunjj don't disturb us.
Kunj:when you went there why not you leave this chuda there only doing noise whole night.
Twinkle:nonsense talks of yours. Let me sleep.. they both sleep..
At early morning kunj phone keep ringing.
Kunj sleep disturb he take the phone and see give smile.Talk to her. Okay I'm coming.Kunj take his car key and went downstairs left for airport.He reached the airport waiting for someone. After sometimes later everyone wake up at Sarna Mansion. Twinkle wake up open her eyes didn't found kunj.
Twinkle: where is this kunj wait so early maybe for jogging. She get up went in balcony to check him she see but kunj was not in garden. She take her clothes and went washroom get freshen up quickly. After get ready and went downstairs went in kitchen preparing breakfast along with chef.. still kunj didn't come he get irritated with this.
Kunj: still he didn't come back. Just than someone come and wavy to kunj .he see her and give bright smile.. Kunj went near her.
Girl: sorry sorry. Due to this luggage I'm late.
Kunj: it's okay how's you..
Girl:I'm fully fine BRO.. hugged him. I'm missing my family like anything.
Kunj: we all missing you dear now let's go give them surprise.
Girl: yup.. they both sit in car and left Sarna Mansion. While everyone come for breakfast.
Lata: kunj didn't come twinkle.
Twinkle:don't know Dadi where he went so early.They reached come out of the car both went inside everyone busy in breakfast.She see them.loudly hi everyone.all turned and look at her get surprised to see her.Kunj too come while holding bag in his hand. They all get up from sits and went to her.
Lata: Arey waha..
Tej:finally you come back. Tej open his arms for her she run and hugged him tightly.While twinkle get confused to see her. I miss you bacha,
Girl:even I too miss you babe papa. Tej cupped her face tears escaping from her eyes he wiped her tears.
Tej:this tears doesn't suits on my daughter eyes.. he kissed on her forehead how's you.
Girl:I'm fine I had something for you.
She went to kunj take the bag and removed something and show tej.Went near him put in his hands see I fulfilled.
I'm pass with great numbers this best psychologist student of the year award and medal I got.Tej see and get so happy.
She make him wear medal.my real hero and my support system..
Tej:this you deserve and your hard work reached you here.. I'm proud of you Avni.
You are the best.. that your proved it. But we don't know you are coming.
Avni: yes I wanted to give you surprised. After 4 years I'm meeting with you all. Just hardly we meet.
Tej:that you know the reason behind this.
This little separation make you this my girl.
Avni:I know and I'm happy too.
Manohar: surprise is awesome beta.
Avni:Arey Chote papa. Let's meet with everyone.. first she went to Lata and Prithviraj took their blessing and hugged them.
Prithviraj:finally you come back.
Lata:yes my bacha become so big.
Avantika:we all miss you beta.she hugged Avantika and Usha..
Avni:I' too miss my both mothers.. Rudra and om come to her.
Rudra:HI..
Avni:rudu aww.. she pulled his cheeks.
Om:happy to see you..
Avni:haa Anjali and Rahul went to her. Avni turned and look at rahul didn't wait and hug them..
Rahul:avniiiii..
Avni:bhaiyu.😍😍… Anjali and Rahul cupped Avni face.
Anjali:we are so happy to see you here best surprise ever.
Rahul:yes finally Our Brainiac come. All laugh out.
Avni:what about you 😛😛..
Rahul:kunj you didn't in formed us..
Kunj:than no more surprise.
Avni:yes kunj bro.They all kids share group hug.
( so guys Avni Malhotra is Rahul younger sister who just complete her psychology Studies in San Francisco.).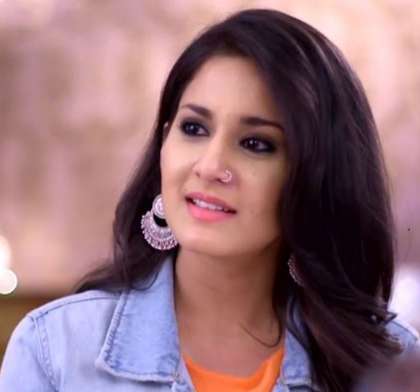 Twinkle looking at them.
Lata:Arey Avni you come back..now meet with someone really special. Avni look at lata.
Avni:who?? Tej and Avantika bring twinkle holding her from shoulders..
Tej:she is twinkle our babu. Kunj wife.
Avni: hoo I toh totally forgot about her. Hi twinkle.
Twinkle:HI..both shake hands.
Episode freezes on their faces..
_____________________________________________
Hi my lovey reader Muhammad Murtajiz 
I post this episode for you specially..
May Allah bless you with everlasting love happiness and togetherness!
nikah Mubarak my friend. You have started a new life this is totally a new phase of your life stay honest always allah will help you in every step! Allhumduliha🙏🙏🙏🙏🙏🙏🙏 
_____________________________________________
Hi guys yaar what is this I mean I don't want my readers beg In front of me . 
I just wanted comments because if you all not comment than how I'll know about story whether I'm doing good or bad..  
your one words is enough for me to show that I'm going well..your emoji is fine for me.. so now you all know better than me when I have time for ff so you all have too take out time for comment.😛😛.. 
That's it guys numbers of comments not matter but your good words matter lot for me….  thanks that I can say.. 😍😍😍.. 
____________________________________________
How was the episode??
no proof reading firstly😛😛😛😛😛
Hope you all like avni..
Give your reviews if you all free..🙂🙂🙂..
Bye love you all..