RAB SE SONA ISHQ: TWINJ- EPISODE 29, 30 Manali special🤗
Episode 29,30
❤️❤️❤️❤️❤️❤️❤️❤️❤️❤️❤️❤️❤️❤️❤️❤️❤️❤️❤️❤️❤️❤️❤️❤️❤️❤️❤️❤️❤️❤️❤️❤️
Started from morning everyone was sitting for breakfast while twinkle and Anjali busy in kitchen today they both make breakfast with the help of servants all just waiting for them rudra and Aayat playing with spoons.
Rudra:aap dono ki biwiya kab breakfast leke aayegi he said while looking at Kunj and Rahul..
Aayat:yes DIiii bhabhi I'm starving.
Om:it's seemed like they were cooking Birbal ki khichdi 😂😂😂😂.. everyone laughs out.just than they both come out of the kitchen.
Rahul:finally you both come guys we are sitting for breakfast here not for lunch..
Anjali:haa so what. They both keep everything on table..
Tej: smell yummy. They both served everyone they have and praising the food.
Prithviraj:nice..
Twinkle:this all di make.I was just helping her..
Anjali:no we both together they too sit beside their husband.
Tej: kunj I talk with our clients so you should leave for manali today only.
Kunj:okay pa I'll.
Rudra: Bhaiya you going again leave us 😭😭..
Tej: MAA and Papa me and avantika decided that twinkle too go with kunj.
Lata:good tej.
Rahul:hoo😜😜mini honeymoon he whispered in kunj ears.I thought you'll take her Europe 😜😜but never mind abhi ke liye manali bhi chalega cold chilled 😛😛..
Usha:Twinkle beta you go and enjoy okay. This our Kunj is just workaholics don't wait for him you toh enjoy..
Avantika:yes after meeting kunj don't sit please.
Kunj:first let me go than I'll see after my work process. All hold their heads nothing can't happen..
Rudra:bhabhi should I and O give you company we didn't let you bored.
Twinkle:great I don't mind😛😂😂.
Rudra:But Bhaiya will be can't say..
Rahul:yeah he thought they all already stick with his wife whole day now here too this two Fevicol come 😂😂😂😂..
Rudra:we're not Fevicol jaha Bhaiya waha humdono kyu ki Hum Bhai hai.three bodies but one soul😍😍😍😍😍..
Kunj:hawww aaj suraj kaha se nikhala hai😛…
Tej:rudra I'm thinking why don't you too go
San Francisco.. he press his laughs..
Manohar:yeah there education level is very high. 😛😛..
Rudra:I don't wanted to go anywhere. I went many time there you know Bhaiya we all siblings went San Francisco..
Kunj:hmmm..
Aayat:even me too..??
Anjali: yes even you too after so much request bade Papa and bade MAA send her with us that time she is just 3 years old na.
Twinkle: how you all handle her.
Rudra:Arey that time little bit easy to handle her after she started talking now can't just eat our heads.
Kunj:acha even you too come in her company she talk less than you rudra ji😛.
Rudra:you know what Bhaiya you Itself talk less so you find everyone very much.
Rahul:thats hell true.They done with breakfast.Kunj went in his room arranging his office bag there twinkle come and see him who was busy in his work.she take his blazer Kunj get up and look at her.
Kunj:thanks he take his blazer. Bye.
Twinkle: bye..
Kunj:I'll tell you our flight time till then please you should complete your packing at last moment I don't want anything afterwards don't blame me.
Twinkle:haa bas sadu I know.he went from there.They went office while others busy in work. All family members sitting expect twinkle she was in her room busy in their packing.
Avantika:om.. you plan their holiday nicely. Don't think kunj will do anything.
Om:yeah badi MAA I'll see.. om call kunj pa and asked her about their flight time and tell her he'll see Their hotel.He searching hotels for them.
Anjali:this one great om..
Om:di this is honeymoon suite.
Avantika:so what.. even they didn't went for their honeymoon we'll send them afterwards now you booked honeymoon suite for them only and other things too.
Om:yup I'll..
already they all planned each and everything nice candle night dinner. Other things for their outing.. so they can enjoy.
At Taneja [email protected]@
Malika was sitting Leela bring milk for her she making faces..
Leela: don't make these faces beta have your milk.. you know na doctor tell you are weak..
Malika: MAA I'm absolutely fine. Just one day went you all got to know about this news from now you all crazy. Bebe come.
Bebe:yes why not our great grand child growing in your womb.. you give us best gift Malika puttar.. I don't know mera Kabir make me par dadi so soon😜😜😂. She blushed..
Malika:kya aap bhi.. Bebe.Malika drink
Milk at last.. Kabir come he take half day from office because to take Malika for routine checkups.
Kabir: baby you still didn't get ready she gestured him Bebe and MAA is here only Kabir see them and.Give sheepishly smile.
He went and sit beside Bebe.
Bebe:aur khote da puttar.
Kabir: Arey Bebe I come just because of your nuh.. I take her appointment.
Bebe: haa take her drive slowly..
Leela: yes Malika puttar you go with Kabir okay..
Malika: okay MAA. Soon they both left for hospital in car Kabir holding Malika hand. You know what Kabir Bebe too tease me..
Kabir:why.??
Malika: for baby so soon😛.
Kabir:so what don't you heard kal kare so aaj kar aaj kare so abhi😂😂😘.. baby toh hona hi ta why not now only😛😛.
Malika:hutt shameless.. soon they reached hospital Kabir take her inside carefully.They sit for sometimes soon their turn come doctor call them they went inside and doctor examined and prescribe her some vitamins medicine take on time. Nothing is serious. Happly they went to malika house to give them this beautiful news. As soon as sapna Malika father get to know they too on nine clouds.
Sapna: awww Malika soon I'll become nani😘😘😘..
Vishal:True me too Nanu. He cupped her face already you are our one child. So happy.They spend sometime together sapna make all her favourite dishes and feed her daughter.
Kunj working in his cabin hell frustrate no one did their work perfectly. Just than Sara come there.
Sara: sir your and mam manali tickles.
Kunj:good what time..
Sara: sir 7clock.Kunj check the time.still they have much time.he and Sara and sit cross checking all files before submitting to tej..
Twinkle come down and see everyone busy in something.
Twinkle: what's going on..??
Lata: nothing beta come sit your packing done..
Twinkle:yes almost.Just kunj don't know what he wanted so.I take out when he'll come ask him and just filled in bag.
Avantika: haa.. anjali take Twinkle with her.
Anjali: don't packed this Indian dress okay.
Twinkle:why. There already so much cold now.
Anjali: you are going with your husband don't worry about cold😜😛.Twink Twinkle 
twinkle understand in what way she telling her..
Twinkle:you were saying jiju is frivolous what about you..
Anjali:yes we are.Okay its need.for my bhabhi and Bhai. After all went out.
Twinkle: di he was going for his business deal..
Anjali: haa so what. You make it special Kunj is budu.
Twinkle:you know him better than me😂.
Anjali: na you mera toh Bhai hai husband tum hara hai they both burst out in laughs.
Like this whole day has been passed kunj didn't see the time because he fully busy in his work tej and Manohar along with Rahul come back home but kunj still not.
Lata:Tej where is kunj he don't wanna go manali.. tej see the time it's already 6 clock.
Tej:yeah MAA let me see. He called him kunj pick up his call..
Kunj: yes sir..
Tej: where are you kunj.. you don't have time come back home..
Kunj:yeah I'll come soon.Hang up the call.
Soon kunj come back he realised they already get late.
Usha: finally you come now go and get ready.
Kunj: haa where is twinkle..
Avantika: she is in room only go fast.. he went upstairs goes in their room and see twinkle getting ready.
Kunj: still you didn't get ready man..
Twinkle: I'm almost looked at yourself kunj.
Kunj:don't know what you were doing it whole day.He went in washroom In frustrating way.Twinkle get ready kunj come out twinkle give him his clothes he too get ready..
Twinkle:now you tell me which clothes you wanted kunj see his packing still left.
Kunj: in angry way. What is this twinkle why till now my clothes aren't packed.
Twinkle: Kunj I don't know what you wanted.
Kunj:really whichever you wanted just packed it fast we don't have time.What is this girl whole day you just passing time haa.
Twinkle:why you getting angry at me. Itself you come late now blaming on me.
Even twinkle too get angry now she packed his clothes.Kunj can see her mood is off now because of him only.
Kunj:I'm going down come okay.he went down while twinkle didn't reply.Twinkle once again check did she packed Kunj all necessary things if her things is left it's okay but not his already he is so angry.. she take his medicine it's really important.
Servant come and take their luggage down while twinkle too went downstairs everyone too there..
Prithviraj:now go and enjoy you got this deal too.
Tej:yes.. they both take their blessing.
Avantika: she caress twinkle face. Enjoy okay don't tease my daughter Kunj give her time if he not twinkle just call me once.
Lata: right and you should talk to your family in formed them. Rahul went near kunj ears..
Rahul:now this time don't leave any single chance Bhai..deal aati rahagi But this not😛😂you have golden chance don't let go wasted.. kunj see him give death glares.
Rudra:yes bhabhi and Bhaiya go now please..
Kunj: bye let's go we are late already..
Lata:haa go.. before going kunj hug his brother missing Aayat and Priyanka they went out.. they both wavy to them.They went outside car waiting for them.Twinkle didn't say anything just sits Kunj come sit beside her they drop off for airport twinkle call her mother and talk to her tell her about they going manali.even she too get so happy. Kunj was busy on phone. Twinkle see him..
Twinkle:think:see this sadu just put all blame on me huhu I'll not talk to him now. She rest her head on window looking outside kunj end the call and look at her and understand she is still muffled with him.They didn't talk to each other's soon they reached airport come out of the car and take their luggage went inside they complete their security checking process.
Kunj:see we come on time..
Twinkle:what can I do.You go Itself na. Already you don't wanted to go..
Kunj:now don't start here it's airport not our room.Twinkle turned and about to go kunj held her hand she try to come out of his grip but he holding her hand tightly now let's go Mrs twinkle Kunj Sarna.They went inside the aircraft. Twinkle take her seat someone sitting beside twinkle it's a boy Kunj take his seat which in opposite line.Twinkle smirked look at boy who already looking at her..
Boy: hi..
Twinkle:hii..
Boy: I'm Karan..
Twinkle: I'm twinkle..
Boy: nice name he look at her chuda. Newly wedded hmm.. so are you going for honeymoon to manali..
Twinkle:not actually. My husband had work so.
Boy: your husband didn't come..
Twinkle: he is she gestured him to kunj he see kunj..
Karan: you are very beautiful kunj can listen because his seat is just near him. just step gap between them..
Twinkle: thanks for your compliment even your are not less.. they both talking with each other's and laughing too. Which Kunj can see and burning hell.
Kunj:murmured look at this siyappa Queen how happily she was getting friendly with this stranger man.They both did hifi when karna pass the jokes. Huhu how dare he talk to my wife. She come with me. Twinkle see kunj face expression with her corner of her eyes and get so happy kunj really looking funny😂😂😂..
Twinkle:you are so cute Karan.
Karan:even you are too she pulled twinkle cheeks this even she too didn't expect this. Now Kunj like volcano 😂😂.
Twinkle:Karan hmm..
Karan:Arey I did wrong you should meet me before your marriage I'll marry you immediately. it's enough for kunj he get up. Went to them..
Kunj: hi..
Karan:hi twinkle turned her face and giggles.
Kunj: if you don't mind can I sit on your seat with my wife..if you don't mind
Karan:yeah yeah sure.they both exchanged their seats.Kunj sit beside twinkle and look at her.
Kunj: now what happened uske saath toh you were talking so nicely.. haa..
Twinkle: yes I. Did you have any problems. He is not sadu likes you.who scold me without any reason.
Kunj:acha ji.what you were doing getting friendly with other boy in front of your husband.
Twinkle:yup I'll.
Kunj: what type of girl you Are impossible man.
Twinkle: haww now you sit here alone I'm going. Twinkle get up while kunj pulled her make her sit again.
Kunj:where are you going siyappa queen don't do any drama.. in front of public.
Twinkle:I'm doing drama really kunj she had tears in her eyes.Okay it's my mistake I come with you.she turned her face and sit quietly Kunj looking her. Kunj hold her hand she jerk it. he smiled.
Kunj:uff angry bird..Kunj closed his eyes and resting his head on seat.Just than he felt something on his shoulder open his eyes and see twinkle resting her head on kunj shoulder Kunj see and give smile her  hairs coming on her face kunj tucked her hairs behind her ear.He too closed his eyes after sometimes later. Finally they reached manali airport.Due to sound Kunj and twinkle wake up at the same time and look at each other.Twinkle sit properly and tucked her hairs.
Kunj: let's go.. they all come out of the aircraft kunj taking their luggage. Their luggage too come they about to going there Karan come and see twinkle.
Karan: okay twinkle bye see you soon hopefully.
Twinkle: yeah sure bye.Kunj see this. Gritting his teeth's at him.
Kunj: shall we go???
Twinkle: hmm..
Kunj:just smile for this karan and But for me this annoying look.. they went out of the airport as soon as they come outside see the weather was so cold and beautiful place.Twinkle feeling cold because she wearing sleeveless dress.. car already waiting for them. Twinkle come driver put the luggage in dicky and they both sits.. and left for hotel.. twinkle just admiring the beauty of this beautiful place. Mountains everywhere and making this place more beautiful tree covered with snow Kunj can see the happiness of twinkle face. In few time they reached their hotel finally. They come out and see it's a 5 star hotel. Marvellous hotel.. servant come and take their luggage ahead Twinkle and Kunj went to reception. Asked receptionist for their room key..
Kunj: hi I'm Kunj Sarna I book room here.
Receptionist: let me check sir. She check.
Yes Kunj Sarna honeymoon suite booked for you. She give him key while kunj get surprised who booked honeymoon suits.
Kunj: But I didn't booked honeymoon.
Receptionist: sir honeymoon suits only booked from your name.
Kunj: okay can you give me another room.
Receptionist: sir we don't have any extra rooms so.. sorry for inconvenient.
Kunj: it's okay thanks. They went towards their room kunj open the room door servant keep their luggage and went. As soon as they entered inside and see the room condition it's fully decorated in honeymoon style..
Twinkle: what is this??
Kunj: even I'm not getting who booked this honeymoon suite..Kunj closed the door twinkle sit and take deep breaths and look at the room it's a master bedroom she went near windows and open the curtains and see mountains and sea view coming from her room.
Twinkle:best view😘😘whoever booked I'm loving it after see twinkle Kunj too get happy at least she is happy. Kunj removed his shoes and removed the flowers and in the shape of with two swans made of towel kissing each other.Kunj giggles slightly to see this twinkle turned and look at Kunj even she too.Kunj lay down relax himself. Twinkle take out her clothes and went in washroom while kunj get up and call Prithviraj he in formed his family they reached safely.. and asked who booked honeymoon suite for them. He already understands his family behind this..
Lata: i did now you have any problems haa.
Kunj:dadi aap bhi na..
Lata: okay bye take care of you and my bahu..
Kunj:okay he end the call. Again jumped on the bed.Here their bahu become angry bird.Just than twinkle come out of the washroom wear normal comfortable clothes. Kunj see her. Finally you come give me my clothes too.
Twinkle: take itself I'm not your servant.
Kunj:okay.I have hands he take his clothes and went in washroom while twinkle making angry and wild faces at Kunj.She sits Kunj come out after get freshen up.He call and Oder coffee for them.He sit beside twinkle and look at her.Who making her mood off so much now he don't know what to do.twinkle??
She didn't respond back to him..
You should talk to everyone at home.
Twinkle:hmm.She take her phone and call
To avantika.. she immediately picked her call. Hello mummy..
Avantika: hi beta how's you..
Twinkle: I'm fine.. Rudra take the phone.
Rudra: Arey bhabhi I'm missing you already.
Twinkle: same even I too Missing you all getting bored here don't know why I come here with this man mere hi dimaag phar patthar gir gaya ta so I get ready to come here. Kunj Listen each and everything.
Rudra:hehe bhabhi so soon you get bored with Bhaiya I know this quite expectable from Bhaiya.Kunj snatch the phone from twinkle hand..
Kunj:what did you said as soon as rudra heard Kunj voice he get shocked.He stuck in deep Trouble..
Rudra: Bhaiya woh I didn't said anything he cut the call and while kunj keep saying hello hello he check see he cut the call.
Kunj give phone back to twinkle.
Twinkle:why you showing you anger to each and everyone haa sadu what did you think great anger hitler haa.Just than room service come kunj get up and went open the door take the coffees and back to twinkle he offer her coffee she deny taking  kunj keep it on table twinkle take went in balcony it's a huge balcony very much free space you can sit there take the view of this beautiful place. She sit and enjoying her hot coffee in this chilled.
Kunj see her she didn't take any warm clothes he see her shawl keeping on bed he take and went near her twinkle back facing to him.Kunj warp the shawl from back only twinkle see she turned find kunj standing behind her than she look at shawl..
Kunj:you'll get ill..
Twinkle: I know I can take care of myself you don't have any  need to be bother for me.
You look at yourself na what about you if you get Ill..
Kunj: he smiled slightly twinkle I'm used too since birth I'm saying in this climate if you know. It's difficult for you not me I can't stay in heat but here I can I'm happy to come here.. better than Amritsar heat.
Twinkle:don't take my Amritsar name my place is the best better than your London itna hi thand pasand hai why not you sit in freezer 😛😂😂..
Kunj:you are mad now come let's go down have our dinner it's already too late..
Twinkle:you go have your dinner alone.. she went in room while kunj ruffles his hairs.
Kunj:kunj you tease wrong person now you have to pleased her too much let's go before she complained to my family they all burst out at me.. he went in room and see twinkle he went near.Twinkleee I'm sorry why you are so angry with me. I know I shouldn't have shouted at you but what can I do I'm very particular about my time. Twinkle see him.
Twinkle: acha what i have done kunj without any reason you scold me.. tears escaping from her eyes that Kunj never expect his small chides make her cry.
I was just thinking if you didn't like anything I don't know perfectly what you wanted so I just wait for you that you'll come tell me so I can packed your clothes but not you just shower your anger at me you come late it's your mistake not mine. Kunj come near her hold her hand.
Kunj:okay baba I'm sorry I shouldn't scold you sorry. Twinkle started hitting on his chest while he smiling.
Twinkle:you are bad.. Kunj hold his ears.
Kunj:see I never did this just for you I did.
Twinkle:haa so what.. tumhara ego ghas gaya kya..
Kunj:sorry in very cute way twinkle look at his face and melted by his cuteness she give smile.
Twinkle:it's okay from next time don't be.
What type of husband babaji gives me.
Kunj:you should understand and remember your husband is like this only.
Twinkle:sadu that I get to know when I met you first time.. Kunj wiped her tears.
Kunj:again sorry I made you cry.. what to do I'm like this only.
Twinkle: change your style you have very sensitive wife😛😂..
Kunj:that's true sensitive+drama= melodramatic 😛😛😜.. Kunj giggles twinkle make face at him.
Twinkle:sadu..
Kunj: now let's go for dinner.
Twinkle:wait.. Kunj sit twinkle went to dressing table did her light make up.
Kunj:now don't take hours twinkle.
Twinkle: haa let's go.. Kunj turned and see her today she get ready in few seconds.
Kunj:woh babaji what magic have you done at her I mean she get ready in 5 minuets he went near her face touch her face with his finger today you didn't applied trillion layers of makeup..
Twinkle:kuch bhi I'm naturally beautiful. Now let's go fast I'm so hungry. They lock the room and went down in restaurant they went take their seats and waiter come and give menu card twinkle finding what she oder. Kunj what you wanted??
Kunj: whatever you wanna have.
Twinkle:acha you become extra sweet with me bana bhi achai hai after what you have done.
Kunj: hmm.. twinkle give oder.twinkle seeing everywhere almost here couples come they holding each other face showing their love each other's.
Twinkle: Kunj this place is so beautiful na.
Kunj: hmm I never thought even in India also.
Twinkle: Mr husband ji you didn't see our India..
Kunj: right. Now with you I'll see..
Twinkle: I'll not take you.
Kunj: acha without me I'll let you go😜.?
Twinkle: why not I'll go..
Kunj:than I'll see.How you'll go without me.
Twinkle:acha ji she laugh out sarcastically.
I had my two little and cute devars don't need of you get it.
Kunj:haww you were flying very high because of them don't worry twinkle without my permission they didn't take one step ahead.
Twinkle:you know what you just wanted on control us..
Kunj:whatever chatterbox.And you tell me what's going on in fight..
Twinkle:nothing did you see anything haa in very innocent way.. Karan is so cute kunj he give me his number.
Kunj:hoo you were very fast just in 10 minuets you take his numbers at my time after engagement you didn't have my number look at her babaji..
Twinkle:resting her both hands elbow on table.Because kunj he is sweet gentle man not like you as I told you before only. He give me so many compliments I'm so beautiful if he met me before my marriage he'll surely get marry to me.Kunj really clenched on karan. Because even he too heard that line.. twinkle sense kunj jealousy which appears on his face fully that she enjoys lot. So think let him teased more.. even I'm too thinking.
Kunj:in irritating way.very soon you think about this should i call him and tell him please karan Bhaiya marry to my wife.He just can think in his dreams you are my wife get it.Jiss ko jo karna ta they can do anything before me now can't. It's best even you too stop let others too. Twinkle bite her finger.
Twinkle: jealous uff by the way you looking cute in jealousy..
Kunj:hehe I'm or jealous never.Kunj Sarna can't because what is mine it'll remain mine no one can't even dare to think to get my things.I'm very passive about my family. Kunj see twinkle phone he take it.
Twinkle: what are you doing haa its bad manners to check girl phones.
Kunj: you're not girl but my wife let me too see his numbers.
Twinkle: Kunj I'm just joking why I'll take his number I don't know him. Just normal conversation we had..
Kunj: what about that he pulled your cheeks.
Twinkle: that I don't know I'm too surprised when he did.
Kunj: surprise haa bada  aise hash ke baate karne wali siyappa queen.
Twinkle: stop calling me siyappa queen at least out side..
Kunj:hoo you are siyappa queen soon their. Food comes.
Twinkle:now stop let me have my food peacefully.
Kunj:first sealed your Amritsar express mouth😛😛😛.. jiss ka koi station nahi none stops.
Twinkle:you wait I'll not leave you in room.
They both having their dinner nicely.After dinner they went outside and see people's sitting in lawn borfire enjoying the weather.
Kunj: let's have a walk.
Twinkle: good idea better than to listen your bak bak.. they both walking around all Hotel. Twinkle feeling really cold she rubbing her hands her lips become grey. Kunj see this.
Kunj: why not you wear your warm clothes haa.
Twinkle: I really don't know this much cold hhehehe she shivered. Kunj removed his blazer and give to her. It's okay kunj.
Kunj: wear if you get Ill 🤒 where I'll take you and roam in this unknown city even I had work.
Twinkle: so mean.. she wear the blazer.. they walking twinkle see in side some man's drinking doing drama she held kunj hand tightly went near him.Kunj too her hand back they walking together while twinkle resting her head on his shoulder.
Kunj when your meeting will be..
Kunj: my introduction meeting tomorrow till afternoon I'm free after that I have to go and meet with Clients once before meeting than next day meeting hope our company get this project.
Twinkle:yes you'll crack the deal.. what about me I'll get bored here.
Kunj: why you can do your favourite time pass no one will disturb you..
Twinkle: she didn't understand what I didn't understand.
Kunj: he knows 😛😛😝😝sona twinkle Sarna your beauty sleep too wanted when twinkle will sleep peacefully jab se shadi hui hai she didn't giving me time. That's bad na twinkle you should 😂😂😜😜. Twinkle look at him make faces and smash his arms. Ouch siyappa Queen you hitting me lot today.
Twinkle:yes because tum kaam hi maar khane ke jeshe kar rahe ho… Kunj now let's go na I'm so tired.
Kunj:ho finally Teri behan ne tujhe ring kar hi di.. twinkle come come let's sleep.
Twinkle: sadiyaal Sarna.. pata nahi kaha beta ta Meri kismat me huhu..
Kunj:same London se shida Amritsar me patak diya mujhe.Queen of siyappas. Chal.They went in their room as soon as they entered in room Twinkle jumped on bed. Kunj too sit beside her. Now at least give my night dress for that also I'll call karan..
Twinkle:jada mat bolo.. twinkle get up give him his night dress while she went washroom change and come out kunj see she fully covered in warm clothes wearing shoes but looking hell cute like a little doll. Kunj see her laughing.
Kunj:Arey Meri warm clothes ki dukaan.
Twinkle: haa bol lo you wouldn't feel cold but I'm hell.
Kunj:okay it's fine.. between looking cute. Both lay down but didn't forget to make pillow borders. Twinkle covered herself with duvet Kunj laughing. He watch her. Okay good night.
Twinkle:haa goodnight.Kunj switch off the lights.They both sleep immediately.
Next [email protected] everyone was missing kunj and twinkle while avantika and tej get happy they spend sometime together away from everyone good for their relationship. They both sitting in their room at Amritsar heavy rain going on.
Tej: you did right avantika we talk to them and make them  at least understand what mistakes they were going to do..?
Avantika:yes tej even I was too shocked when I saw them. It's not like that I have problems it's their personal matter husband and wife knows better than others! But we know our Kunj. If Twinkle will take one step ahead he'll take two step in backwards don't know why he is like this. He and om or Rahul grown up together they both so different from him.
Tej: hehe today you were saying this when I told you were the one who said your son is the unique and best.
Avantika:still I'm same but I thought at least after marriage he'll change in front of his wife open up for her but not at all.
But still he is same can't happen to him.
All shyness babaji give him only little give rudra he needs more than him.
Tej: rudra let his result come I'll show him stars in day..
Avantika:I don't know if I speak between you and your son in that end you'll just come to me. I don't think so he'll failed.
Tej:don't know why kunj saving him avantika he'll not do anything he using money like a water that also we let him do.
See I send Rahul and Kunj om come back in middle see today where kunj and Rahul stand all multi international companies they get ready to give kunj and Rahul jobs if they both didn't work in our company still they went so high. I see dream for both Kunj and om but he choose his future in these things that also good in this also he get success. But Rudra you know it's so difficult.
Avantika:haa you were right at your place but tej what we can do rahul and Kunj had interest in studies itself they wanted to become Rudra you know he just completing his studies just because of you and Kunj fear. How nicely daddy ji handle Kunj and om or Rahul. Just this rudra and Aayat left.
Tej:my Aayat went to further than this all.
Avantika: Till than you'll get old😛😛😝.
Tej: why I'll.
Avantika: nobody digest when they see me that I have so big kids they only tell I'm just Aayat mother. But you look like..
Tej:I'm proud of myself. They both laughing there Manohar and Usha come and joint them while all others sitting with their dadu and dadi.. in kunj absence Rudra teasing Aayat and Priyanka now it's golden chance for him.
At [email protected] hotel twinj [email protected]@@@
Twinkle and Kunj sleeping nicely while twinkle taking whole duvet but Kunj not having little corner of duvet. Just than room service ring the bell due to this twinkle sleep disturb and look at Kunj she went near him and covered him with duvet
And went to open the door she open and found man standing having tea tray. Twinkle take the tray.
Twinkle: thanks she closed the door and Oder their breakfast at room only.See the time it's 11 clock she take yawn and smile after so many days later I sleep till late babaji. I'll get freshen up wake up Him. Twinkle take out her and Kunj clothes and went in washroom to get freshen up. Soon she come out of the washroom and see kunj still sleeping. Twinkle see her phone ringing she went to take her phone her wet hairs water drops falls down on kunj face. Kunj open his eyes due to water and look at twinkle is so closer to him. She taking her phone from his side which keeping on her side. Twinkle take and look at Kunj.sorry woh I was just taking my phone.
Kunj: hmm.Twinkle went to resting table and Kunj get up sit there only and look at her twinkle who fighting with her hairs. He see the time and get shocked he sleep so much today.
Twinkle: go and get freshen up.
Kunj:yup. He take his clothes went inside till than breakfast too come and twinkle get ready kunj too come. You oder breakfast here.
Twinkle: yes see the time you wanted to go office too na.
Kunj: good work. They both sit twinkle realised something kunj about to take the bite of bread twinkle stop him..
Twinkle: Kunj stop. She get up and bring kunj medicine. Take first your medicine. She give to kunj he take it..
Kunj: you bring my medicine remember it??
Twinkle: yes I remember 10 times I check this only I didn't forgot your medicine or not. It's necessary for you so.
Kunj:thanks.They both have their medicine.After sometimes later.Twinkle I'll go and meet with clients why not you come with me in half an hour I'll warped up my work than we'll go for outing.
Twinkle:idea was not bad. Let's do one thing I'll crimped this all mess till than you complete your meeting session with clients than you call me I'll come down we'll go outside.
Kunj: okay fine but remember my words don't dare to put your step out of the room you see here people..
Twinkle: okay baba.. Kunj take his file and went while twinkle immediately lock the door and she get busy in her work.
While Kunj reached the office his mind was just thinking about twinkle because he knows she is so stubborn. Soon clients come kunj meet with them their introduction session going than they talk about project.
After work Twinkle sit in room only as per kunj oder twinkle do video call to her family talk to them.
Kabir: so chupi rustam haa went for honeymoon so quickly without let us know.
Mahi: True bhai..
Twinkle: stop we didn't come for honeymoon Kunj come for his business deal so mummy ji and Papa ji send me too with him.
Malika:whatever. How's you and where is nerdy.
Twinkle: I'm fine he went office.
Mahi: and you sitting in this room.
Twinkle: yes. He give me oder don't go out of the room till yet he didn't come back.
Kabir: hoo look at this girl till now she didn't listen us never follow our rules in some days she didn't obey her husband oder good impressive.
Malika: good you didn't  you don't know kunj anger 😂😂. Very particular.
Twinkle:absolutely right bhabhi who knows better than me.. and you tell me how's baby.
Kabir: yes baby is fine sleeping in room 😂😂. Malika hit on his shoulder playfully.
Malika: kuch bhi bolte ho. Baby too fine.
Twinkle:Bhai I'll not talk to you know even you too making fun of mine just like sadu.
Kabir: poor soul😂😂😂😂.
Twinkle: huhu. Okay bye she end the call.
Scene turned. Kunj done with his clients they fixed the meeting tomorrow at last.
Kunj: let's call to her.he call her twinkle pick up in one go. Hey..
Twinkle: hi kya hua.
Kunj: nothing happened you tell me your work is complete I'm coming to taking you be ready down.
Twinkle:okay come soon I'm already get bored here kunj.
Kunj:haa I can understand. Kunj left for hotel while twinkle get busy to get ready while coming in the way at signal poor kids selling flowers Kunj see them and get teared eyes to see this kids. They come near kunj car.
Kids: Bhaiya please take this flowers your girlfriend will like it kunj smile.
Kunj: I don't have girlfriend.
Kids: okay wife take for her please.
Kunj:okay. He buy all flowers and give them extra money.
Kids:it's too much.
Kunj:take this and have chocolates okay.he look at flowers and remember twinkle face. Girlfriend 😛😛. Soon he reached hotel and didn't find twinkle this girl busy in her paint. Just than twinkle come down kunj get surprised to see her she looking hell beautiful
kunj Wavy to her she see and give smile. Kunj come out of the car and take the key from driver tell him he'll drive. Let's go.
Twinkle: sure.. they both sit. You'll drive here you know the way..
Kunj: yup if not than smart time GPS..
Twinkle: haa.. Kunj turned and see flowers. He take in front twinkle see the flowers. You bring this for me.
Kunj: not I bring to give this receptionist.
Twinkle: very lame.
Kunj: of course for you only na.
Twinkle: she smiled slightly today how you bring flowers for me so sweet gesture. Today in your sadu mind how so suddenly think nice for me. I'm very funny manner.
Kunj: you give flowers here just insulting them Tere liye flowers nahi cactus is the best just like your talks.
Twinkle:what about you.You are that thistle flower.
Kunj: if you wanna fight with me than let's go in room and continue. I bring flowers for you you should thanks to me but not just finding way to taunt me.. twinkle smell the flowers.
Twinkle:okay thanks pati dev ji.. nice flowers you know my first love is flowers.
Kunj start the car and left. But still suddenly flowers.
Kunj: you just eat the mongo don't count guthli. I was coming back to hotel in signal some kids selling flowers so they request me to take flowers for my girlfriend. So I take.
Twinkle:girlfriend really. From Which look you were looking bachelor haa. You can't tell them there is no girlfriend you are married.
Kunj:why I'll tell them.That I don't have girlfriend but siyappa queen naam ki wife😂😛..
Twinkle:girlfriend did his mimic.. look at yourself look like a one baby father.
Kunj:really what about yourself you know about baby😛😛😛 better than me without you I can't have baby. Twinkle realised what she said.
Twinkle:shut up you dirty head.Don't play smart with me..
Kunj: girls just behind Kunj Sarna itself I didn't give them damn look. You should thanks to god I'm your husband girls had dream to spend sometime with me look at you.
Twinkle: they are lucky save from you but I'm stuck with you not for sometime but for rest of my life.
Kunj: I'm too thinking.. before you so many alliances come for me why not I'll say yes to them if I get to know you are sitting  in my destiny 😏😒 I'll run away.
Twinkle:heheh she clapped. Soon they reached most famous Manali shopping spot (manali gompa). They come out of the car and twinkle get so happy to see them view it's so colourful. Kunj see this. She run and see everything kunj just behind her. Just than there one man come. Clicking twinkle pictures kunj see him and went near him held his camera looking at him with anger eyes.
Kunj: hey how dare you click my wife pictures haa.
Man: sorry kunj sir kunj get confused how he know his name.
Kunj: how you know my name.??
Man: I know each and everything your dadi I mean lata Sarna hire me too click your and twinkle mam all pictures.
Kunj: what dadiii.just than he get call from Lata yes dadi..
Lata: what yes dadi let this camera man click your all pictures and I wanted all pictures of yours and twinkle okay.
Kunj: dadi you spy on us.
Lata:seemed like this only now do what I told you. She ends the call while laughing.
Kunj hold his head his whole family behind him. After marriage really 😛😛..he look at Camera man. Twinkle give voice to kunj. He went near to her.
Twinkle: Kunj see this I wanted.
Kunj: you take na when I'll stop you. She give smile buy something something for everyone while kunj give the money. Camera man clicking there candid pictures. Twinkle see jhumke. Show kunj.
Twinkle:Kunj it's so pretty na. She wear and show him.
Kunj:ha.. nice one. After shopping they roaming here and there. They went near mountain Camera man come.
Man📷: sir and mam one picture here.
Twinkle:who he is?? Kunj tell her dadi hire him specially for their pictures.. twinkle laugh out. Dadi is totally awesome between I'm fine I just love to click pictures. Twinkle give pose he click her photos she pulled kunj too.They both stand near cliff and give pose just than man.
Man📷: sir please titanic pose. Kunj gritting his teeth's.
Twinkle: Kunj please. Kunj and stand in titanic pose with smile he click their photos. After twinkle feel hungry. She see pani puri. Kunj let's go and have pani puri. Kunj see the stall.
Kunj: no twinkle it's so unhygienic I can't and even not let you too.
Twinkle:uff you are really?? I'm going she went. Bhaiya please pani puri. Kunj standing and see her. Just than there someone boys come and see twinkle that Kunj can see it he went to her. You come husband ji good. Twinkle have pani puri than second come she offer Kunj.
Kunj: I'm fine you have your pani puri..
Twinkle: kunjj please for me.. if you'll not have I'll make this boy😛😛😂. Kunj see him twinkle about to offer him before kunj take in his mouth. Good boy..
Kunj: huhu.. they enjoyed pani puri she make him have forcefully after this they went to Solang valley get mesmerised to see the place. Aww it's looking like small Switzerland. Twinkle swirl and feel the vibes of this place.. they see people doing paragliding & zorbing (rolling downhill In giant ball).. let's try adventure.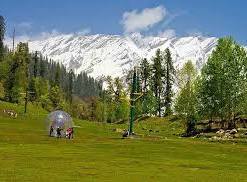 Twinkle: I don't mind. You go for paragliding I'll see this zorbing.. first twinkle went for zorbing ball.Twinkle went inside the ball. Kunj pushing her she laughing see this sadu..
Kunj: due to this zorbing at least me apaa badala le shakta hu.. twinkle continuously laughing while kunj get lost in her laugh. Than Kunj went for paragliding.
Twinkle: all the best.. Kunj screaming twinkle name so loudly which echoed.
Kunj:wow siyappa queen 😂😂😂. Kunj really enjoying paragliding. After he come down Twinkle give him look.
Twinkle: aasman me jake jada par aagaye te kya haa..
Kunj: 😂😛maybe.. after this they hold each other hands see other couples busy in romance they both look at them than each other. What??
Twinkle: what sadu don't getting any ideas cheapo.
Kunj: Tere saath idea never huhu. Just than some foreigner girls come and stop them see twinkle chuda..
Girl: what is this bangles..
Twinkle: this is not bangles but chudda..
Girls: chudda mean??
Twinkle:married women wear these chudda this is the sign of newly married girls.
Girls: who he is??
Twinkle: he is my bitter half😂😂..
Girls: what??
Twinkle: mean my better half.. they started talking to kunj even he too twinkle see this get irritated.okay bye she take him. Why not you go with them to Russia..
Kunj:whats your problem? why you acting like typical wife?
Twinkle:why typical wife I'm your wife na.
Ehh come she take him while photographer clicking there photos.last they went to see Beas river. They sit for sometimes there on rocks twinkle playing with water sprinkled on Kunj face.Than they enjoyed rafting.
They see photographer still following them. Kunj smirked Kunj says to photographer that see there is fire at river, he turns to see, Kunj and Twinkle runs from there to avoid him.😛😛. They both running while he too behind them they reached to church and breathing heavily holding their stomach.
Twinkle:uff motu😂😂.. her eyes went on church.. Kunj see church I never went in church.
Kunj:okay today I'll fulfil your this wish too
They both went inside in church and look at god both prayer for their families and healthy or happy life and lit the candle.
Just than someone give voice they understand very well known who he is??
Man📷: I'm come good place you both find let's take a picture here too. Both giving death full smile. you both should pose like RK..
Kunj: you are photographer aur something else this dadi na.. kunj to put down his hand around twinkle back twinkle bend down her hands encircled Kunj neck
both look at each other and gets lost in each other's eyes while photographer is clicking pictures
.Sanja ve play in bg.❤️❤️
Photographer see them and leave from there while you both fully lost in each other eyes keep smiling. They come in sense and realised their position. Both composed. Now we should back to Hotel today we roam enough.
Twinkle:yes they went out side and left for hotel soon they reached they went to in room and rest for sometime..
At Sarna Mansion.
They all sitting together in living room and Lata told them about photographer they all laughing.. photographer send all those pictures which he click.. om connect with tv.They see kunj and twinkle photos get so happy to.
Avantika:I never know  manali this much beautiful.
Tej: do you wanna go..
Lata: acha tej.
Rahul:kunj paragliding hoo..
Anjali:he didn't left to do adventure..
Aayat: bhabhi In ball heheh..
Prithviraj:you did right to hire photographer for them..
Avantika:om what about that??
Om:badi MAA all set..
Aayat:pa let's go for outing why not we'll.
Tej:nice idea baby now pa had work just give sometime I'll take my baby everywhere. Rahul what about her?
Rahul: I don't know bade Papa kunj knows maybe..
Tej:okay I'll Talk to her…
Twinkle and Kunj relaxing just than door bell ring.
Kunj: now who the hell?
Twinkle: go and see na.
Kunj: always me haa..
Twinkle: yes hide her face under pillow kunj get up and went open the door..
Kunj: yes please..
Man:sir today our hotel arranged dinner for couples so..
Kunj:okay he take the card and lock the door.
Twinkle:dinner seemed interesting kunj.
Kunj:don't know..
Twinkle:I'll see what I'll wear.She seeing her clothes as well kunj too.Finally she find out her and his clothes.She went to get ready after her Kunj too get ready..
She get ready fully looking cute+hot too.
Kunj:let's go down.
Twinkle: yes they both went down man show them the direction they both went and see the arrangement candles lit everywhere one table with two chairs twinkle and Kunj awesome stuck to see the whole ambiance.wow kunj it's so romantic. Kunj see there is no one..
Kunj:where is other's??
Twinkle: you leave about them.. let's go. They both went and sits twinkle just admiring everything.Just than man come and place the food on table.
Kunj:where is other couples..
Man:sir only this for you and mam. Lata Sarna give us oder to arrange candlelight dinner for you both.He said this and went from there.
Kunj:they all planning this all from Amritsar I'll see them.
Twinkle:offo kunj see this they think so much about us.. I'm toh loving it.Dadi is fab.. see everything is so romantic.
Kunj:hmm in this all om and dadi was great.They drink soft drinks. In side romantic slow music playing on..
Twinkle:Kunj you should learn from om. Whoever is his wife she is really lucky.
Kunj:haa so what.I don't have time for this all.Two candles lit kiya and romantic dinner that you can have in your room too.
Twinkle:so boring and unromantic person babaji saving for me only.chalo let's have dinner twinkle served both of them.They both feed each other's and laughing out. After dinner they sitting and just admiring this ambiance.let's dance kunj.
Kunj:now you wanna dance okay Meri. Kunj get up forward his head to her she give him his hand both dancing looking at each other eyes.They walking around beach.hand to hand twinkle feel cold kunj give her side hug.she resting her head on his chest. Their eyes went on one couple little far from them boy swril the girl twinkle see this and give smile that Kunj can see before she do anything kunj lifted her in his arms.She shocked.
Twinkle:kunjjj..
Kunj:kya.he swirl so fastly twinkle laughing so much.Even Kunj too laughing.
Twinkle:uff stop..
Kunj:okay. He about to put her down while twinkle hold him more tightly. What??
Twinkle:what I don't want. My legs are paining. If you take me in your arms what'll happened??
Kunj:next morning my both hand fracture.Twinkle mess his hairs.
Twinkle:now it's your punishment.Kunj went near beach shore they feeling this cool breeze already it's too cold twinkle hand around kunj neck resting her head on his chest peacefully.Photographer clicking their photos from far.. Kunj busy to admire moon beauty don't know when twinkle sleep in kunj embrace Kunj see her give smile.
Kunj:totally bachii hai.. he kissed on her forehead and went back to Their room place twinkle on bed carefully without disturbing her sleep covered her.. he went and changed his night dress sit in side preparing for his meeting.After sometimes later kunj too sleep beside twinkle.
Next morning twinkle wake up and look at here and there and remember who she slept last night in kunj embrace she give smile and see kunj sleeping peacefully his file and laptop on in side she understood he was working whole night.She went near and caress his hairs..
Twinkle:sadu.. kissed on his forehead. I'll get ready he have to left for meeting too. She went in washroom like as usual she get ready even get ready kunj each and everything. Wake up. Kunj wake up na you'll get late for your meeting..
Kunj: hmmm. He wake up in one go..
Twinkle: see I did everything you just go and get freshen up.
Kunj: good morning.
Twinkle:good morning. Kunj went in washroom he come out while wearing his pant twinkle went near him she closing his shirt buttons. When you'll come back.
Kunj:today I can't say.Maybe whole day?
Twinkle: what?? But try to do soon.. she closed his buttons and fixed his collar Kunj wear his tie looking hot. They both had their breakfast.
Kunj:okay I'm going twinkle bring his blazer and make him wear from back. Kunj turned and see her gloomy face. Don't worry twinkle that's why I didn't bring you here I know. Okay bye take care of yourself..he kissed on her forehead and left for meeting.Twinkle call him and wish him all the best..
Kunj reached office his pa waiting for him only they all went in conference room each and everyone.
Clint:let's starts the meeting. Kunj giving presentation and showing them his idea they like it.other side twinkle get bored in room. After long hours meeting get over kunj stand.
Kunj:I hope you all like.They started clapping for them kunj get so happy.
Clint:not like loved it Mr Sarna.They sign the deal.Let's celebrate…
Kunj: sure.. they shake their hands kunj went out of the conference room he immediately call tej and in formed him about deal. He too get so happy.I'll tell siyappa queen too… he call her she pick up.
Twinkle: yes kunj. How's your meeting.
Kunj: break meeting was awesome twinkle I get the deal..
Twinkle: that's good kunj congratulations.
Kunj:thanks let's celebrate.
Twinkle:where.. just than Kunj pa come and tell him party location.
Kunj: hehe it's good. I'll come okay..
Kunj left for hotel he reached knows she didn't have her lunch it almost evening he give oder and went in room with another key he open it and went inside and see twinkle busy in tv kunj went to her without doing any noise and sit beside twinkle back facing to ceiling. Kunj tickled on her feet's. First she ignored it again he did she get scared and screamed Kunj laughing out to see her. Twinkle heheeh..
Twinkle:tum when did you come back haa.
Kunj:just now what happened.
Twinkle:huhu you scared me.. their food come kunj take and went to table. What is this
Kunj:why don't you have your lunch na.
Twinkle:woh even you too didn't have na how can I.
Kunj:now come.they having lunch kunj tell her about meeting.
Twinkle:heheh..
Kunj: they throw the party in our hotel only so you get ready on time even my one closed friend too coming so..
Twinkle:he is your closed friend not mine..
Kunj:stop this.. later at party time kunj wear his back Tuxedo suit waiting for twinkle. She come kunj turned and look at her she looking hell pretty in this dark pink saree he didn't blink his eyes.. twinkle went near him snap the finger.
Twinkle: chale kunj..
Kunj: yeah sure lost of words he is.. twinkle holding kunj elbow both went down in party venue. They see everyone come. Kunj see his friend take twinkle near him. Hi..
Abhishek: hi kunj finally you man..
Kunj:yes..
Abhishek: who is this beautiful lady??
Kunj: she is my wife twinkle.
Abhishek:hoo wife hi twinkle.
Twinkle:hi.they meet with other as well in whole party kunj eyes on twinkle only other's men's just looking at twinkle it's making kunj happy But more jealous too😂.Par.  Party going on in full swing.They all enjoy lot after sometimes later party get end. Kunj and twinkle back to their room.
And both sit and see champagne 🍾 bottle there. Arey champagne. Let's drink kunj wether is so cold..
Kunj: you drink.
Twinkle: Kunj it's a none alcohol. Kunj pour the champagne in two glass and give to twinkle both cheers 🥂. Twinkle see snow fall had begun and she runs outside in balcony..
she get so happy to see snow fall first time like a baby kunj see her and stand near balcony door. Kunj come na see snow falls uff. He went near twinkle swirling in happiness due to snow on floor her leg slipped she falls over on kunj hugging him  tightly.
They break the hug.Twinkle looking here and there..
Kunj: it's okay. Coffee??they sit for a cup of coffee together. In side twinkle shivering in cold.. let's go inside twinkle?
Twinkle: no I'll sit here. Kunj can't do anything.. he went inside and bring blanket for her and covered her fully twinkle give smile. But twinkle is twinkle .
Twinkle decides to enjoy the snowfall instead of sitting in the blanket. She goes to swirl around in the snow again but her saree opens up.
She was shy and turns herself away from kunj. He look at her. Twinkle saree palu falling up twinkle try to hold but can't kunj see her and went near. Due to kunj she warped her both hand around her chest.. he lost his control already still. He drape her saree palu around her hands in very romantic and sensually way he warped her.
Both holding each other hands tightly
Kunj looking at twinkle while she looking down. He didn't waste anytime just lifted her in bridal style twinkle one hand resting near kunj ear both look at each other's
Kunj take her inside and went near bed and place her on bed twinkle looking at him he too he bending down and see her lips. Which shivers due to cold.Before twinkle lips meet twinkle blushed and get up. They both finished whole champagne bottle due to cold weather.Just than light went  due to heavy bad weather. Twinkle get scared due to darkness.
Twinkle:kunjjj..
Kunj: don't worry I'm here. Both see candle lit the all candles their room looking so beautiful due to this candle carry on cake this snow and darkness. Twinkle went to windows to closed wind Going so fast.
Twinkle try to close the window but can't kunj went to her stand behind her he helping her to closed the window their hands touching just than
thunder started so loudly twinkle get scared she turned and hugged kunj tightly.
They break the hug kunj look at twinkle both don't know about anything. Twinkle get shy because of kunj the way he looking at her she turned kunj give her back hugged moving his hand on her hands sensually.
twinkle closed her eyes due to his touch. Kunj side her hairs and kissed on her shoulder hot breath coming out from twinkle mouth..
he make her turned both look into each other eyes kunj caress her face. Before twinkle go he held Her hand
again kunj Carry her and went to bed place her on bed. Come top of her twinkle bend her legs kunj tucked her hairs both fully under in alcohol effects. Twinkle turned her face to other side kunj bend down see her neck kissed on her neck twinkle closed he eyes.
Kunj one hand around twinkle waist.Kunj kissing her slowly twinkle smiling kunj interlocked their fingers..
(Both don't know what they were doing it)
Episode end on them..
____________________________________________
Let's see what will be their reaction when they wake up at morning..
How was the episode??
Hope you enjoy this little romance.. 
sorry if you don't like It😂😂😂 I give my best and more over I'm not in my zone I was really really sad 😔😞  just missing my pa lot today..
bye love you all sorry can't post but don't worry.. please comment.. 
_____allahfize…….🤗🤗🤗..