RAB SE SONA ISHQ: TWINJ- EPISODE 22
episode: 22.Continueue part..
❤️?????????????
As soon as Twinkle and Kunj car left and Sarna too. After all guest started leaving.
Kabir take Rt Inside make him sit while Mahi went to bring water for him. Rt look at wall there twinkle pictures was hanging.
He just look at twinkle photo and tears dropping down..
(Hokar parai kabhi beti parai nahi hoti
Tabhi to maa-baba se uski vidai nahi hoti
Kahne ko to karte hain vidai beti ki
Par yaad nahi jati dil se kabhi beti ki.)
Rt: Meri twinkle.. she went and leave us here my eyes were finding here now..
Kabir: bas Papa if you do this how can Twinkle stay there peacefully haa.You know her condition is very worse now.
Hansh: haa Ram puttar we can understand your pain. Leela wiped her tears and went near him. Mahi give glass of water to Kabir while he makes him drink few drops..
Leela:papa ji is right even Kabir too. Didn't you see how much she crying. We're not first parents.One day every daughter leave her house ji. Didn't I come and see today I totally forget about my family and busy here you can see today malika even he too left her mother and father we are too someone daughters.You make twinklw weaker be strong.Leela wiped Rt tears. Now learn to live without twinkle whole life she and even mahi can't stay with us.Our twinkle went in her new house there she get so much love and care can't you see it..
Kabir:yes Papa twinkle is really lucky to got in laws like them even Kunj he is best husband and partner for our twinki. Rt nodded his head in yes. And went in his room.
Bebe: give him some time after all uske dil ka Tukda gaya hai. Aeshe hi nahi bolte a father can fight with whole world but only here in front of his daughter he become the weakest person.
Kabir: hmm twinkle too crying im sure.
Malika:Kabir don't worry about twinkle it's natural.Kunj is with her now..
While in car Rahul driving the car while om patting on Aayat head who sleep on his lap.while still twinkle sobbing so badly. Rahul and om look at Kunj through mirror.
Twinkle:papa????…
Om:Twinkle please handle yourself. Kunj look at twinkle and see her whole face drenched in tears.Just than twinkle choked while crying so badly.They shocked. Kunj finding water.Rahul give him water bottle. And he stop the car too.
Rahul:Twinkle bas yaar.
Kunj:Twinkle paani pilo.she look at Kunj. Kunj can see twinkle whole face shivering like anything he felt so bad too see her.
Twinkle take deep breath Kunj forward her water bottle while taking twinkle hands shaking horribly.Kunj open the cap of bottle and make her drink water with his hands.Now don't cry look at yourself. Twinkle nodded her head in yes Rahul starts the car. Kunj keep his hand on twinkle hand  assure her he is with her.Both look at each other face.Twinkle hold kunj hand tightly.
Sarna family reached Sarna Mansion before bride and groom car arrived.. Avantika and Usha see Post wedding rituals and to welcome twinkle and Kunj at House at first as a husband and wife.
Soon groom and bride car entered in Sarna land. In twinkle welcome rudra Priyanka or Anjali maya dev Yuvi standing in main outside entrance of house. Others inside entrance.They see their car rudra started jumping in happiness.
Rudra:finally my bhabhi is come..
Anjali: bas??. Rudra gesture to servant.Numbers of firecrackers lit for twinkle. Their car stops.
Rahul:see puri baraat standing here twinkle for you only. They see them. Rahul and om come out of the car.He waving them.
Kunj:chale..
Twinkle:hmm.Kunj open the car door and come out of the car.
Rudra:bhabhi. Twinkle try to come out of the car while not come out due to her heels and dress. Kunj see this and forward his hand to her. Twinkle look at him and give her hand in kunj hands kunj help her to come out of the car twinkle out her leg. Firecracker shooting so rapidly there sound coming loudly. Twinkle come out fully and see the decorations whole place light up so amazingly that she comes in lightland.
For twinkle firework too they kept.Twinkle see and look at sky and read its written welcome Mrs Sarna ❤️❤️.. twinkle smiling like anything. They all come to her.
Priyanka: bhabhi?.They hug her.
Rudra: did you like your welcome bhabhi.
Twinkle:hmm very nice.
Rahul:do you guys stand here whole night haa.
Anjali:no no come twinkle.They take step ahead.Twinkle and Kunj taking step further on them automatically flowers showering on them.Whole floor covered with rose petals.Twinkle just love each and everything.But sad as well.They reached to entrance. As soon as other family member see twinkle and Kunj they get so happy. They all were standing near the entrance inside the home.
Others come inside while twinkle and Kunj standing at entrance.
Prithviraj:finally my bahu and pota come.
Lata And Prithviraj happiness has no boundaries today!they see this dream long back today it's turn into reality.
Lata:avantika bring aarti tali.
Avantika:yes.she went and bring aarti tali and went near twinj.You both looking truly beautiful. Kunj give smile to his mother. Avantika did twinkle and Kunj aarti.
Usha bring kalash filled with rice and she keep it in front of twinkle feet..
Lata: now twinkle puttar do your graha Pravesh. Push this kalash with your right feet Than come inside. Twinkle push the rice kalash with her right feet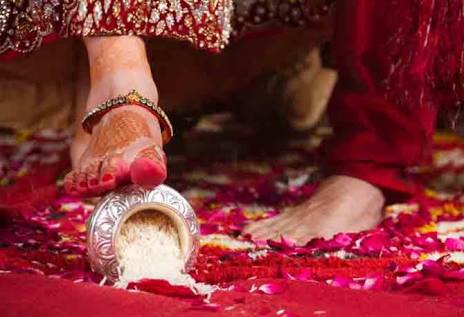 she did in perfect manner all give smile..now wait twinkle beta.
Rudra: dadi do fast till when you people make bhabhi  standing  at entrance only.
Tej: bas have patience my son. Anjali bring
Tali. inside the tali water with red kumkum.
Usha:now dip your both feet in this kumkum and left your foot prints. Twinkle lift her lehnga and dip her both feet's in kumkum and twinkle leave her footprints ? across the home as she walks.now done with rituals. Kunj and twinkle take all elders blessing..
Prithviraj:god bless you both just stay happy.Finally Kunj fulfilled my dream my bahu your wife standing in front of my eyes. He giving so pure smile to kunj.
Kunj:dadu now you are happy na what else I wanted more.Both mother in laws see dry tears on twinkle face.They cupped twinkle face.
Rudra: ab toh bhabhi stay with us forget Taneja Mansion he just said in teasing manner while twinkle started crying.
Rahul:rudra after  so much pleased she stop again you make her.Kunj remove his turban and keep it in side. They take twinkle toward couch.
Yuvi:Twinkle I'm here don't worry.
Lata: Arey go and bring something for twinkle you people so much excited for her now where your excitement went haa..
Priyanka: I'll bring dadi.Priyanka bring cold drink for everyone she give to twinkle.
Rudra and om come and hugged kunj.
Om:finally our brother is married.. ?
Rudra:yeah.
Maya:twinkle you don't went on his talks.
Just buttering.?.
Rudra:no at all bhabhi you see it in this whole house only I love you most.twinkle missing her family very much. She found everyone but not her MAA and Papa. Tears escaping from her eyes avantika went to her sit beside her and cupped her face.
Avantika:Twinkle don't cry see everyone is here.
Rudra:bhabhi did you wanted anything. Twinkle nodded her head in no.
Avantika:what you wanted twinkle that we can't give you.We can understand your emotions and feelings as well but beta what can we do.
Aayat: don't cry I'll give you my chocolates.All look at Aayat who is in half sleep.
Rahul:Twinkle see your smallest sister in law Aayat talking about to share her chocolates omg ??.breaking new this.
Om:yes three things she can't share first bade Papa second we third her chocolate she get ready for you only.
Tej:mera baby.Come to me Tej lift her she rest her head on his shoulder..sleep baby.
Twinkle hug avantika tightly cried for sometimes all look at her and feel really bad. Avantika consoling her.
Avantika:bas bas.she cupped her face and wiped her tears.now give one smile. She give smile to see her others too. Kunj standing beside Rahul.
Rahul: kunj..
Kunj: hmm.
Rahul:take this.. he put ©️ packed in kunj hand. Kunj see the packed and get shocked and giving funny smile as well.
Kunj: what is this Rahul??
Rahul:Arey don't worry its help you lot tonight.See I'm so good friend of you. I know you are fuss so I bring this for you ?.
Kunj:take this I don't wanted can't you see everyone is here. If they see it haa.
Rahul:leave about this.. so what if they see they seen already before you ??.
Don't worry they are experience people now it's your time.. rock it ??.
Kunj:tu pagal hogaya hai man.Kunj give him back while Rahul put in his sherwani pocket..
Rahul:don't worry  tomorrow at morning you'll thanks to me it's my promise. All see kunj and Rahul. Both busy in their own world.
Tej:what's going on boys haa.
Manohar:yeah seemed like something really important conversation going on. You both discussed  like this..
Rahul: no papa nothing we just talking about his first nig… but before he complete Kunj hit on Rahul foot. Ouchhh.
Tej: what happened.
Rahul:nothing.Kunj give him death glares what is this man.While Rahul whisper sorry.
Rudra: I know hmmm???. Rahul and Kunj. Like what you know.. both giving helpless smile.. ??. Anjali and maya shake twinkle like hmmm.
Maya:see your husband twinkle..do you know what they both discussing.
Twinkle: I don't know give blushing smile.
Yuvi:Arey Twinkle you didn't did that rasam falls your kalire on mahi haa.
Usha: haa we forgot me. Let's do it here.
Hmm.
Rudra: here is no Mahi.
Anjali: so what if no bride sister it's okay but here we have groom brothers na. Now after kunj next turn is om Kara only na.
Rudra: smart di..
Rahul:murmured. In kunj ear so what mahi ho yeha omkara end of the day mahi will come na ???. Twinkle falls her kalire on omkara all laugh to see om face expression..
Kunj:you need sleep talking totally nonsense.
Usha: now kunj take twinkle in your room.
Lata:but not like this kunj.
Kunj:than how.??
Lata: lift your wife in your arms.. Kunj shocked what his dadi were talking that also in front of everyone.. he give look all see him and laugh out.
Kunj:how can I dadi..
Tej:you only kunj. Do na..
Rahul: yes yeh boj ab tera hi hai. Life time ke liye I'know??look at Anjali.
Anjali: acha I'll see you later.
Rudra: di don't leave him??
Rahul:who wanted everyone look at Rahul ??.
Avantika: Anjali go and keep this bag in kunj and twinkle room.. Anjali see the bag while rudra see and asked.
Rudra: such a small bag kish ka hai.
Twinkle: mera..
Rudra:In this Aayat clothes not comes. That bag was very tiny..
Rahul: in low voice aaj aayega because today her clothes in Aayat size ??. Haina kunj.
Prithviraj:go ahead mr Kunj Sarna. Kunj went in twinkle while both look at each other face. Kunj bend down  lift twinkle in his arms in bridal style.Twinkle  arms around kunj neck.All girls and boys hooting.
Avantika:now go. All boys and girls and went to stairs and stand in line and block there way. Kunj look at them in confusing way now what is this??
Anjali: we can't let you go like this.
Kunj: what and why??
Rahul:we know you are very much curious to went in your room??..
Anjali:now it's our turn kunj Bhaiya.
Kunj: I didn't understand. Elders sitting and looking at them enjoying it.
Anjali:I'll explain you.Your saali take money.Because of twinkle they didn't allow you take twinkle and you give too. For your wifey now here too same we didn't allow you both entered in room. Even didn't let you take twinkle too
Kunj: what?..
Maya:yes give our nek and take your dulhan.
Kunj:you people take her na I don't want.
Now she here only ??.
Anjali:see him so bad..
Kunj:yes I'm now leaved my way.
Anjali:give our money kunj.
Priyanka:yes Bhaiya this isn't fair. Aayat wake up in middle of her sleep.
Aayat:pa.
Tej: haa baby.
Aayat: where is Bhaiya.
Tej: here only why.
Aayat:I wanted my money. Nek Tej and other laugh out.
Manohar: get up my baby your bhaiya is here go and take your money. Aayat get up and run to staircase.
Rahul: iss ki hi kaami ti even she too come.
Aayat: did you all get your money. Haa.
Anjali: huhu your Bhaiya itna shida nahi hai.
Aayat: Bhaiya give my nek Aayat forward her hand.
Kunj:what my doll wanted. They all shocked.
Maya: kunj even we are too in line.
Kunj: Aayat Wait I'll give. Kunj call servant and tell him bring what he give him. He went and bring gift box. Kunj give to Aayat. This is your gift.
Aayat:thanks and money I wanted na.
Kunj:?that I'll give you tomorrow
Aayat: paka..
Kunj: now you go Aayat let me deal with this  greedy peoples. ???.
Rudra: haa now give us too.
Rahul come and stand beside kunj.
Rahul: kunj give them na. Winked at him.
Kunj: okay they all get happy.
Rahul: yeah 200 rupees is enough for them.
All: what ???.
Anjali:are you okay na 200 rupees man.
Rahul: I'm okay so what you wanted nek he giving you.
Om: aap kesh ki side phar ho.he Keep his hand on kunj shoulder.
Rahul: on my bestie now complete you begging session let him go??.
Kunj:thanks to god I giving you all 200. Unko 100 only ???.Anjaa. and Priyanka or maya anjali laugh out sarcastically.They come near to kunj.
Anjali: leave twinkle we taking her with us. You both do whatever you wanted to do with your 200 ???..
Rahul: Arey Anjali leave na let him do whatever he wanted to do with her ?winks at twinkle. She make omg face. They all girls try to take down twinkle from kunj Arms While kunj pulled her back. Twinkle face really very closed to kunj she can listen his breath sound and feel too.
Kunj: don't dare to do.
Rahul: lets give them man.. they will spoil your whole night. Night is important not money???.
Anjali: today you totally sale your shame somewhere???. They all laughing loudly.
Kunj: okay okay come to the point. See guys right now I don't have anything in my wallet already they all empty my wallet nothing I have to give you all.
Maya:it's your problem you can take from anyone. They all started troubling Kunj.
Kunj: okay now stop. I'll give. They give smile and stand like a good boysand girls Give na.
Rahul:paka.
Kunj: haa. Rahul take out small boxes inside of his pocket. And give to Kunj.
Maya:see Anjali he have already just doing drama. Kunj give one to Anjali second maya than Priyanka.While Yuvi and  om or Rudra looking at Kunj.They open the box and found nice small diamond earrings they get hell happy.
Anjali:thanks.
Priyanka:yes Bhaiya.
Maya:haa Kunj really thanks it's so beautiful. Kunj about to take step ahead.
Yuvi: what about us.
Rudra: yes. We are too here.
Rahul: this three brother cam sisters too in line????..
Om: yes we take our nek too as a brothers
Rahul: yeh twinkle tujhe bhut mahengi padi Kunj. Kunj look at twinkle face while she too back him.
Kunj:aaj me pura hi kangal hogaya. Dede nikha bhi. Rahul give them their gifts. They see and get happy.
Rudra:nice watch Bhaiya.
Yuvi: haa❤️❤️. They thank to Kunj.
Rahul: I'm still left.
Kunj: pata hai now you guys done.:
All: yes.
Anjali: now you go Mrs and Mr Sarna.
Kunj take twinkle upstairs.
Avantika: I'm sure this boy didn't bring.
Usha: maybe
Avantika: Anjali go and call kunj down.
Anjali: okay she went to call kunj.
They about to entered in room.Just than there Anjali and maya come.
Anjali: kunjj. Kunj heard her voice and stop there only.
Kunj: ab kya..
Anjali: don't irritate badi MAA calling you right now only.
Kunj: why.
Maya: they knows go.. Kunj put twinkle down.
Anjali: you go till now we'll do your wifey touch up. Kunj went downstairs.
Anjali: come.Twinkle they both take twinkle inside in her room.Twinkle entered in room and see the whole room condition. Whole room decorated fully. For their first night.
Anjali:Twinkle come they make her sit. Maya and Anjali did twinkle touch up.You sit her they both make her sit on bed and hide her face behind her ghunghat.
Maya:we send kunj okay twinkle don't forget to take your first night gift.They both teased twinkle lot she drenched in shyness☺️☺️..
Anjali: Twinkle see your bag is here okay and If you feel hungry have this fruits and milk. ??.
Kunj: yes mummy you call me.
Avantika: I told you bring gift for twinkle did you bring it.
Kunj:hmm.. usha And avantika give smile.
Avantika:good ??mera bacha kissed on his forehead now go twinkle must be waiting for you. Kunj went from there while going to his room Rahul standing near his room.
Rahul:kunj all the best?????.
Kunj: chup.. Kunj open the room door and he went inside the room find all dark. Why twinkle off the lights.. Kunj on the light as soon as room  lights on kunj shocked to see his room.His whole room decorated so beautifully amazing ambience candles lit flowers he look towards his bed fully decorated with flowers.Than he see twinkle sitting on bed while covering her face.Twinkle sitting center of the bed her both hands keeping on her both legs knees.Chal kunj beta your new life starts from now only.He went towards bed and sit edge of the bed. He take deep breath very much confused.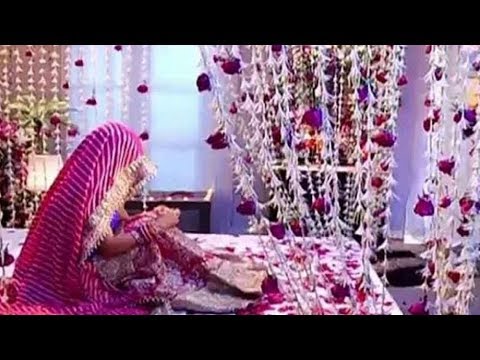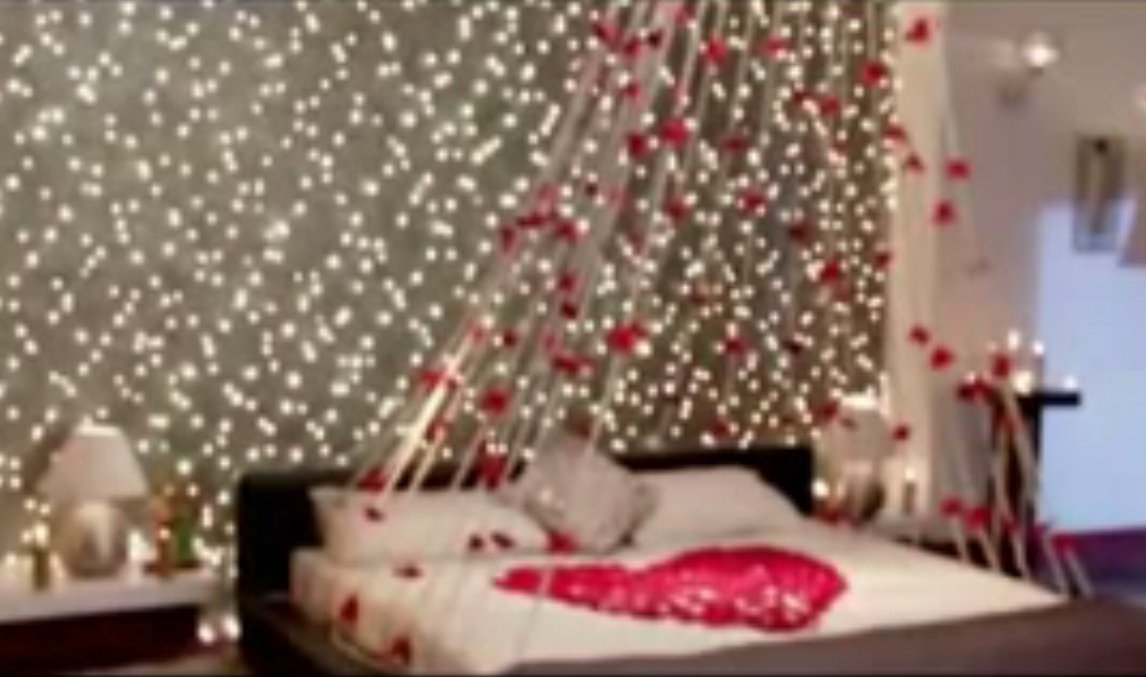 Than finally kunj lift twinkle ghunghat slowly and slowly.
and see her face.Twinkle looking down she raise her eyes and look at Kunj.
First both of them lost in each other eyes. They share long eyelock than break too.
Kunj give the gift box to twinkle which he bring for twinkle to give in muh dikhai.
Twinkle: what..
Kunj:your gift mummy told me to bring for you so take.Twinkle take the gift. She open it and see than Kunj. Did you like.
Twinkle:nice..
Kunj bring beautiful real diamond Rudy diamond pendant for twinkle.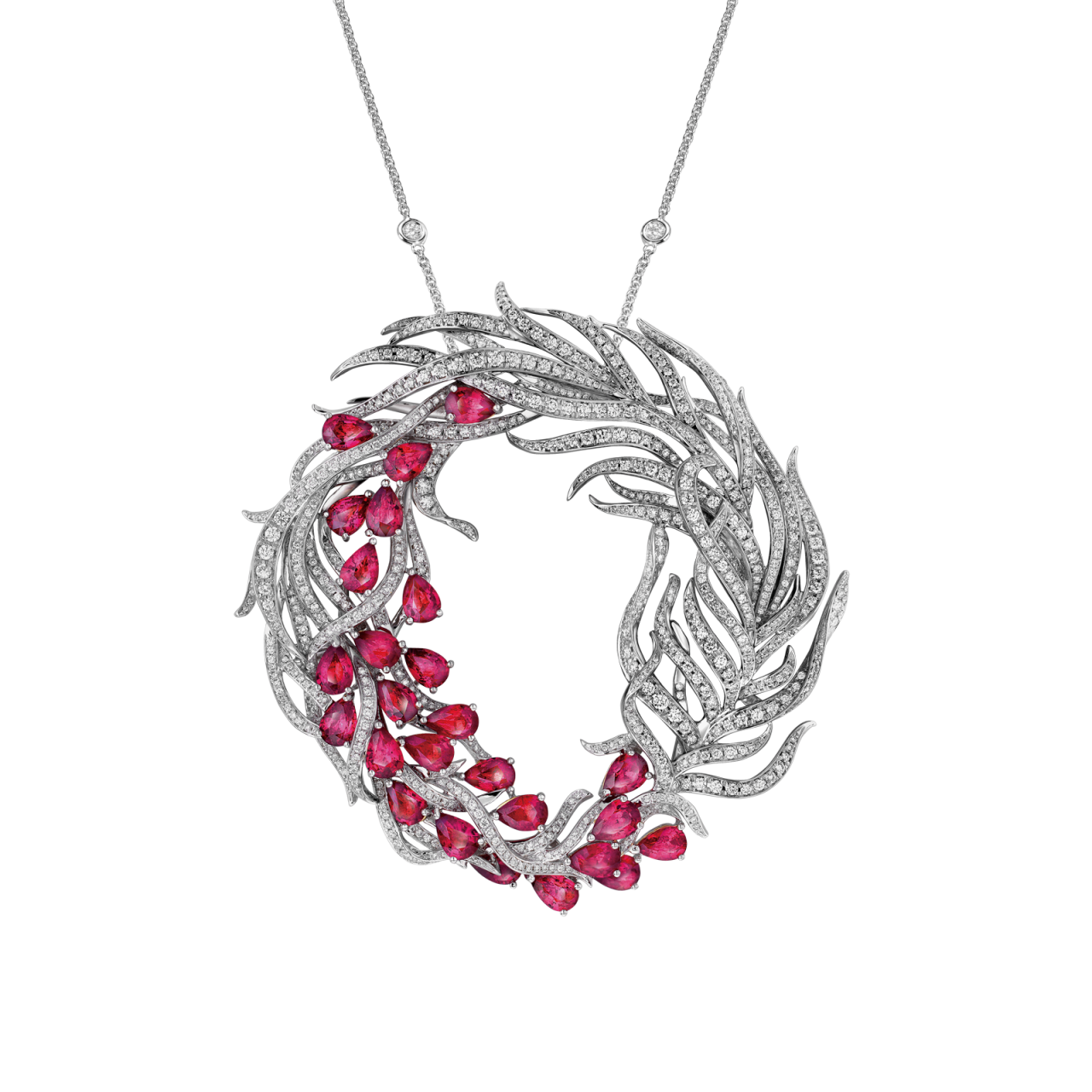 Both of them see the room and situation become awkward for them. W..oh..
Kunj: we should sleep now you must be tired..
Twinkle:.hmm.Twinkle come down of the bed.And seeing room fully.She sit on table . My family babaji.. kunj turned and see twinkle he went near her.
Kunj: what happened twinkle.
Twinkle:Kunj mere Papa in painful voice.
She stand in front of kunj.Why you take me here because of you I leave my family and come with you here how I'll live without him
Kunj:Twinkle I can understand you situation but what we can do. You don't cry.Kunj cupped her face. Twinkle immediately kunj tightly.
Twinkle:hahha kunjj I really missing my family.Kunj first think than he hugged twinkle back rubbing her back.
Kunj:bas Twinkle don't cry.
Kunj cupped her face and look at twinkle see yourself twinkle your makeup gone now.He wiped her tears aaj ke liye itna rona kaafi hai twinkle don't cry please now.
Twinkle:hmm kunj fill glass of water for twinkle give her she drink.
Kunj:you change your clothes and sleep.
Twinkle:yeah.
Kunj went towards wardrobe he take out his night dress and see his whole wardrobe his jija and brothers mess up. Kunj take the clothes and went in washroom while twinkle went towards dressing table she remove her duppta keep in side and look at herself in mirror now she totally find herself change in her neck Mangalasutra and on head sindoor in her hairline. She touch the sindoor and hold her mangalsutra.
Twinkle:it's right after wedding a girl life totally changed in few seconds see today this sindoor and Mangalasutra.I can't believe on my eyes I'm here in Kunj room sorry not Kunj room only now mine too. She started removing her jewellery slowly slowly half busy in her thoughts.While Kunj come out of the washroom he keep his sherwani in side table and sit and look at who busy in herself. While removing jewellery twinkle hurt herself.
Twinkle:ouchhh kunj get up after listen her voice.
Kunj:what happened haa.. he went near to her.
Twinkle:kuch nahi bas..
Kunj:where are you leave your  mind haa hurt yourself while removing this jewellery.
Twinkle:huhh can't you help me haa.
Kunj: me in shocked way..
Twinkle:yes you did you see anyone here rather then you.
Kunj:can't you give strength answers siyappa Queen.
Twinkle: what did you said haa sadu.
Kunj: see babaji what type of wife you give me first night of wedding she calling me sadu.
Twinkle:same too you. Now help me I'm tired.
Kunj:okay.Kunj started removing twinkle earrings carefully twinkle look at him through mirror and admire him too. Kunj take out her neck lace his fingers touch on twinkle neck she closed her eyes. Today did you were your all jewellery haa.
Twinkle: means??
Kunj:see end hone ka naam hi nahi hai ek ke baad ek.. what's the need of wear this much.
Twinkle:acha now I'll asked you
Next time.For your kind of information Mr Sarna not only me wears this much all brides wear on their wedding day. Kunj remove all jewellery of twinkle. And he stand near dressing table while twinkle opening her hairs bun. One after the other hair pins coming out from twinkle hairs Kunj shocked to see this much pins.
Kunj:you girls are bad.She give him annoying look.first your 10 kg dress than this jewellery and top of these hairs pins. Twinkle didn't said anything to him.Her hairs open it and falls on her shoulders now she looking more pretty in this simple look. Now go and change you dress.
Twinkle: haa my clothes twinkle eyes went on bag she went to bag and open it twinkle see her nightdress only in nighty. What is this. I'll kill you chinki and Asha in low voice. How can I wear this in front of kunj. Babaji already I'm pissed off now this shit. Kunj get confused to see twinkle face reaction.
Kunj:what happened twinkle are you okay why you lost in this bag.
Twinkle:no no give fake smile. Twinkle closed the bag.
Kunj:why you closed the bag.
Twinkle:woh I forgot my night dress kunj.
This chinki and Asha didn't pack my night dress in this bag.
Kunj:hoo now what to do you can't sleep in this. Should I go asked di..
Twinkle:nooooo kunj..
Kunj:calm down twinkle.
Twinkle: I mean kunj it's look bad na if you go to di and asked her about night dress hope you understand what I mean. Kunj take the pause than.
Kunj:Yeah you are right. Just than Kunj eyes went in side he see something and went near and take in his hands.What is this. See twinkle your problem is solve see mummy already keep your night dress here now go and changed fast.
Twinkle:haa great twinkle take the night dress and went in washroom. While Kunj sit and take the Apple have it.
Twinkle went in washroom she unfold the nightdress and see its nighty.
Twinkle:again this.Leave it better than mine I'll not leave this two.
Due to kunj hand twinkle bag falls down and her clothes too come out of the bag twinkle didn't closed the bag zip just shut the bag.
Kunj:ho sorry if she see again wild cat attack on me. Kunj pick up the clothes and find the night dress why she lie that she didn't have nightdress.Kunj see the nighty his eyes pop out totally.It's so short night hardly cover body fully net transparent.
Murmured Rahul is right fully Aayat size one???. Just than twinkle come out of the washroom twinkle see her nighty in kunj hands. She flabbergasted ? and run to kunj immediately snatch the night from kunj hands hide behind her back.
Twinkle: kya hai.
Kunj:what??
Twinkle:don't you know it's not good to check a girl bag.. twinkle looking down in awkwardness.
Kunj: break twinkle I didn't open your bag specially to check what inside in this it just.That mistakenly you bad falls down due to me so I just pick up your clothes.
Twinkle:haa okay.Twinkle take the bag in hustle way she turned and keep the nighty in bag while kunj giggles slightly to see twinkle. Twinkle keep the bag in side and take the deep Breath.Than Kunj see twinkle from head to toe she wearing long red colour nighty looking so s*xy.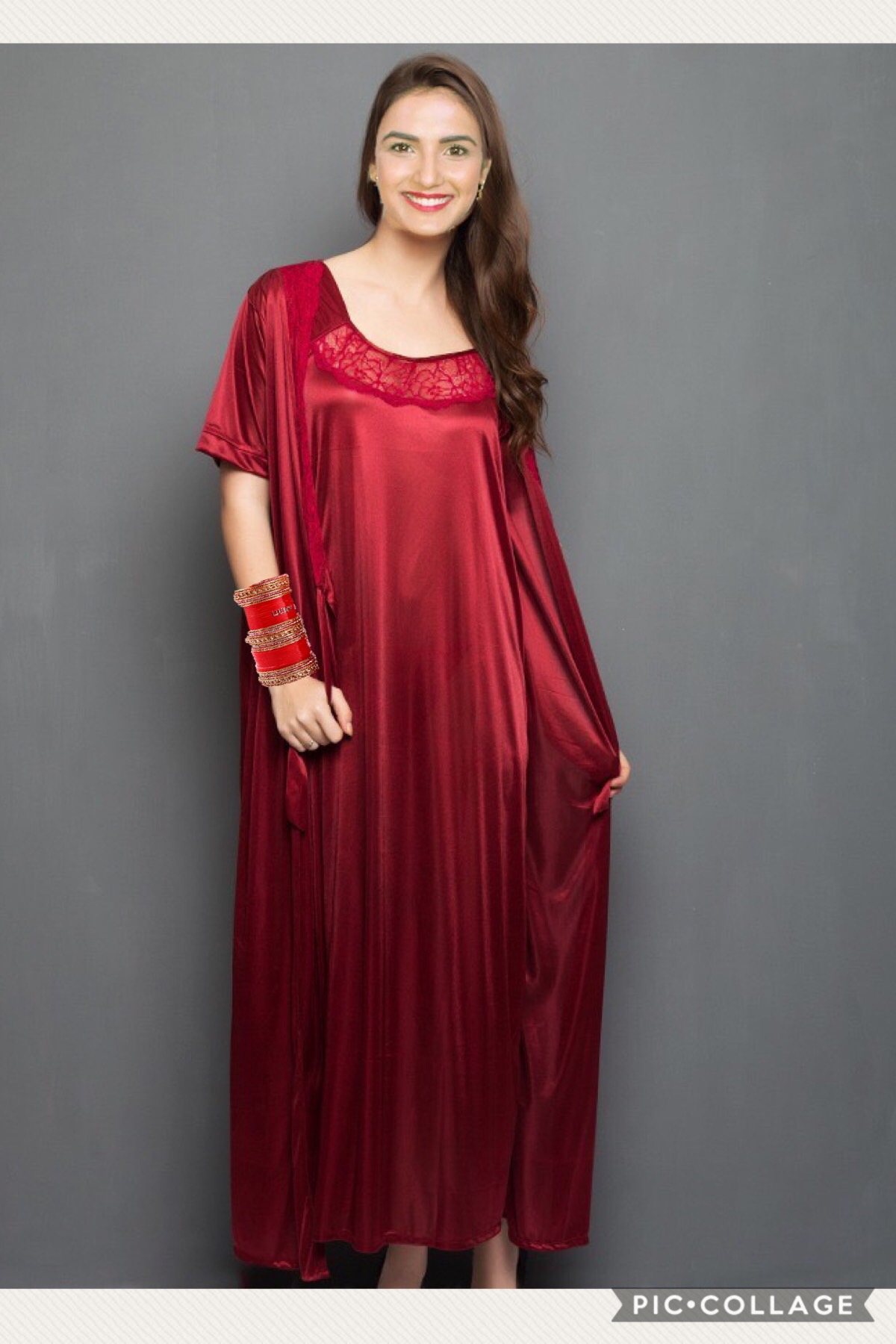 He mesmerising to see her in this.Twinkle keep her lehnga she take the kunj sherwani keeping in side while that packed come out from pocket and falls down. Twinkle bend and take the packed she jerked to see packed of ©️??. Than look at Kunj who looking otherside.
Twinkle:look at this sadu what he bring it. So this cheap plans going in his mind. Kunj turned his eyes and see what twinkle holding in her hands he rush to her divest the packed from twinkle hand.
Kunj: what ?in breaking voice.?
Twinkle: what is this you tell me.
Kunj:wohh..
Twinkle: you cheapo. Don't you have shame haa. Take this from here.
Kunj:haa I didn't get chance to throw it this. Kunj throw in dustbin. And you calling me cheapo haa I'm cheap.
Twinkle: yes you are why you bring this.
Kunj:I didn't bring this woh toh Rahul keep in my pocket forcefully. I didn't love to bring this twinkle Sarna.
Twinkle: don't call me twinkle Sarna I'm twinkle Taneja get it.
Kunj: heheh very funny. 4 hours before you are twinkle Taneja now no more Mrs twinkle Kunj Sarna kunj smirked.
Twinkle:huhu.Where I stuck with you first this room. Just than twinkle phone ring. She get so happy to heard phone ring. She thought that Rt call her. Papa call me she take out her phone from her clutch after see the caller id it's company call her face drop down.
Kunj:kya hua.
Twinkle: company call.. should I call Papa.
Kunj:no twinkle at this time. Not good.
Twinkle:why now I can't I talk to my father. In irritating tone.
Kunj:you can I mean at this time not good.
If you call him at this time what he think about us I mean twinkle. She look at Kunj face and understands what he trying to say he right.
Twinkle: right.
Kunj: okay let's sleep it's already too late.
Twinkle went towards bed she remove flowers from bed. Kunj take the pillow in his hand about to go just than twinkle.
Twinkle: where are you going kunj.
Kunj: you sleep on bed I'll sleep in balcony. Twinkle look at him.
Twinkle:you can sleep on couch na she turned see there is no big couch to sleep here.
Kunj:no I'll sleep in balcony on swing chair you sleep okay. Twinkle think for while.
Twinkle: no need to sleep in balcony.
Kunj: so where I'll sleep.
Twinkle: here on bed.
Kunj: what ?on bed. Where you sleep ha?
Twinkle:I mean you can sleep here with me.
Kunj: with you on same bed are you okay na.
Twinkle: yes I'm okay fully now we are married you can't sleep whole life on couch so sleep here I don't have problem as such that Kunj.in surprising way kunj look at twinkle.Twinkle sit on bed.Kunj remove flowers from his side of bed he too sit.Twinkle lay down while kunj little bit nervous to share bed with twinkle.He too lay down.Twinkle pulled the duvet cover herself. Even Kunj too. Kunj turned and see twinkle face.Twinkle keep two cushion between them.
She closed her eyes kunj look at her see her pretty face she look beautiful while sleeping. He on the dim light already this candle making the room ambience more romantic top of this moonlight completely amazing. Kunj too sleep.. while twinkle open her eyes and look at Kunj she turned her back facing to kunj face. Twinkle hugged the pillow and see her parents photos in phone crying slightly. While crying whole night twinkle too sleep.
Next day:: at Sarna Mansion.
Everyone wakeup expected that kids only.
Avantika and Usha come in kitchen and tell chef to make breakfast for all guest who still staying in Sarna Mansion.Than they both went in their room and see them once. Lata and Prithviraj come at hall both have their tea in this time Tej and Manohar along with Anita and Surjit they too come.All house mess up fully avantika give them Oder to clean everything fast. Than all elders sit for breakfast it's so early they know other work is there too so have to complete this all.
Avantika:I'll wake up kids she went in kids room see all kids sleeping peacefully. She went to Priyanka and Anjali. Priyanka and Priyanka beta wake up. Both open their eyes and see avantika immediately get up.
Anjali: good morning MAA.
Avantika:good morning bacha.You both go and get freshen up. And Priyanka go and wake up Bhaiya and bhabhi.
Priyanka:okay mummy. Priyanka went in her room immediately freshen up she went to twinkle and Kunj room and started knocking the door.
In room a couple sleeping peacefully they are not very closer but still. Kunj sleeping in side while twinkle too.
Priyanka: bhabhi And Bhaiya please wakeup.Twinkle sleep disturb due to voice. She wake up with jerk. She see the time in her phone get shocked it's 8 clock.
Twinkle: omg babaji it's 8 clock maa told me to wake up at 7 now see first day of my wedding what everyone think about me.
While Priyanka continuously banging the door. Yes I'm coming Twinkle get up and went towards door she open the door and found Priyanka at door. Yes pinku.
Priyanka: good morning bhabhi.
Twinkle:yes good morning.
Priyanka: bhabhi please get ready mummy send me to wake up you and Bhaiya.
Twinkle:haa.I'll get ready.
Priyanka: okay. Priyanka went down back. While twinkle closed the door and take breath.
Twinkle:uff. If pinku didn't come I'm sure I'll sleep. Today she save me. She went to kunj. Kunj wake up na his back facing to ceiling. In sleeping tone.
Kunj: haa let me sleep.
Twinkle: maro I'm toh going.She take her clothes from her bag and went in washroom.After sometimes twinkle come out of the washroom. Went towards dressing table she started drying her wet hairs due to this her wet hairs water sprinkled on kunj face. Kunj rubbed his eyes and open see twinkle. She drying her hairs looking so beautiful in wet hairs and twinkle wearing dark pink colour long anarkali dress looking stunning. Kunj didn't blink his eyes just look at twinkle from bed. Twinkle did her make up apply red lipstick which give her complete look she let her hairs open just front hairs roll and tie with pins. She check her self. She truly looking hell amazing her chuda making her more spectacular. Twinkle done with her she turned and look at towards bed and found kunj is wake up and looking at her without blink his eyes.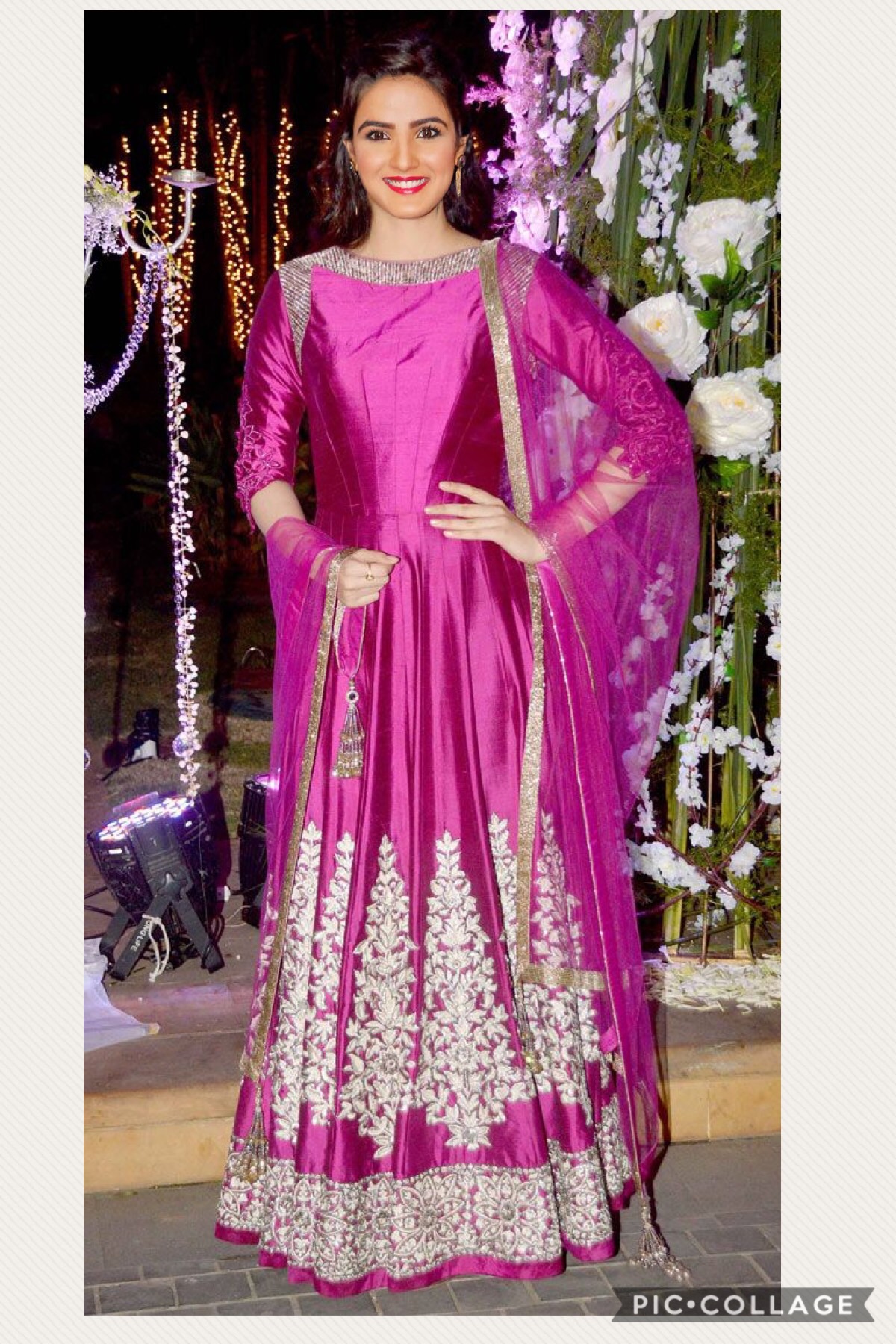 Twinkle:oyye sadu get up go and get freshen up fast everyone is waiting for us. Kunj come in sense he get up and sit rubbing his eyes and take yawn.
Kunj: uff still feeling sleepy ? today. He run to washroom while twinkle see whole room condition she went to bed and raze off the all flowers which hanging upwards of bed and sloping and covered whole bed.she break all flowers because if anyone see this what they think of them immediately understand too see this nothing happened between twinkle and Kunj.Than she pick up her and Kunj clothes keep it side and little bit settled her room in normal condition which look good if anyone come in room. Just than Kunj come out from washroom.He wears his clothes in washroom already. Wear nice white shirt with blue Denim plant looking hot. It's zip shirt so kunj didn't get difficulties to closed there is no buttons.
He went towards dressing table get ready.
he look at twinkle who standing in side.
Kunj: chale..
Twinkle:haa.
They both went downstairs.
Everyone was in hall sitting they see twinkle and Kunj coming down from stairs.
They come down first went towards Prithviraj and Lata touch Their feet's and take their blessing.
Prithviraj/ Lata: god bless you dudho nahao phulo phalo.
Kunj:good morning dadu and dadi.
Prithviraj:good morning my son.
Lata: come and sit twinkle. Before sit twinkle and Kunj take other elders blessing too. Usha caress twinkle face.
Usha:see avantika and mummy ji even our bahu too looking beautiful.
Twinkle:thanks aunty.
Usha:still we are aunty twinkle.
Anita:yes now no more aunty they are.
Avantika: you can calls mummy ji.
Twinkle:okay mummy ji. Avantika and Usha give smile.
Anjali:great twinkle. Om and rudra come along with Rahul.
Rahul:good morning newly wedded couple.
Kunj:good morning.
Lata: Twinkle now you have your breakfast and today you just rest we'll do tomorrow your first kitchen ritual okay.
Twinkle:ji dadi.
Anjali:okay come my Bhaiya and bhabhi.
Anjali and maya hold twinkle hand take her towards dinning table make her sit. Kunj come take his sit beside om and rudra.
Rahul:saale now sit beside your wifey.
Kunj:you sit na??.
Rudra: Arey give me something please.
Priyanka: haa Bhaiya.
Yuvi:where is Aayat today.
Rudra: this mummy wake me but didn't wake up this pa ki doll.
Om: rudra stop comparing yourself with her.
Kunj:yes she is so small not your age one.
You are 21 one years old she is just 5 years.
While having breakfast Rahul.
Rahul: I don't know rudra you are 16 year older than Aayat OMG.
Rudra: haa so what ??you are more than me. Anjali served twinkle.
Twinkle: bas di..
Rudra: Arey bhabhi kahaiye aapka hi ghar hai.
Om: rudra she knows this…. twinkle just have little bit kunj complete his breakfast he get up.
Rahul: where are you going bro.
Kunj:mar ne you wanna come with me.
Rahul: ek hi raat baad you wanna die??He hifi with Yuvi.
Kunj: di your husband become mad. Take care of him.
Anjali: Hmm. Kunj went while Rahul too instantly run behind him. Arey twinkle eat properly.
Twinkle:bas mera hogaya..
At Taneja Mansion::
Everyone sitting for breakfast while rt just looking at twinkle chair finding its empty feel bad everyone can see it.
Hansh: Rt have your breakfast beta.
Mahi: MAA today is first day of di at her sasural na.
Leela:yes puttar..
Kabir: did our twinkle wake up it's so early for her.
Malika: maybe she wake up. If not Anjali Di haina.
Leela: yes.that only give me peace they are with my twinkle.
Rt: I'll call twinkle talk to her.
Bebe: Rt karle you feel good.
Rt: kabir call twinkle na.. Kabir call twinkle but she didn't up because she left her phone in room.
Kabir: Papa twinkle didn't pick up the call.
Bebe: Maybe she is busy today is her first day na many rituals are there twinkle has to do so busy in this all.
Rt: right…
Avantika send servant to clear twinkle and Kunj room.Servant went and clean whole room.Twinkle sitting with Anjali and maya or Priyanka in Anjali room.
While Kunj in rudra room with all boys.
Rahul: bro hows your night.
Kunj:very good happy in irritating tone.
Om: Arey kunj why you getting irritating.
Rahul:in front of you both he feel shy.
Yuvi:hope jiju our video help kunj??.
Kunj throw cushion at Yuvi while he catch it. They all tease Kunj lot his ears tired now.
Kunj: keep your mouth shut up and you rudra I'm your elder brother have some shame.
Rudra: what I did Bhaiya make puppy face rest on omkara shoulder.
Om: mera Bhai wipe fake tears??.
While twinkle condition too same maya and Anjali didn't Leave chance to tease twinkle with Their questions.
Anjali: Arey twinkle tell us something about your first night.
Maya: yeah twinkle.
Twinkle: what I'll tell you haa. Looking down.
Maya: hoo blushing leave it your face glow is enough to tell us about your night??.
Twinkle: aap dono bhi na.. while Priyanka just listing their talks.. after sometimes later.
Lata: avantika we have to do twinkle muh dikhhi rasam in sometime
Avantika: Okay mummy ji I'll tell Anjali make twinkle ready.
Lata:yes and take twinkle muh dikha dress from my room.
Avantika: ji mummy ji. Avantika went in Lata room take the dress finding Anjali. While twinkle went back to her room.
Avantika went in Anjali room and see her she went towards her..
Avantika: Anjali beta go and give this dress to twinkle make her ready her muh dikha hi rasam.
Anjali: yup MAA let go maya. Anjali take the dress from avantika and she and maya went towards twinkle and Kunj room. Twinkle check her phone see her phone battery is die she plugged in charge. Just than Anjali and maya entered in room. Twinkle.. she turned and see them.
Twinkle: yes di. They went to twinkle.
Anjali: Twinkle go and wear this dress.
Twinkle: why di..
Anjali: Arey tumhari muh dikahi ki rasam nahi karni hai na all relatives and neighbors waiting for you only.
Twinkle:okay di.. twinkle take the dress and went in washroom while Anjali and maya sit and waiting for twinkle to come out of washroom. Soon twinkle come out of the washroom to wear the dress.
Anjali: come. She make her sit on dressing chair.Today I'll ready my bhabhi. Maya and Anjali make twinkle ready. Just than Kunj entered in room he see twinkle even she too through mirror.Kunj take his phone and went back from there. You know twinkle dadi specially make this lehnga for you in this lehnga real gold work is.
Twinkle: acha it's must be really expensive why dadi wasted money on me.
Anjali: Arey why not you are her special bahu. You know my dadu and dadi since long back they just planning they will do this and that for kunj wife today they doing it. So happy moments for dadu and dadi.
Twinkle:yeah I see in their eyes excitement for kunj wife.Twinkle get ready. Maya covered her head with veil.
Till than Avantika and Usha greet the all guest.
Anjali: let's go down.
Bua dadi: now lata where Is your bahu.
Anjali and maya take twinkle down.Her face covered behind ghunghat.They bring twinkle towards everyone make her sit.
Lady:now let's see how's avantika bahu.
Girls: yes We didn't see kunj Bhaiya wife fully last night.They are Prithviraj family relatives staying at Sarna Mansion.
Lata: didi starts the rasam. All boys standing upstairs and seeing this from far.
Yuvi: what is this??
Rudra:they doing bhabhi muh dikha hi dadu told me.
Kunj: chalo you know na boys are not allowed.
Rahul: he pulled kunj. Arey stop na you are not seeing your neighbors wife so no problem she is your wife see her.
Bua dadi went towards twinkle she lift twinkle ghunghat slightly and see twinkle face.
Bua dadi: looking nice. She give gift to twinkle.
Rudra: this bua dadi is annoying. My bhabhi is not only nice she is most beautiful girl in this planet ?..while Rahul gesture to kunj see.
Rahul:kunj did you hear what he just said.
Rudra you used this line for all girls. I still remember that day on isabella ??.
Kunj look at rudra face who giving puppy look. Kunj give him tapli on his head.
One by one all ladies see twinkle face and Praise her beauty lot. Kunj Listen.
Kunj: think in mind she is already self obsessed girl now they all boost up her obsession more???.. after lata open the twinkle ghunghat. Boys see twinkle she look breathtaking in this Banarasi lehnga combination of red and yellow colour
Kunj eyes stuck on twinkle face he just thinking how can she look always amazing didn't left any words to Praised her.
Lata cupped twinkle face and caress and kissed on her forehead.
Lata: lakho me ek hai Meri bahu. Keshi ki nazar na lage. Lata take money and wave the money on her head in a circular manner and give to servant. Twinkle is overwhelming to receiving love from kunj family this much she never expected even a in laws can do love this much to daughter in law find herself luckiest girl. While Kunj seeing from stairs he too happy he know his family mad behind his wife this much he don't know.Lata open the box and keep it in twinkle lap.
Twinkle: dadi.. ??
Lata: where is your dadu and Kunj.
Avantika : go and call all boys.
Priyanka: yes dadi. Priyanka moves towards upstairs boys see her and they run from there she call all boys And Prithviraj as well Tej and Manohar or Surjit they all come in hall.
Lata:aaiye.. Prithviraj raj went to twinkle.
Prithviraj: Twinkle beta open your gift.
Twinkle she open the box and find two bangles inside in box than she look at lata and Prithviraj.
Lata:yeh humare khandani kangan hai. This my mother in law gives me Than I gives your mother in laws now it's your time to wear take this kangan responsibility. Come avantika. She come and make twinkle wear the kangan.
Prithviraj: you increase the value of this kangan twinkle both keep their hands on twinkle head.
Twinkle:thanks dadu. I'll keep this kangan carefully more than my life. ??.Twinkle remove it and keep it in box back.
Lata: after your chuda wear this only.
Twinkle:yeah dadi. Aayat come there who yawing..
Rudra: see miss sleeping beauty come..
All tuned and see Aayat who is in her short night looking cute.
Rudra: haa it's time to wake up all look rudra look at him. ??.who talking
Aayat: bas Rudy bro. Enough protein powder all laugh out at rudra.
Rudra: wait he about to catch Aayat.
Tej: I'm here rudra don't forget it. Rudra see Tej and take his step backwards.
Aayat jumped in Tej arms and teasing rudra.
Aayat: don't mess with me she kissed on tej cheek and cuddles him. Mera pa.
Rudra: hatt??.
Aayat:even you too hatt.. others enjoying it.
Avantika:Aayat bas.
Lata: chalo now next rasam.
Rudra: which dadi. Jab se shadi ki preparation started hui hai tab se yeh rasam end hi nahi horahi hai dadi ek end hoti dusri start hoti ha..
Lata: haa mera rudra yeh rasame hai jo rishato me pyaar increase karti hai.. they all sit down. Well twinkle and Kunj sitting opposite side of each other.with a bowl of milk and rose petals keeping between them. See this ring Kunj and twinkle you both have to find it.Whoever gets the ring first is declared as the winner.
Rudra: this game is amazing Bhaiya start and find it. Priyanka drop the ring in milk bowl.
Usha: start. Twinkle and Kunj put their hands inside the bowl and both started finding the ring while finding the ring their hands touching and both look at each other face. While both devars is in bhabhi side even father in laws grand father or Yuvi as well. They were cheering for twinkle while rahul along with ladies for kunj.
Rahul:kunj do it fast na kya tortoise ki tarha dund raha hai. You make her win.
Rudra: my bhabhi will win..
Rahul:you both are such a big rascals. While Yuvi click twinkle and Kunj pictures send it to Kabir.
Lata: kunj kya hua.
Kunj:nothing dadi.. At the same time twinkle and Kunj get the ring both held it and look at each other face. Twinkle gestures him leave it. While Kunj give smile and winked at her ?before anyone see twinkle shocked to see him and she leave the ring..
Twinkle: it's cheating..
Rudra:kya..
Twinkle: he did cheating.
Kunj: what lair ??. Tell what cheating I did.
Tej:haa twinkle.
Twinkle:woh nothing.. she give him angry look kunj giggles slightly while rudra whisper something in kunj ears other see this.
Rudra:this G telling Bhaiya Against bhabhi huhu.
Rahul: acha did you hear something.
Rahul talks making kunj laugh out.
Kunj: bas.let me play the game.. ???.
Tej: kunj fair play okay.
Kunj: hmm. Kunj leave the ring. Again they both started finding the ring under in milk twinkle prick her nails on kunj finger. He look at her give her death glare cam angry. While twinkle giving him Tasha look back. Kunj smile inside in his heart. He again find the ring twinkle look at him he leave the ring twinkle find it out gets happy hell.
Twinkle: loudly I find the ring she take out and show everyone. All clapping for twinkle.
Tej: great twinkle beta. Kunj lost in twinkle laugh he feel so good to see her this much. While om and rudra give twinkle hug.
Aayat: offo Bhaiya. Miss twinki win.
Avantika: again miss twinki what pa teach you.
Aayat: haa I remember bhabhii..
Rudra: see Anjali ka Rahul my bhabhi win he and om Kara or Yuvi giving Rahul tashan look??while he look at Kunj and see he was smiling.
Rahul:abey oyye Kunj you make her win haa. See him Like a idiots he was smiling at his defeat kunjjj he shake him he come in sense.
Kunj:haa..
Rudra:Bhaiya bhabhi win the rasam. ?
Twinkle looking at Kunj give him full tashan look.
Lata:koi na.. now kunj make her wear the ring.
Kunj:hmm twinkle give the ring to kunj. Kunj take her hand in his and see engagement ring in twinkle finger it's looking fabulous today he see fully.
He put the ring in twinkle finger. All clapping for them.
Lata:good..
Om: today you loosing Kunj how.
Rudra:Arey what how it's simple bhabhi is campaign ?..
Rahul: acha Like you rudra. I'll not leave you kunj. Shit.. he itself make her win.. I know.
Twinkle: acha you know very much did you keep the camera inside the bowl ?. Everyone like wowwwwwww. While Rahul look at Kunj. Who giving him look back what he can do now..
Rahul: in low voice saale abhi se biwi ka ?supporter ?..
Kunj: kuch Bhi bol ha maybe less than you. ??. Than they all get up. Twinkle and Kunj standing near.
Twinkle: so poor Mr Sarna after cheating too you didn't win.
Kunj: he raise his eyes brows ?really Mrs Sarna. If I didn't loss did you really win it ?..
Twinkle: haa so what I didn't told you to loss for me Itself you did it..
Kunj:ab yeh hi bolegi na… twinkle give tashan and attitude look and went from there while kunj ruffles his hairs just than Rahul pulled him take him in  his room..
Kabir see twinkle and Kunj pictures which Yuvi send him.. he went to Rt and show him too.
Kabir: papa and MAA see twinkle and Kunj pictures. They all see get happy Rt touch the phone screen his eyes become wet.. while Kabir and Mahi hugged him from back.
Mahi: offo Papa me and Bhai is here.
Rt: haa..
Leela: Meri beti kitni soni lagrahi hai and happy too god bless them..
Kunj sitting on sofa while his leg resting edge of sofa same Rahul too.
Rahul: saale haar gaya hu..
Kunj: so what it just a game not my business let her win na didn't you see that smile on her face which come after find the ring.
Rahul:hoo itna socha aapne Bhai shab great I'm impressed with you.. aur bata did my gift help you ??.
Kunj: hehe such a worse thing you give me it's so awkward in front of twinkle.
Rahul: what worse really you are only one single man who saying this ?asked others.
Kunj: they maybe just like you..
Rahul: chal used or not..
Kunj:nope.
Rahul: than where you keep it..
Kunj: I didn't keep it I Throw it in dustbin.
Rahul:unromantic man.
Kunj: on whom I used..
Rahul:abey innocent Kunj Sarna what is this no whom I used. did his mimicry.Obviouslyly on your wife kunj. He hold his head. You flop your whole night..
Kunj:you leave my first night.I'm like this only. We are happy just..
Rahul: great ???..
Twinkle in her room.she sitting on bed and surrounded by all girls.They all asking serval question to twinkle while she just give answer in yes and no.And giving them fake smile they just eat twinkle head.They come from villages.twinkle whole mood is so off.in her phone she seeing Rt photo.
And tears comes in her eyes..
Anjali bring lunch at room  for all boys.
She served them food..
Rudra:did bhabhi eat..??
Anjali:Arey I asked her but she deny  no mood to have something.
Om:why.They all have their lunch.
Twinkle wiping her tears all girls see her.
Bua dadi come there see twinkle.
Bua dadi:Arey kya hua ladki Why you crying haa. Again.
Twinkle: nahi bas bua dadi missing my papa.
Bua dadi: you are not the one twinkle who come to sasural and leave her house now don't cry.. twinkle nodded her head in yes she went from there and come down.
Arey avantika your bahu is unique.
Avantika: what happened bua ji
Bua dadi: she crying like as if she only leave her home and come here..
Avantika: what. Nahi bua ji ab bachi na..
Twinkle:this kunj leave me here alone with this girls let him come once..
Avantika call Anjali and tell her about twinkle she went to rudra room see kunj laying down.
Anjali: kunj get up..
Kunj: why di let me sleep na please..
Rudra: Arey Bhaiya didn't you sleep at night ??.
Kunj: maar khaani hai rudra..
Anjali: go and see your wife..
Kunj: in lazy voice ab kya hua di..
Anjali: she was crying kunj and you know this relatives.. Kunj get up.
Kunj: this twinkle na..
Rahul: kunj you should go and console her.
Kunj: hmm first you send that girls from my room.
Anjali: okay you come I'll. Anjali went while kunj behind her. Anjali come in room and see all girls. Arey aap sab ko bua dadi calling. All girls get up went from room. While Anjali see twinkle and she too went.
Twinkle closed the door and call Rt.
Twinkle:papa??.
Rt: Twinkle puttar hows you my bacha.
Twinkle:I'm fine while crying why you didn't pick up my calls haa. In one night you all forgot me.. ???..
Rt: Twinkle nahi how can I..
Twinkle: Papa I'm missing you lot..
Rt: don't cry like this twinkle okay.
Twinkle: Papa I didn't feel good here. Mera bilkul bhii maan nahi lag raha hai.. I wanted to come back my house..
Rt: bas twinkle we are coming na at night in your reception okay. In middle Their calls cut due to bad network connection.
Twinkle: hello papaaaaa. Twinkle see the call is cut she throw her phone on bed.. she cuddles herself and cried lot horribly. Just than Kunj entered in  the room and see twinkle. He closed his eyes and went towards her in anger.
Kunj:Twinkle what is this man..I didn't understand why you crying this much.
In front of those you were crying they didn't understand your emotions just make fun of you that you can't understand in little loud voice. Twinkle get up and stand. Did anyone say something you. She nodded her head in no.phir kya Twinkle here everyone try to keep you happy as much as they can do it still you were behaving like this.
Twinkle:Kunj you taking me wrong.
Kunj: I didn't. You didn't have your lunch is it good Twinkle if your family see you and find you like this did they stay happy what they think about my family that we didn't give you love and care.
Twinkle: why they will. Its just I didn't feel like to have anything.
Kunj:acha why tell me the reason.
Twinkle: now twinkle started crying loudly. Kunj I just missed my family nothing else I m happy here but it just that I didn't feel good its new place for me na mera bilkul bhi maan nahi lag raha.. it's not your mistake it's my problem I'm very emotional.kunj hold her both shoulders.
Kunj:okay fine that I can understand. If anyone make fun of my wife emotions that I didn't like it. Did you listen what that relative were talking about you haa. Look at yourself twinkle your eyes whole night you just crying didn't sleep well. Twinkle shocked how kunj knows about this at night kunj turned his face and see twinkle. I thought leave it it's normal now too. Do you wanna go your home back because of me you are here na I'll call Kabir and tell him take your sister back. Twinkle look at Kunj in shocking way.. he take his phone immediately twinkle snatch the phone from him.
Twinkle:no you'll not do this. When I told you haa I want to go back..what type of husband you are at first day  of wedding you shouting at me haa???. She said in so cutely which make kunj smile..
Kunj:you know what you are mad.. twinkle.He cupped her face. And wiped twinkle tears if you cry one more time I'll really send you back Taneja Mansion.
Twinkle hit on his chest playfully. Just than Avantika knock at the door. Come.. Usha and Avantika along with Anjali and maya or Priyanka and all boys they come in room.
Avantika: Twinkle beta.. you come with me she make her sit on bed she too beside her. What happened haa..
Twinkle: nothing mummy ji.
Avantika:don't cry I can understand your feelings our family too but this people not na bacha. See everyone is here for you. You just tell once what you wanted.
Rudra: yes bhabhi I was so happy today you come but you aren't happy with us.
Twinkle:no rudra.. I'm happy.
Anjali: i know twinkle.
Avantika:if is in my hands I'll send you Taneja today only to Meet with your family but can't. And they are coming at night in reception you can meet with them and next  day you go for your pagphera now give me Twinkle wali smile.. she give smile and hug avantika caress her back.
Twinkle:this kunj is bad she shouting at me. All look at Kunj..
Avantika: really kunj. This is bad na. Don't shout at my daughter okay.. ?.. Rudra go and bring food for bhabhi. He went down.
I'll do complaint to tej about kunj okay. Kunj look his mother.
Kunj:what mummy yaar this siyappa queen is lair huh no pa??.Twinkle laughing to see Tej name fear on kunj face???..
Avantika: okay na.. now have your food.
Usha: yes kunj don't Okay.. they both went rudra come with food.They all sit on bed while kunj in sit. Rudra and omkara feed twinkle with their hands.Kunj yawning
Rahul:Arey twinkle don't give this kunj shit.
Chalo we will talk about something.
Twinkle: what?? Rahul come near twinkle ears..
Rahul:what kya twinkle how was the kunj.
Twinkle:mean good don't you know how
He is??.
Rahul: Arey I know but you tell me ??.
Anjali: Rahul at least leave her.
Rahul: wait na.
Rahul: at last night ???. Twinkle drenched in shyness..
Twinkle: aap bhi na jiju ????. I don't know you can asked him.
Anjali: bas bas.. all turned and see Kunj sleep ???.
Rahul: pata nahi kitni raato se soya Nahi hai????.. after food they all sit together chit chatting cheer up twinkle mood now she is bit fine.While Kunj busy in his sleep. After sometimes later.
Anjali: we should go guys and get ready for reception.
Maya:yes let's go.. they all get up Rahul went near Kunj pulled his cheeks..
Twinkle: hoo don't disturb his sleep.
Rahul: Acha ji???..
Anjali:Twinkle your and Kunj reception outfit is in wardrobe so take and get ready.
Twinkle: okay di.. they all went and twinkle closed the room door and she look at Kunj. Should I wake up him.Let him sleep. She take out her and Kunj dress from wardrobe. Due to noise Kunj wake up. He look around whole room and see everyone went and than see twinkle. Arey you
Wake up..
Kunj:hmm where everyone went??
Twinkle:to get ready for reception.
Kunj:hooo.. twinkle come to kunj.
Twinkle: your clothes kunj.. she keep it on bed.
Kunj: okay. Now you are happy haa when I scold you why you tell my mummy..
Twinkle:Acha you forget very soon..
Kunj: siyappa queen. Twinkle rest her head on Kunj chest.
Twinkle: sorry ?.
Kunj:I'm just kidding. Wrapping his one hand around her. Sajna ve play in bg???..
They break the hug after some few minutes later.twinkle went in washroom to get freshen up. She come out and Kunj went than. She started getting ready keep her makeup light. Kunj come out and see twinkle she almost ready.He went to went dressing table take his watch and wear it spray some perfumes on himself. Well Twinkle was confused what to wear in her neck.
Twinkle:Kunj pendant is went on this..
Kunj can I wear this Kunj???
Kunj: it's your choice if you wanted you can.
Twinkle: can't you suggest if it is good or bad.
Kunj:wear Meri maa. She forward pendant box to Kunj. He take pendant in his hand while twinkle take her hairs in front. Kunj make her wear the pendant.
Twinkle: Kunj tightly tie karna knot please.
Kunj:okay.. with hands pendant knot didn't closed tightly. Twinkle yeh nahiI horaha hai.
Twinkle:used your teeth na Kunj. Do fast please. Kunj used his teeth's to close the chain knot while closing the knot his lips touch her neck both can feel Kunj can feel her skin well twinkle his touch. Twinkle clutch her dress Kunj quickly closed and leave twinkle.
Kunj:sorry.
Twinkle:it's okay thank. Twinkle tell Kunj to fill the hairline he take the pinch of vermilion filled twinkle hairline.Now get ready she sit in side. Kunj make his hairstyle.
Tanejas left for Sarna Mansion. Even all family members is ready guest started coming while mansion decorated fabulously.
Tej and Manohar greeting with guest and their business friends. Even Tanejas too arrived. Prithviraj and Lata along with all family welcome them nicely.
Prithviraj: aaiye we just waiting for you people only.They hugged each other's.
All looking great.
Malika: where is our newly wedded couple. While rt and Leela dying to see twinkle face.
Usha: just coming.
Kabir: aur bhabhi ke devar hows you both…
Om: great.
Rudra: same ❤️❤️what about you.
Kabir: good. Rahul call Kunj he see his call.
Kunj: twinkle lets go down all guest is come.
Twinkle:yeah just one minute she check herself last time in mirror.
Kunj: chaloo.. they went downstairs.
Twinkle and Kunj coming downstairs while twinkle holding Kunj elbow spotlight went on them all see them.
Both of them looking truly awesome ????..
Twinkle wearing beautiful two piece gown in off white color and glittering work.
While Kunj wearing same color coordination Sherwani off white with black color looking hot.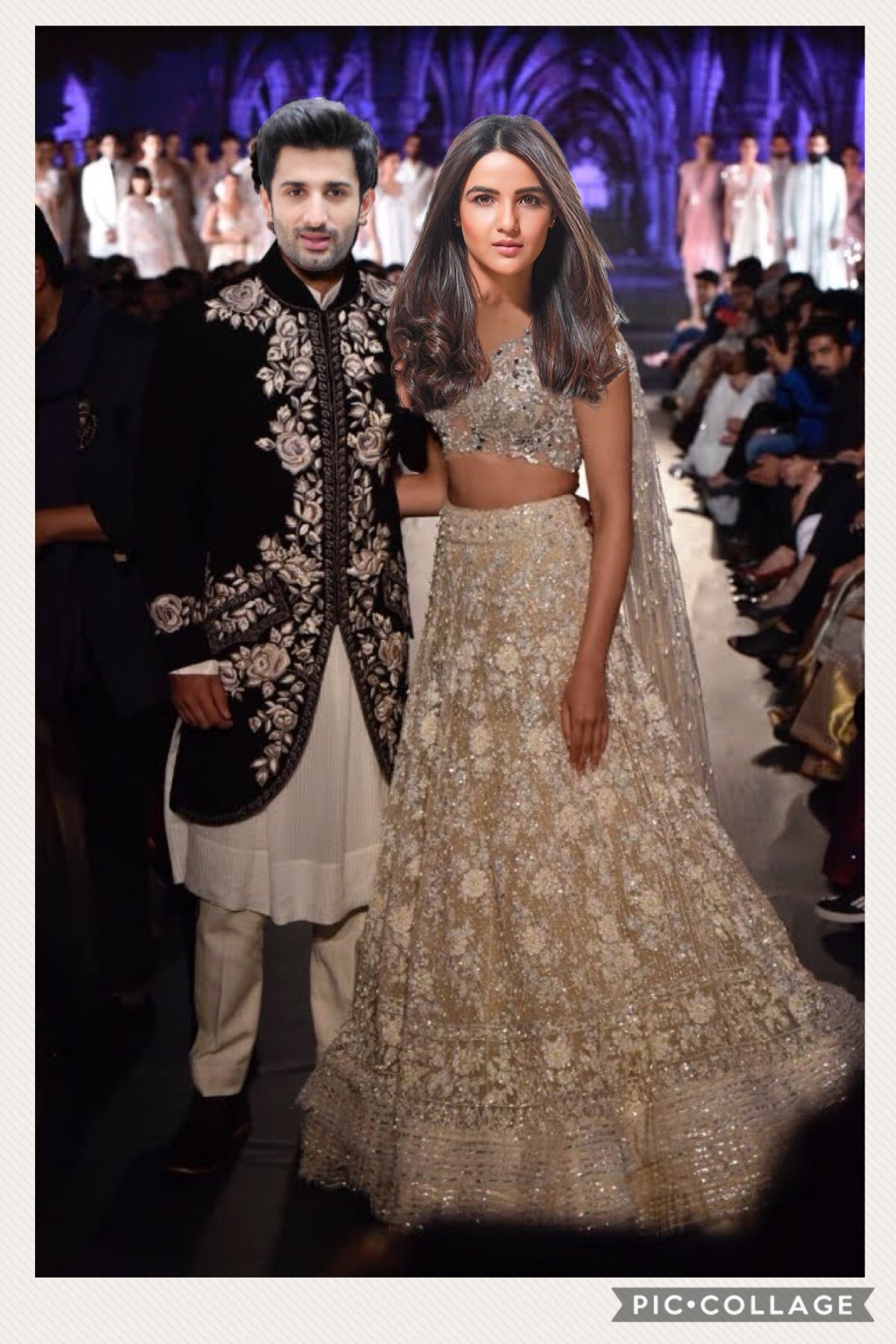 . everyone eyes only on them. They come down rt and Leela see twinkle give smile..
Rahul:finally our special couple come for them you all come here to enjoy their wedding reception.Twinkle see her family she get so happy without wasted even a single second she rushed towards rt and Leela and hugged them together.
Twinkle:maaa and papa uff. They both hug her too. Break the hug and both look at 
Twinkle face.
Leela: Mera bacha looking so beautiful. She kissed on her forehead while twinkle keep smiling.
Rt:yes.
Twinkle: papa I miss you lot she hug him again while others smile to see this..
Rt:even your papa too. How's you.
Twinkle:I'm good papa and happy too.
Tej gesturing to Kunj go and meet with Tanejas. He went to Bebe and hansh take their blessing.
Bebe:khush raho.. Kesha ho..
Kunj: fine bebe..
Hansh:we are good. Happy to see our damad ?… than Kunj meet with rt and Leela. He fold his hands both twinkle and Kunj take their blessing together rt hug Kunj.
Rt: till now I have one son now two… pat on his back.. you both just stay happy.
Than twinkle  one by one meet with everyone her friends and brother and sisters.. than Kunj and twinkle meet with all guest they congratulations them.. while media was just die to take their photo.
Rahul: Kunj go first meet with this media they just waiting for you. Finally Kunj Sarna get married?millions of time they asked you when you going to marry ?.
Kunj: in ki hi baddua lagi hai??in low voice Rahul and omkara laughing like anything while twinkle understand he said something on her only??.
Twinkle: why you both showing your teeth's
Rahul:kuch nahi..
Kunj: come twinkle. Press his laugh.. Kunj hold twinkle hand take her to media.
Media: sir finally you come. They both
Give many posea for them.Congratulation.
Kunj: thanks..
Media: sir how's you feeling now you married.
Kunj: happy jo sab karete hai.
Media: and you Mrs Sarna..
Twinkle: same happy.
Media: sir your name is come in hottest business man's so now after see your wife it's not good to say this even your wife too most beautiful wife. Twinkle look at Kunj giggles.
Kunj:yeah thanks for your compliments..
they asked them serval question they give answer after went from there back to gang. Kabir Hands around kunj neck..
Kabir: aur jija ji? officially hows you..
Kunj: he look at him. Top notch Kabir..
Malika: you guys looking stunning..
Twinkle: thanks bhabhi.. Kunj excuse them and he and Rahul meet with their business clients.
Rudra: bhabhi come guys let's sit.They all went and sit..
Chinki: aur Mrs Sarna hows you..
Twinkle: good you all tell me how bad you all are didn't call me once today.
Asha: Arey we thought to do not disturb you. You must be busy with your husband ?. They take juice.
Malika: even me too.. same..
Twinkle:nothing is like this I'm not busy with my husband?.
Mahi: where jiju went.
Rudra: hmm I'll call him he went and call kunj. Kunj sit beside Rahul..
While Aayat going out in garden guard take her inside but she wanted to go out so He hold and take her towards kunj..
Kunj: bolo why you all call me..
Naman: can't we call you kunj..
Anjali: yes kunj sit with us leave this business people. ??..
Rahul: for you anything wifey ??.
Rudra:hooo G…
Anjali: really nowadays you really become shameless.. have some shame at least in front of my brothers??..
Rahul: inke shaamne huhu very funny as if they send me in jail?..
Kunj:why we'll send you in jail?.. there too you did same.. rudra and om kunj hifi..
Rahul: keshe saale hai babaji???.
Kunj: same kesha jija hai ??..
Rahul: you brothers I'll kick you tiro?.
Omkara: acha.. they both give kunj side hug..
Rudra:mere Bhaiya.should I call pa?. Rahul throw flower at rudra..
Malika:Twinkle your pendant is so beautiful. She touch the pendant..
Chinki: and twinkle what your husband ji give you ???.. twinkle look at Kunj he too.
Twinkle:this pendant Kunj give me only.
Rahul: aww???he pulled kunj cheeks. While Kunj make irritated face.
Kunj:don't do this get it.. just than there guard come with Aayat.
Guard: sir..
Kunj:yes.
Guard: see Aayat baby she going outside didn't listen me too. Kunj look at Aayat.
Kunj: okay kunj hold her hand guard went from there. Aayat try to come out from kunj clutch.
Aayat: Bhaiya leave me na.. Kunj make her sit on top of table..
Kunj:Aayattt what happened..
Aayat: Bhaiya leave me I wanna play..
Kunj: Aayat you cant go now baby see so many peoples are here if you lost haa..
Rudra:yes than your pa shoot us..
Aayat: okay.. Aayat mess up kunj all hairs.
Priyanka: Aayat you come with me..
Aayat: no I'll stay with Bhaiya.
Rudra: go and sleep bachi..
Aayat: don't mess with me I told you na..
Kabir: hooo Aayat what a dialogue.
Aayat: you don't talk to me ru bro.see Bhaiya him.
Kunj:haa rudra now don't tease my sister..
Kabir: Aayat why you call this two bro and only Bhaiya Kunj..
Aayat: haa they are bro he is my Bhaiya.
She coddles Kunj..
Rudra: hehehh no Kabir bro. She just scared of mummy If she didn't call respectfully than mummy stick is ready ????. All laugh out.
Aayat: acha what about you. You hit more than me with mumma stick??.
Rishi: rudra poor??..
Twinkle: did really mummy ji used stick. I mean after see her it's tough to believe.
Rudra: you are new na bhabhi that's why. Stay with our mummy you'll get to know how she is?? Even sometime mummy didn't leave Bhaiya her anger is so high ?..our MAA is best she never scold O and DI..
Kunj: But you deserve rudra after punishing lot by mummy still you are like this..
Omkara: yes kunj turn hardly comes. Your and Aayat comes once in month ??.
Kabir. It's mean dangerous mummy.
Kunj:not like this her kids is really stubborn so.. while Malika and Asha or Chinki in low voice they asking questions to twinkle.
Chinki: batana twinkle hmm..
Twinkle: kya batau chinki I'll not leave you. What you both pack in my bag ha.
Asha: why it's so hot na what we pack. Kunj like you na?twinkle look at Kunj and remember that scene..
Twinkle: haaa very much it's become so awkward in front of him.. Priyanka bring food for Aayat Kunj make it on his lap Aayat watching cartoons in Kunj phone her mind on phone only Kunj feeding her.
Kunj:Aayat watch this later na..
Aayat: nahi na.. Aayat complete her food than Kunj send her with Priyanka because she is sleepy ..
Kunj: take in room and tell servant stay with her only.
Priyanka: ji Bhaiya. Just than there Rahul bring his and Kunj friend shazam.
Rahul: Kunj see who come. Kunj turned and see shazam and get happy he stand immediately.
Kunj: shazam you.
Shazam: yes it's me. You didn't call me itself I come ?man.
Kunj: pa call you na..
Shazam: yes tej uncle call me. They share hug. How's you.
Kunj: I'm all good what about you.
Shazam: great.. where is your better half Mr Sarna just to see her I come India first time for you.
Kunj: yeah twinkle get up.. shazam she is twinkle my better half.
Rahul: and twinkle he is Shazam my and Kunj friends. Twinkle shake hand with Shazam. He is weak in Hindi ??.
Shazam: nice to Meet with you twinkle.
Twinkle: same.
Shazam:Kunj you are really lucky you got such a beautiful..wife  you are really pretty twinkle.
Twinkle: thanks..
Kunj: aur where is your BF..
Shazam: she didn't come. Just than there shazam sister come sofi.
Rahul: Rudra see who come???Rudra see sofi and give her flying kiss..
They talk for sometimes after.
Rahul: let's dance everyone. Everyone get ready while Kunj just stand in side. Kunj come.
Kunj: no I'll not do this dance and all.
They all forcefully pulled him at dance floor. They all hold their partners hands went to dance floor. Kunj hold twinkle from her waist while her hands resting on his shoulder. Kunj hands on her bare waist. BG MusIc TUMHI DEKHO NA song..
Rahul purposely send Mahi with Rudra while Priyanka with om..they all dancing on song beats.. twinkle and Kunj look at her Each other's Kunj Twirl twinkle she landed on his chest..
Twinkle: what happened to you every time just bhav khate ho..
Kunj: Acha don't give me bhav when you know na. Should i change my partner Kunj looking here and there.
Twinkle: Acha don't dare to think. Now you stuck with me for 7 Births ?.
Kunj: Acha don't know how I bear you in one brith ?twinkle hit on his chest.
Twinkle: ab toh me tumhari biwi hogi hu Kunj. It's so strange na kunj our first meeting.
Kunj: yeah how can I forget this. You broke my car.
Twinkle: no you.. Rahul see om eyes just on Mahi.. and her too.. well they spin their partners and they get change with others.
Kunj got his dadi while tej twinkle and om mahi..
Kunj: dadi.. they both dancing on beats.
Dadi:don't twirl me okay. Chakar aajayega..
Kunj: okay.. beautifully they both dadi and pota dancing.. even tej and twinkle too.
Om: aur mahi..
Mahi:kya.. their dance end while Kunj and dadi still dancing both talking and lost.. each and everyone see them Kunj twirl dadi while she closed her eyes all laugh.
LAFZON KA YEH RISHTA NAHI SONG PLAY ON THEM IN BG❤️❤️❤️❤️❤️:::::
Usha: this dadi and pota bhi na.. om and Rudra too went and joint them now they trio brothers dancing with lata.all just admire their bond.. while lata cupped their face they hugged her tightly together.
Rudra: meri dadi..
Om:meri… dadi.. pulling her hands.
Kunj: Acha while Kunj meri DADI tiro started fighting lata looks at them and give fake anger.. than trio together loudly.
HUMHARI DADI four of them joint their heads all cherish this❤️❤️❤️❤️??..
Prithviraj: hoo where is my girls Anjali and Priyanka come and cuddles Prithviraj. While Prithviraj call twinkle hugged them together… try too said Loudly HUMHARE DADU..❤️❤️?????…
After this waiter bring Cake now it's time to cute the wedding twinkle and Kunj cut two cakes first fun for fun feet everyone's..all cherish moments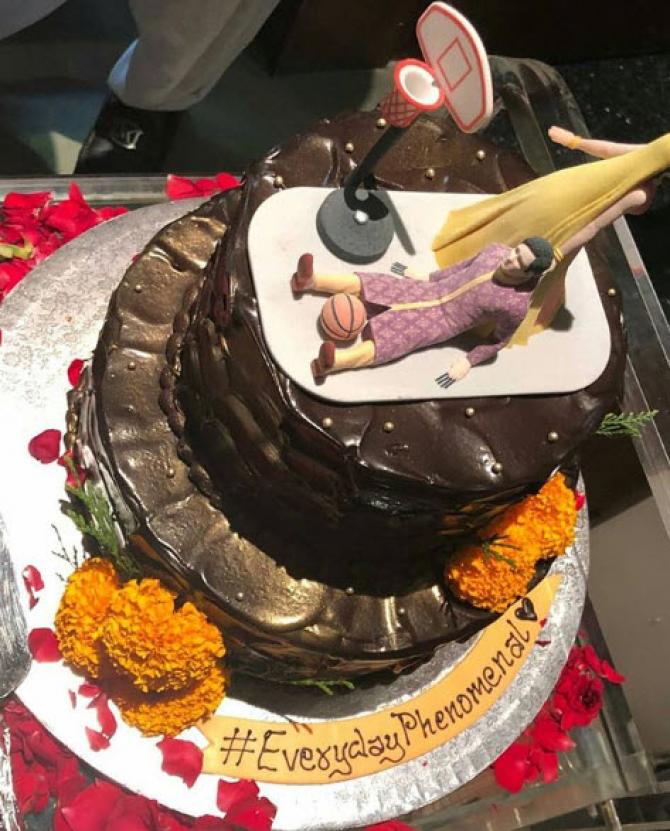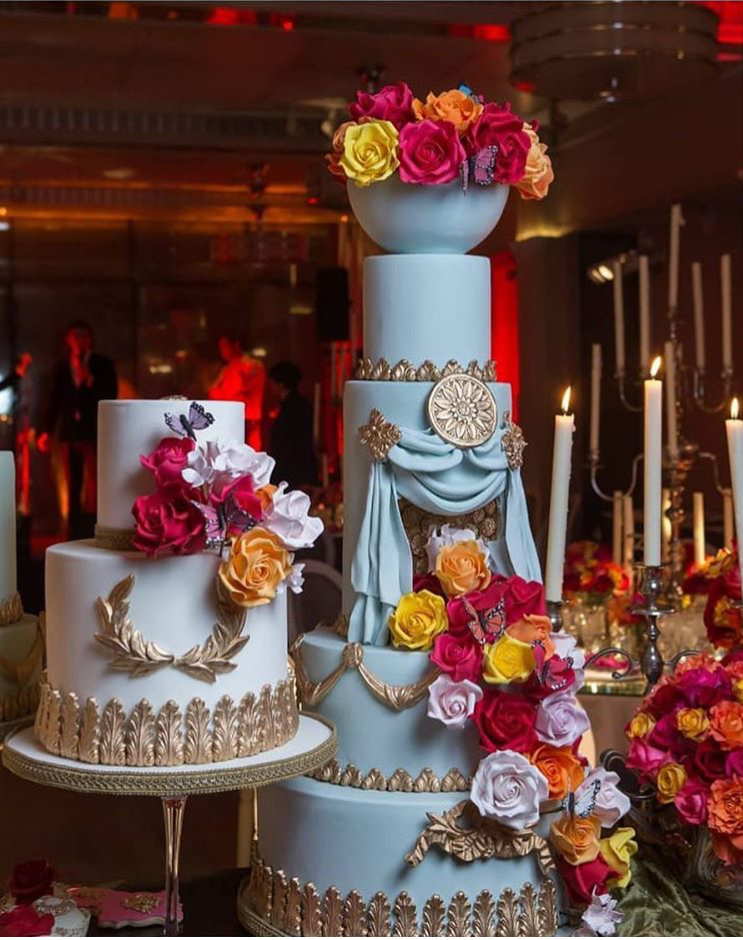 Than they all family sit together for dinner. Waiters served everyone food. While waiter served sweet in Kunj plate..
He deny to take..
Kunj: please don't give me..
Waiter: okay sir.
Kabir: Arey why Kunj have some it's so delicious.
Kunj: no I already had so much sweets nowadays now no more..
Leela: why beta.
Yuvi: health conscious. Bro..
Kunj: no in that way.
Rudra: Arey Bhaiya can't have sweet.
Kabir:whyyyy…
Avantika: because Kunj have diabetes problem. All shocked those don't know about Kunj.. twinkle looking at Kunj only.
Leela: what..
Kabir:ho sorry bro.
Kunj: no it's okay.. they all have their dinner while in whole dinner twinkle just admiring Kunj she really don't know about Kunj he is diabetic patient.Feel bad for him to have diabetes in this age.. after dinner all guest leave now it's Tanejas..
Hansh: now we leave.
Rt: yes.. they meet with everyone than twinkle. She hugged everyone in her family..
Rahul: take your sister too she crying just.
Kabir: Acha lets go twinkle ??.
Rudra: you can't take my bhabbi. He hold twinkle hand.. Bhaiya don't let Bhabhi go and without Bhaiya permission now Bhabhi can't go.. all enjoying it this. Twinkle look at Kunj he too..
Anjali: so Kunj???
Kunj: what..
Rahul: yeh hi did you wanna send you wifey.
Rt: In kidding manner you wanna come twinkle. Twinkle nodded her head in no.
Twinkle: no papa.. she said while looking at Kunj.. Rudra and om come and give twinkle side hug..
Rudra:ab yeh humari hai.. Rudra and omkara twirl twinkle and she land on Kunj shoulders.
Anita: okay MAA and papa we too take leave.
Prithviraj: Arey stay an Anita after years you stay with us..
Tej: yes.. we didn't sit together anita..
Anita: tej Bhaiya I'll come soon.
She went to her father and mother hugged them.even Yuvi and maya.
Kabir: bye sister.
Malika: yes ??.. they bid bye and left for their places.
Episode end on here..
to be continued…
____________________________
Hi everyone how was the episode?
if you all not like episode than sorry
Well I'm overwhelmed to see your comments thanks for your words still less comments. I write episode in hustle so leave anything is not on place.. mistakes to. Bye love you keep smiling ??..