RAB SE SONA ISHQ: TWINJ= EPISODE 15
Episode 15
RAB SE SONA ISHQ:????
One week later almost.. hansh and Bebe wanted now Kabir and Malika wedding take place, so they call Malika parents and talk to them about their kids wedding.. they to get ready after they call guru ji take out wedding date he gives them after one week wedding muhurat was really good for them.They get happy finalize the date. Both family really happy for this finally first wedding of their family after them.till now Kabir And Malika unawares of this.
At evening when twinkle and Mahi come back from college they come sit in living room see sweets placing on the table.. they both take the sweet there Bebe and Leela come while rt and Hansh get busy in wedding preparations from now.in one week how they'll do everything on time so.
Twinkle: what's the matter so many sweets are here..
Leela: yes khushi ki baath hai..
Mahi: what..
Bebe: Kabir and Malika wedding has fixed they both sister get up in excitement.. "WHAT" together come out from their mouths .
Leela: sit down don't be shocked..
Twinkle:I'm so happy.MAA when this happened.
Bebe:yes now you both sister go and starts your preparations you all have only one week.
Mahi:only one week awww..
Leela: yes finally Kabir going to become groom soon.
Twinkle:yes you mother in law???..
Let Bhai come he teases me lot now his weak nerves come in my hand I'll tease him like anything.Kabir bahu ufff..
Mahi: di lets the shopping what's say..
Twinkle:yup from tomorrow.today we'll plan Bhai wedding functions and everything.
Mahi: yes..
Leela: do whatever you both want to do now go and get freshen up okay till then I'll make tea for us..
Twinkle:okay I'll come quickly MAA.. they went in their respective rooms and get freshen up and come back down and sit with Bebe and Leela they all have their tea and snacks.they talk about wedding things after sometimes later Rt along with Hansh Kabir too come they all come and sit for dinner twinkle and Mahi giggles slightly Kabir he confused what happened to them now..
Kabir: what happened to you both..
Rt:Leela now you start all preparations okay..
Kabir: preparations for what Papa..
Bebe: for your wedding..
Kabir: what my wedding when..
Twinkle: after one week.. bhai?. Kabir looks at hansh he nodded in yes..
Kabir: really when this all decided..
Hansh:today only my son.now you don't have to talk to malika in garden while watering the plants all started laughing twinkle teasing Kabir by making faces Kabir get so happy..
Twinkle: Bhai happy inside hmm.
Kabir: yes khushi ki baat hai meri hogi phir Teri exit.. ???..
Twinkle: no..
Kabir: asked Papa your father-in-law talking to Papa about your and Kunj wedding he winked at Rt.. twinkle get serious.she looks at Rt and asked her..
Twinkle: really Papa this.
Rt: yes ??.. twinkle face drop down all look at her and give laugh twinkle look at them nothing is like this twinkle he just kidding with you..
Twinkle: huhu..
Hansh: one day your wedding happened twinkle after see Prithviraj ji and Lata ji excitement and happiness for your and Kunj wedding..
Kabir: in between seemed like soon their wedding to happen ??I didn't understand why this people are so curious to make you their daughter-in-law..
Twinkle: why do you have any problem..
Kabir:seriously Papa they all just bhabhi and bhabhi and bahu.after wedding they come to know which blunder they invited it ??.. twinkle throw Apple at him.. later they all sit together and planning each and everything first guest list and other things as well.
Twinkle: my dresses.
Rt:you all call malika and went for shopping together that would be best..
And Kabir you and malika go and select your wedding invitation card.
Kabir: okay Papa we'll.
Hansh:we should inform about this Sarna's now they are our relatives special one.
Kabir:yes we'll give invitation card specially.
Bebe:do one thing rt and Leela will go.
Hansh:yes.. after sometime later all went in their rooms and sleep..
At Sarna [email protected]
Everyone went in their rooms kunj didn't come back from office still.om and rudra in kunj room doing time pass. Kunj reached he come out of his car and went inside today day was very busy day for kunj. He didn't see anyone see the time than realize he went ahead entered in his room laughing sound coming out of his from. Kunj see his both brothers mess up his bed..
Rudra:hi Bhaiya finally you come back..
Kunj: yeah you both didn't sleep till now.
Om: just waiting for you..
Kunj: acha ji.. Kunj keep his bag aside and take his nights dress went in washroom he gets freshen up and come out and sit beside his brothers.
Rudra: Bhaiya lets make something I'm so hungry many days has been passed you didn't make anything for me..
Kunj: acha ji ??.. let's go than.. they three of them went down in kitchen they wear apron and cap all set to cook something yummy.. what you wanted rudra.
Rudra: your amazing noddles he acts like water is coming out from his mouth they both of them laughs.
Kunj:okay om started cutting veggies while Kunj preparing for other things.. Rudra just clicking their pictures.. for name' sake he wore apron ??.Kunj started making noodles om give him cut veggies. They three of them started roaming in kitchen playing with veggies and spoons Rudra acted like mad om and Kunj come from behind and hugged him.
They started dancing and singing the song (Zindagi milke bitayenge.. ??)due to voice Lata and Prithviraj come from their room they see voice coming from kitchen they went ahead and stand in side see their sons making memories in kitchen. Dancing like stars they both get so happy to see them together.They both smile like anything kunj and rudra playing with om hairs making fun of him. They were walking like in train way Kunj first second om and third rudra in Line rudra falls down om and Kunj laugh out he makes puppy faces both of them give their hands to him he pulled them back to him they both sit beside him rudra mess their hairs and give kisses on their cheeks they both make faces like save us.. they smell something is burning realized their noodle on gas stove.They run towards noddles before it's get burned it they see their noddles didn't burn it hopefully.Rudra bring plate Kunj put the noodles in plate om did garnishing.They went in side and sit there in side couch.Lata and Prithviraj went from there back to their room.
They remove their aprons and caps.. and looking at noodles rudra smells and make tempting faces.. om and Kunj laugh at their brother on his Childishness..
Rudra:let's eat Bhaiya I can't wait..
Kunj:yeah go ahead.. Kunj eat rudra with his hands and om too than they both to kunj like this they tiro brothers spending together. With lots of laughs and fun..
Rudra: Bhaiya how you are so perfect in every these noddles is so yummy. Bhabhi too good at cooking what's say..
Kunj: I don't know asked her Itself I see you and her very good bond you both share in very less time.
Rudra:yes she is so cute and good.even her sister too mahi.. she is type of om..
Om:what..
Rudra:I mean just busy in herself.. what you think about her.om started coughing..
Kunj and rudra laughing while om looking
At them.they finished the noodles and keep the plates in kitchen while Kunj clean the kitchen slab om to plates it's their duty, and they like to didn't mess and anything and leave any work for others even for servants as well.rudra other things.After they went in their room.They went in om room.Om busy to read some books while Kunj as well they both love to read books. When they are free om love to read philosophical books while Kunj all type of on business world everything love story never ??.
Rudra feeling sleepy to see his both brothers busy in books.He keeps his head on kunj lap and lay down kunj see him and smile.om and Kunj sitting across their back touching each other's backs.. later they feel they should to sleep now both keep the book aside and lay down..
Om:this baby rudra.. they make him lay down perfectly come sleep beside him..
Kunj:yes our little brother how much he makes us run behind him in childhood still too.They both kissed on his forehead.Cuddles him and sleep….
Next day like as usual all wake up and get ready and come for breakfast they all sit together.Anjali went in kitchen to make egg frittata for everyone today.both father just worried about her she had spices tempering (tadka) baldy allergies so. She come with egg frittata and all looking at her find her okay get so relief.This makes her brothers laughing. She served them., all started tasting it.
Anjali: how's it..
Rudra:nice di why you make G favourite things ??.
Om:yeah she miss her hubby.. very much..
Anjali:nothing is like this my lovely brothers have this.this try on kunj this'll work out. Later I'll not make anything for you both have food make by your bhabhi.
Rudra:haa let our bhabhi will come she makes yummy yummy foods for us..
Om:yeah..
Anjali:see kunj they both flying so much on your twinkle wifey..
Kunj:acha let them do see afterwards.
Tej:why kunj did you think twinkle isn't good cook.
Kunj:no pa I don't know about her..
Rudra:sir sound much better from Bhaiya mouth.
Avantika:good now go and you'll get late for your college. After breakfast all left for their works.
After sometimes later tej and Avantika went school for Aayat.They wanted good school for her so.. after so much tej finally found good school for his doll. Very much expensive school all activities they will teach kids.Aayat get admission she is happy. She went for shopping with her parents for buy new things for herself. They buy all new new things bag all necessary things which she needed..
At Taneja mansion all get busy in wedding preparations.twinkle and Mahi come after so much time Kabir who was waiting for them past from 30 minutes. They come and went towards him he was giving them look, but they act like nothing..
Kabir:this is the way to come haa I
Wait for you since long back..
Twinkle: girl takes now get use to Bhai now you are getting married soon so girls take times get it.. now let's go malika bhabhi must be waiting for us they both went out Kabir get shocked to see their reaction..
Kabir:I'm hell petty for kunj now what happened to him after wedding this twinkle his life spend in wait.. he went out they sit in car and drove off., soon they reached to malika house she already waiting outside as soon as she saw Kabir car and went towards them.. Kabir give her pouty smile. This seen by his both sister they both giggles malika come and sit and slap Kabir playfully.They left for shopping.. first they went to designer see many dresses for all functions twinkle wanted everything perfect for her malika and Mahi select their outfit malika and Kabir all outfits matching.still twinkle didn't satisfy.
Malika get busy in her wedding dress along with Kabir.twinkle find best outfits of herself for all functions.. after this they went to mall for other things Kabir and Malika went alone to see shoes and other accessories for them while Mahi and twinkle too.They both see shoes for them
Twinkle buy mostly high heels for her and Mahi normal which give her good walk.
Than they select accessories for their all outfits malika and Kabir done. After they all went in other shop there Kabir searching brooch for himself Malika and twinkle helping him too. There twinkle see two nice brooches she like it very much to see this brooch rudra and om faces comes in her mind..
Malika:nice for whom you were taking this?
Twinkle: hmmm how is look at om and rudra..
Mahi: Hoo..
Kabir:nice twinkle take for them they treat you so nicely..
Twinkle:hmm.Even she sees pocket square
without knowing anyone she buys this too. Soon their whole shopping end mostly whole day their went in shopping and all's.
Its evening they think Let's have something they went in food court and Oder noddles and pizza for them eat and get tired now very much. After they left for home they directly went to Taneja mansion soon they reached they went inside and keep all bags aside everyone looks at shopping bags and get shocked numbers of shopping bags was there.
Rt: whole Amritsar you all buy I think..
Kabir:yes your daughter-in-law and daughters spend your money like water today Papa.. Mahi and twinkle come rest their elbows on Kabir shoulder..
Twinkle:yes Papa it's our right to spend money after all our one and only brother wedding is..
Hansh:right do whatever you all wanted.
Kabir:MAA I'm so tired this twinkle is so annoying she takes so much time to select her outfits. We should send her with kunj for shopping.. please MAA make tea.
Twinkle: no need of this..
Leela:okay you all sit I'll bring tea for you all.Leela went in kitchen make tea for everyone soon she come with tea and served everyone.. later wedding invitation card man come Kabir and Malika selecting card for them.
Malika: Twinkle and Kunj engagement arrangement is very good like it..
Kabir:yes we'll ask om whom he gives decoration work..
Mahi: yes..
Kabir: chal Twinkle give your devar ji number,
Twinkle:hehe bhai you have Itself I don't have..
Leela: first see the card..
Twinkle:Bhai and bhabhi this one is very nice..
Malika: yes lock this..
Rt: we wanted all card tomorrow only please..
Man:okay sir.. after this twinkle and Mahi went in their rooms while Kabir and Malika discussing something about their wedding.
Twinkle get freshen up and lay down she takes out the pocket square and see it..
Twinkle: it's so pretty sadu wear suits this'll look good on him. How I'll give this to him.hmm let me think I'll give to Priyanka If I give to rudra he teased me a lot already they tease us very much.. Without doing anything..they all have their dinner and sleep..
Yuvi and rudra went for movie late night they come kunj scold Rudra to come home at this time tej didn't know Yuvi and he apologises to him.Kunj leave them.. they all sleep together rudra and yuvi just gossiping whole night this disturb Kunj sleep.Kunj get up went in his room and sleep there.. next morning they all sit for breakfast all see Yuvi get surprised to see him here while Kunj manage he calls him to stay here.. Kunj get busy in call Lata see him he stops didn't eat his breakfast Lata went near him and started feeding him with her hands kunj give her smile while all grand sons and daughters get jealous. They just looking at Kunj and Lata.
Rudra: dadi???.she feed her all grandsons and daughters. They spend some time. Rudra and Priyanka along with Yuvi they left for college.soon they reached college went in their classes while Kunj went to hissar for some work.
Twinkle look at chirag who still admire her she makes faces at him..get busy in her studies. After all lectures get end they about to leave for their homes twinkle went near to Priyanka.
Twinkle: hi Priyanka..
Priyanka: hi bhabhi..
Twinkle: please can you do my one work..
Priyanka: don't say please I'll tell.. twinkle give her one box..
Twinkle: give this to kunj.. Priyanka look at her give her naughty smile.. don't tease me please..
Priyanka: Bhaiya..
Twinkle: yes your Bhaiya and don't tell anyone about this please..
Priyanka:okay I'll give to this Bhaiya without telling anyone. What next in this hmm..
Twinkle: this you can ask your Bhaiya okay.. there Rudra come immediately Priyanka keep the box inside in her bag..
Rudra: hi Bhabhi.. where are you busy..
Twinkle: Kabir Bhai and Malika bhabhi wedding.. after one week..
Rudra: what amazing..
Twinkle: yes.. rudra this is for you and om..
Rudra: what is this bhabhi..
Twinkle: open.. rudra open the box and see two brooch..
Rudra: nice bhabhi thanks for this..
Twinkle: don't be thanks okay.. after all you both make me so happy. This I can do for you both.. rudra went near to twinkle ear..
Rudra: acha nice thoughts teach this to your to be pati dev.. he scolds me..
Twinkle: did you do something than only he scolds you ???..
Rudra:hoo from now only you take side of your kunj husband ??..
Twinkle:no I'm taking side of true.. okay devar ji bye I have to reached home.
Rudra:Okay bhabhi till when I have to wait.
Twinkle: confusedly for what rudra..
Rudra: for you bhabhi see soon your bhabhi will come at your house when my bhabhi will come twinkle smile..
Twinkle:this much excited for me hoo seem interesting rudra. Hmm you have to wait for one year.. rudra act like he'll fall down now only after Listen this..
Rudra: what one year Yuvi come there rudra tell him too.no bhabhi can't one year.
Yuvi: heheh see twinkle your husband bothers curious so much for you instead of kunj this much curiosity suits on kunj..
Rudra:leave about Bhaiya he just curious about his meetings and business..
Mahi: let's go..
Twinkle:yeah okay bye guys.. they left for their homes..
Rt and Leela all get to go to Sarna Mansion to give them wedding invitation card first..
Bebe: okay Leela.. go..
Leela: yeah Bebe we'll come soon okays. Rt and Leela sit in car and left for Sarna Mansion soon they reached and went inside to see them avantika and usha or Prithviraj or Lata get happy and surprise too.
Usha: come aap.. they sit together servant served them water..
Avantika: nice to see you both here..
Leela: we have to come here..
Rt: good news for you all..
Lata: what Rt beta.
Leela: malika and Kabir wedding fix after one week.. all get so happy for them..
Rt:so we come here to give you all wedding invitation card first.. Leela give card to Prithviraj..
Prithviraj:I'm so happy for them..
Rt:you all have to come now we are family so..
Avantika:please for any help tell us we'll love to do something for our kids..
Leela:yeah avantika I'll tell you.. just wanted to book hotel for all function..
Avantika: hmm nice idea..
Prithviraj: don't worry about this all. We have many hotels and resorts here so your this problem get solve I'll send kunj to your house you can see pictures of hotel and resort what you all like for wedding..
Rt:thank for this.Leela give everyone sweets and feed them.After Leela and Rt left for Luthra mansion and their others relative house.They give each and everyone cards.Twinkle and Mahi reaches to Taneja mansion they both finding their mother Leela.
Mahi:MAA.Bebe come there..
Bebe: your Papa and MAA went to give invitation cards to everyone specially to Anita ji and your in laws twinkle..
Twinkle:okay Bebe.they all sit.later Leela and Rt come back home and they all sit.
At Sarna [email protected]
Priyanka waiting for kunj when he'll come back home. Rudra and Aayat having nodes Aayat just put tomato sauce in noddles.She makes her clothes and face dirty in sauce. Tej and Manohar come there see Their little son and daughter.
Manohar: see Bhai shab.
Tej:what my doll eating..
Rudra:pa you never asked me what your prince eating ?. All others laughs..
Om:because he knows.. prince see dadi..
Lata:he is apple of my eyes.mera bacha rudra pass flying kiss to Lata..
Rudra:Love you dadi..
Lata:I love you too..
Rudra:wait o I'll show you something. He went in his room and bring box.. he come and sit.. just than Kunj come there.he sits beside avantika she caresses his face.
Kunj: what's going on..
Tej: how's your meeting..
Kunj: good..
Rudra: o see this..
Om: what.. he gives him box om open see brooch and look at rudra.. when you shop.
Rudra:I didn't know shop this O.. bhabhi give me this and you..
Usha: acha Twinkle give show us. They all like brooch very much while Anjali shaking kunj elbow with her in teasing way.
Anjali: abhi se bhabhi showering love on her devars impressive..
Priyanka:I have to give to Bhaiya what bhabhi give me for him.. (think)
Om: nice brooch.
Rudra: see Bhaiya she gives us not you. Don't complain her..
Kunj: what why I'll to her..
Rudra:you both didn't talk to each other's on phone like others..
Om:this sound lame ??..
Tej: why om me and avantika even your parents too we talked so much on phones.
Lata:yeah whenever I asked them they just make me fool ??they get busy with their friends.
Kunj:I didn't do this all.he hides his face on his mother embrace..
Avantika:tej your son didn't went on you..
Aayat:Bhaiya you didn't bring chocolates for me..
Kunj:sorry I'll tomorrow okay..
Rudra:dadu when our Bhaiya will get marry. See malika didi and Kabir bro wedding next week..
Kunj:what:.
Lata:yes kunj it's so good.
Kunj:happy for malika she didn't told me..
Rudra:scold her..
Kunj:acha..
Prithviraj: kunj do one work.,
Kunj: what dadu..
Prithviraj:go Taneja mansion tomorrow and show Rt and Leela all pictures of our all hotel and resort okay..
Tej: for what..
Prithviraj: they wanted hotel for till wedding, so I told them..
Tej:good kunj you should go and complete this work and asked Kabir If he wanted any help okay..
Kunj:okay.. I'll do it pa..
Avantika:Aayat see your face.. I just run behind you whole day. Let your school starts. Aayat went to tej..
Aayat: pa see this..
Tej:Meri baby.He kissed on her cheeks..
Avantika:this tej make her more childishness..
Tej:my baby is so small..when my clients see her they didn't leave her.They like my baby so much cutest baby my Aayat., they see tej and Aayat who make his face to red with her face.
Rudra: Chii pa..
Tej:beta don't chii too much when you are so small I did so much you pee on my shirt always.. they laugh..
Aayat: didn't you wear diapers.. ?Chii I have so many did you wanted kunj and om did hifi..
Om: epic..
Prithviraj: Aayat bhi na.
Rudra:I'm not like you who wears diapers everywhere still small baby ??..
Aayat: now I didn't..
Rudra hoo lair.. when we all went for panic that time you wear..
Aayat: haa so if pee come what I'll do better than like you who pee on my pa shirt Chii..
Rudra:o hello madam he is my pa before than you. 5 year ki hai tu he shows his 5 finger.
Aayat:still you are smaller than me.Rudra about to held but she. Run to kunj and show him tongue ?.She press Kunj head he feels so good her tiny hands doing magic in kunj head.my Bhaiya will scold you..
Kunj:for sometime can't you keep quiet he had headache..he presses his forehead with his fingers.He gets up and went in his room.Tiredness everyone can see on his face.
Usha:what happened to kunj.
Avantika:what's the need of do work so much.I'll see him..
Tej:good asked him didn't he skipped his diabetes medicines.Avantika immediately went in his room and see kunj who lay down and his back facing to ceiling. Avantika went towards him and sit beside him she caresses his hairs kunj feel his mother touch and open his eyes and found her..
Avantika:What happens to my son..
Kunj:nothing mummy..just normal headache.
Avantika: that's it na.. did you take your diabetes medicine kunj..
Kunj:hmm in morning only itself you give me..
Avantika:don't work this much always running here and there. She kissed on his forehead just than Usha come with coffee she come and sits to see her Kunj sit..
Kunj: choti MAA..
Usha:drink this coffee you feel good kunj.
Kunj:offo Meri pyaari dono maao I'm fine you both get worried about me this much.
Avantika:see your son Usha he become so big. Kunj drink coffee while Avantika give him oil hair massage ‍♂.He really feels good. After sometimes later kunj resting in his room while om and rudra take Aayat out for have ice creams.. Priyanka see kunj is alone she went in his room kunj see her..
Kunj: come pinku any work..
Priyanka: yes or not..
Kunj: what..
Priyanka:Bhaiya this.. she went near to him. She gives box to kunj he gets confused first..
Kunj: what is this..
Priyanka: Bhaiya this bhabhi give me as soon as hear bhabhi nAme kunj get surprise.
Kunj: Twinkle what..
Priyanka:bhabhi give me to give you this and didn't tell anyone they all teased her So.Even you too don't tell anyone. Before kunj said anything Priyanka run from there. Kunj smile..
Kunj:Twinkle lets what their bhabhi send?.Kunj was really happy twinkle gift brooch his both brothers. She thinks so much for his family. Specially from them who is apple of his eyes. Kunj open the box and find pocket square.he gets happy to see this.He takes out and see perfectly.. nice choice twinkle Taneja soon Sarna. Perfect for me this impressive she is right didn't let anyone know about this specially Rudra he teased us like anything normally they all teasing me by her name.Kunj immediately get up keep in his wardrobe.
He come again lay down and message to twinkle nice choice miss Taneja.. thanks for this.Twinkle didn't see the message till now. Kunj sleep.. after sometimes they twinkle and all have their dinner she come in her room check her phone see kunj message notifications she sits and cuddles the pillow and read his message get happy. She replies my pleasure Mrs.Sarna.
After twinkle call to Priyanka and thanks her too.night end and again next day come..this day too went like this in office and other preparations of wedding.
Tej tell Rt kunj coming to show them to fix the hotel which they wanted it.so he tells to Leela make dinner kunj coming.Leela tell Bebe and other's to while Malika is too here twinkle knows kunj coming, so she went in her room wear nice kurti did light makeup.. just than Kunj come.. he directly come from his office.Kunj entered there Kabir hug him they both sit. Rt and Leela along with Bebe and hansh come there kunj see them twinkle coming from upstairs. Kunj take their blessings twinkle went in kitchen bring water for kunj she went to them kunj look at twinkle give him water he takes it.. they both look at each other's face for sometime.. malika come and see kunj..
Malika:kunjj they both share hug.
Leela: how's you kunj..
Kunj:I'm fine what about you all..
Leela:we too good.
Kunj: woh dadu Send me to show you people hotel and resort pictures.. so kunj take out catalog book. He started showing them they like very much but confused which they select..
Kabir: all is so best..
Malika: yes kunj you tell na..
Kunj: if me than I'll go with resort better than hotels..
Twinkle: why.. kunj look at her..
Kunj:see I'll explain you all.. we wanted space for all functions that we didn't find in hotels very much resort is very good. In hotels can't enjoy very much that I think whatever your choice is..
Rt:I'll go with kunj.
Kabir:even I too thank for kunj..
Kunj:please don't thank to me.. Wait I'll book this resort immediately before anyone booked..
Mahi: but it's your na than also..
Kunj:yup did you listen first come first serve that's it mahi they book before us how can we cancel their booking and book our still resort is our but business is business.
Bebe: right I didn't listen you who talk this much first time I saw you.. good kunj why you always so quiet don't you like us..
Kunj:no no nothing like this why I'll I'm like this only even with my family too I talk less.
Bebe:But our twinkle love to talk so much.
Don't you have any problem with her
Kunj:no why I'll have even my siblings like her.They chit chat for sometimes later. Kunj about go..
Rt: Arey kunj bata stop without have dinner you can't go..
Kunj: no uncle I'm fine..
Hansh: after engagement you come first time without dinner I'll not let you go. He agreed they all went towards dinning table Leela and twinkle place all dishes on table.
Kunj: washroom.. for hands..
Leela:Twinkle puttar take kunj.
Twinkle: yes MAA I'll.. Kunj and twinkle went from there they come to washroom.
Go..
Kunj:okay.He went inside washroom his hand come back they both went back to dinning table they all sit servant served them food kunj like everything.while having dinner twinkle and Kunj share eyes locks.they sit oppsite to each other's.
Just than twinkle ring she sees the caller name it's chirag twinkle get shocked to see his call even Kunj too here.. she cut his phone again he calls him..
Kabir: answer the call twinkle maybe your idiots friends calling you..
Twinkle:hmm Bhai I'll talk to them later she switch off the phone.. after dinner kunj take leave Rt tell twinkle drop kunj till car.they both outside both looking here and there..
Kunj:thanks for your gift again.,
Twinkle:looking at his face hope you like it.
Kunj:my I know the reason why you give me this..
Twinkle:did reason really needed.. why you make ring for me.. he didn't said anything.. Give smile than..
Kunj:hmm that I did for my to be wife.. ?..
Twinkle:acha same here too even I too did for my to be husband ?..
Kunj:ho yeh baath hai.. they reached to car. Okay bye.
Twinkle:hmm bye sadu..
Kunj:same lizard.Kunj sit in car and left for both smiling uncontrollably.
At Sarna Mansion kunj tell his dadu he did the work.. he went in his room Aayat and rudra playing ghar ghar in his room kunj see them and laughs.they both are antique really.
All things done finally.. now it's wedding function times let's starts.At night all family members and relatives friends they all shifted to resort already.Rt request Sarnas too even they too go..
At resort little far from Amritsar so..
Rudra:we will enjoy here so much okay guys twinkle gangs hooting..
yuvi: yes
Kunj went in his room om and rudra they three of them sharing one room while Priyanka and Anjali maya one and twinkle Mahi and their friends one..
Leela: go and sleep tomorrow is haldi you all have to wake up early.. all kids went inside and sleep..
next [email protected]
everywhere hustle and bustle going on while Kunj and Om seeing all
Decorations things.Kunj is really excited to see his childhood bestie in wedding attire..
Kunj sewing flower man did his work or not. There twinkle come and she walk didn't see on floor everywhere so mess all things scattered due to this her leg stuck, and she about to falls down like as always two strong arms holding her.. while put red cloth on pillars for decoration that falls down on kunj and twinkle they hide in this.
Twinkle slowly open her eyes and see kunj face her hands around her neck while his on her waist.
Kunj:you should learn how to walk how can you falls down every time your good luck I come to save you..
Twinkle:so what.. sadu in this small things your ego hurts haa..
Kunj:no would be Mrs. Sarna..
Twinkle: don't call me this I'm miss Taneja.
Kunj:haa I know but for lifetime Mrs. Sarna.. Tell rudra and om stop calling you bhabhi.
Twinkle:they are so nice not like you huhu.
Kunj:acha even they both to chant your names don't know they seen in you..
Twinkle:acha don't worry I'll show you what in me.I'm so beautiful and nice.not sadu.
Kunj:self obsessed queen. Just than all youngsters come there and see twinkle and Kunj like this all like hmmmm.
Rudra:what a scene see om..
Kabir:yeah romance chup ke chup ke..
They all started coughing twinkle and Kunj Listen they both look at each other's. They removed veil and look everyone and their positions.They composed each other's.
Om:what's going on here.. om and rudra come near kunj ears.they said something naughty in his ears.before kunj hit them they both went in side kunj throw cushion on them all giggles.it's become so awkward for twinkle and Kunj.. everyone teasing them whole day.. finally all haldi function arrangements is done all get ready and come down in hall,. Malika come she wears yellow color crop top with skirt and flowers jewelry too looking so good.. malika come with her mother and Priyanka and Anjali they make her sit. Just than Kabir come along with his sister and cousins. He wears yellow color kurta.He come and sit beside malika. They both share eyes lock just than our beauty queen twinkle come she wears yellow color off shoulder crop top and yellow high waist long skirt looking extremely beautiful.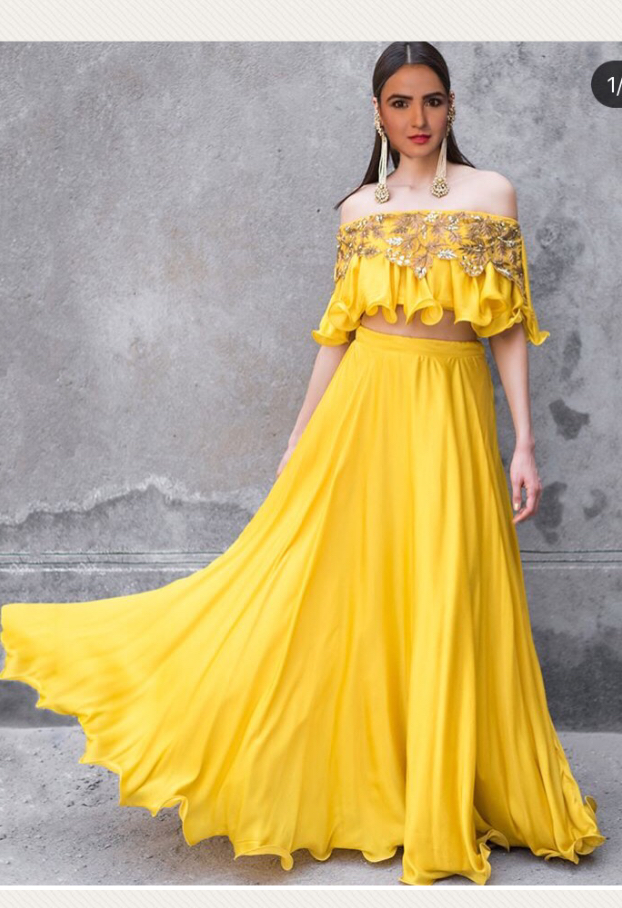 everyone sees her and get happy most her in laws family. Kunj and rudra and om come they wearing same colors yellow kurta along with white salwaar looking handsome hunks.Kunj see twinkle and get lost in her beauty even om in mahi slightly..
Leela:now lets the rasam.. Leela bring haldi bowl first she gives to Bebe she applied haldi on Kabir and Malika face they make puppy faces all laughs to see them..
Rudra:it's so cute na Bhaiya..
Kunj:hmm.. like this everyone applied haldi on bride and groom face.. now it's kunj turn he went towards malika..
Malika:please you are my bestie little bit..
Kunj:I'll think no.. you tease me lot in childhood now it's my turn.. Kunj take haldi and rubbed on malika face even on Kabir face tell they all enjoying it.. twinkle come she took whole bowl.
Kabir: Twinkle no.. this is not fair.
Twinkle: everything is fair in love and war Bhai..
Avantika: go ahead twinkle beta..
Kabir:aunty stop your bahu..
Twinkle: sorry Bhai.. she pours haldi on them fully and they drenched in haldi.. than their haldi fight starts.they all apply haldi on each other's Kunj who went in side.
Rudra:aww bhabhi kabir and twinkle rubbing behind each other's all see them and laughing loudly..
Anjali:Twinkleeee..
Rudra: Arey Bhaiya save my bhabhi..
Kunj:why not you go.Aayat get busy with twinkle cousin sister daughter they both playing together.. like this haldi ceremony too end all get tired after haldi holi.They sit in poolside.
Rudra: Bhaiya why not today you and bhabhi too try haldi good for your haldi demo ke liye. Twinkle and Kunj look at each other's..
Kabir:let your time come twinkle I'll not leave you.Aayat come there she was hell sleepy avantika and all ladies busy in gossip.Aayat to kunj and sit on his lap. She lay down on kunj lap while om remove her shoes..
Kunj:what happened..
Aayat:nothing..
Kunj: sleep..
Aayat: hmm she feel irritated kunj understood seeing her face expression..
Kunj:Aayat I know why you control.
Aayat:I'll do here.,
Kunj:no.. rudra take her to washroom.
Rudra: I'll call pinku..
Kunj:why she'll you go..
Rudra: Aayat pee her..?on your favourite lap..
Aayat: haa take fast before I'll do here kunj show rudra eyes he immediately gets up this make everyone laugh rudra lift Aayat and they went washroom she pee and come.Aayat holding her pant in her hands she went to kunj..
Kunj: Aayat where is mummy..
Avantika: she is busy I asked her give me night dress..
Kunj:okay lets go we'll sleep.. Kunj life her and they went from here.
Kabir: how nicely you all take care of her..
Om:yes if something left in her take care bade papa didn't leave us even we love too she is our baby..
Twinkle:hmm yeah she is happy with you all.After they all to went in rooms and sleep.
Next day in evening.mehndi ceremony..
Very beautiful mehndi set up.all wearing green color clothes. In other side ladies playing dhol men's just sitting in side.it's really boring for them our Kunj busy in work. Malika applying bridal mehndi while others too. Avantika bring kunj force fully.
Lata tell twinkle to apply mehndi she take her to Heena girl and tell her apply the best design of mehndi to her bahu. Twinkle wearing green colour garara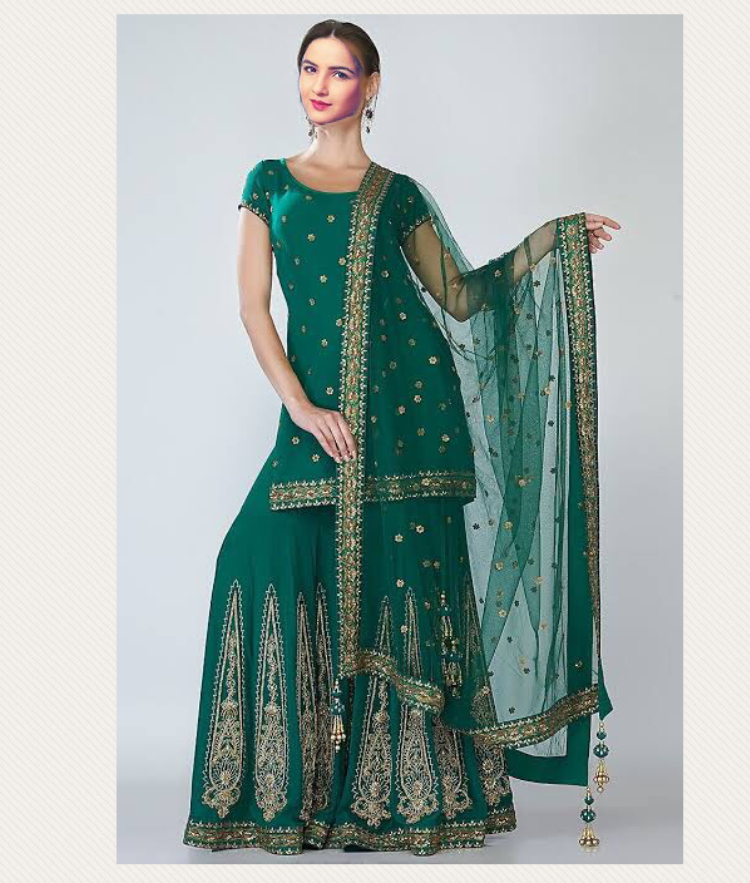 Lata: aache se lagana..
Heena girl: yes..twinkle sit and give her hand she started applying mehndi.Aayat see Riya too Apply mehndi.Aayat wanted to avantika didn't allow her.. she started crying her brothers see her and went to her and asked her why she cry..
Om: what happened..
Aayat: I too wanted to apply mehndi mamma didn't allow me.
Kunj: ho this is the matter.. my baby does't cry he wiped her tears okay we'll apply mehndi on our Aayat hands okay..
Aayat: see they all apply mehndi on their hands why not me..
Rudra: let's go.. Bhaiya will see mamma. They went to Heena girl and sit beside twinkle who to sit there..
Kunj: please apply her too..
Heena girl: okay wait first I'll compete her..
Kunj: okay..
Twinkle: I'll wait first her.. Aayat sit on kunj
Lap and give her hands to Heena girl.. she started applying mehndi on her little hands.
Kunj: happy..
Aayat: yes she kissed on kunj cheeks..
Aayat:I wanted on back site too.
Kunj:okay Meri MAA..
Rudra: tell if you need anything don't spoil your mehndi I'll bring juice for you.. he went and bring juice give to Kunj to make her drink with straw ever rudra give to twinkle who show him her hands..
Twinkle:I'll drink later..
Rudra: wait he make her drink.tej come and see them he get so happy.he click photos of them..
Episode: end on their faces..
to be continued……..
Precap: sangeet masti and last wedding blast.. get ready to see sangeet damaal..
____________________________________________Hope you all like thanks for comment and your likes even like my other story too.. 
please ignore mistake I write in hustle and bustle I m little busy..