RAB SE SONA ISHQ: TWINJ- EPISODE 23
Episode 23
started..❤️❤️❤️❤️❤️❤️❤️❤️❤️❤️❤️❤️❤️❤️❤️❤️❤️
after everyone left from Sarna Mansion even all relatives Lata and Prithviraj give them gift and bid bye.. they all went towards couch area sit while rudra take breath and stretch his arms..
Rudra:uff finally they all relatives went good. So peacefull my room.. while all look at him..
Prithviraj: why get so happy rudra..
Rudra:because dadu they take all mansion I didn't know where I'll go whole house they engage..
Prithviraj:that's not good rudra come to me. He went and sit beside Prithviraj. You know guest is like a god we should treat them nicely if they disappointed with us
That's means even god too.guest is equivalent to God'Atithi Devo Bhava
Rudra: so hmm okay dadu..what is this dadu?? Why you used so hard words of Hindi which only O can understand..
Prithviraj:acha.twinkle and all smiling just.
Lata: you both brothers don't know about this Atithi Devo Bhava?? Kunj look at lata.
Kunj: Arey dadi I know about this..
Manohar: acha Than what does mean of this?? Kunj think Than..
Kunj:we treat our guest as God enters our home we give full respect to them and offer best services in terms of food and lodging.
Tej: right.
Lata: But you answer right in English we are talking about our maatr bhaasha..
Rudra: uff you guys first what maatr bhaasha kaun sh ladki hai.all laugh out..
Kunj: idiot it's not a girl name maatr bhaasha means mother tongue..
Rudra: what why you people making so tough..
Manohar:kunj still. In Hindi..
Rahul: he can't papa???
Kunj: he thinks for while.I don't know really.
Rahul: we know bro about this.
Om:Did you see him everyone. In his mehndi how you speak so difficult shayari??.:
Twinkle looking at Kunj face and others too
Rahul:Twinkle ke liye h can speak om?.
Biwi ke liye sab nikal aata hai muh se..
Kunj:acha like you mr Malhotra.
Usha: leave these things finally everything is done perfectly.
Manohar: yes usha the way Papa wanted kunj wedding happened weshi hi hui hai..
Tej:true I mean Manohar did you see MAA and Papa didn't happy this much in our wedding like they were happy in kunj wedding.Prithviraj and Lata look each other and give smile..
Rudra:see Bhaiya pa and chote Papa is jealous of you..
Lata:hehe why not we happy after all mere pote ki shadi ti..
Rudra: But dadi pa and chote Papa is your son still..
Lata: so what didn't you heard asal se sood pyara hota hai..aulad se zyada pota pyara hota hai samje na..we're happy same in Anjali and Rahul wedding even in our all grand kids wedding.
Rudra: even in that pidhi wedding too?.
Anjali: rudra you are seriously man.,
Tej: where is she??
Priyanka: woh pa she slept..
Tej: did she have her dinner..
Priyanka: yeah Bhaiya feed her.
Avantika:good she slept today nahi toh I'll not leave her past from one week madam sleep so late just because of this kids.
Just than Kunj phone ring he see the caller id it's some business client call..
Kunj:excuse me.. he went in side answer the call.
Usha: so twinkle get ready tomorrow your first day in kitchen.
Twinkle:yes choti MAA.
Lata:good.Why this Kabir taking you Twinkle Puttar.. even Kunj too come back.
Twinkle: no dadi Bhai just teasing me..
Rudra:we didn't let him take you.huhu. Now you are our bhabhi. After engagement he tease me now I'll to him. Now you with us na for whole life.Bhaiya don't let anyone take bhabhi from Taneja Mansion.Kunj didn't say anything just looking down. All look at him.
Lata:Arey kunj give answer. All in teasing mood.
Kunj:kya dadi..
Tej:what Rudra asked you. Answer na kunj. He just nodded his head nothing else.
Anjali:Arey kya just nodding we wanted answer from your mouth. ??.
Kunj:I don't know he get up goodnight and went from there. While all giggles.
Avantika: pata nahi kya hoga Iss ladke ka.
Itna shy ☺️ hai..
Lata:right but my kunj is best.
Rudra: why Bhaiya is so shy.
Avantika: all beshrami comes in you na.
Rahul and omkara laughing Like anything???..after all elders went in their respective rooms while kids chit chat for sometimes even they too went.
Twinkle went in her room see the condition and laugh out.
Twinkle: uff finally all function is end this outfit. I'll quickly changed my clothes. She went towards her bag and open take out her night dress white salwaar and simple kurta.She locked the door and changing her clothes in room only.
While Kunj went to Anjali and Rahul room he see Rahul back hugging to Anjali.
Kunj: if you guys done with your romance can I come they listen kunj voice turned and see him Anjali push Rahul.
Anjali: come kunj.. he come and went to them.
Rahul:bol mera romance spoil karne wala.
Kunj: acha I come here to tell you get ready tomorrow did file is ready.
Rahul: yeah file is ready..
Kunj: good goodnight di and Rahul ?.
Rahul: even you too goodnightttt he stretch the night word??..Kunj just smile and went to his room. He about to  open the door while find its lock.
Kunj: he knock the door twinkle…
Twinkle: haa kunj wait for some seconds.
Kunj:why what are you doing it..
Twinkle: Arey wait. Kunj stand in side and get irritated because twinkle didn't open the door past from 10min..
Kunj:Twinkle bhi na.. don't know what she doing it.. twinkle change the dress and throw it one bed.
Twinkle:this sadu na.she went to door and open it and find kunj standing in side. Kunj look at door. He see twinkle. Come now. Kunj went in room.Twinkle standing in front of dressing table removing her makeup.Kunj see his room is so messy he didn't like this.
Kunj:why didn't you open the door what siyappa you doing it..
Twinkle:heheh very funny. I'm just changing my clothes that's why I lock the door can't you wait.
Kunj:you can change in washroom na..
Twinkle: it's my wish okay.
Kunj: it's my room..
Twinkle: acha she turned and face him. Now it's my room too Mr Kunj Sarna.. ?
Kunj: good what is this?? Haa this mess.
Twinkle: I didn't do it only everyone.
Kunj: so what I didn't like it messy room.
Twinkle:Everyone not like it.Kunj went towards wardrobe take his clothes and went in washroom.This sadu is really sadu.Twinkle take all scattered clothes put in laundry basket.Than put neat and clean bedsheet on bed.Uff finally some mess I clean it.than Kunj come out from washroom. Wiped his face with towel and hang the towel on clothes hanger stand. Kunj see the room now it's cleaner than he look at twinkle.
Kunj:you clean this..
Twinkle:yes now don't tell me I mess up your room.
Kunj:hmm.Twinkle went and lock the room door than went to bed lay down in sitting position using her phone.. while kunj get his PA call. He pick the call.
Sara: yes sir you call me..
Kunj: yes tomorrow get ready Sara I wanted everything ready before meeting.
Sara: yes.
Kunj:tomorrow day schedule is what?
Sara:sir I fixed your and Rahul sir meeting and I'll tell you in office.
Kunj:okay..while using phone twinkle watching kunj side by side.Kunj end the call check mails in phone.He to went to bed and lay down.. even twinkle too keep her phone in side. Why you not went with Kabir when he asked you. Twinkle look at Kunj.
Twinkle: acha you wanted I'll go with him.
Kunj: why I'll wanted Itself you were wanted to go back your house..
Twinkle:ha so what now you taunt me. Why I'll go without any reason. Bhai just kidding. How can I went.Even he asked you. That time only you tell him na take me you don't wanted I stay here.
Kunj:acha why me.Whole day when you crying that time you didn't think ?.
Twinkle:jada mat bolo sadu.. she throw cushion at him. Twinkle set the alarm in clock to wake up at morning on time. Kunj see this and laugh out.
Kunj:Itself you cant wake up you set alarm.
Twinkle:yes I can't ab bolo.I'm not used too but I'll try to wake up early as much as I can and subhe I have to cook something na. Now let me sleep. Because of you I'll wake up late.
Kunj:yes madam ji sleep.Twinkle turned and sleep gritting the teeth on kunj.Kunj make the cushions boarder between them off the lights and sleep.
Next day at morning:::
Twinkle and Kunj sleeping peacefully twinkle is in really funny position. Kunj wake up and directly went in washroom come out wearing his jogging clothes see twinkle position make him laugh.
Kunj:see this siyappa queen how she sleeping like she doing Kung fu while sleeping.He sit and wear his shoes.Alarm clock ringing. Alarm toh madam ne aesha lagayata ek hi ring me she'll wake up see now sleeping like Kumbhakarna. Alarm ringing just and itself stop. Chal kunj beta wake up your wifey. He went near twinkle. Twinkle wake up you'll get late.
Twinkle: in sleeping tone let me sleep na.
Twinkle:twinkle wake up fast.. after so much struggles he wake up twinkle she open her eyes and look at Kunj. She sit on bed and rubbing her eyes. Kya hai Kunj.
Kunj: O madam come out of your dreams see the time even your alarm too off.
Twinkle: what ??. I become late babaji making crying faces.. ??.
Kunj:wait you aren't late I woken you on time.Now go fast get ready., Twinkle see the time get relief it's just 6 clock. She take yawn.
Twinkle:thanks.. than she look at Kunj.
Kunj:good morning don't wasted your time my dadi and dadi early raiser.Kunj went downstairs went for jogging.Twinkle see the cushion boarders understands kunj did this give smile and run to washroom.
After bath twinkle come out of the washroom in her bathrobe. She finding clothes what she wear it now..
Twinkle:what should I wear this saree is good.She take the saree and wear and get ready quickly looking beautiful like always she is really happy today she going her home for pag phare. than she went downstairs.Didn't find anyone. I think everyone must be sleeping.
I'll go in kitchen.She went in kitchen see servant is there they see twinkle..
Servant: bhabhi you wanted something.?
Twinkle:no.Twinkle what i ll make today I know how to make suji ka halwa is it good.Yes twinkle you know only this perfect. Twinkle asked servants where is all things. Twinkle tie her saree palu around her waist. Just than there Tej and Manohar come and see twinkle busy in cooking they went towards her.
Tej: good morning twinkle beta. Twinkle see them.
Twinkle: good morning Papa ji..
Manohar: what our daughter doing here.
Twinkle: woh aaj mujhe meethe me kuch banaana hai na so I just making it.
Tej:that's good you wanted any help. Twinkle shocked and surprised her father in laws want to help her.
Twinkle:aap matlab.
Tej:matlab yeh if you wanted any help we are here. Don't worry we will not tell anyone make it fast before your both mother in laws wake up. You know na saas keshi hoti hai. Twinkle laugh.
Twinkle:hmm
Manohar: what you making it..
Twinkle: suji ka halwa I know only this.
Tej: wow awesome twinkle beta it's favorite of all of us. Twinkle get happy and as well tensed too because now she had to make delicious halwa.
Twinkle: nice Papa ji I'll make it. Manohar and tej helping twinkle in ingredients put all things in perfect potion.Twinkle loved it very much. At last suji ka halwa is ready.
Manohar: smell coming delicious ? beta. Trio smells the halwa making tempting faces.
Twinkle:thanks papa ji and chote Papa..
Tej: no need of thanks did daughter say thanks to her fathers.Twinkle eyes become wet to see this same line what Rt saying her she hugged them while they too and kissed on her forehead.God bless you. Usha and Avantika see this from side both get so happy.
Usha: see avantika. Before us they both come.
Avantika: yeah but I'm so happy did you know same like this daddy ji help us at our time.
Usha:of course daddy is best father in law now his sons too. Let's go before they see us. They both went from there to wake up kids.
Tej: Twinkle beta used chandi ka warq on your halwa your mother in laws like..
Twinkle: ji Papa ji.Twinkle take sliver warq and put top of halwaa.tej and Manohar went out of the kitchen.After twinkle too.
Than twinkle did pooja preparation and ready pooja tali perfectly. Than There Prithviraj and Lata come and see twinkle. Even twinkle too she went towards them touch Their feet's. Good morning dadu and dadi..
Prithviraj/ Lata: good morning beta god bless you.They went to couch and sit. While twinkle went in kitchen to see other work. Somehow Avantika and Usha wake up kids they get freshen soon.all come at hall.
Prithviraj:finally you all come.We should do pooja.
Rahul: where is kunj. Just than Kunj come there.
Anjali:Arey he come..all turned and see him he sweating like anything.
Omkara: you went alone didn't take me.
Kunj:I thought you must be sleeping. Twinkle see kunj he looking so hot..
Prithviraj:kunj go and get freshen fast.
Kunj: yeah dadu. He run to his room and see his mother already ready his clothes. He went in washroom  take bath and get ready soon. And come down. He went to avantika.She closed his buttons. Sorry to make you all wait. In side rudra taking yawn still he is sleepy..
Lata: avantika where is pooja ki tali.
Avantika: hoo tali sorry mummy ji mene aaj I totally forgot.. Than twinkle.
Twinkle:no mummy ji tali is ready.. twinkle went in kitchen and bring the tali all see her.
Usha: Arey who did this..
Twinkle: woh I did. Elders get happy while rahul gesturing Kunj hmm..
Prithviraj: great beta see my bahu..
Rudra: Arey do fast na I'm sleepy..
Lata: yeah twinkle puttar come and do aarti..
Twinkle:mean..
Lata:you only did na beta..
Twinkle:okay.Twinj covered her head with her saree palu and take aarti tali all went towards mandir..ek ek kar KE Prithviraj and Latas all dreams fulfilling.All stand in side fold Their hands. Twinkle closed her eyes and started the bhajan and doing aarti all surprised to listen her voice it's really beautiful. Rudra come out of his dream after listen twinkle voice while Prithviraj and Lata keep smiling and Kunj looking at twinkle only. ( Twinkle sing O KANHA AB TOH MURLI SONG)
Twinkle:(O kanha ab to murli ki madhur suna do taan Main hu teri, prem deewani, mujhko tum pehchaan Madhur suna do taan O kanha ab to murli ki madhur suna do taan.)Twinkle melody voice echoing in whole mansion her voice sweeter than any sweets.While all siblings just teasing Kunj with their eyes gestures.Very nicely twinkle finished the aarti all lost in her voice they don't wanted this will end.twinkle turned and look at everyone all just looking at her with beautiful smiles.
Prithviraj:waha twinkle beta you made my day.Twinkle went to him and Lata give them aarti and parshad. They take and keep their hands on twinkle head in loving way.. than she give to avantika and tej.
Avantika:really twinkle you have such melodic voice.Mummy ji and daddy ji is right you are world best bahu..
Twinkle:thanks.. give to Manohar and Usha too. While Rahul and om Kara in kunj ears.
Rahul:waha kunj what a wife I'm mean all rounder.Anyone can falls in love with her voice.. Teri modern biwi bhajan bhi.
Om:yeah..
Kunj:so.Twinkle come to them.
Twinkle:aarti..
Rahul:yes he and om take aarti and twinkle give them parshad.. Rudra too take and just looking at ladoo. Twinkle give him one..
Rudra: bhabhi one more please.
Twinkle: okay.. she give him bend down give to Aayat as well Anjali and Priyanka take too now is left. Twinkle forward aarti to him. Kunj..
Kunj:haa.He take the aarti and twinkle give him parshad..after this. They all sit.
Kunj eyes went on twinkle he see her she wearing saree looking pretty.
Anjali: looking nice twinkle in this saree.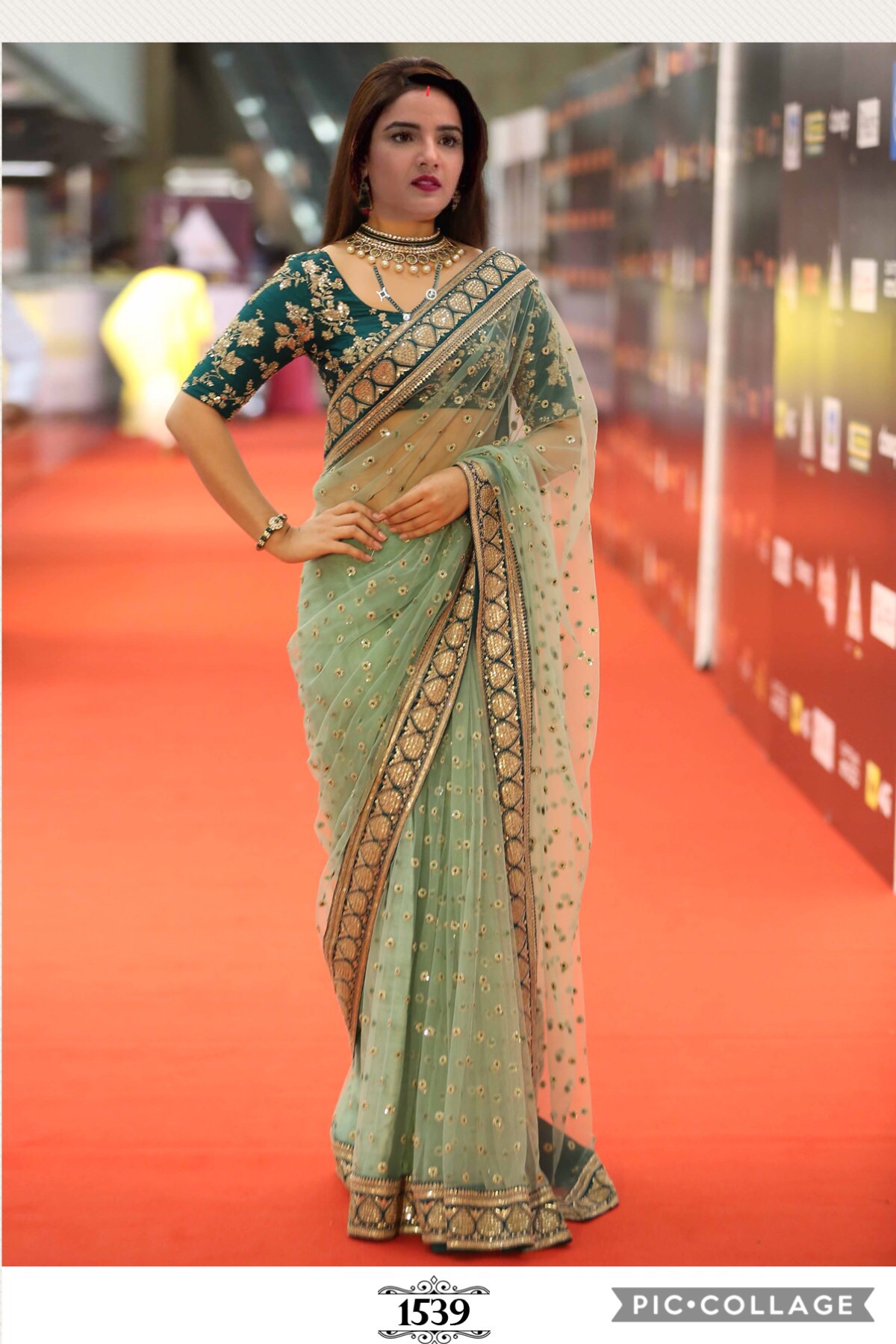 Aayat:haa like my mamma.
Rudra:bhabhi look best in all clothes.
Anjali:impress twinkle I mean you sing so well. You know perfectly.
Twinkle:thanks. My dadu taught me everything about pooja and all's.
Lata: so twinkle what are going to making for us today.Twinkle look at her father in laws who giving smile..
Twinkle:hmm dadi you see Itself na.
Avantika:yes we should have  breakfast.They all went towards dinning table.
Rudra: now give me fast.
Lata:wait rudra twinkle ko banane me time lagega.
Kunj: think. Now see what this siyappa queen make. Melody voice hmmm. Twinkle went in kitchen bring the halwa bowl in tray all look at her. She place on dinning table.
Lata: Arey beta you make so soon.
Twinkle:dadi I already make it before wake up you all. She didn't left single chance to surprise Lata and Prithviraj other's too.
Lata: Arey waha ❤️❤️❤️??….
Anjali: so what my bhabhi make for us and for the first time we are going to have something that you make from your hands hmm.All kids hooting..
Twinkle:I make suji ka halwa because I know this only nicely she said in so cute voice. Make everyone smile.
Prithviraj:acha beta we love suji ka halwa.
Give us.
Twinkle:haa dadu..
twinkle went to Prithviraj she served halwa too Prithviraj and lata like this everyone…..
Avantika:looking yummy and sliver warq is my and Usha favourite.
Rudra:smell coming awesome. Delicious hi hoga..
Twinkle:taste please.Prithviraj and Lata taste first and other's twinkle was hell nervous she clutched her palu. All giving her look which make her more nervous.
Acha nahi hai Kya get sad I know I'm not good at cooking sorry please.. all giggles.
Lata: why sorry it's so delicious twinkle beta. Twinkle look at her face in shocked.
Twinkle: what dadi..
Prithviraj:yes twinkle puttar its really tasty perfect in taste everything well.
Avantika:yeah twinkle your halwaa is delicious. All praise halwa only Kunj not.
Twinkle: aap log sach bol rahe hai na I mean mera maan rakhne ke liye toh nahi.
Prithviraj:come to me she went to him.
It's really nice. If is it not good so what we happily have it twinkle. Now sit with us..
Twinkle went and sit beside Anjali.
Twinkle too taste her halwa it's really nice she give all credit to her father in laws if they don't help her she can't make this much delicious halwaa.. all having their breakfast nicely..
Aayat: I wanted more mamma.
Avantika: hmm you just having this halwa who drink this Milk.
Aayat: no I wanted halwaa only.
Tej: give na avantika. She give him than Rudra too take more..
Rudra:bhabhi you are best in everything your voice and this halwaa is same so best. Twinkle keep smiling. Rahul winked at omkara or Rudra.
Rudra: Arey Bhaiya didn't you like halwaa.
?.
Omkara:yes you didn't praise the halwaa.
Kunj look at them than twinkle.
Kunj:acha hai.
Rahul:haa you will say this only na after all teri biwi me jo banaya hai?.Jin.  
jinda raha na hai Bhai.all laughing at him while twinkle blushing. Priyanka and rudra started fighting for halwaa.
Priyanka: Bhaiya give na please.
Rudra: no leave I'll have now.. twinkle so happy to see this while kunj too.
Kunj: in heart. While having halwa perfect halwaa I mean everything is perfect no too much sweet not less I don't know siyappa queen have cooking talent too impress Mrs Sarna sleeping queen knows cooking.
After breakfast Prithviraj and Lata give twinkle nek because of her halwaa.
Twinkle:thanks than others too. This halwaa cant become good without papaji and chote Papa. Others look at Tej and Manohar.
Lata: mean beta??
Twinkle:Tej gesturing to twinkle not but she deny.they both help me in halwaa.
Prithviraj: waha tej and Manohar.. good.
Avantika: yes twinkle you know till now we thinking that on one have father in law like us even yours not too bad..
Tej: acha see MAA.
Lata: I'm just happy. ❤️❤️❤️❤️..
Rudra: see O pa he is our enemy??..only
all showering love on twinkle..
Kunj check the time and see rudra and Priyanka or Aayat.
Kunj:you two don't you want to go college. Both look at Kunj.
Priyanka: woh…
Rudra: Bhaiya we'll go tomorrow okay.
Kunj: no go today already you people miss your college now no more.
Tej: yes
Rudra:Arey Bhaiya see this pidhi too not going.Kunj see towards Aayat and she immediately closed her eyes..
Kunj:haa so what you'll do what she did.
Lata:kunj leave them today. Both Priyanka and rudra get happy hide behind lata back.
At Taneja Mansion everyone sitting for breakfast they all were so happy today Twinkle is coming.
Rt: Leela you make everything what twinkle like in food.
Mahi: yes and I'll oder di favourite sweets.
Bebe: see your son is so excited for his daughter.
Rt: I'm MAA after marriage twinkle is coming first time.
Kabir: yes Papa.
Rt: kabir you now go fast bring my twinkle she must be waiting for you haa.
Kabir: yeah Papa wait all laugh at Rt.. after breakfast Kabir left for Sarna Mansion While other's family members get busy in arrangement for welcome twinkle.
Kunj:last time he show anger eyes to rudra and Priyanka.
Rahul: kunj lets go office.
Lata: what why office.
Kunj:why not dadi. From so many days we didn't went office.
Rahul: yeah we are not like this two our boss will kick out us from office.
Rudra:huhu dadi you know Bhaiya can't stay without work ? nothing else. Just than there Kabir come..
Kabir:Hi everyone everyone turned and see Kabir standing with smile. Twinkle see Kabir she just run to him and hugged him too.
Twinkle:Bhai.. aap.
Kabir: yes my sister to take you with me.
Twinkle: haa?..
Kabir: ab yeh hi khade rakhegi kya mujhe.
Twinkle:no no come Kabir went ahead and meet with everyone.:
Kabir: how's you all.
Tej: good beta.
Rudra:why you come here..
Lata: for pag phera. They sit and chit chat with each other's.
Avantika:Twinkle bets go and get ready everyone must be waiting for you at Taneja Mansion.
Twinkle: yes. She went to her room.
Rahul: kunj chale..
Kunj: wait I'll come.. he went to his room.
He see twinkle busy in her touch up and she is so happy today can't describe.. Kunj take his coat and wear putting files in his office bag. Twinkle look at him.
Twinkle:see this sadu didn't praise my halwaa once just acha hai huhu in low voice but enough for kunj.. ? he went towards dressing table stand beside twinkle.
Kunj: if you done twinkle please side.
Twinkle:why..
Kunj:impossible girl.Kunj take his watch.
And went downstairs.
Twinkle:side please she mimics of kunj.
Kabir was waiting for twinkle.
Kabir:kunj where is your wife left..
Kunj: she is coming as you know your sister busy to paint to herself ??..
Avantika:hoo kunj not a single words against my bahu.??.. Priyanka go and bring all gifts from my room.
Priyanka: yes she went in room and bring all gifts. While twinkle coming down.
Kabir: finally she come..
Twinkle: Bhai chalo..
Lata call servant and tell him to keep this all gifts in Kabir car..
Kabir:Arey please don't..
Lata:why not Kabir beta.. now you go twinkle beta..
Aayat: pa when will she come back.
Tej: why baby.
Rudra:haa bhabhi come soon.
Kabir: she'll not come today In kidding way winked at others..
Rudra:what but why please bhabhi come today only.
Twinkle:haa.. twinkle take everyone blessing.
Kabir: chale Mrs Sarna.
Twinkle:haa twinkle hold Kabir hand and she look at Kunj.
Rahul: chalo kunj.
Kunj:bye he and Rahul went out along with twinkle and Kabir.Rahul sit in car before sitting kunj look at twinkle once.
Kabir: bye jija??..
Kunj:bye..carefully siyappa is in your car. He said this and sit in car and left.. twinkle and Kabir too. In the way.
Twinkle: this kunj na..
Kabir: kya hua behana.
Twinkle:nothing.. soon they reached Taneja Mansion.Twinkle come out of the car just run inside.
Twinkle: hi MAA and Papa where are you in loud voice.They all listen twinkle voice come in hall. Twinkle rushed to Rt and Leela and hug them. MAA and Papa.
Rt: finally my twinkle is come how's you..
Twinkle: I m good Papa.
Leela: meri beti come let's sit they all sit together.
Malika: nice saree twinkle.
Twinkle: thanks bhabhi.
Bebe: how's everyone at home.
Twinkle: good Bebe.
Mahi: di and what you make today.
Twinkle: you know MAA and Papa. In kitchen Papa ji and chote Papa come and they both help me how to make suji ka halwaa..
Hansh: acha so sweet.
Twinkle: yes dadu they are so good each and everyone keep me happy.
Kabir: good they helps you if not than they have to eat burned halwaa???.
Twinkle:sarcastically laugh she too.Acha Bhai very funny. Infect everyone loved my halwaa.. and fairing me too. ❤️❤️❤️. Rt cuddles twinkle.
Rt: I'm so happy for twinkle she got the best family are you happy what else I wanted more.
Twinkle: yes Papa I'm really happy they understand me so well. Just than chinki or Asha too come.
Chinki: hi.
Twinkle:hi finally you come.. didn't went college.
Asha:not but tomorrow.. and your devar and nanad??
Twinkle:same even they too didn't went.
Twinkle spend sometime with her family after than all girls went in twinkle room sit together and chit chatting with each other's
While Kunj and Rahul get busy in work like anything.After all they come office after so many days. Kunj call his Pa she come.
Sara: yes sir..
Kunj: what time meeting is??
Sara: sir meeting will be after lunch.
Kunj: okay go..
she went while kunj and Rahul rechecked all files.
After sometimes later they both went for meeting.Everyone come in conference room and meeting starts.Meeting going well rahul give presentation tej not very much happy so he tell them to work more on this project he wanted best meeting get over..
Tej: Rahul not good..
Rahul: don't worry sir it just I show you final presentation is left.
Tej: okay than good.. they back to their cabin.
In twinkle room..
Chinki: aur Mrs Sarna where is your husband ji..
Twinkle:in office aur kaha hoga..
Asha:office second day of wedding only.
Twinkle:yes.
Malika:he is like this only.Workaholic.
Twinkle: haa..
Asha: kunj is good na twinkle??
Twinkle: haa thik hai..
Chinki: acha only thik hai ??tickles her.
Twinkle: ha bas.. you know guys he didn't praise my halwaa just one work acha hai sadu..
Chinki:all Husband is like this only twinkle.
Malika: right absolutely.
Asha:they just come to when they wanted something from us.
Twinkle:hmmm…
Kunj sitting in cabin doing work in laptop just than he remembered something stop his work.
Kunj:what siyappa queen doing it. Face to face I didn't praise her halwaa at least on message I can he message her..
Hi Mrs twinkle Kunj Sarna halwaa is good? not good but really very delicious thanks for halwaa. Bye.. end?.twinkle phone beep she didn't check the phone..
In Sarna Mansion Aayat and rudra along with Anjali or Rudra they playing basketball in garden. While Prithviraj and Lata sitting in side and looking their kids..
Lata: now you are happy na ji.
Prithviraj: yes our dream is fulfilled what type of wife and bahu we wanted we get it. Twinkle is really best for our family.
Lata:yes and she keep our family  together. Our Kunj is already matured now twinkle too.
Prithviraj:see this they see them while playing they fighting and giggling too. They always stay like this. Without love family is nothing.
Aayat: you wait ru bro I'll tell about you too dadi.. she went to them. Dadu and dadi see ru bro he didn't playing well.
Rudra: no dadi..
Prithviraj: chalo now lets go inside Aayat see your face become so red if your mamma will see scold us..
Aayat: haa.. they all went inside than Rudra.
Rudra: di make something for me.
Anjali: okay.. she went in kitchen make snacks for everyone she make and went to everyone.. she give everyone and than sit.
Rudra: di aap hi khila Do na..
Anjali: acha mera Bhai she feed Rudra While om to Aayat usha and avantika see this.
Usha: this to Always stay small..
Lata: avantika did you told kunj na that he have to go Taneja house at night and bring twinkle back.
Avantika: hoo sorry mummy ji. I'll tell Tej only if I tell him he'll deny and make excuses work hai and all. She call to tej. Tej immediately received her call.
Tej: yes my wifey.
Avantika: tej where is your son.
Tej:only in office na why.
Avantika: Arey you know he have to go Taneja house to bring twinkle back.So please send your son on time.. and one more tell him have dinner with them only.
Tej:okay I'll send him you don't worry.
Avantika:good bye I'll talk to you later they end the call.
Twinkle went downstairs with everyone. Kabir bring pani puri for twinkle she see and get so happy.
Twinkle:pani puri Bhai thanks my favorite.
Kabir:yes twinkle come let's have together they all sit and having pani puri..
Tej went to in kunj cabin he find kunj busy in work to gain his attention tej knotting.
Kunj raise his face and found tej standing at door he immediately get up and stand.
Kunj: sir you.
Tej: yes he went inside take the seat..
Kunj: yes sir any work.
Tej: not any work kunj Listen after your work go to Taneja house to take twinkle.
Kunj: okay I'll go..
Tej: good leave early and spend time with them okay continue your work he said and left.
Kunj: now what is this i have to went Taneja Mansion to take siyappa queen.
He sit oder his coffee again get busy in work.
After lots of pani puri everyone done.
Twinkle: uff I'm full today. I'll come. She went in kitchen and drink water just than her eyes went on phone.. she check find kunj messages. Twinkle read his message and get happy. Ho thanks sadu..??. She reply him back. THANKS MR SARNA cam sadu ji???. And I know my halwaa is the best.. Kunj see her message and come online.
Kunj: see this girl self obsessed.. acha when you know than why you murmuring I didn't praise your halwaa he send her…
Twinkle: she read when did I tell you haa..
Kunj: I heard when you talking to your self in front of mirror twinkle remember and giggles.
Twinkle: ha so what ?? whole family can praise my halwaa only not you..
There malika come and see twinkle is busy in phone she smiling..
Malika: hoo busy in phone with husband ji.
Twinkle see malika.
Twinkle: no bhabhi just..
Malika: I'm kidding continue she take water and went back to everyone.
Kunj: I did but you didn't happy. So I messaged you na.
Twinkle:hmm okay bye I'll talk to you later.
Kunj: yeah sure.. twinkle went to hall.
Whole day twinkle spend with family she is happy today even they are too at night.
Kunj complete his work and left for Taneja Mansion..
Leela: malika beta go and check dinner is ready na?? Kunj will come at anytime. Arey twinkle beta did kunj is coming na..
Twinkle: I don't know about this MAA.. if he is coming or not..
Mahi: why how you'll go..
Kabir: wait I'll call him. Kabir try to call kunj but he didn't pick up his call.. Arey he didn't answering my calls twinkle??
Twinkle:maybe he is busy Bhai. Later kunj reached Taneja Mansion he Parked his car and went inside..everyone sitting in living room only. Kunj entered and Bebe eyes falls on him.
Bebe:Arey finally our damadji is come.. everyone see kunj..
Rt: come beta.. he went towards everyone take their blessing and Meet with them..
And sit beside Hansh.
Hansh: you become late why kunj.
Kunj: woh I was stuck in some work that's why..
Leela:it's okay happy you come..
Kabir:yes MAA he just come to take his wife back????.. malika hit on his shlouder?..
Malika: now guys stop teasing my bestie.
Chinki: ho ho bestie see twinkle.. just than Kunj get call from Anjali he pick up..
Kunj: yes di..
Rudra: not di Bhaiya did you reached bhabhi house.
Kunj: yes why.
Rudra: give phone to bhabhi.
Kunj:okay.. Kunj forward phone to twinkle.
Twinkle: what.
Kunj: call for you. She take the phone from kunj hand put on her ear.
Twinkle:hello..
Rudra:bhabhi when are you coming back.
twinkle: rudra first she smile.. I'll come soon what happened..
Rudra: nothing bhabhi we missing you.
Twinkle: acha missing hoo hoo don't worry I'll come soon.
Rudra: okay come soon please bye..
Twinkle: bye.. twinkle give kunj phone back to him..
Kabir: this rudra bhi na twinkle mad behind his bhabhi.
Twinkle:Hmmmm.. but he is cute Bhai..
They all talking but kunj just quiet and giving smile only.
Bebe:Arey kunj puttar why are you so quiet?? Are you okay na..say something
Kunj: no no I'm fine Bebe nothing happened. What I'll say..
Hansh: I just see you quiet why???
Puttar..
Kunj:I talk very less.
Leela:kuch bhi bolo Kunj your simplicity also great.
Chinki:your brothers totally different from you. Even Priyanka too same likes you.
Kunj:haa even she didn't talk very much.
Bebe:haa on whom you both went beta?
Kabir: in your family no one is like you both even Rahul too he is best.
Kunj:my dadu is same like us. If you see him he too talk when it's needed dadi saying in starting he didn't talk very much after marriage he started talking.
Chinki:than you'll too.
Kunj: don't know ??.. they talk for sometimes later.
Leela: let'e have dinner.
Rt: come kunj.. they all went towards dinning table and sits. Leela served Kunj dinner she filled his whole plates to see this all giggles.
Kunj: no please.
Leela:Arey have kunj after wedding you come first time to our house. Taste your mother in law food.
Kunj: hmm. All having dinner while Kabir and twinkle teasing each other.
Malika: how's it kunj.
Kunj: nice aunty..
Leela:still you calling me aunty Kunj ab toh Shadi bhi hogi stop calling us.
Kunj: okay Leela maa..
Leela:great. Twinkle admiring Kunj face.
Twinkle:see this man.nice with everyone apart from me..they finished their dinner malika bring dessert for everyone.Twinkle served everyone and take seat beside kunj. Kunj phone ring he see the caller ID immediately stand.
Kunj: yes dadu…
Prithviraj: where are you kunj.
Kunj: at Taneja Mansion dadu..
Prithviraj: okay I thought you didn't went there.: come soon..
Kunj:haa dadu..
Prithviraj: okay bye..
Kunj:hmm.. he sit back. All looking at him only he get confused..
Kabir:why you stand up kunj..
Kunj: woh dadu ka call ta na…
Kabir: haa still.
Kunj:i stand than talk to my dadu and fathers.While sitting never answer their calls. All get surprised to see this..
Rt: why beta..
Kunj:my pa and chote Papa did same how can I not..
Hansh: strange to see this kunj you people grown up in London still your upbringing is best.
Kunj:my dadu and dadi teach us this all.
Kabir: impressive jija ji???.. after this they all sit again talking about here and there than Kunj check time and than he look at twinkle. He gestured her lets go now..
Leela see this..
Leela: malika beta come with me..
Kunj: now we should take a leave..
Rt: okay beta.. Leela bring gifts and give to twinkle tell her give everyone..
Kunj: what's the need of this. You already give us.
Leela: so what kunj. You both just stay happy she kissed on kunj and twinkle forehead. Twinkle meet with everyone.
Rt: okay twinkle now go everyone must be waiting for you at your house..
Twinkle: haa Papa bye everyone.
Kabir: bye Mrs Sarna.
Twinkle: same mr Taneja ??..
Kunj:bye they both went outside kunj bring the car..he call twinkle and she come sit beside him.. chale.
Twinkle: yes..Kunj starts the car and left for Sarna Mansion While in the way.. twinkle hand resting on car gear levers Kunj looking straight while twinkle is busy looking outside of the window.Just than Kunj keep his hand on gear but he didn't know he keep his hand on twinkle hand twinkle feel something on her hand she turned her face and see kunj hand on her hand..Kunj gaze fall on twinkle he too see her.Both just looking at each other's. Twinkle listening songs on radio next song play on radio.Mere Haath Mein Tera Haath Ho Saari Jannatein Mere Saath Ho..Tu Jo Paas Ho Phir Kya Yeh Jahaan Tere Pyar Mein Ho Jaaun Fanaa. ??..
Twinkle and Kunj take their hands it's become awkward for them.Top of this song making more..
Kunj: what type of songs they played ?. He off the radio while twinkle smiling slightly that Kunj can see it??. Don't know but he too started smiling..
Episode freezes on their face……..,,
______________________________
How was the episode???
Thanks everyone for your comments.. 
I'm giving you all quick updates I have to complete story as fast as I can… 
Hope you all like today episode.. 
Sorry I can't give any promo.. 
you all have to wait and just read the story
Don't worry I can say one thing nothing will not happened bad that makes you all sad so ???. Be happy.. 
2mores to gooo?????
Bye love you all… 
_____________________