RAB SE SONA ISHQ-TWINJ:EPISODE 16
Episode 16♠️
RAB SE SONA ISHQ???
Continue…,,
????????????❣️???????????????????????❣️❣️❣️❣️❣️❣️❣️?❣️❣️❣️
Aayat mehndi done she sat in side again twinkle busy in mehndi. Kunj and om or rudra still sitting there only and see twinkle mehndi..
Rudra:nice bhabhi.you know Bhaiya had allergy of mehndi smells twinkle look at Kunj.
Twinkle:haa but I love mehndi.Heena girl asked malika her husband name all started hooting Kabir Kabir she blush just she write Kabir named on her hand. Rudra acts like thinking om and yuvi asked him what happened to him..
Yuvi:what happened bro..
Rudra:why malika di write Kabir bro name on her hand..
Yuvi:its ritual bro.Kabir bro find his name letter in malika hand..
Rudra:hoo.Rudra looks at twinkle who still busy in mehndi Kunj sitting beside her seeing her designs blowing on her Aayat hands.so even twinkle bhabhi to write Bhaiya name all started laughing.While Bebe and Lata agree with him.twinkle and Kunj look at all..
Bebe:write kunj name on twinkle hand..
Twinkle:what why..
Kunj:yes..
Lata:just like this.
Rudra:yes bhabhi.see malika bhabhi write..
Twinkle:yes it's Ritual but not me..
Avantika:yes rudra.They all leave this but rudra is rudra.Yuvi take him in side..
Yuvi:let's play a game rudra..
Rudra:what..
Yuvi: let do betting agar tum twinkle ke hand pe Kunj ka naam likha de than I'll do whatever you wanted if not than I'll make you do strip dance..
Rudra:okay challenge rudra Sarna never lose..
Yuvi:okay bro..rudra started thinking what he'll do.. rudra look at heena girl he smirked.. he tells Priyanka make Twinkle busy in talks he went near heena girl and tell in her ears in low voice please write K in her hands, and he'll give her money she gestured him in okay..rudra run from there.Without notice twinkle she wrote K in twinkle hand.. twinkle mehndi get done she went in side to drink water but can't she see everyone is busy.. twinkle mehndi still wet. Kunj see her. He went towards her..
Kunj:what happened may I help you..
Twinkle: no woh water..
Kunj: wait I'll.. Kunj take water glass and make her drink with his hands.They both look at each other's twinkle feel her back dori was opening.. she gets nervous.
Twinkle:thanks.. Kunj going back twinkle turned and try to tie her back dori kunj turned back and see her..she was struggling with her back dori..Kunj smile to see her.. he went towards her and take the dori in his hands twinkle feel something she immediately back off kunj tie her dori. She smiles still kunj eyes on twinkle back.
Kunj:next time careful.
Twinkle:hmm.they both went to everyone .everyone dances on beats twinkle to joint she danced like crazy kunj standing in side and looking at her..while dancing twinkle see kunj face and give bright smile
Om come and stand beside kunj.,
Om:Your would be wife is totally mad..
Kunj:even your brother as well.where is Aayat.
Om:I make her sit in corner so badi MAA can't see her..
Kunj:great..Yuvi come and pulled om and Kunj in dance.Kunj and twinkle back bumped they turn and see each other's
After sometimes later they all sit.Kabir come and everyone tells him to find his Name in malika mehndi. Kabir finding everywhere.
Rishi:Arey Kabir Bhai fast your train will go.
Kabir:what's the need of to find name my name written in my heart ?. All like hmmm.
Asha:still you have to.. Kabir finding his name he finds it between her fingers.
Twinkle:hoo Bhai..
Yuvi:Twinkle see your hands..
Twinkle: why..
Yuvi:Just you'll find something.. rudra face color fade way.. twinkle look her hands.
Twinkle: nothing Yuvi..
Rishi: perfectly.Anjali come see twinkle hand she sees K.written down in her hands.
Anjali: awesome..
Twinkle: what DI.. twinkle eyes went on K. She gets shocked.. K..
Asha: what..
Twinkle:who did this.. Yuvi and Rishi laughing..
Yuvi: rudra you won great..
Rudra: yup..
Om: what's going on guys here..
Rishi: I'll tell you..
Twinkle:you did this rudra..
Rudra: yes.. ??.. Kunj went near him he held his hand and looking at him with anger.
Rudra: first listen to me Bhaiya. I Itself did do this.. This Yuvi bro bet with me if I make write your name on bhabhi hands he'll do whatever I wanted if not than..
Kunj:than what..
Rishi:he makes him do strip dance?,,
Rudra:he challenges me you know Sarna can't lose.
Kunj:wait what I'll do with you.Rudra making puppy faces which make everyone laughs..
Rudra:O save me.. mummy ???. Arey bhabhi why you give smile.. Save me.
Twinkle:leave him.. Kunj leave rudra..
Rudra:you should thank me your k on bhabhi hand??..
Kunj:wait he run behind him.Aayat went to tej and show him her mehndi. He gets so happy..
Tej:aw my baby apply mehndi on her tiny hands.Mamma didn't know na about this.
Aayat:yeah Bhaiya and ru and O bro.,
Tej:okay.Aayat went from there in garden there all Kids playing Aayat sitting in side saving her heena.. Avantika come there and see her mehndi she gets shocked. Aayat see avantika and get panic..
Avantika:Aayat how this heena comes on your hands when did you apply.. haa.,
Aayat: woh mamma Aayat run from there immediately went to her brothers.. even Avantika went behind her..
Kunj: what happened Aayat.
Aayat: woh mamma.Avantika comes there they three of them stand they know they are gone along with Aayat.
Avantika: Aayat..
Aayat:mamma I didn't Bhaiya..
Avantika:acha I tell you don't apply, she started crying. And you three of them,.
Kunj:Arey mummy so what, she wanted let her.
Avantika:kunjj you and tej impossible..
Aayat:see I didn't dirty my clothes and didn't have single chocolate as well.,
Avantika smile on her cuteness. Just than one little boy running behind little girl he throws water on her mistakly water falls down on Aayat hands all get shocked. Aayat look at her hands and heena.
Rudra:gaye Bhaiya.. ☹️☹️..
Aayat: Meri mehndi all spoil.. hey you both can't see haa see what you both did it. Aayat about to pulled their hairs Kunj stop her.. she cry to see her heena.
I'll not talk to you all see you all wanted these na specially you Mamma.Tej come there and see his small soul crying.
Tej: what happened Aayat.
Aayat: pA??????.. tej look at Kunj and rudra and om..they three of them stand together with sacred.we didn't do anything.
Tej: you rudra tease her..
Rudra: no pa.. mummy..
Avantika:what.?no tej other's enjoying this..
Tej: you tell me Aayat what happened.
Aayat:pa my mehndi all spoiled.Mumma and they all are bad.
Lata:just tej and his daughter is best.
Aayat: Bhaiya ru om before she complete.
Tej: I know this three wait let me see them. They three of them shocked.. Rudra hides behind kunj..
Rudra:dadi???..
Aayat:they didn't do anything.tej wiped her tears.. what I'll do now my hands look bad pa..
Kunj:no Aayat you come with me.Kunj take her let her heena dry with fast blow.. Rudra went bring hair dryer.dry Aayat heena..Aayat nose flowing om clean her nose.all see them and admire their bond.
Aayat:ache se ru bro..
Rudra:haa Meri MAA.
Tej:ache rudra.after sometimes later they all having their dinner in garden.. twinkle sitting with her mother and mother in laws. Aayat brothers feeding her while their dadi to her grand sons..
Leela:I just love your kids bonding..
Usha:they are mad behind each other's.
Each and everyone enjoying like anything.
After they all went in their rooms and get freshen up all youngsters come in poolside and sits together playing Cards ♠️ while Leela tell malika and Kabir don't meet with each other's till wedding now still they sitting together. Kunj was one and only who sitting alone in side and doing his office work all see him and get shocked what a man..
Yuvi:here also he was busy in his work..
Rudra:this Bhaiya is like this..
Rishi:see twinkle after marriage your life gonna be become bored..
Twinkle:you all know very much..
Kabir:that scene was really awesome when tej uncle looking at you three of them your expression specially you rudra.
Rudra:you don't know about my pa anger.
I just scared of two people in my life first my pa second my Bhaiya..
Twinkle:why Bhaiya..
Rudra:not always when he is angry.
Om:yes easily he didn't get angry when anger comes to kunj omg.The Best thing about him he knows Itself he was angry due to his office work load that come out on us he leaves the space stay in his room alone when his anger lessen than he come out
Rudra:yes in this Bhaiya is awesome he always saved me from pa.me and om is fine in front of pa if you see Bhaiya than you all like what.wait wait Twinkle bhabhi you'll get to know each and everything about your to be husband very soon.All kids playing catch and escape game.Aayat laughing so loudly her Kunj see her.. she about to falls down but save.
Om:Aayat carefully.
Aayat:yes o bro..
Malika:she calls you both bro only Kunj is her Bhaiya.
Rudra:yes in anger she called me rudra as well.
Om:this rudra started calling O.Even she to learn this from him She can't pronounce kunj name perfectly that's why.
Rudra:what about my..
Om:Rudy she can.This class you give her na.You know what twinkle even he teaching her how to speak bhabhi ?. Good she can't just stop in bha…
Twinkle:what really Rudra Bhi na.Kids started fighting om went and bring Aayat from there and tell all kids don't fight.
Om:Aayat why you all fighting.
Aayat:O bro I didn't start they.
Rudra:you pidhi so you'll fight with everyone.
Aayat:don't call me by this name I'll call my pa.Huhu where is my Bhaiya.Aayat see Kunj she run to him. And sit beside kunj. Bhaiya.
Kunj:hmmm
Aayat:what are you doing it.
Kunj:work what you wanted tell me..
Aayat:my chocolate milkshake.
Kunj:acha okay sits here.Kunj call Priyanka and tell her to bring milkshake for Aayat.soon she brings milkshake for Aayat give her her mini bottle.She rests her head on kunj lap.And drinking her milkshake.Girl come to call let's play she immediately gets up and went with her running here and there Aayat drinking her milkshake. All see her.
Yuvi:she is really adorable bottle omg?.
after she gets tired and went inside where she see her parents sitting with everyone.She went to them and sit in her mother lap.. Avantika caressing her hairs.soon Aayat sleep on avantika lap.They all went outside to see what their kids doing it. As soon as kunj see his parents as well grand father he immediately gets up and stand even om and rudra too.while other seeing them.
Avantika:kunj again work leave for sometime.
Tej:yes kunj.did your work complete.
Lata:this Tej bhi na..
Kunj:yes pa.. almost.
Leela:now you all should sleep.
Rudra:today I'll sleep with Yuvi bro..
Om:good.Aayat will sleep with us. Avantika give Aayat to om.. they all went inside.
Yuvi:good night om and Kunj..
Kunj:goodnight.. while in sleep Aayat wake up.
Aayat:Bhaiya??mamma.
Om:Aayat Bhaiya is here.Kunj was on call.
Aayat:Meri mamma.
Kunj:Aayat don't cry okay.He takes her and patting on her head.Twinkle adoring Kunj they all went in their respective rooms. Kunj and om come lay down Aayat sleep between them..
Om:what happened bro..
Kunj:nothing. What next function is it..
Om:sangeet.
Kunj:okay.Aayat smiling in sleep this make kunj and om laugh they both place kiss on her both cheeks and sleep. Yuvi and rudra along with Rishi and raj and Naman chilling out.
Next day twinkle wake up firstly she sees her hands and see Kunj name written on her hand.She caresses his name.She smiles malika come show twinkle her heena color comes really dark she gets so happy so it's mean Kabir loving her like anything. Twinkle to look at her heena even her color to come dark.They all get ready and come downstairs for breakfast at hall.
Rudra who still taking yawn lazy person..
While Kunj and om went for jogging.Kunj was on Bluetooth phone call they come inside and drenched in sweat like anything mahi see om and get lost in him.his long black hairs uff. They breathing heavily drinking water from there water bottles.Twinkle see kunj.
They went in room and quickly get freshen up.all sit for breakfast.Twinkle see kunj having his Paratha with fork.That amazed everyone.
Aayat:dadu and dadi see my heena. She shows her hands with full of smile.
Lata:so beautiful.
Prithviraj:yes Aayat baby..
Aayat:acha see pa and Bhaiya.
Tej:haa Aayat nice.She didn't have breakfast just playing with her hands.
Avantika:see you kunj and om what she does because of this I didn't let her apply this.Aayat have your breakfast first..
Aayat:no I'm done she run from there.
Kunj:I'll see her mummy he takes breakfast for her went behind her.Aayat running she sees kunj.After breakfast, they all went in garden and elders get busy in other work.
Rudra:wait I'll bring her. Rudra run behind Aayat and catch her she started crying faking way.
Kunj:rudra Leave her. Aayat come to me. Rudra lifting Aayat from her tummy.Kunj feed her breakfast.
Aayat: Bhaiya I'll become fat..
Kunj:no Aayat see this much if you not have you know na you'll become Rudra dumbo.Rudra give look other laughing at him.
Aayat:acha I wanted to become like you.
Kunj: than have this okay. she happily eats.
Rudra:first reached to his waist than become like him..
Aayat:you protein powder.
Yuvi: epic???..
Asha:guys let's come for our dance rehearsal.
Rudra:yeah Bhaiya take your luggage. As soon as rudra put Aayat down kunj about to give one more morsel she kisses on his cheeks and run..
Aayat:sorry Bhaiya I'm done.. Kunj smile.
Kunj:okay..
Chinki: come kunj.
Kunj: no you all go I have some work.They all went for dance rehearsal while Kunj seeing other works.Rudra twinkle and other busy in dance.Kunj see today sangeet arrangement.after some time.
Malika chuda rasam time come everyone come at garden. Malika sitting her maamu make her wear chuda while her eyes were closed covered with clothes.Than Kabir too come and sit next to her veil curtain between them.Milk with rose petal pouring on them.After this ceremony too done.Malika and Kabir get freshen.Again one more ritual.Leela and Rt give gifts to malika.Don't know when whole day went.
All went in their rooms and get ready looking stunning.All come at Hall where sangeet function is there.all see the arrangement and Praise kunj work. Twinkle come from upstairs, and she looking hell everyone eyes on her only. She wears red maroon color lehenga with golden shimmery long sleeves blouse her dress unknowingly matching with kunj dress.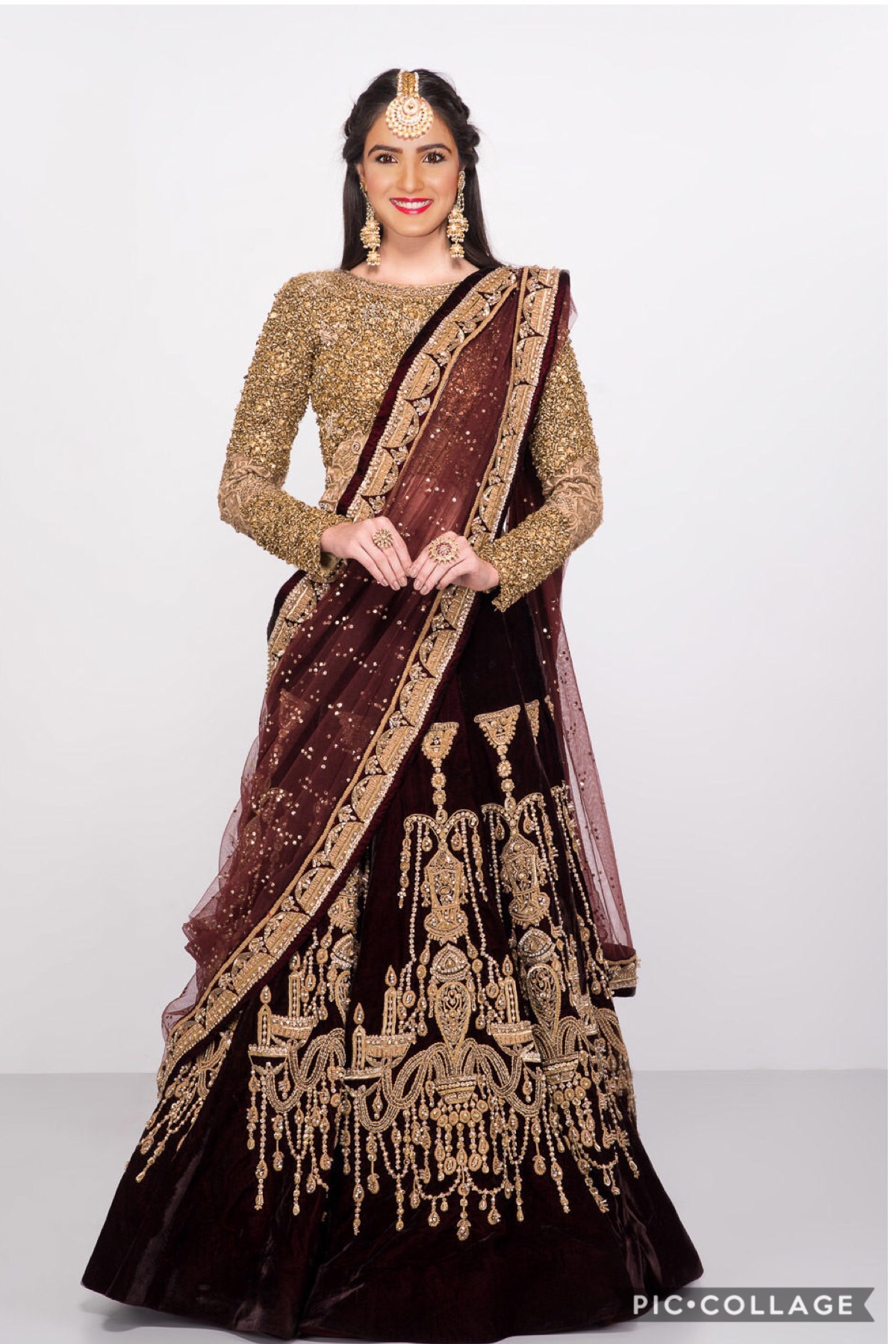 Twinkle dress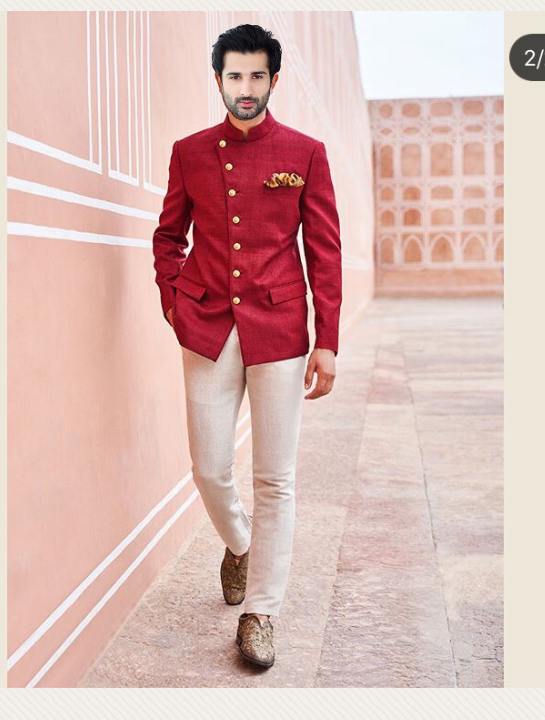 Kunj dress
Even he to wear red looking handsome. Kunj see her and get lost in her beauty. Twinkle see kunj and gesture him looking good just than twinkle eyes went on kunj pocket square he wears same pocket square which twinkle give him smile om and rudra come and give her compliments their bhabhi is high light of this function. And show her they were brooch given by her she gets so happy today. Each and every one looking beautifully. Anjali and yuvi hosting the function all sits number of tables was there. Light went.
Anjali: so lets the sangeet function.
Yuvi: are you guys ready our Kabir bro and Malika bhabhi sangeet function full of fun laughs.
Hansh:yes puttar starts. Kunj and om or Rudra mahi even twinkle and her friends sitting together.
Anjali: so I'll call first our two beautiful couple raj and Chinki.They both dance on song tareefan they dancing so nicely all like and clap for them their dance end than Asha and mamma turn come. Even they dancing on song thug le.Like this all come and dance make this function so amazing.
Anjali:now our bride and groom turn comes clap for them please.Malika and Kabir went on stage song starts they both dancing romantically on gerua song.They both looking so beautiful while dancing all admiring them.Kabir and Malika lost in each other's their song end still they lost in each other Yuvi come and boom on their ears they come in sense all laughing.
They both went back to their seats.
Yuvi: last performance of this sangeet get ready this make you all shocked.Get ready to see this three star. All get confused all lights went off.. lights get on.. First rudra come started singing the song..
Rudra:(My desi girl
My desi girl
Girl… girl… girl… girl) —– 2
(Lights went on twinkle who standing wearing nice beautiful saree looking hell hot om come from back)


Om:Jhumka gira de
Jo milale agar woh nazar se nazar mein taale( all like omg) [om come and pulled twinkle towards him. Twinkle hand on his back while his on her back.. twinkle looking him confusedly.. Push him left.
twinkle walk out from there and than rudra come and stand in front of her.]
Rudra:Nachke dikade
Sabki dhadkan mein kadam se kadam milale[take her hands and started dancing with her]kunj looking at them and smiling what going on] even others too..
Om:Lehron si chaal pe chaal bichade
Dil ko yun behaal bana de
[om going in backwards while twinkle pushing him rudra come pat on her back she turns and look him too.she pushed him too)
Par deewane mane
Na dekhi koi aisi girl
They both come together twinkle in between them they both singing loudly in her ears twinkle act like saving her ears.
(Na dekhi koi aisi girl)
[Om puller twinkle in his arms than Rudra too her]
Both: Dekhi lakh lakh pardesi girl
Ain't nobody like my desi girl
[ twinkle moving her waist they both dancing beside her]


Dekhi lakh lakh pardesi girl
Sab toh soni saadi desi girl
[they did desi girl hook step. Twinkle hands on her waist.)
Who's the hottest girl in the world?
My desi girl
My desi girl
Thumka lagaike she'll rock your world
( they dancing like mad all laughing on one expect this from om]
My desi girl
My desi girl
My desi girl
My desi girl
Rudra:Pade kamar pe jo nazar
[his hand keeping on cheek and looking at twinkle slim waist she danced.)


Saare sapno mein rang bhar jaaye
Om:Jo tham le woh haath toh
[om and twinkle walk together twinkle give her hand on om hand]
Hus ke hi aashiq mar jaayein
(she pushes him, and he falls down dancer girl hold him.]
Twinkle:Dhoondon jahan mein chahe kahin.[itself twinkle spinning open her arms )Na tumko milegi koi aisi girl( pointing her hands to herself)

Both:[Dekhi lakh lakh pardesi girl
Ain't nobody like my desi girl
[om and rudra dance rushes towards twinkle
Dekhi lakh lakh pardesi girl
Sab toh soni saadi desi girl
Who's the hottest girl in the world?
My desi girl
My desi girl
(Rudra and om parsing twinkle)
(Again they three of them dancing together stole everyone hearts)


Thumka lagaike she'll rock your world
My desi girl
My desi girl.
[twinkle om and Rudra hands in each other hands for dance they dancing together like couple om lift Rudra. All laugh)
My desi girl
My desi girl
Girl girl girl…..
twinkle:Jahan jahan bhi jau main
Saari nazrein toh peche peche aaye


Ruku zara mein jo yahan
Thandi thandi saari saanse tham jaye
Sabki nigahon ne hai kaha
Ke khwaabon mein hai dekhi meri jaisi girl
Meri jaisi girl( twinkle dancing on beats giving killer looks kunj see her..]
Dekhi lakh lakh pardesi girl
Ain't nobody like my desi girl
Dekhi lakh lakh pardesi girl
Sab ko soni lagthi desi girl
Who's the hottest girl in the world?
(Twinkle stand on table and all hooting for her)


My desi girl
My desi girl
Thumka lagaike 'll rock your world
My desi girl
My desi girl
Om:Jhumka gira de
Jo milale agar woh nazar se nazar mein taale[again he come dance with twinkle
Rudra: Nachke dikade
[He too come both dancing with their bhabhi.]
Sabki dhadkan mein kadam se kadam milale
Om:Lehron si chaal pe chaal bichade
Dil ko yun behaal bana de
[he pinches on twinkle back she turns and look at him with happily.
Par deewane mane
Na dekhi koi aisi girl
(Om and rudra fighting dance with twinkle )
(Na dekhi koi aisi girl)
Dekhi lakh lakh pardesi girl
Ain't nobody like my desi girl
Dekhi lakh lakh pardesi girl
Sab toh soni saadi desi girl
[kunj just lost in them and keeping his hands on his cheeks and see them what they doing it..
Who's the hottest girl in the world?
My desi girl
My desi girl
Thumka lagaike she'll rock your world
My desi girl
My desi girl
My desi girl
[they burn the stage..)
My desi girl


Girl girl girl girl girl girl…..song end om and rudra holding twinkle hands both. All stands and clapping for them loudly everyone shocked to see om new side today.Twinkle immediately went and change her saree and come back to everyone.
Anjali:what a performance o my god devars and bhabhi kill it..
Lata: sach me..
Om: how's it kunj..
Kunj: amazing hoo om I never think you have this talent too.
Malika:yes om and rudra or twinkle brilliant dance performance.
Twinkle: thank bhabhi.
Yuvi:what a scene kunj your brothers dancing with your twinkle,,
Malika:now its kunj turn..
Kunj:what no way I don't know this all.
Lata: why kunj..
Kabir: yes kunjj..
Kunj:really I never do this thing you know malika.
Malika:where is your partner in crime he knows everything..
Kunj: acha asked him soon.. all praising twinkle.
Avantika:nice twinkle puttar..
Rudra:see o they just praising their twinkle bahu what about us..
Usha:om looking so cute..
Kunj:first I was shocked to see him dancing. Kunj and Anjali remember their childhood funny moments of om they started laughing loudly twinkle admire kunj Smile and others too..
Rudra:Bhaiya looming so good when he smiles.
Avantika:hardly your Bhaiya give smile. Kunj tell to malika in her ears she too laughing. After rudra clicking some selfies they pulled twinkle and Kunj together their hands touching to each other Rudra click photos twinkle and Kunj looking each in pictures.
Asha:you guys asked each other which color you are going to wear same same ha.
Kunj:no.. all left from there only twinkle and Kunj is there twinkle see kunj pocket square slightly mess.twinkle went near him.Kunj look at her.twinkle correct his pocket square..
Twinkle:nice I thought you'll not wear this there are very close to each other's. Twinkle hands resting on his chest.
Kunj: why I'll not wear this I like so I have to wear it even your two bandars to wear it why not me..
Twinkle:acha they're Bandars what about you sadu..
Kunj:ever you are too siyappa queen.Twinkle run from there while calling kunj sadu she laughs kunj smile to her cuteness.
Boys thinking for night out Kabir and Malika bachelor party.At late night.They all plan to do party near disco.first Kunj denying after so much request he agree they went to pup and doing party.kunj give warning to rudra don't try to drink too much.Malika And Kunj Remembering their childhood days how they used playing together having fun.Next morning her wedding.His bestie Going to become someone wife.Malika take kunj for dance. Whole night they doing party and get tired went back to resort.They all sleep.Next day elders comes and see their kids still sleeping they know they did party.they seeing wedding preparations.
At afternoon they all wake up kunj went down stairs sit beside his dadi and rest his head on his shoulder.Om and rudra too come place their heads on Prithviraj lap. All see them..
Tej:wake up my boys..
Kunj:hmm mummy…
Usha:mummy boy wake up aaj malika ki shadi. Somehow Rudra and om or Kunj going in their room while twinkle coming she bumped with kunj he holds her.
Kunj: Twinkle..
Twinkle:haa who still in sleep..
Om:wake up twinkle..
Twinkle:hmmm.They went in their room
All get freshen all get busy in wedding preparation.Everywhere hustle and bustle going on.Some of the running here and there girls went to salon. After sometimes later!
Malika getting ready kunj went to her room.
Kunj:nice miss mi..
Malika:kunj still you remember this.Malika get up from chair and show kunj her wedding dress. She twirls.
Kunj:looking hot my bestie. Om and Rudra come with Malika wedding gift.. she was hell excited what her bestie give her. Wait malika come and sit kunj make her sit in front of mirror and take out nice beautiful diamond pendal make her wear. Malika open her eyes and see and get hell happy. She touched the pendal..
Malika:kunj it's so beautiful thanks. She hugged kunj tightly there girls come and see them..
Rudra:bhabhi don't take Bhaiya wrong ?.
Twinkle:kuch bhi..
Anjali: you trio go and get ready till than let malika as well they went out of the room and get ready.. soon each and every one gets ready..Kabir sitting in mandap waiting for malika.
Pandit: dulhan ko bhulajaye. Everyone eyes went on staircase Malika coming with kunj and om or Rudra she looking hell pretty even they trio too wearing same outfits.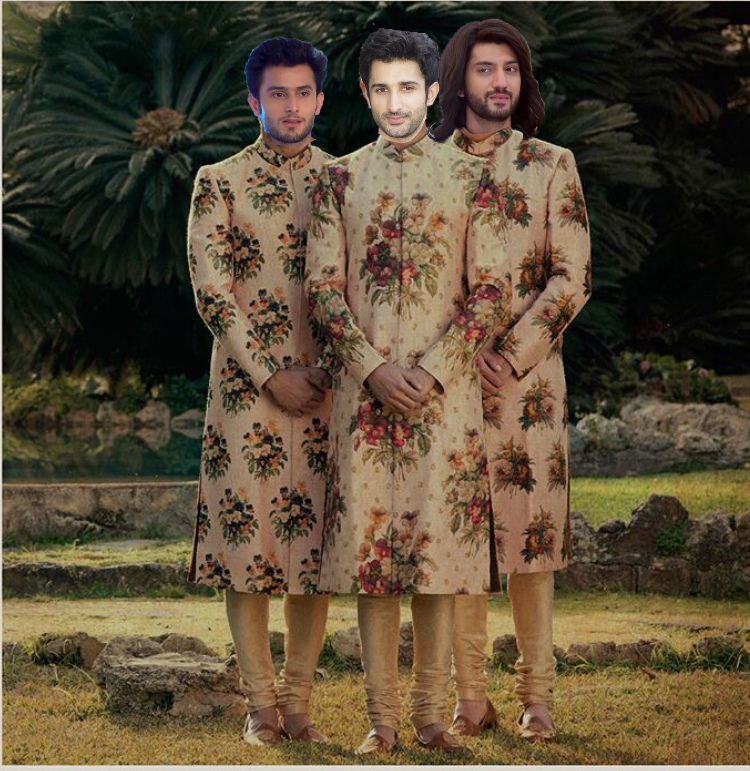 Kunj and om Kara or Rudra dress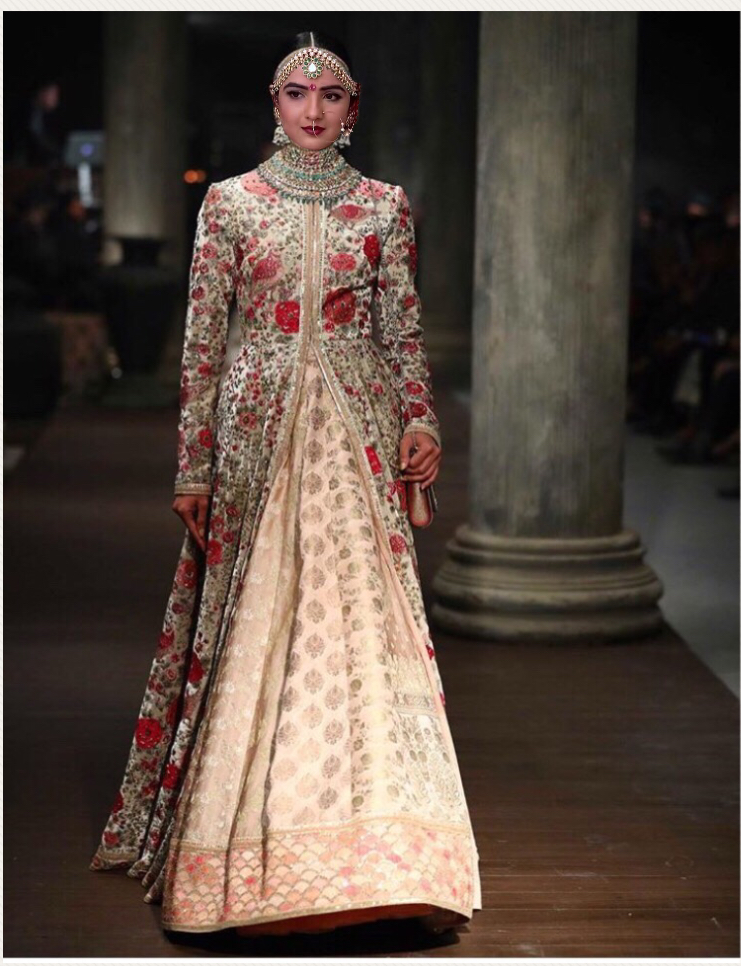 Twinkle dress
They bring malika down because she doesn't have brother. Make her sit beside Kabir.Kunj come and stand beside twinkle they both share gaze.they stand for vermala Yuvi and Rishi come lift Kabir. While even Kunj and om too malika. She easily put vermala in Kabir neck.


Now kunj lift Malika Kabir try to put vermala in her neck but can't. All enjoying it this. Finally Kabir jump and put vermala in her neck all clap for them
.Soon pandit ji started chants and mantars.Pandit ji call malika parents do their kaniyadan her parents come and did her kaniyadan. Than they stand for phere. They taking 7 vows.the two souls are joined for seven lifetimes. The seven vows of marriage are the seven promises which the bride and the groom make to each other for a happy and prosperous life.Everyone showered flowers Patel's on them rudra and om or Anjali slightly on kunj and twinkle.They both look at them. After 7 vows again they sit Kabir make malika wear mangalsutra in her neck and then Leela up her maagtika and Kabir filled her hairlines with sindoor.

Malika and Kabir wedding outfit..
Pandit:yeh vivaha samapat hua aaj se paa dono pati patni ho all get so happy. They both bride and groom stand up take their elders blessing after this Kabir and Malika sit on stage.all teasing them. Twinkle and Mahi eyes on Kabir shoes just than they see Kabir shoes not there.
Twinkle:Bhai where is your shoes..
Kabir:I remove near mandap.
Mahi: someone stole it.. they looking at Sarna kids..
Rudra:I don't know anything..
Twinkle: give my Bhai shoes..
Anjali: first money than take shoes..
Mahi:acha ji..
Malika: right.. twinkle whole gang finding Kabir shoes everywhere can't successfull.Kunj tell Aayat hide this shoes in her toy bag.. Twinkle sitting beside malika she stands shakes her hands kalire on twinkle head.


Anjali: nice malika.
Rudra: why this..
Anjali: because whom next turn is there twinkle wedding so malika shaking her kalire on twinkle head her wedding to happened soon.
Rudra:acha so even on Bhaiya he makes kunj sit beside twinkle malika shakes her kalire on kunj.om click their pictures after their photo session starts all guest giving them good wishes and gifts. After all have their food with groom and bride..
Kabir:where is my shoes.. Leela just look at Kabir she is so happy today finally her son tie in one knot..
Kunj:first money and take your shoes..
Twinkle:where is shoes..
Kunj:find if you can..
Kabir:first you people give my shoes. Aayat come there call kunj..
Aayat: Bhaiya take this shoes twinkle and all looking at Aayat. Before twinkle run kunj runs towards her take shoes from Aayat while twinkle behind kunj..
Twinkle:sadu give me..
Kunj:why.. miss Taneja. Don't you hear this.
Paise de do, joote le lo (Paise de do, joote le lo)..
Twinkle:acha ji.Kunj run while twinkle get tired.She gives up.
Kabir:my kunj jija ji huhu.
Kunj:jija baad me your wifey friend first.
Aayat:Bhaiya where is my money..
Om:don't worry your Kabir jiju will give you.Kabir takes out money while twinkle take and started counting.
Twinkle:let me give them 2 thousand is enough for you all.
Aayat: no give me pound..
Kabir: baby here no pound.
Twinkle:Aayat we don't have pound take this from your Bhaiya okay let's cancel this elder enjoying this.
Kunj:acha ji.Should I throw this shoes in pool than let your Kabir Bhai walk without shoes.
Kabir: Twinkle give them.. Kunj snatch money from twinkle hands.
Kunj:you taking so much time In Counting Kabir please when you giving them money after this that time please counts.just give them penny. Malika your sister in laws is so kanjoos. Kunj give money too Priyanka and Anjali and Aayat last 5 rupees is left.
Kunj give twinkle And Mahi..??..
Rudra:you both use these rupees.twinkle making faces on kunj.. now it's wedding farewell time malika parents get emotional.She hugged her parents and cried a lot.kunj wiped her tears and kissed on her forehead
Kunj did FaceTime with Rahul and show him malika.
Malika:idiot didn't you come in my wedding.
Rahul: acha mi did you call me.. Kunj she looking fine now..
Malika:acha I toh give you both chance you both didn't get ready she winked.
Rahul: congratulations malika you eat our head very much now it's your hubby time.Apne nakhare se apne pati dev ke baal nochlena ??.
Malika: acha what about your wifey did she did with you.
Rahul: my wifey is the best he can't but I have idiot brother in laws they eat my head so much malika don't know Rahul is Anjali husband. Other as well..
Malika: acha ji..
Rahul:acha mrs Taneja enjoy ??. End the calls
Chinki:who he is.
Malika:hai koi my kamina friend.Car come Decorated beautifully. Malika and Kabir staying in hotel for their first night. Malika sit in car all boys tease Kabir Kunj laugh to see them he too sits and their car left for hotel..
Leela:finally saadi hogi Meri bete ki.
Rudra:next turn is beti aunty.Kunj and twinkle and look at each other's. After all guests left even all family members too left for Amritsar everyone is so tired after so much enjoyment.
Episode end…..
____________________________________
how was the episode guys I hope you all enjoy. I did my level best in my life.. if something is not good leave please sorry for this.. now I try to give episodes fastly after 15 can't because I'm going busy if I got time I'll try my best.. please comment Guys response ???☹️☹️☹️. Comment fast…. love you all And I don't know very much about wedding rituals what I know I write so cant say anything. Bye love you all..