RAB SE SONA ISHQ – TWINJ= EPISODE:85
Episode:85..
????????????????????????????????
twinkle and Kunj crying In each other's arms like anything it's really very hard for them to believe and bear this pain. Their all dreams and happiness breaks down like anything.the most painful time this for twinkle.child loss is not an event it is an indescribable journey of survival. Twinkle started breathing heavily Kunj tensed he cupped her face.
Kunj:twinkleeeee.Shh don't cry. He wiped her tears.
Twinkle:our.. baby…,
Kunj:you need rest now sleep.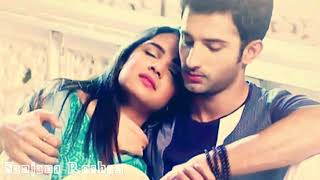 Twinkle: nahi Bring baby na.
Kunj:Haan I'll you sleep. Nurse entered in room and she give her injection so she can sleep for sometime peacefully itself toh she not at least with medicines only. While blabbering baby baby she dozed off Kunj place her on bed and see her feel so bad he don't have words to describe his pain though words he never thought this in his wildest dream this will happen with them he just looking at twinkle everywhere injuries.He hold her hand and kissed on her hand Im sorry.
Twinkle today you are in this condition I promised you I'll keep you happy.But I failed I went and leave you alone.Don't know how I'll handle you myself I can't bear this and how you can you toh feel him.Kunj kissed on her forehead and get up and went downstairs everyone sitting in tension.Kunj coming down slowly slowly tears emerging from Kunj eyes.
Everyone seeing him he come down and hold the side pillar don't know what to say just stand numb totally Avantika gestured tej.They went towards him keep their hands on his shoulder he look at them with tears eyes but not a single word come out from his mouth.Tears enough..
Avantika:twinkle how she is now??
Kunj:she sleeping nurse give her injection.In low voice.Kunj went from there each and everyone can understand his situation what going on him.
Rahul:why this happened really everything is just breaks down in some seconds badi maa.. ??.
Avantika:hmm situation is very sensitive but we will handle this too Rahul.
Anjali: why this happened she started crying.
Tej:nahi anjali beta don't cry.You all stay happy na till now now more for my
Bahu don't let her feel this pain slightly.
Usha:yes Anjali beta.And don't talk in front of her more about this baby matter
Leela: haan my twinkle is lucky she have you all in her life.This bad time will too gone soon.
Kunj was sitting alone in poolside and crying slightly reminiscing that moments which he and twinkle used to send thinking about their baby planning things for him when he will come they will do this and that.he never thought he will go and when he come back and get this news his baby no more.He was toh counting days even his family too in one second everything breaks down all days and months numb.Omkara and Rudra or Rahul Kabir come there and see Kunj they never see him like this. Kunj eyes went on Aayat who cuddling toys which she bring for his baby whom she call her baby..
Om:Kunj please don't cry na we are sorry for this they both sits on their knees and hold his hands Kunj look at them.
Kabir:Kunj we can understand but please don't become sad it's normal maa told me this happened with many girls we can't leave hope again happiness come in our life's
Kunj:I can't explain you all what I feeling right now I not sad for baby but more which hurting me twinkle condition.Her baby leave her but give her this pain I can't see her in this condition our situation is very bad. Pata hai we didn't planned baby but babaji give us this happiness itself we started dreaming framing each and everything now pictures just vanished. Didn't fighting now like a siyappa queen or sadu sarna but baby mamma and papa what we will do.When she see everyone love and care for our baby it's make her more happy. We will get baby again but this feelings and pain always stay with us with her more Kabir.She is stubborn but end of the day she is a mother didn't got chance to hold her blessing just feel him.When she didn't get her things become mad today toh her baby went it's not easy for her.
Rahul:you are right absolutely Kunj we can't deny this.But Kunj if will all become like twinkle than it's not good for her health it's give her just pain and pain more you wanted this haan nahi na.
Rudra:bhaiya I'm sorry. He fold his hand Kunj look at him.
Kunj:pagal hai Kya don't be sorry.
Rudra: this happened because of us we promise you.
Kunj:nahi Rudra and Omkara don't say like this it's not your hands it's written in our destiny since the start.Wiped their tears mere bhai..!?cuddles them.
Rudra:bhaiya don't cry you always correct everything na this too fast na I can't see bhabhi like this we just wanted our baby back.I'll do each and everything whatever you wanted.
Kabir: haan chalo Kunj wiped your tears. Omkara wiped his tears.
Om:mera bhai bhut strong hai.We can bear this pain think about just dadu and dadi or twinkle they trio in deep shocked Kunj.Dadu just pretending he is okay but he isn't at all you know he just waiting for your baby and his all dreams connect with yours..
Kunj:hmmm.
After sometimes later Avni and maya make food for each and everyone.Kunj went and get freshen up twinkle still sleeping.Omkara and Rudra called everyone.Aayat watching twinkle from window.
Leela: ab Kunj beta come have your food.
Kunj:nahi maa I'm fine. Avantika gestured him toward lata and Prithviraj they were sitting in side he understood and took the plate and went towards them and sit.Daduuuu he didn't said anything lost in his own thoughts Kunj keep his hand on his shoulder.Dadu..
Prithviraj:haan..
Kunj:dadu please have your food.
Prithviraj:nahi Kunj tu kha le.. in sad voice.
Kunj:acha without you both how can your Kunj will have haan.Dadu I know you both in pain but for me if we will do like this than think about my twinkle. Kunj tore the morsel and take near Prithviraj lips tears flowing from their eyes and he open his mouth.Kunj feed him he have with heavy heart even feed Lata as well.Everyone seeing them.
Lata: even you too have na.
Kunj:nahi dadi without her since last night she didn't have anything how can I.
Lata:pata hai but if you wanted to handle her than have to be strong yourself first mera Acha Kunj hai na. Take morsel near his lips Kunj closed his eyes and have it.Others smiled at least they have something.After food Avantika realised in this she totally forgot Aayat she went in room and see she sleeping near her toys.
Avantika:when she will know why babaji.. ??. Leela and rt went in room and see twinkle she sleeping peacefully feeling so bad.
Rt:I try my level best to keep her happy and in whom I give her hand he too keep her happy but babaji give her happiness and snatch it..
Leela:hmm. I can't see her like this she is so much happy meri bachi.. they went downstairs. After sometimes later they all went back to her home Anjali sitting looking at food Kunj went towards her.
Kunj: di you didn't have your food haan?
Anjali:nahi kunjj maan nahi hai. You know me and twinkle used to talk about our babies nowadays that our babies will stay like you and rahul together do each and everything but see this Kya Hogya she burst out.Kunj give her side hug.
Kunj:don't cry in this condition okay.
Anjali: I know you just try to strong but you were not at all I can see pain in your eyes Kunj. She took his hand in his you know Kunj after my marriage in just one month I thinking I'm expecting and assumed everything itself when get to know I'm not pregnant I felt so bad I take at least 2 months think about twinkle her pain is so big when I see her like this condition when she get to know about baby you can't even see her stage she totally become mad,,
Kunj:Haan dadi.:. You please have your food. It's late. She sleeping I'll check her okay goodnight take care of yourself Kunj get up and went from there.He check his dadu and dadi sleep or not Prithviraj eyed went on Kunj both husband and wife pretend like they sleep.Kunj smiled and went in his parents room.He sit beside Aayat and just admiring toys which she bring for baby.Tej and Avantika entered in room. And see him they went near him and sit beside Kunj.
Tej:kunjjj.Kunj see them with tears eyes. Before he could say anything cuddles tej tightly and started sobbing Avantika caressing his back let him cry it's good.
Kunj:paaa I toh try to give everyone happiness why my happiness went???.
Tej:nahiii.Your happiness didn't went anywhere Haan cupped his face look at me Kunj if you thinking it's happened because you does something than it's wrong my son.You consoling everyone.
Kunj: I can't take it anymore this. He hold his hand and started sweating they get tensed Avantika get up and immediately bring his medicine and water she give to tej.
Tej:you didn't take your medicine Haan. Take first.He give him forcefully.my son is very strong Kunj.This time too pass quickly your mummy and pa with you na.
Avantika:Haan kunj right now just think about twinkle only.Wiped his tears.You sleep here I'll see her Kunj rest his head on her lap she caressing his hairs they never see him like this totally breaks down.Tej slightly crying to see his son in this condition. Kunj closed his eyes he sleep..
Tej:I never thought mera Kunj ki life me itna gham aayega Avantika I always strict with him. ???today I'm so helpless can't remove my son pain.
Avantika:same here tej.I just praying for twinkle babaji give her strength to come out of this pain she just controlled because of injections only.Priyanka and Rudra entered in room tej gestured them.They both rest their heads on tej Laps he patting on their back. After sometimes later.Nurse was with twinkle only. Nurse slept in side twinkle wake up and see nurse she throw drip and get up.
Twinkle:mera baby she imagined baby calling her and crying so loudly.Mera Bacha.she hold wall and walking try to find the voice from here it's coming.She slowly slowly her wounds is raw and started opening and oozing blood under the bandages.She come downstairs baby where are you Aayat ke saath Haan.Crying baby where is everyone haan. She reached near mandir and stand. In side mirror was handing she look at herself and get shocked.Why I'm crying haan I'm happy na mera baby. She falls down on her knees babaji why you did with me Mera Bacha.. there Omkara come and see her he went near twinkle.
Om:twinkle you are here haan,,
Twinkle: haan woh mera baby is crying.
Om: what. Let's go you are not well.
Twinkle: no mera bachaa leave me she started screaming due to this everyone wake up and come out of their rooms and come in living room twinkle try to run Omkara didn't let her Kunj see her he went near twinkle..
Kunj: twinkleeee tum yeha..?
Twinkle: Haan kunj woh baby is crying did you listen he needs me all get confused let me go to him. Than all understand she isn't in sense. See blood drops on floor.
Kunj:shhh pagal hogi hai Kya haan baby.Kunj cupped her face tightly. Twinkle let's go in room.You become mad totally.
Twinkle: mera bachaa.
Kunj: bas enough yaar Teri halat toh dekh pagal hogiKya hai listen carefully your baby is no more HUMHARA BACHA AB NAHI HAI ISS DUNIYA ME YOU HAVE TO BEAR THIS PAIN BELIEVE AS WELL TWINKLE. She get shocked.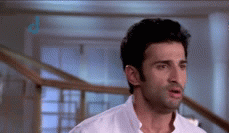 Twinkle:don't say like this Kunj please crying like anything. At least tum toh she going in backwards me keshe Yeh maan lu my baby is no more haan.Abhi hi toh I started feeling him. She hold side pillar and cuddles and sobbing loudly.All feeling bad. Anjali went and bring water for her. Kunj hold her hand and make her sit in side couch. Anjali give water glass to Kunj.
Kunj: first drink this water.
Twinkle:nahi..??.Kunj Make her drink litter water.
Kunj:shhh see yourself. Nurse come down and she does her dressing again Kunj see her she scared of much now totally numb. He lift her in his arms and take her in their room. Place her on bed and Avantika bring food for her and sit beside Kunj.
Avantika:twinkle beta you have something you didn't have anything na have to take your medicine.
Kunj:Haan twinkle chalo fast.
Avantika: you make her okay she gestured him and went from there. Kunj looking at her.
Kunj: kuch kha le kal se kuch nahi khaya hai tune haan.
Twinkle: nahi please.
Kunj:nahi nahi Kya hai. Chal ab.Meri siyappa queen hai na tu. Achi wali.Kunj forcefully feed her she had hardy. He give her medicine she take it.She rest her head on Kunj chest he caressing her hairs patting on twinkle back.
Twinkle: kunjjj..
Kunj:hmmm. Dekh me huna tera pass.
Twinkle:hmm both stay like this only. Don't know when they slept.
Next day in morning.
Each and everyone wake up again no happiness.But they promise they will stay happy for twinkle again have to make her live happy.Usha and Avantika get ready and she love roses place red roses everywhere in mansions they both make breakfast for her all favourite things.Kunj wake up and see twinkle.He smiled and kissed on her forehead. Kunj get up and went in washroom get ready and see twinkle she seeing all toys and clothes he closed his eyes and went towards her.
Kunj:good morning my love. What is this Arey this toys.Give me its very precious for me.Kunj take toys and keep in bag twinkle cuddling photos he take that too and Each and everything he removed it from their room baby things and closed the bag.
Twinkle:what is this my baby things.
Kunj:haan tere baby ki hi hai toh.
Twinkle: I'll not share this with anyone Kunj tearing..
Kunj:haan no one will take your baby things it's only our baby now I'll give them carefully in wardrobe so when our bunny will come back than.We will used it okay twinkle crying.Kunj keep everything in wardrobe.And look at her.
Twinkle:my baby will not come back don't play with me.He went near her.
Kunj:Bas I wanted my wife happy go and get freshen up. Should I call nurse.
Twinkle:nahi.she slowly went in washroom and sit in washroom and crying Lot her sound coming outside. Kunj listen this he holding washroom door.
Kunj:I'm sorry twinkle but If this all things keeping in front of your eyes it will make you remember your baby lott. Wiped his tears and maid come and set their room nicely.Kunj went downstairs everyone ask him about twinkle where she is?? She is in washroom.
Om:why you leave her alone.
Kunj:let her Omkara she have to fight alone slightly I'm beside her.
Usha:right.Come let's have.They all sits waiting for twinkle. Aayat come she didn't said anything just sit and looking down.Twinkle come downstairs.She wearing light colour salwaar and kameez tie her hairs slightly no makeup nothing at all. Rudra went near her he bring her.Everyone look at her and surprise to see her condition. Who used to shine like a star.
Avantika: come sit she make her sit beside Lata and Prithviraj.
Prithviraj:twinkle beta chalo let's have in same plate okay.
Kunj:haan.Usha served everyone. Twinkle looking down didn't blinked her eyes. Everyone see her. Khana she hold spoon and her hands shivering like anything. Spoons falls down.
Prithviraj:koi na I'll feed my bahu.He take morsel she look at him.Please.She open her mouth long tear drop falls down.Twinkle have.
Twinkle: bas. She get up and went from there.
Anjali: twinkle?
Kunj:let her di.. they finished the breakfast just for namesake twinkle sitting on floor. Aayat baby what happened why you looking so sad??
Aayat: bhaiya baby went where ?he didn't take me Kunj feel bad.
Kunj: shhh don't cry my baby you are na you go and stay with your bhabhi like you used to stay.
Aayat: nahi I scared to see her like this.
Kunj: na Aayat. Never right now she is sad na that's why and our baby will come back soon if you stay happy.
Aayat: promise.
Kunj:yes promise.She went from there.
Twinkle you have to become normal for not yourself but for each and everyone.
Like this 5 and 6 days has been passed each and everyone was tired their level best to keep twinkle happy they didn't take name of baby in front of her even Anjali as well she behaving normal. She didn't sleep day and night just lost in her thoughts just have if anyone force her otherwise not at all Kunj leave his work everything Rudra and Aayat try to divert her mind but she more lost in her baby pain. She didn't leave single corners of sarna mansion where she didn't cried at all. She going in depression slowly slowly it's really become hard for her when she see Aayat with Kunj feel more bad wanted to see her baby with his papa but this wouldn't happened before he leave them.Even tej and Avantika passed night near their room door handling both Kunj and twinkle together. Tej tell them each and everyone don't leave her alone right now she isn't stable she can do anything with herself.Twinkle scared if she didn't become mother again.
@ twinj room….
Twinkle was sitting in the corner of room.crying like hell cuddling her legs.
Twinkle: why god you did with me haan what mistake i done babaji .why you too my baby.Kunj entered in the room…
He saw her.his heart pricked after seeing her in this condition.twinkle holding her sonography file and seeing her baby.
He went to her cuddles her…
Kunj:twinkle listen to me please don't cry na i can't see you like this.I know god took our baby.please  dont loose hope.baby will come again but i can't loose you.You are making your condition worse.look at you …
Twinkle:so what should i do haan kunj should i laugh .here my baby leaves me i think i would have die with my baby .that will good for me.
Kunj:shut up twinkle kya bol rhi h hosh me hai tu..Aagr tujhe kuch ho jata hai toh mera kya hota kabhi socha hai kaise jeeta mai tere bina haan.i know our baby leave us but that's doesn't mean you will make your condition like this ..for me you are important.If you are with me then baby can come .but if you will be  not with me .then toh this kunj will die for sure..
Twinkle keep her palms on his mouth and sigh with her neck no and hugged him..
Kunj:twinkle i know you are mother.so you were more attached to baby ..but he also part of me na.i too missed our baby..
But we have to move on.isi ka naam zindagi. Dadu and dadi ka soch ..
Woh kabse apke great grand child ka wait kar rhe hai if you will not become good then how we will give baby to them  haan.
Twinkle:hmm. Kunj if I will not become mother than. ?.
Kunj: are you mad haan?You know what mummy told me it's common happened with everyone mostly in starting you aren't first twinkle. And who told you this cupped her face your report comes you are absolutely fine nothing will happened like this and don't think as well samji.You just need rest only look at yourself I want to make you panda.
Twinkle:tears rolling Kya panda Kunj ab toh no baby..??. See this she show him it's my sonography reports see this little munchkin our baby now I just had his memories I planned when baby will come I'll show him each and everything but this happiness not written in my life.
I feel so empty Kunj when I wake up and find myself in hospital that first name was running in my mind my baby he is fine but my bad luck I lost my baby.
Kunj:nahi twinkle he always with us in our love after all he is our first baby after him we will have baby but remain first baby of ours.
Twinkle: I was so excited Kunj that day calling you but you didn't pick up my calls and going downstairs suddenly I misbalanced and falls down. Each and everyone taking care of me and baby I tired sometime this and that dotting all love ?Rudra and Omkara totally mad Aayat whole night she just thinking about baby when baby will come she will play with baby and do this and that smiling painfully.Because of me I breaks down everyone dreams.She closed her eyes and cuddles her tummy.
Kunj: till when you stay like this haan.
Twinkle:Kunj I need a space ??I'll gone mad.she get up and went from there.
Kunj:twinkleeee. After everyone was sitting for dinner twinkle didn't come.
Avantika: where is twinkle haan?
Kunj: in room.
Tej: she is fine?
Kunj:kaha she is still same pa we just thinking she getting normal but not at all whole nights she just crying and behaving like mad.
Aayat was resting her head on twinkle lap.
Twinkle:Aayat you don't leave me okay.
Aayat:haan I'll stay with you only.She caress her hairs she get up and twinkle feed her food with her find happiness she fill her empty place of her baby.
Bhabhi you don't cry Haan bhaiya told me our baby went for holiday he will come late.Twinkle smiled.
Twinkle:hmm forever holiday. Acha now sleep she drink water and slept twinkle get up and went downstairs everyone done with dinner they all sitting in living room just talking about twinkle only. She went in kitchen and keep the plate and coming back she become like no soul in her body.Her swollen eyes and dull face.
Lata: she is so happy now look at her didn't talk always stay in her zone just talk to Aayat.
Avantika:haan do her work even I didn't stop her because she feel good and get busy as well but till when she will stay like this mummy ji.I'm worried about her.
Rahul:right Kunj too same. Twinkle was in herself she about to fall Kunj come and hold her hand.
Kunj: twinkle you will fall down Abhi haan kaha hai mind tera haan. Can't you take care of yourself I told you rest you need bedrest your body didn't recovered till now. Twinkle just look at him.
Twinkle:there is no need of this Kunj I'm absolutely fine if I fall than nothing wouldn't happened to me jo hona ta ho hogaya or jiss ko jana ta woh bhi Gaya. Kunj in deep shocked she went from there.
Kunj:twinkleee. Everyone went to him.
Om:Kunj don't she said in pain.
Kunj:I know om this but.. I don't know how she will cope up with this pain.
Usha: send her Taneja mansion maybe there she will be okay.
Rahul:nahi MAa if she see Khansa there feel more bad let her here. Kunj hold his head.
Tej:Kunj don't give up at least see her place we can frustrate but it's very huge loose of her.She will take time definitely.
Kunj:hmm she behaving mad pa when I see her feel so bad.Feel so helpless. Now I feeling why god give us this happiness he itself give and snatch it back but take my twinkle life as well. I didn't see her when she smile now she is the one who didn't stay without laugh and smile even not said a single word.
Lata:hmm. Sometimes it feel like the sun won't rise again but it does na Kunj?
Maybe we don't want it to rise maybe we prefer for the world to stop as our heart is breaking.
Prithviraj:but it will rise Kunj and set and rise again that is maybe the hard part of life it goes on whether we are ready or not.You are matured understand. He nodded in yes.
Kunj:thanks dadu hug him.
Prithviraj: just stay happy.go and sleep and see her okay. Kunj take soup for twinkle in room.Aayat was sleeping in middle she caressing her hairs Kunj see her. He smiled and went near her.
Kunj:twinkle you didn't have your dinner now drink this soup and have to do your dressing fresh and medicine as well. Chal first dressing.
Twinkle:hmmm.Kunj see blood stain.he bring dressing box. He does her dressing than she went in washroom and get freshen up come out. During miscarriage lost lotts of blood due to this become Whitest and dull weak..
Kunj: come hold her hand and make her sit on bed. Sit beside her she having little fever he check and see temperature is normal. Acha soup now.
Twinkle: Kunj leave na I'm okay. Why you behaving like before now I'm not pregnant please.
Kunj: acha what do you mean by this I'll just take care of you if you pregnant than not haan listen to me you are my life I don't know what you thinking but even I too dying every second can't do anything see my pain first my baby second most painful to see you like a lifeless every day you know I wake up with hope today I'll see my twinkle like old one who will fight with me for washroom but what I get just see tears in her eyes. She open her mouth. Kunj make her drink soup. She drink without saying anything.
After this Kunj give her medicine she take. Are you okay ?? I mean.
Twinkle:hmm I'm fine don't worry.
Kunj:acha good now sleep.He covered her with blanket and lay down beside her. He off the lights twinkle closed her eyes and just baby name echoes in her mind. She moving her hand on her belly
She used to do.Kunj eyes went on her and see this he closed his eyes and cursed himself Lot.. in mind mat kar twinkle Yeh babaji Don't please she still try to feel baby..???.Kunj went near her and cuddles her Aayat sleeping between them only but downside.He hold her hand twinkle look at him. Kya hua.
Twinkle: kuch nahi.
Kunj: I know what you doing it take out her hand under the kurta. She look at him.
Twinkle: Kya karu adaat hogi ti na it will take time to leave.
Kunj:hmm I know. She turned her face and crying Kunj too turned and try to sleep twinkle crying slightly.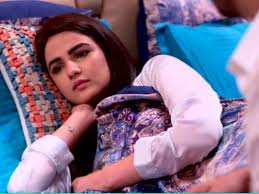 Twinkle:Some would say I didn't even know you.But I carried you, felt you grow. Longed for the day we'd meet.Dreamed of your future.Not only did I know you, I fell in love with you baby. I know everyone try to make me happy but what should I do baby mamma can't forget you I'm missing you.
She can't handle so get up and sit looking at Kunj she get up and take her medicine over doses. Get panic. Mera baby.. ?remember bua dadi word she said if she didn't become mother in starting now., ahaha hold her head everything spin off.
She went to poolside and sitting there. Kunj wake up and didn't see twinkle in room get panic he get up and check her and went downstairs. His eyes went toward poolside and see her she crying so badly.Ahah twinkle.he went towards tej and Avantika room and knock the door they wake up and get shocked who will be at this time tej get up and open the door and see Kunj.He breaking heavily.
Kunj: pa..
Tej: Kunjj.
Kunj:woh twinkleeee..
Avantika: what happened to her. Kunj cuddles them and tell them about her.
Kunj: you both said she will be okay but mummy she is same resting her hands on her belly she is fine na.
Tej: first you calm down yourself we will take her to dr tomorrow where she is?
Kunj:at poolside paa I don't know anything I can't see my wife like. Do something na I'll do something.
Avantika: kunjjj.Chal.They went towards poolside and see she talking to herself. Kunj is right tej. Even dr said if she stay like this than went in depression it's not good at all.
Tej: hmm they went near twinkle beta why you sitting here she get up.
Twinkle: woh aise hi neend nahi aarahi ti.
Tej:acha come with your papaji.He hold her hand and take her in their room.Come sit here she sit place her ahead on his lap.
I'll tell you one story tej telling her story she listening quietly Kunj and Avantika sitting there only while listening don't know when she sleep.Tej kissed on Her forehead: don't be hurry Kunj he just need love more than before if we leave her alone than she feel more bad now we don't love her after baby.She is wife of yourself you handle her in your way our bahu so we will too.
Kunj: hmm I don't know I just want my old twinkle back rest his head on Avantika lap.
Avantika:you will back even we want our twinkle back.Tej and Avantika rest their head on backboard and they too sleep.
At morning.. another..
They wake up Avantika and Kunj see twinkle she sleeping peacefully they trio didn't disturb her went and get freshen up. After sometimes later she wake up and went in her room and get freshen up. Kunj look at her she didn't talk to him.
Kunj: acha lets go to dr Haan?
Twinkle:nahi I'm done.
Kunj:acha than let's go to maa house you stay there feel good,
Twinkle:why now I'm burden on you.
Kunj:why you muffed with me.
Twinkle:why I'll Kunj with you.
Kunj: I'm going to office take care of yourself. She didn't said anything went in balcony After this she going away from me why.he left for office. Avantika take twinkle down.
Avantika: come here today I'll apply oil in your hairs see so dull sit. She sit and she give her hot oil hair massage just than there bua dadi entered they all surprised. Twinkle try to get up from floor due to bua  dadi with sudden jerk.
Avantika: carefully.
Prithviraj: didi aap?
Bua dadi: haan I toh come you toh didn't call me this happened.
After twinkle miscarriage twinkle was usually on rest just stay in her room not interacting with any anybody because she was thinking she had not taken care of herself thats why it happened with her
Bua was like how this happen haan i m sure you didn't care properly  she said after listening this..twinkle was now feeling more guilty.as she didn't took care of her baby.. whole day passed like this,
avantika and usha went with lata and prithviraj to guru ji ashram..tej and manohar went to office..while kunj and rahul went for some meeting in outskirt .bua dadi didn't went with lata as she said i have pain in my knees….
Twinke was just siiting in hall. And lost in her thoughts.Bua dadi saw her.
Buadadi:ye aajkl ki ladkiya phale toh dhayan ni rakhegi .or fir jab kuch ho jaye toh aise behave krengi ki sari duniya inki khtm ho gyi..sara kam chodh ke bas aaram chaiye unko…ab ye doctor ka kam hi hai bolna hai .unhe apne paise jo bnane hai humne toh bache bhi paida kiye or sare ghar ke kam bhi kiye. she pass from there murmuring..ab chai bhi naukar ki bni hui pini padegi…
Twinkle:felt bad after listening her taunt..she went to kitchen and prepared tea for her and give to her…
Bua dadi:why you made it maine toh bola tha naukar ko…
Twinkle:its ok bua ji….aap bolo khane me kya khaogi aap….
Bua dadi:kuch acha sa tasty bana de  .but haan bahu after bath hi banana….as yiy know my rules….
Twinkle:ji bua dadi….or kuch.
Bua dadi:or please wash these clothes also ..avantika and usha are not here .i itself have washed it but kness pain.
Twinkle::ji bua dadi i will wash it you rest…
Twinkle make her busy in household work ignoring her pain after sometimes later
Lata prithviraj and all came from guru ji ashram.
Avantika saw twinkle carrying bucket full of clothes of bua dadi.
Avantika:twinkle beta I have told you na to take rest why are you doing this…
Twinkle:its ok mummy ji…
Avantika:sense something happened she didn't ask infront of everyone..After this twinkle make tea for everyone…
Buadadi:see i made your twinkle like before only she is now fine doing household work. Lata with sad face i can see that …they all can see pain in the eyes of twinkle..
Prithviraj: why she is not fine.
After dinner everyone went to their room…
Twinkle was having pain in her stomach..she was working whole day after having pain killers.but now  that painkiller is also not working….
Her face was full red and sweating like hell because of pain..she didn't had power to call any one ….she was just crying because of pain .
Meanwhile kunj and rahul came back….
Kunj went to his room. he saw twinkle…
Kunj:twinkle what happen….?
Twinkle:it's paining kunj very badly….i can't bear this..Kunj immediately took her hospital  with help of rahul Anjali informed other also..
Twinkle got admitted immediately..doc done her some test and ultrasound…
She was not conscious now as doc had given her injection.Doc came out from icu…
Kunj:doc how's my wife.
Doc: she is unconscious now …
Let reports come then i will tell you
After few min later..Doc check the reports  …
Kunj entered in doc cabins and asked about twinkle….
Doc:: see mr sarna…as you know your wife had miscarriage. And going from this trauma..Moreover she is not taking her diet and having a lot of tension.Can u tell me did she took and painkillers..
Kunj:don't know doc not probably all medicines going on which you give her,
Doc:because of that painkiller.she is having some infection in her blood.
Kunj:she will be ok na doc..
Doc:yaa i m giving you 3 days medicine if she didn't recovered then we have to admit her again.let see did she get conscious or not.then i will decide..should i discharge her or not.Duo went to icu..she was conscious now ..
Doc:how you feeling mrs sarna..
Twinkle:: better doc.Doc discharged her…
Kunj took her sarna house along with  rahul .Everyone was waiting for her…
Avantika:how are you twinkle beta?
Twinkle:fine mummy ji.
Tej:kunj you take her to room..
Kunj took her their room and twinkle laid down on bed and slept because of medicine effects.Kunj after freshen he too slept.In morning..kunj woke up first…
He let her rest  got freshen up went downstairs..Kunj asked avantika
Kunj:mummy did twinkle painkillers.
Avantika:don't know beta we toh went guru ji ashram..because guru kept pooja for her.Anjali too came Kunj asked her…
She told everything. about bua dadi….
Kunj and avantika get very much angry on buadadi but can't say anything.
Kunj: you all do like this only leave her alone I told you don't leave her alone with bua dadi also you know she is harsh lady still last time I went lost my baby not more please and see her lady becoming mahan.
Avantika: kunjjj. Kunj went from there. After breakfast bua dadi going back she just come to meet with twinkle.
Bua dadi: acha I'm going. Twinkle beta and don't worry ek saal me phir se Teri god bhar jayegi. She meet with everyone and left. Kunj look at twinkle who even can't stand.
Kunj: now you are happy become great in front of her. What you wanted to show her in this sensitive condition working like mads haan and take those painkillers why.
Twinkle: kunjj ??hold her hand.
Lata: bas Kunj Leave her Priyanka take her in room she take her.
Usha:Kunjj.. acha leela ji call us today let's go there twinkle feel good.
Avantika:Haan. Now don't become sadu with her.He went in room and see her she too him. He went near her.
Kunj: theek hai na.
Twinkle: hmm don't worry na. Kunj hug her.
Kunj: Acha Chal maa ke ghar they calls you feel good.
Twinkle:Leave na I'll stay here Kunj. With Aayat.
Kunj: your Aayat too go with her.
Twinkle: Kunj Aayat going for summer camp. Please don't leave her how I'll leave
Without her when she is near me I'll feel good,
Kunj: I know she itself cancel it. Aur humhara pass Aayat hai don't think about bua dadi words. We toh love her lott. Hug her 
Twinkle: haan.
Kunj: chal. They get up and get ready others too. They left for Taneja mansion. And soon they reached they went inside.
Leela: twinkle and Kunj didn't come?
Avantika:coming.Twinkle walking slowly
Kunj holding her hand they entered rt and leela see her and break down to see their doll like this. Leela went toward her.
Leela: meri bachii keshi haa Haan kissed on her forehead.
Rt: Haan look at my twinkle why my star so dull?
Twinkle: nahi Papa. She sit Malika come and meet with her. All see twinkle feel really bad for her. They all sit and chit chatting with each other's Khansa was in her baby cradle and moving noise twinkle just looking at her only everyone try to talk to her but she is in her zone.
Mahi: Arey di see I made this for you.
Twinkle: hmm I don't want. Twinkle get up and went in her room she lay down on bed mahi went behind her and see her she come back down.
Tej: where she is?
Mahi: in her room.
Avantika: we thought after come here she will okay but not at all.
Leela:haan keshi hogi hai Meri bachii.
Anita: acha What guru ji said.
Avantika: Omkara and mahi engagement take fixed it. I'm thinking tej do their engagement maybe twinkle will me normal she get busy she loves this all things. All get agreed with each other's Kunj went in room with Khansa he went to her.
Kunj: again sleeping beauty see your bua baby. Laid down beside her keep baby in middle Khansa see twinkle with small and small eyes. Twinkle smiled and kissed on her cheeks. Mahi and Omkara engagement tomorrow?
Twinkle: acha good na.
Kunj: chal jethani ji get busy.
Twinkle: hmm. They spend sometime here. After they went back to home and all get busy in engagement preparation all try to ask twinkle this and that but she isn't even looking at them.
Om: twinkle see which one will suits on me.
Twinkle:this one Om.I'm going in my room. She went from there leave everyone sad again. They done all preparation very quickly Kunj went in room with twinkle dress.
Kunj: twinkle look at this dress we will look at good.
Twinkle: you wear I'm fine in my normal clothes. He went near her.
Kunj: twinkleeee are you not happy? Everyone do this all things for you. Leave your pain for sometime and think about Omkara and mahi please.
Twinkle: hmm..
Kunj: what hmm after this all you didn't talk to me.
Twinkle: nahi kunj I told you na I need time.
Kunj:but I can't give you na time. For Omkara and mahi sake she slightly give some interest in engagement things all get little baby. Next day everyone fully busy in their engagement preparation. Each and everyone was hell happy thoughts this happiness bring their old twinkle back.At night each and everyone come at Venue.
Twinkle looking beautiful. Kunj didn't leave her hand for a second. Meeting with all guest and family members. Mahi and Omkara smiling finally today they going to engage with each other's their happiness has no boundaries.They all sitting together.
Rudra:bhabhi you looking stunning,
Twinkle: thanks.
Rudra:Issi baat pe ek shair yaad aya hai sunlo.Jb tk ho single dunya badal lo..jb tk ho single dunya badal lo..sun meray bhai tv ka channel bhi change nhn krpaoge agr hogayi sagai. All laughs out Kunj looking at twinkle she didn't laughs at all. After everyone get up now it's time for their engagement. Priyanka and Anjali bring engagement rings they standing. Kunj and Rudra beside Omkara. Kunj looking for twinkle who sitting in side.Everyone calling her but she deny Aayat sleep she is in her arms.Omkara and mahi exchange the rings all clapped for them.After this they all had dinner together teasing and everyone Kunj just noticing twinkle.
Kunj: finally engaged dadi??
Lata: haan.
Om: Arey meri extra enthusiasm bhabhi Kya hua.
Rahul: Haan jethani ji..
Rohan: so fuss.
Twinkle: make fun of me now toh, huhu.
Yuvi: twinkle you just look good when you smile this saduness suits on Kunj not on you. I told you if baby went on him.Yuvi stop and realised what just said he look at twinkle. Sorry?
Twinkle: it's okay. Kunj hold her hand look at her. After their engagement done they back to home. Their everyone thinking about their marriage. Omkara just looking at Kunj.
Kunj:shadi but see twinkle. I'm done dadu now can't see twinkle we try everything but nothing changed her. Even dr said if she stay like this than it's dangerous for her. I decided something?
Tej: what??
Kunj: ki I'll go from here with twinkle in tears I wanted to go back my home now I feel so suffocated here pa. Can't see her like this if she stay here than all bad memories running in her mind it's good na if we went she will be normal.
Tej: right why you will went alone.
Om: Haan bhai humhe I wanted she is happy without her happiness I'll not marry just do this engagement just for her and you. Marriage not at all and we will go back with you London.
Kunj: but Om?
Om: but and ifs not exists in our dictionary na always stay together samja bhai give him side hug.
Kunj: thanks Omkara.
Rudra: huhu just thanks.
Lata: mere bache cuddles them they share a hug.
Scene freezes here only.
Next: LONDON✈️✈️✈️✈️✈️✈️✈️
___________________________________________
I just love your comments and response wow more than 100 likes uff., ❤️❤️thanks to support me really guys. How was the episode? Done Omkara and mahi
engagement? Why you thinking wrong about Anjali nothing is like this,
No proof, write in hustle.
Bye love you all
Allahafize.