Pyaar ka Afsana ~~ Qubool Hai – (Episode 9)
Hey guys , sorry for late update. In this episode I haven't add much scene of Aahil as I wanted to establish Afeeza and Sanam's relation. So I included more of their scene. I have added some photos too , I hope it works.
Episode 9:-
Friendship blossoms!!!
Sanam and Afeeza gets an auto. They get into it. Afeeza asks the auto to take to their place and she tells him the location.
Afeeza is modern , smart and matured. Sanam looks out and see the place. Afeeza see Sanam looking out. Afeeza – " How is Bhopal?" Sanam – " This city is big". Afeeza- " Yeah ,true. Aren't you tired after train journey?" Sanam – " Not much .   How will long it will take to reach?" Afeeza- " Just 10 minutes. Seher is right. You have a deficiency of Smile in your face ". Sanam looks her and Afeeza smiles . Sanam automatically smiles. Afeeza- " So you smile? Nice . So my tactic worked".
They reaches their place . It's a housing society, there are many flats . It's a middle class housing society . It's little old buildings. There are many families living there.
https://images.app.goo.gl/rjjdzADtnpcxWkCL6
Sanam and Afeeza gets down. Afeeza takes out money to give the auto fare. Sanam sees it and says – " Let me pay it ". Afeeza looks her and says – " Now let me pay , I will give you chance to repay". Sanam reluctantly agrees. Afeeza pays off the auto by giving 50 rupees. Afeeza – " Now follow me . Our flat is at 2nd floor".
Sanam follows Afeeza. Afeeza takes a bag from Sanam while taking stairs . They reach their flat. Afeeza takes out the key and unlocks the door. They get inside the flat.
It's 1 bhk flat, hall is little big. It is well kept and it's looks good. Everything is kept in its place. It's well organized.
Sanam – " You have kept your flat really well. It's so clean ". Afeeza smiles and says – " Thank you . Actually I cleaned it yesterday. First, get fresh and we have to talk". Sanam nods. Afeeza shows her the flat and things in the flat. Sanam takes a shower and becomes fresh .
Sanam calls Seher . Seher picks the call.
Seher – " Sanam , So you reaches your new house ? How are you ?" Sanam – " Yes. I just got fresh after having a bath. Iam fine . How are you all ? Where is Badi Ammi and Haya ?" Seher – "Everyone is fine . Badi Ammi is taking rest , while Iam cooking with my asst.Haya  ". Sanam gets worried and ask – " Is Badi Ammi fine ? " Seher – " Yeah , we thought to make her rest and take house chores in our hands. Just wait and watch , Badi Ammi will say that I take of house better than you ". Sanam – " If that happens, it's good . But Iam worried for our kitchen's condition after your cooking ".  Seher lies  – " Sanam , our kitchen is in good condition ". Seher looks at the pathetic conditions of kitchen . Haya signs her to ask how is Bhopal. Seher asks – " By the way, how is Bhopal? Did you like the place ? Haya is asking you ". Sanam – " This is a big  city.  Yeah it's good , afterall this is our birth place . And this is the place where our parents meet ".  Seher – " They fell in love and united after a lot of struggles ".
( Mitwa song played along with Zoya and Asad's memories shown)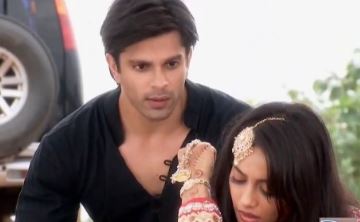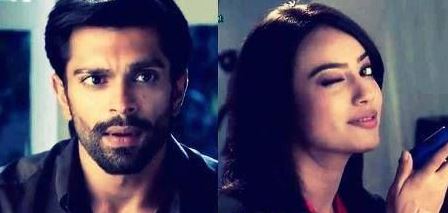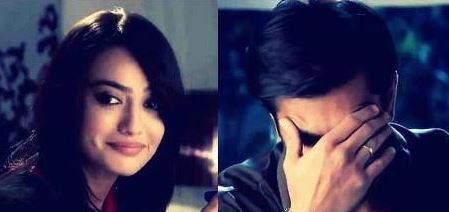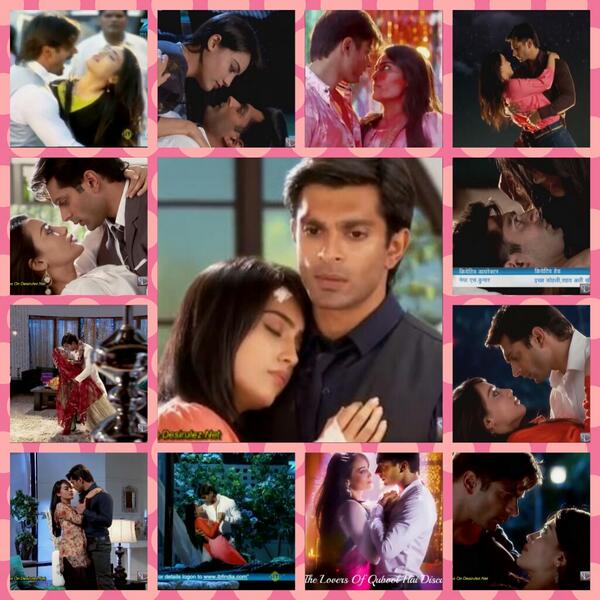 They both gets emotional. Sanam – " Ok. Please call me back once Badi Ammi gets up ". Seher – " Ok . By the way , how is Afeeza? ". Sanam – " She is good. Very helpful nature and she seems to be straightforward". Seher gets surprised. Seher – " Compliments and all. That means you liked her. Afterall she is good." Sanam – " Yeah. Carry on with your cooking experiments , but make sure you get them cleaned after cooking. I miss you all. Tell Haya that message me whenever she wants to talk to me . Ok take care". Seher – " Ok fine . I will tell her . Take care". Sanam  hang up.
 Afeeza
Afeeza cooks breakfast and keeps it on the dining table. Their dining table is small one and there are 2 chairs . Afeeza with a smile – " Fresh now ? Come sit, Have some food". Sanam – " I would have made it, you need not have to .. ". Afeeza interferes and says ( serious tone ) – " Let me make myself clear to you . I have some conditions , you can live here if you are ready to follow them . Otherwise you can leave as soon as possible. Do you get me?" Afeeza sits signs Sanam to sit . Sanam gets into dilemma and sits. Afeeza- " Condition no.1 :- I don't like formalities, you have to be informal with me. I means we should be friends". Afeeza gives her hand for hand shake. Sanam gets relaxed. Both of them shake their hands. Afeeza – " Condition no.2 :- There is no scope for Sorry and Thank you between us because it is against friendship rules". Sanam – " I will try ". Afeeza – " Ok. Condition no.3 :-  There is nothing your or mine . It's all about ours. We share this place and our belongings". Sanam nods. Afeeza – " Condition no.4 :- We will go out once in week and have fun outside ". Sanam – " Is that necessary?" Afeeza- " Ofcourse , it is . Afterall we all we have only one life . We should know to enjoy it. What is the meaning of life by only earning and making things ? This can't be changed". Sanam agrees. Afeeza- "Condition no.5:- We will be friends forever , even if we are far away from each other ". Afeeza smiles .
Sanam never expected to get such a warmth of friendship in this city. Sanam was impressed by Afeeza . Sanam could see a beautiful friendship that will stand for lifetime. The comfort and security that emitted from Afeeza was priceless for Sanam. Sanam never had much friends in her school time. Her family was her friends. Sanam's face glowed in happiness.
Sanam – "Afeeza , you are really special. Iam lucky enough to have you as my friend ". They hug each other. Afeeza – " Now you have food , it will cool". Sanam haves it and appreciate her cooking. Sanam then thinks to discuss about sharing of rent. Sanam – " Afeeza , how much should I pay for staying here?" Afeeza – " Seher told me that you are very particular when it comes to money. In way its good quality , you won't have any problem over taking any financial baggage. I know you want to pay here too,     you pay me half of the rent. It's month start so, by the end of the month we have to pay the owner. You give me by end of the month". Sanam – " How much ?" Afeeza – " 3000 rupees". Sanam – " I will give now. You can keep it with you". Afeeza – " I know , even if I refuse you will behind me to take it. Ok fine. Don't lose your self respect. I will take. But let me tell you there is no hurry. You can give anytime ". Sanam – "Its ok. I will give you now ".
Sanam goes inside the room and brings money . Sanam gives it Afeeza . Afeeza keeps it in her purse . Afeeza – " Now happy? ". Sanam – " Yes". Afeeza – " We can go to that Restaurant tomorrow morning. I have took leave ". Sanam – " But, Why did you? I would have managed it myself ".  Afeeza – " You started again… Its absolutely fine , Mohtarma ! I have another work too. So don't worry about my leave". Sanam relax. Afeeza – " Did you call your home ?" Sanam – " Yeah ". Afeeza- " Thats good . Otherwise, they will be in tension ". Sanam – " Are you born and brought up here only ? "
Afeeza – " No, Iam from Lucknow . My family lives there . I came for my studies. I completed by post graduation in economics. Iam trying to migrate to Australia ". Sanam – " Oho, that's nice ".  Afeeza – " Yeah , I have got scholarship for higher studies along with a job. But I have to clear IELTS exam . By 1 point , I missed it last time . But this time I have to get it". Sanam – " Don't worry, you will get it this time ". Afeeza-  " I wish your words come true. I know about you from Seher ". Sanam – " By the way, how do know Seher so much ?" Afeeza smiles and says – " Sanam, Technology connects! We use to chat in FB . We both became friends through Safeena . Safeena is my distant relative too".
Sanam gets understands it. They cook together and prepares lunch.  They have it. They talk a little bit. After having lunch both of them takes a nap. Sanam was actually tired after train journey, that's the reason she took an afternoon nap. It isn't her habit till date. She was always busy at her Dhabba before. At evening both of them have a cup of black tea. They get into talk.
Afeeza – " Sanam, please don't mind . Don't you miss your Ammi and Abbu?"
Sanam – " Yes , I miss their presence. But Badi Ammi has given three of us lots of love and care. I don't have much memory about them, some fainted memories. All that we know about is from Badi Ammi". Afeeza see her eyes being moist after saying that. Sanam – "Our Ammi , looks exactly like us". Afeeza – " Really!" Sanam – " Yeah !" Afeeza – " Ok fine . Leave it. How did you develop interest in cooking?" Sanam- " Badi Ammi use to run our Dhabba in initial stage. I use to go there after school, after sometime I started helping her. I learnt making different dishes very fast". Afeeza – " Gifted talent! When did you start working as main". Sanam gets into thought & replies – "We 3 were in 12th std, Badi Ammi had a minor heart attack. We had a small land , we sold it . We could arrange money and thus we could give her better treatment. Doctor adviced Badi Ammi shouldn't indulge in heavy jobs … I took Dhabba's full responsibility from there on . It was a success until that night !" Sanam gets angry thinking about how Aahil mercilessly burned their Dhabba. Afeeza see her anger . Before she could ask anything further, Sanam's phone rings. Sanam picks the phone . It's  a call from Dilshad.
Sanam – " Khuda Hafiz , Badi Ammi".
Dilshad- " Khuda Hafiz. Sanam , how are you ?" Sanam- " Iam fine. How are you?" Dilshad- " Iam fine. Seher has took the challenge of being responsible". Sanam – " I know , she told me. What is the condition of our kitchen?" Dilshad smiles and says – " She tried her best, Haya helped her . Kitchen looks good. Sanam , don't worry about us . We are okay. Focus on your goal. We miss you badly". Sanam – " Even I miss you all. Badi Ammi, don't worry. As soon a get the job and I could get home on rent . I will bring you all here". Dilshad gets into thought . Dilshad – " I know. Seher told me that you liked Afeeza". Sanam – " She is very sweet and she makes me comfortable here. Badi Ammi , do take your medicines on time". Dilshad- " Sure. Take care". Sanam – " You too take care". Dilshad hang up the phone.
Sanam couldn't sleep better this night. It's not because she took a small nap in day time . She didn't slept though at that time. Afeeza was sleeping near to her. She couldn't sleep well because its first time, she was away from her family. That too in another city. Thoughts about her family , anxiety of being in a new city. She was feeling better to get good friend in this city. This city is her birth place but she doesn't have much memories. Eventhough these things were bothering her , there ray of hope for better tomorrow. She tried to sleep . She could sleep well when it was going to be morning.
In morning,
Afeeza and Sanam woke up. Both of them got ready after having breakfast. Afeeza was well dressed. She worn a long skirt with top & scarf. She had a big earring, bangles. She kept her hair open.
Sanam opt for a simple floral print cotton long  top with her blue pant . She worn a blues scarf around her neck. She plaited her hair and worn a simple and small earrings. She didn't forgot to use kajal.
They went to Daawat  – Ansari's Restaurant . They took an auto . Sanam paid for the auto. Afeeza – " This is the place". Sanam looked. It was a huge building, with multiple floors. Sanam was amused seeing this. Afeeza – " Let's ask go inside ". They walked but watchman stopped them. Watchman- " Where are you going ?" Afeeza – " We are going inside. This is my friend, she came here after the owner of the restaurant asked her to come here". Watchman looks them with suspicion. Afeeza- " Iam telling truth. Sanam show him the card".
She shows the card to watchman. Watchman see it . Watchman recognizes it as the special visiting card of Mr.Ansari. He ask them to wait and calls to reception. They waits there near watchman's cabin till then.
Sanam was looking at gate . Then she turns as Afeeza calls her. Then Aahil's car enters the premise passing her. Aahil gets down. Watchman gets confirmation from Ansari after telling her name & place. They becomes happy after getting permission to enter. Aahil see them while getting inside. He couldn't see their face. Someone calls him from inside and he goes in.
Afeeza and Sanam turn and goes inside. By the time, Aahil already went to conference hall. Afeeza and Sanam meets Mr.Ansari's manager as he is busy in a meeting. They goes to his cabin.
Manager – " Sir, told me. Actually we are taking new asst.Chefs through a series of test that will take place in stages. It will take place between 2 to 3 months ". Sanam gets surprised and ask – " 2 to 3 months?" Manager – " Yes. It's just rough time. Mostly it will take only two months. Once you pass in the test , you will have training session with stipend ".
Sanam gets into dilemma as she thought it will take only few days to get job. But it will take around 2 months. She is clueless about how will she survive here till then.
Precap :- Sanam meets Aahil on road . But Aahil doesn't see her. She gets angry. Afeeza is also with her. Afeeza is looking at another direction. Sanam (thinks ) – " He is the reason of my problem, I will show him ". Sanam heads towards him while Aahil is over phone. Afeeza see Sanam going with a her clinched fist and Afeeza gets worried.