PYAAR HAI YA SAZA ?? TWINJ SS (SHOT 5)
?????????????????
Shot 5
The shot starts with Anita looking towards the entrance and said see they are here …sarnas looked at the door to find Leela rt and Meher and was shocked too see them Kunj who was present there was shocked too with the thoughts to they being Yuvi inlaws ??? He was in his thoughts hoping to see twinkle once ..
Anita and surjeet moved towards them and greeted them …while Leela and rt greeted back …
Arey Meher puttar where is mummy Papa and where is our lovely bahu ??? Surjeet asked while Meher smiled ..
They are coming actually Natasha got late in getting ready so really sorry you all have to wait Meher apologized ..
Are no worries puttar brides takes time Anita added hai na Leela Ji she said while Leela too smiled nodding in yes …
Sarnas were still looking at tanejas who looked back at them and was shocked …
Papa …they are here twinkle is also coming I'll inform her about them Meher said scared of twinkle reaction on facing them again ..
Let it be Meher she has to face them one day let them also see our twinkle is not weak Leela said ..
Correct rt added they looked at sarnas ..
While Meher parents Nandini and Ashish Purohit enters with their daughter Natasha (Meher younger sister and Yuvi to be wife)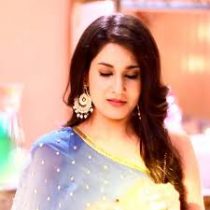 …they went towards luthras ..
We are really sorry Anita g nandini said ..
Are it's okay natz you are looking really pretty Anita said looking at her daughter in law while Yuvi too sees her and was lost in her …
Both families greets each other and congratulate ..and makes them meet their relatives ..
Anita made sarnas meet Purohit and tanejas who greeted them formally ..
Your bahu is really beautiful Anita bebe complimented her while all smiled ..
Where is our son in law ??? Nandini asked Meher ..
He is coming mom Meher said and stands beside her sister …
.
Next scene :::
Twinkle and Abeer was at hospital for Elena and Ayaan routine check up both of them were teasing them fully ..
They are really naughty doctor told while twinkle and Abeer giggled ..soon they were done with their check up ..
Fish we are so late Abeer said ..
Don't worry bhai we will go there directly twinkle said and Abeer nodded ..
But they are not ready yet Abeer said pointing towards Ayaan n Elena ..
Don't worry I'll change their clothes in car let's go bhai twinkle said and they left
On the way twinkle sees the bag which she brought yesterday for Ayaan n Elena she look at one bag missing and realised that she lost Ayaan clothes ..
She bought same pair of clothes for both of them she quickly changed Elena clothes while the driver was driving and Abeer twinkle with babies at the back…
I forgot Ayaan clothes twinkle said ..
Oh twinkle we are so far from the city Abeer said ..wait if we get any shop we will buy something for champ Abeer ended while twinkle nodded pecking Ayaan who was smiling at her ..
Soon they saw one shop and buy a pair of clothes for him and made him wear and left for the venue ..
.
@resort :::
The guest were complementing Yuvi and Natasha as perfect couple while both were smiling and blushing teasing each other too through actions this was noticed by Kunj …Armaan and ria congratulated Yuvi they all were teasing him …
Where is this Abeer and twinkle Leela you stay I'll see arrangements till twinkle comes rt said ..
Are twinkle already planned everything you don't worry at all rt ji Leela said smiling at him while he too shared a nervous smile ..
My baby started working back again after so long I am hell nervous it feels like the same when she entered my company as an intern and I was her mentor rt said while both of them laughed ..
Abeer and twinkle reached the venue while twinkle left to see the arrangement Abeer went ahead putting Ayaan and Elena in baby prams he went inside …
Meher was waiting for Abeer and babies while she sees them and gets happy ..
See di Jiju is here Natasha whispered teasingly in Meher ears while she smiled ..and moved towards Abeer taking one baby stroller Leela and rt too smiled while sarnas looked at in …
Kunj was shocked for a moment when he saw two baby strollers mehbeer reached near the stage while Leela and rt stands beside them ..
So happy to see you Abeer puttar Nandini said and smiled ..while Abeer hugged his mother and father in law ..
Oh my grandkids are here Ashish said and picked up Elena and Ayaan while both were looking at him ..
They are so cute Anita complemented while the babies giggled ..
Yeah after all thy are our grandkids Leela said proudly while everyone smiled except sarnas Kunj was in state of shock …
Shall we start the engagement Anita ji ??? Nandini asked ..
Yep we are desperately waiting our guru ji is coming then we will start Anita said while Yuvi and Natasha smiled shyly ..
Where is the wedding planner bhai rings are with her ..Ashish said ..
I am here uncle twinkle said from behind Kunj closed his eyes hearing her voice he was back facing her he didn't wanted it to be dream he didn't wanted it to be another person …he slowly turned and saw his twinkle standing with her all big smile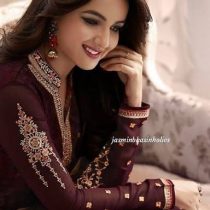 …while she didn't noticed sarnas and was busy in her work …
She called the worker who brought the rings in one royal plate decorated with rose petals ..
The rings the be kept in Pooja twinkle said and smiled she hugged her best friend Natasha …
Finally you came I am in so so love twinkle you plan my engagement how I wanted it to be natz said while all smiled praising twinkle ..
Yes twinkle you have done a fantabulous job didn't left any single thing to complaint surjeet added ..
Thanks uncle it was my duty twinkle said ..all smiled while guru ji too came and everyone was busy in prayer ..
.
Kunj pov :::
I was literally shocked for a moment when I saw rt uncle Leela aunty Meher bhabhi here I mean yeah I saw rt often but didn't had any clue about the Taneja ladies … I wish twinkle also stays with them as time was passing my heart beat is increasing each n every second no one can understand what I feeling right now to my shock Abeer is too here with two babies and they look like twinkle are they Abeer kids ??? ..may be as Ashish uncle said our grandkids ..I don't know what's happening I am sweating by now firstly twinkle is not with them and these babies where is my and twinkle baby what if anything happen with twinkle too like ria bhabhi no no Kunj don't think that negative … if Incase anything like may have happened twinkle will never ever forgive me for not taking stand for her I am so confused babaji don't test my patience more plzz send my twinkle …as soon as I prayed I heard her voice it feels so good to hear her voice which I was craving I turned and saw her she is looking hell beautiful no she is beautiful only …oh so she is planning this wedding everyone is praising her I like her this shade no matter what she will stay confident and I want her to be like this always …everyone went for Pooja while twinkle was checking other things finally her gaze landed upon me but she looked at the other side with in a nano second what is this here I am dying to look into her eyes once and she her anger is justified but it's breaking my heart it's telling me that I haven't supported her when she needed I wish I could tell you once how helpless I was that time …I wish Kunj pov ends ..
Twinkle pov :::
After so many months I am starting to work again on Papa insistence in this few months I was very ill after giving birth to Ayaan even I was not that stable to stay alive but everyone prayers and their love helped me to fight with death and come back for my baby ..I promised Papa that I will become his twinkle back and hence started working in his wedding planning company it feels so great running and seeing everthing after so long but I am tired too no twinkle you have to put that smile on Papa face back …I went inside with the rings and met natz while next what I saw made me shocked I saw sarnas here I mean what they are doing here …Usha aunty and ria bhabhi face made me recall their humiliation I closed my eyes for a second trying not to break I have a responsibility behind me and that is my Ayaan I have to stay strong for him ..if they are then may be Kunj is also here ..and yes he was here my gaze went on him unintentionally but I averted my gaze and went to check the food ..that nano second was enough for me to see his condition …he was not that Kunj…he is so changed that intense eyes and that beard his face lost the charm and smile which he used to has
why I am thinking about him our paths are changed now …twinkle pov ends …
The babies were in hall still while both of them started crying Usha who saw them was going to take them ..
Don't dare you touch them Leela said from back while Usha turned and looked at Leela ..
Wo they were crying so ..Usha stated ..
Nancy come here Leela said while the caretaker rushed towards her ..I told you right don't left babies alone Leela said angrily ignoring Usha …
I am sorry mam Nancy said ..
Be careful not stranger should touch them Leela added taking them from there while Usha looked on guilty ..
The Pooja ended while Kunj was looking for twinkle when he saw Yuvi and natz sitting their holdings hands …
No one should that it's love marriage not arrange Yuvi said while Natasha nodded ..
Yeah it's true I can't loose you Yuvi she ended while both smiled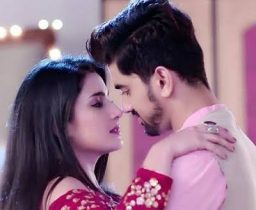 ..Meher took Natasha with her while Yuvi sees Kunj looking at him he gulped in ..
Wo Kunj …Yuvi started to say ..
I knew it i was correct Yuvi that you and Natasha loved each other but why you are hiding this ?? Kunj asked ..
You know na Kunj our family old thinking that love marriage doesn't stay longer blah blah that's why we didn't told anyone Yuvi said ..
But Yuvi see atleast try once to tell them may be they will accept you don't start any relationship on the basis of lie if Anita Massi and surjeet chachu will know from somewhere else they will be hurt Kunj said ..
But know they will not accept it I know Yuvi stated ..
Try once Yuvi I don't want anything to happen bad with you … I regret hiding and I don't want you to do the same Kunj said ..
Okay I'll tell mom and dad Yuvi said and left …
I hope they accept them he too went behind Yuvi ..while Yuvi called everyone in room tanejas luthras Purohits sarnas were present …
Maa Papa I have to share one thing with you all you all thought that my and Natasha alliance is fixed by you but it was us who planned this and we love each other alott I don't want you to be hurt knowing this from somewhere else Yuvi said ..while everyone was shocked
Yes we are very sorry but we do love each other alott and can't stay away we will accept what you all will decide for us Natasha looked on sad ..
Anita surjeet Nandini and Ashish looked at each other ..
It's okay puttar if you both are happy then we are happy too they said making yuvisha happy ..
Now shall we do the engagement Anita teased them and they left outside while yuvisha thanks Kunj ..
Thank you so much bhai for showing us right path we were also guilty about it Yuvi said ..
I know I felt it by your face chalo everyone is waiting Kunj said they all went ..
Yuvi and Natasha exchanged rings happily while their parents too was happy seeing them …
Elena was being handled by Leela while Ayaan was too crying he was uncomfortable in the clothes rt tried to handle him but it was of no use …he was getting irritated ..they called twinkle ..
What happened to my baby Ayaan look at me twinkle said while his face turned red crying n crying ..shh calm down Ayaan see I am here twinkle said … rubbing his back …
Kunj turned and looked at twinkle handling him while he stayed calm after sometime he was rubbing his nose cutely on twinkle shoulder watching Kunj with his cute eyes like his father .. twinkle looked at him while he smiled at twinkle pulling her hairs ..
Oh you naughty bug you are scratching my hairs haaan now go to maa I have work my baby twinkle said ..
Here Elena was not ready to leave Leela making Ayaan angry again while others laughed seeing them .. mehbeer was busy with the newly engaged Kunj noticed Elena clothes it was same which pair was left with him ..he realised that was twinkle only and he was right
Okay you come with me twinkle said taking Ayaan with her while Kunj followed them .. everyone went for having their food …they all were staying in resort only till the wedding ends ..
Ayaan started crying again twinkle looked at him what happened to you today …you stay here don't know where is luggage she called of one the workers there to keep a eye on Ayaan ..and left to bring his feeder and clothes …
Kunj saw Ayaan he moved towards him and smiled …sir can you look at him for 2 mins I'll just come back he said ..while kunj nodded ..
Hey cutipie what happened ohoo your whole face is turned red Kunj said while Ayaan looked at Kunj ..and again started crying making Kunj laugh ..
Are I was joking Kunj said and lifted him in his arms …no no baby don't cry see you are so cute he said while Ayaan was getting irritated being hungry …he started pulling Kunj nose but everyone his hands were slipping ..Kunj was laughing at his antics ..
Kunj started roaming to and fro having him in his arms twinkle comes there and sees them she smiled ..looking at Kunj handling him ..she always wanted him to be beside her but he wasn't there …the same caretaker comes there while twinkle called him in side asking him to give that feeder to Kunj and go for work ..while he left …and handed the feeder to Kunj ..
Oh so baby is hungry Haan Kunj said he sat there and made Ayaan lie in his lap feeding him while the hungry boy started having his milk twinkle smiled tearfully watching them from a distance … She decided to leave ayaan with Kunj for sometime and left from there ..
Ayaan was done and Kunj made him burp he looked at Kunj again And smiled ..you are so cute Kunj said pecking his forehead and cheeks … Your face is like twinkle even that another baby too …I don't even know your names Kunj said sadly he hugged Ayaan tightly while Ayaan too closed his eyes in Kunj embrace ..
.
Yuvi comes there to call Kunj for dinner ..he didn't saw Ayaan face ..
Whose baby is this Kunj ??? Yuvi asked him …while Kunj looked at him ..Ayaan too looked at Yuvi and jumped ..
Are Ayaan is here Yuvi said ..
You know him ? Kunj asked ..
Ofcourse I met him many times when I went with Natasha to Taneja house Yuvi said taking Ayaan from Kunj ..
Where is your another partner in crime ? He asked while Ayaan giggled ..
You know they both are really naughty specially Elena if you stay with her once na she will made you run whole house behind her Yuvi said laughing ..
Are they twins ? Kunj asked his doubt finally ..
Nope bro she is Abeer bhai daughter and twinkle ? Have you met her ? Ayaan is her kid ..Yuvi said while Kunj was shocked he looked at Ayaan tearfully ..
Even mom thought at once that they are twins but then natz told her they are not … Life plays so drastic games I feel really sad for twinkle Yuvi said ..
Why ?? Kunj asked ..
She has struggle alott Kunj I don't know exact but I heard she and Ayaan father got married secretly and when everyone got to know that guy denied marrying her leaving her all alone Yuvi said while Kunj cursed himself again …
When you met twinkle ?? Kunj asked
I met her ..I exactly don't remember I met her some days before Ayaan birth Yuvi said ..she was very much weak that time doctor gave them two options to save twinkle or her baby if incase the operation goes out of their hands
she took promise from her parents that if anything happens to her they will save her baby at any cost …they were much stressed taking twinkle Natasha and me used to be there too with them ..finally Ayaan was born he was healthy but twinkle health was worse even after his birth twinkle was in hospital for so many days ..and Leela aunty was handling the baby then this Elena cutipie too joined their family ..twinkle started to recover and now see today how confident she looks Yuvi said while Kunj smiled ..
Yeah he said somewhere a part of him pained hearing Yuvi ..Ayaan went back to Kunj while Kunj hugged him tightly ..
If I met twinkle before Natasha I would have married her Yuvi said and laughed ..
Huh Kunj said possessive ..
Chal bhai let's have dinner from day after tomorrow wedding rituals are going to start he said ..
Haan let's give the baby to his mother Kunj said ..
Haan twinkle is staying on 1 floor you go and give till then I'll call Armaan bhai too Yuvi said and Kunj nodded ..
He saw Ayaan slept in his arms and smiled tightly hugging him he went from there and knock on the door while twinkle opened ..
Wo ..Kunj said
Give him twinkle added taking ayaan from him and saw him slept ..she put him on bed while Kunj was still standing there …when Meher entered the room with Elena who was sleeping too and saw Kunj ..
Kunj decided to leave from there he went but something caught him there ..
Why you left Ayaan with Kunj twinkle Meher asked ..while twinkle was speechless and Kunj was shocked ..
Screen freezes
________________________________________
So how was the shot ???
Do comments guys ..
Thanks to all who commented on last ..
Twinj will unite or not ???
To know more stay tuned ??
Bye allahafiz ?