Preeran SS : Destined love Part 1
The scene opens with Karan and Preeta's conversation in room.
"Ask your heart why does it matter to you" Karan makes her hand put on heart
Preeta closes her eyes recalling his moments with from past, his bantering, care concern, making her laugh when she is sad.
Karan : did you get your answer?
"Bhai where are you" Sameer comes to room
Karan : what is it?
Sameer : Rishab bhai is calling you downstairs, he want to talk with you
Karan ; you go I will come (keeps holding her hands tightly)
Sameer leaves
Preeta ; I will also go there is lot of work
"You can't go without answering me" he pulls her back close to him
Preeta : please leave me somebody will come here (leaves his grip and runs away)
Karan smiles seeing her blushing
The guest start coming inside for Karan and Monisha's engagement ceremony. Preeta and Shrishti welcomes guest and works on decorations and catering.
Shrishti ; di this party is so boring, lets have some fun
Preeta ; you are crazy here we are in big mess and you want to have fun
Monisha enters the house much to disgust of everybody else.
Karan ; welcome to our house
Both shares kisses on cheek. Preeta clutches her own duppatta angrily.
Kareena ; Monisha come I will introduce you to everybody (takes her with him)
Preeta stares at Karan but he wipes his cheeks with her duppatta. She leaves annoyingly from there. Prithvi and Sherlyn too joins them. He looks for Preeta but is stopped by Karan on midway
"Bhai some people are so shameless na, if you hit a dog they also never come back and look at him " Karan taunts him
Prithvi (gives fake smile) : good joke, but I am invited as family by your mom
Karan ; you know my mom is very naive she don't understand people like you
Rishab ; let it be he is here to enjoy the party right ?
Prithvi : see your brother understands
Karan ; you better get out of my sight, my blood boil seeing you
Prithvi leaves from there
Karan : bhai you keep him away from me
Phone rings
"Hello" Karan talks with somebody
Kareena introduces Sherlyn and Monisha as their daughter in laws. She feels proud of Sherlyn in front of guests.
Rakhi introduces Rishab and Karan to her old friend Shivangi.
"Wow look at them both became so handsome i must say" she compliments them
Karan : thank you
Shivangi : Rakhi thats your daughter in law right (points at Preeta)
Kareena and Sherlyn feels ousted at her
Rakhi : she is not my daughter in law but she is not less than family for us
Kareena : she is just working here
Shivangi ; oh this is Rishab's fiancee
The crowd gets stunned with a gorgeous beauty entering the party. She gives driver the keys to park and goes inside. Her every step stuns people in party.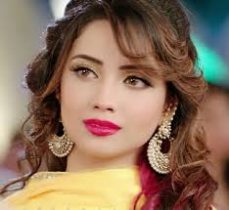 "Hello everybody" she shouts smilingly
All turns around to see a girl wearing traditional dress and curly hair.
"Oh my god look who is here" Karan goes to her first
"Radhika my jaan you are back" Sameer approaches to her too
Radhika : I am sure you might have missed me right?
Karan ; actually I didn't
"Fool, you won't be able to lie me" Taps his head lightly
Rakhi pretends to be angry on her
"Aww my aunty is angry at me" Radhika hugs her from back lovingly
Rakhi : stop battering me I know very well you didn't miss me in 365 days you only come for three days and now came after five years
Radhika : so much anger now I have to get off for 6 months from work, don't be angry you are my sweet aunty
Karan ; madam save some sweetness for your future husband
Radhika : what?
Karan : sorry I mean best friend
"Where is he" she asks excitedly
Karan points at Rishab who is talking on phone. She runs to him and puts hand on his eyes like kid
"Whose this, Radhs " Rishab touches her hand and recognizes
"Hello" she hugs him
Rishab : what a surprise, when did you came
"Yesterday, you missed me" she asks him
Karan : except bhai we all did
Radhika : by the way I heard about that girl where is she
Karan points at Monisha who is with Kareena
"Oh she is that wild cat, let me go straighten her" Radhika gets into action mode
Karan ; wait queen of arc, calm down I will explain you everything but not right now, bhai you introduce to your fiancé (she doss not know about Rishab's marriage)
Radhika : whose fiancé?
"Bhai, this is not fair you didn't tell your best friend about your engagement" Karan taunts
Rishab : now will you go and do some work, come I will introduce to my fiancé
Sherlyn ; yes?
Rishab : she is Radhika my friend, and Radhs she is my fiancé Sherlyn
Sherlyn (holds his hands) : hi nice to meet you
Radhika looks at her holding his hands and stares angrily with killing eyes. She feels like cutting her hands for touching Rishab.
Precap : Radhika forms very good bond with Preeta but does not like Sherlyn's presence. The gang plans to find Monisha's boyfriend