"Shahana…" Someone calls out…
Before she could even look at the person, she was hit by the lorry…
Shahana, due to the force of the hit, fell on the windshield of a car nearby and then fell on the road… Bleeding completely…
The lorry went without stopping… The killer's helper, wearing a mask, turned back and looked through the window, making sure that Shahana is hit…
The killer and his helper gives hi-fi to each other…
The killer calls Aaliya..
Killer: Madam… We have hit the girl…
Aaliya: okay..
The call gets disconnected…
Aaliya smirks…
Aaryan is banging on the door…
Aaryan: Somebody… Open the door…
Aaliya(in mind): what if she isn't dead? People are afraid to take some injured person to hospital thinking of the later police enquiries and so… This middle class girl… have no one of her own… Her Prachi and Pragya are now very far and Aaryan is here… She will bleed to death… Let him stay in the storeroom for some more time..
She gives an evil smile…
*°*°*°*°*
Prachi, Pragya, Sarita aunty and Aaryan feel uncomfortable…
They: why do I feel something is wrong? Mera dil kyu gabra raha he?
*°*°*°*°*
Shahana was lying on the road, bleeding severely…
Her eyes were open… She feels difficulty is breathing…
People gather around her…
Man: oh God!! Who is this girl?
Woman1: is this girl alone?
Man2: she is bleeding a lot…
Woman 2: what to do??
"Shahana… Shahana…" Comes the same voice which was heard just before the lorry hits her…
A woman comes in sight…
She lifts Shahana's head in her hands..
Woman: Shahana open your eyes..
Shahana passes out in her hands…
*°*°*°*°*
Aaryan: Oh God!! Where am I trapped!! I had asked Shahana to meet me… She will be very angry… How can I inform her? I forgot my phone!! Aaryan!! You forget the needed things at the needed time!!! First of all, I should get out from here… This is the only part in this whole Mansion where people visit rarely… There are many rooms in this Mansion and you got yourself locked here!! Aaryan… Stop talking and think how to get out from here…
Aaryan looks for something using which he can break open the door…
When he found such a thing, he took it… Many cardboard boxes and albums fell on him…
Aaryan: ouchh!!!
*°*°*°*°*°*°*°*°*
Shahana lies unconscious in the woman's arms…
Two men come near the woman..
Woman: Gireesh, Sumesh, take her to our car..
Gireesh/Sumesh: yes madam…
They lift Shahana and takes her to the car…
*°*°*°*°*
Ranbir was staring at Prachi which makes Prachi feel restless…
Pranav notices this…
Pranav remembers the time when Ranbir's actions made him feel strange…
Pranav(in mind): Ranbir and Rhea are to get married… But, I never saw them as a happy couple… Ranbir always acted wierd when Prachi was with me… What does that mean??
*°*°*°*°*
Aaryan picks the cardboard and albums which fell on him and kept it on the shelf…
An album which was not of the same size as the rest, fell down…
The album fell open…
*°*°*°*°*°*
Shahana is rushed into a hospital…
She is taken to the ICU…
The woman prays for Shahana…
*°*°*°*°*°*
Aaryan picks the album…
The page which was open had his father's marriage photo… But the bride wasn't his mother, Aaliya… It was someone else (Bulbul)..
He turned the pages and saw more of their photos… There was Abhi and Pragya's photo too…
He saw Aaliya was staying away in the photos with an angry look on her face…
Aaryan (in mind): who is this lady?? So mom isn't dad's first wife??
Aaryan takes other album there…
He opens and sees the photo of his father's marriage again… But this time, the bride was neither his mother.. nor the woman in the earlier album(Bulbul)..
But… This lady… This lady was familiar to him… He has seen her earlier…
Aaryan's pov:
During one of the parties held at the Mehra mansion… I have seen her…
I have seen her talking to Chuck's and Pragya maasi…
Dad and she seemed to know each other… Dad acted strange whenever he meets her…
When I asked about her… Nobody told me anything…
Once… I have heard dad speaking to her about some "Sunny"..
I heard dad telling "He is mine too.."
Aaryan's pov ends…
Aaryan turns the pages and sees Abhigya with Kiara… He smiles seeing it… In the next page he find Purab with Disha and Sunny…
Aaryan: is this Sunny? Why was dad telling "he is mine too… I have right on him.. "
*°*°*°*°*
The bus arrives…
Abhi, Pragya, Rhea, Prachi and Ranbir boards the bus..
Pranav was the last one to board the bus…
The bus has just started and Pranav has still not entered the bus completely…
"Hello… Mister…" Pranav hears a sweet voice…
He turns to see a girl running towards the bus…
The girl's face is revealed…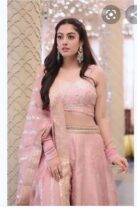 She was very close to the bus… Pranav forwards his hands to her…
She catches it..
He helps her board on the bus…
(Imaging SRK helping Kajol in DDLJ)
NEW ENTRY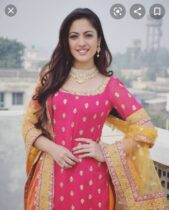 Mithra vidya