PolesApart Episode 8: Riddhima's first day at work!
Hello guys, thank you all for your support and love. i am grateful to all of you. Always support me and enjoy reading this ff..
Monday morning… Vansh woke up and saw Riddhima sleeping in sitting posture on bed while Riva was on her lap.He then saw Riddhima slipping from bed, he quickly came near her and supported her with shoulders. He then made her sit on the bed again, becoming very close to her. This time Riddhima woke up. She was startled when she saw Vansh so close to her. Vansh abruptly distanced himself..
Vansh: "You were going to fell."
Riddhima understood and said thank you from her gestures. Riva too woke up.
Riva: "Dr Ma you here?"
Riddhima: "Oh yes.."
Vansh: "You slept on her lap whole night, that's why she has to remain here. Look how much you have pestered her, she didn't slept the whole night." (jokingly)
Riva(cried): "I am sorry Dr Ma I am bad."
Riddhima: "No dear, you didn't do anything.." (to Vansh): "stop pestering my daughter"(angrily)
Vansh: "MY DAUGHTER! Interesting, very interesting!"
All of them laughed. Riva kissed Riddhima and Vansh and then hugged both of them making both of them so close. Vansh could see Riddhima uncomfortable, so he broke the hug.
Vansh: "Riva, you have to go to school get ready fast!"
Then Riddhima left to her room. Vansh went to bathroom.
Riddhima came out of bathroom wearing a maroon coloured knee length attire.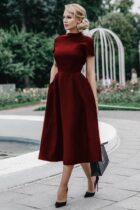 She was looking simply beautiful. Riva entered her room.
Riva: "Dr Ma, could you help me with this tie.. papa is in bathroom"
Riddhima made Riva ready for school. Then Riva looked at her messy hair with disappointment. Riddhima made two little ponies out of Riva's hair, which made her elated.
Riva gave a peck on Riddhima's cheeks: "Thank you Dr Ma"
Both of them then went to dinning for breakfast. All of them looked at the duo. Vansh, who was also coming ,looked at this mother daughter couple.
Vansh: "Oho! Two ponies Riva!"
Riva: "Dr Ma made it.. isn't it cute?"
Vansh: "Yes your Dr Ma is very cute"
Siya : "Bhai, Riva meant this for her pony"
Everyone laughed. They had breakfast and were heading towards their work. Aaryan left for college, Siya left to her company, Angre also went to do some work given by Vansh. Vansh told Riddhima to come with him.
Riddhima: "No,, I will call a cab"
Riva: "Dr Ma, let's come na please."
Vansh knew that Riddhima can't disaggree with Riva's words. So he opened the front seat and Riddhima sat.
Riva sat on the rear seat. Vansh was driving. He firstly dropped Riva to school. And then both of them headed towards hospital.
Vansh: "All the best for your meeting. You know what, you're going to meet the owner of this hospital also."
Riddhima: "How you always know.."
Vansh: "You will get to know it soon."
Riddhima came out of car and went inside hospital.
In the hospital-
Peon: "Good Morning, Dr Soni. Here take your ID and coat. And HOD is waiting for you in his cabin. His cabin is in first floor."
Riddhima wore the coat and pinned the ID on her pocket. Then she went inside HOD's cabin. A young man of about 35 was waiting there. Riddhima knocked the door and came inside wishing him good morning.
Riddhima: "Mr Srivastava?" (surprisingly)
HOD: "Surprised, young lady? I am Dr Kabir Srivastava HOD of this hospital and yeah son of your ideal cardiologist."
Riddhima: "Why don't you tell me that in flight?"
Kabir: "So how will I be able to see you surprised!"
Both of them laughed. They talked and then Kabir told her that he himself is a neurologist but everyone just see him as Dr Srivastava's son.
Kabir: "I sometimes feel that I have become HOD also due to him.. Nobody values my success,"
Riddhima: "Dr Kabir, don't be jealous of your father."
Kabir: "I am not jealous! But it's the truth,"
Kabir then told her about a meeting with the dean of the hospital and both of them left to the meeting arena.
Kabir introduced Riddhima to the dean of the hospital.
Kabir: "So Dr Soni, meet the dean(owner) Mr Vansh RaiSinghania."
Riddhima who was already in shocked looked at Vansh.
Vansh(smiling): "Got shocked? That's why I knew everything!"
Riddhima: "Oho!"
Kabir was puzzled.
Vansh: "So Dr Soni meet Dr Anuj Srivastava (A well dressed man about 50 years arrived), Best Cardiologist and Dr Kabir's father."
Riddhima greeted Dr Anuj.
Riddhima: "Sir, I was waiting for this day since ages. You are my role model sir. I can't believe my eyes!"
Dr Anuj: "I have listened a lot about you Doc, will be happy to guide you."
Vansh: "So Docs, this is your first patient. All the best."
Vansh gave the file to Riddhima.
Riddhima and Dr Anuj went to the OT.
The operation was perfomed very well. And Anuj was impressed from Riddhima.
Anuj: "You have wonderfully taken all the responsibilities. I can see you will definitely reach the heights. Well done Dr."
Riddhima was super happy after hearing this appraisal from her ideal. She thanked him and then went to her cabin.
Inside her cabin, she found a lady sitting.
So guys, done with today's episode, i know it's short, but please forgive me coz i have to do some assignments. Also let me know your views about today's episode!!
And could you imagine who is the lady inside Riddhima's cabin?? It's not that difficult!