PEHLA NASHA ~TWINJ SS SHOT 11

Warning: A non-numeric value encountered in /home/ftpusers/tellyu/public_html/wp-content/themes/publisher/includes/func-review-rating.php on line 212

Warning: A non-numeric value encountered in /home/ftpusers/tellyu/public_html/wp-content/themes/publisher/includes/func-review-rating.php on line 213

PEHLA NASHA ???? TWINJ SS
New beginning ?
SHOT 11??..
Flashback continues
The Episode starts with Next Day that is Wedding Day it was the most awaited day for both of the families they were damn excited for the wedding everyone was awake today Abeer Avni bubbly Meher anu pari and twinkle cousins was teasing her like anything same was with kunj ..they didn't leave a single chance to tease Kunj …
Last pre wedding ritual was left which was Ghada gharoli …Meher and Meera both balanced water pots on her heads while the rest were dancing happily …twinj came down and sees everyone dancing while bubbly pulled them too they collided with each other accidently and then started pushing each other intentionally …while smirking at each other ..
Twinj sat adjacent to each other they smirked at each other while Leela and Usha started pouring water on their heads all smiled the pictures were taken everyone was hell happy …soon the ritual was completed and twinj were sent to their rooms …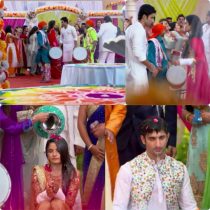 The day was passing soon rt Abeer Raman were seeing off all the arrangements while the ladies were running from here and there worried about singles single things …
Maa where is my earings ?? Avni asked while Leela huffed ..
Avni Wahi hoge na jaha tune rakhe hai Leela said ..
Please search na Avni added ..
Meher you see twinklee till then I'll see Avni Leela said Meher giggled and went to see twinkle ..
On the other side same Aryan was crying due to rush seeing everyone while meera was having a tough time handling him ..Kunj was sitting on the couch in Laying position having an apple seeing Aryan …
Hehe trumpet don't cry baby I know no one cares for you see brought you to this hot place Kunj said pecking his cheeks who was sitting beside him ..
Shut up Kunj Meera said she took cushion to throw at him ..
Beware it will hit your baby only Kunj added ..
Maa ask him to get ready he is groom na Meera added..
Kunj go and get ready na Usha said..
I am groom not bride that I'll take 4 hours to get ready Kunj added completing having his apple …and throws it at samaira who was standing near mirror seeing her dress ..
Maaaaaaa she too screamed …
Kunjjjjj go from here Usha said ..
Sahi hai bhai now you will forget me Haan let my wife come Kunj added…
Acha aise toh you didn't wanted to marry samaira added..
Shut up fasto Kunj added ..
Aryan baby don't cry see today is your maami Bidaai not of maamu ?samaira said ..while Kunj looks at her sternly ..
Kunj please go and get ready if your papa sees na Usha said…
Huhuh ?Kunj said and pulled Aryan cheeks he cried more loudly Meera throws cushion at Kunj face before it could hit him he ran out of girls room ..
He went to his room where arhaan Samar kriyan and Joe sleeping peacefully ..
Ye acha hai ?idhar meri watt lag Rahi hai and see these 4 wait Kunj said he picked up jar from the side table and splash on them …
What the f… Samar said ..
Shut up and get up Kunj said ..
Ahh yaar Kunj ? ye kya Kiya hai tune arhaan said ruffling his hairs …
What's the time Joe said and looked at it shit it's 6 he added…
Yeah Kunj said ..
Chalo beta groom get ready soon kriyan added ..
Huhuh groom groom keh keh ke broom Bana rahe ho sab jhaad rahe hai mujhe Kunj said while the rest laughed ..they all started teasing him ..
Chal you get ready we will be back soon Samar said Kunj nodded closing the door he looked at his sherwani …
Finally this day is here he added taking it ..
On the other side ::
Twinkle room was fully messed her make up artist were present in her room twinkle came out after bath she was looking beautiful without make up as well Meher entered and smiled at her …they started doing her make up and hairs making her look more and more beautiful …after sometime Leela and others entered her room and smiled at twinkle ..
Wow you are looking so pretty Leela said pecking her forehead they tie kalire to her bangles ..Abeer and rt who was also dressed up entered in her room they smiled all the Taneja family had a good moments together …
.
Kunj room ::
Kunj was getting ready with the help of varun while Samar and arhaan was teasing him like anything bebe and Manusha entered his room along with Meera and samaira …and looked at Kunj ..
So ready ??? Manohar asked Kunj just smiled…
Yeah papa almost ready Varun added ..all smiled ..
While bebe and Usha together tie turban on his head smiling …
Even sarna family had a good moment teasing Kunj like anything all smiled…they went downstairs towards the mandap…
Leela and rt was already present downstairs along with Abeer they welcomed Kunj and sarna family ..
Maa pull his nose roughly Abeer said…
Haha nahi nahi bhai leave my brother in law Varun added ..they started fighting funnily while Kunj bend down and Leela pulled his nose…
Awwww all smiled and took him towards the mandap …
Kunj was made to sat while the priest asked to call twinklee as well Meher Avni Anu and pari along with Abeer and bubbly brought twinkle down ..
She was looking damn pretty Kunj looked at her coming he was lost in her beauty ..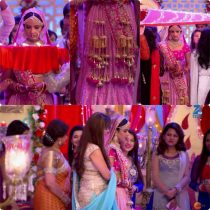 See arhaan how our Kunj is lost in his to be wifey Varun teased Kunj ..
Haan bhai true ? arhaan added both hifi ..
Twinkle was brought there and made to sit adjacent to Kunj both looks at each other ..
Looks so perfect together bebe said taking off their evil eye while all smiled..
The wedding ceremony started everyone smiling to see them ..they were made to stand …for the varmala …
Abeer and Tushar (twinkle cousin) lifted her up making it difficult for Kunj to put it on her neck …all hooted …
Ahaan Abeer Varun said …
Haan then my jija is so tall let him have some profit with it Abeer said while Kunj smiled and tried again they pulled twinkle back ..
.
Wait Kunj Varun signalled arhan they both lifted Kunj while he quickly put it on twinkle's neck ..all smiled ..
Now it was twinkle time to get frustrated ..
Please na let me put it twinkle requested Varun and arhaan cutely they both left Kunj while he composed him before falling down all smiled…while twinkle put it in his neck …
The wedding continued twinj started taking pehras promising each other with the 7 holy promises all were showering rose petals on them happily …they sat back while Leela and rt did her
kanyadaan giving her responsibility in Kunj hands with tears in their eyes …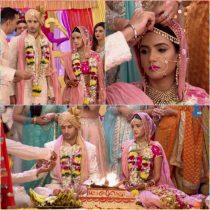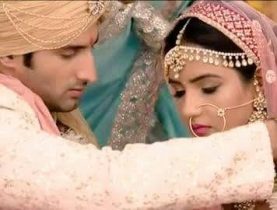 Then he made twinkle wear the nuptial chain followed by adorning her mid line with the vermillion making her as his …
The priest declared them husband and wife rightfully all smiled and congratulated each other happily ..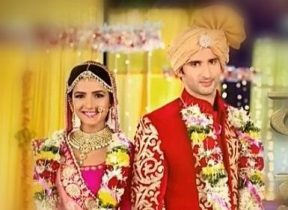 They all went to have dinner twinj looks at each other stealing glances again while the rest were teasing them ..
It was followed by stealing Kunj shoes to which Abeer and Avni pulled his leg alottt …
Acha now give me Kunj said …
Nahi nahi jiju first money Avni said…
Avni you are my cute saali na think about me as well Kunj said..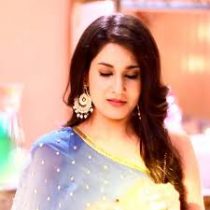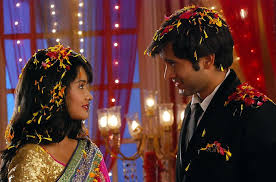 arhaan andsamaira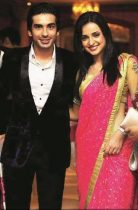 meera and varun
Hawwwww you are such big business man jiju now empty your pocket Avni said ..all giggled seeing them …
Finally Kunj gave money to Avni she smiled happily taking it Kunj gave her side hug …all smiled…
It was time for her bid farewell they all take her towards the exit where a decorated car was waiting for them to take to their honeymoon suite while the rest were heading back to Amritsar their flight was after 2 hrs …
Leela cried hugging twinklee while rt hugged them both ..
Hah first you are getting me married and now crying Haan twinkle spoke cutely all laughed seeing her ..they broke the hug while mehbeer and Avni hugged her ..
Will miss you Meher said ..
But I won't Abeer added while the rest giggled ..
Hehe let's see you will miss me or not twinkle said they all had a hug again ..
Chalo twinklee beta now leave with Kunj Manohar said ..
Be a good daughter in law twinkle make your parents proud and Kunj please take care of her rt said while Kunj nodded ..
Have a good night Kunj Varun teased him ..
Jiju quiet Kunj added while they both giggled twinj left for their suite while the rest went to pack their luggage …
.
Soon the duo reached twinj reached their room while Kunj asked her to proceed while he called bebe and informed that they reached …
He entered inside to find twinkle not in room he went in balcony and sees her standing near the railing and smiled …
Heyyy kunjjj said she turned and smiled at him ..
See na Kunj it's all so beautiful I never knew get married have so many benefits twinkle added while Kunj giggled…
She went inside and started twirling around happily Kunj was just smiling like mad seeing her ..
Acha come here Kunj said they both sat on bed ..he removed her veil fully ..
You looked so gorgeous today Kunj whispered cutely in her ears while she smiled…he pecked her cheek and moved back …
So ….Kunj said..
So twinkle asked looking into his eyes ..
Do you want me to take our relation to another step Kunj asked her holding her hand ..
She look at him and pecked his lip and murmured yes while Kunj was damn shocked with her move ..
I have to confess something Kunj twinkle said while Kunj holds her hands tightly ..
Go ahead twinkle he said ..
It's true that we fights alot and we married because of our parents but Kunj I have always felt so good to be near you though I told you a lott of times that you are my crush but I always have feelings for you more than that I always felt special and I still don't know what it is …twinkle said ..
But the day I gets sure of it I'll tell you surely she smiled at Kunj he smiled back ..and moved towards her ears ..
Yaad se batadena okay Kunj whispered in her ears and bit her ear lobe while she clutches his shoulder tightly ..both feelings jitters passing through them…
And I promise you twinkle that I'll always make sure that this marriage always stay no matter what up and downs we see I'll never let it break ….Kunj added directly looking into her eyes …while twinkle smiled…
But I just need one promise from you Kunj never cheat me please twinkle stated with tears in her eye Kunj smiled and joined their lips into a passionate lip lock twinkle was shocked Kunj kissed her deeply a kiss full of assurance ..he broke the kiss and looked at her …
Never twinkle though I had lot of girls in my past but from today I am just yours the only girl exist in my life will be my wife "TWINKLE KUNJ SARNA" Kunj told her both joined their foreheads ..
So what are we waiting for twinkle said breaking the silence between them…
Hawwwww twinkle atleast get shy like other girls …Kunj said with shocked expression ..he never expected her bold side ..
I am not any other random girl na twinklee added giggling ..
That's true I am seeing you since the 1 day of your college Kunj added both giggled…he hovered over twinklee taking their wedding to the next step moons and starts witnessing their union …
❣❣❣❣❣❣❣❣❣❣❣❣❣❣❣❣❣❣❣❣❣❣❣❣
Kunj was on his bed with Arohi sleeping beside him peacefully he pecked her cheeks …
I don't know how many sleepless nights I have spent here missing you I can't even count twinkle …I just want you back twinkle we all need you Kunj murmured tears falling down his eyes …he wiped it and got up he went to washroom ..
.
On the other side :::
Twinkle and Yuvi was sitting in the lawn their favourite spot swimming pool ..
Why are you behaving so rude with Avni ??? Twinkle asked him ..
We made her jealous but nothing happen so trying something new baby doll Yuvi said both giggled…
.
You are such a bas …. twinkle said…
I know Yuvi replied… everything is fair in love and war yar he added ..
Go ahead twinkle said ..but you didn't Told me what such happened between you duo that she decided to ignore you ? Twinklee asked ..
Don't know Yuvi added ..even I want to know he said…
May be she got her mind back ?that how she can fallen in love with this monkey so she tripped twinkle teased Yuvi ..
Kuch bhi Haan Yuvi added both giggled again while Yuvi stayed quiet ..
You know it was so beautiful feeling when I realised that I love Avni I was going mad over it thinking how I will confess how she will react …as you know we used to fight since childhood but don't know how I fell in love with her strange it was but I did ..and after having so much courage I finally made plan to propose her …Yuvi said smiling like mad recalling that days …
Then ??? Twinkle asked ???
Then I proposed her and to my utter shocked she reverted back to me twinkle that she loves me as well I can't describe you how I felt that time …I was happiest person …Yuvi added again his eyes filled with tears ..
Then ? Twinkle asked keeping a hand on his shoulder as he was going weak by each sentence ..
Then after some lovey days she went back India ..but never called me neither messaged even changed her number ..I was worried then I got to know about your accident from papa(rt) I came back but she was behaving weird with me as if she doesn't remember anything I felt like may be she is sad because of your accident and I went back again for my work then papa told me about you gaining consciousness and I came back finding you lost in yourself…Yuvi said…
And ? Twinkle ask you never confronted her ?? She added…
I did asked her but she told me that I was just a attraction for her and I should move on that's it apart from this she didn't talk much just had little fight infront of you all …Yuvi said…
Ohhhh twinkle added…
Chal she said..
Where ??? Yuvi asked they both got up ..
Gurudwara to pray to babaji to bless us with the things we deserve twinkle added…
Yeah let's go Yuvi too said they went ..
On the other side :::
Kunj too made Arohi got ready both the father daughter duo went downstairs ..
Papa where are we going Arohi asked ?? Sleepy ..
To babaji's house baby Kunj said lifting her as she was damn sleepy ..they too reached along with twiraj …
The four of them went inside ..and prayed ..
.
Babaji please make my twinkle fine as soon as possible now it is becoming hell impossible for me to stay without her and I have to fulfill her promise as well Kunj added…
Babaji please I want my Mumma send her back to me the little Arohi prayed ..
I don't know what's right and what's wrong just help me to rectify myself and give Yuvi whatever he deserves twinkle prayed …
Show me some way babaji to bring Avni back in my life and sort everything out in twinkle life she deserve her husband and her cuties back in her life Yuvi prayed ..
Kunj and Arohi went and tie the threads around the wall there …and they left ..
Arohi stand their seeing the pigeons while Kunj went aside to pick up the call .
.
Twinkle went to the wall and sees Kunj thread opening she tie it properly and Yuvi tied his thread both of them smiled..
.
Twinkle I'll just come Yuvi said twinkle nodded going forward she sees Arohi from the back ..
See how beautifully she is looking at them twinklee murmured and smiled…she went forward Arohi turned to her side ..twinkle was surprised ..
Arohi ? She said and moved towards her ..
Hey cutie twinkle said ..
Ohh hi Arohi added ..
What are you seeing ? Twinkle asked cuddling her ..
See this birds Arohi said..
Hawwwww you wanna feed them ? Twinkle asked..
No they will bite Arohi said ..
Hehe they won't come twinkle said taking some maize in her hands ..while the pigeon's started having it from twinkle's palm ..
Hoo hoo twinkie Arohi said clapping ..
You also do come twinkle said pulling her she kept in Arohi hand while the pigeon come but Arohi takes her hand back ..
.
No they will bite she told to twinkle making crying face ..no they won't twinkle added kunj comes there and sees them he was surprised as well…
Twinkle ..
Kunj ..
You here both said together ..
See papa twinkle is feeding pigeon's Arohi said..
You can also do baby Kunj added sitting beside them …
Kunj kept his hand down twinkle who was holding Arohi palm both of the looks at each other while Kunj kept some maize in Arohi hands ..while the pigeon ate Arohi cuddles Kunj he laughed seeing her ..
See he is eating from your palm Kunj said she looks at it and caresses the pigeon both twinj smiled …
They stand back while Arohi was happiest …twinj smiled seeing her ..
Twinkle phone beeped she sees its Yuvi message who ask her to come towards parking directly ..
Chalo I'll leave see you both soon twinkle said…
Okay bye they added twinkle left while kurohi too left back ..
.
Sarna mansion ::
Where you both went Usha scolds them as soon as they ended ..
To babaji house Arohi told happily and you know dadi I fed the bird too she said while Manohar and bebe smiled seeing her …
Kunj got ready had breakfast all the while her non stop blabbering going on ..he went for his work …
@ A.T industries
Yuvi was in his cabin having his Bluetooth in while checking some files .. taking them out from his desk ..
Haan Leela maa I had my lunch yeah yeah don't send it …yuvi said and ask that twinkle not to provoke you he said ..while twinkle along with Leela giggled with from side ..
I have work I'll call you after sometime Yuvi said and cut the call ..and smiled…I am very lucky to have you as my besti twinki …
He took out one file from the shelves from which a envelope falls and all the pics of that envelope scattered there on floor…
He bend down to pick them and sees it some memories flashes infront of his eyes and some words ringing in his ears …..
I love youuu sooooooooooo much Avni …
I love you too Yuvi …..
Yuvi wo Avni barged into his cabin while he got alerted …before he could collect all the pics Avni too sees it..
Both shared a painful eyes lock while Yuvi picked them all and kept it on the table …
Sorry I should have knocked before coming in Avni said ..
You should better apologize for something else Yuvi murmured ..
Excuse me ? Avni said…
Leave it ? Why are you here ? I was coming to Taneja industries only ..Yuvi added..
Wo papa asked me to give these files to you and that one meeting is postponed so I came to inform ..Avni said..
Oh thanks Yuvi added ..
I am going back home are you coming too ? Avni asked while Yuvi nodded in no ..
I have work he said turning and checking another file…
Okay bye she said while he just hummed ..she turned to leave and but again turned and look at him…she left from there while Yuvi turned and sees her going and sighed ..
.
The day passed soon Kunj had a meeting in restaurant he went there and attend it while going from there he saw twinkle ..
Who was sitting in the lawn the weather was quiet good on twinkle table there was already 4 empty coffee cups placed he widened his eyes…
Hi he added while twinkle looked at him who was lost in yuvni thoughts ..
Hey you here ? Twinkle asked standing ..
Yeah came here for an meeting added can I he asked pointing towards the chair infront of her ..
Ofcourse what's there to ask twinkle said both take their seats ..
Let's order coffee twinkle said ..
Coffee again ? Kunj added..
Again means ? Twinkle asked…
Kunj gestured towards the table twinkle smiled sheepishly ..he ordered pastries
What's bothering you ? Kunj asked directly ..
How do you know ? Twinkle asked…
Leave it aside and come to main point why are you so worried Kunj asked holding her hand …
I am worried about Yuvi and Avni they both loved each other twinkle said ..
Whattttttttttt Kunj got 440 volts shock ..
But yuvi introduced you as his f.i.a.n.ce na ?? Kunj asked with some sort of jealousy ..
That roka was fake twinkle said ..while he got an another shock ..
Elaborate ? Kunj said…
Are I don't know exact Yuvi and Avni used to love each other but don't know what happen to Avni she is denying it now ..
one day me and Yuvi were talking about Yuvni relationship then maa papa bhai heard us we all planned to unite them ..and did that drama wala roka still nothing worked Avni is still same twinkle explained him her point ..
.
Sasur ji will beat me now Kunj murmured
You said something ? Twinkle asked ..
Nah I didn't Kunj lied ..
Don't worry twinkle everything will be fine Kunj told her when their pastries came ..
Now leave this sadu look from your face it doesn't suit you Kunj said…
Yeah it's your copyright na twinkle added giggling ..
Exactly have this Kunj said taking some pastry in spoon and feeding twinkle while she fed him as well both smiled talking about random things ..
Chalo I'll leave now twinkle said..
No I'll drop you Kunj added..
But Kunj twinkle started to say ..
No ifs and buts come with me he said walking ahead while she admired him and walked behind him ..they both sat in the car enjoying their ride laughing all the while talking about Arohi pranks …
.
Soon Kunj reached Taneja Mansion and they came out ..
Bye twinkle said ..
Yeah bye Kunj added she left inside happily ..
Kunj was going from there when Avni car stopped infront of his she came out ..
Jiju aap ? Avni said..
I need to talk to you Kunj added while she looked on confused ..
To be continued ?
_________________________________________
So hows the shot ????
Their wedding ?? ?? Flashback and present as well …
Don't worry everything will be sorted step wise ?..
Thanks to all who commented on the last love you all soooooo much ?
Bye Allahafiz ?

Warning: A non-numeric value encountered in /home/ftpusers/tellyu/public_html/wp-content/themes/publisher/includes/func-review-rating.php on line 212

Warning: A non-numeric value encountered in /home/ftpusers/tellyu/public_html/wp-content/themes/publisher/includes/func-review-rating.php on line 213