PEHLA NASHA ~TWINJ SS SHOT 10 (EID MUBARAK)

Warning: A non-numeric value encountered in /home/ftpusers/tellyu/public_html/wp-content/themes/publisher/includes/func-review-rating.php on line 212

Warning: A non-numeric value encountered in /home/ftpusers/tellyu/public_html/wp-content/themes/publisher/includes/func-review-rating.php on line 213

PEHLA NASHA ???? TWINJ SS
Unexpected meet ?
SHOT 10 ????
The Next shot starts with the flashback continuation …after sarnas and Taneja meeting they decided to do twinj roka after 3 days followed by their engagement everyone was hell happy as well as excited … Twinkle went to her room …
Huhuh babaji what's this can't you see me in peace now this new disaster in my life why twinkle murmured..
Are twinklee Baby have sweets Abeer said taking a piece near her lips while she frown and turned her face aside Avni and Abeer both giggled…
Are Abeer bhai understand now she will have sweets only from jija ji hands ? Avni teased twinkle ..
Bas you both go now twinkle screamed at them while both smiled teasing her ..
Bachelors left for 3 days darling you will get a sadu Abeer said teasingly ..while twinkle remembered Kunj and a smile appears on her lips ..
Ahaa blushing Avni said while twinkle hits her with pillow ..
Acha atleast see his pics once Abeer added …while twinkle still turned her face ..
I don't want to see twinkle statted ..
Arey dekh le behna his height is 5'2 weight must be around 200 kgs hairs ahaaa ??? so nicely gelled up looking cute with his spectacles ..
Bhaiiiii twinkle said scared ..
Are Haan business man hai ab 6 feet tall handsome fair banda thodi milega Abeer said ..while twinkle was worried Lert entered her room with Meher ..
Maa papa I don't want to marry twinkle said ..while they were shocked ..
Twinkle but why puttar rt asked you met them na see how lovely people they were ..he added while Leela nodded ..
But still I don't want to marry maa how can you people do this with me twinkle said ..
Twinkle don't say like this Leela added my to be son in law is one in a million Leela said ..
Maa twinkle cried like a baby ?
No more twinkle trust on your papa just rt said pecking her forehead ..
Meher Avni Leela you all go and shop he said giving his card while Leela nodded .
.
On the other side :::
Kunj was sitting with his friends Samar Joe and kriyan and was talking to them ..
So Kris left for her native place kriyan said ..
I don't know yaar I didn't met her Kunj added ..waise who cares loud speaker he added while the rest giggles ..
Ahaa someone is speaking twinkle words Samar teased Kunj again ..
Are Haan how's she ? Joe asked..
How I would know guys Kunj said while the rest laughed seeing his expressions..
Kunj phone started ringing again while he looked at it ..
See again your Singham(Manohar) is calling you Joe added ..
Arey Haan now he got another spirit on him he is behind me to get married ..Kunj said …
Oooooooooo so cool kriyan said while the rest hooted ..they were having their double cheese pizzas ..
Huhuh don't guys Kunj said all giggled…then at night everyone went back home ..
Now I am sure ? that allaince must have been cancelled by now …who will fix the alliance without groom and pity to my hote hote reh Gaye inlaws itna hot damad Ko nahi dekh paaye now I have to do some acting infront of Singham sarna ? Kunj said he applied some red mud from their house flower pots to his forehead …and entered inside his house ..
.
Lo nawab sahab is here Manohar added while samaira and Meera giggled ..
Such a drama king he is meera said ..
.
Where were you Kunj Manohar asked…
Wo papa I got urgent meeting ahh Kunj said holding his head ..
Meeting ! But my p.a didn't informed me anything about it ..Manohar said confused ..
Papa you should take retirement now Kunj added I am working na why you want to work it was really urgent for the new project I am handling Kunj said ..
How you got this wound Kunj ? Usha asked worriedly ..
Wo I went early in morning na didn't had anything then I have to skip my lunch as so I just feel like fainting and got this scratch Kunj said…
Haaye mera puttar bebe added Usha give him something to eat what is this Monu how much my pyaara Chota kunj will work bebe said ..while Kunj made puppy faces …
Acha bebe bas itna bhi Chota nahi hai 3 din ke Baad roka hai iska Manohar said making kunj shocked …
Haan bhai congratulations Meera and samaira hugged him ..
Hehe Kunj do any kind of drama but papa will get you married any how baby bro Meera spoke and samaira giggled ..
b*t*hes Kunj said ..
Papa see Kunj is saying something Meera complained ..
What Kunj ? Manohar asked ..
Wo papa 3 days after roka I mean how everyone agreed …Kunj asked ..
Ache rishte ke liye koi peeche nai hat ta Manohar said and make your face like humans anyhow you have to look good in your roka he added while Kunj made crying face ..he left from his room and Usha bring his dinner …
Where is he ? She asked ..while Meera and samaira showed up …Usha took his dinner to his room ..
While Kunj was laying on bed she kept the tray aside and sat on bed calling him he looked at his mother and kept his head on her lap …
Maa what is this Kunj said ..
Kunj puttar these all are for your good only you will be happy when you will  have a companion with you when you will have your kids Usha said ..
But so early maa I just left my college life on papa strictness I joined office and doing every possible thing and now this what is this I want to enjoy my life Kunj added …while Usha giggled seeing him ..
Arey how I should make you understand you but one day you will only thank us for settling you on right time Usha said …
Now have your dinner she added Kunj went to his sisters room ..
See Aryan you maamu is here Meera said while Kunj faked a smile having his dinner ..
Haan Aryan maamu is bringing maami for you…you met her na samaira added ..
Ye..s Aryan spoke cutely ..
And soon Kunj maamu will give you siblings as well so when you comes here you will have someone to play with Meera teased Kunj …
Oh my it's would be so fun I wouldn't have to wait for Aryan to come home Kunj bhai kids will be in this house and I'll play with them whole day samaira day…
Stop day dreaming before that I'll also get you married Kunj smirked at her and went to keep plates in kitchen ..
3 days passed in a jiffy the shopping and other arrangements was going on in full swing Varun too joined for his sole brother in law engagement …soon it was their roka day…
Taneja Mansion was decorated beautifully while twinj dressed up as well everyone was damn excited for the roka …sarnas reached Taneja Mansion .
…
Kunj reached their with Manohar he couldn't deny him seeing their emotional blackmail while Leela welcomed him happily …he went inside and sat quietly near the priest all smiled…
.
Call twinkle as well Usha told Leela and she nodded ..Meher and Avni went to call twinkle who was trying to find ways to escape ..
Chalo nanand Ji now no escape ..Meher said giggling they took twinkle down ..
While twinkle was busy searching for the person which Abeer mentioned ..her eyes didn't went on Kunj ..
Twinkle put your eyes down what your in laws will think that you are so desperate Meher whispered in her ears ..while twinkle looked down ..she was made to sit beside Kunj and the ceremony started …she looked at Kunj who looked back at her while both were hell shocked ..
Tum ????? ??Twinkle whispered ..
Tum ??? Kunj replied ? as shocked as her …
Shhhh Kunj don't talk Manohar said while Kunj stayed quiet ..
Do desperate brother in law Varun teased while twinj looked on …
Guruji started the ceremony while Kunj wrapped a handkerchief around his head and twinkle was made to wear the red veil on her head by Usha ..who smiled at her …then guruji tied the threads around their hands one by one all smiled happily and the ritual ended …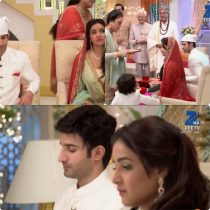 Mubarak ho bebe rt said while bebe also congratulated him Manohar and rt hugged while Usha and Leela as well twinj were awkwardly smiling at them …
Welcome to the family twinkle Meera said hugging her while Kunj met Abeer ..
.
So Kunj he is your soon to be father in law (rt) mother in law(leela) brother in law Abeer his wife Meher and then Avni as he didn't met them before ..he smiled at them fakely ..
Chaliye let's have something rt told to sarna family ..
Are nahi we are meeting in night na for engagement Manohar said ..
Arey bhai Saab no no you have to eat Leela added they all went in lawn where the dinning table was made …all sat while twinkle was serving them Kunj was looking at her only all the while his eyes stuck at her …
I never imagined I am going to meet you like this twinkle ..Kunj thought looking at her …see the way how she is behaving like a sanskari bahu huhuh kitni chantt hai only I know he added…
He is staring as if he will eat me raw huhuh sadu sarna crush tha ?I didn't knew that my crush will turn into my to be husband ewww that's sounds so weird ..twinkle thought peeping through the corner of eyes towards Kunj …she went from there …
Bas bas aunty I done Kunj said seeing Leela serving him ..
Arey you didn't had anything Leela stated confused ..
Nahi nahi I am done I have to make a call Kunj said…and signed Varun ..
Jiju I have to talk to twinkle Kunj said as soon as Varun went to him ..
Ohoooooo waise toh someone didn't wanted to get married now being desperate seeing to be wifey Varun teased him ..
Please na jiju Kunj said ..
Varun called Abeer who smiled at Kunj and ask him to meet twinkle who went in house he went in search of her while Varun and Abeer went back to have food …
Kunj was in search of twinkle who was coming from the opposite side they both didn't saw each other and twinkle heel stucked in carpet leading then to fall on the side couch …
Ouch Kunj said meri kamar he added painfully ..
What are you doing here twinkle asked ..
First you get up from me Kunj said while twinkle tried but her neck chain was stuck in Kunj kurta …
Wait let me do Kunj said he tried slowly to remove it while twinkle was admiring him..
Hogaya don't stare me so much Kunj said caughting her while she bites her tongue ..they both got up ..
We need to talk with said together …
Woh why you agreed to marry me ??? Kunj asked…
First you tell me this twinkle said ..
Ahhh you had made your mind na that you won't talk to me normal ever Kunj said…ohh now I got it you always told me na that you have crush on me and then when you got my alliance tumhari toh Nikal padhi hogi Kunj said ….
Ohh sadu sarna break lagao ? I didn't knew it was you aur I couldn't deny papa waise when you saw its me then why you didn't deny ? Pyaar hogaya kya mujhse ? Twinkle asked winking ..
Huhuh I couldn't deny beaches of papa dar ..he stopped because of papa's respect Kunj said…their conversation were interrupted by samaira and Avni who came to called them …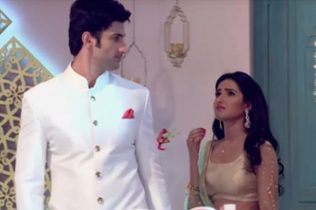 Let's go jiju Avni said ..
Yeah bhabhi samaira too added while twinj looks at each other ..
They went out and sarna family left back for their home while Abeer and rt went to see the arrangements at the banquet…
Soon the day flewd while Leela called the make up artist for twinkle who was making her ready twinkle was shocked since morning same condition was for Kunj …they both tried to talk but then realised they don't even have each other numbers …
They all went to the banquet hall while rt Abeer Raman (twinkle mama) welcomed them warmly while all proceed inside …
Everything is so perfect bebe said while all smiled…
Where is Taneja ladies ? Usha asked…
Arey they are on the way aunty Abeer said while she nodded…
Kya yaar papa kyu kar rahe ho mere saath Aisa Kunj murmured ..while Varun was teasing him soon twinkle came and Kunj eyes fell on her he was lost for a second ..
Control Kunj sarna focus he murmured..
They all enjoyed the party while twinj were trying hard to talk to each other but each time some or the other one is disturbing them ..
Chalo it's time bebe said all hooted …twinj stands infront of each other …
First twinkle rt said while all hooted Kunj forwarded his hand while twinkle made him wear the ring … everyone clapped…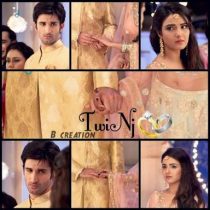 Kunj take this Usha said giving him while twinkle forwards her hand they looks at each other Kunj holds her hand fully and made her wear the ring ..Abeer and varun lit the party crackers all smiled….the functions ended soon with sarnas and Taneja's gelling up with each other well ..
.
Next day twinkle went to college she told pari and Anu about it who teased her like anything they were happy for her as well ..
One week passed in this week twinkle and Kunj tired alottt to talk but couldn't Manohar told Kunj clearly that he have to marry anyhow same was with twinkle she too agreed to rt because of his wish but also because she had feelings for Kunj more than a crush thing but she never took it that seriously …
Varun called Abeer as he and Meera was going back to Banglore they decided to have an amazing night out ..
Abeer asked permission from rt to take Meher twinkle and Avni out he agreed happily …while samaira Meera Varun and Kunj also took permission from Manohar and left Aryan with them they all went out Varun didn't told that he invited tanejas as well …
Soon they all reached to a restaurant …
Jiju ???? Are you waiting for anyone ? Samaira asked…
Yeah here they comes Varun said seeing Abeer Meher coming out of car followed by Avni and twinkle …Kunj eyes stuck on her who was looking etheral ?…
They all greeted each other while twinkle was suprised as well seeing Kunj they went inside and sat ..twinj were opposite to each other ..
Arey ? Kunj why are you so quiet ? Abeer asked…
Kunj or quiet ? Meera said while Kunj passed her death glares ..
Just my boy is shying Varun added …
It's nothing like that Kunj stated ..he met Abeer …who met him happily they again had a introduction all smiled and ordered their food talking about the fun they will be having during twinj wedding …while twinj were just sharing secret glances …
Soon they all left outside …mehbeer left towards the lake followed by meerun ..
Ab what we will do here samaira said ..
Yeah right let's go Avni added they too left leaving twinj who sat there only …
Let's talk normally Kunj said while twinkle giggled ..
Sadu sarna and normal she said while Kunj looks at her sternly ..
Acha sorry long time seeing you ?crush twinkle added ..
Again crush twinkle seriously Kunj said…
Yeah you were my first and last crush na twinkle added puppily ..
Kyu ? After me you didn't had any ? Kunj asked possessively ..
Nah my class guys you know ?and juniors ? they are like babies twinkle added while Kunj giggled this time ..
You will never improve Kunj stated ..
Yes any doubt twinkle added while Kunj let out a sigh ??
Why you agreed to marry me Kunj asked…
Because I love you na twinkle said blinking her eyes ..
Areeyyyy Kunj said ..
Sorry I couldn't deny papa and I have to get married one day no matter even if it's you or anyone else I'll marry the guy which ever papa choose because my papa always selects the best for me twinkle said while Kunj looked on ..
Okay he said …
And you ? Twinkle asked you couldn't have denied waise where is your loud speaker ? Twinkle added ..
Hehe jealous kunj replied while twinkle nodded in no ..I too don't want to marry yaar not a specific reason I want to enjoy my life and marraige is a big responsiblity and for me it becomes double Kunj said…
Why ? Twinkle ask ..
Because I am marrying you na Kunj added while twinkle giggled…
I just said yes because of papa I had no interest in these things Kunj said while twinkle looked on ..
You still have time you can run baby twinkle said ..
Achawwww Kunj added both giggled ..
Let's see what happens till the wedding let's just go with the flow just like this water …twinkle said while Kunj nodded they both got up and joined the rest all had fun ..and was going back to their homes when Kunj went to twinkle ..
Can I have your number ??? Kunj asked…
Babaji twinkle looked at the sky and giggled at Kunj giving him …
You are so mad Kunj added ..
I know bye twinkle said and went in car everyone left …
❣❣❣❣❣❣❣❣❣❣❣❣❣❣❣❣❣❣❣❣❣❣❣❣❣❣
That time I didn't wanted you in my life but today I am dying to bring you back in my life Kunj said looking at their pic in his mobile …
Let's call her and ask how's this Siyappa queen is Kunj said he took his phone and dialled twinkle number …she picked it up soon …
Hello she said…
How are you ? Mareez Kunj giggled…
Huhuh you are so bad you send Arohi but didn't came to see me twinkle said..
Haan toh you just wanted Arohi na I still don't know which spell you chanted to my lovely baby Kunj said sternly but still smiling inside …
Huhuh what I can do I am everyone's favourite ?twinkle replied ..
Huhuh mareez Kahi ki Kunj said when something splash on him ..he turned and found Arohi with a water gun ..
Arohiiiii Kunj said while she giggled again firing him with colour water ..
What happen twinklee asked from other side ..
Wait I'll show you come on video call Kunj said while twinkle did as he said…
Hahahahahha Kunj she laughed aloud seeing Kunj face turned red due to coloured water ..
Come here Arohi Kunj said running behind her while she ran downstairs shouting ..
Daduuuu save me ..Arohi said..
No one will save you today you little duck come here Kunj said running behind her still having phone on video call with rear camera twinkle was laughing seeing Arohi making Kunj run behind her ..
Finally Kunj caught her and put on Face camera …see her Kunj said ..
Heyyy Twinkie Arohi chirped how are you..
Fine what you did with papa Haan twinkle asked…
Hehe ? Abeer uncle gave me this water gun she added giggling ..
Haha bhai twinkle too giggled along with her ….
And who filled coloured water ? Kunj asked ..
.
Bebe she chirped cutely ?
Bas twinkle don't laugh Kunj said sitting on sofa with Arohi in his lap …
You are looking cute papa Arohi said with puppy face ..
Wait I'll show you today duck I'll make you have brinjal even dadu is not there to save you Kunj smirked like a devil ..
No no please she said while Kunj smiled ..
Hehe I was joking doll mera baby Kunj hugged her while twinkle smiled seeing them …
.
You also come to our house na Arohi told twinkle ..
Acha your papa didn't invited me twinkle added..
Huhuh you just stay behind me only Kunj said while the trio giggled ..bebe and usha sees them talking and smiled …
Soon twinjrohi ended the call while Arohi again splash with water on Kunj and again running chasing begins …
Kunj sat in his room taking his wedding album while Arohi was with Usha in kitchen …
❣
❣❣❣❣❣❣❣❣❣❣❣❣❣❣❣❣❣❣❣❣❣❣❣
After that dinner meerun with their baby Aryan left for their house Banglore while the rest were going on with their normal lives Abeer teased twinkle alottt who told them about Kunj being her college crush ..
twinj didn't used to talk that much and whenever they talks they ended up fighting and teasing each other …1 month passed in that Leela Avni Meher was shopping for twinkle same even Usha and samaira all having their own fun ..
Everyone was at Gurudwara taking out date for twinj wedding …
Guruji ? What happen ? Bebe asked..
Nothing as I told you about the mahurat last time also which is after 2 weeks later from today he spoke ..
But it's 2 early rt added ..
Next mahurat is after 8 months he added ..
Why are you worried ram ? Manohar asked…
Twinkle wanted to complete her MBA before wedding rt told him…
No worries she can continue after wedding as well Manohar added ..rt thought for a minute then nodded ..
To then 2 weeks leela said they all agreed and feed sweets to each other while the youngsters were outside ..
Twinj were sitting near the pond ..
If I push you again then you will scream back ahhh babaji I'll die Kunj mimicked her …
Sadu Kahi ke ? push me and then see the outcome twinkle retorted him ..
Kitne ladte ho yaar Abeer said ..
Ye your sister always Kunj said ..
Huhuh bhai don't say anything to my bhabhi samaira added ..
Whatever Kunj said and pulled her cheeks making them go red ..
Jiju Avni added ..
Kya you also wants your cheeks red ? Abeer asked…while Avni covered her face with her palms all laughed …
Soon the elders came out ..and smiled seeing them ..
This smile is sign of something deadly coming soon Kunj whispered to twinkle ….
True now they will blast a new bomb on our head twinkle too added both giggled ..
Congratulations bacho Manohar said ..
I am scared of this congratulations now Kunj whispered ..
Now the blast will be wedding is sooner twinkle too whispered ..
Guruji fixed the date after 2 weeks bebe said ..while twinj looks on non interested ..
Lo hogaya Naya Siyappa Kunj murmured ?? both of them giggled again ..
How you want your wedding ? Usha asked twinj ..
As you all wish twinkle told shyly while Kunj too nodded …
Destination wedding both samaira and Avni said excitedly while twinj cursed them …
Hmm nice idea rt added ..
But Where ? Manohar asked..
May be Mumbai ? Abeer stated ..
Destination pe leke jaake tujhe Wahi guma dunga Kunj whispered to twinkle ..
Hehe before that I'll push you in sea there she whispered back ..
So you both agree ? Rt asked while they nodded in yes ..all smiled and decided to leave for Mumbai soon …
1 week passed they all busy in shopping while Kunj was busy with office and twinkle doing her college work before itself ..
Kunj came back home tiredly and went to bebe room he laid resting his head on her lap ..
What happen mere bache ?
Bebe this wedding is necessary ? Kunj asked…
Haan puttar why are you asking ? Bebe asked..
Nothing just Kunj said …
Kunj I know what you want but puttar what we are doing is best for you the day you will have a companion to share everything with running behind your kids then your life becomes more blissful bebe added while Kunj slept listening to her she smiled…
Next day all reached Mumbai they booked at private resort while the very first function was giving Shagun to twinkle …twinkle mama Raman along with his wife pinni and daughter bubbly reached there with other guest while same on Kunj family Meera too directly came to Mumbai ..
Chalo in lawn everyone is waiting Usha said…while the rest nodded..
You all proceed I'll come Kunj said…they left ..he was going as well when heard his London's bestie voice ..
Saale marrying without informing me Haan arhaan said while Kunj smiled…
Huhh gadhay I called you so many times then informed your parents Kunj added they hugged ..and went downstairs Kunj met arhaan parents Akshay and sanvi who was their London neighbours as well so arhaan stayed most of the time with sarnas …
Kunj was made to say on the swing while twinkle too came with Avni bubbly and Meher looking beautiful ..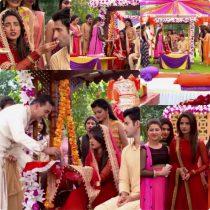 Don't stare her so much Kunj arhaan whispered in Kunj ears while the rest giggled who heard …
Twinkle was made to sat beside Kunj both looking at each other and started giving her fruits clothes etc etc ..same with Kunj all smiled…
Chalo now feed each other sweets bubbly said ..while twinj looks at each other …
Kunj took the sweet and fed her while she too take the piece near his mouth he bite her finger while she screamed loud and the rest laughed Kunj smirked at twinkle who angrily glares at him ..they all enjoyed the whole day …
Kunj friends kriyan Samar and Joe too joined him ..even twinkle freinds pari Anu as well ..
Why you all are so late Kunj asked..
Arey was busy Samar added …
Haan good you all came he added ..
Waise whom you are getting married to ? Samar asked while smirked ..
See it tomorrow only he added while Samar kriyan Joe look on confused they met arhaan and got friendly with him as well…
Next function was haldi they both were sat together
While kriyan Samar and Joe along with arhaan came they were shocked to see it's twinkle ..
Twinkle ? They whispered to Kunj ..
You all know her ? Arhaan asked…
Yes she was our junior Samar said ..
Ohh arhaan added ..
Hehe Kunj twinkle seriously Samar said ..
Bhabhi now arhaan added they all teased Kunj ..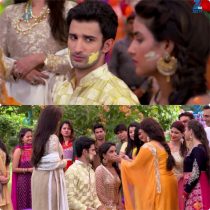 everyone started applying to him making twinj irritate like anything ..
Please Meera di nahi na Kunj said ..
Are aise kaise my time came now she said rubbing all over him ..
Same was with twinkle Abeer and Avni along with Meher and bubbly was doing the same with her …Yuvi couldn't attend her wedding as he didn't got vacation …
Twinj were also made to apply each other while they were taking revenge on each other twinkle splash the haldi all over his face while Kunj ran behind her ..
Huhuh see what I'll do with you Kunj said he caught by pulling her waist and funded her around she looked at him gulping his hand was creating havoc on her bare waist …from his left hand he started applying haldi to her sensuously …she closed her eyes ..
My touch is magical na Kunj whispered in her ears while she hummed he smirked .. twinkle opened her eyes and sees him while he laughed …she left from their ..
Jhalli hai par cute hai Kunj whispered looking at her going …
Next day :::
Twinkle along with Leela Avni Meher bubbly pinni and her other relatives was sitting waiting for raman to tie her chuda…
Maami where is maamu ? Avni asked teasingly ..
May be he went to get another Mami for us Abeer said while the rest giggled ..
Haye Haye don't say this Abeer meri toh death hi hojani hai pinni stated ..
Maamu is so cool even before that he started finding another Mami Abeer said while Leela pulled Avni and Abeer ears ..
Sorry sorry I am here Raman said…he came with rt who sat there as well..
I'll make my niece wear her chuda he added ..

I want to see maa twinkle said while Leela said no ..
You can't see this puttar until you get ready in your bridal wear Leela explained her while Raman made her wear chuda and then tie white cloth around her wrist ..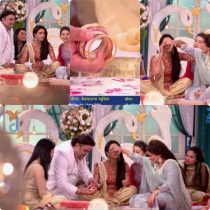 Done he said while all smiled…
Let's take pictures guys Abeer said they all siblings started taking their pics while Lert smiled seeing them tearfully ..
Just a day left for their wedding they said together and smiled ..?
To be continued ??
_________________________________________
So here is your EIDI episode dedicated to everyone ???..
Hope you all like it ..
Eid Mubarak to each and everyone may this eid brings you all the love happiness and good health ???…
Do comment how's the episode ???
Thanks to all who commented on the last ..
Enjoy your day have fun guys ..
Ignore errors no proof read ..
Bye Allahafiz

Warning: A non-numeric value encountered in /home/ftpusers/tellyu/public_html/wp-content/themes/publisher/includes/func-review-rating.php on line 212

Warning: A non-numeric value encountered in /home/ftpusers/tellyu/public_html/wp-content/themes/publisher/includes/func-review-rating.php on line 213