Our Unplanned WEDLOCK (WEEKEND STORY)- CHAPTER- 1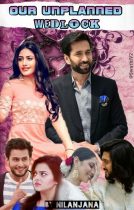 THANK YOU SWATHI BABY FOR THIS AMAZING COVER. LOVE YOU ALWAYS.
"Where is my brother? Why is he always busy?" came a desperate voice calling his brother continuously since an hour now. He dialed his brother's number again but the same response came, saying 'the person you are trying to reach is busy on another call, please try again later'
"Why these stupid fellow people keep on calling my brother when I need him the most, I will definitely ask Shivay bhaiya to fire all his staffs who keeps calling him always and disturbs him" the thought crossed poor Rudra's mind.
Rudra's phone rang when his brain just started to remember the names of the staffs he know who disturbs his brother by calling always so that he can ask his bhaiya to fire them atleast for now.
"So here the busiest of the busy person is calling me" he stated irritatedly and picked up the call to receive the most annoying response ever "I am in a meeting, I will call you back later" and the cat eyed creature had cut the call before this poor muscle man Rudra could have explained the reason of his desparate calls.
"Relax Rudra, you knew that he is busy and I am sure that he is feeling bad for not picking up your calls" a calm and soothing voiced man rubbed Rudra's back while he uttered these words.
"This is not fair O… he always recieve your calls and when it's me, he is busy to receive even a single one" Rudra was very hurt, his voice sounded like that. He sat over Shivay's bed and annoyingly threw his phone over the bed. The phone bounced once and got saved from falling down as a pillow resting near the corner engulfed the phone in it's cottony body.
"Rudra, what is the matter? Why are you so irritated and angry, you never behave like this until the matter is about your image" Om asked his little brother sitting beside him.
——————————
"I don't want to Maa" a girl uttered the words sounding very sad and defeated.
"At least go and meet him once, I am sure you would love to spend your rest of the life with him" a lady of late fifties rubbed the girl's back ever so lovingly with an expecting smile.
"How do you know that this guy is perfect for me and actually he is not a gaaye/cow to believe that a girl cannot be independent and free after marriage as well?" the irritated girl questioned back in an irritating tone.
"He belongs to a well known BENGALI family Ani with high status and a joint family as you always dreamt of" her mother said.
"Whatever it is, it's Sunday and I am not going to waste it, it is the only day I get to spend with my family and I don't want to waste it over some unwanted gaaye/cow" she said and hugged her mother's waist placing her head over her mother's stomach.
"Di, the chokra/boy is a bomb" chirped another girl's voice.
"What type of word is this Ishu?" the mother of two daughter and a son scolded her youngest daughter.
"Maa chill maaro, Mom get a chill-pill, Di loves my stupid yet yummylicious words" chirped Ishu again.
"But I don't want to go and meet him" Anika said leaving her mother from the hug and lowering her gaze down.
"Di… you listen to me, go and meet that stupid and act as the most arrogant girl alive in this planet, perfectly convince him not to marry you and come back" Ishana winked and Anika broke into fits of laughter.
"Bhagobaan, aami eder niye ki korbo, My God what would happen to these two girls?" poor mother looked at the ceiling and prayed to God to gift atleast a bit of brain and maturity to her two daughters.
"Bye Mom" both the girls said together and kissed on either side of the cheek of their Mom and went out.
"Where are you both going?" Mrs. eldest Mukherjee asked.
"To meet the gaaye/cow" Anika said and occupied the passenger seat beside the driver seat while Ishana occupied the driver seat.
"Ei cheletao gelo, this boy also gone for sure" poor mother huffed in tension but smile took place and the laughter replaced the smile in just nano seconds.
——————————
A car stopped in front the main entrance of the Oberoi Mansion and a well dressed man walked in with a victorious smile over his face.
"Hey Om… Rudra… Daadi… Prinku…" he called out each and every family member in a happy and victorious tone. The family gathered one after another.
"What's the matter Shivay?" Om asked happily and curiously.
"We got the deal of SUNWAY FLYOVER to get built in London" Shivay said making everyone proud who all are  standing in front of him right then.
"Congratulations" Mr. Tej Singh Oberoi, Shivay's bade papa and the father of Rudra and Om said engulfing Shivay in a tight and proud hug.
"Congratulations" his badi maa, Mrs. Janvi Singh Oberoi hugged him thereafter.
"Congratulations beta" it was Shivay's father's, Mr. Shakthi Singh Oberoi's, turn to show the love and the feeling of satisfaction on his son's achievement as he hugged his son tight.
"Aise hi jeet-ta reh humesha puttar, may you win like this always my dear" said the elderly aged lady as the happy tears flooded down her eyes.
"No rona-dhona/crying daadi" Shivay said wiping off the tears and dropped a kiss over daadi's head.
"I am proud of you my bhai" Om said patting Shivay's back fondly and proudly. Shivay always felt his heart growing warm whenever Om called him bhai.
"Congratulations bhaiya" Prinku, Shivay's very own sibling from his mother's womb jumped over Shivay and hugged him tight to express her joy on his success.
But two person standing over there seemed happy but equally angry over this man who made everyone proud once again.
"Mom… Rudy, aren't you both happy at this achievement of Oberoi Industries?" he asked stepping forward.
"Congratulations bhaiya on your success, on the success of the business which is most important part of your life" Rudra left after saying these words that pierced his heart.
"Very good billu, proud of you" said his mother, Mrs. Pinky Singh Oberoi, and she too left from there.
"Why aren't they happy?" he asked himself and realised the biggest blunder he did even after promising his mother and his little brother. "Oh shoot" he ran to the direction where his mother went and took a turn from there to go to his brother's room but got confused about whom to pacify first.
"I am bringing Rudra to choti maa's room, you go there" Om suggested and left from there to bring Rudra.
Shivay reached his mother's room to just see his mother staring at an antique necklace.
"Mom, I am sorry… I just completely forgot" Shivay said lowering his gaze down and Pinky locked the box of the jewellery she was looking into inside her locker and wiped her cheek.
He has hurt his mother and no sorries can pacify the amount of hurt. Om and Rudra came, Rudra resisted and Om dragged him in. Rudra was equally hurt. This was the first time ever he promised someone and boasted in front of someone that his elder brother, Shivay never denies any of his wish so they can be calm and wait for the Sunday as Shivay would definitely meet their daughter but Shivay did not even remember all these and went for the meeting without even telling anyone.
"I am sorry Rudy, I just forgot about my meeting with Ragini Malhotra" Shivay said.
"It's not about Ragini Malhotra bhaiya, it's about my promise and my words to them. I specifically boasted about our relation in front of them saying that you won't deny my words ever in any situation but you prove me wrong, it was my mistake to promise them without even asking you" Rudra said and looked at his right.
"No Rudra, it's my mistake to hope to see my granddaughter or grandson playing around the corners of this big mansion before I close my eyes forever" Pinky Singh Oberoi said looking down as fresh tears cascaded down her eyes.
"Mom, Rudra… I am sorry but please don't blackmail me emotionally" Shivay made the cutest ever face he can make by pressing his eyes and folding his lips.
"We will forgive you, but just in one condition" Pinky said as this cute face trick of Shivay always works on everyone.
"I will do everything you both will ask me" he quickly said feeling proud of his cute face.
"You will have to meet the next girl without even questioning for once and then you will decide to marry her or not" the main matter came up and came out from Pinky Singh Oberoi's mouth.
"Yeah… and you won't scare that girl away by showing your attitude, promise us" Rudra ensured that Shivay won't deny.
"Okay fine… I would go to meet the next girl, but at least tell me her name" he asked curiously and getting irritated.
"We have not found the next one until now as your negligence shooed away Ragini today but give us sometime, we would definitely find one" Pinky said.
"I know you will definitely find one in a day or two as you are behind my marriage" Shivay said huffing and feeling helpless as this time Rudra and Om too took his mother's side.
"I am dying to call someone as bhabhi bro, so get me one soon" Rudra said
"Hmmm… and what will happen to our sleepover nights at my room?" Shivay asked hitting the correct spot.
"My bhabhi would be cooperative, she will sleep in guest room or my room or O's room during our sleepover nights" Rudra hurriedly answered tapping his forehead indicating 'no one could be smarter than me'
"We will see" Shivay answered and went to change.
——————————
"So Mr. Bakshi, tell me how much interest you have in girls?" Anika asked in the serious-est tone ever possible looking the man sitting in front of her.
"What… what do you mean by this question?" the man asked sipping the water.
"Umm… see I don't wanna lie to you who is eager to marry me, but you know your standards and my standard… umm… they don't match" Anika now sounded arrogant.
"What do you mean by that?" Mr. Bakshi again took a sip.
"My father is an INTERNATIONAL DON and has billions in his international bank, but he never show that in front of anyone over here, only our family knows about it. And look at you, you don't have money to even order coffee and thus you are sipping that one glass of water since the time I came" Anika said changing her expressions from proud to danger woman but keeping arrogancy on top.
"I'll… I will think about the marriage" the man gulped his saliva down and sipped the poor water again.
"Yeah you should… and if you deny to marry me, then I would… I would think about it that what I will do to you, now you may go" she answered and leaned back in a bossy style and closed her eyes.
The man got up and ran out of the place as soon as he could. His feet trembled and hand shivered but he managed to go out of the danger zone he was in until now.
"Yaaayyyyyyyy!!!" Ishana jumped in joy and performed her special fast dance and kissed her sister. "Di… you are super great" she patted her Di's back and hugged her di tight.
"Afterall I am Don's daughter" a roll of laughter followed between both the sisters as soon Anika completed the sentence.
——————————
"What did Ragini say to you Rudra about me not going to lunch along with her today?" Shivay asked his brother who seriously was very very serious since the morning.
"She called me up and said that I don't want to marry the man who have completely forgot about his date with this hot, s*xy, slim and gorgeous lady" Rudra completed and the three brother broke into fits of laughter.
"She is hot and s*xy… from which angle?" Shivay somehow managed to ask the question between his laughter.
"Tu to rehne de Shivay, tujhe koi bhi ladki hot ya s*xy nahi lagti, you just leave it bro… you seriously never consider any girl as hot or s*xy" Om said.
"No yaar, there are girls who are gorgeous. Who don't flaunt their figure and boast about their hotness or s*xyness, you find me one such girl I would definitely go and meet her" Shivay said.
"Hmm… so my bhai prefers simple girls" Rudra said tapping his finger on his chin indicating 'I am thinking'
Shivay nodded his head as he said "yeah…"
——————————
Heyaaaa people, thank you so much for waiting. Here it was the first chapter, HOPE YOU ALL LIKED IT. If so then please drop a comment and hit the like button.
NEXT EPISODE WILL GET POSTED TOMORROW
-NILANJANA