'Vansh kis kaa intezaar kar rha hai, yeh sundoor le aur bhar de riddhima ki Maang! Shubh kaam mein deri nhi karni chahiye.' Said the elderly lady looking at her grandson and grand daughter-in-law with a small smile.
They looked at each other with unknown emotions. Riddhima looked at herself wrapped in red bridal lehenga standing in the temple of Mansion, in front of idol of Bappa.
How can be God so cruel to her, she is standing there ready as a bride but not for her love of life but his duplicate Vihaan. Vihaan looked at her emotionlessly.
'Ji dadi.' Replied Vihaan looking at dadi and took pinch of vermilion from the thali she was holding.
He filled Riddhima's hair Partition with vermilion while she closed her eyes remembering her marriage with vansh.
'Vansh ho sake to maaf kar dena mujhe, mujhe yeh karna hoga humare parivaar ko bachane ke liye yeh karna hoga. Par yaad rakhna vansh yeh Riddhima iss Janam mein bhi tumhari thi aur Anne wale saath janamo ke liye bhi sirf tumhari hai.' She thought to herself and felt Vihaan's around her neck as he made her wear nuptial chain and she remembered how Vansh made her wear nuptial chain on their marriage and tears rolled down from her eyes.
Rihaan looked at dadi who was standing there looking at them smiling. They both bent down and took her blessing by touching her feet. Smiling she pulled her children in a hug.
'Baccho jao aur jaa kar aaram karo.' Said dadi while they nodded and holded each other's hands walking towards their room.
Riddhima stopped on her track right in front of Kabir and looked at him with anger and fire in her eyes.
'Dekha Kabir tumhara meri Maang bharne kaa sapna kabhie pura nhi ho sakta kyunki wo hak sirf vansh kaa hai mere vansh kaa.' She said no not said but mocked him, giving him a tight smile she walked out with vihaan holding his hand.
'Bohat garoor hai naa tumhe apne iss behroopiye par, bass thoda time aur riddhima aur tumhara yeh garoor zameen par bikhra milega. Loge ke samne tumhe zaalil nhi kiyaa naa Maine to mera naam bhi Kabir Singh Shekhawat nhi.'
Kabir thought to himself and chuckled, looking at his surroundings he sneaked out from there to find some proofs with that he can prove that vansh is not vansh but an imposter.
'Riddhima tension mat lo yeh jo bhi hua woh contract kaa ek hissa tha. Tum sirf vansh ki ho!' Thought Riddhima to herself looking at her figure in mirror.
'Sahi kaha Riddhima tum sirf meri ho, Vansh Raisinghania ki!' She heard a similar deep voice and looked at her back only to see a man standing there facing his back and a smile drew on her face.
She looked at him before running towards him and hugging him from back tightly. He holded her hand before facing her. He looked at her pulled her closer caging her in his arms while she too surrendered herself herself in the cage of her arms.
He kept his chin on her crown and kept stroking her hair softly. Just then she felt two more hands sliding from her waist and hugging her from back.
She startled and looked back breaking the hug only to see him standing there with a teasing smile plastered on his face, Vansh No. 2 Vihaan. She looked at Vansh who was also looking at her with same teasing smile as Vihaan and then at Vihaan.
'Do Vansh! Kahi Maine firse to nhi pee li? Aree nhi riddhima tum bewadi thodi ho! You are in your whole senses.
She wondered to herself making the twins chuckle only to be rewarded by her death glare and they kept there fingers on their mouth controlling their smile.
Riddhima looked at them both and burst out laughing, Vihaansh looked at each other and then the girl who was laughing wholeheartedly followed by them as they too started laughing.
'I missed you both so much.'
Pulling her closer Vihaan nuzzle his nose in her neck sniffing her intoxicated fragrance while vansh kept his hand on her waist from back sliding her hair from  her back he looked at her milky white shoulder and he kissed her mole softly earning a moan from her.
Vihaan nuzzle more on her neck and bites her soft spot while she hissed in pain and he sucked that place soothing her pain. She closed her eyes in anticipation, she smuggled more in Vihaan's chest and kept her head on her chest.
Vansh too kept his chin on her shoulder hugging her tightly close to his heart from her back. Just then Vihaan felt some wetness on his tuxedo. He pulled her back and found her crying both Vansh & Vihaan looked at her panic.
Never! Never in their life they wanted to see tears in her beautiful eyes but they want to see all the happiness she was getting because of their love in her eyes.
Vihaansh pulled her closer and hugged her tightly while she kept sobbing silently smuggling on their chest.
'Shhh… princess! Tell us what happened.' Vihaan consoled her while she  sobbing on their chest.
Vihaansh looked at each other and then at their lifeline. Making her sit on the bed Vihaan went to get water for her while vansh kept consoling her.
'Tell me sweetheart why are you crying! Someone said something to you I promise you sweetheart I will rip him/her off.' Said Vansh while stroking her hair softly until she stopped crying and started hiccuping.
'And I will chop him/her in millions of pieces whoever tried to hurt you and then will distribute their pieces into our dog Bosco.' Said Vihaan passing her the glass of water.
Riddhima took glass from him and drank the water in one go and looked at the men sitting in front of her on their knees only she was able to make them bow in front of her because they can only bow their head either in front of their Dadi or their QUEEN Riddhima.
'Vansh! Vihaan they tried to hurt me! They electrocuted me, it was so painful I can still feel that pain. I wanted you both to be with me that time but you were not here.'
She complained like a small kid and they smiled but their eyes darken seeing mark of bruises on her body given to her by their pujniyey mom and her donkey son.
Taking either of her arm in their hand they planted numerous kisses their on her injury marks while she closed her eyes feeling them after so freaking days.
They looked at her and cupped her face by their on hand while she too looked at them with nothing but just love.
'You are our queen Sweetheart/Princess! Only we have right to fill your hair Partition with vermilion or to touch you. And who ever try to touch you will touch the feet of God so closely. But before that they will see hell called Vansh & Vihaan Raisinghania'
They said together obsession and possession for her brimming in their voice while she looked at them with teary eyes and smile on her face. She bent a bit and kissed their forehead one by one and then pecked their lips and got back quickly before they can deepen the kiss.
'You know jaan, being an orphan I never thought that I will get so loving husbands not one but two. Who can love with all their heart and soul. Vansh, Vihaan you both don't know how lucky I'm that I got you both as my husbands. And I know you both will never let anyone hurt me. I have full faith on my Kings.'
She said smiling at them while they to smiled at her and kissed her forehead one by one while she smiled feeling their love she was missing since they were playing this death drama of Vansh in front of the world and Family.
Vansh took her in his arms and made her lay on the bed carefully while Vihaansh hovered upon on her like a hungry lion.
Vansh kissed her forehead, button nose, cheeks and placed small kisses on her jawline while vihaan attacked on crook of her neck and chest.
Vansh looked at her pink juicy lips and pulled them in his lips kissing her passionately sucking and biting her lips while she too kissed him back with same passion.
Vihaan pressed her twin over her kurti while vansh too pressed one of her twins breaking the kiss while she moaned their name like prayer.
After sometime their clothes were laying here and there on floor as whole room  was filled with there pleasurable moans and groans.
Vihaansh pulled her closer caging her in their arms clinging her naked body with their, while she too kept her head on there arms hugging them tightly sniffing their warmth as they covered her and themselves with blanket.
'I love you both so much. Promise you both will never leave me alone.'
'Where we will go Sweetheart/ Princess leave our heartbeat behind. As body needs heart and heartbeat to function, we too needs you to function your like heartbeat of our hearts. We too love you so much ❤. '
They said and kissed her forehead.
'Sleep sweetheart abhi Jang khatam nhi hui balki aur mushkil hone wali hai humari sherni ko kal ek dam strong Hona hoga bhediyon (wolf) se ladne ki liye. Good night sweetheart.' Said vansh with smile on his face.
'Good night Princess' wished vihaan and kissed her crown.
'Good night Vansh/ good night Vihaan' She too replied with a small and slept in her husbands embrace.
'Tch! Tch! Tch Kabir your end is near, you again tried to touch our queen so now her kings need to come in action.'
At an unknown place a gun shot was heard and boom..
OK it was not what I was planning to write but then I proceeded to write it I came up with this, wanna write Rihaansh story from long so here I'm with.
Hope you all liked it, do leave your reviews in the comment section and your theories on the precap what is gonna happen next.
Will try to complete it In one more shot or two more shots.❤.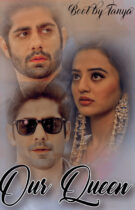 Stay tuned for the next part!