Once In A Life Time (Epi-6)~anika stays in oberoi mansion

Warning: A non-numeric value encountered in /mnt/nfs/home/ftpusers/tellyu/public_html/wp-content/themes/publisher/includes/func-review-rating.php on line 212

Warning: A non-numeric value encountered in /mnt/nfs/home/ftpusers/tellyu/public_html/wp-content/themes/publisher/includes/func-review-rating.php on line 213

link for previous episodes
Anika : mom and dad used to fight for silly things and grew apart . mom was a month pregnant when mom and dad filed for divorce , both then got divorced also
Om : so that was the reason you left Mumbai
Anika : actually not , it was decided by the court that i would stay with dad and chutki , my younger sister would stay with mom , there was still some hope left , i thought they would get back when a baby is born ,  but when the baby was born , he was very weak , he needed blood , the baby's blood group matched my father's rare blood group , again my father was not present there , the baby died
Om : how could he not come to see the baby
Anika : actually he had had an accident , he broke his leg and had an injury in head , thats why he could not come , but mom was too angry , she loved dad , yet her ego was more than that , she left with chutki from the hospital itself , she told she would come back to see me , but never came
Om : but..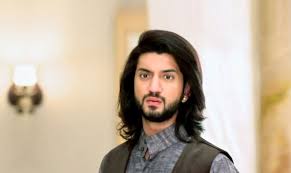 Anika : dad did not want to see mom's face or meet her  again , he was so angry with the way she left even without informing anybody , he did not want mom to find us , so we left Mumbai
Anika was in tears by then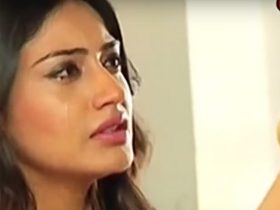 . om hugged her
Om: didn't you want to meet your mom
Anika : yes . i am sure she would have come searching for me to Mumbai again , but dad , he left his whole career for me , he wanted to be with me , he took up the family business just for me , how could i leave him , so thats what happened
Soumya came there
Anika :  you must be soumya , i am anika , om's friend ,so  you are the lucky girl who is getting married to rudra , i am so happy for you both
Soumya hugged her : so nice meeting you , rudra also has told many thinks about you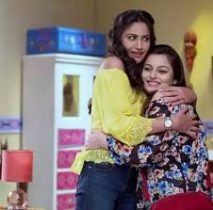 Om : why dont you stay here for some days , you are leaving for goa after some days only right , why should you stay in hotel
Anika : but om
Soumya : please anika di
Anika : ok fine ,i will stay
Rudra : thats amazing
Soumya : yay
Om : i will make the guest room ready for you , till then , you stay with soumya
Anika : thank you so much om , like this i will get to spend time with you and your family too
Om smiled : oh please anika , u were and are my best friend , and i can this much for you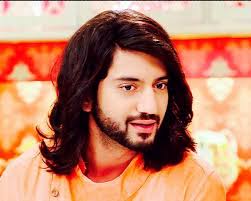 Anika and soumya were sitting in soumya's room
Anika : so how did you fall in love with rudra  and marriage , this early
Soumya blushed : my aaji (grandmother) and dadi are good friends , so when i got admission here in Mumbai i came to stay over here , my mom died when i was three years old due to cancer , my father only brought me up ,  recently i lost my father in an accident , i was totally broken , till then rudra used to hate me , he thought all were giving me more attention than him , silly fellow
Anika laughed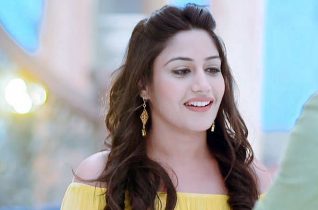 Soumya : that night , he heard me crying in my room , he came and consoled me , gave me hugs , that was so sweet of him , then i saw a totally different side to him , though childish and naughty he is a good human being and a kind soul  , it has been one and a half year since my i lost my father , i still dont know how i fell in love with rudra , just because pandit ji told that there is some danger in rudra's life , i am getting married to him
Anika : i just adore such love stories yar  , you know because of my parents no , i had totally lost belief on love , when i read books and watch movies only i get to know love can happen to anybody
Anika and soumya chatted for hours , it had already become night , om had gone out , anika was feeling sleeping
Soumya got a phone call , she started talking
Anika signalled soumya : where is guest room ?
Soumya signalled back three
Anika understood it was the third room
Oberoi mansion was already confusing anika, she entered the third room from the left and went straight and slept on the bed , not looking around
to be continued….

Warning: A non-numeric value encountered in /mnt/nfs/home/ftpusers/tellyu/public_html/wp-content/themes/publisher/includes/func-review-rating.php on line 212

Warning: A non-numeric value encountered in /mnt/nfs/home/ftpusers/tellyu/public_html/wp-content/themes/publisher/includes/func-review-rating.php on line 213