Hey everyone. Thank you all for the wonderful response on my previous os. Really it means a lot. Keep supporting like this.
A/N: Not according to the serial.
Here, Vansh and Riddhima are happily married couple. Angre and Ishani live with them. Vansh is asthmatic here.
The story starts as Vansh had an accident, so his treatment is going on in VR mansion.
Let's start:
Vansh is lying on the bed, with so many wires attached to him. The accident happened was extreme fatal. Due to this, he immediately started losing his breathe and as his head hited on the steering hard, there was a lot of loss of blood and his brain was damaged. Doctor were trying their best but no avail till now!
On the other hand, when Riddhima received this news, she was numb, she didn't knew how to react at this! She felt like someone has broke her heart into million pieces! She felt like a lifeless body. She was looking at Vansh from outside the room. Just praying to get him fine soon. But today, seems like her Bappa was in no mood to listen to her.
Angre was consoling Ishani, who was crying inconsolaby!
The doctors came out of the room. Riddhima rushed to him and asked.
Doctor: Sorry Mrs. RaiSinghania, we are trying are best, but due to excessive blood loss and seeing the previous reports of Mr. RaiSinghania are saying that….
Angre: Telling what doctor tell fast!
Doctor(hesitating): If he will not wake up by night, he will slip into coma.
That's it, Riddhima's heart died that moment! Without even taking her permission, tears started rolling. Her condition was miserable! She didn't felt this helpless ever in her whole life.
Ishani got up angrily and clutched the collar of the doctor.
Ishani: Listen you, if anything happens to my Bhai na, I'll rip you off, and I MEAN IT! Tell me, how much money you need! Come on tell na please save my bhai! Please..
And she too started crying very hard. Angre was trying to make her comfortable but…
But no one was looking to Riddhima, what she felt! The doctors said that it will be confirmed till night.
After continues wait of 3 hours which seemed like 3 decades, the reports came and it was…
THE PATIENT MR. VANSH RAISINGHANIA IS OFFICIALLY IN COMA.
Doctor: I am sorry Mrs. RaiSinghania, we couldn't save him from slipping into coma. He can hear and feel you, but cannot talk to you. The treatment will be on, please co-operate. You can meet him.
The trio went into the room, which was like a hospital! So many machines, ECG, wires, but the most painful sight was of Vansh! They couldn't believe that the VR, her brother, his boss, her lifeline will be like this one day! IshAngre started crying, as they couldn't control themselves.
Riddhima moved towards Vansh and noticed him. Eyes closed, nose, cheeks and lips covered due to oxygen mask. Hands attached to wires. Glucose bottle, blood drip bottle, it was so painful for her, but whom should she tell this. Without wasting any second, she ran to the bathroom.
After entering the bathroom, she started crying vigorously without any stop, as now no one was there!
(That's what we also do right?)
She sat on the floor, kept her saree stole on her mouth so that sound don't go outside. She was whimpering, it was very difficult to control her.
(Please try to understand the emotions of this song, O Khuda)
Tere bin jeena hai aise
Dil dhadka na ho jaise…
Ye ishq hai kya duniya ko
Hum samjhaye kaise…
(Living without you like this
Heart is not able to beat…
This is love
How should be explain this to world…)
Riddhima: Why god why!!!!! Why you did this with me? What wrong Vansh did that you are giving him such a big punishment? From the childhood, he has suffered so much, why god? I will die without him.(crying very hard)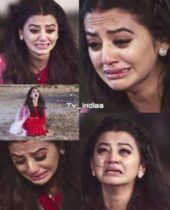 Ab dilon ki raahon me
Hum kuch aisa kar jaye…
Ik duje se bicchde to
Saans liye bin mar jaye…
(Like this in the path of hearts
Let us do something…
If we will get separated from each other
We will die without breathing...)
Riddhima: Why Bappa? Why you only this with me? What wrong even I did? Just because I love someone, you gave me such a big punishment? Do I am really a sin? Whosoever come close to me, suffers this! Am I a really this bad?(crying)
O khuda, batade kya lakeeron me likha…
Humne to, humne to bas ishq hai kiya…
(O god, tell me what is written in our lines of life…
We did, we just loved…)
Riddhima: Thank you god for reminding me this again! Again, the world won, and my heart lose..loser heart. That's what I actually deserve (crying). I never ever thought that I will be separated from Vansh like this! (sobbing continuosly)
Duniya ye jeet gayi
Dil haar gaya…
Nahi socha tha milkar
Kabhi honge juda…
(The world has won
Heart has lost…
Didn't thought that after being together
We would ever part…)
Riddhima came out of the bathroom cleaning her face. She sat beside Vansh and started caressing his face full of wires. Her heart really hurted very hard. But she composed herself, and made a vow to bring his Vansh back out of this.
Riddhima: No Vansh, this time, god should not be right. I promise, I swear on my life, I will make you wake up sure! By hook or by crook, and this is your Riddhima's vow, which will never break. Love you jaan!
And she too slept next to him thinking the next morning will be a good one!
Extremely sorry if you don't liked this. You all might feel it weird, but it's based on true life. It just came into my mind flying like kite(Gauri😂😂)
Pls tell me how was it? 
Take care
Bye for now!