Nobody knows my heart like you – twinj ff – Episode 2
Nobody know my heart like you twinj FF episode -2
Episode started
At night
Twinkle taking out her dress from wardrobe while something fell down she looks at it
It's twinj wedding invitation her eyes become teary looking at it…
( flash back starts
Twinj became good friend then fell in love kunj was from middle class family he has dreamt of becoming successful business man and wanted to complete MBA and working for it day and night but financially weak twinkle was helping him in everything and supporting him in everything
His heard work paid off he got good job and everything going smoothly they decided to get married… Marriage date to near
Twinj were very excited for there marriage..Twinkle had been to Mumbai for preparation of wedding she selected some wedding cards  and left to sarna mansion to show him everything
While gate was locked she was waiting for them to come and then there comes car and kunj and taniya comes out of the car
And she became hell shocked looking at the scenario there
Kunj and taniya in groom and bride attire and mangalsutr in her neck
She leaves the cards in shock and wishing it to be some nightmare but it's reality
That day was very painful for them
End of flashbacks)
She took it in her hand sat on chair
She looked at it teary eyed…
Twinkle – i wanted to throw it but can't…  It's just piece of paper for some people because that wedding didn't happened and it's useless now.. But not for me …. Kyu pata hey kunj kyu ki at least idhar mere naam aur tere naam saath saath hey…. Kunj and twinkle aur idhar humara naam saath saath hey eh dhek kar muje kushi hoti hey and next moment I become sad thinking you are not with me now..
We were so happy together and so excited for our marriage.. We shopped everything like mads… And decided our future baby names too… But destiny planned other things for us.. And everything got destroyed in one day…and i lost everything that day… Lost my love my happiness and everything I just lost it…
Abh reh gaye sirf teri yaadein…  Inn yadho ko tho koyi nahi cheen sakta mujse
She opens her phone gallery and looks at there (twinj)  selfie and smiles.. Only you can bring smile on my face kunj..  I'll never forget that time which I spent with you those are very special moments of my life.. She keeps it near to her and cried her heart out… I'm unlucky I lost everything I lost our love symbol too 😭😭😭 why baba ji snatching everything from me what I have done to get this much pain… Ok baba ji I'll bear this pain and everything but please keep my kunj and my family safe… I want them to be happy always only this i want now nothing else give every pain and punishment to me but not to my kunj he should be happy always he is so good make his all wishes come true…
She sleeps there only cursing her fate…
Next scene
At Amritsar
Kunj tara Or yuvi in another beautiful mansion when papa daughter feel sad Or happy they come here to spend some time
At night
Kunj sleeping peacefully he turns in sleep and he puts hands on Tara but he didn't find her he opens his eyes slowly and looks at Tara side bed and finds it empty
Kunj – Tara?  Where are you baby?  He checks in washroom and he doesn't find her there too he heard some noise outside he got to know where is she and he went out of room
Yuvi and Tara watching cartoons and having Puffcorn
Tara looks at empty bowl of Puffcorn
Tara – my Puff corn  yuvi uncle you eat more
Yuvi – shh talk slowly  otherwise your papa will get up
Tara – I don't know anything I want Puffcorn otherwise I'll tell to my papa
Kunj – tara… Yuvi 😡 what you both doing at this time haa
Tara – papa she goes to him and hug his legs…
Kunj lift her up in his arms
Kunj – you both watching cartoons at this time… And Tara you made me sleep and came here to watch cartoons
Tara – hoo sorry I wasn't getting sleep and you were not leaving me so I made you sleep
Kunj – aur thu  saale cartoon dektha hey
Yuvi – yes I like cartoons 😍😍 but your baby not leaving me to enjoy cartoons sometimes demand juice sometimes Puffcorn and now telling I eat everything
Tara – yes he eat more papa looks at my tiny hands mey thoda thoda kha rahi thi aur uncle ne sab kuch khaa liya… And you know what papa he only requests me to come and watch cartoon with him… I was telling that I can't come papa will be scared he can't sleep alone but he said he will get scared and he wants me to protect him
Kunj raised his one eye brow listening to what she said… Papa can't sleep alone he will get scared
Yuvi – chal jhooti but your stomach is very big… You are big foodie like twinkle hena kunj
Kunj looked at yuvi and both becomes silent for sometimes
Kunj become sad thinking about her again
Tara – oh hoo who is this twinkle?
Kunj – she is angel 😍
Tara – I want to meet your angel.. Call her here
Kunj – I also want her but she is not here don't know where she went leaving me here
Tara – will she love me
Kunj – yes she likes kids lot
Tara – then I'll pray God to send her back to you… And you smile always ok dont be sad I can't see you like this
Kunj – acha same to you… Always keep smiling don't cry ok
Tara – papa we will stay here only na in this house I love it lot you call dadi also here
Yuvi – you will not call your mom?
Tara – no baba no I'll not give her address of this house too.. She hates me
Kunj – you should not say like this baby
Tara – but she don't love me na papa.. She says she don't want me and telling me that she will send me away from here she said she will sent me to hostel.. Please papa don't send me away from you I love you I can't stay without you hugging him tightly
Yuvi – arey no one will send you away from your papa… Ok
Kunj – yes my baby I said you na I'll not send you anywhere then why you are so sacred when your papa is here
Tara – promise
Kunj – promise
Tara – pinky promise
Kunj – yes pinky promise
Yuvi – abh rath  bhar  yehi  karegey  kya
Kunj – let's sleep
Yuvi – haa
Tara – no papa I'm hungry I want to eat something make something for me giving cute smiles so he can't deny…
Yuvi – I'm going to sleep bye
Kunj – oh stop come and help me in cooking my baby is hungry
Yuvi – arey  yaar muje  nindh  aa rahi hey
Kunj – ok then khana  khaney key liye  bhi math ayiyo
Yuvi – Arey why I'll come to eat na… After you finish cooking just call me I'll come and eat.. Ithne  pyar sey  thu  banah raha hey tho mana  kyu  karunga
Kunj – acha tho help bhi khariye  pyar sey  bhula  raha  hun
Yuvi – huh ok
Kunj made tara baby to sit on kitchen slab
They were apron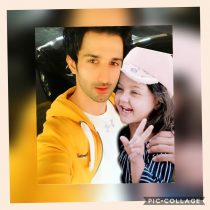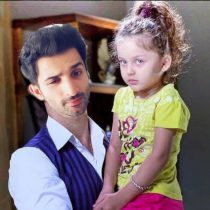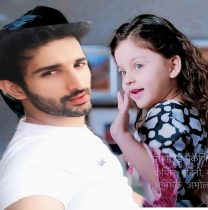 Tara – I'll help you both give me some work
Yuvi – no.. No he screamed… Baby you sit quietly that's big help for us.. Last time tho you did very big help to me by putting chilly powder in halwa
Tara – haa it's different taste
Kunj started to cut veggies
Yuvi cutting onions and crying tara wiping his face
Kunj prepared pasta and soup
They kept them on dining table tara to helping kunj
Tara – feed me now papa opening her mouth
Kunj smile at her and make her to eat it and tara too make him eat
Yuvi – nazar  na  lagey thum  dono  ko acting like applying kajal to them while Tara giggles
While current gone suddenly
Tara got scared because its dark and she is scared of it
Papa screamed Tara being scared and started to cry
Kunj – shhh bacha Dont cry and don't be scared see your papa is here only
Yuvi on mobile flash light Tara immediately hugs kunj and breathing heavily
Kunj calms her down and make her to drink water
After some time she becomes calm..  Kunj lighten candle
Kunj – chalo candle light dinner with my baby
Tara smiles at him and kiss on his cheeks
After sometime Tara yawns looking at kunj
Kuvi takes her to room and make her sleep within no time she sleeps
Yuvi – she is scared of darkness
Kunj – yes from first only she scared of darkness and sometimes ago when she was 2 and half year baby her great mom taniya locked her in dark store room for entire day and from that day she is scared so much
Yuvi – why she do like this man she is her mom right I never saw her loving this kid.. Care karna tho door ache sey bath bhi  nahi  karthi…
Kunj – I don't know why she is like this.. I thought at least she will love this kid but no ma'am ko apni padi hey.. I just hate that b*t*h she just spoiled my life…. Ruined everything because of her twinkle is away from me..
Yuvi – you still love her like before
Kunj – what kind of question is this yuvi I love only her yes I still love her and I love her more and more now but see she left me I said her to be with me and I'll make everything right but she left me
Yuvi – what if she moved on?
Kunj – no I think no she didn't moved on.. She can't forget me like I can't forget her and she still loves me like I do…she is also missing me like I miss her each and everyday…  May be she also plastered smile on her face like me to show world we are happy
Yuvi – where they went?
Kunj – don't know yar where she went that day..  They left city itself..  I searched everywhere but didnt got any clue.. I'm just praying baba  ji  to send her back to my life again
Yuvi – but taniya
Kunj – please yar  don't  take her name
They too sleep
Kunj blabbering in sleep where are you twinkle please come back to me
At morning
Kunj and Tara goes back to home
They get freshen up
Kunj making Tara ready for school he gets some call and he get busy in some office work
Kunj – baby go to dadi she will make you ready ok im bit busy
Tara – ok papa
Usha busy in kitchen tells her to wait
Taniya wake up just now
Taniya – arey  saasu  maa can't you give me bed coffee
Usha – I'll give you beta she gave her while she taste it and make faces and throws it on floor
Usha cleaning it
Kunj coming there taniya see it
She lifts Tara while she becomes scared
Taniya – good morning Tara  in sweet voice looking at kunj
Tara smile good morning mumma she too hugs her back while taniya making faces
Taniya – eww oil Chi.. Who applied oil to your hair
Tara – dadi
Taniya – see this all are eww  dirty things you should not apply it
Tara – no maa I'll get long and strong hair
Taniya – shut up just listen to me
Kunj comes there and look at them
Surprised looking at Tara and taniya together and taniya talking to her nicely
Taniya – I'll make you ready ok… She makes her ready making faces and smiling looking at kunj while he understood her
Taniya – you know kunj  i did all work today
Kunj – okay….
Taniya – tell na looking at usha
Usha – yes she did every work today now come beta have breakfast
Taniya was above to sit beside kunj
Kunj – wait..
Taniya – what?
Kunj – maa you too sit with us taniya will serve today.
Taniya – what?
Kunj – why taniya you don't want to do my work
Taniya – arey no ill do na.. She fakes smile and serves him
Kunj – don't serve only me
She serves to everyone she too sits
Taniya – kunj when you will buy that new car for me
Kunj – oh for car you are doing this all
Taniya – whatever ….. I don't know anything I want that
Kunj – no I can't buy that now I'm not in plan to buy anything now got it..
Taniya – kunj😡😡
Usha – kunj give her name beta
Kunj – maa please don't support her in everything
Taniya throws her plate kunj gets angry on her
Kunj – taniya behave 😡😡😡 how dare you to throw food do you know it's value
Taniya – I don't care
Kunj – clean it now 😡
Taniya – no I'm not going to do it
Usha – I'll do it later leave it
Usha giving coffee to kunj
Taniya to push usha deliberately hot coffee falls on kunj hand he screamed in pain.. It burns his hand and it became red
Usha – kunj🙁😭
Tara – papa 😭😭 what happened to you
Taniya – arey can't you see and give him correctly see you burned his hand
Usha was crying she applied ointment to his hand
Kunj – Arey I'm okay maa dont cry…
Usha – dardh ho raha hoga na pattar
Kunj – dardh tho kab sey ho raha hey maa… Muje tho dardh hey dardh milta hey jeevan mey.. Dardh sehna sikh liya hey mene..
Ye dardh key saamne pointing to his heart ye dardh kuch bhi nahi hey
Usha doesn't say anything
Kunj takes Tara with him and drop her to school and then he goes to office
Next scene
Taniya goes to her mom house
Mahila serving juice to everyone she smirks looking at her
She takes glass of juice and tastes it and acts like coughing
And throws glass aside
While her mom and brother gives her water and ask what happened
Taniya – shourya your wife put chilly powder in my juice coughing
Mahi – no no I didn't scared
Taniya – what do you mean by no haa I'm telling lie you want to say this mumma 😭😭 bhayya
While her mother kamini looks at mahi angrily and shourya slaps her hard across face while she started to cry
Kamini  – now clean this and tell your brother to be in his limits otherwise we will become worse to you
Mahi – you people are already worst
They slap her again
Kamini – don't talk much ok
Mahi  cries
Mahi – all happened because of me and my stupidity to love this idiot he ruined my life and also my brother life.. My kunj bhaiya life got spoiled by me.. I can't forgive myself for this please god help me and please don't hurt my family… Because of me he is bearing this all you kill me only it's solution for every problem.. There is nothing left in my life now
Saying this she cried lot
Next scene.
Aditi – twinkle pack your luggage
Twinkle – why?
Aditi – we are going back to Amritsar 😎
Twinkle – what?  Why?
Aditi – arey we have to work on some project and company is there in Amritsar
Twinkle – I don't want to come
Aditi – you are coming babes you don't have other option and this time I'll find good guy for you
Twinkle – for what?
Aditi – for your marriage dude I want to see you settled.
Twinkle -no I dont want to get married.. I'll search good boy for you and tumhari shadi karvaungi vo bhi full grand
Aditi – jab thak  teri  shadi  nahi  hothi  mey  shadi  nahi  karne wali
Twinkle – please don't say like this.. I'm happy like this only
Aditi – but I'm not happy dude to see you like this always lost in past now don't say you forgotten everything and moved on in life you can fool others but not me got it.. And we are going to Amritsar it's final.. When he can move on you can also move on.. And you have to  face everything there you can't keep running from everything… You haven't done any mistake to get this punishment.. Enjoy you life be happy
Twinkle started to say something but aditi showed her hands to stop her
Precap – twinkle and aditi comes to Amritsar.. Tara missing…Kunj finding Tara everywhere but not getting where she went..
To be continued…
(Hi friends sorry for late update was busy in some work.. How is the episode share your views.. Thank you for everyone who liked and commented on last story.. Hope you like it.. Forgive me if any mistake no proof reading)
Happy Maha  shivratri to all
– love you all 😍😘