~ Naina Da Kya Kasoor ~ (Twinj OS) ~ 2
Heya Lovely People ?
How are you ?
So here is the second and not the last part of this story as requested by so many people and specially Kiya ?
This part was totally unplanned so God knows how it would turn out and I decided to post this on occasion of my dearest Steorra_engel (Ramu) birthday ❤?
~ Happiest Birthday Ramu ~ ❤
This was the reason I didn't wished you yet ? I hope you are going to like this little gift ? Haopiest Birthday Ramu and congratulations on the wish from bunny ❤
(Mini Script ~ 2)
" Kunjjjjjjjjjjjjjjjjj " Twinkle literally sang his name for the umpteenth time as she sat on couch in their study room.
Twinkle by now had lost the count of times she had called his name but he was strongly focused on his work or to be precised he had responded her everytime but Twinkle being Twinkle doesn't count that.
" Now what happened Twinkle ? " Kunj asked focused on his laptop screen.
" I am getting bored. " Twinkle replied in a low tone.
" Then watch some movie but please let me complete my presentation. " Kunj said without looking at her.
" Wth? Today is sunday and you still want to work ? Don't you give enough time to my sautan for the rest six days in week that you want to work today too. Spare some time for me. " Twinkle said agitated.
Kunj looked at his wife bewildered. Had she developed partial amnesia or what ?
He had arranged a whole day date and night dinner for them yesterday itself and today his dear wifey was saying he didn't give her time.
She had been acting weird for two weeks now. She had became more dramatic and childish over past days. Something was surely wrong with her.
" You know what Mr Sadu Sarna. Spend your whole day with my sautan and cook by yourself for US cause I am not doing it. BYE! " Twinkle said agitated with his silence and weird stares.
She walked away stomping her foot on the floor leaving her bewildered husband.
Is she possessed ? That's the first question that popped in Kunj's mind.
" Wth are you thinking Kunj Sarna. How can she be possessed ? " Kunj questioned to himself seeing her weird behaviour but then himself dismissed the thought.
Kunj thought over again but settled at nothing. So he decided to first complete his work and than focus on his grumpy wifey but unknown to him , his wife had already planned something *wink*
Nearly an hour passed but Kunj didn't heard anything from his wife. No yelling or coming back to irritate him. It was weird of her because probably she would have been back here and kept on taunting him for being so ignorant.
Nevertheless , he decided to continue his work and finish it as soon as possible. 10 minutes more passed and he heard sounds of her wedges clink against the floor.
He knew she was coming back here but he didn't dared to look up and continued to work.
There she stood on the doorstep of the study room dressed in a sexy black one piece above her mid thighs paired with shimmery black heels. She had a light makeup on and red lipsticks painting her plump lips.
Twinkle smirked naughtily seeing him and walked inside with elegance. She walked near him and stood infront of him but his head was lowered and focused on his file.
She cleared her throat to gain his attention but he didn't replied. So this time she walked near him more or say almost hovering over him sweetly yet sensually called his name to gain his attention and it did work this time.
Kunj looked upto see his wife almost hovering upon him with a naughty smile. As his eyes travelled from her head to toe , his eyes widen in shock. He gave his ever so famous raised eyebrow look.
He wondered what his not so innocent wifey was upto. Where as Twinkle took the file from his hand and kept it back on study table and sat on his lap.
" Twinkle! What are you doing ? Let me complete my work. " Kunj exclaimed but his wifey certainly have some different plans.
As he reached his hand to the file back , she held it before it reached the table and kept his hands on her petite waist.
She sensually traced her fore finger on his face and smirked seeing him shudder at her touch.
" Baby , don't you think you should spare sometime for your wifey ? " Twinkle said in low sensual tone.
" T..Twinkle..What are you doing ? " He asked stammering but last words merely came out as a whisper as Twinkle nuzzled Kunj's neck and started placing wet kisses on his neck making his hold tighten on her waist.
" Twinkle….. " Kunj started but was stopped by her passionate kiss.
Twinkle kissed him passionately stopping his rant. Kunj kissed her back with same intensity. They were so invaded in eachothers passion that they forget about their surroundings , Kunj pulled twinkle more closer to him , they were snuggled against eachother as a jigsaw puzzle.
They pulled out of the kiss breathing heavily and rested their foreheads against eachother.
" Your wifey needs you Mr Sarna. " Twinkle said with a wink absolutely shocking Kunj. He had never seen her this bold and wild.
Kunj traces his finger down Twinkle's bare back as she shivers due to his touch. He picks her up in a bridal style and walked towards the comfy couch on other end of the study room and layed her on the couch.
Kunj looks into Twinkle's beautiful brown eyes and leans down and captures her lips between his.
They kissed eachother passionately once again. Kunj's hand travelled twinkle's back and he pulled the zip of her dress down while twinkle's hand roam on expense of his shirt and started opening the buttons.
He kissed her neck pulling down her dress along his fierce kisses. Within a while their clothes were discarded of by eachother and thrown on to floor as they once again marks eachother as theirs.
Their bodies glistening with sweat and marked with red love bites and hickies. Their souls were once again intertwined to pure bond of love.
He placed a kiss on her forehead to calm and comfort her as he makes love to her and increases his pace making her scream with pleasure.
Soon they were drowned into their pleasurable world. A rough encounter was followed with their moans and groans , their breaths mingled as their bodies.
Twinkle hadn't just successfully gained her husbands attention but all his time was hers.
Sometime later after their steamy love making session both of them were laying in eachothers embrace as twinkle's head was cushioned onto Kunj's chest while his hands were firmly wrapped around her petite frame caressing her hairs to comfort her after a long and tiring passionate intimate encounter while his other hand was intertwined with hers playing with eachothers fingers.
Pens down for this part ?
Yup……..you read it right this part ?
So yeah , I have decided to convert this into Mini Script which I will post whenever I have time.
It's a kind of story that surely doesn't need to be continued but it doesn't have an end either.
Suggestions and requests are open for the story ?
So……How was this part ?
I don't know how it was because I didn't planned continuation and I have written it in a hurry.
I am really sorry for 'No Updates' but I was busy last two week's due to occasion of Eid and some presentation around the corner and lately I am dealing with some health problems that is causing delay in updates ?
Please be a little patient with updates 🙂 As soon as my health is better. I will give quick updates ☺
Once again a very happy birthday Ramu ❤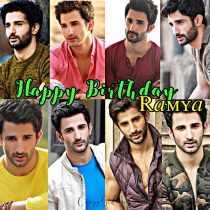 Ciao gente bella a presto ❤